Sao Paulo is a city of superlatives: According to lonely planet it is with more than 20 millions inhabitants the third-largest metropolis on earth. It is the economical, financial and cultural center of Brazil, even of South America. But it is a huge cluster of skyscrapers and urban developments with few green parks. Like in Rio the gap between rich and poor is intolerable. Consequently Sao Paulo suffers an enormous high crime rate with many killed people every day. It is infected deeply by the war of drugs.
The outstanding marvelous Costa Verde stretches along the Atlantic coast East of the city of Rio de Janeiro. It is the place where the steep and green mountains of Serro de Mar hit the Ocean. Thus there are many pristine islands, beautiful bays and terrific beaches. Costa Verde becomes Litoral Paulista, when it crosses the state border to Sao Paulo.
A major tourist destination is the lovely and lively village Paraty with many picturesque buildings and remote beaches. Most of them are accessible only by boat and some by foot through the lush and dense rain forest.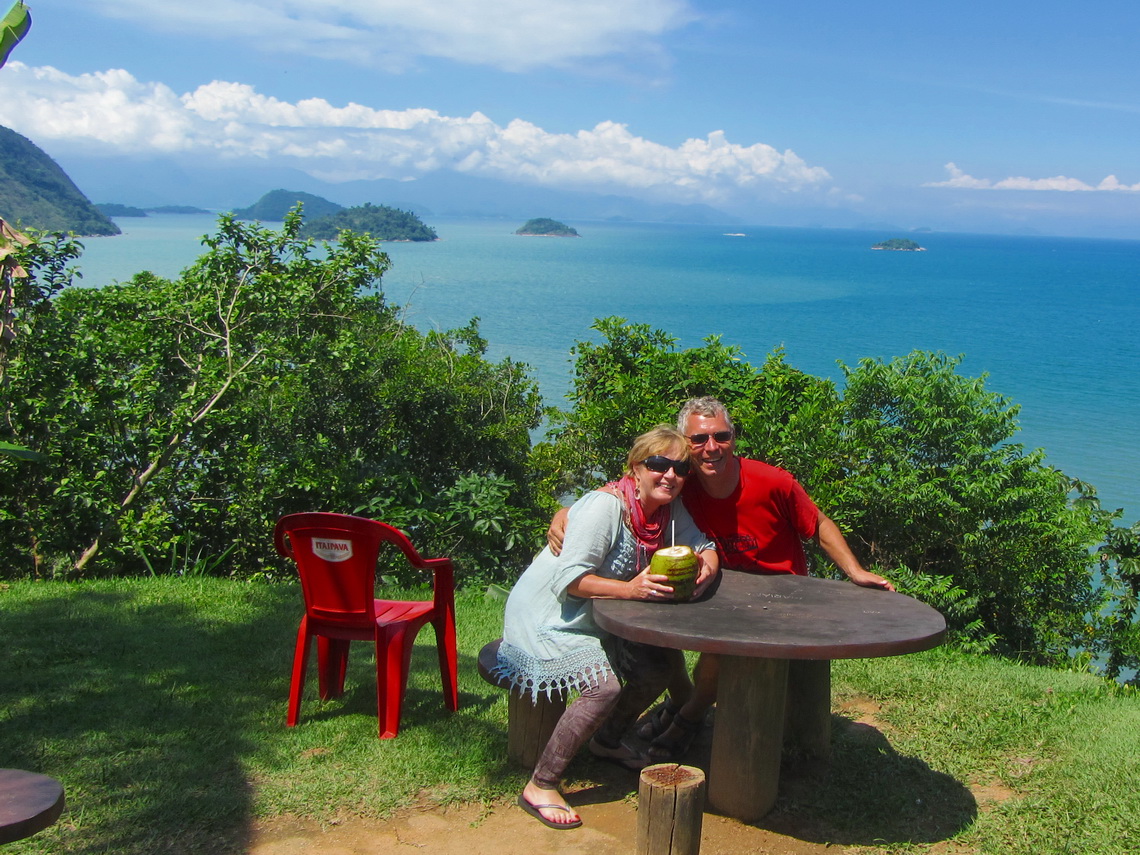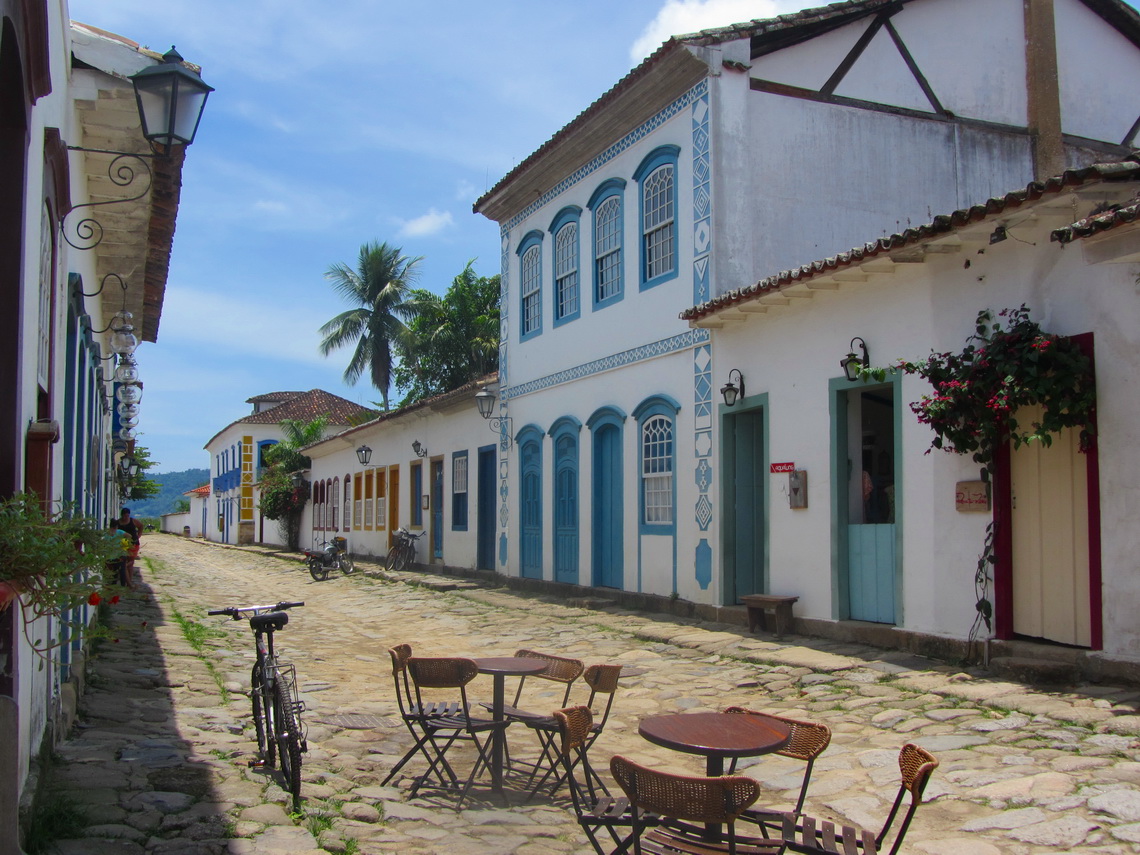 We stayed between November 29th 2012 and December 3rd on the convenient campsite, close to the beach Praia do Pontal (GPS coordinates: S23° 12.918' W44° 42.710'). A must to do in Paraty is a boat excursion to the nearby island and beaches. It costs just few bucks and is an unforgettable experience.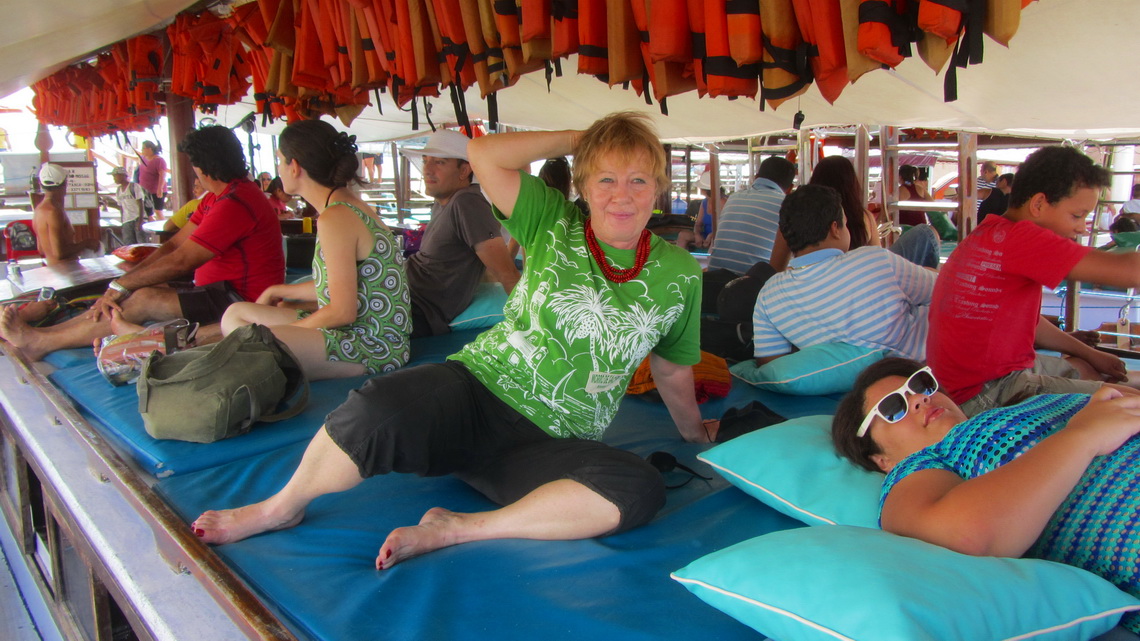 Most of the people were eager to enjoy the warm water on a hot and sunny day. And the kids were so happy. But it was also possible to reach some of the beaches without getting wet.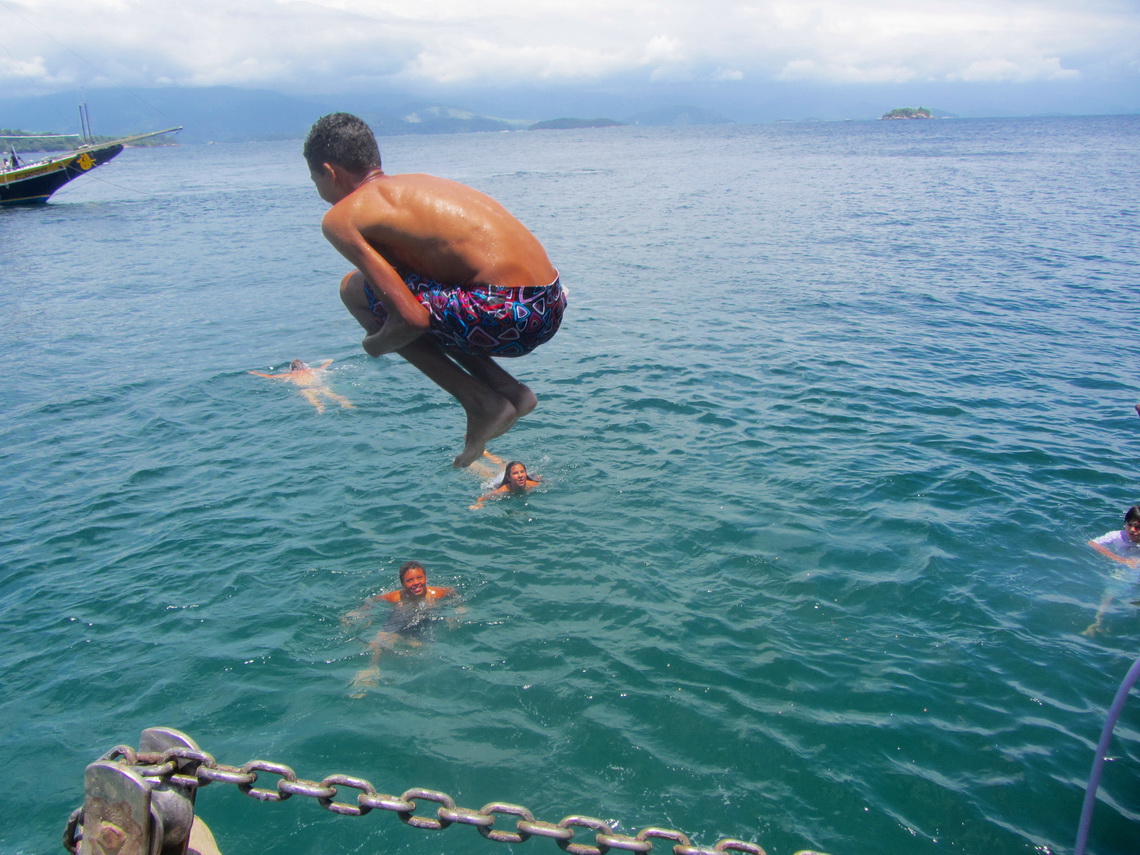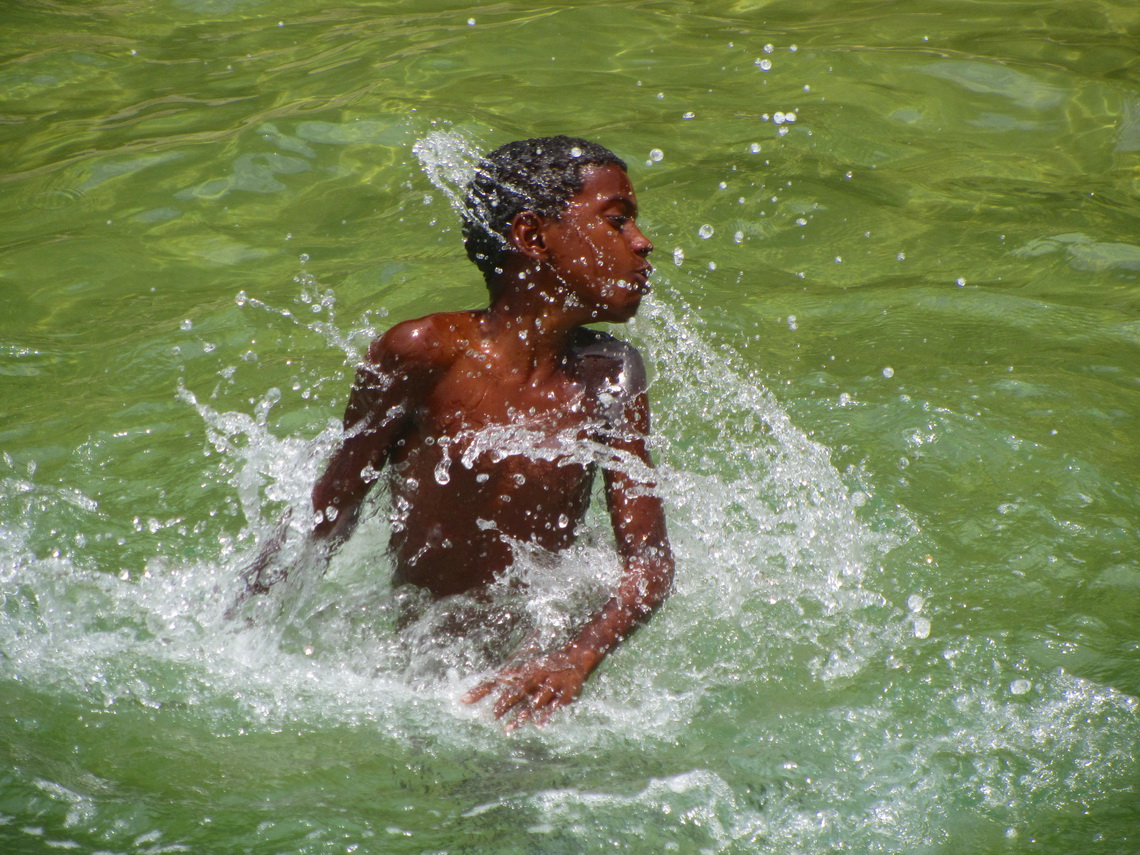 We had also a negative issue in Paraty: Alfred's VISA card was copied on the ATM in its largest supermarket. Fortunately we detected it soon but four times 1000 Reais were withdrawn in Sao Paulo (total about 2,000U$). The communication and paperwork with our bank was a mess but we got back our money mid of January 2013.
West of Paraty are wonderful pristine and remote beaches. We hiked one and a half hour from Larajeiras to Praia do Sono and stayed two nights there in our tent directly in front of the beach (GPS coordinates S23° 19.868' W44° 38.297'). From Praia do Sono it is a beautiful three hours trek through lush rain forest to Praia de Ponta Negra. Close to this beach is a pretty waterfall with fresh and cold water. These trails are included in the free of charge map TRC-Brazil for Garmin devices. 

We enjoyed two days on marvelous Praia do Santiago West of Sao Sebastiao. Its small but cozy campsite with all facilities including WiFi, is driven by 82 years old Dona Veronica and her family (GPS coordinates S23° 48.534' W45° 32.590').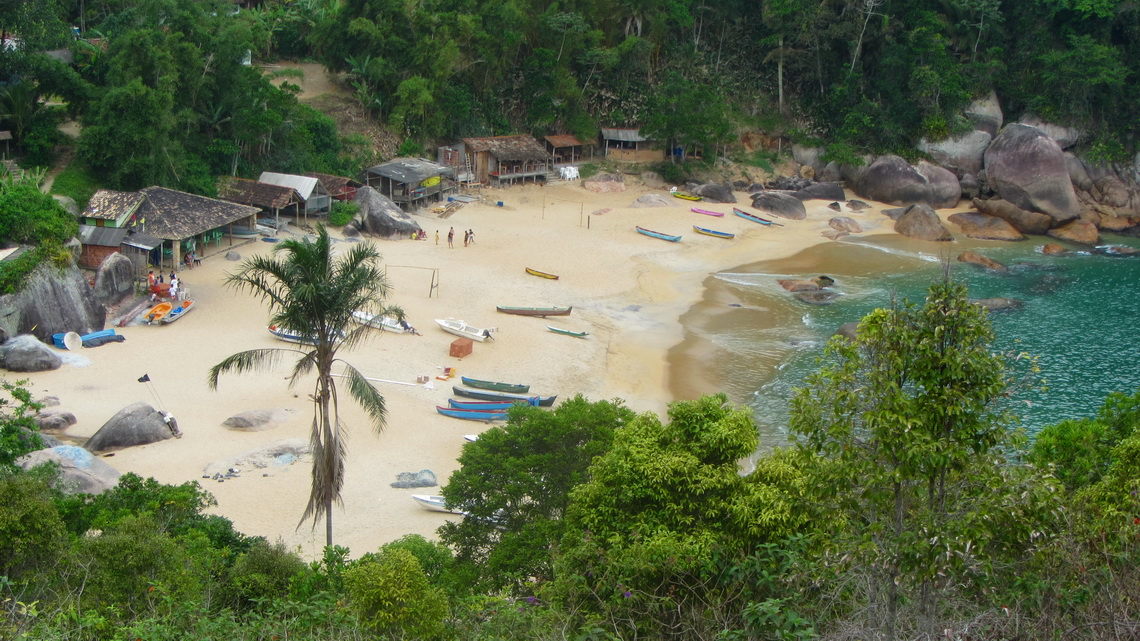 Our car became weaker and weaker when we drove to Bertioga. In addition its V-belt crashed. East of Bertioga is a remote campsite of the CCB (Camping Club of Brazil) directly on the beach (GPS coordinates: S23° 49.107' W46° 05.078'). But our car refused to start after we had done the registration. Of course it was Saturday late afternoon. People moved our car to a good sleeping place and the owner promised us that a friend of him will help us next Monday morning. There was a Candomble festival on the beach, the most popular African cult in Brazil (see previous article about Rio).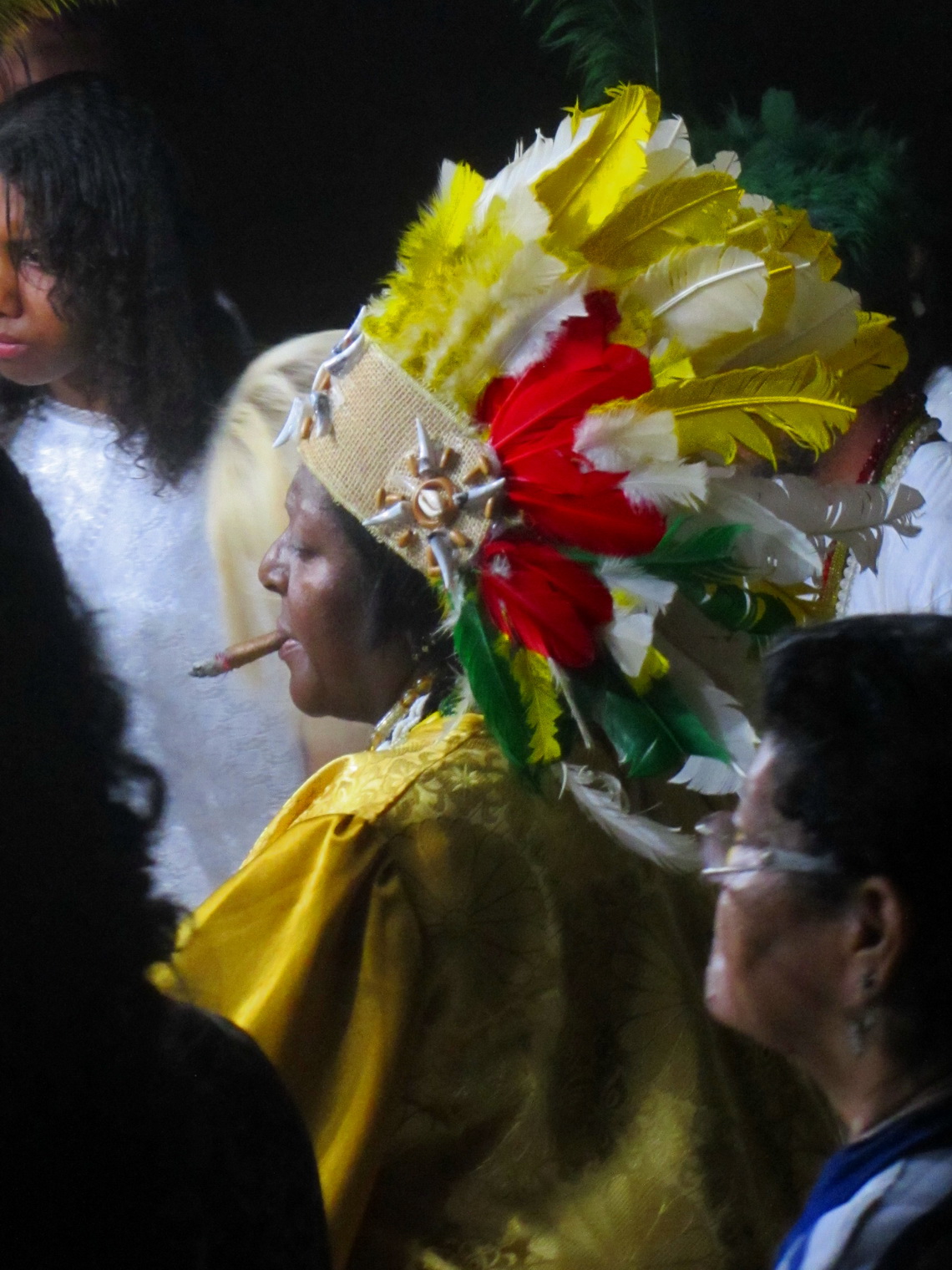 Indeed a technician came on Monday morning but the engine of our car started immediately. He organized a new V-belt and mounted it. But when we wanted to drive to the ferry to Garuja our car stopped directly on a street junction and was totally dead. Alfred took his bicycle and found the workshop Automec in Bertioga. They towed our car to their facilities in the street Avenida Anchiete 2291. Soon it turned out that the fuel-pump was broken. They told us they need a specialist, a Bombista. He will come tomorrow, Tuesday on the next morning. We could sleep in the workshop, near the car washing place.
Indeed the Bombista came as promised and after several checks he agreed that the fuel-pump was broken. He dismounted the engine of our car more or less completely. Liquids like diesel, oil or coolant sputtered out directly on the floor under our car. It smelled heavily; it was a hot and sunny day. He looked a little bit helpless but he took the fuel-pump and told us that we get some feedback on the next day at lunchtime.
Indeed he called back on the next day (Wednesday) that the fuel-pump can be revised. But is costs 1,300U$ and he could be back on Friday to mount it. We had no choice and agreed with a weird feeling in our stomach about this extraordinary high price. On Friday he called us and promised us to finish on Saturday. On Saturday he came but without fuel-pump. The delivery service from Sao Paulo failed but he will get it on Monday. We gave him an extra day and decided to take the Saturday evening bus to Sao Paulo.
Finally he finished his job on Tuesday evening and we were very relieved the we had not to spend another night in the dirty, smelly and hot workshop. Few weeks later in Blumenau it turned out that they had just cleaned the fuel-pump for 1,300U$ - Looks like a typical fraud case!

We drove back to the CCB campsite and slept very well. In the evening and on the next day we had a lot of fun with Monica and Valter and their kids - Thank you so much.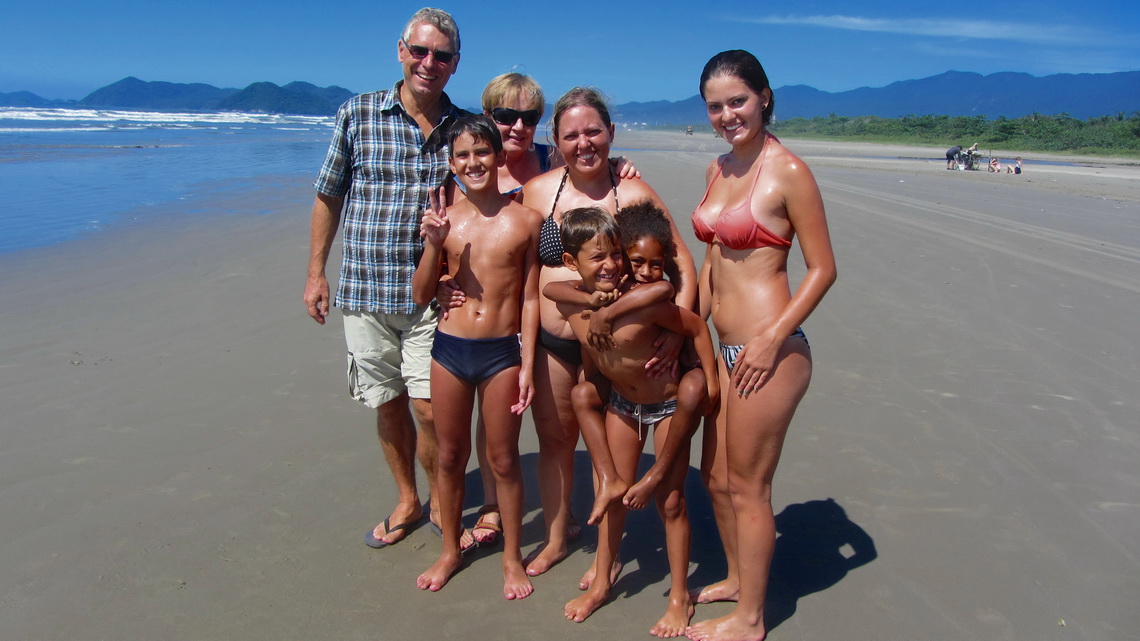 It was dark when we arrived in Sao Paulo's center. We found the nice Hotel Itamarati in the Avenida Dr Vieira de Carvalho 150 near the green park Praca da Republica, see their webpage. Street life on Saturday evening was very exciting and freaky here. The Caipirinhas tasted delicious and we talked a lot in Portuguese / Spanish / English / German with some gentle Paulistas, the inhabitants of Sao Paulo. Somehow we managed to come back to our hotel in the late night.
Fireworks, shoots and loud cheering forced us to wake up early in the morning. We had no glue what happened but when we came to the lobby we saw a crowd of people watching a football game on TV. They were very enthusiastic because it was the final game of the Football World Championship for Clubs in Japan. Corinthians from Sao Paulo led 1:0 against Chelsea London few minutes before the end of the game! After the game fireworks, shoots and cheering became nearly unbearable.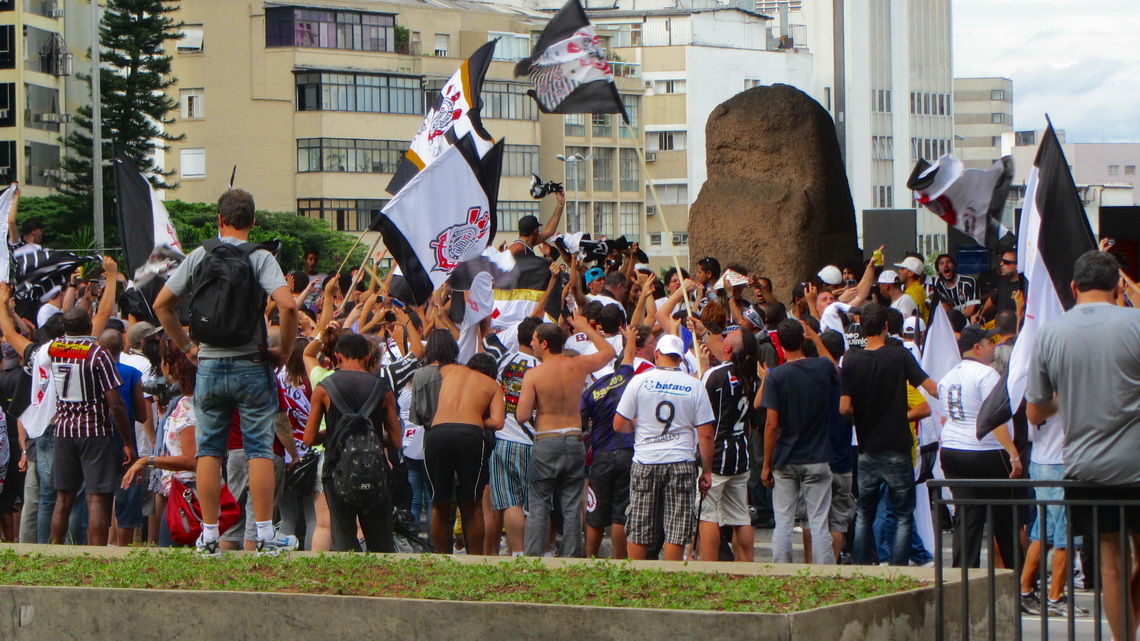 The weather was sunny on Sunday morning. Thus we took the metro to the Ana Rosa station and walked to the Parque do Ibirapuera, the largest park and green lung of Sao Paulo. On the way is the interesting museum of the Instituto Biologica (GPS coordinates: S23 35.133 W46 38.879) with many insects, big and little. It is free of charge and the girls were very friendly and happy. They organized for us a race of cockroaches. In the quit large park were many people strolling around by foot, with bicycles, roller-blades or skateboards.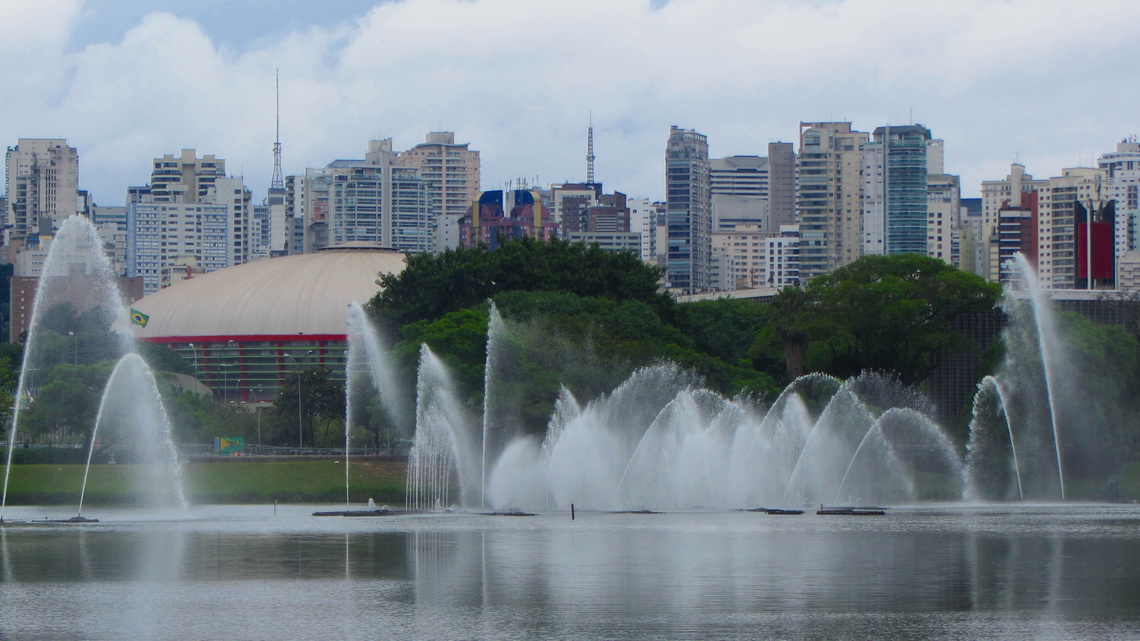 This park is famous for its museums. We visited the huge Museu Afro-Brasil which shows touchingly the lives of Brazil's African people from the slavery to present.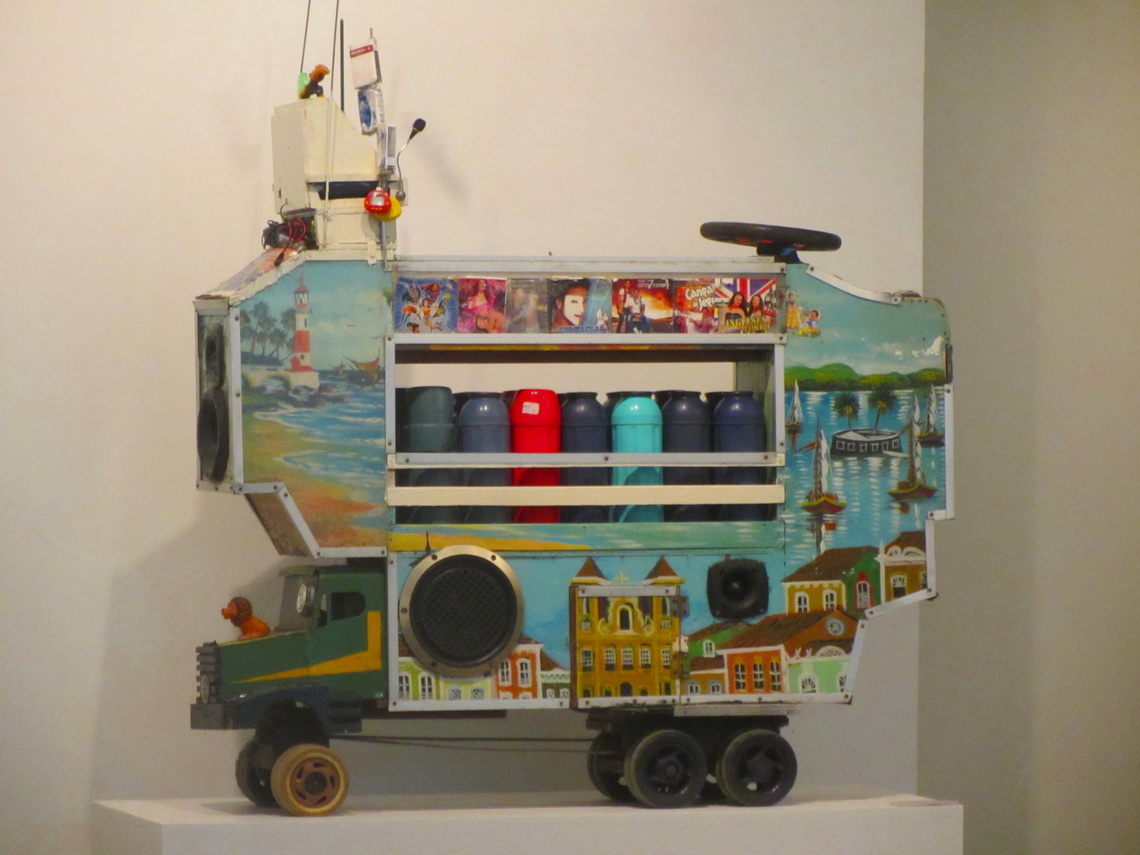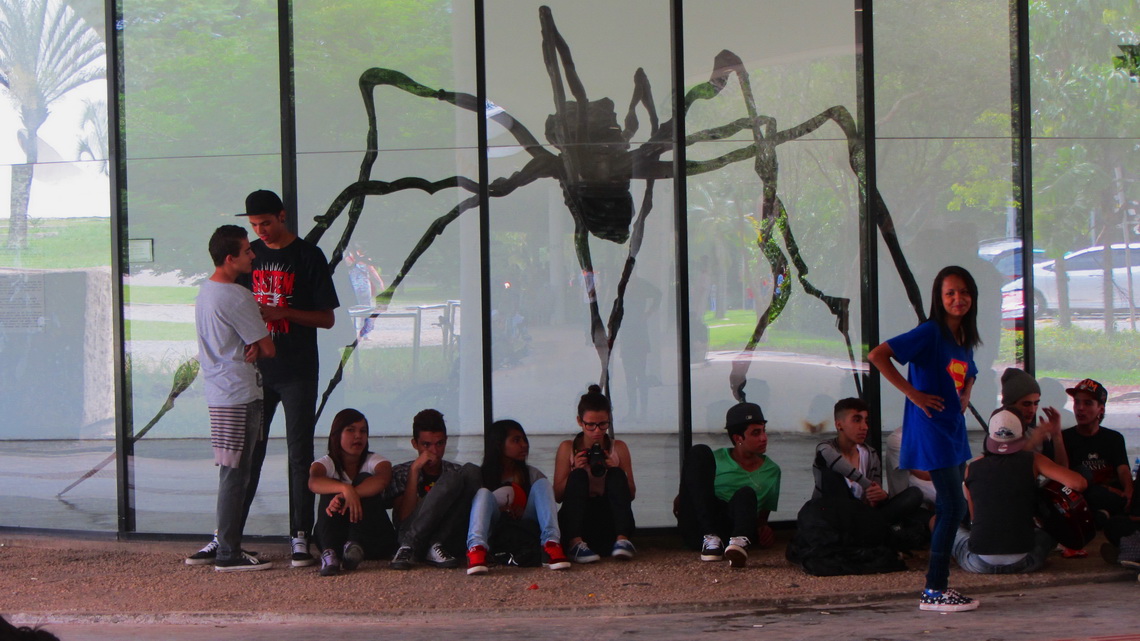 In the later afternoon we explored the impressive Avenida Paulista. It is 'Manhattan' in Brazil with a lot of modern and fancy skyscrapers, mainly office buildings of banks. Christmas decoration was grandiose and kitschy. Many people walked on its large sidewalks. Most of them were smiling happily, thanks to the victory of Corinthians (see above).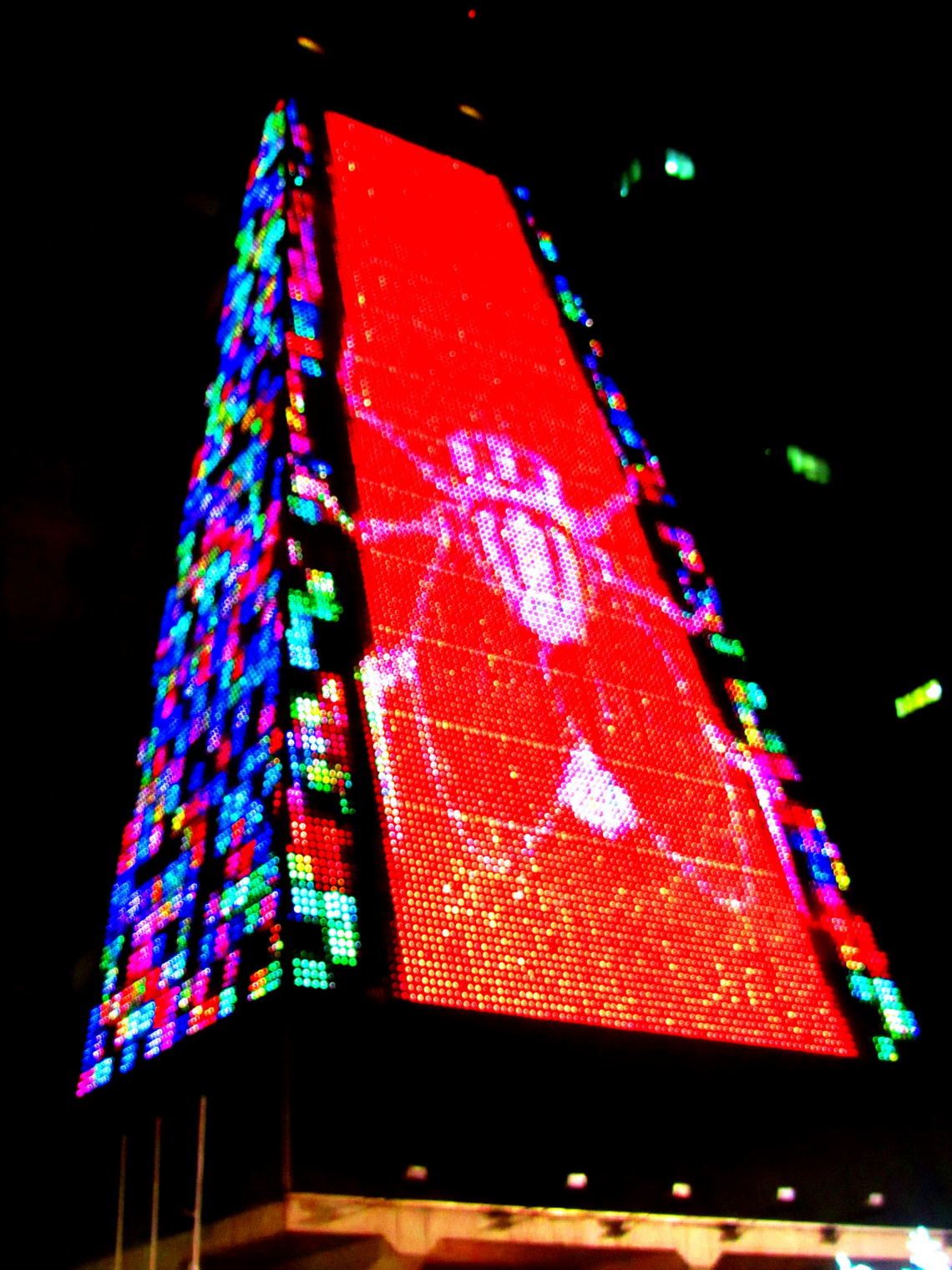 On a rainy Monday morning we wandered in the bustling center of Sao Paulo. Fortunately it became dry at lunchtime and we could enjoy the stunning views from the top of the skyscraper Edificio Italia with 46 stores. This building is on Praca da Republica and has an expensive restaurant on its top. Between 3:00PM and 4:00PM the visit of the observation platform is free of charge.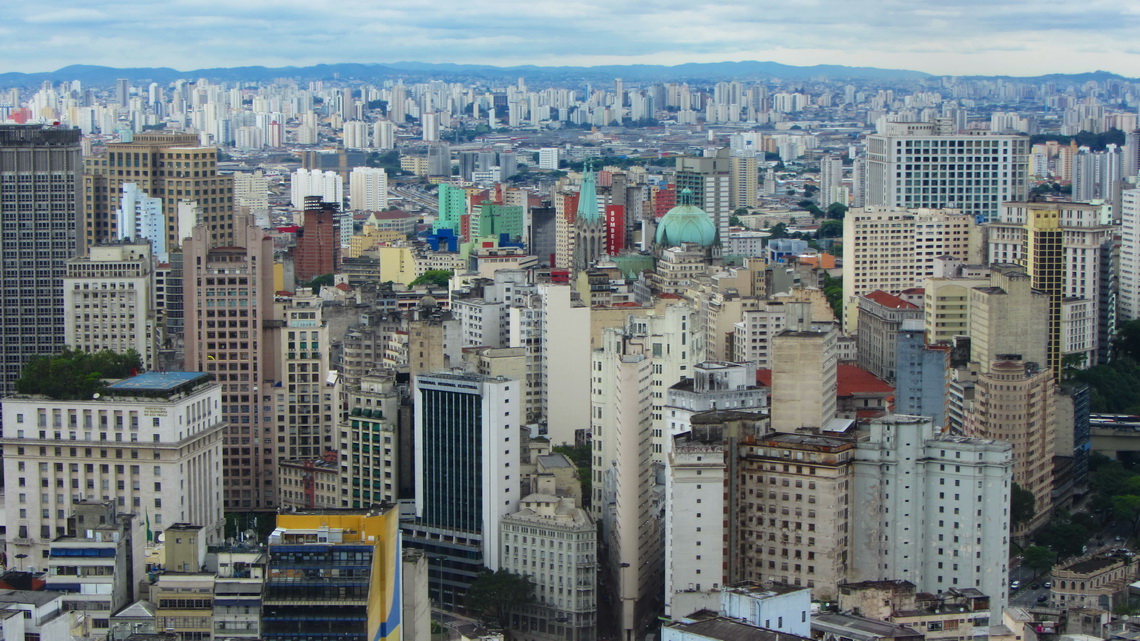 For more pictures, please click here           For a map of our itineraries, click here
To download the GPS coordinates file of Brazil, click here