Ancohuma is with 6427 meters sea-level the tallest peak around the largest lake of Bolivia and Peru Lago Titicaca which is with 3810 meters sea-level the highest navigable lake on earth. It is a ice and snow castle and the second highest summit of the awesome mountain range Cordillera Real of the Bolivian Andes. Our dream was to achieve its top but we had bad conditions in the early morning like heavy snowfall, unusual high temperatures and groundless deep snow. Consequently we decided to turndown at 6256 sea-level below the last steep slopes. Especially we didn't want to accept the serious risk of avalanches. Nevertheless this trip was an outstanding nice experience for us.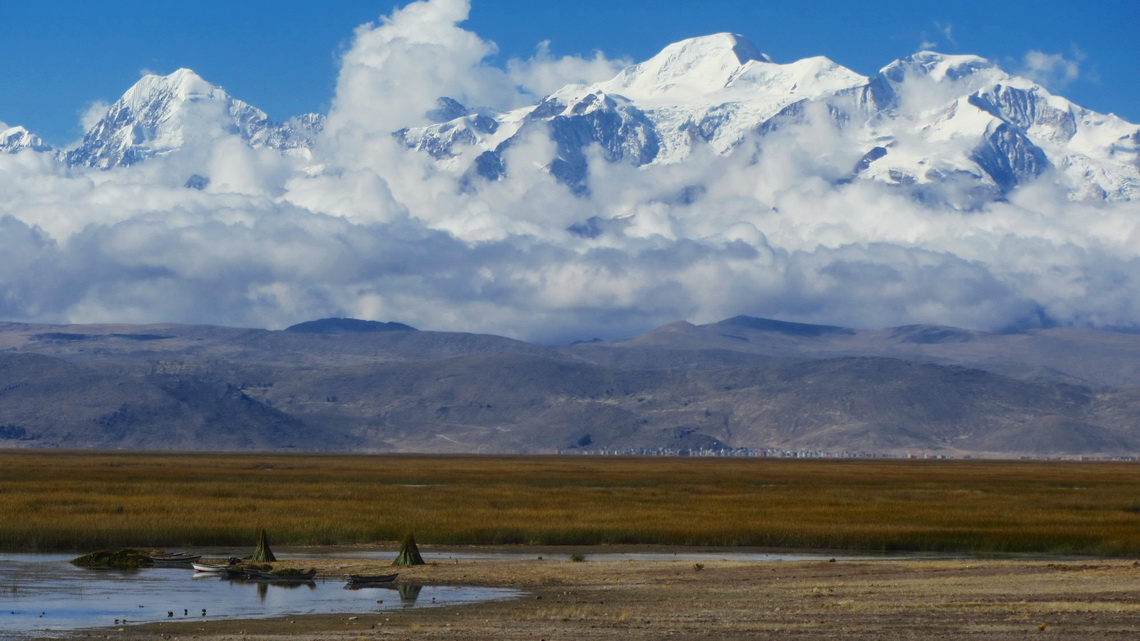 The tour to Ancohuma starts in Sorata, a pleasant and warm village on the eastern slopes of the Cordillera Real at 2700 meters sea-level. After struggling with its narrow and steep streets we found the heavenly campsite Altai Oasis with wonderful people (GPS coordinates: S15 46.179 W68 39.306). Johny and Simon thank you so much for your extraordinary support and creating this marvelous place.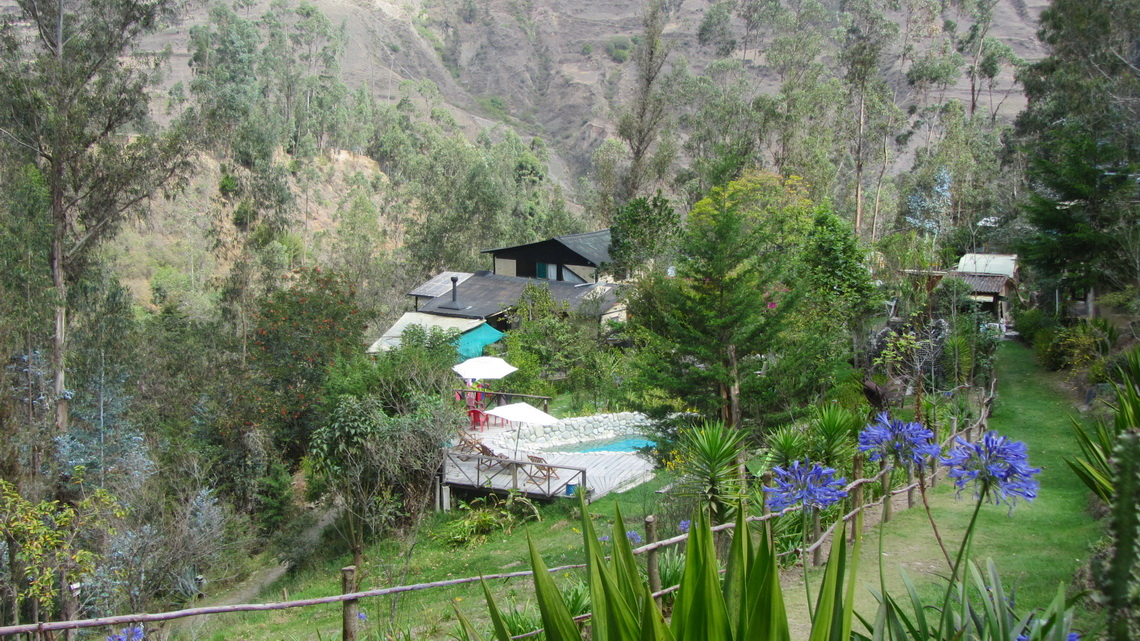 Due to huge glaciers with large crevasses we decided to hire a mountain guide. Thus we went to the mountain guide office in Sorata and ordered a full package for five days including food, 4x4 car transportation, mules, porters, trekking guide and climbing guide for a reasonable price. In the early evening we met our trekking guide Claudio, who did a splendid job. We had so much fun - Thanks a lot Claudio. Next morning we drove more or less one hour a very rough road to the mules at 3196 meters sea-level (GPS coordinates: S15 47.107 W68 37.108).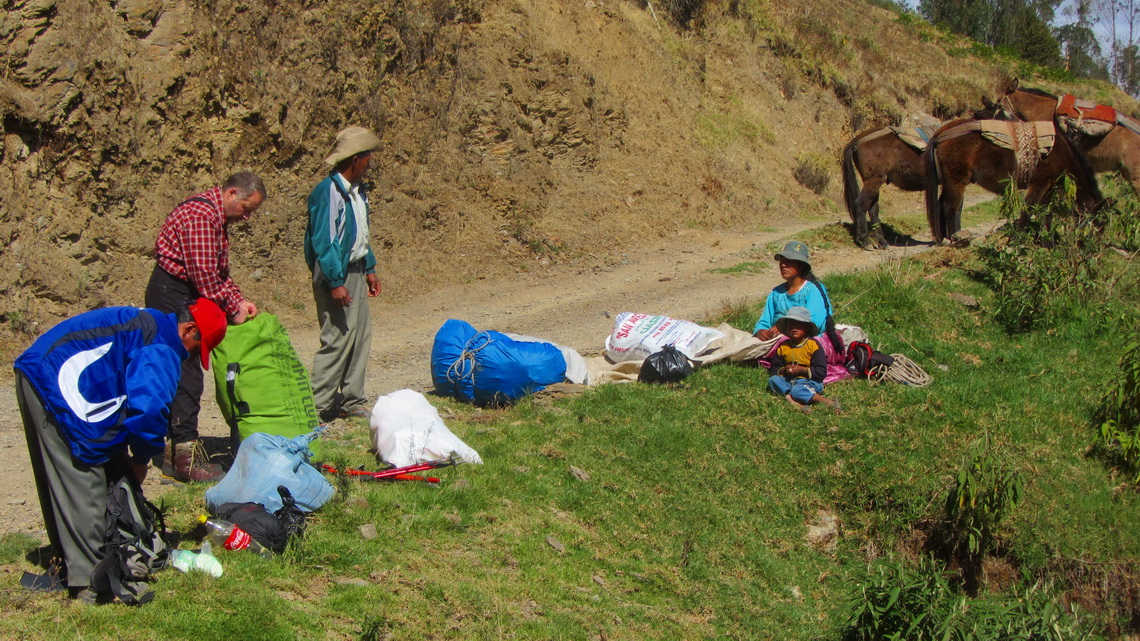 Our first destination was the beautiful lake Laguna Chillata, where we spent our first night at 4205 meters sea-level (GPS coordinates: S15 47.989 W68 35.351) .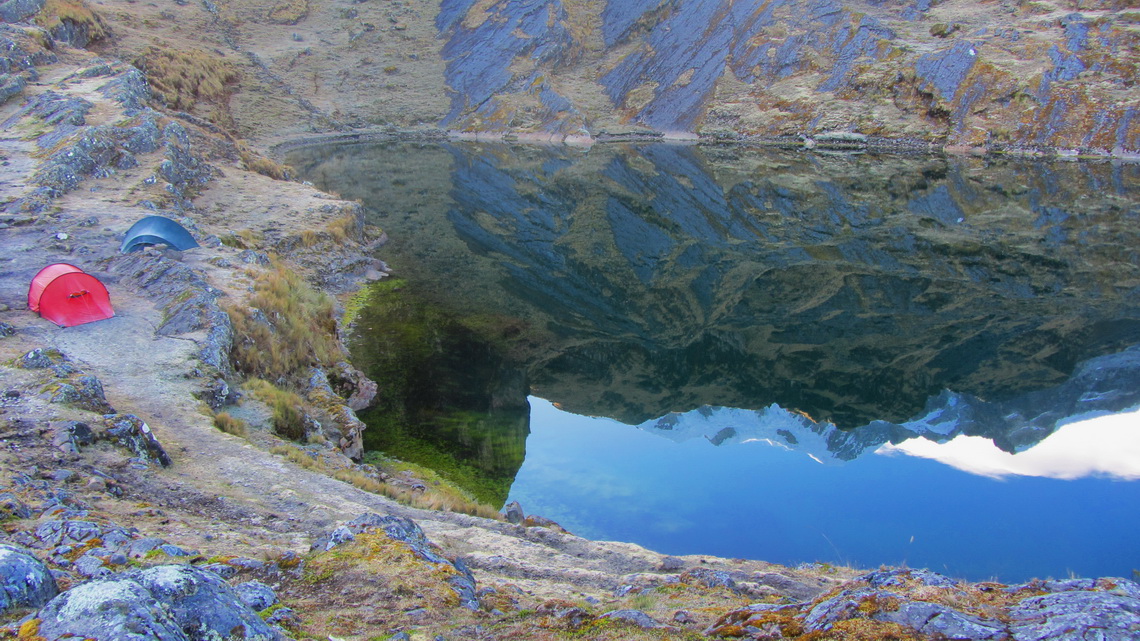 Early in the morning three porter came to us because the mules cannot go the steep part with some rock scrambling to the next camp on 5038 meters high Laguna Glaciar (GPS coordinates: S15 49.730 W68 33.993). We were happy to have common breakfast with them. We had been two times in the Everest region of Nepal and there we had asked sometimes to have meals together with our porters, which had been rejected always.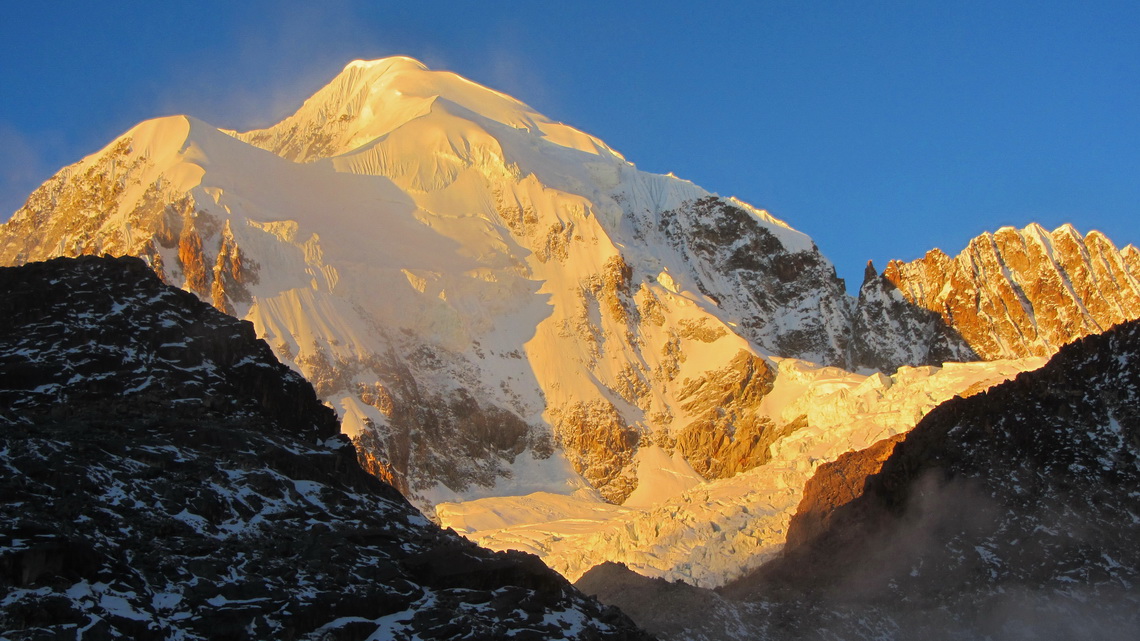 Our high camp on Ancohuma (5473 meters sea-level, GPS coordinates: S15 50.681 W68 34.136) was located on the glacier close to a col between rocks and ice, where we had marvelous views to the Altiplano and Lago Titicaca. We had the full support of our three porters to the high camp despite the fact that they wore just sandals made by rubber - Thank you so much.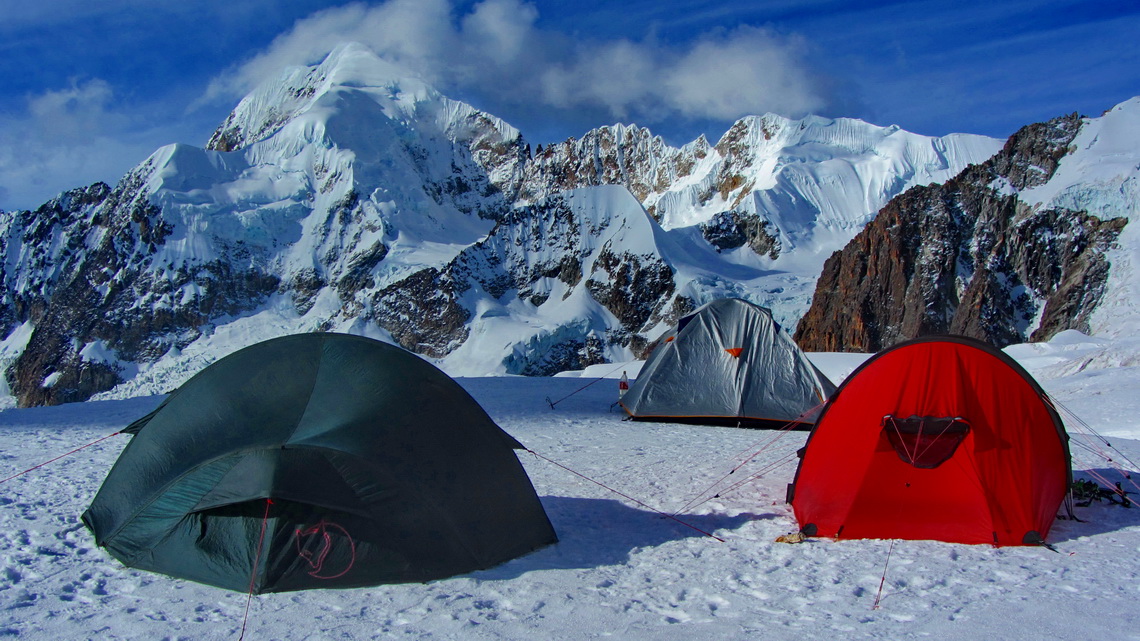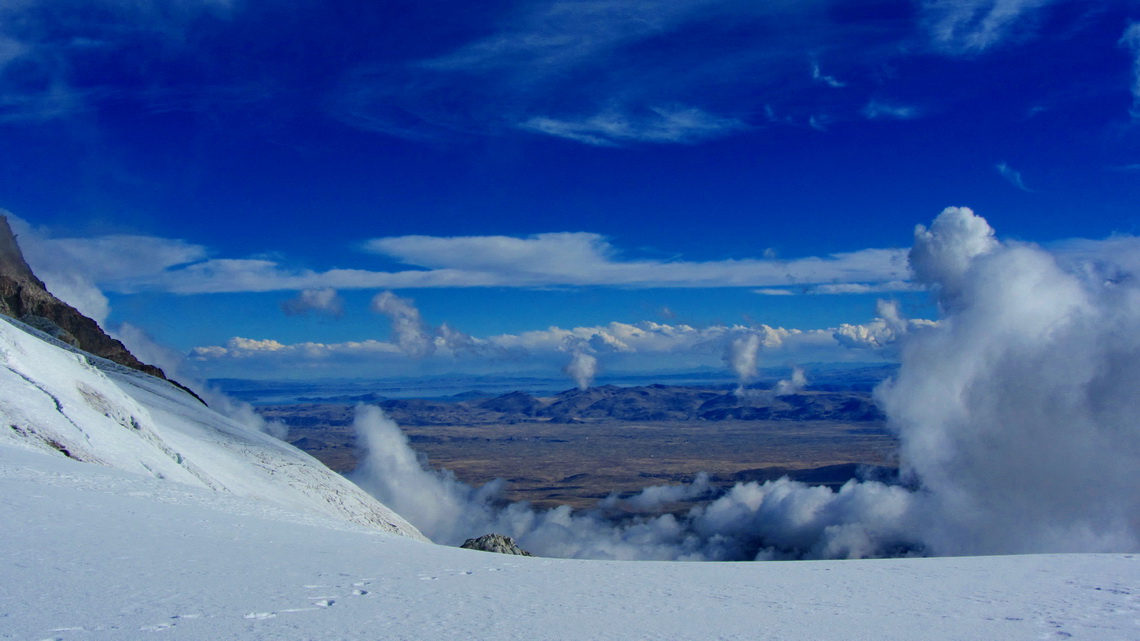 We started at midnight our trip to the summit. Sometimes there was a barely visible trail. If we put one of our feet outside the thin track we sunk into the deep snow nearly with our hips. Without our mountain guide, Erineo, we would have no chance to find the right path. At twilight we arrived at the last steep slopes, where we decided to turndown. On the way back we met a huge group with several mountain guides. The weather became a little bit better. Thus two roped parties tried to achieve the summit. They did it after several hours and came back close to sunset - very dangerous in our eyes on such a huge glacier with lots of fresh snow and tremendous deep crevasses.
Our trails on Ancohuma are included in the GPS coordinates file of Bolivia.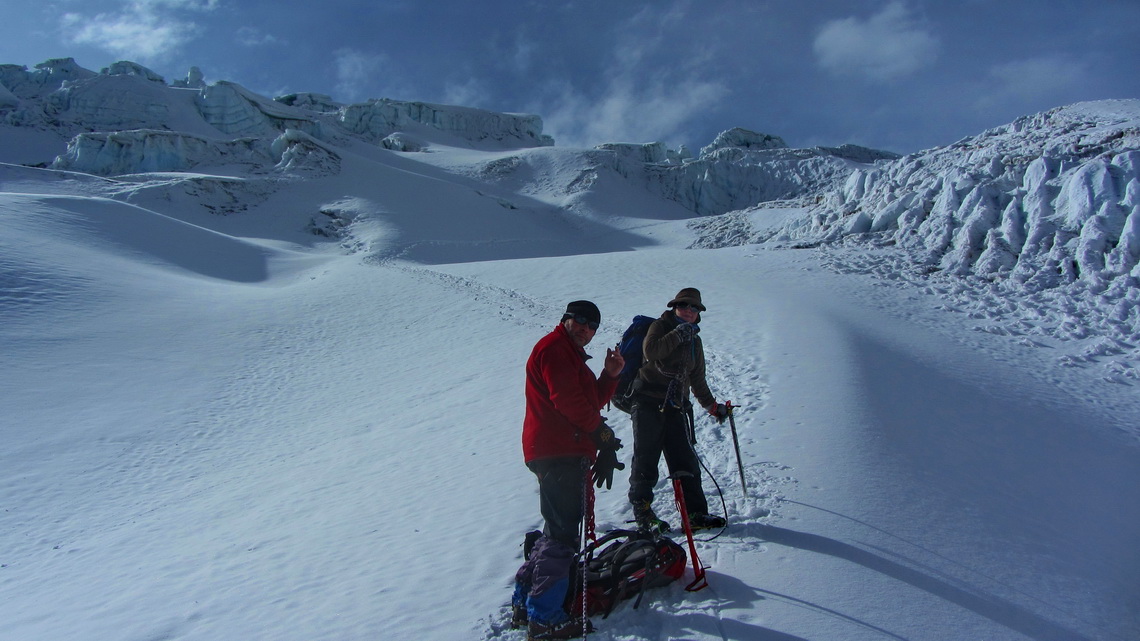 We were so exhausted that we slept immediately when we returned to our tents. Claudio aroused us with a soup in the early afternoon. Later we hiked down with heavy backpacks to the more comfortable camp on Laguna Glaciar and on the next day to the street to Sorata.
Another highlight in the area of Sorata is the cave Gruta San Pedro, close to the village with the same name. We walked several hours on a very interesting road.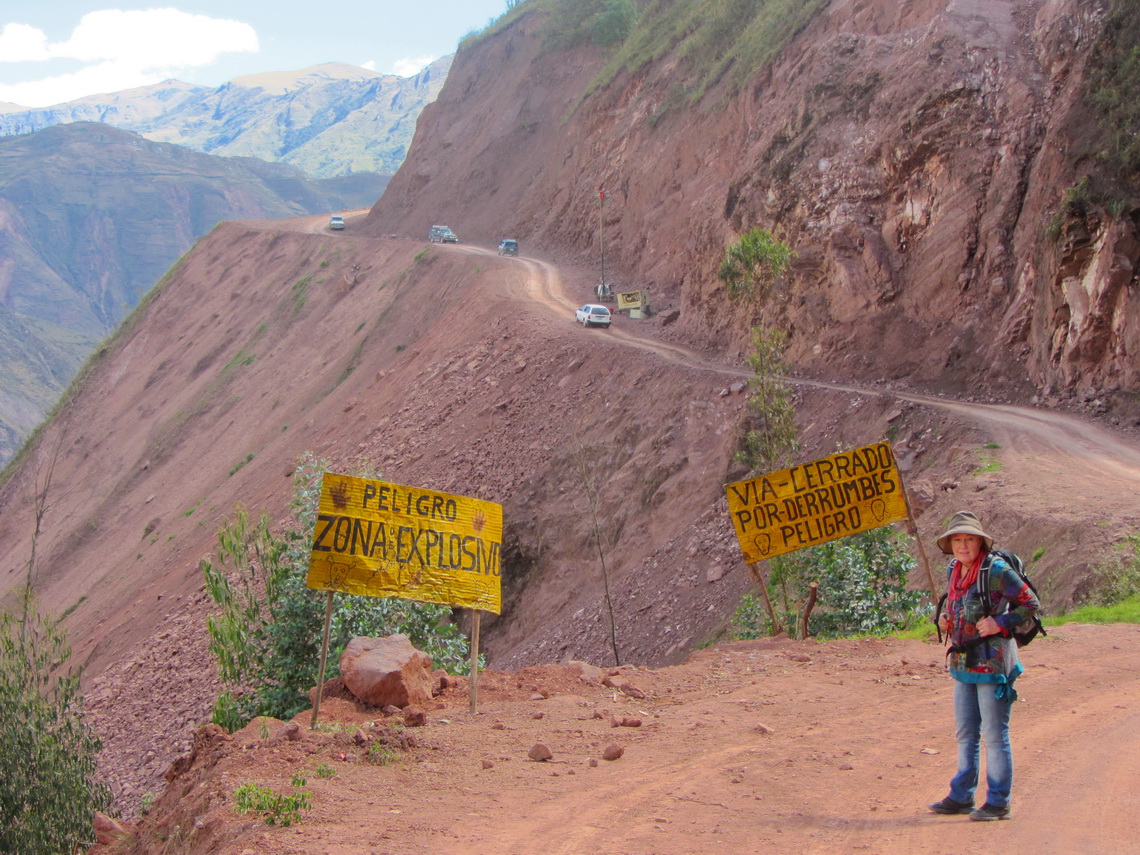 Sometimes we had to stop because there were blasting operations. Large stones were falling and jumping down like footballs. Fortunately the signaling of the workers was good but it was a very weird feeling walking under and over fresh blown up rocks. But the landscape was stunning and beautific; San Pedro lies East of Sorata direction Amazon basin.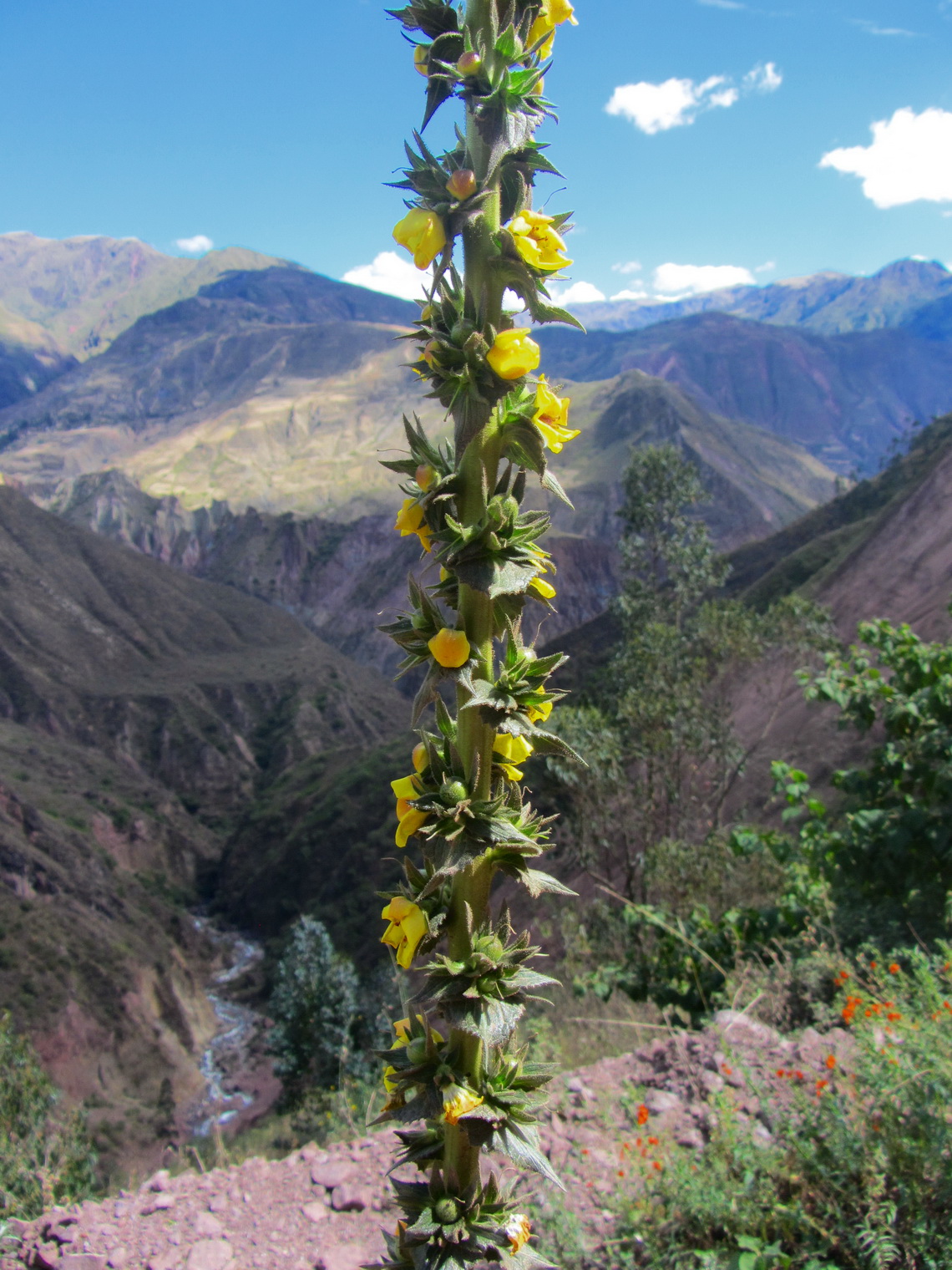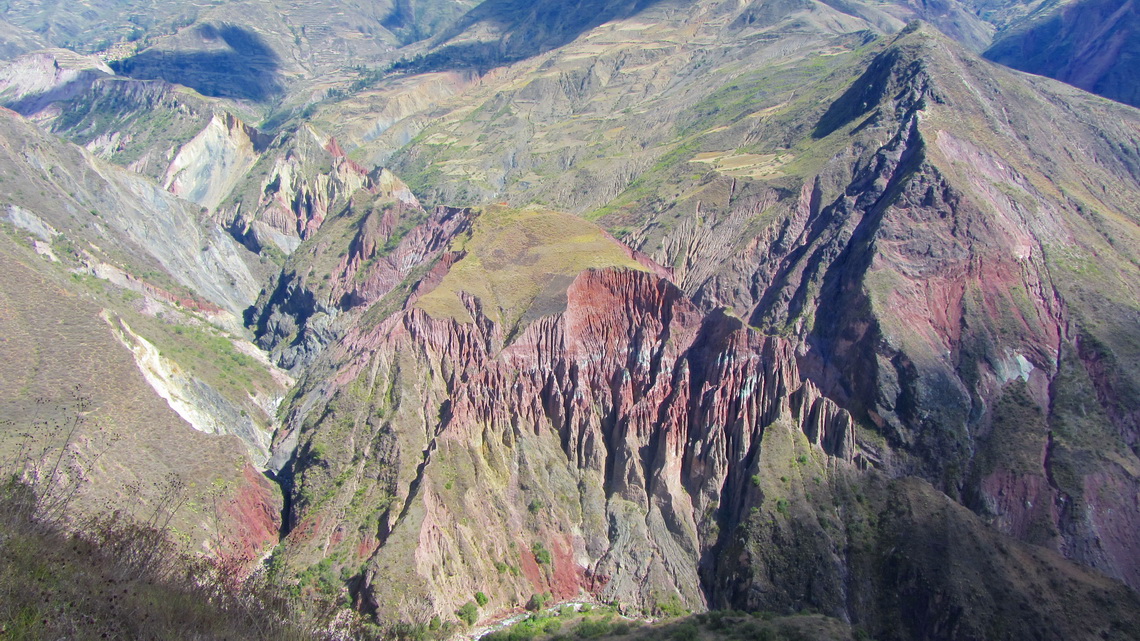 Our next destination was the village Copacabana, probably the most famous village on the shore of Lago Titicaca. It is the older Copacabana because the quarter and beach in Rio de Janeiro with the same name had been founded by immigrants from the Bolivian Copacabana. It is located on the western, Peruvian side of the lake. Consequently we had to cross the water.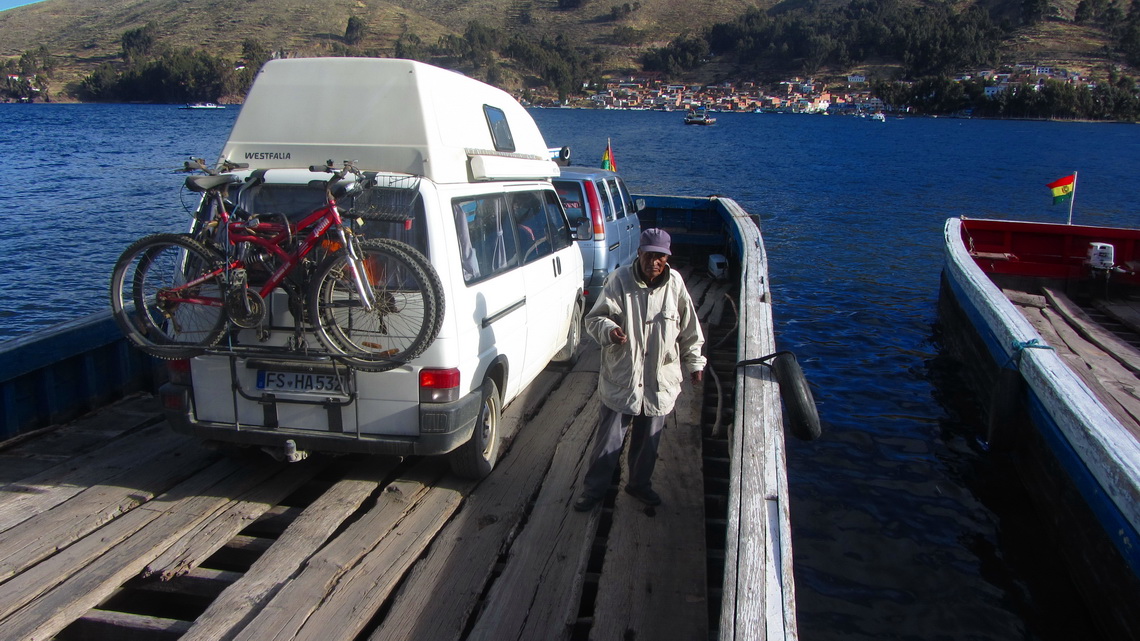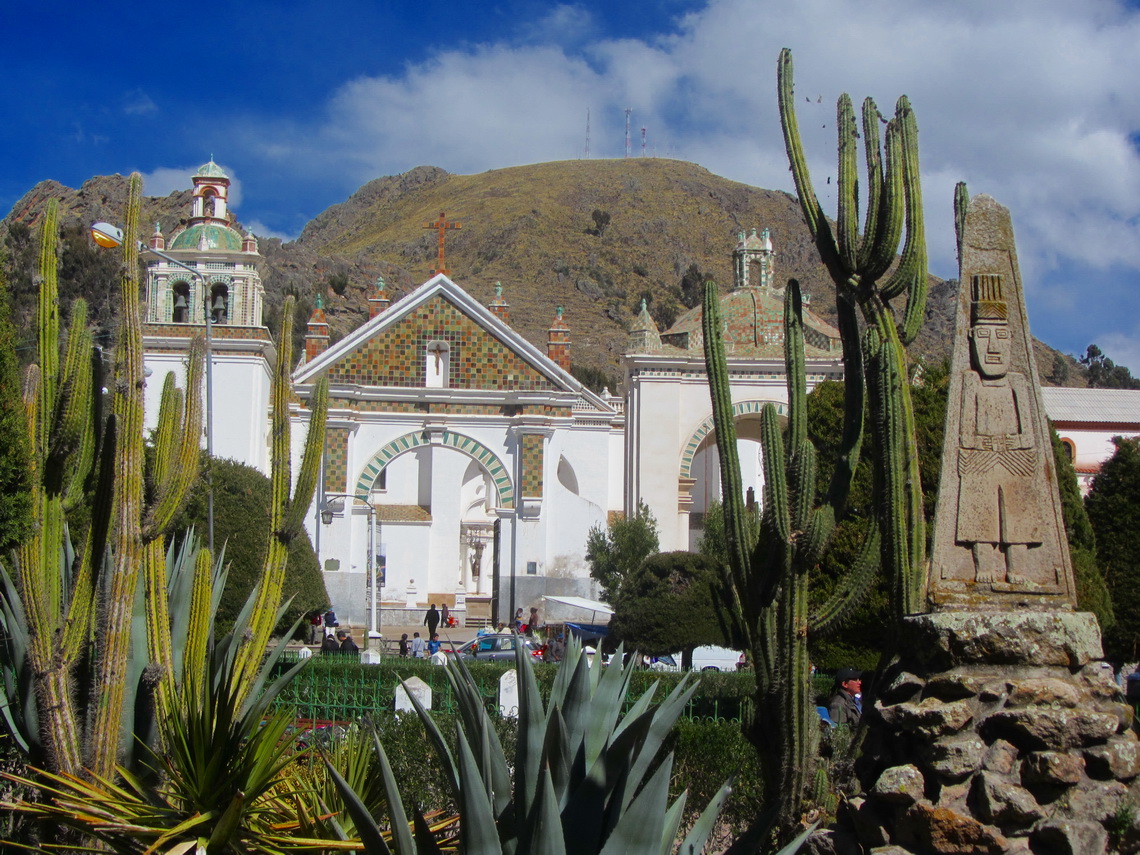 Thanks to Johny from Sorata we found an acceptable campsite directly on the beach (GPS coordinates: S16 10.425 W69 05.665). We hiked to the holy mountain Cerro Calvario (4023 meters sea-level, GPS coordinates: S16 09.693 W69 05.476) and its neighbor Cerro Santa Barbara (3980 meters height, GPS coordinates: S16 09.618 W69 05.305), where the views to the lake and Copacabana were superb.
A must to do in Copacabana is the boat trip to the island Isla del Sol. We started early in the morning to its northern port Challapampa and traversed the whole island over its mountain crest to the southern port Yumani. Our trail on Isla del Sol is included in the GPS coordinates file of Bolivia.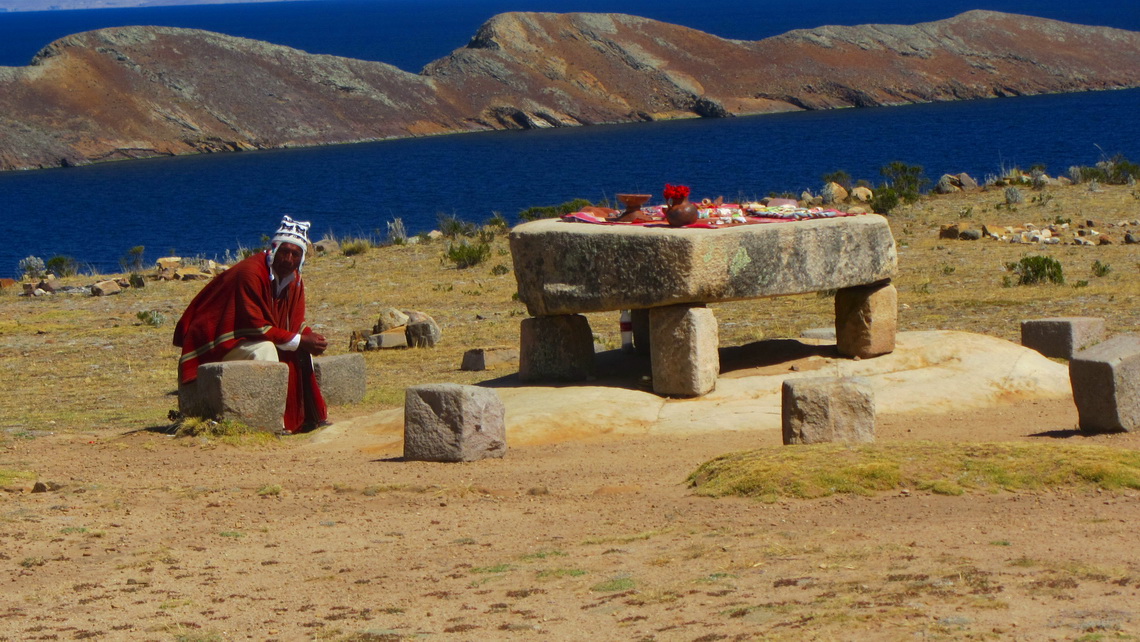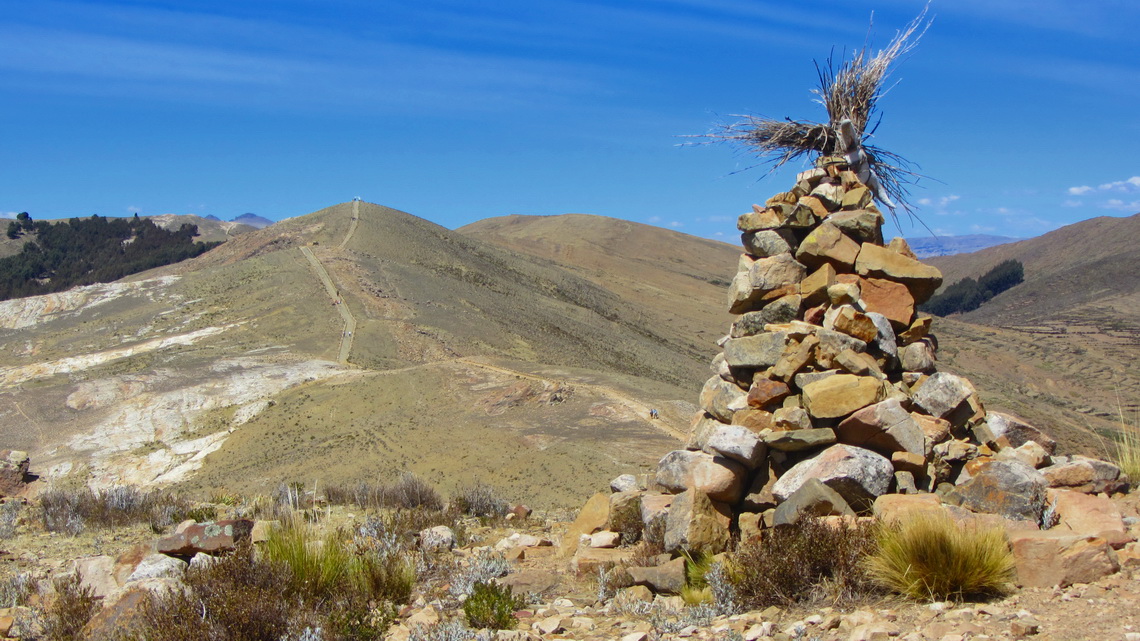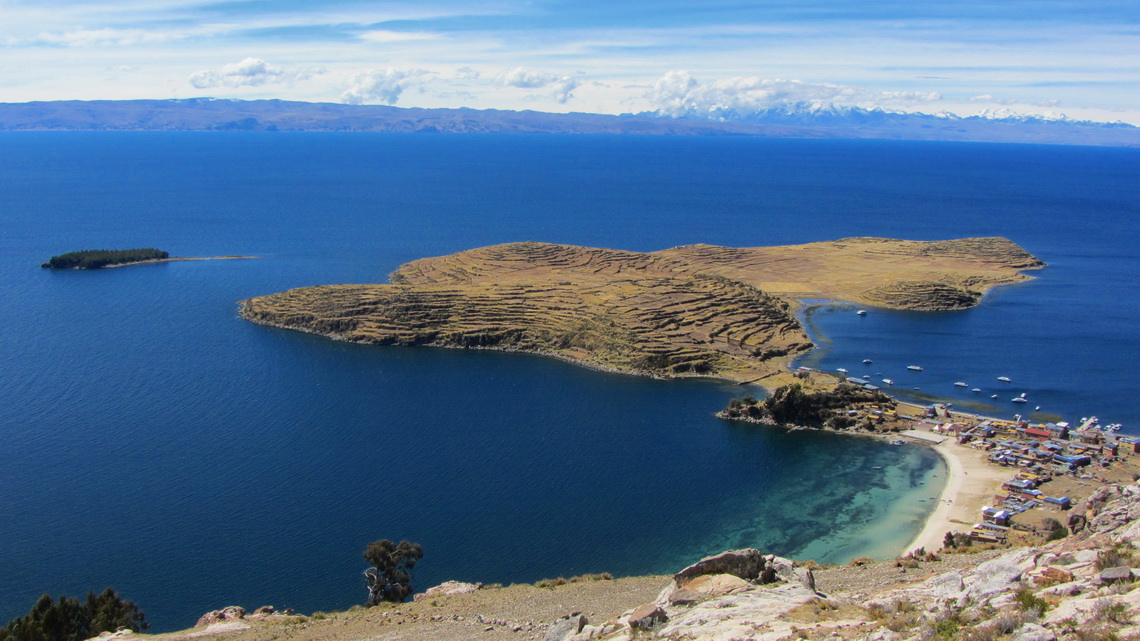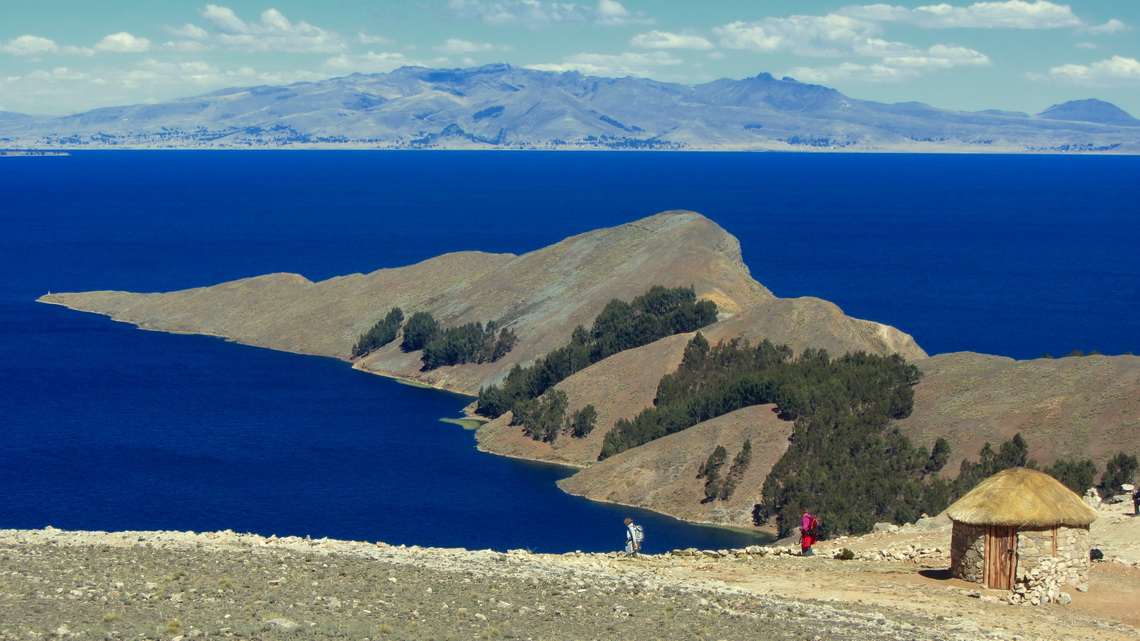 On July 24th 2013 we crossed the border to Peru- Bye, bye Bolivia.
For more pictures, please click here           For a map of our itineraries, click here
To download the GPS coordinates file of Bolivia, click here