The grandiose river Amazon is with its uncountable tributaries with a length of more than 6000 kilometers the biggest river system and tropical rain forest on earth. The complete basin of Amazonia covers more than a third of South America. Besides exploitation, deforestation and environmental pollution wild life is abundant and biodiversity unique. Thus it is called the green lung of our planet. Amazonia is a remote, lush, green, hot, humid and wet area covered with rain jungle but with just few streets and settlements. Transportation on its rivers and by air is very often the only choice, for instance to Iquitos which is with more than 400,000 inhabitants the largest city in the Peruvian Amazona. Indigenous life still exists with many legends, myths and priceless knowledge about the secrets of the rain forest.

Its main sources Rio Marañon and Rio Ucayali rise in the Peruvian Andes on its eastern slopes. Peru has a proportion of 12 percent of Amazonia. It covers more than 60 percent of Peru's size but less 10 percent of its people are living there. The Peruvian people call their Amazonia La Selva - virgin forest. After our car had gotten broken in Ayacucho we realized that we had to wait more than three weeks for spare parts from Germany. Thus we took light backpacks and traveled by public transportation into the Peruvian heart of Amazonica, which was an unforgettable stunning itinerary for us.
Our first destination was the small but busy town La Merced in the Chanchamayo valley, just 750 meters high. This region is an agriculture center with papayas, bananas, avocados, pinapples, cocoa and coffee. Its main attraction are the waterfalls Cataratas El Tirol, accessible by mototaxi and a short walk of 1 hour.
To Satipo we took a minivan, which started after all seats were used. It is another pleasant little town in a marvelous environment on the lower eastern slopes of the Andes. Few kilometers outside we found a zoo with exotic birds of the region.
A rough dirt road leads more than three hours to Puerto Ocopa on the banks of Rio Perene close to its confluence with Rio Ene. This is the longest source river of Amazon because its origin is close to Arequipa on the slopes of Nevado Mismi. Further up this river is called Rio Apurimac and Rio Santo Tomas. After the confluence with Rio Ene it is Rio Tambo which merges close to the town Atalaya with Rio Urubamba to Rio Ucayali. We took a the most common public transportation, a Peque-peque from Puerto Ocopa to Atalaya, a 8 hours trip on a long but narrow boat.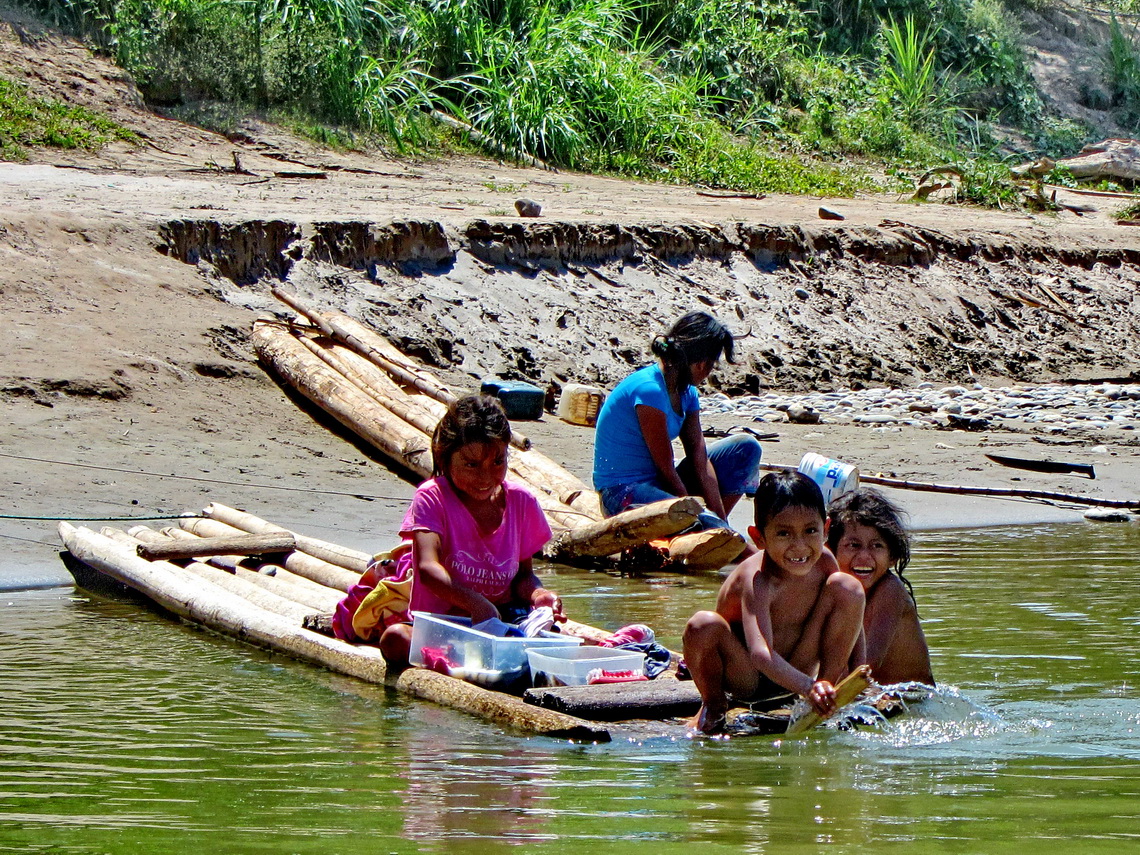 Atalaya is more or less a village with 4000 inhabitants in the middle of nowhere and without any tourism. But we found the nice guide Jean-Paul with the help of an employe in the city hall. With him we took a jeep to visit the small settlement Unini of the Shipibo indigenous people. Nearby there is a beautiful waterfall in the jungle.
The trip with a Peque-peque to Pucallpa was a little bit challenging. We started in the morning at 4:00AM and we were happy that we had our light sleeping bags. It was so cold and windy in the morning. After more than 16 hours on the boat we arrived in Pucallpa in the darkness, again. Supply of food and beverages was ensured because on every stop local people came into the boat to deal with us.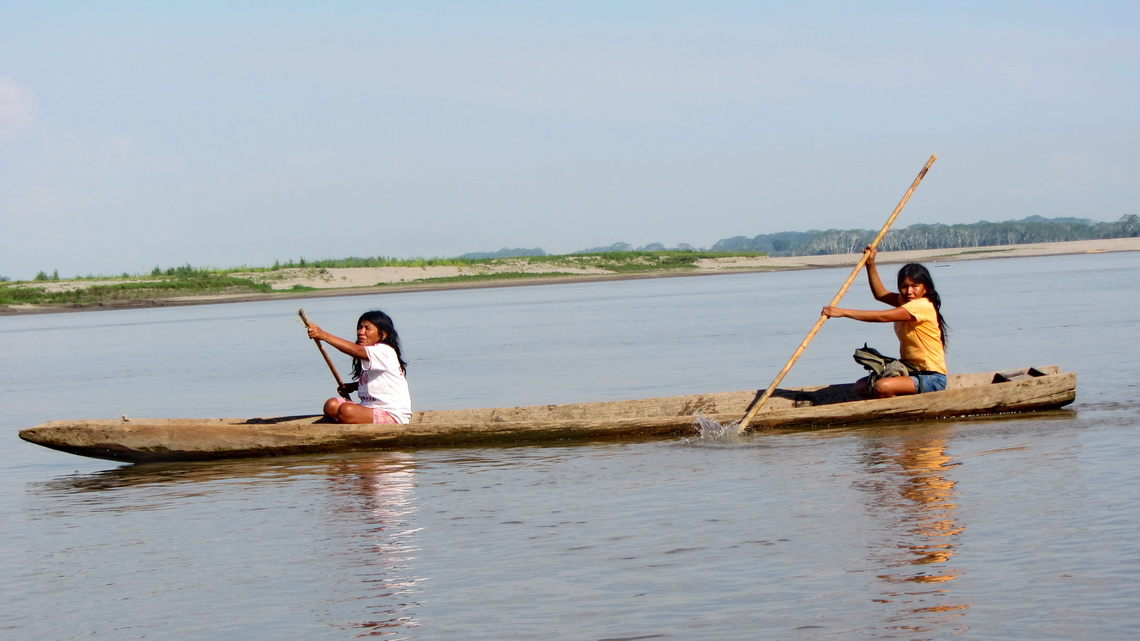 Pucallpa is with more than 200,000 people the second largest town in Amazonia of Peru and it is the capital of its second biggest state Ucayali, named after the river. Thanks to the paved street to Lima it has many different kind of facilities and shops - a real city! The hostel Hospedaje Barbtur in the street Jr. Raimondi (between port and main square) is a good choice in Pucallpa.
We visited in this region the park Parque Natural Pucallpa (including a zoo) and the lake Laguna Yarinacocho. On the shore of the latter are villages of the Shipibo people like San Francisco and the former holiday resort La Cabaña, which is now deserted. It had been founded by Swiss people from Bern. Its major attraction is a bigger area of primary rain forest with gigantic huge trees.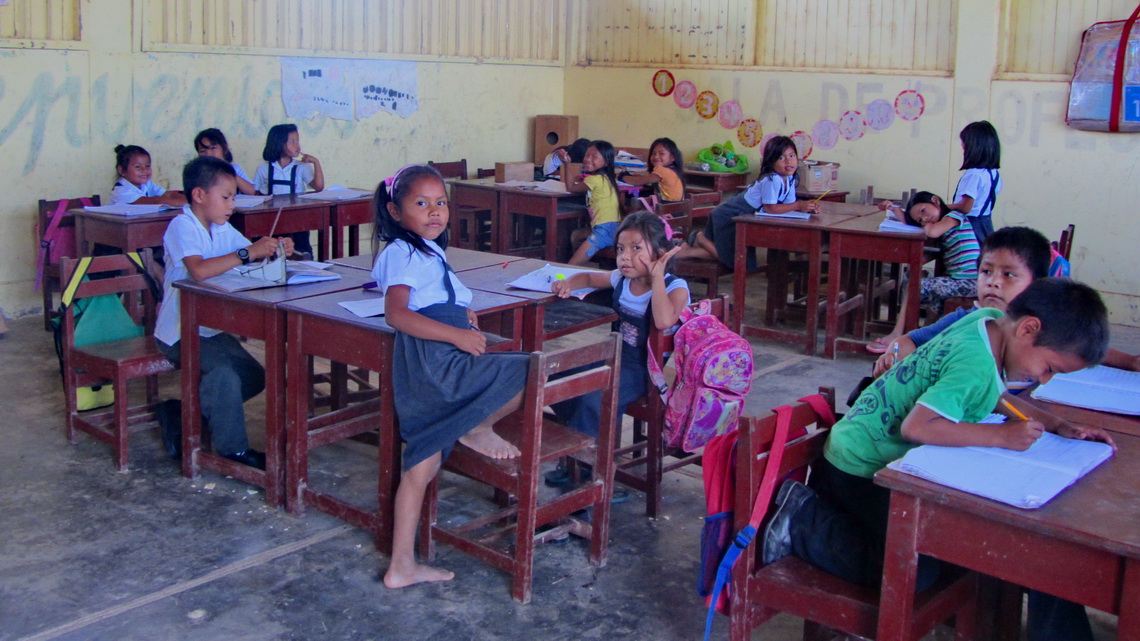 August 24th 2013 we received happy and exciting news from our daughter Eva in Germany: Our first grandson Theo was born in the morning!

We chose the company Eduardo for our drive from Pucallpa to Iquitos. It is a little bit more expensive than others but their ship seemed to be in a good and clean condition. Its staff told us that the ship was going to leave at noon on the next day. We came early to catch reasonable places for our hammocks, which we found in the upper deck. Then we waited. The people told us the ship will leave at 6:00PM. We waited. In the late evening we heard he ship will start at 8:00AM on the next morning. We slept our first night in the hammocks and waited. Finally it started at 2:00PM.
Our ship Eduardo VI had showers, electricity and a good kitchen. But when we arrived in Iquitos after 6 days we could not enjoy chicken with rice and banana any longer. Life on board was very interesting, because the landscape was overwhelming and our boat stopped several times to exchange cargo and / or passengers. People coming from / going to smaller ports were picked up by a dinghy to save time. Sometimes it was very crowed and difficult to get to our hammocks but most of the time it was convenient and pleasant. A lot of kids in all ages were gamboling. We were afraid that somebody might fall into the water, their parents were not concerned.
There were two incidents on our trip: Firstly the dinghy had keel over in rapid waters when its boatman wanted to check the depth for the ship. Secondly we towed a damaged sister ship on the left side. An weird loud bang awaked us in the morning at dawn. A towing rope had ruptured and parts of the balustrade of the other ship had crashed.
Our ship drove the long Rio Ucayali downstream to the confluence with Rio Marañon, followed by a short distance of half a day on the Amazon river. Iquitos is nearly everything: Ugly, terrible , noisy, smelly, dirty, extremely hot, humid and wet but also glittering, charming, exciting and beautiful. It is the largest city in the world which cannot reached by cars. We thought and hoped that it has limited street traffic, but is was horrible. Thousands of loud and stinky mototaxis with three wheels congest its streets. Fortunately it has a little pedestrian area on shore of Rio Itaya. In former times the big vessels from the Atlantic Ocean could anchor directly here, but the Amazon changed its bed in the year 1965 and no human effort could reverse it up to now.
Iquitos is the capital of the state Loreto, which is with more than 250,000 square kilometers the largest in Peru. Thanks to oil and tourism it is a kind of boom town but on the other hand it is an administration center and it has the only university in this huge area. In its incredible dirty suburbans like Belen poverty, plagues and violence are still severe issues.
We were more than happy that we found the remote and nice hostel Maravilla Amazonica directly on the shore of Rio Itaya above Belen in the street Garcia Saenz No 01. The best restaurant in town is driven by our friend Marc from Belgium. It is half the way between our hostel and the pedestrian area. Marc helped us to check the actual situation of our spare parts from Germany with the Peruvian customs - Thanks a lot Marc.
We spent six days in Iquitos and visited by boat and / or minivan several interesting sites like the butterfly farm Pilpintuwasi. Trekking in the lush jungle without guide was possible in the park Centro de Investigaciones Allpahuayo. Swimming opportunities were on Laguna Quistococha and in the river Rio Nanay close to the villages Santa Clara and Puerto Almendra. The water of Rio Nanay was surprisingly cool. We saw animals in the Manatee rescue center and in the zoo of Laguna Quistococha. The probability is very low to see animals besides insects in the dense and lush rain forest. Thus visiting a local zoo is a reasonable option.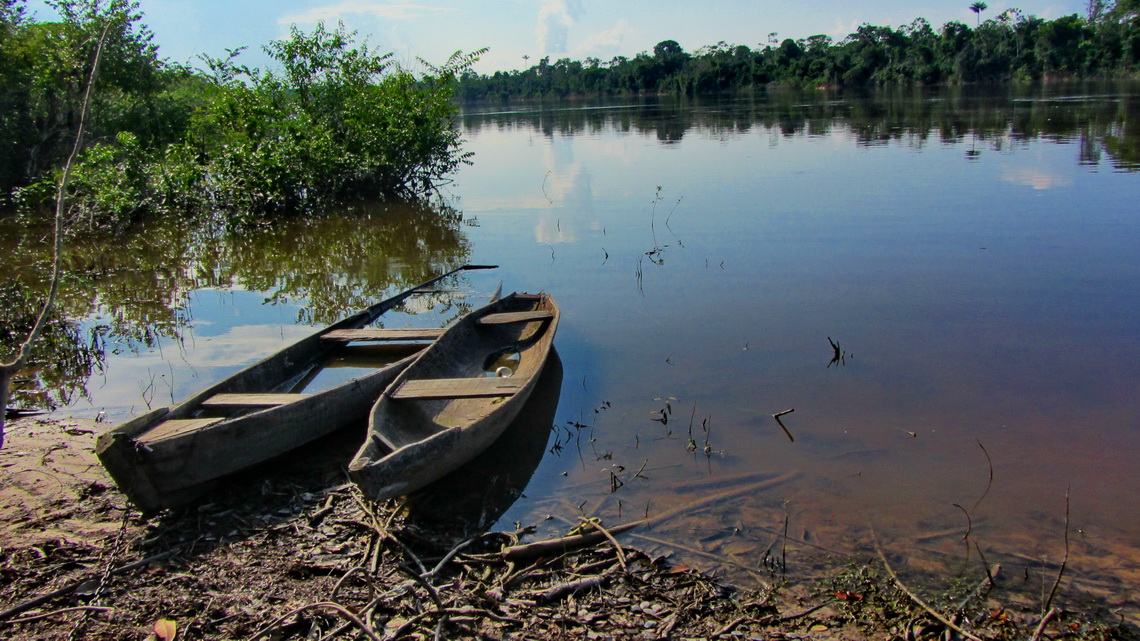 We were lucky in the zoo of Laguna Quistococha because we watched a fresh water Dolphin horny with a life jacket. There are several legends with Dolphins by the indigenous people. At night a dolphin becomes a handsome young man. He seduces and impregnates a beautiful girl of the village. In the morning he returns to the water and becomes a Dolphin again. An offspring of such a night is a mythical creature: Half man half Dolphin.
On Thursday, September 5th 2013 we took an airplane to Lima in the hope to get our spare parts from Germany, soon.

For more pictures, please click here            For a map of our itineraries, click here
To download the GPS coordinates file of Peru, click here