Guatemala is a tropical paradise with huge mountains up to 4200 meters sea-level. The hot and humid northern part is covered with dense and lush rain forest adorned with some of very exciting Maya ruins like the UNESCO world heritage site Tikal. Central Guatemala is very mountainous with its bigger cities and many villages in its valley. The western range includes some of most active volcanoes on earth, it is part of the Pacific Ring of Fire.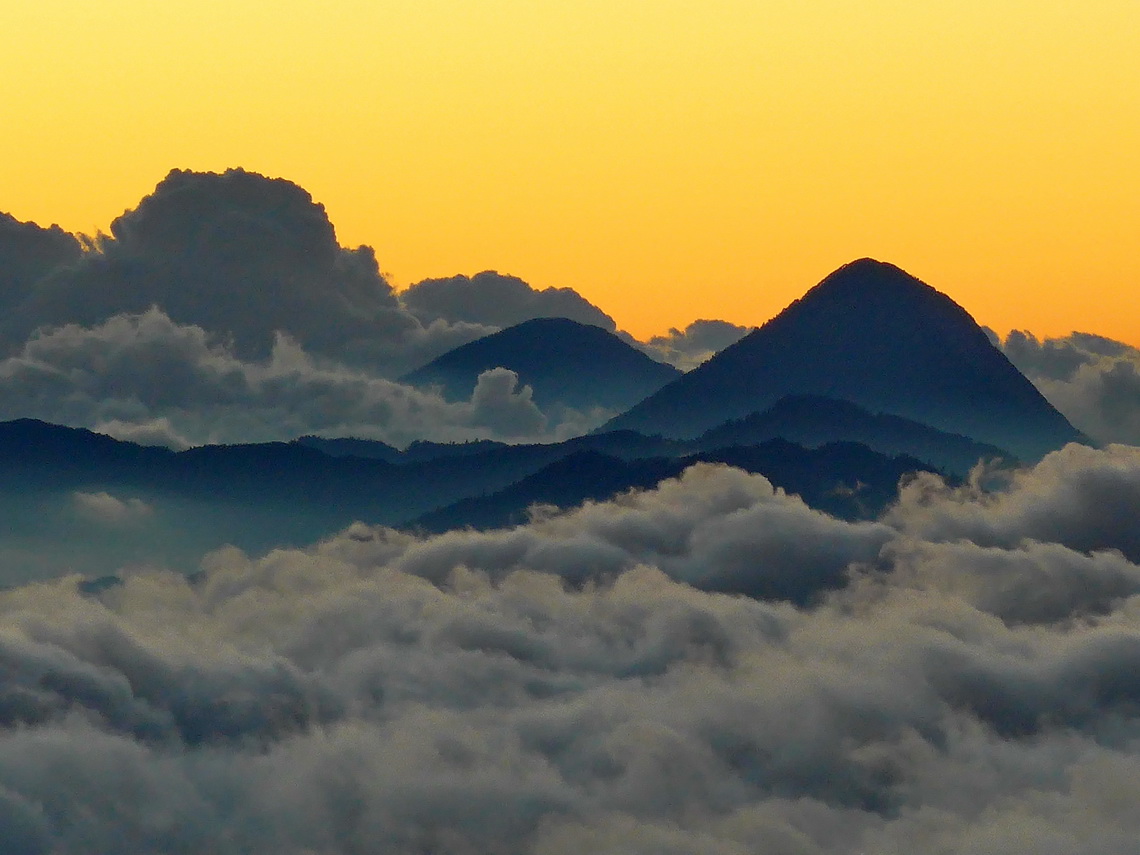 Thanks to higher sea-levels Central Guatemala enjoys an eternal spring with comfortable temperatures. The plains of the southern part are hot and humid again but there are some beautiful beaches on the Pacific Ocean. Large sugar cane fields dominate the landscape.
But Guatemala has severe drawbacks. Poverty, violence and crime are common. Its homicide rate is one of the highest of our world. The gap between poor and rich people is unbearable. Thrash is nearly everywhere on its main street. For us it was the most messy country so far in Latin America and we had a scary experience, too. However we spent twice a nice time in this terrific but sometimes dreadful country.

The first time we came to Guatemala End of April 2015. We crossed it relatively fast because we had booked flights from Mexico City soon to see our grandson in Germany and the rainy season started in the mountains. Our friend Frank was with us and our first action was hiking to 1636 meters high Volcan de Ipala and swimming in its wonderful crater lake. There is a perfect parking place at the start of the trail where we spent also the night (GPS coordinates: N14° 33.121' W89° 39.215'). Achieving the summit we had to overcome some fences on its southern ridge.


We headed in a rush to the highway CA2, which crosses the southern plains of Guatemala. The interesting museum El Baul in the bigger town of Santa Lucia Cotzumalguapa offers a reasonable and quiet place for the night (GPS coordinates: N14° 22.889' W91° 01.010'). But it was a real challenge to find this location and to drive through the outskirts of Santa Luzia Cotzumalguapa. The museum is located in an abandoned sugar cane plant and shows some interesting sculptures left by the Pipil tribe, an ancient culture which had links with the Nahuatl-speaking people of central Mexico.
Our next destination was a real dream - the marvelous beach of Tulate. A bumpy road leads more than 60 kilometers from the CA2 (west of Mazatenango) to this wonderful place. When we arrived at the center of the village a beautiful Lady offered us a campsite 1.5 kilometers west of Tulate. She asked us to give her a lift and of course we agreed. She returned to the bus station and came back with her sister, two babies and a lot of luggage. Our car was fully loaded. We were literally embraced by Rosmery and her family and we spent four days with them (GPS coordinates: N14° 09.698' W91° 43.325').
Friday evening Frank and Alfred went to the local disco with Rosmery and her sisters. There were a lot of smaller children sitting and sleeping in front of the loudspeakers. Some kids were dancing. It was incredible loud and noisy. We drunk some delicious beer of the label Gallo - cock. Alfred became a headache and gave up after 2 hours. Some kids were still sleeping deeply.
When we had driven to Tulate Frank suddenly overhauled us with a high speed on an artificial ground sill, a Reductor de Velocidad - Reduction of speed. He checked his front brakes and there were in a very bad shape. Some of the fixation pins were corroded. Thus the brake pads couldn't move. Worse the pads were gone more than less. Unfortunately Frank had no spare pads but Alfred found two in his store. But Frank has a Mercedes and we have Volkswagen. The shape was different but fortunately the pads for our car were smaller and the thickness matched more or less. Frank and Alfred could mount them somehow the Volkswagen pads in the Mercedes. It was hot and humid - nearly unbearable. A lot of kids and some men were around us and admired us when we worked on the brakes. But they were working properly until Frank found original ones in Mexico.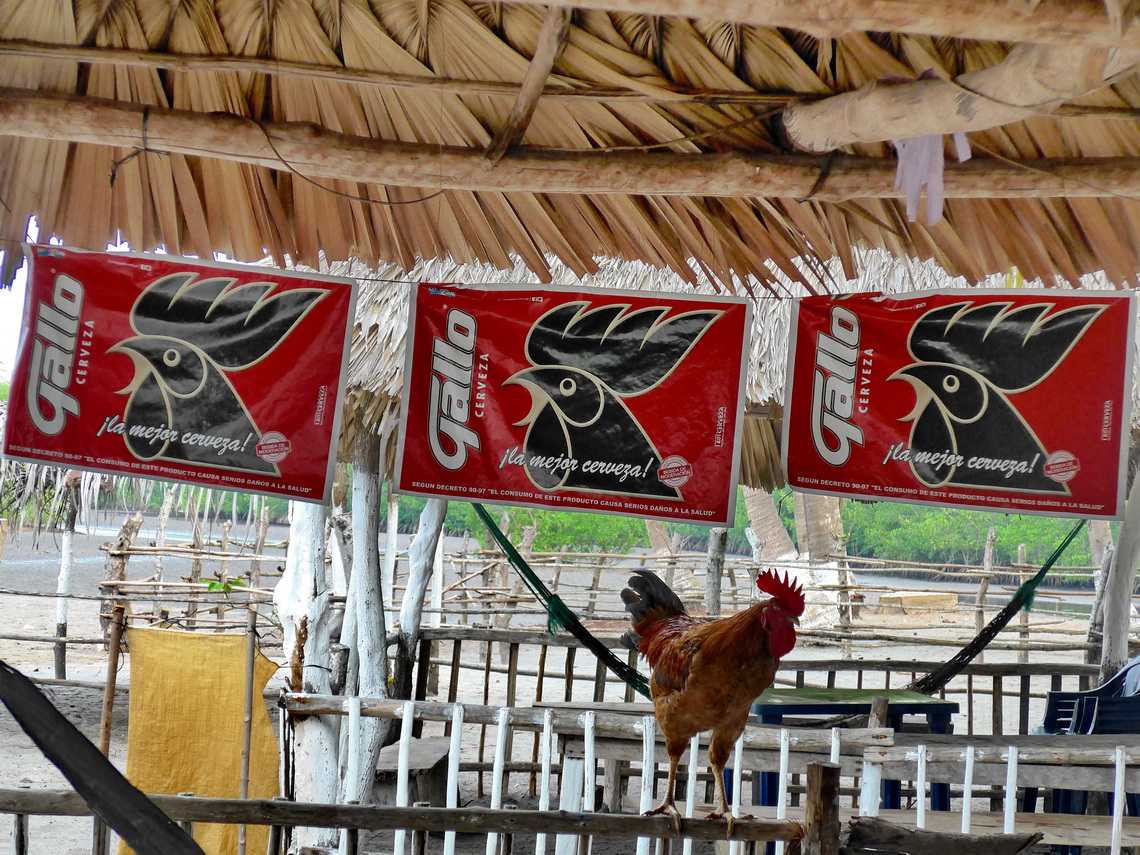 It was December 20th 2015 when we entered the second time Guatemala, now from Belize into the jungle of Petén with its mystic and famous Maya ruins. Marion's brother Tommy was with us. We spent too much time on the border and it was already dark when we drove the bumpy road to the Yax-Ha ruins, where we had a waypoint for a campsite from the very good and handy website www.ioverlander.com. But a gate was closed few kilometers ahead, in front of a military station on the shores of the lake Laguna de Yax-Ha (GPS coordinates: N17° 03.405' W89° 23.064'). The soldiers allowed us to stay the night in their camp but they warned us about dangerous snakes which are active in the night.
The UNESCO world heritage site Tikal are the most famous and most impressive Maya ruins in Guatemala. Steep pyramids are towering over the dense and lush jungle into the sky. Wild life is abundant. Of course there were a lot of tourists but the area is so huge that it doesn't matter. We walked more than 12 kilometers to explore all the different locations!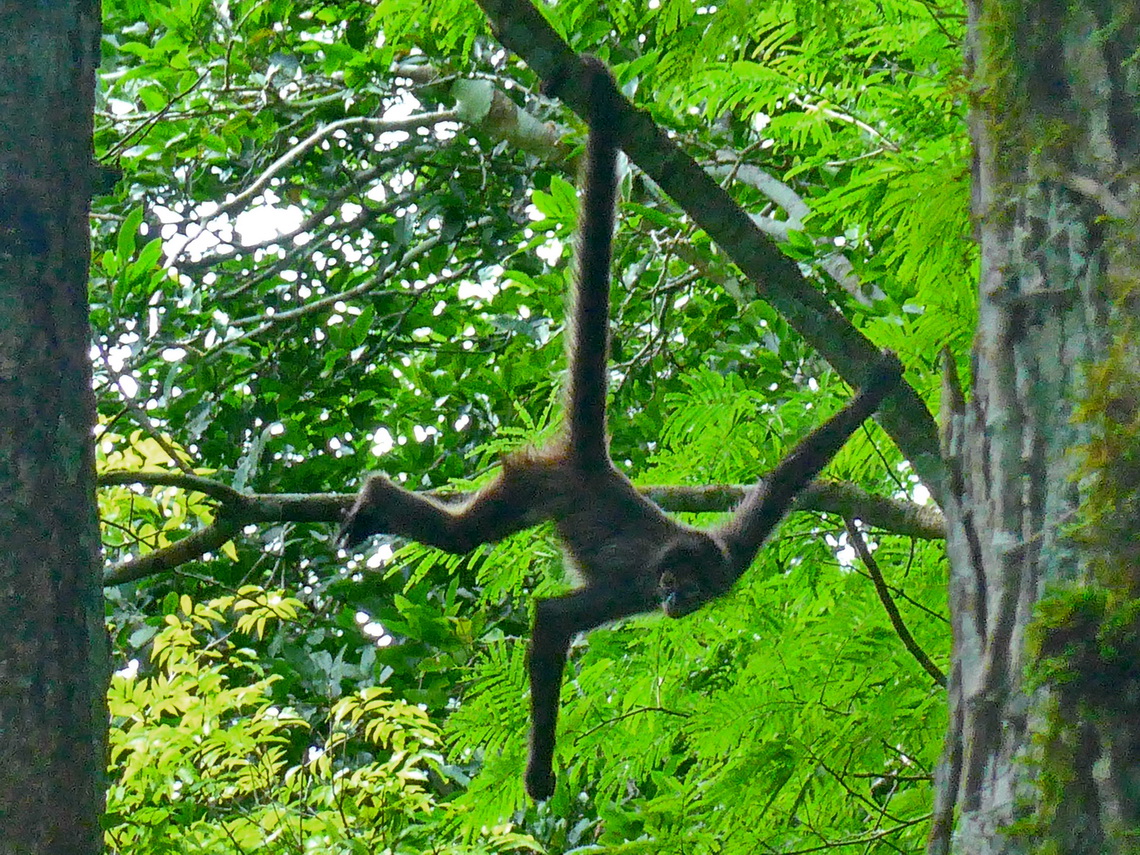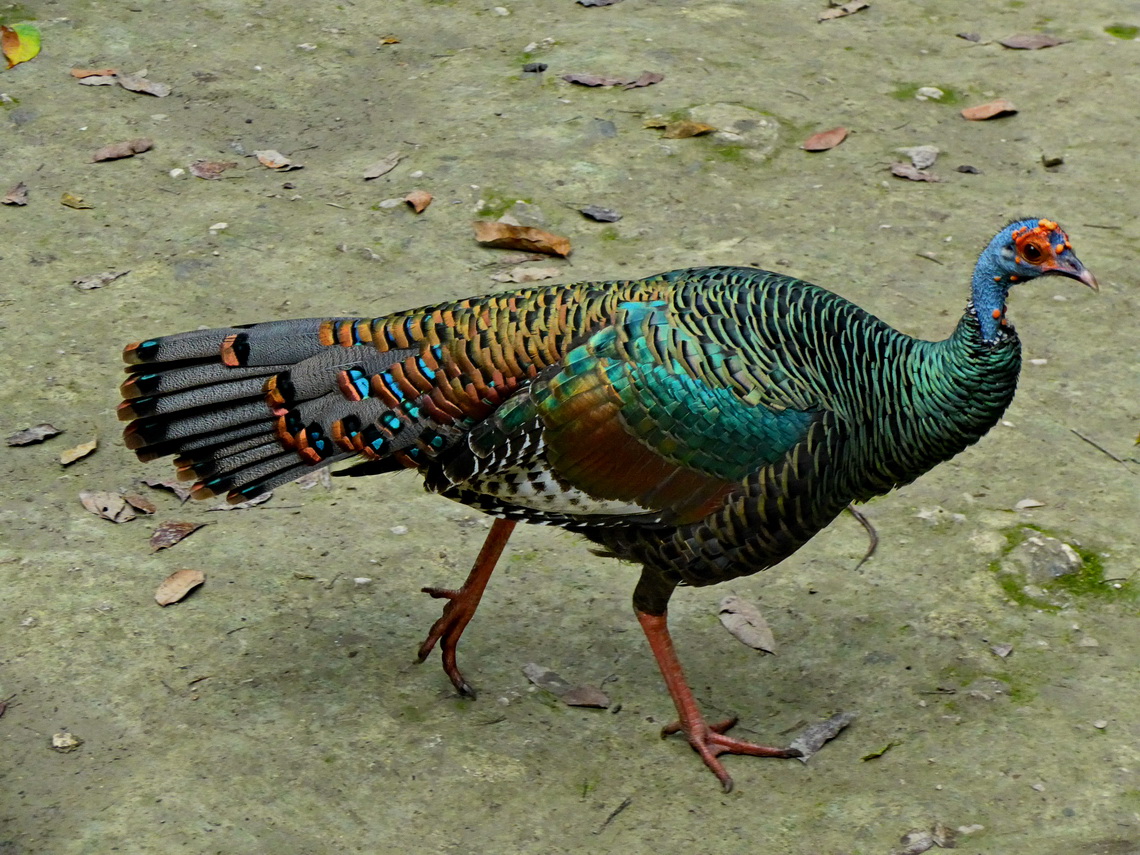 There is a reasonable campsite in front the ruins (GPS coordinates: N17° 13.516' W89° 36.679'), where we had spent the night before we visited the ruins and where we could park our car safely. But we had to search sometimes for the care-taker because he had always locked the bathrooms. Thus we drove after coming back from the ruins to El Remate where we found the outstanding place El Muelle directly on lake Lago de Petén Itzá (GPS coordinates: N16° 59.281' W89° 41.506'). Swimming as well as in the lake as in the pool was wonderful!
The capital of Petén, Flores is an interesting city. It is located on a little island on Lago de Petén Itzá. We spent the night at the parking lot of the Maya International Hotel (GPS coordinates: N16° 55.384' W89° 53.328'), which is in front of the street to the island. They led us use the pool and gave us the Wifi key after we ordered a beer but we felt somehow out of place there.
We spent Christmas 2015 on a nice campsite in the village Ocampo nearby the caves Grutes de Candelaria, driven by indigenous Maya people (GPS coordinates: N15° 53.066' W90° 11.457'). It is located directly on the Ruta 9, approximately 100 kilometers northeast of Coban. We did a three steps cave tour: On Christmas Eve we visited one side of the 18 kilometers long cave system with some stunning rock formations. At the entrance is a holy ceremonial Maya place where people prayed and kindled some candles. Indeed candle means Candelaria. On Christmas Day we went to another cave and tubed in a river in the darkness more than one hour. A very special and peaceful experience!
Christmas Eve had two surprises for us. There were a lot of kids of different ages around us and we celebrated with them. They tasted various dishes, of course non-alcoholic, and they were very interested about our books of Guatemala and the ancient Maya people and sites. After the children went to bed at approximately 10:00PM extreme loud noise, fireworks and crashes of thunder occurred. It was much heavier than we had enjoyed in the past on New Year's Eve so far!
About 50 kilometers south of Coban we spent a night at the restaurant opposite of the Biotopo del Quetzal (GPS coordinates: N15° 12.824' W90° 13.013') which is located directly on the main road CA5. We started as early as possible to see a Quetzal but we had no luck. However the trails in the higher rain forest (closed to 2000 meters sea-level) are gorgeous. Our track is in the GPS coordinates file included.
Besides Tikal the former capital and UNESCO world heritage site, Antigua is Guatemala's major touristic hub. It is located 30 kilometers west of Guatemala City in the highlands on foot of three active volcanoes. It had lost its capital status after several severe earthquakes. In addition Antigua was and is obsessed by heavy volcanic eruptions and floodings. Damages like broken churches are visible nearly everywhere. But Antigua's inhabitants have a very strong spirit to rebuilt the city. Indeed it is a bustling city with full of life and energy. We stayed several nights at the free campsite of the tourist police but there are no bathrooms or toilets (GPS coordinates: N14° 33.323' W90° 44.365'). We used them in the nearby market.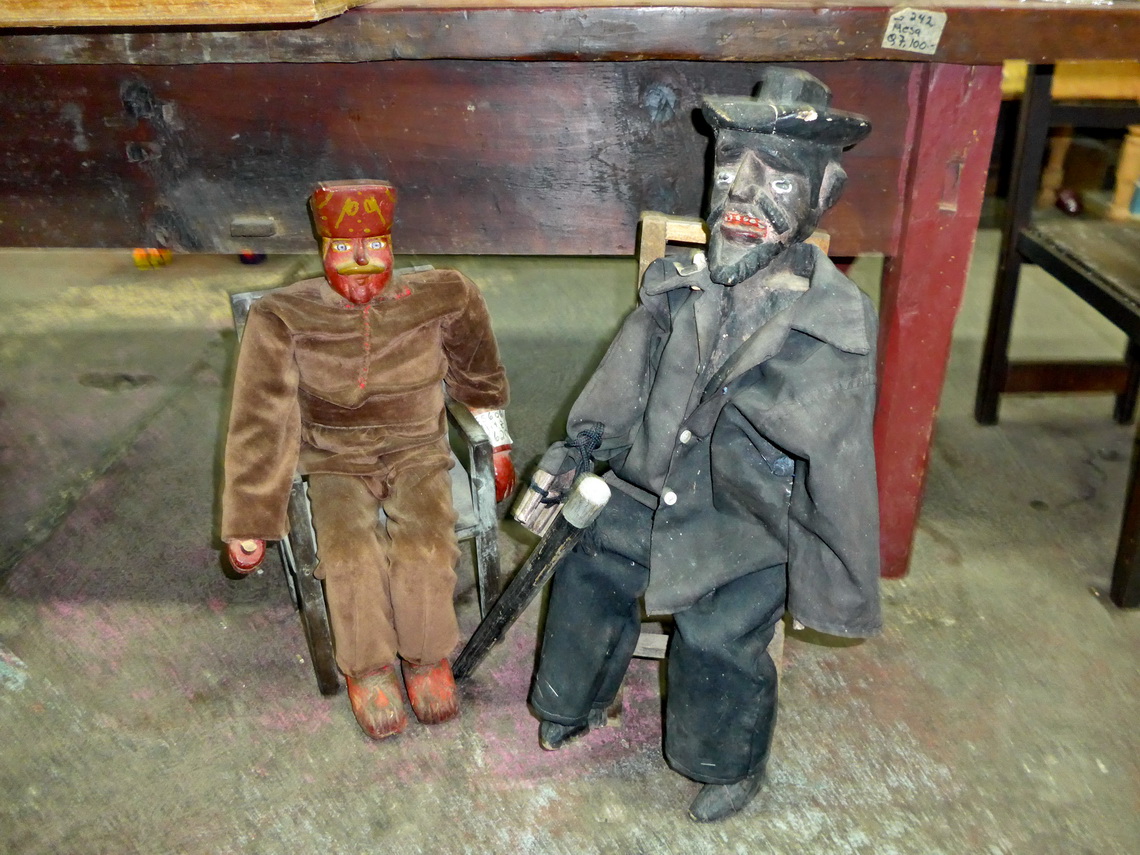 We also could park the car safely at the campsite of the tourist police when we went to the 3975 meters high Volcan Acatenango, which is in front of the very active Volcan Fuego. We took the only bus at 2:00PM to La Soledad, the start of the trail (GPS coordinates: N14° 32.205' W90° 53.005'). After 3 hours hiking we found a cozy campground for our tent at 3100 meters sea-level (GPS coordinates: N14° 31.262' W90° 52.672'). There are more reasonable sites few meters below and above. Also camping in the saddle between the two peaks of Acatenango is possible.
At 2:00 AM many people were rushing to the volcano along our tent. Thus we upraised, hid our tent and other stuff, and started walking to the summit, which we achieved soon after sunrise. The views were stunning and unforgettable, especially to active Volcan Fuego which is just 3 kilometers away and 200 meters down. After two hours clouds were coming and we returned via the secondary summit Cima Yepocapa (3830 meters sea-level). Sadly the trail is very obviously, just follow the trash line! Our track is in the GPS coordinates file included.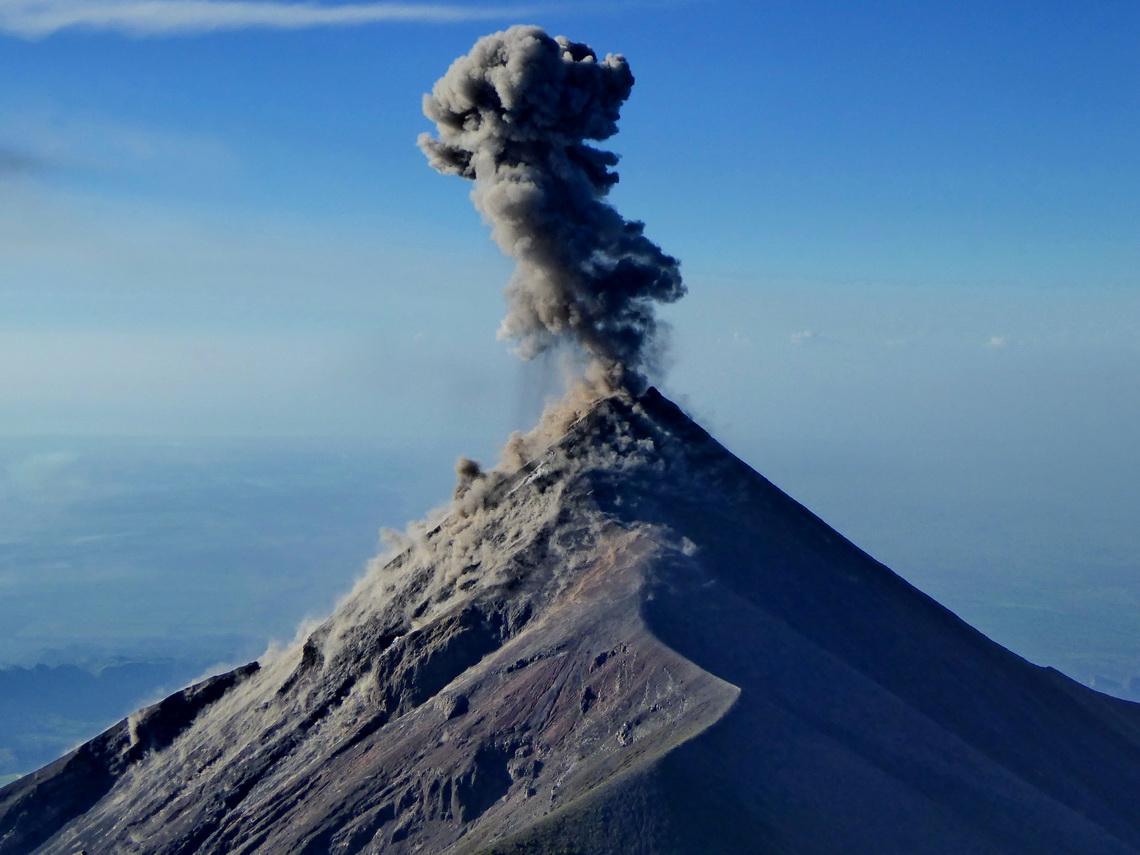 The lake Lago Atitlan is supposed to be one of the most beautiful on earth. We fully agree but our access was weird. At New Year's Eve we wanted to drive to the wonderful campsite Pasaj Cap in San Marcos in the northwest corner of the lake. Our GPS guided us to the village San Lucia Utatlan with very narrow streets and further southeastwards. The street became bumpy and more narrow. We asked and they sent us back. But suddenly there was a market in San Lucia and its main streets were closed. The deviations were too steep for our motor-home - we were stuck and we couldn't move. After one hour a guy led us out of this chaos with his motorbike.
Also the other road became steeper and steeper, fortunately downwards. Some people warned us in Santa Clara la Laguna. Few kilometers after this village it was so steep that we saw no chance for a return with our car. Thus we wanted to skip the lake but Police and other people came. They ensured us that we could drive down and leave the lake southwards on a good and paved road. But we have to drive down to the CA2 in the southern plains, at nearly sea-level. The lake is about 1600 meters high and our next destination, Quezaltenango, 2300 meters high. Thus we dared to continue, slowly, very slowly an unbelievable steep road to Lago Atitlan at dawn. It was totally dark when we arrived at Pasaj Cap, which is managed by Pierre, a Frenchman, with his Guatemalan family (GPS coordinates: N14° 43.391' W91° 14.991').
In comparison to Christmas Eve our New Year's Eve was quite calm. We enjoyed the fantastic view over Lago Atitlan with all the fireworks. Our campsite was like balcony 50 meters over the lake. At late afternoon on New Year's Day 2016 we walked along the northwestern shore to Jaibalito. Several villages like Jaibalito have no access by car, only by boat. Back to we took a small water-taxi for little money. Our track is in the GPS coordinates file included.
The 2247 meters high mountain Nariz del Indio - nose of the indio provides a nice view to the lake and its environment. Thus we took a tuk-tuk (three wheeler taxi) to San Juan la Laguna and hiked three hours in a loop to its summit. We had to pay a fee for the entrance and the cashier told us that we must take the right way after one hour and that we cannot access the summit because it is property on another community. Thanks to Wikiloc we had a good trail on our GPS which shows a loop. At the bifurcation we continued left over a ridge with marvelous view and some farms. Close to the secondary peak the trail stopped and an old man came. He wanted again a little bit money which we gave him because he looked very poor. He took his machete and opened the way for us. At the top were signs that you have to pay more money but fortunately nobody was there. Thus we skipped our summit rest and dismounted to a nice vantage point. When we returned to Pasaj Cap Pierre was laughing and he meant that Nariz del Indio had been very cheap for us. Indeed others had to pay more than four times of our amount. Our track is in the GPS coordinates file included.
Our parting from Lago Atitlan was scary. According to the recommendations we took its southern street to San Lucas Toliman. The first part of the road was in an excellent shape but we had to drive up 2200 meters sea-level. After several kilometers moving down the street became ugly with huge bumps, potholes, scree and sand. Again no chance for us to return because it is too steep! Suddenly a car with many younger foreign people - gringos came on the other side and stopped in front of us. They told us that they had been robbed in the next very narrow curve. Two men with loaded guns jumped out of the jungle and collected all their money and electronic equipments.
We locked all doors and windows of our car and waited until another came in our direction. Fortunately it was an open taxi with six men. They were grinning when we told them the story but they let us drive in front of them. At the curve we saw the traces of the robbery in the sand but nobody else - That was a close shave!
In the heat of the southern plains we found a good campsite at a gas station on the main road CA2, directly in front of the restaurant Las Marias with delicious food (GPS coordinates: N14° 30.400' W91° 24.854'). Qutzaltenango is the second biggest city in Guatemala, located at 2400 meters sea-level on foot of 3771 meters high Volcan Santa Maria. It is a pleasant town without any major attraction besides the volcano. At the start of the trail to the summit of Volcan Santa Maria lives the very friendly family of Don Alberto which offers safe parking including sleeping in the car (GPS coordinates: N14° 47.216' W91° 32.906').
We started the hike at 2:30AM. Again the path to the peak of Volcan Santa Maria was covered more or less with trash - Messy Maria seems to be a more adequate name. The dense rain forest opened few meters below the summit with overwhelming views. Again we could see a smoking volcano below us, the active Volcan Santiaguito. Like on Volcan Acatenango the clouds were coming early, at 9:00AM! Our track is in the GPS coordinates file included.
Our next and last mountain in Guatemala was Volcan Tajumulco, which is with 4220 meters sea-level the highest point of Central America. A relatively good street leads from the highway CA1 from the town of San Marcos to a more than 3000 meters high saddle on foot of the volcano (direction village Tajumulco). There we stayed the night and parked our car at the Hotel Villa Real with friendly staff (GPS coordinates: N15° 04.370' W91° 52.169'). Again we started at 2:30AM the 5 hours hike to the summit. Our track is in the GPS coordinates file included.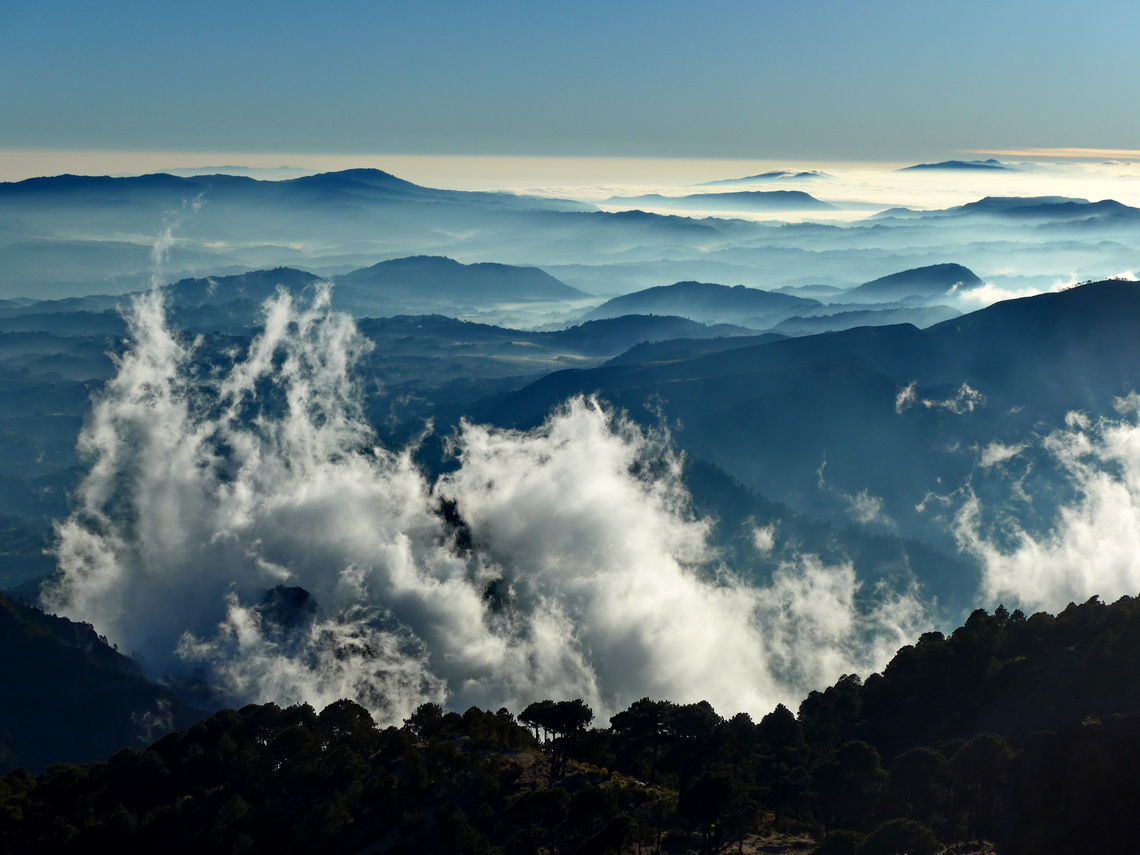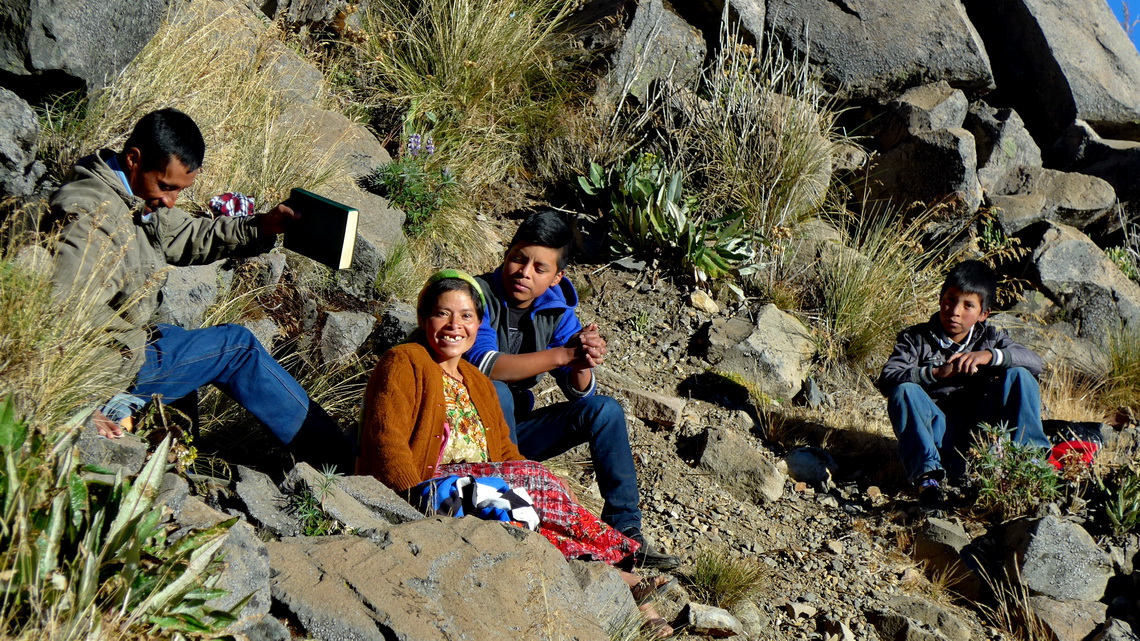 For more pictures, please click here                For a map of our itineraries, click here
To download the GPS file click here