Norway in northern Europe and on the western side of the peninsula Scandinavia is a natural treasure with stunning mountains, deep gorges and fjords, uncountable waterfalls, huge glaciers, and green lush vegetation at lower sea-levels. Its population is besides the few cities very low, its density of people is the lowest of continental Europe. It's famous for bad weather but we enjoyed a lot of nice days in June and July which is quit often the case. And it never gets really dark in these two months - literally you might start a longer mountain tour in the late evening.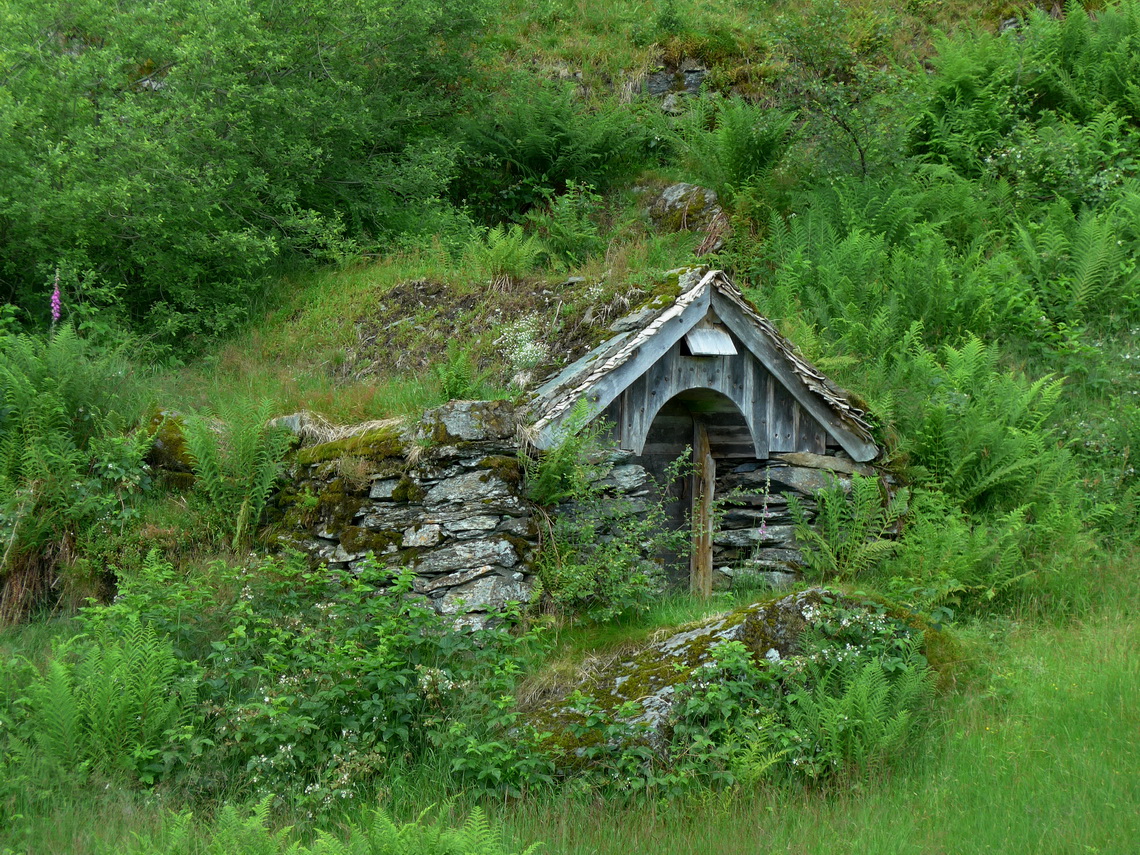 Before we headed to Norway we enjoyed skiing in the Alps beginning of May 2016. There had been lots of fresh powder and the ski slopes on the Schnalstal glacier in South Tyrol, Italy were more or less free of people!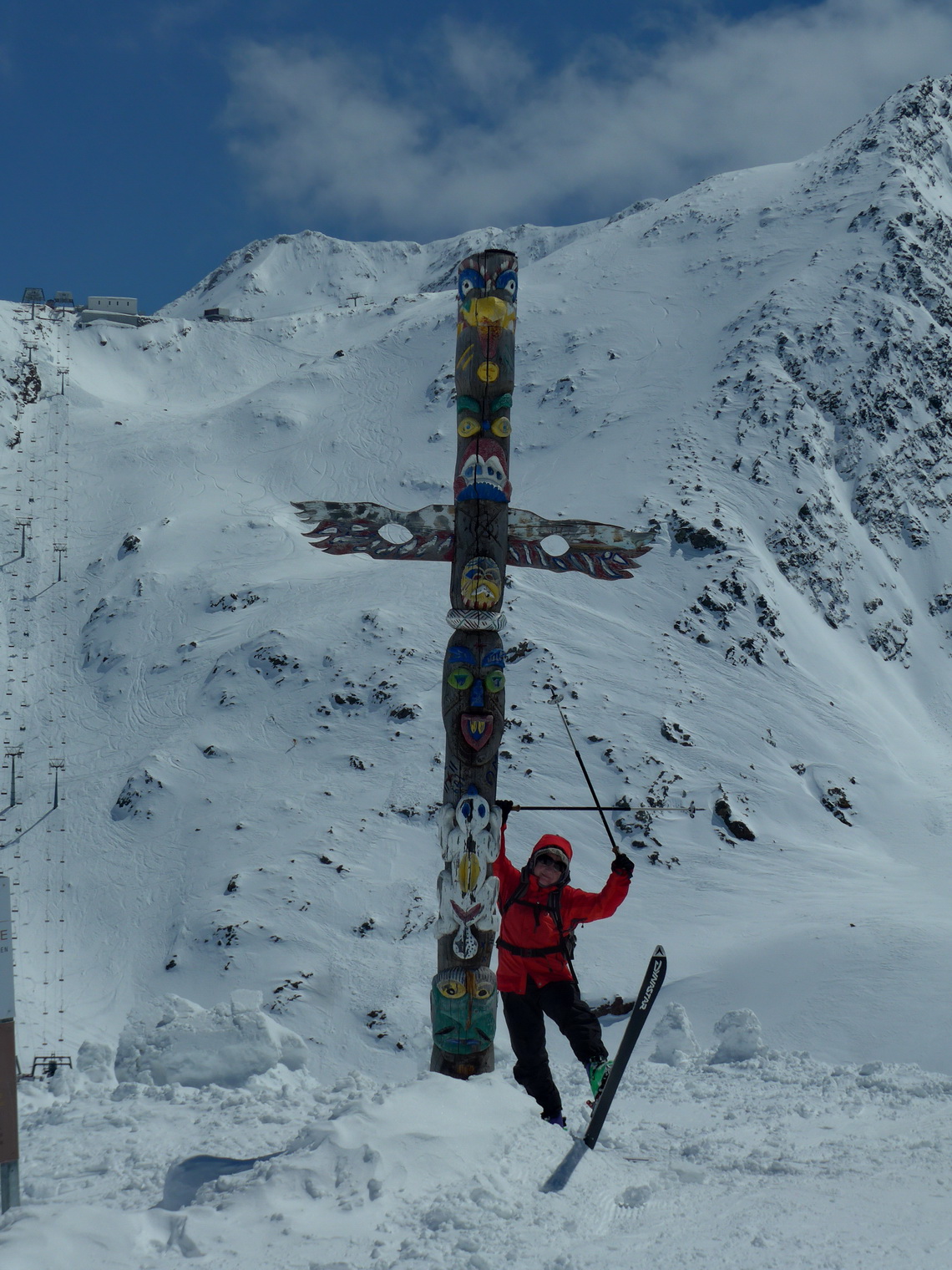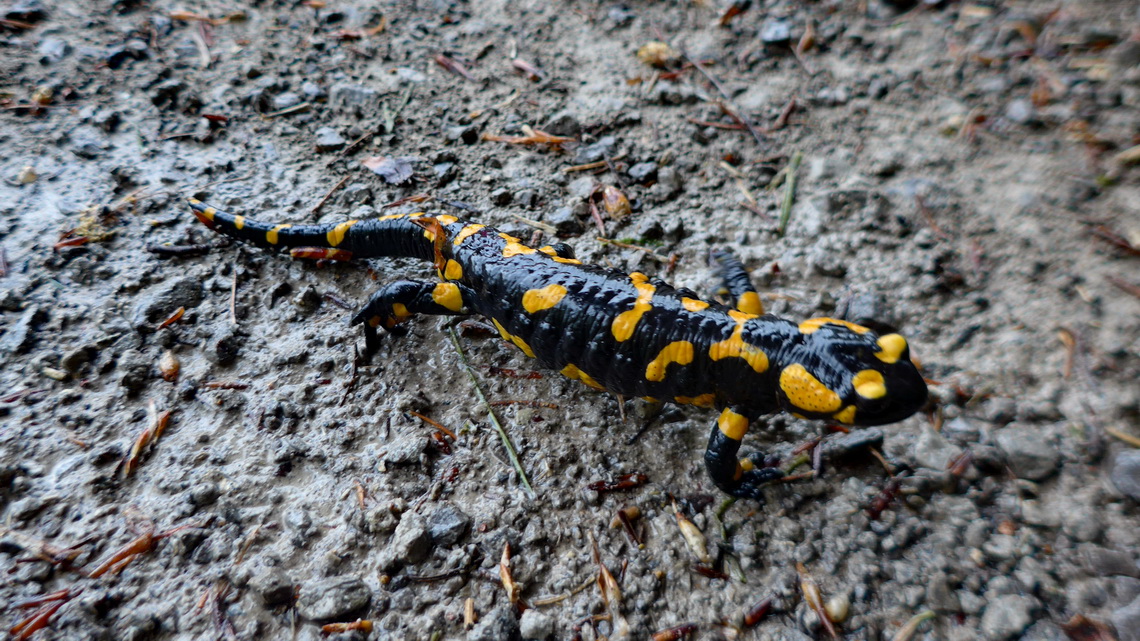 End of June we drove to northern Germany, where we spent some hours in the port city Kiel. Luckily we caught the final day of the Kieler Woche which is a famous festival with many people and sailing boats including regattas.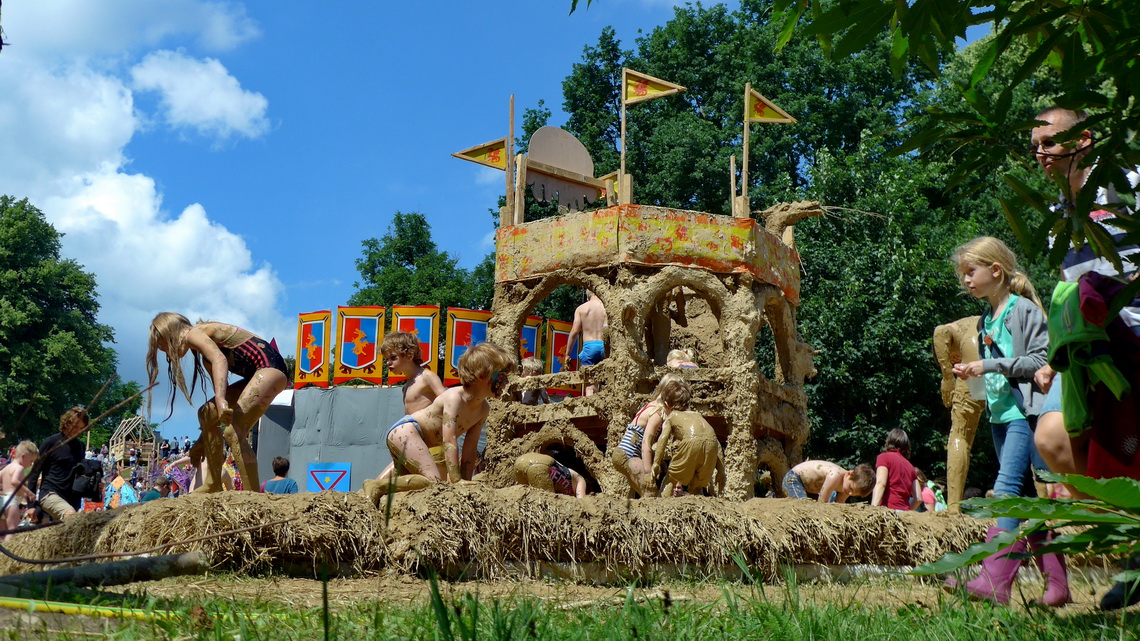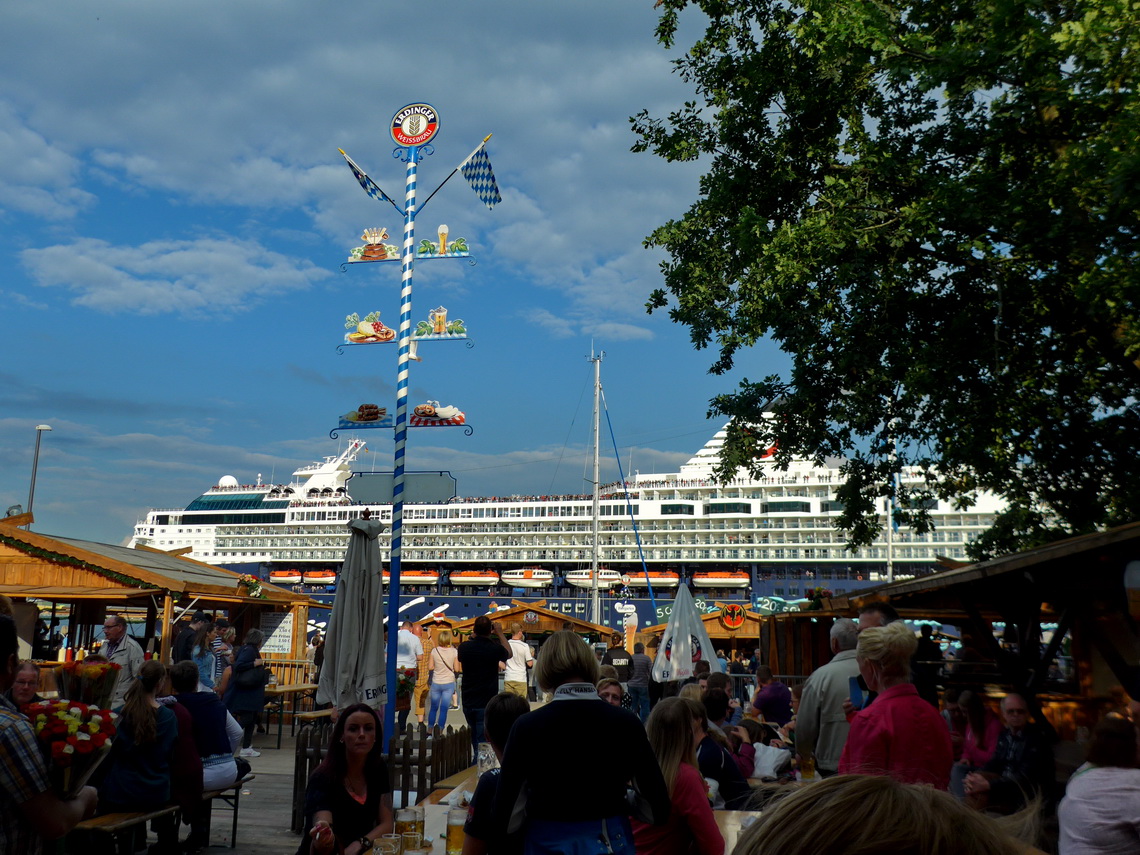 Three days later we came to Hirthals, which is nearly the northernmost point of Denmark. There we took a ferry over the Skagerrak which divides the Scandinavian peninsula from central Europe.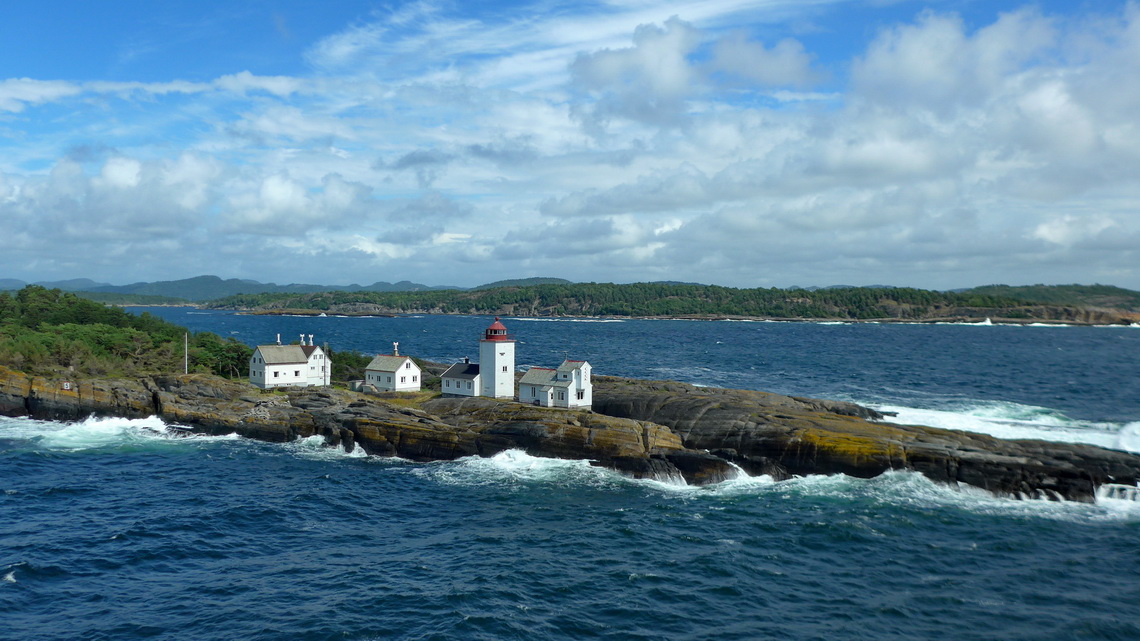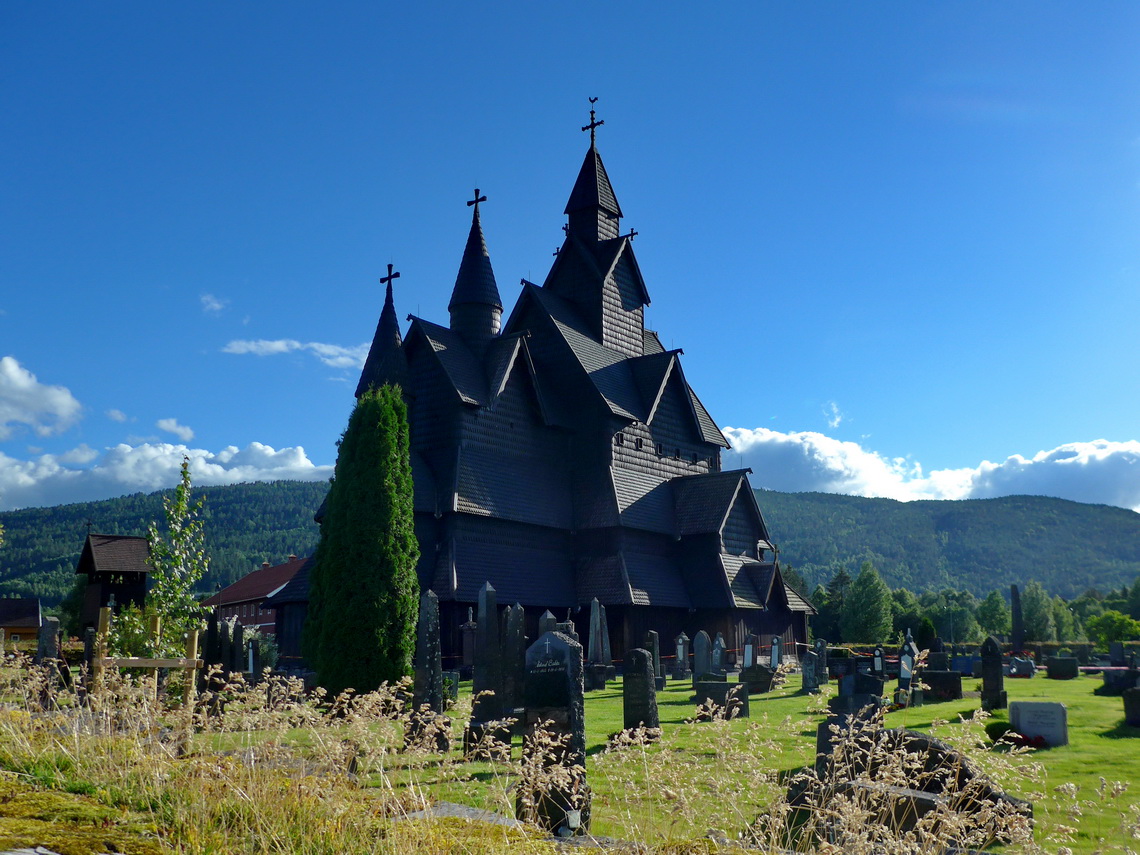 Soon we learned that in Norway are some significant differences to the mountain we know from the Alps and Andes:
Driven by the northern Atlantic, the weather is very unstable - it can by rainy, sunny, foggy within few hours and very differently within few kilometers. A good rain protection is a must to have. Weather forecasts are everything but precisely. Usually the forecast of the following day is relative good. The website www.yr.no/en is a good source because it includes nearly every small settlement and some mountains. And it is independent of Norwegian characters and in English!


Sometimes the clouds are very dark. In the Alps we would be scared about heavy rain, hale, thunderstorm and lightning but this happens barely in Norway's mountains. We never experienced such a weather. Instead it started drizzling some time and usually became better after few hours.

Thanks to the long midsummer days it never gets really cold. And you can start a hike anytime.

Norway's landscape consists of huge mountain plateaus, sometimes covered with a huge flat glacier. Usually a tour starts in a deep valley and it might be a challenge to achieve the plateau. Summits are quite often just hills in the vast plateau adorned with a huge stone-man which provides some protection against the wind and a book to sign in.

Above the tree line Norwegian people call an ice-free plateau fjellet (fjell plateau). The fjells are mostly wet, very wet because moors, mud and mires are common. Norway is a rubber boot country! Otherwise your feet and boots are wet and oozy soon, and it becomes uncomfortable cold in your shoes. Most of the trips we walked with our rubber boots!
Also in July there is a lot of snow, sometimes below 500 meters sea-level. In generally the more you are west the more you have snow! But mainly it is soft due to the short nights, sometimes exhausting deep. Wearing gaiters is a good idea.

A hiking GPS device might be important to find the way. Only very popular mountain hikes have significant trails like in the Alps. Some are marked with an red T sign, some with stone-men. Sometimes there are so many signs that it is confusing without a GPS.
We rarely met people on our hike, just on the most popular ones we saw some people. Not comparable to the Alps, mainly we were totally alone.
Norway and its neighbor Sweden are classical camping countries. Everybody has the right to stay the night in the nature unless it is not differently signed, private property and if you stay minimum 150 meters away from the next building. Indeed it is very easy to find an appropriate free campsite. Therefore we did not include way-points in the article and GPS coordinates file.
Most of our hikes are included in the GPS coordinates file of Norway. If the starting point is a resonable free campsite it is marked with the tent symbol in the file. Click here to download our GPS coordinates file of Norway.

Good sources for mountain tours are the Rother Wanderführer (in German and with GPS data, sometimes downloadable), wikiloc and the free openmtbmaps maps for GPS devices and mobile phones. If you want contour lines you have to pay little money, which is highly recommended.

On the July 1st 2016, we climbed up our first mountain in Norway. The three hours hike from the parking lot Gavlesjåvegen (670 meters sea-level) to 1060 meters high Himmingen was cold, windy and foggy - welcome to Norway! Few hour later we continued with our car westwards and suddenly the sky becomes clear with a burning sun. The starting point of the hike is a nice and free campground.

Our second tour was from Eidsborg to the viewpoint over the gorge Ravenjuvet. Again we had some rain but it cleared up when we arrived at the vantage point. There were some fresh elk feces on our trail and we were more than excited to see some but we had no further luck with elks.
Our third tour to 1510 meters high Veslenup was rainy and foggy again but we saw some wild reindeers in the distance. It was our first trip into the vast Hardanggervidda which is the largest mountain plateau of Europe with more than 9000 square kilometers. We started at the highest point of the street E134 between Haukeligrend and Horda. Few kilometers south are excellent and free campsites.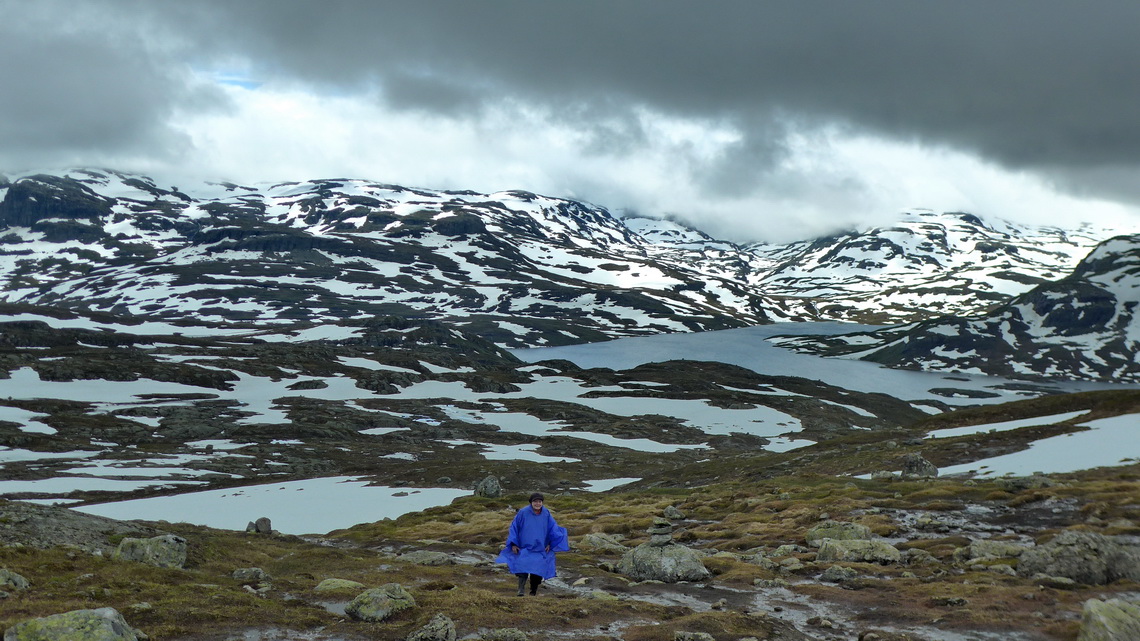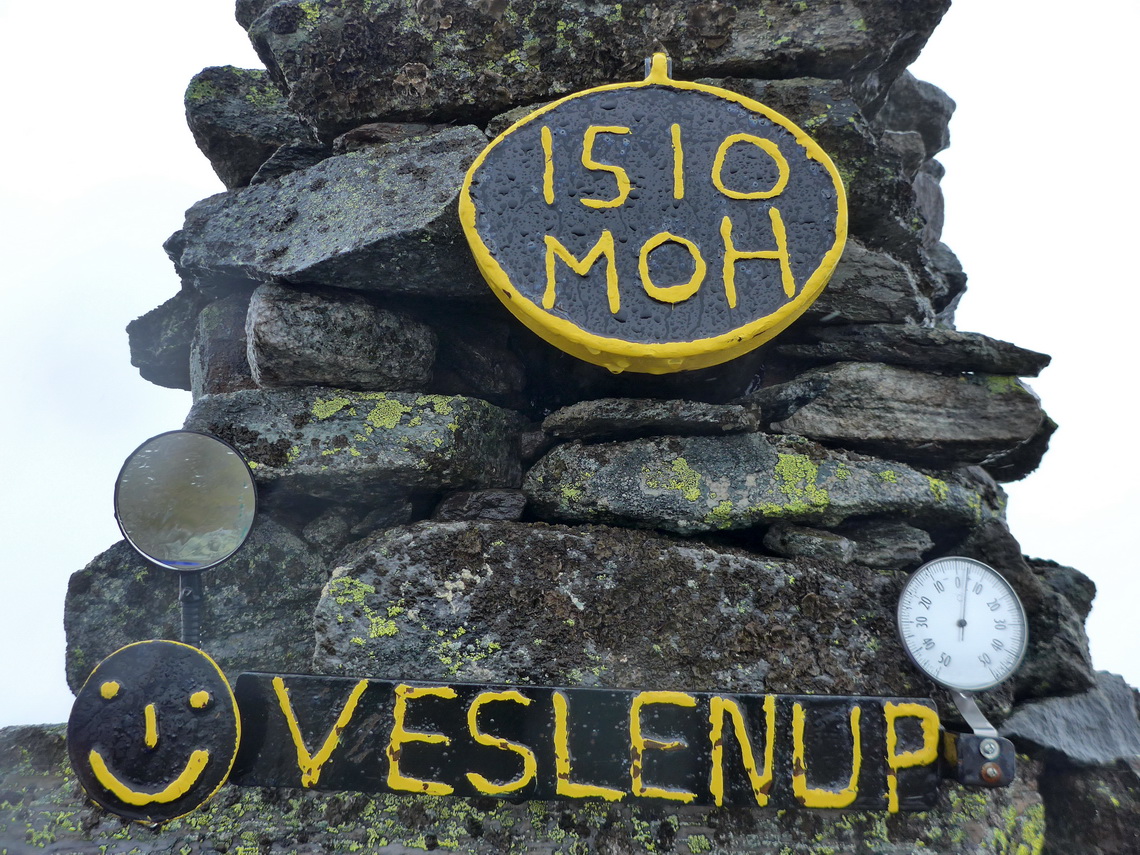 The fourth mountain tour was white - Large and endless snowfields, fog and drizzling. Without GPS Alfred would have not reached the summit of 1558 meters high Søre Tinden. Partially he could see really nothing, a classical white-out. But it cleared up when he returned and the sun came! This trip starts on the highest point of the street between Horda and Sauda, and it is a good campsite.

Our fifth mountain hike was sunny and warm. 1187 meters high Hutsveitsåta provides spectacular views to the fjords and sea. It is closed to the city Sauda. It was the first trip where we met other people. They told us that they had jumped as soon as possible into their car when the sun broke through the clouds and that you have to take this opportunity! This trip starts on a side road of the western side of the Sauda fjord - camping is not permitted here.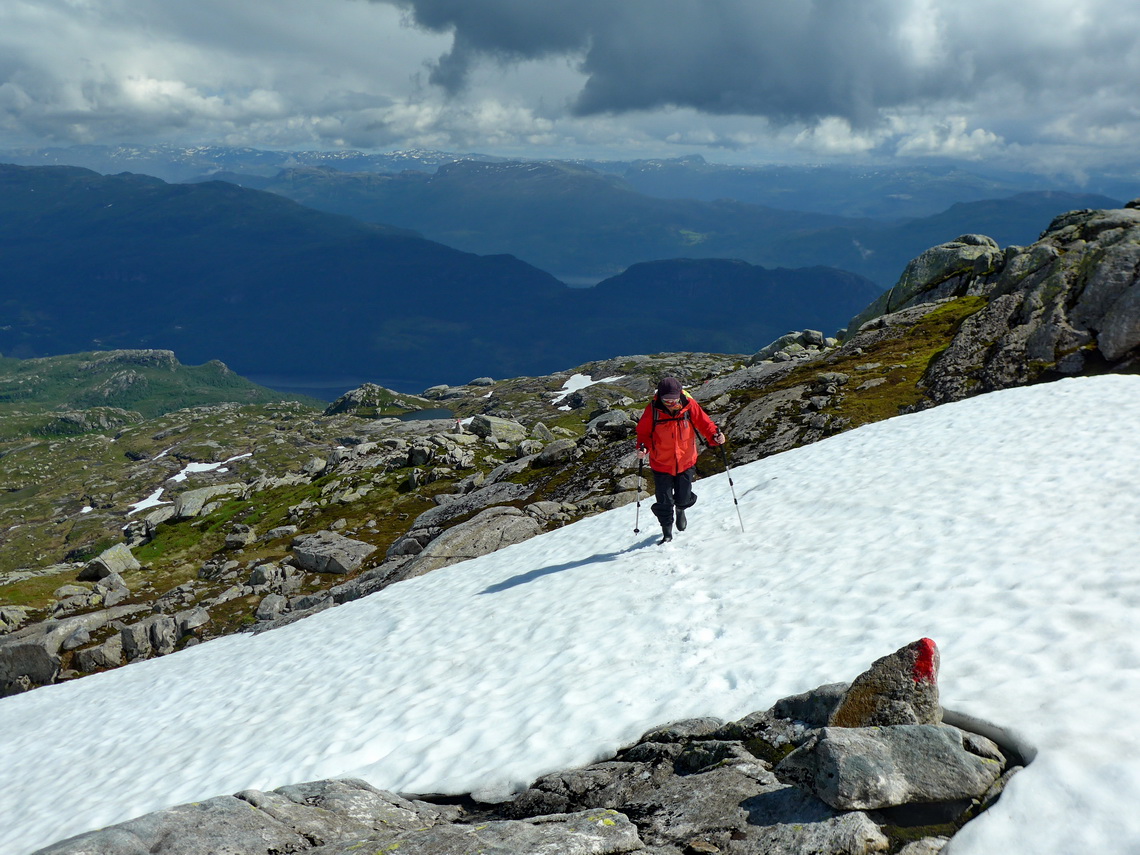 From the town Odda we bicycled the street to the glacier Buer and walked one hour to its tongue. Many people had the same idea, but they took their car to the huge parking lot where the short trail starts - it was like a popular tour in the Alps. Glacier Buer is flowing down from the huge Folgefonna plateau glacier which is with approximately 35 kilometer length the 3rd largest one of continental Europe. Few days later we hiked to 1340 meters high Jonstein close to its northern end but we had no good visibility.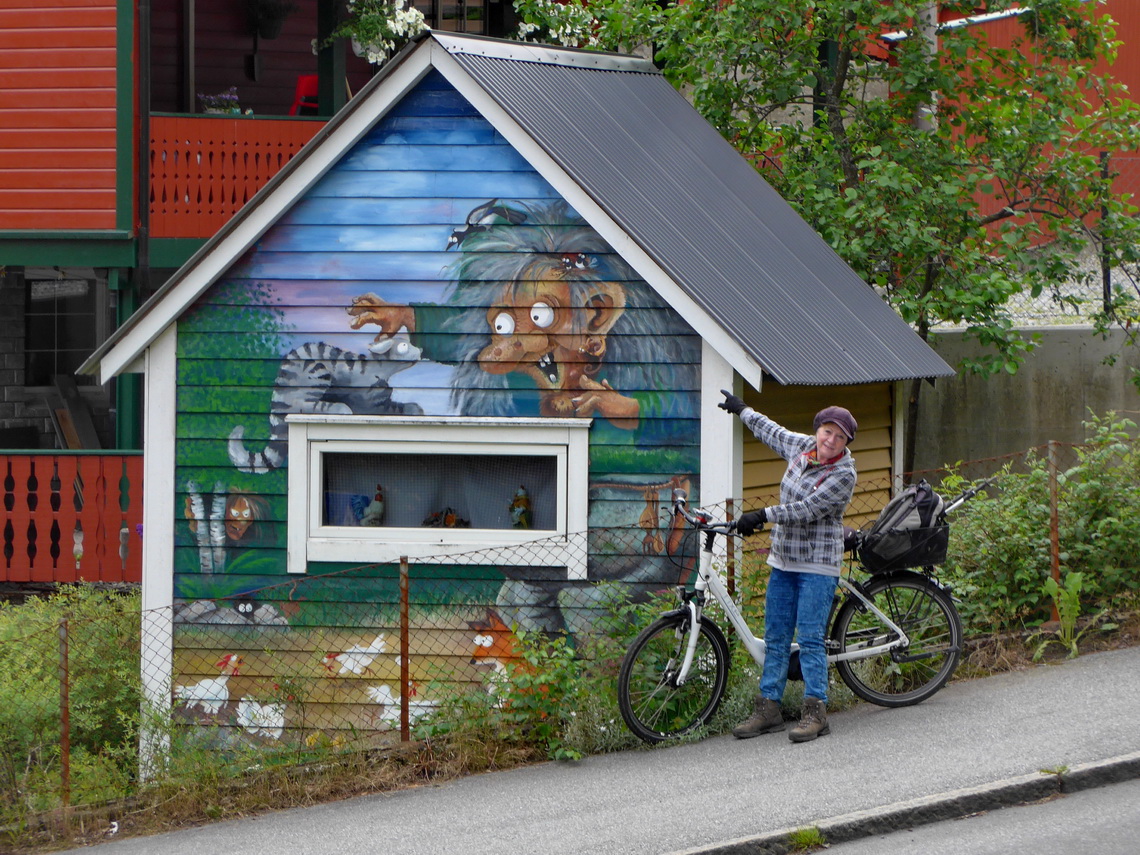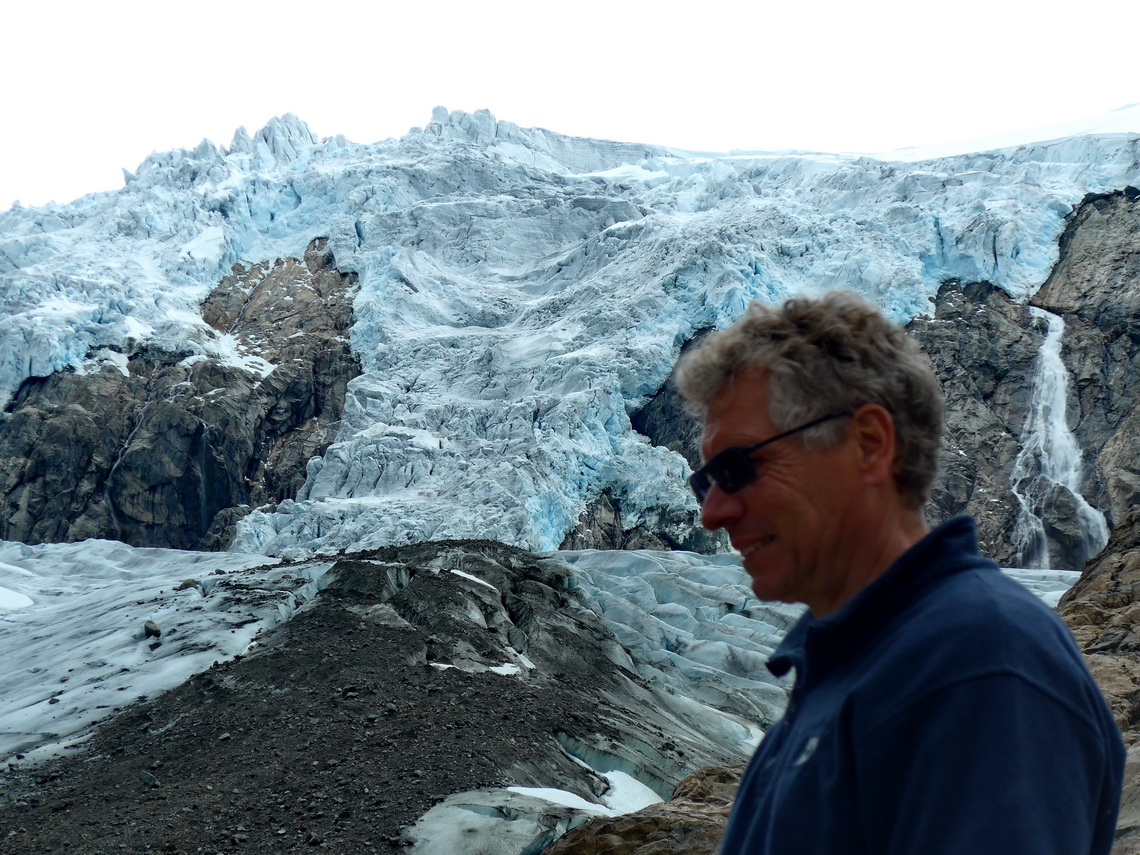 We had reasonable weather on our second tour into the Hardangervidda. This time we started in Ullensvang from sea-level and we did a round trip via 436 meters high Hovden, Nosi (nose) and Middagsnuten (1076 meters sea-level). A long but nice trip. We met Nepali people which worked to improve the path. Thanks to the good weather we dared to hike with our mountain shoes instead of rubber boots (like all previous trips). The views to the fjord Sørfjorden were superb.

Norway's second largest city Bergen is very interesting and beautiful. Its quarter Teske Bryggen is an UNESCO world heritage site. It means German Quay because Bergen was part of the former trade union Hanse. We explored Bergen with our bicycles and parked our motor-home outside of the expensive inner city.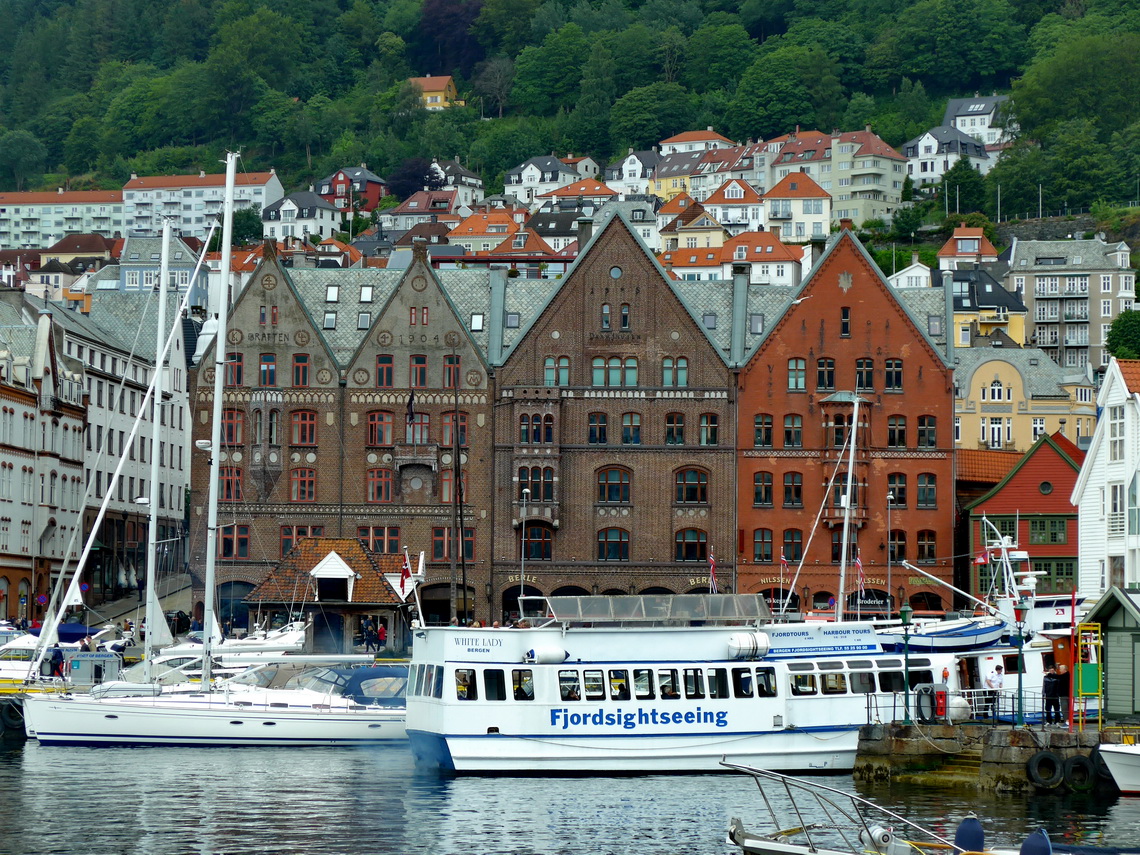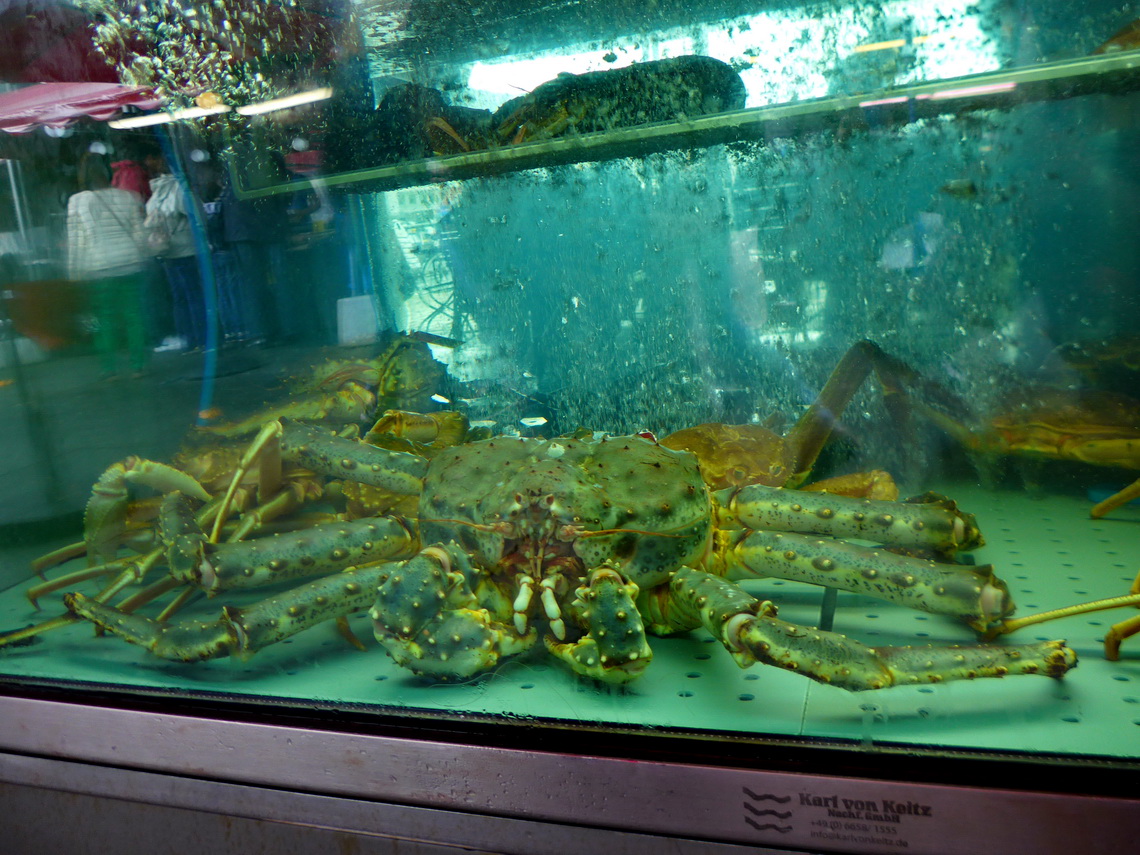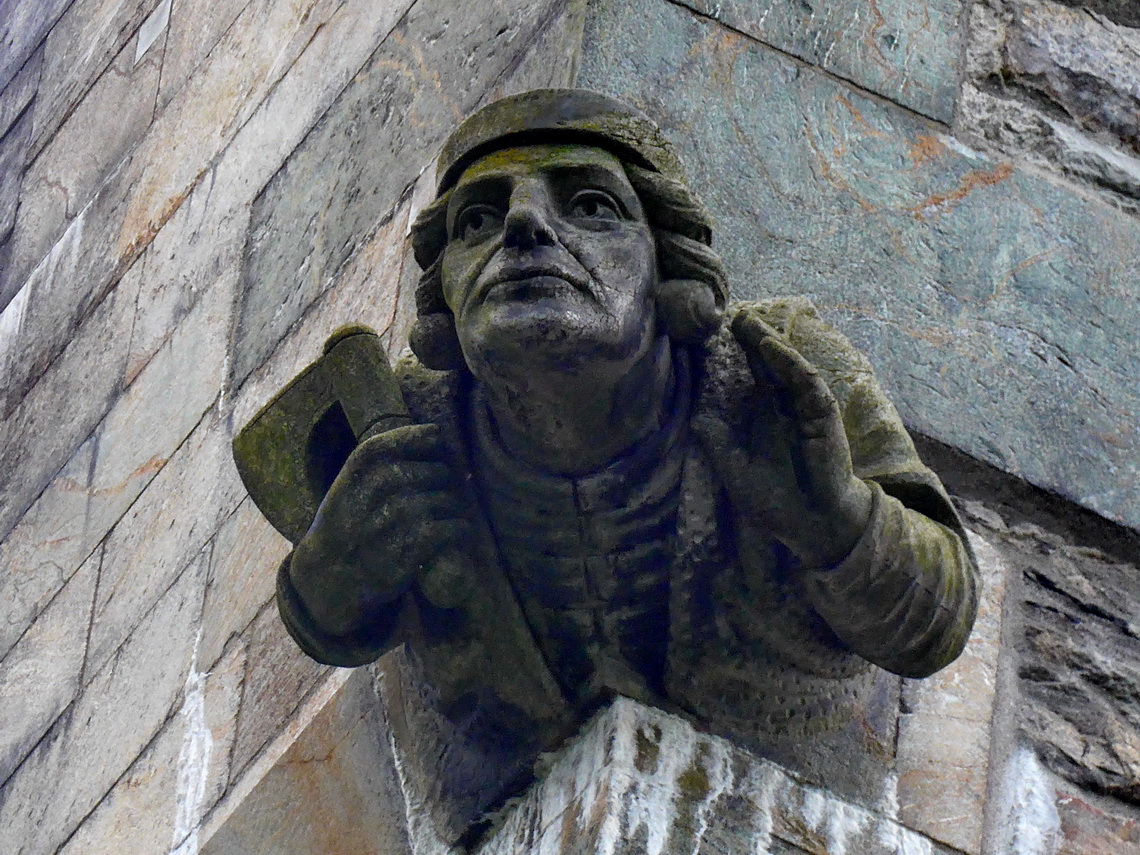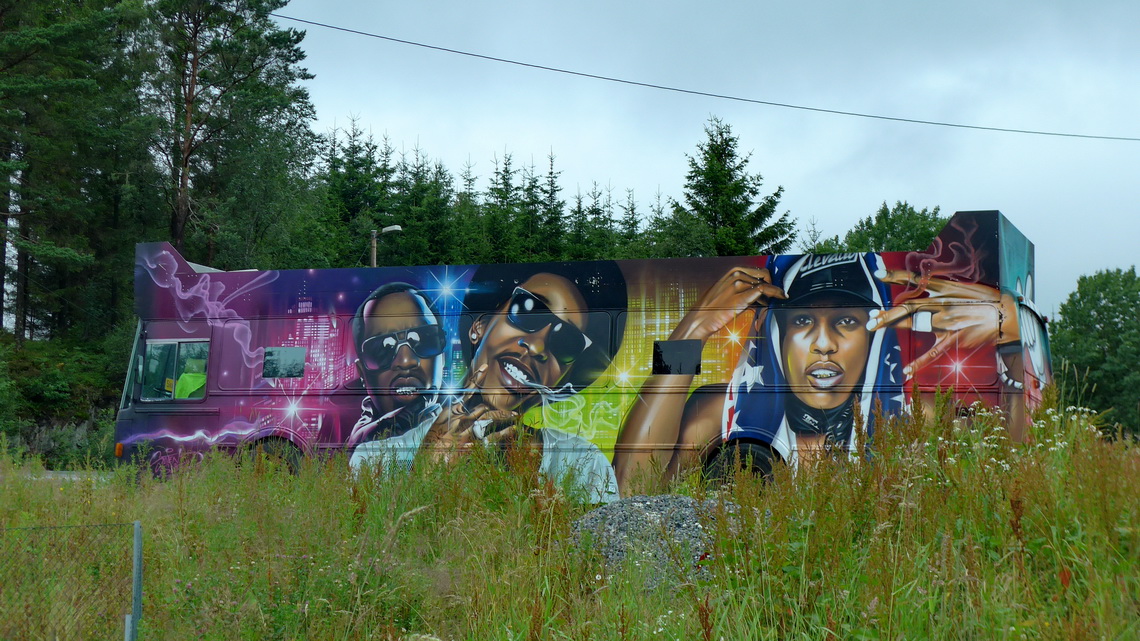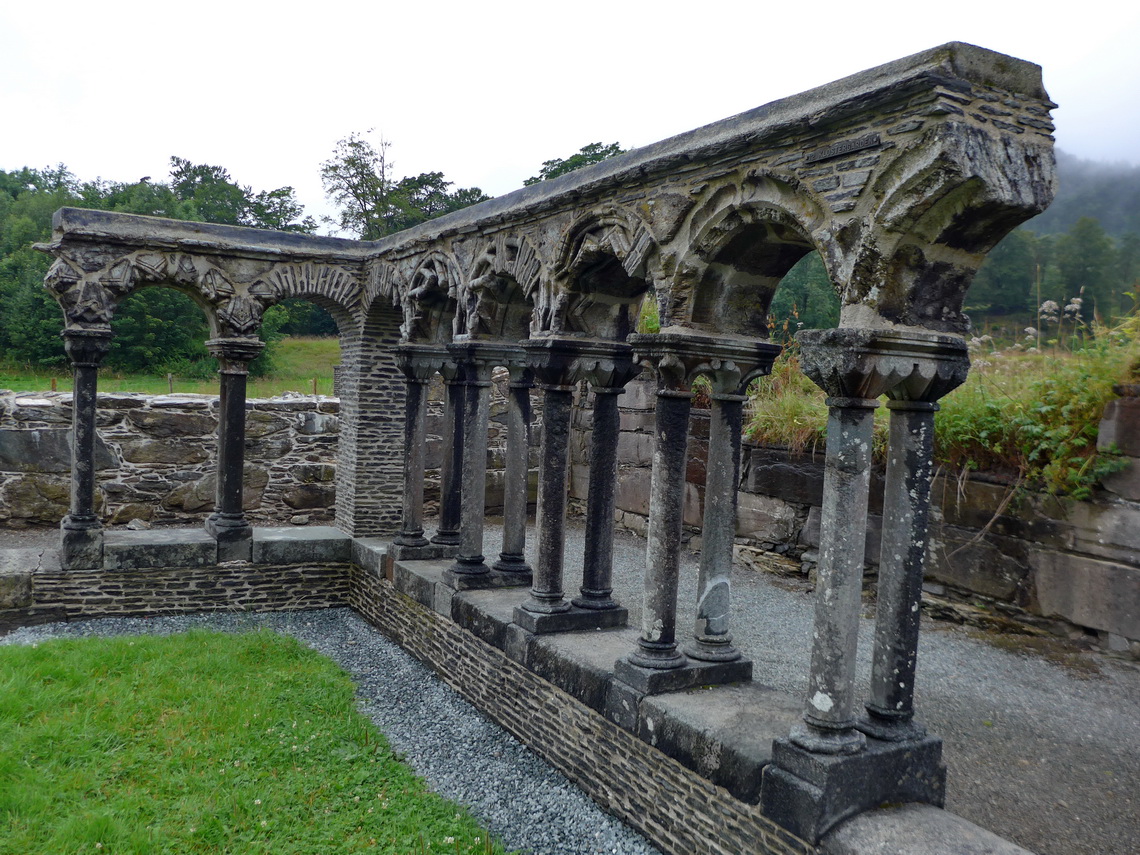 Under a huge mosaic was a plate with the following message: "Ascension - HIMMELFARTEN" was the nickname for the fish carrier Hardi Felgenhauer Sinchelberg who was born in Bergen in 1753, and died here in 1828 after working more than 30 years on the fish-market. When people bought large fish, the hired the well-known character "Ascension" to carry the fish home for them. A man was fitted out as "Ascension" about 1870, and he was photographed by the court photographer Marcus Selmer. The photographs were sold to tourists, and an American cod-liver-oil merchant bought a photograph after which he had the fish carrier registered as a trademark in 1884 for his proprietary medicine "Scott's Emulsion". The trademark has been in continuous use since, the world over.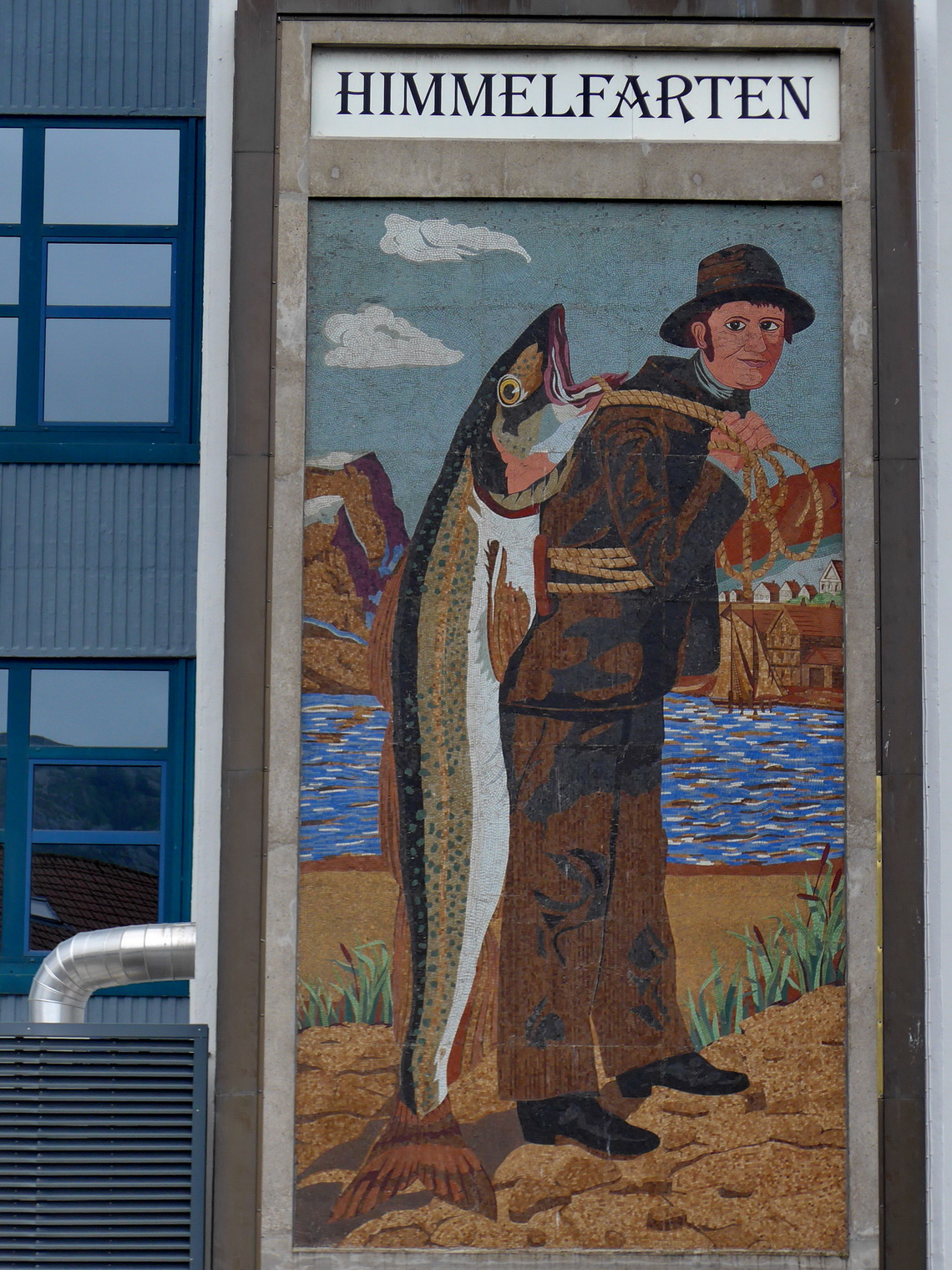 50 kilometers Northeast of Bergen is the 918 meters high mountain Ragnarvarden which is nice round trip with some pristine lakes of approximately five hours hiking. 
1299 meters high Rimstigfjellet is a challenging tour. You start at 5 meters sea-level on shore of the fjord Nærøyfjorden, which is an UNESCO world heritage site. There is a good path up to the book Rimstigen at approximately 730 meters sea-level. Rimstigen means mailing route, thus the postman had to climb a lot! Above was a lot of snow and we had to cross a deep and cold river. The views to the fjord were outstanding, more than twelve hundred meters below of us. Camping was fine few kilometers outside of Bakka (south), where we enjoyed a fresh bath in the ocean after we returned to our motor-home.

Another superb mountains with excellent views to fjords are 1475 meters high Prest and 1365 meters high Roygrind. This time it is much easier because a narrow and winding roads leads up 770 meters to a parking lot with free camping opportunity. Like on Rimstigfjellet we were lucky with the weather. The street continues to the 1300 meters high Aurlandsfjellet, where we saw a lot of snow along the road.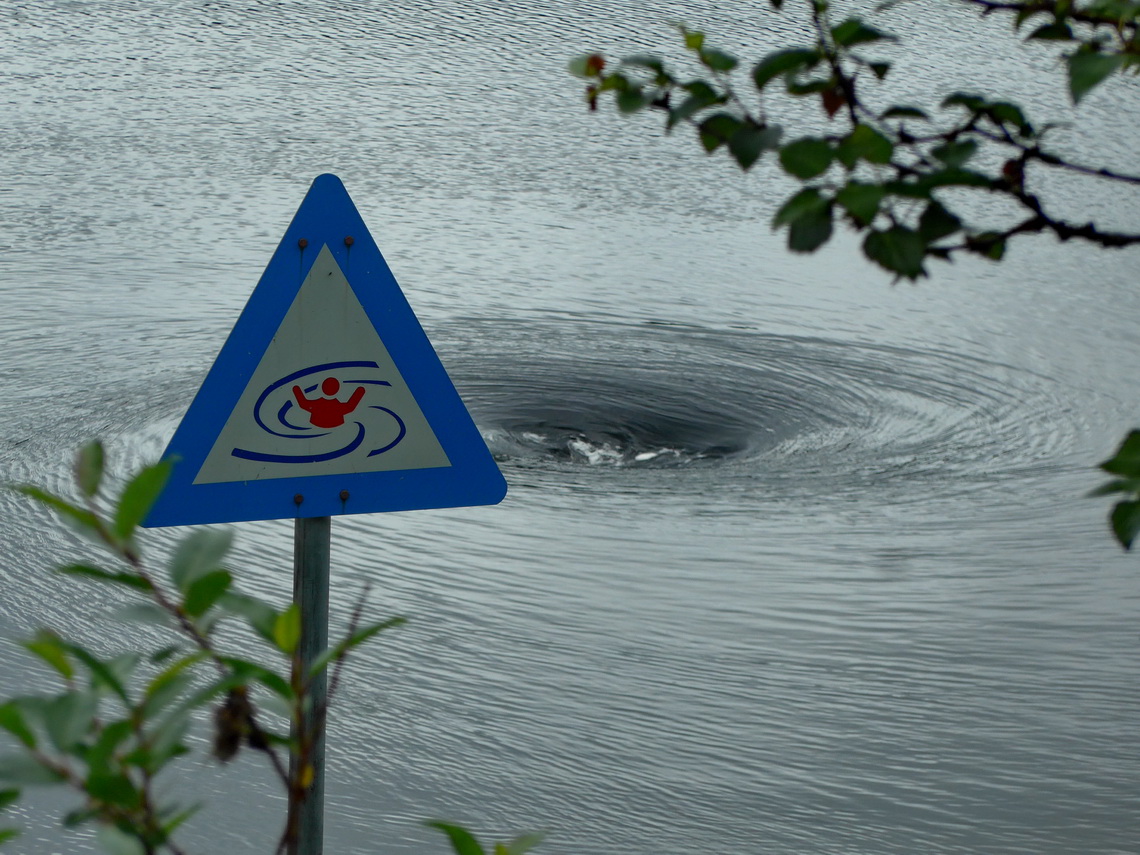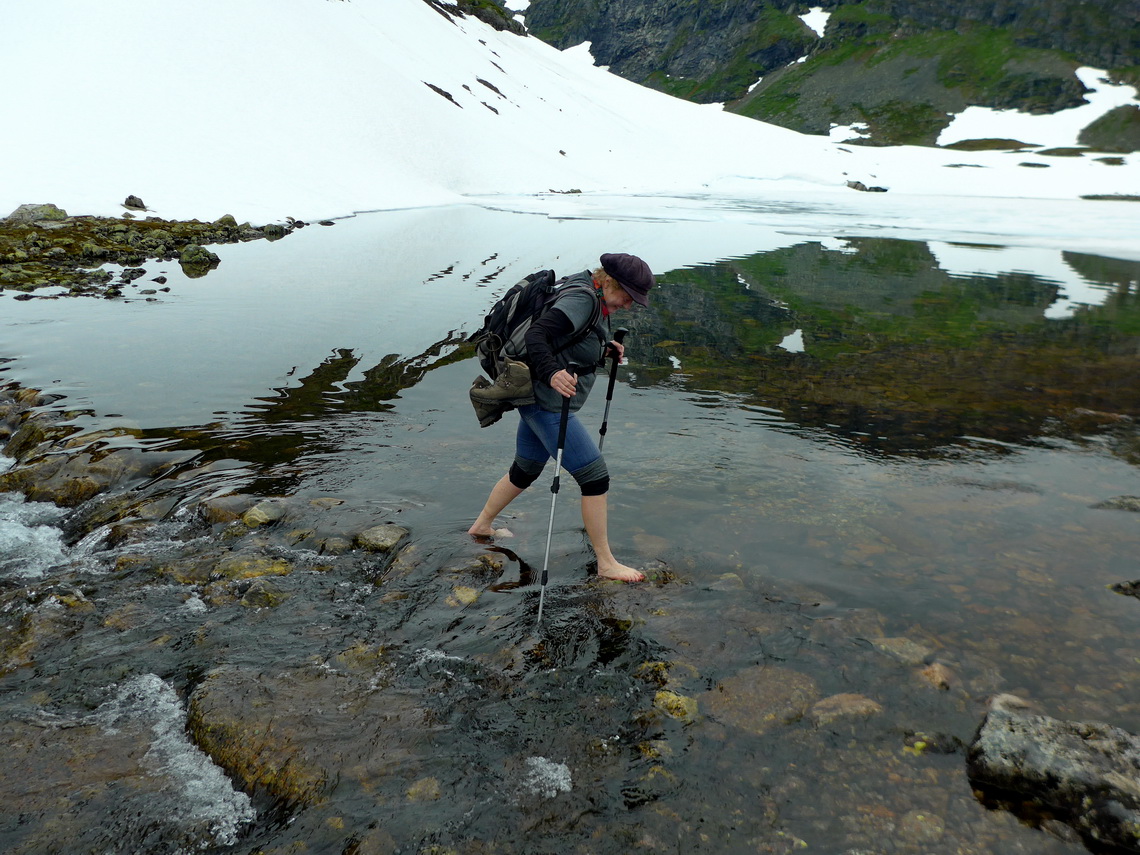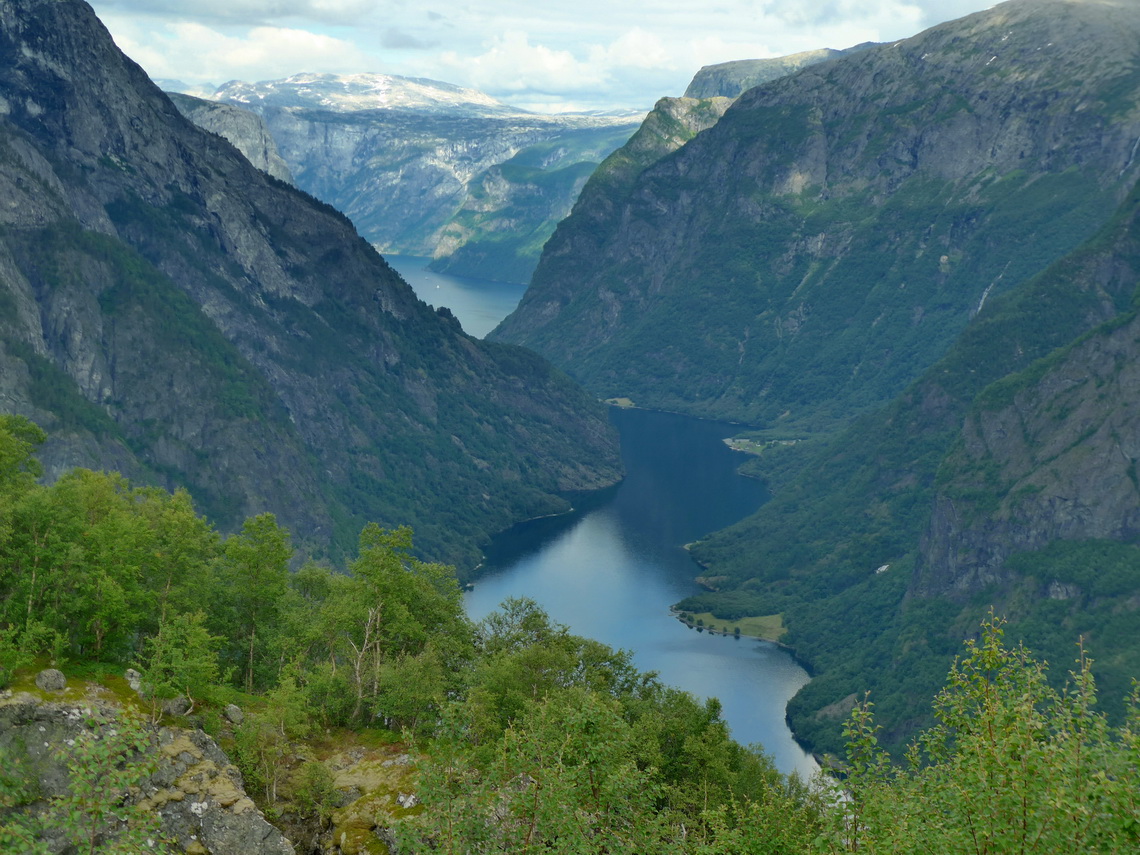 We continued via the marvelous valley Lærdal to Jontunheimen, where the highest mountains of Scandinavia are located. But this is a different story.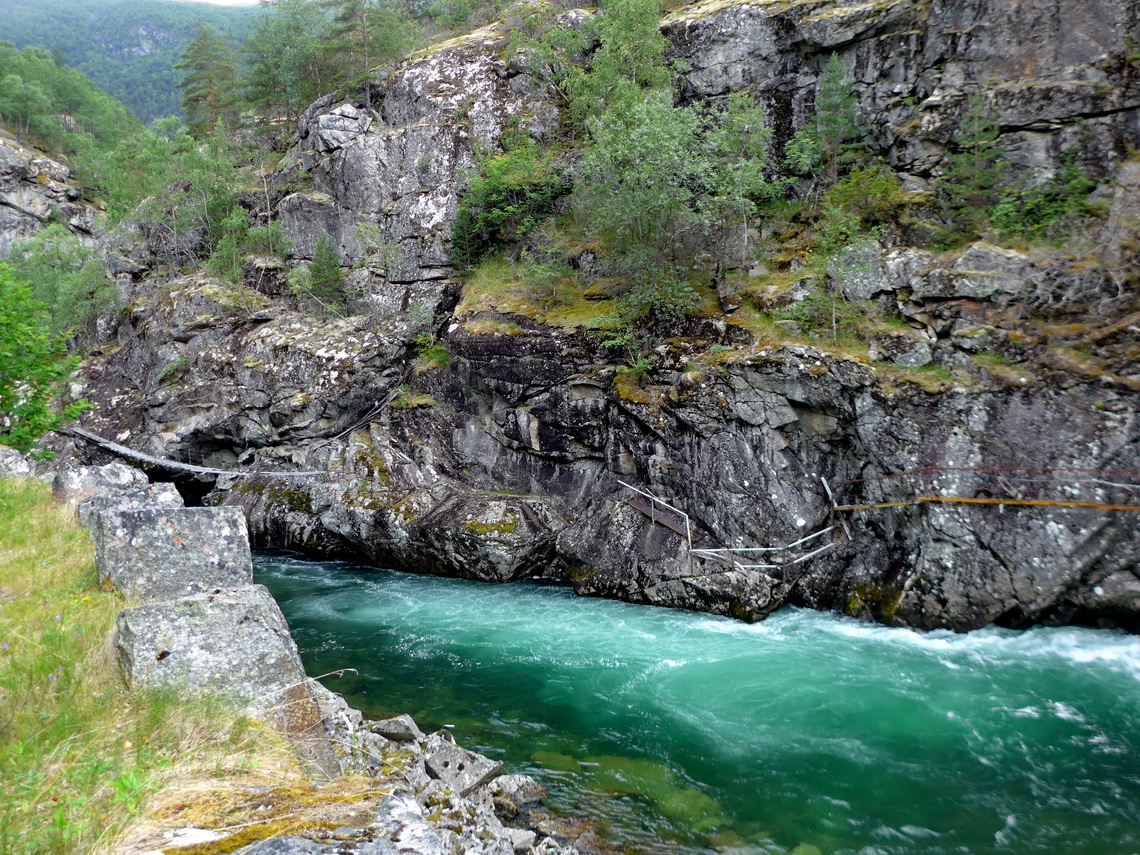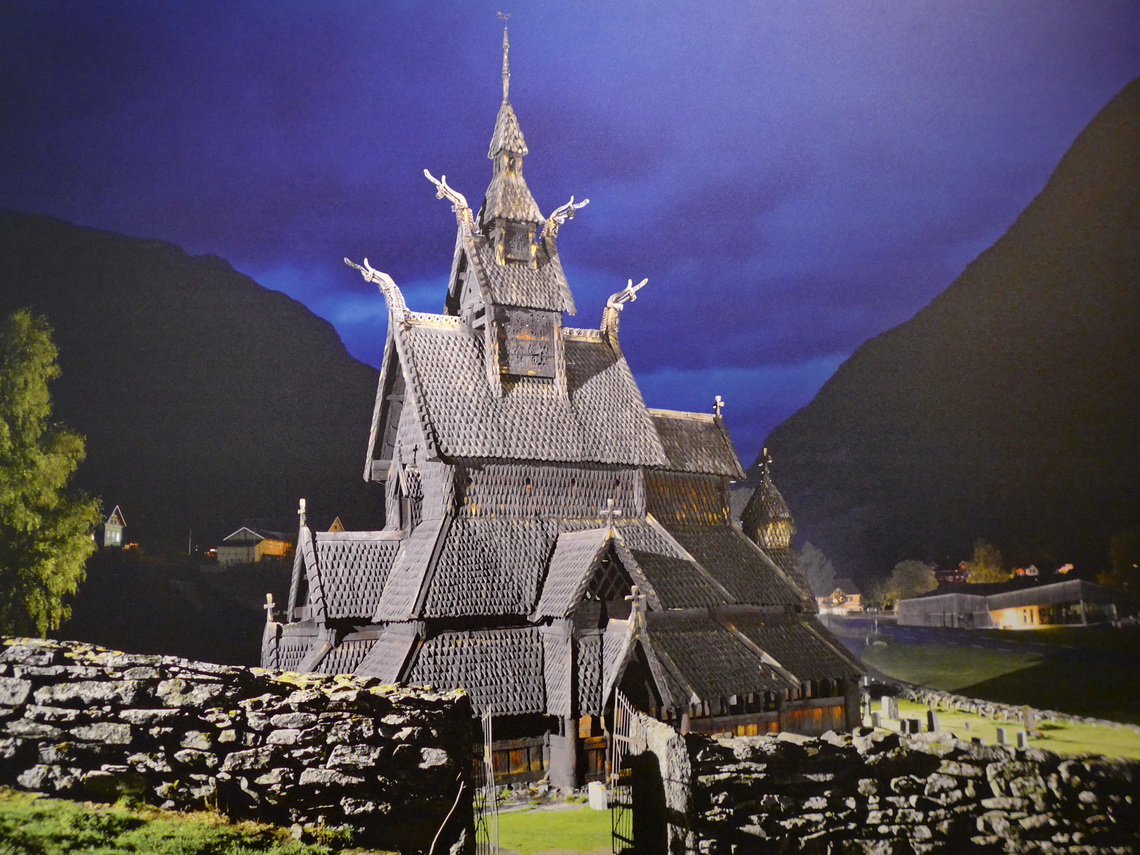 For more pictures, please click here                                                   For a map of our itineraries, click here

To download the GPS coordinates file of Norway, click here