Cerro Yana Sanca Grande is an unknown mountain directly on the street between Arequipa to the Cotahuasi Canyon, which is to Peruvian definition the deepest gorge on earth. Besides its height of 5496 meters sea-level, this mountain is dwarfed by the giants of Nevado Coropuna and Nevado Solimana, but it provides stunning and superb views.
The area around Cotahuasi Canyon is quite remote because it can be accessed only by dirty roads of more than 150km and high passes over 4700 meters. It is a beautiful valley with hot springs, Inca ruins and picturesque villages. On the way to the Cotahuasi Canyon is the lower valley of the Colca river, now named Rio Majes. It it a fruitful region with pleasant warm climate and interesting archaeological sites like the petroglyphs of Toro Muerte. There are other nice petroglyphs in Miculla which is close to the town Tacna on the frontier to Chile.
We came in the late evening of July 20th 2012 to Toro Muerte and could stay the night in the solitary parking lot in front of the petroglyphs. It is located in a dry side valley of Rio Majes near the village Corire.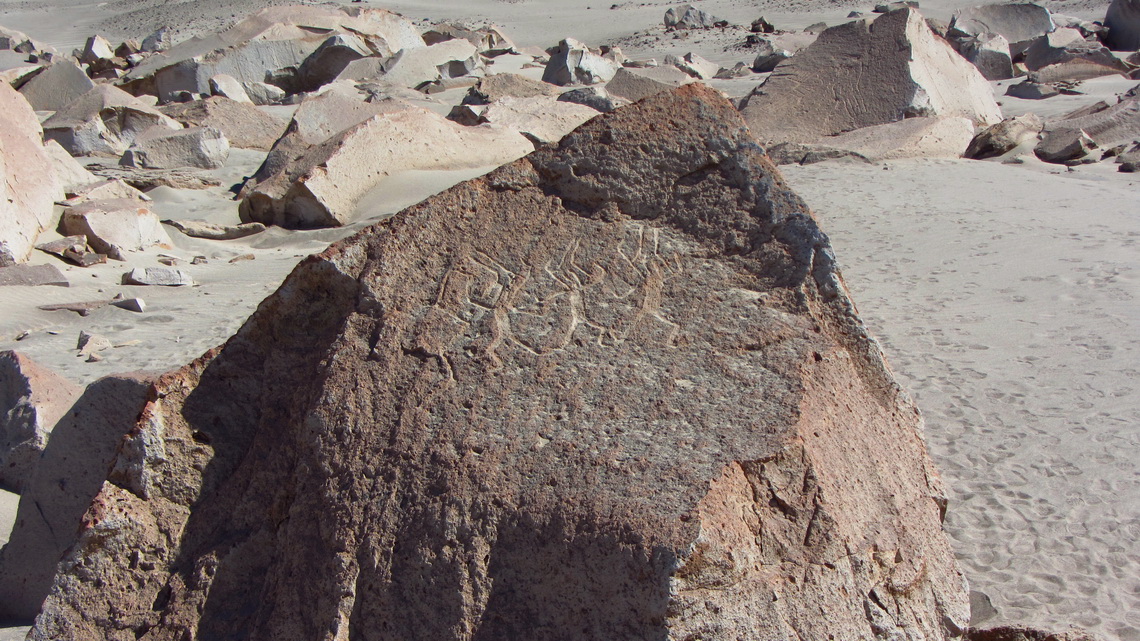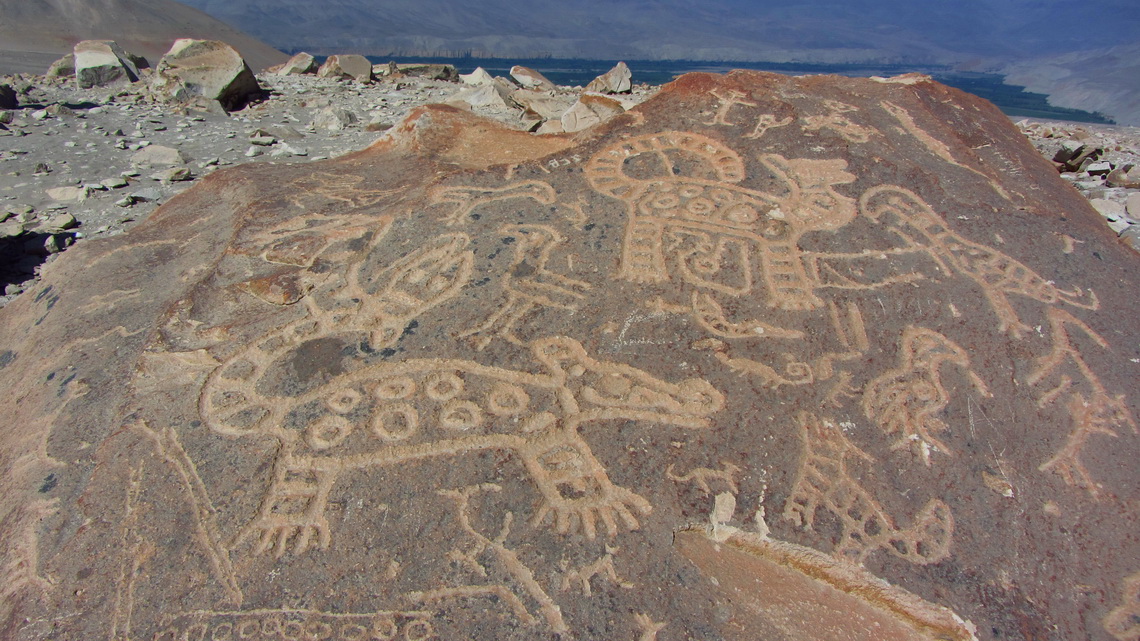 Some kilometers up the river Rio Majes we saw suddenly some strange animals on the slope of the desert. Fortunately two gentle kids helped us to visit them and to see their footprints.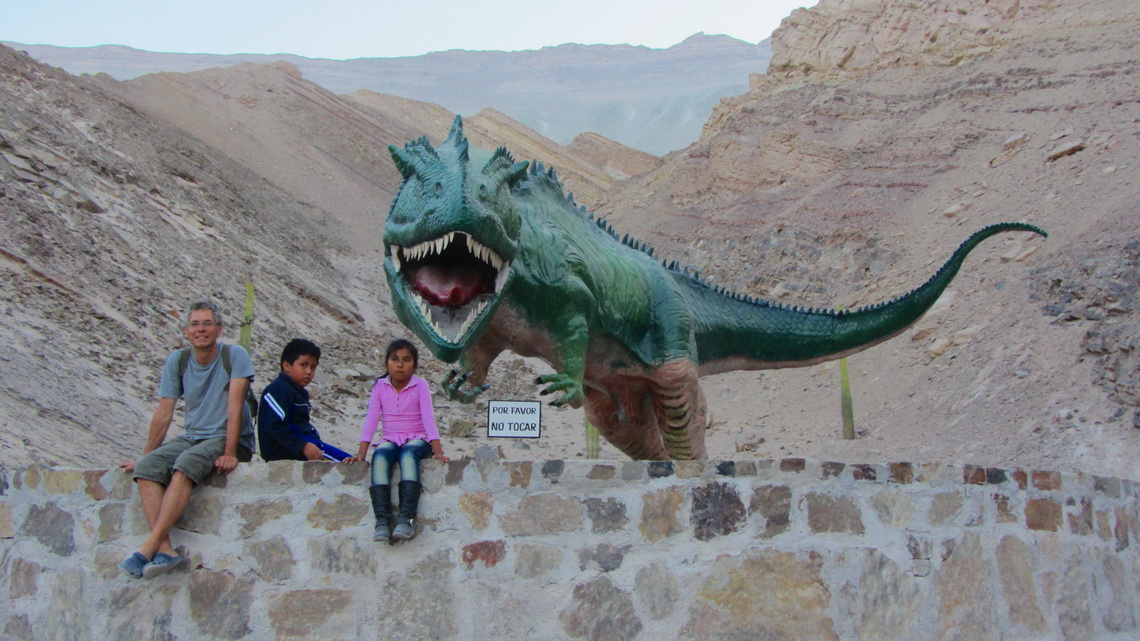 The street becomes very steep after the village Aplao to Chuqimata and after it rough. On its highest point of more than 4,700 meters sea-level we passed the beautiful lake Laguna Pallacocho, which is the usual starting point for the tallest mountain in southern Peru, the huge volcano Nevado Coropuna with several peaks above 6000 meters and massive glaciation down to 5100 meters sea-level.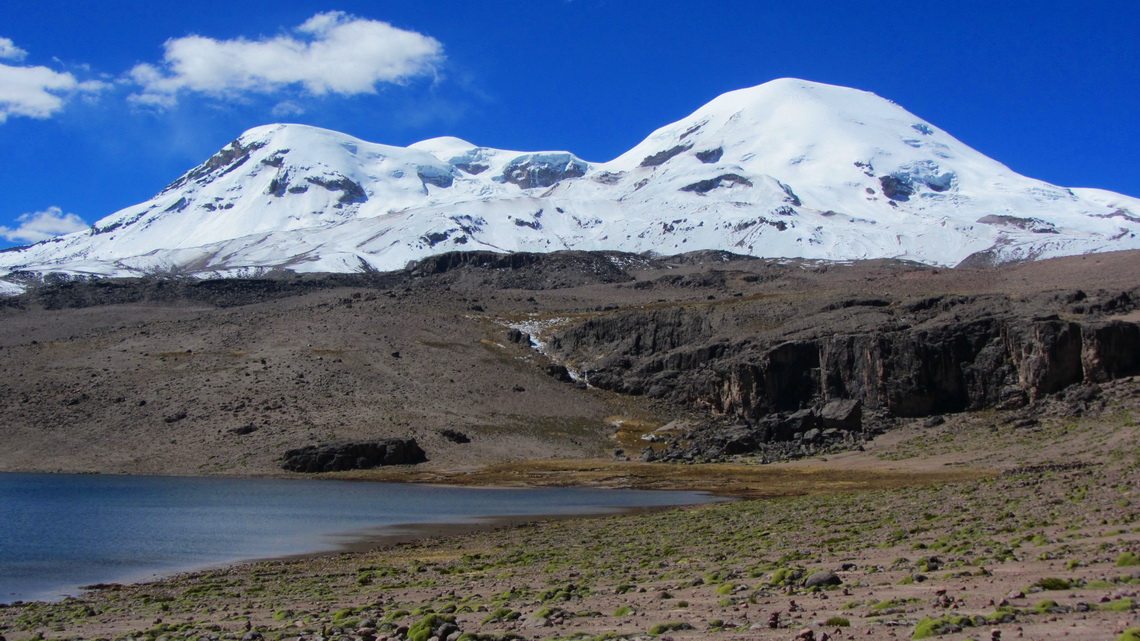 We considered to climb up Coropuna but we were not acclimatized adequately. Besides that the ascent looked steep and very icy, decorated with some ugly rocks. Instead we wanted to climb Nevado Firura. A tour operator in Arequipa had given us the advice that this is an ideal acclimation tour and we could drive to its base. But the dirt track became impassable for our motor-home. A little bit frustrated we stayed the night in the pampa, in the middle of nowhere.
Suddenly in the early morning four men were knocking to our door. It turned out that we slept in the community of Firura and that we had to visit the mayor to ask for permission. But he is in a small settlement in the wrong direction. However we tried to find him, but he was not at the mentioned place.
We decided to continue to Cotahuasi and we saw an the way to it a broad shoulder of the Nevado Solimana, which might be accessible well. On the Perut map we used with our GPS it was named Cerro Yana Sanca Grande. We found a good side track to its base (GPS coordinates: S15 21.813 W72 49.211). Marion and our friend started the ascent, but it was too late. They came back in the darkness without reaching its top.

Alfred tried it in the next morning and it turned out that this is a eight hour tour up to 5496 meters sea-level, with some rock scrambling and balancing over ice and snow penitents. He was lucky to have crampons. The summit provided outstanding views (GPS coordinates: S15 23.912 W72 51.758). The GPS track is included in the GPS coordinates file of Peru.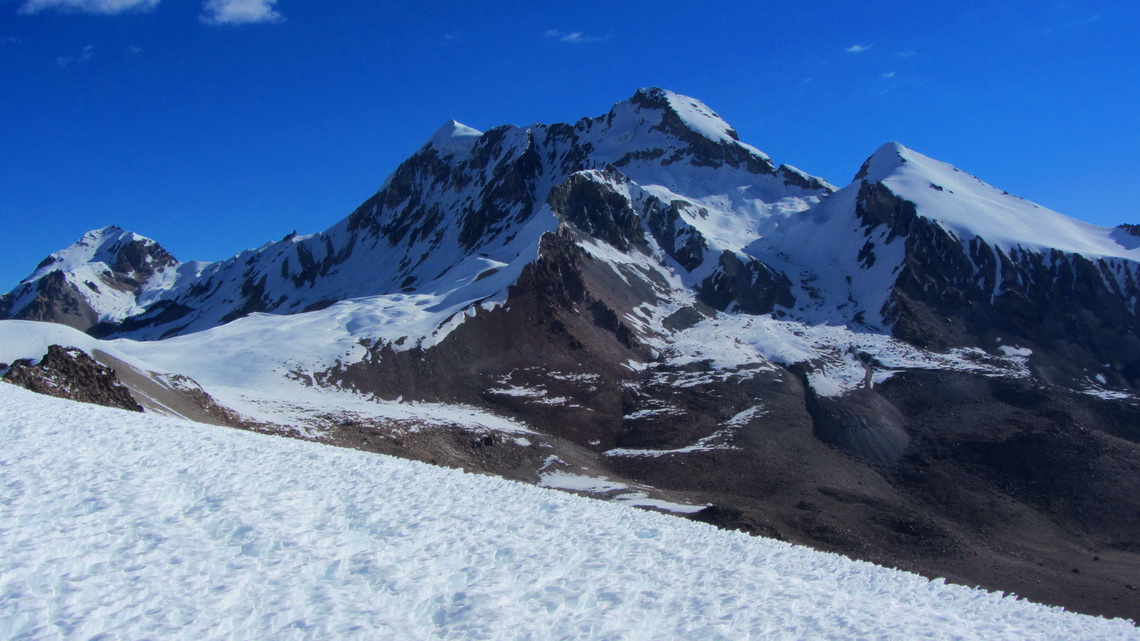 The street down to the canyon is marvelous with a vertical difference of more than 2000 meters.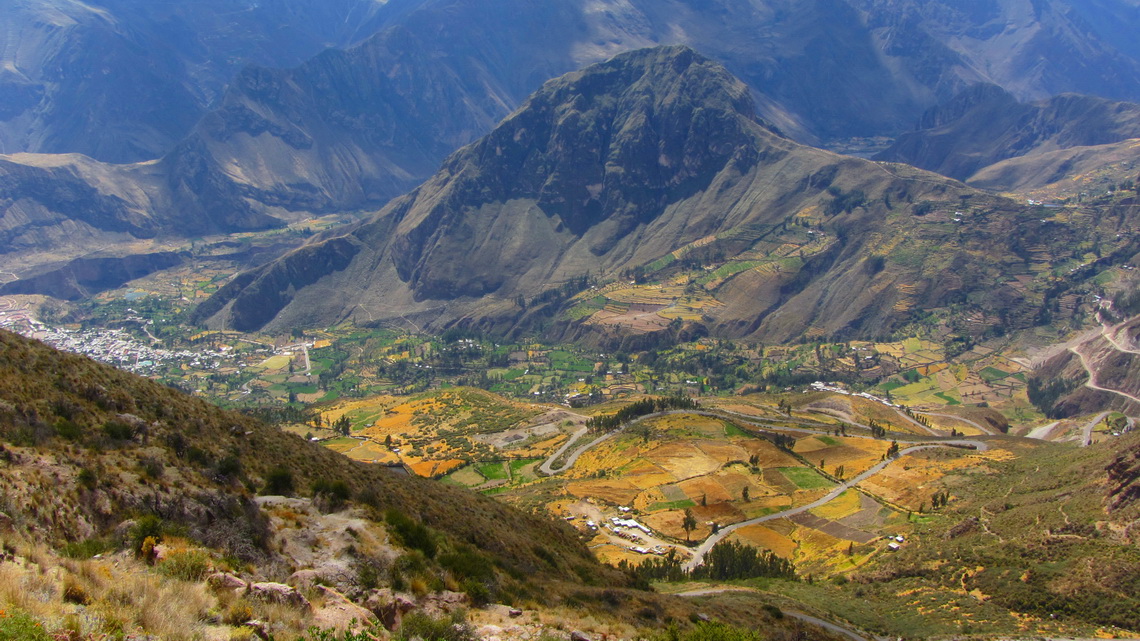 Few kilometers up the canyon are the tidy and cozy hot springs of Lucho with water temperatures of more than 36°C . We stayed several nights in front of its parking lots, but unfortunately here it was everything but clean.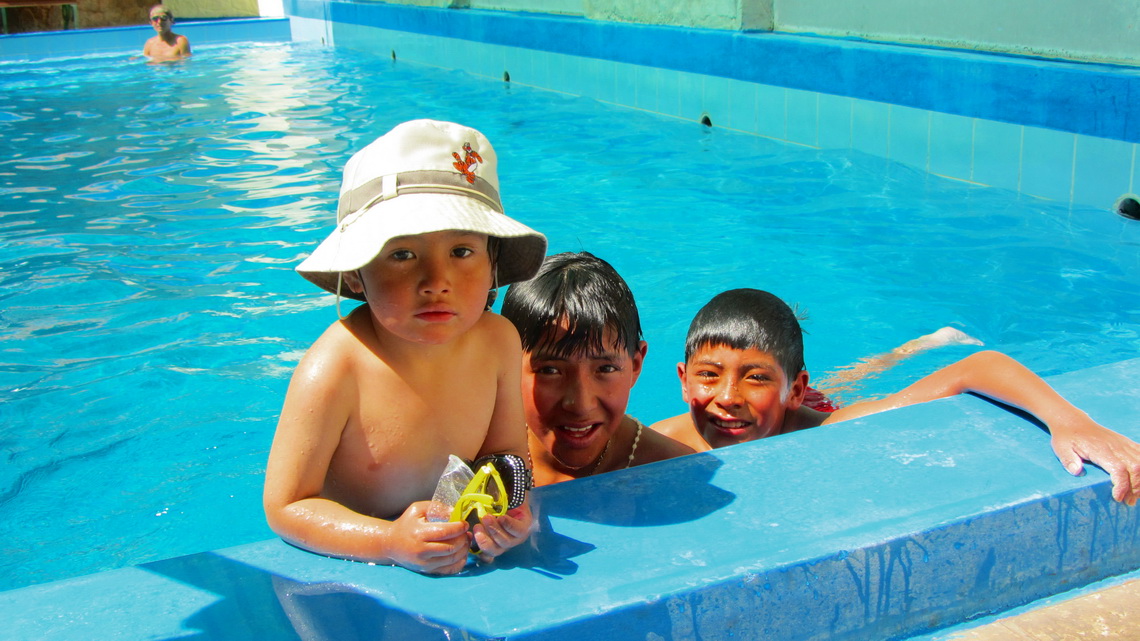 Puyca is a picturesque village approximately 40km up the valley with interesting Inca ruins. But the street was one of the most challenging for our camper, extremely steep and narrow. When we climbed up the hour to the ruins we saw preparations of some festival activities. We were happy that they were not bloody!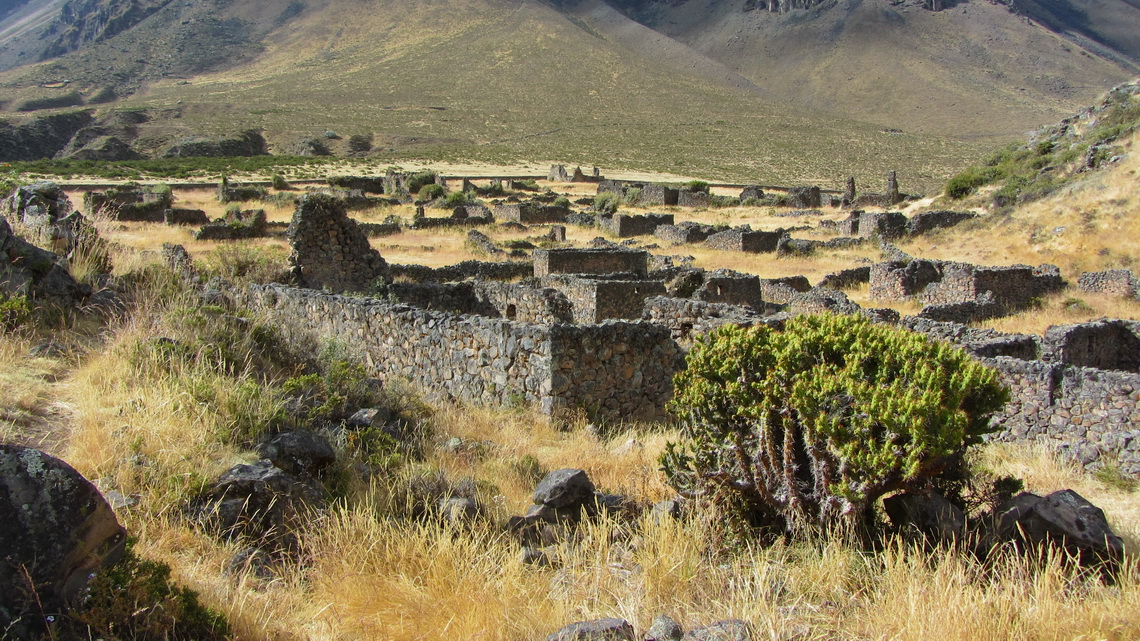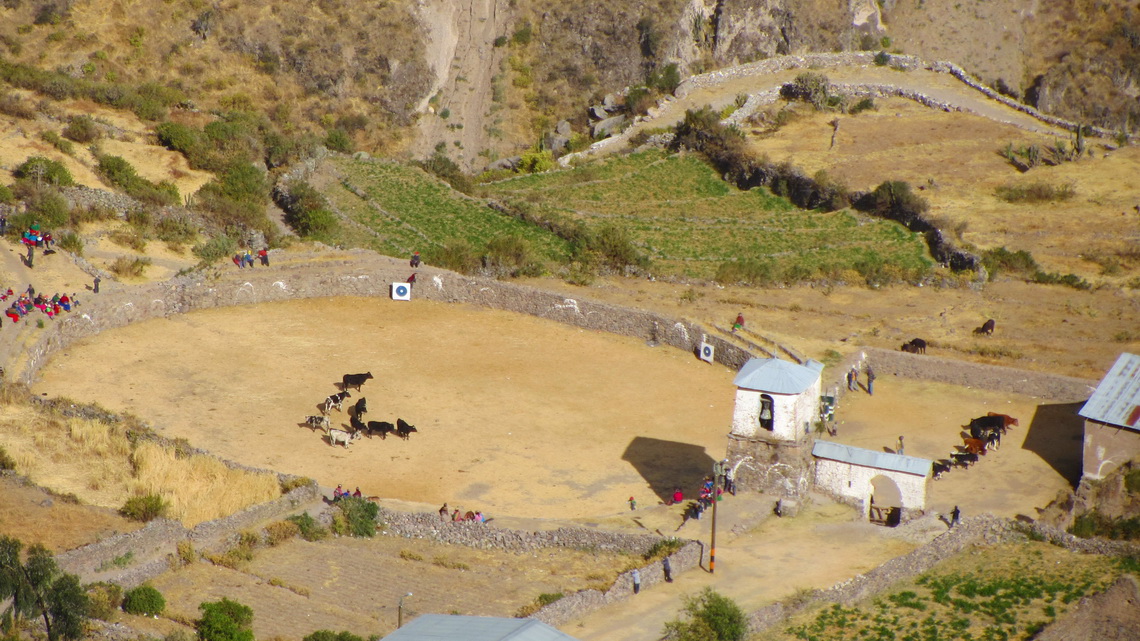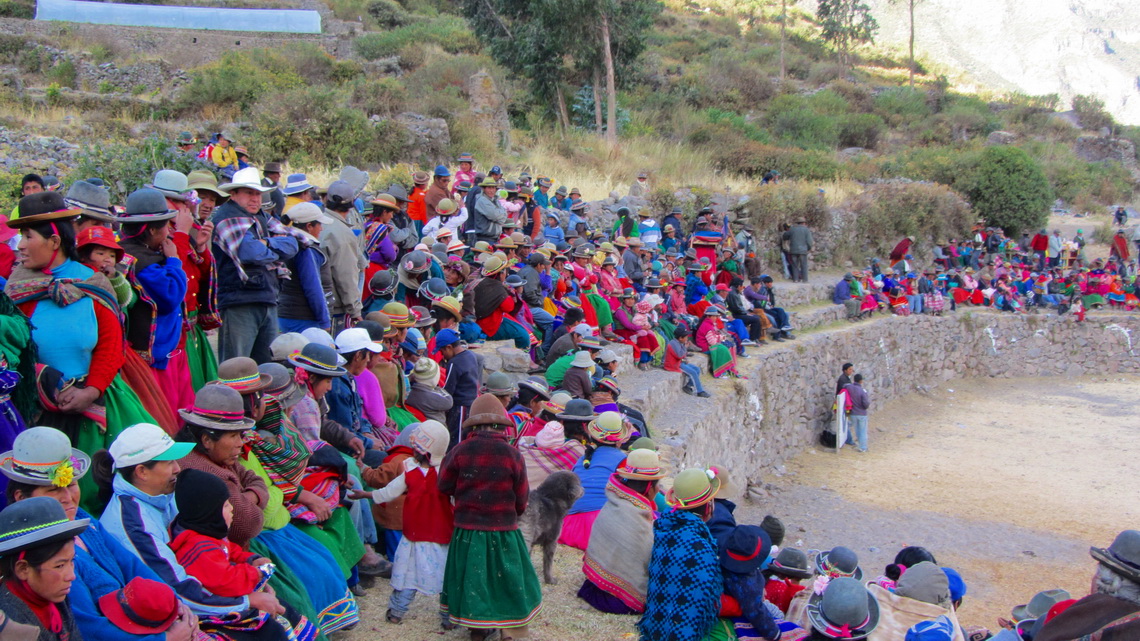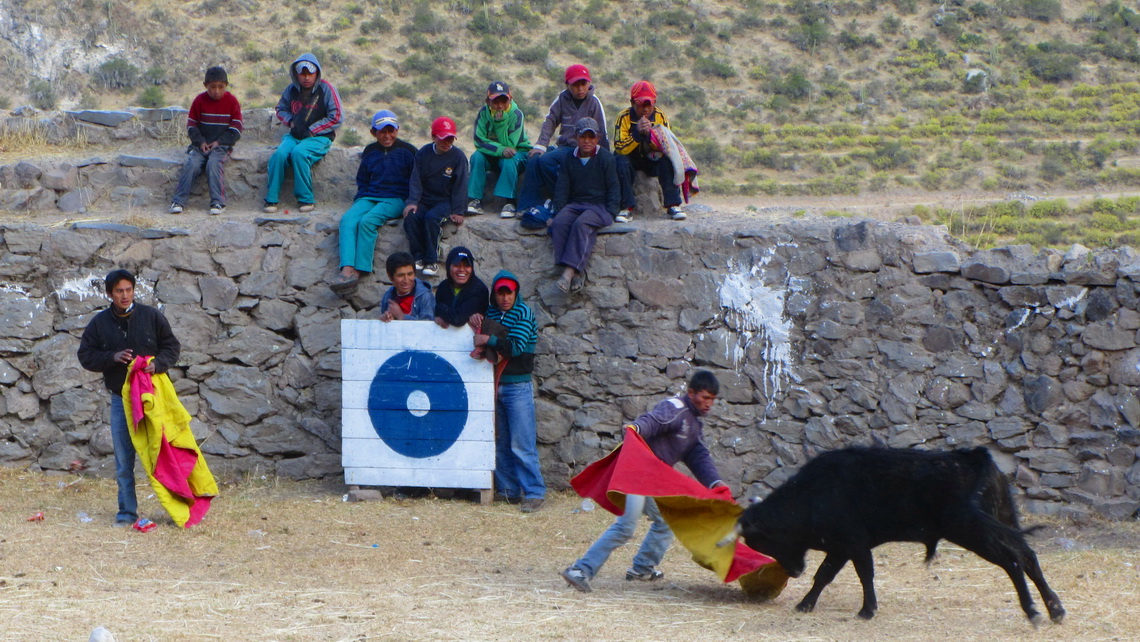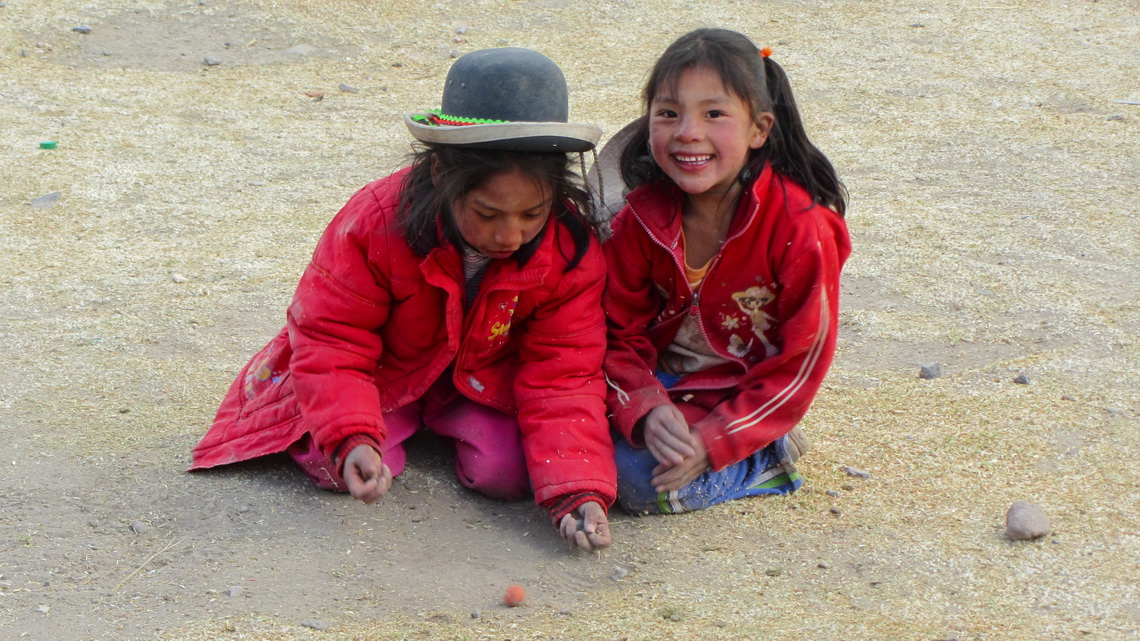 Our next visit was the village of Pampamarca in a side canyon opposite of Cotahuasi. We drove in the late afternoon with five Peruvian people the steep and dirt road. Somehow our car managed it. There was a reasonable camping spot few kilometers in front of Pampamarca and few meters to a cot. We wanted to ask the people for their permission, but there was just a girl of 11 years. When she saw us, she took immediately a stave much bigger than herself. Marion convinced her with some chocolate and goodies that we don't want to hurt her.
Her name was Hilde and she told us that she is alone here. She had no issue that we sleep here. Few minutes after we returned to our car Hilde came and asked shyly if she might guide us to the forest of stones. It was Sunday on the next day and there was no school. Of course we agreed and we had a perfect guide and Spanish teacher. The way to the forest of stones was rather long, more than 3 hours up. We had so much fun - Thank you so much, Hilde.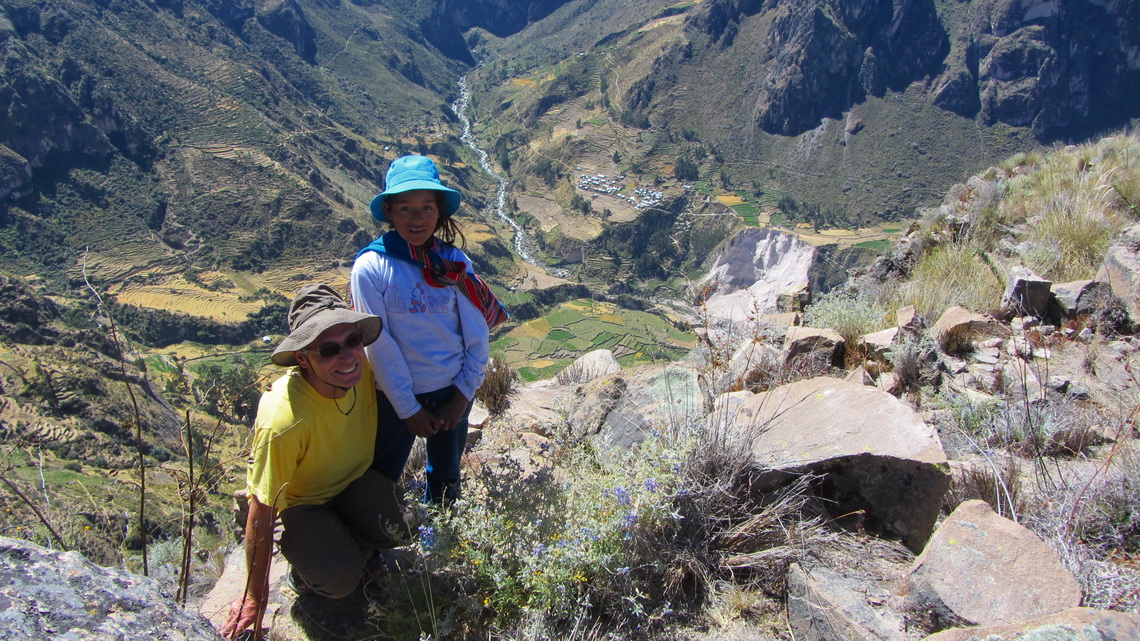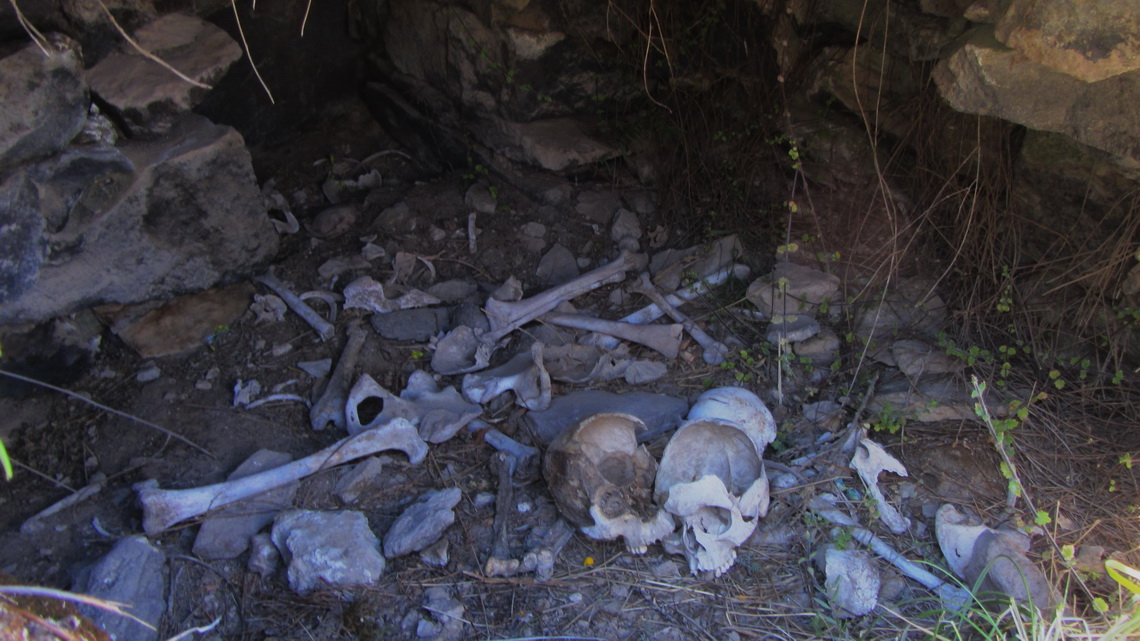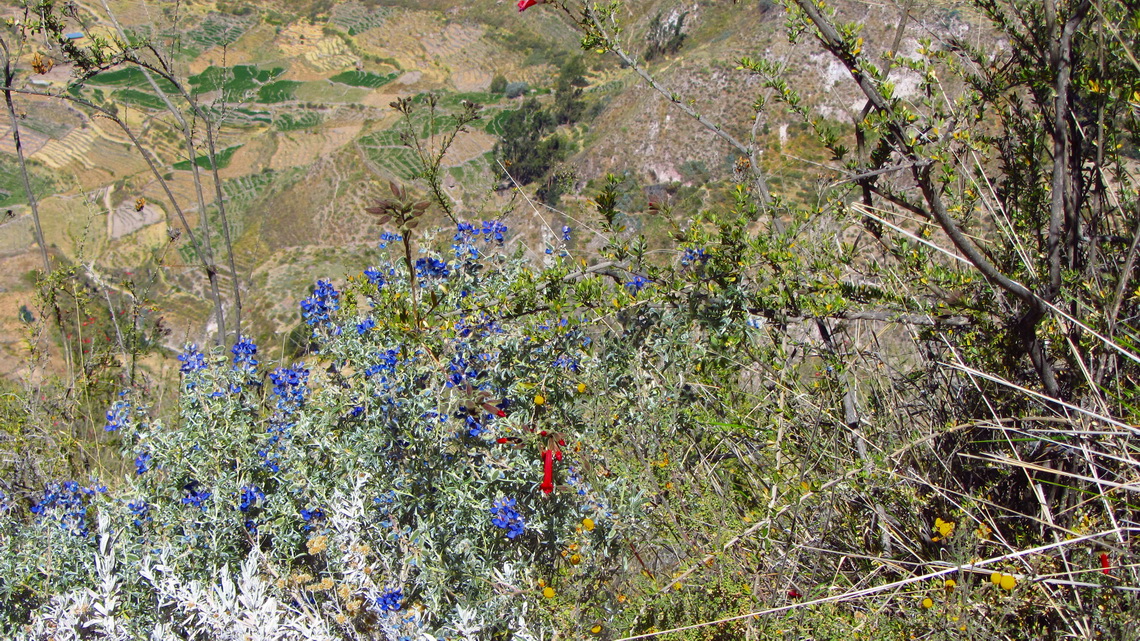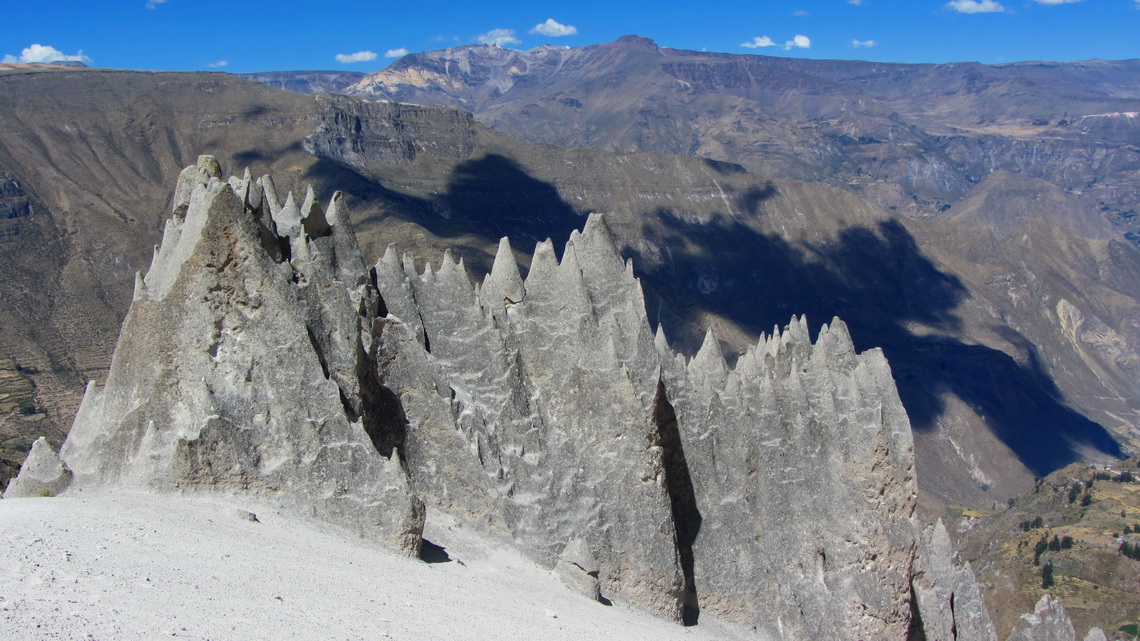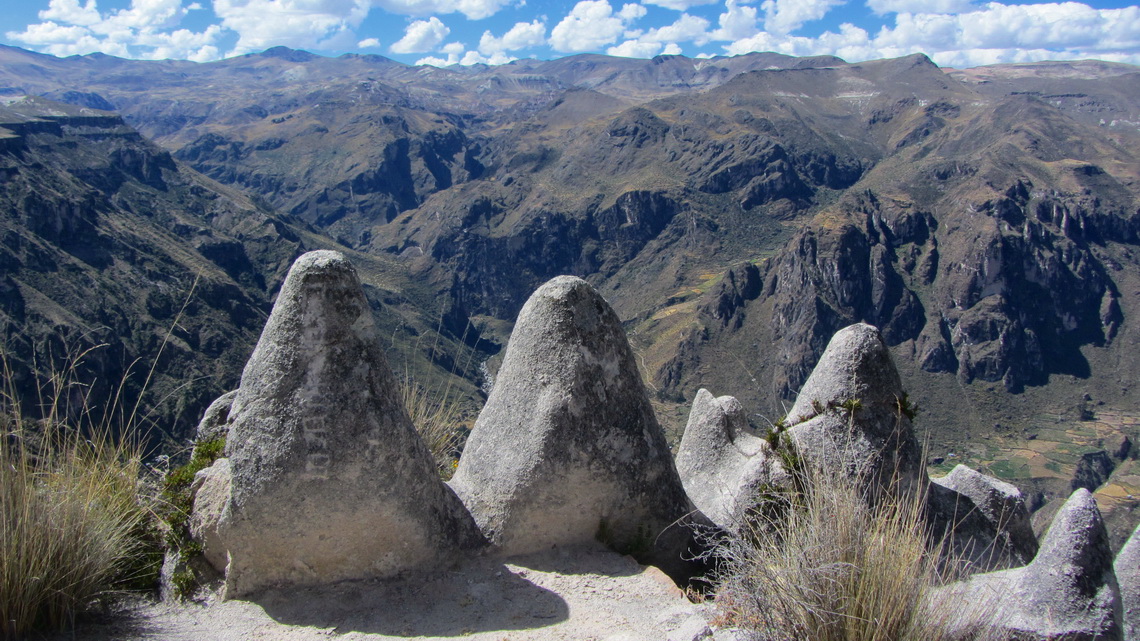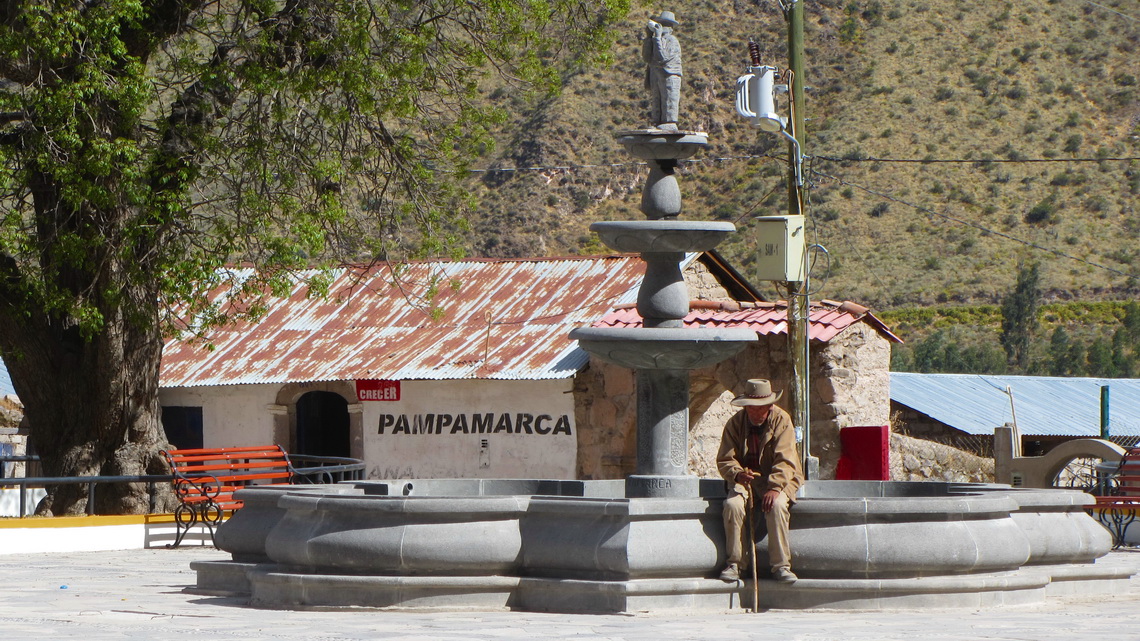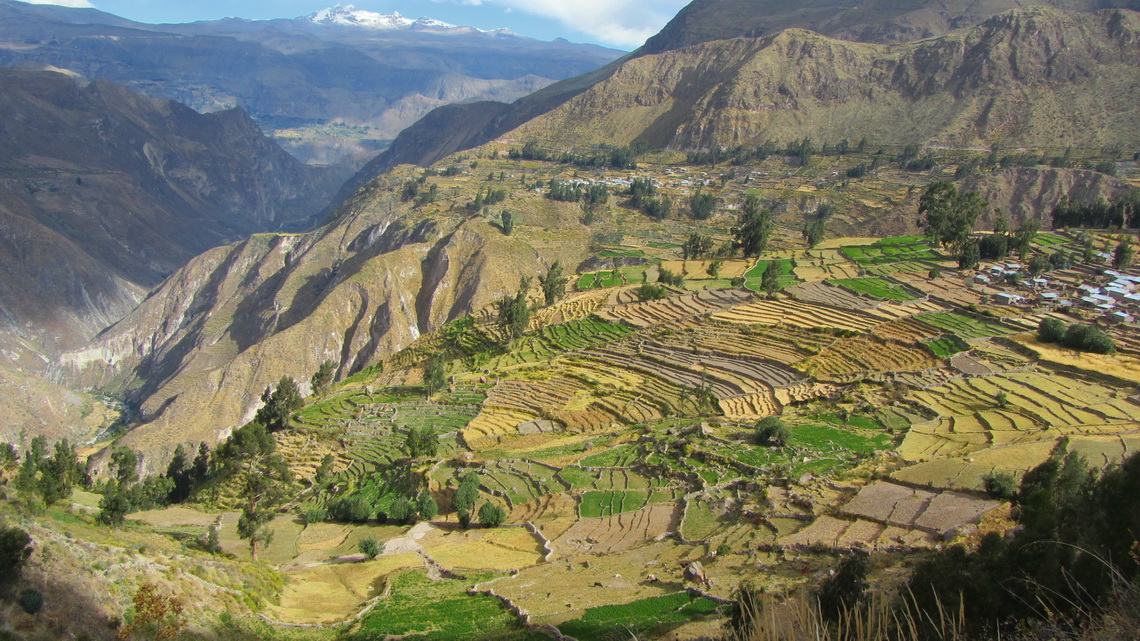 The return to Arequipa was endless and exhausting. We drove a big distance in the night because we took a wrong road, after 50km not possible for our car, and did not dare to stay another night in the area of the community of Firura. Marion did a huge portion of the paved street by bicycle and she was bitten again by a dog. Fortunately not severe, but the teeth of the beast were visible on her calf still three weeks later.
In Arequipa we celebrated goodbye with our friend with a rich dinner like Alpaca meat and some special Peruvian drinks like Pisco Sour in nice bars. It was a very long, long night. We had so much fun with him in the last six weeks - Thanks a lot.

On the next day Alfred sat in the lobby of the Hostal Mercedes, which provides the only campground in Arequipa. Suddenly a younger man came and said: You must be Alfred! It turned out that Michele from Denmark recognized Alfred from this website. He started his trip with his wife Lotte and their three kids early this year, also with a VW camper. There came like us with Grimaldi from Hamburg to Buenos Aires. At the moment they had trouble with their car, and they had to wait some days for spare parts from Europe. Lotte and the three kids came immediately to our campsite and we had a lot to talk. It was so nice meeting you, thank you very much.
We spent our last days in Peru this year in Tacna on the border to Chile. 30 kilometers northeast are reasonable hot springs only with private cells but very pleasant. Opposite of the bath are the stunning petroglyphs of Miculla with a beautiful walking round trip of 2 hours.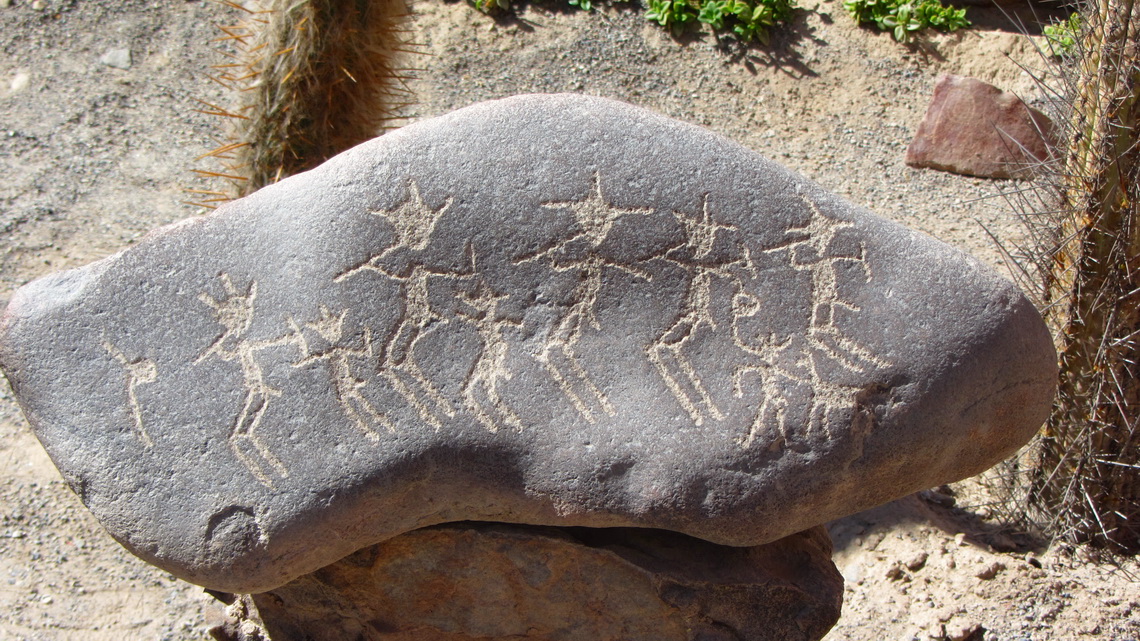 For more pictures, please click here           For a map of our itineraries, click here
To download the GPS coordinates file of Peru, click here