The Torotoro National Park is a superb area in the eastern range of the Andes, the Cordillera Oriental, 150km South of Cochabamba. It is a magic and wonderful world with caves, pinnacles, cold streams, canyons, wildlife and dinosaur footprints. Due its complicated access via steep cobbled or dirt roads it is relatively remote.  
100km Northeast, close the main road between Cochabamba and Santa Cruz are the most important Inca ruins of Bolivia, Incallatja in a marvelous landscape.
The best way from Bolivia to Brazil is through Chiquitania, more than 1000km through the hot jungle with some huge cattle farms and picturesque villages, mainly originated by Jesuits. Outstanding are San Javier and San Ignacio, both with beautiful churches and UNESCO world heritage states. Thanks to the Jesuits fine arts like music or carving is quite popular.
But we had some serious trouble to reach the Brazilian border. We came in the evening of Saturday (August 18th 2012) to Cochabamba and enjoyed its night life a little bit on a street restaurant. We met their three Carlos, one elderly pastor from Argentina, a young man driving a green Volkswagen T3 with his wife and son - Carlos. We had a lot of fun and learned some new Spanish words, Thanks Carlos I, II and III.
The first and only bigger town on the way to the Torotoro National Park is Tarata. For sure it has seen better days in the past because the city has a kind of morbid character. Most of its former beautiful houses have severe cracks, broken doors and spider webs everywhere. But it was somehow beautific and fascinating. And a lot of refurbishment works was going on.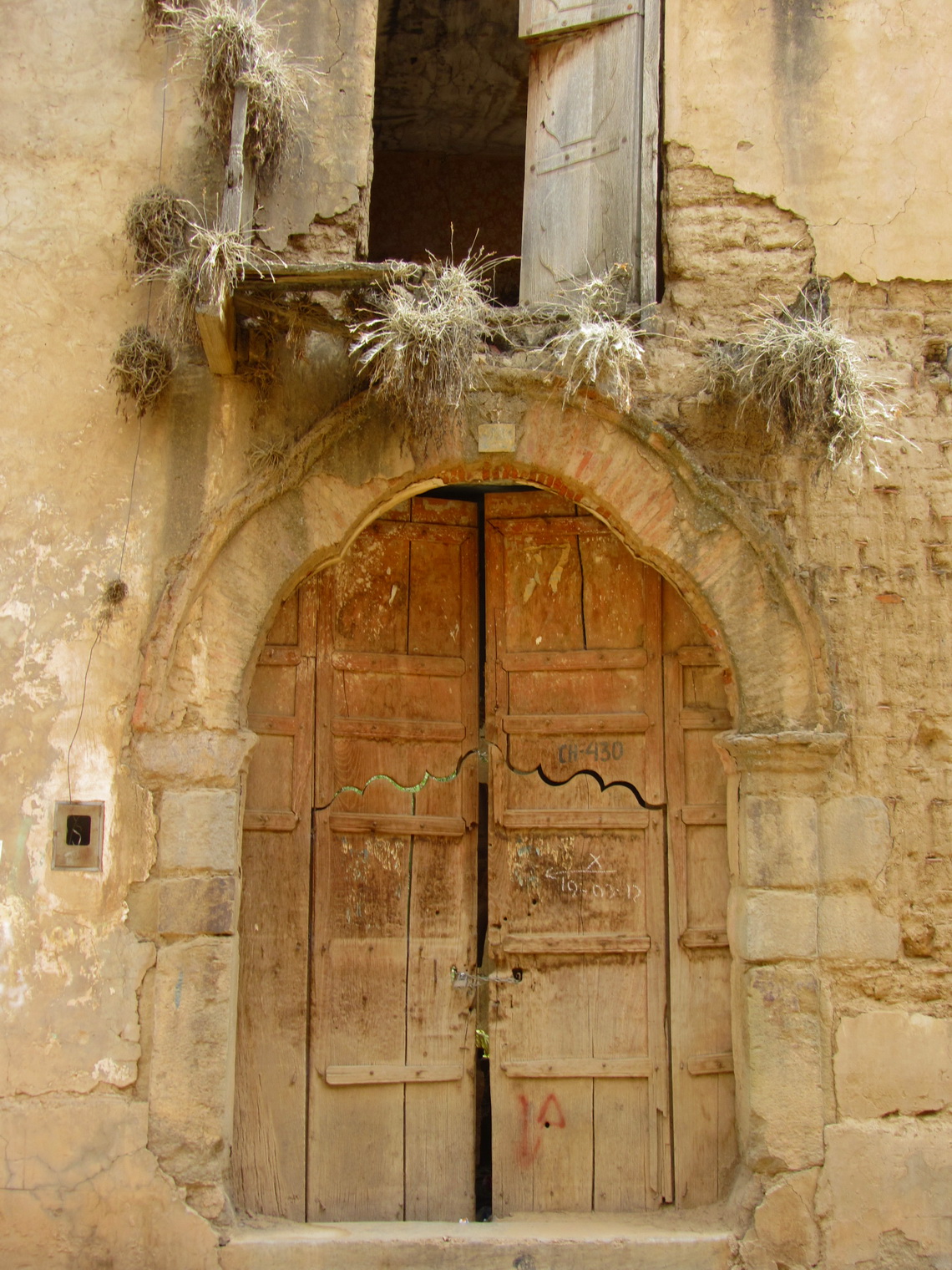 After Tarata the street was cobbled with small stones and it became noisy in the car. Toro means bull and we saw occasionally some. But this is true goat country because its altitude ranges from 2000 to 3600 meters sea-level.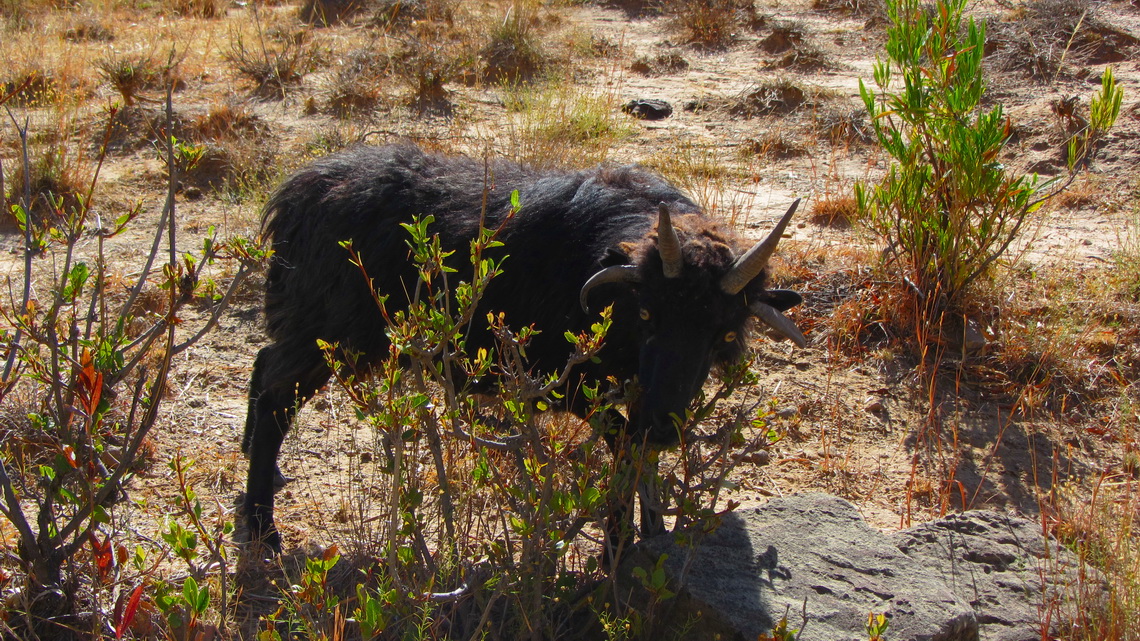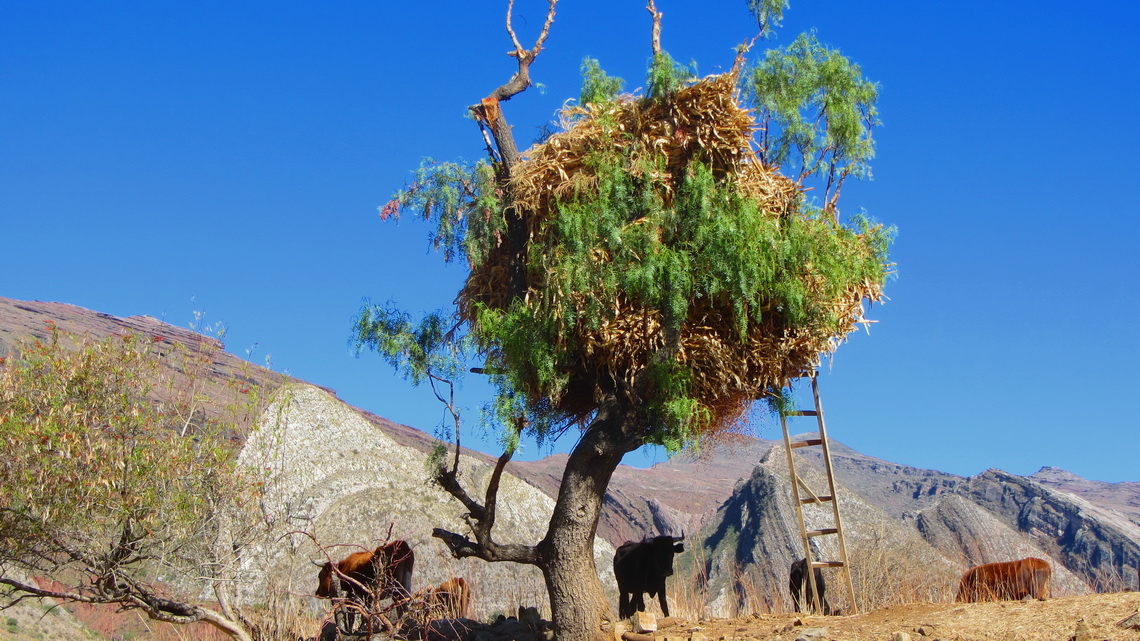 The treasures of the Torotoro National Park can be visited only with a guide to avoid damage (GPS coordinates: S18° 08.026' W65° 45.779'). The overall price per tour for up to 6 people is less than the entrance to the castle Neuschwanstein for one person. We were very lucky because we had young Gabriel. He speaks very well English and he did a lot of unusual things with us. Thanks you so much - Gabriel. His Email is This email address is being protected from spambots. You need JavaScript enabled to view it. and he has a Facebook page.

Our first tour was the impressive stone city Ciudad de Itas with labyrinths, narrow caves and eroded rocks. There we enjoyed some airy scramble with the help of tree trunks, which were used as ladders.

On the same day we visited the cave Caverna de Umajalanta, one of the biggest in Bolivia. We had to use our helmets and flashlights because it is totally dark inside and sometimes very narrow. Gabriel did a circle with us with some tunnels we had to crawl. One was just 35 cm high; it was a hard work to pass it and we had to concentrate to avoid panic feelings.
On the next day we hiked to the more than 200 meters deep Canyon Torotoro and enjoyed its cool water.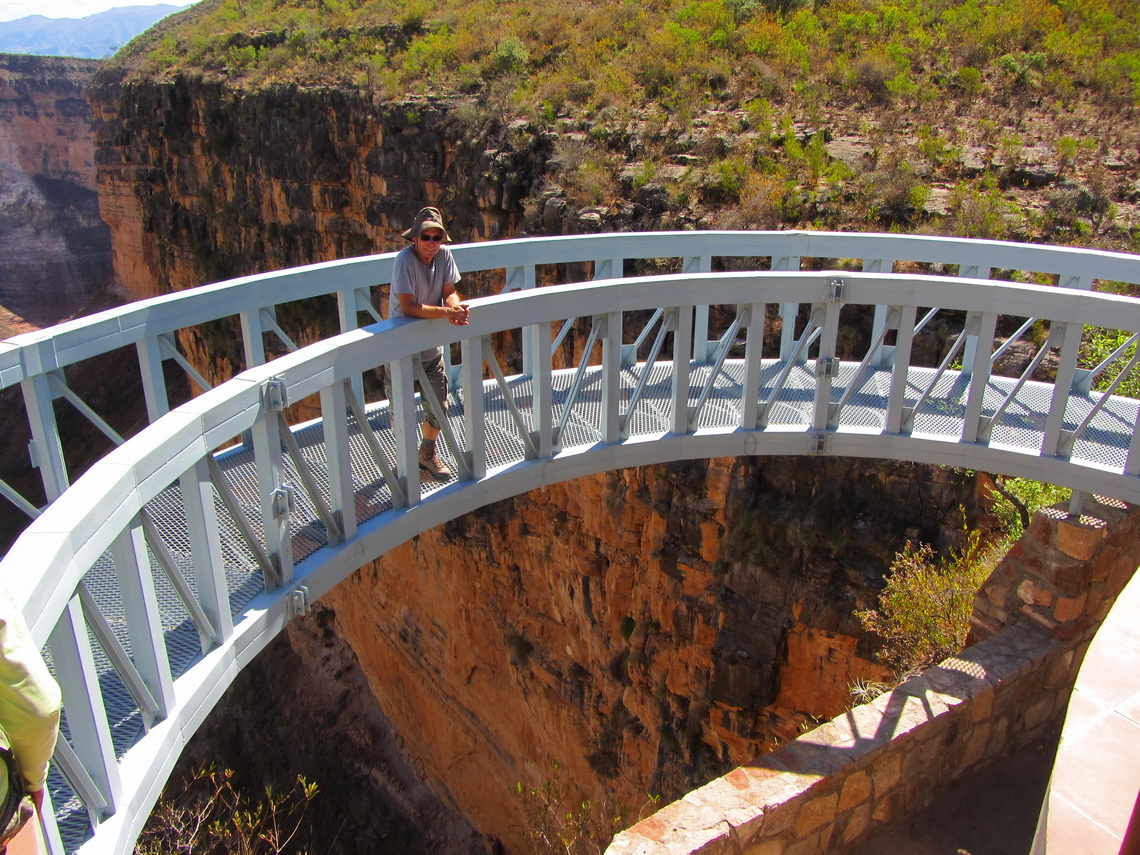 Torotoro is also Dinosaur country. There are footprints nearly everywhere, some in astonishing conditions with visible claws.
When we came back to the main road we enjoyed our first roadblock. We could continue after a donation of 2 bucks for beer. Few kilometers later we had to stop on a bridge at lunch time. Another roadblock but the people were friendly. The atmosphere was a little bit like carnival: Women sold food (warm and cold), kids were jumping around and many men were inspecting our car, which is a dream for many people in South America. The strike committee told us that this roadblock ends at 4:00PM and so it was.
Fortunately we visited the stunning Inca ruins Incallatja 50km South of the main road (GPS coordinates: S17° 36.230' W65° 24.964').
Again there was a roadblock close to the village Epizana nearly half the way from Cochabamba to Santa Cruz. This time we waited three days. Thanks to the local people the supply of food was well. But some of the truck drivers were angry because they stayed the whole week. Police came martial outfit, but they changed nothing. At dawn people were singing and dancing. Fireworks with some shoots occurred. But the nights were substantial cold and some people survived with the help of coca.

We were told every morning that the street will be open at 4:00PM, because at this time the negotiation meeting ends. Nothing happened. On Saturday morning most of the trucks turned and headed back the 200km to Cochabamba because there are no negotiation meeting on the weekend.
There is a second main road from Cochabamba to Santa Cruz via the Amazon basin. We had taken this road in the previous year and we took it this year. We came Saturday at lunch time to Villa Tunari, which is the first village in the lowland. From last year we knew that it has an ATM and wanted some money. We got the usual 500 Bolivianos (about 70U$) in the first run. The machine swallowed the credit card when we tried it again. Shit, the bank just had closed one hour before and we had to wait until Monday. Strangely the bank opened at 7:00AM in the morning and we got back our card without any trouble!
The people in Villa Tunari suffered a very cold period on this weekend, just 20°C maximum. But coming from the Andes this weather was very comfortable for us and we were pleased about the fruits and flowers.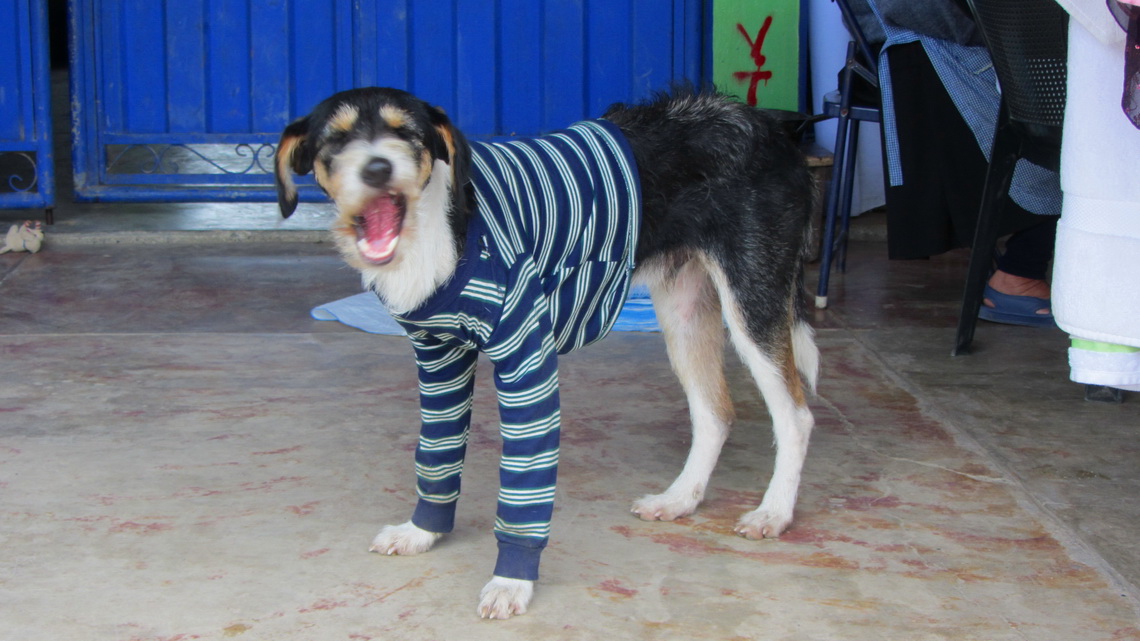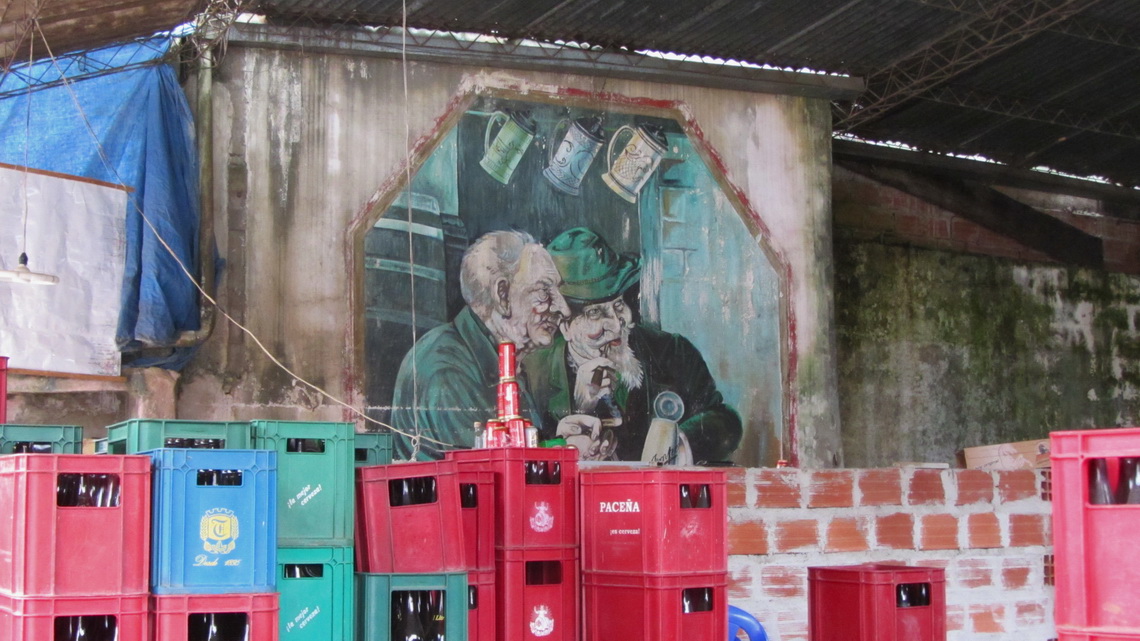 The more we came to East, the hotter it became. We measured 40°C close to the border of Brazil. The landscape in this eastern region of Bolivia , Chiquitania, was very diverse: Flat, hilly, meadows with cattle and sometimes thick jungle. It is named after the local ingenious people, the Chiquitos. This country was influenced heavily by the Jesuits in the 18th century. Still some Germans and Austrians are living here, also many Mormons.
Again we suffered a roadblock between Concepcion and San Ignacio. This time it was definitely no fun: They closed the road also behing us and we were trapped. The atmosphere was differently to the other roadblocks, more violent: Many young men were more or less drunken and chew a lot of coca. They rounded us up closely and told us nothing about the duration. Again fireworks and many shoots in the evening. We felt like hostages and could barely sleep. When it became dark, some truck driver tried to break though without success.
Suddenly in the morning at 4:00AM most of the trucks started their engine and drove fast through the wooden barriers. We followed in the dust behind them and continued more than 2 hours until it became day. One roadblock more followed which was also removed the trucks. It seems that the strikers were very tired, we saw nobody of them on our flight.
We found a lake for swimming in San Ignacio - what a pleasure! Later somebody told that there are Piranhas, but just on the other side.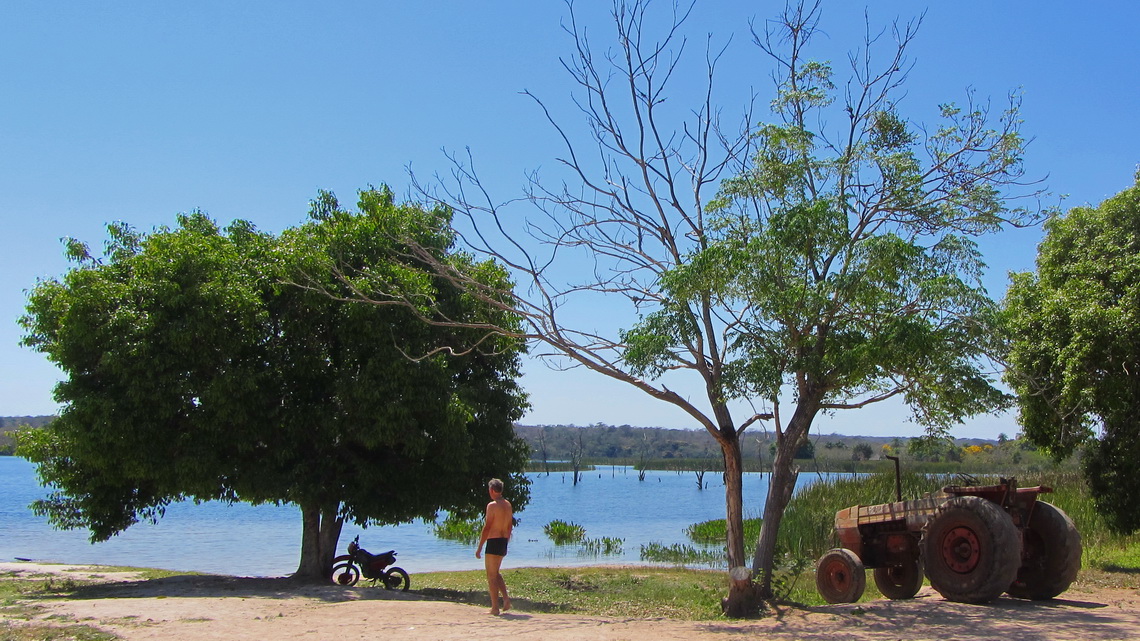 A little bit of the more than 1000km street through Chiquitania was paved. We drove mainly in the dust of rolled earth with a quite high speed, sometimes 60km per hour. But the vegetation became more and more stunning with colorful trees in full blossom.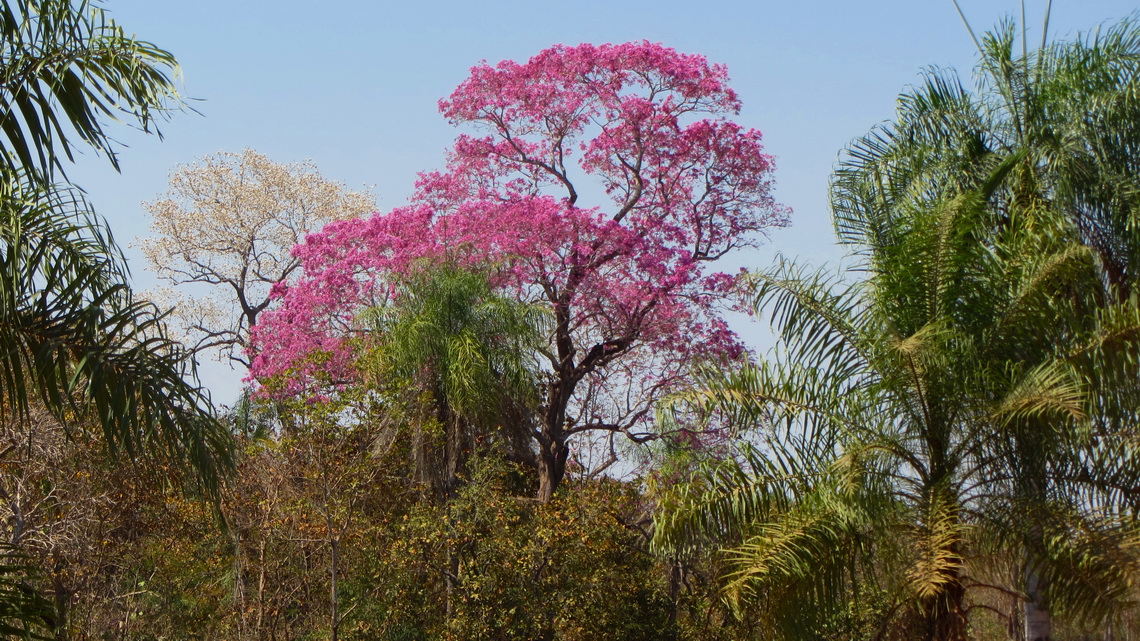 After crossing the border to Brazil we came into a different world like paved streets instead dusty dirt roads, all driving bikers were using helmets and most of the younger women were wearing shoes with high heels instead of sandals made by used tires.
For more pictures, please click here             For a map of our itineraries, click here
To download the GPS coordinates file of Bolivia, click here