The Caparao National Park on the border between the Brazilian states Espirito Santo and Minas Gerais contains southern Brazil tallest mountains including 2892 meters high Pico da Bandeira. Besides its relative modest altitude (for South America) it is a geographical point of superlative because no other mountain in a circle of more than 2500 km is higher. Just two peaks on the Brazilian / Venezuelan borders are a little bit taller in Brazil. Accessibility of this mountain is easy including fabulous hiking trails and cozy campsites.
Thanks to gold found in its mines, Minas Gerais is famous for its baroque colonial towns like Ouro Preto, the jewel in the crown and Brazil's first World Heritage site.
100km East of Caparao is the pretty German-style town Domingos Martins. Street names are in German and there are clubs like the Bergfreunde to preserve the culture of the immigrants, mainly from Pomerania and Hunsrück. Natural treasures like the waterfall Cascado do Galo and the dramatic rock Pedra Azul are nearby.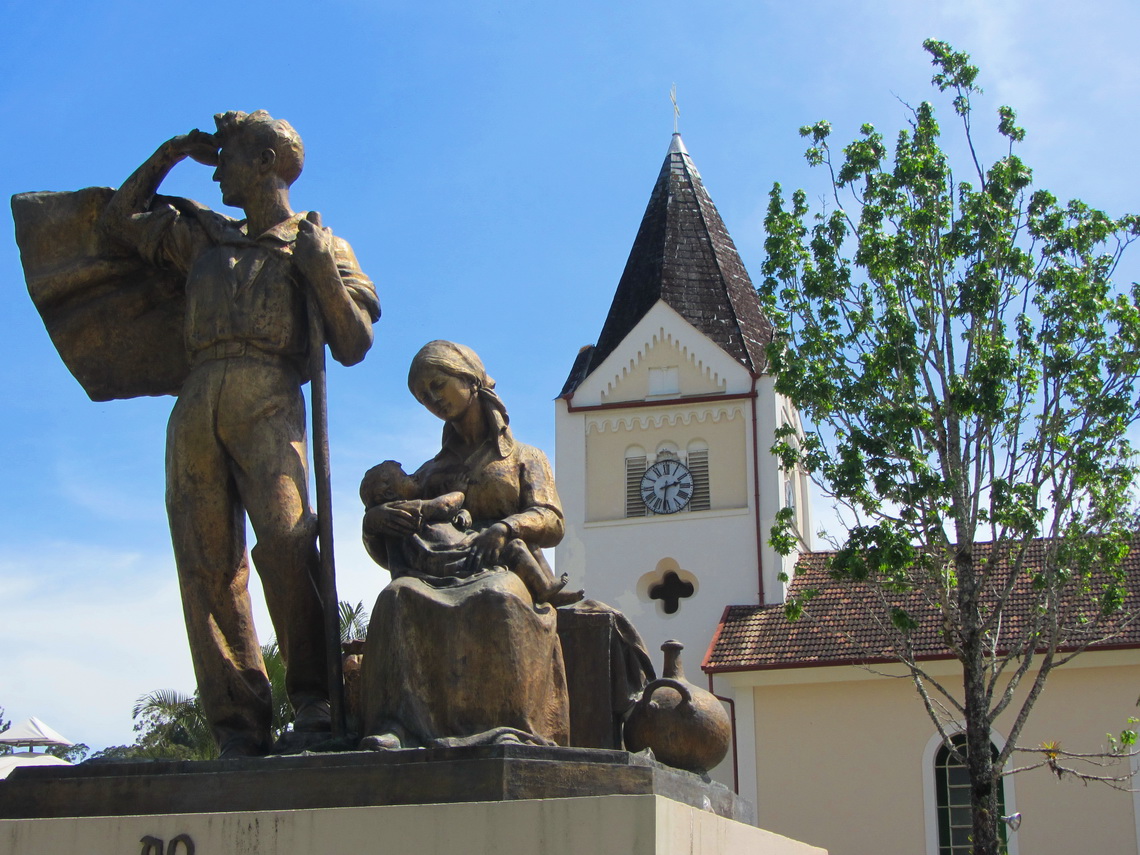 We stayed the night at the parking area of the marvelous Cascada do Galo (GPS coordinates: S20° 17.343' W40° 38.976'). It is a remote and shady place in a rural environment with small farms. Coffee and bananas are the main fruits in this region.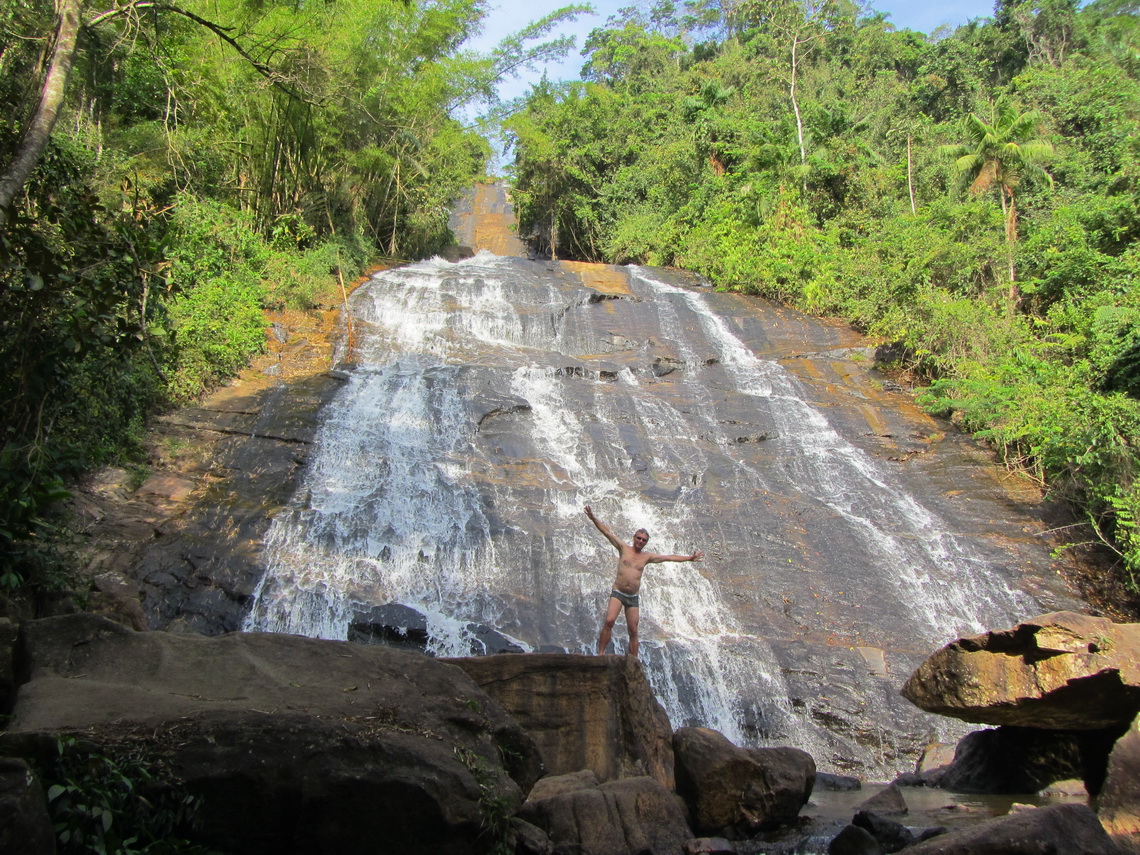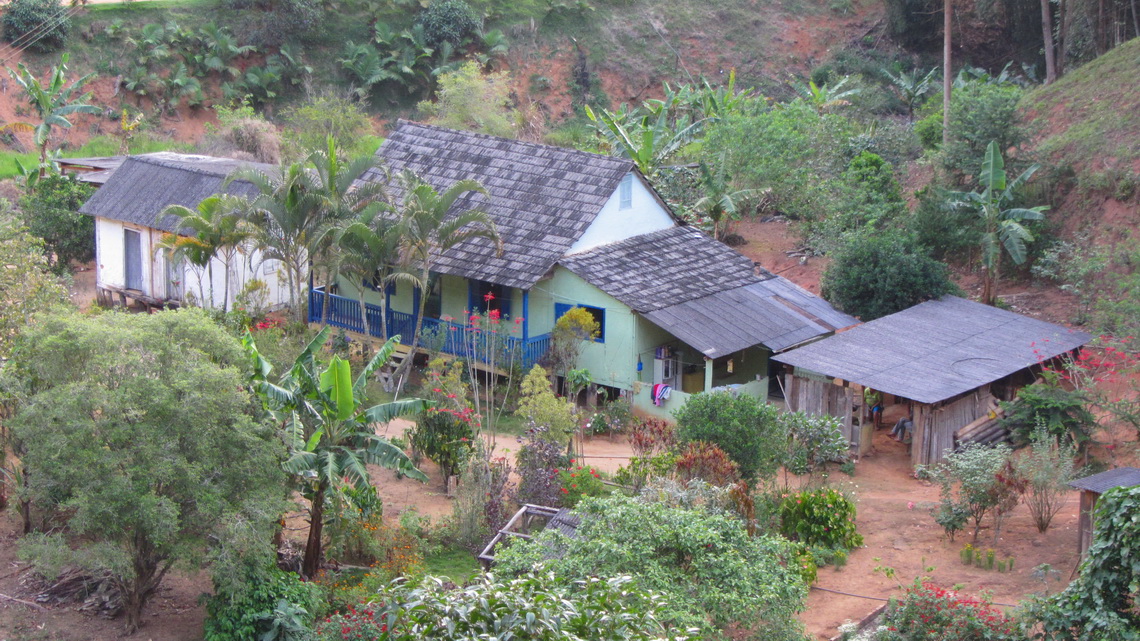 Ancient volcano Pedra Azul (1822 meters sea-level) is one of the most impressive gneiss rocks in Brazil with vertical walls of more than 500 meters. Depending on the sunlight it is shining blue because it is covered with algae and mushrooms. Access to its top is very limited to protect wildlife and fauna.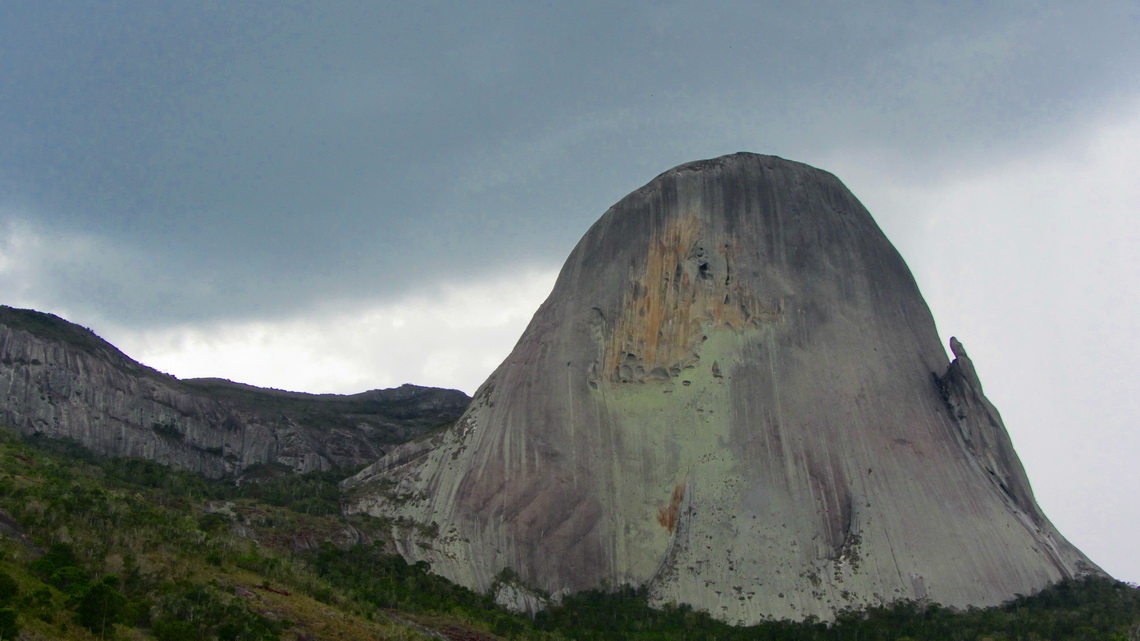 From the village Alto Caparao a steep but good road leads to the camp Tronqeira (GPS coordinates: S20° 24.596' W41° 50.218') on the western Minas Gerais side of the Caparao National Park. This marvelous and remote campsite is equipped with showers, costs just few bucks and is already 1970 meters high. From here it is a long 8 hours tour to Pico da Bandeira on a well marked trail. It is also included in the TRC-Brazil maps for Garmin GPS devices.
We decided to split the tour and to stay one or two nights in our tent in the upper camp Terreirao, (GPS coordinates: S20° 25.226' W41° 48.621'), also with all needed facilities and located at 2370 meters sea-level.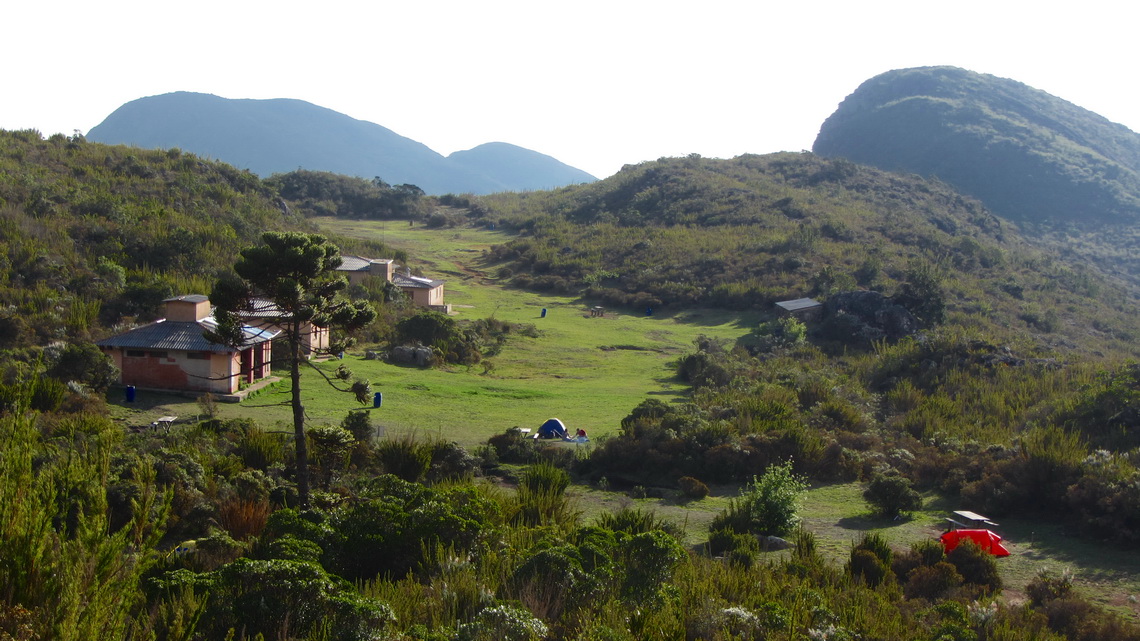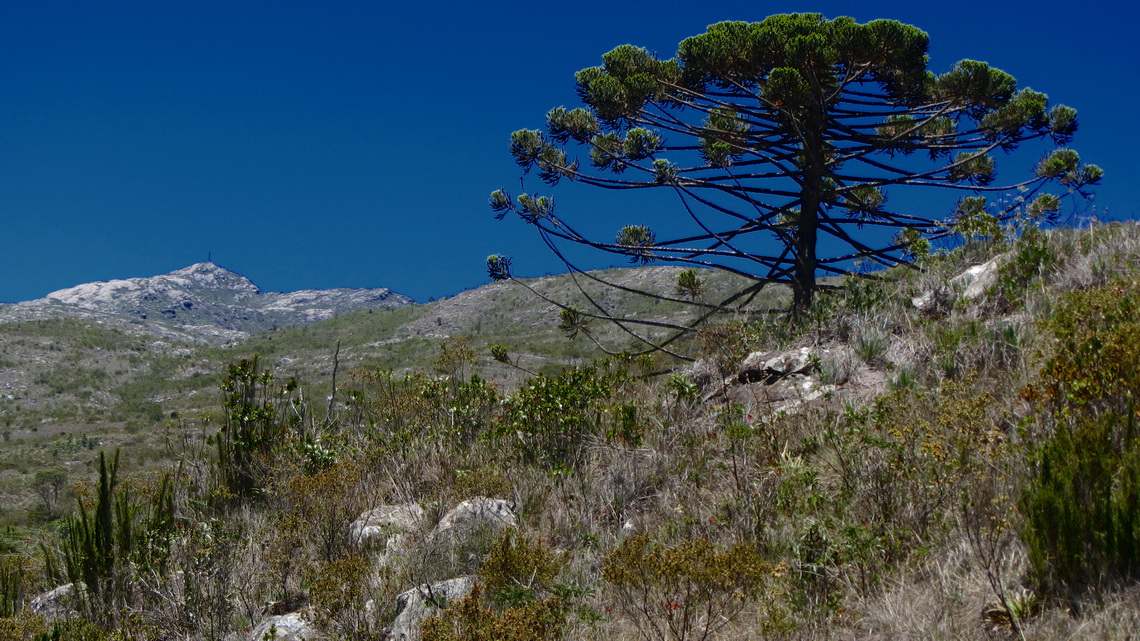 We arrived in the early afternoon at Terreirao, thus we could hike to Pico Cruz do Negro, a two hours walk in front of Pico da Bandeira. we followed the main trail till the saddle and turned right (S20° 25.208' W41° 48.285') opposite to Pico da Bandeira. This path was not very well visible but there were many cairns. Close to the top we found a brick which stated Pico Brownsea. It seems that this peak has two names (GPS coordinates of the summit: S20° 24.887' W41° 48.161', height: 2658 meters sea-level).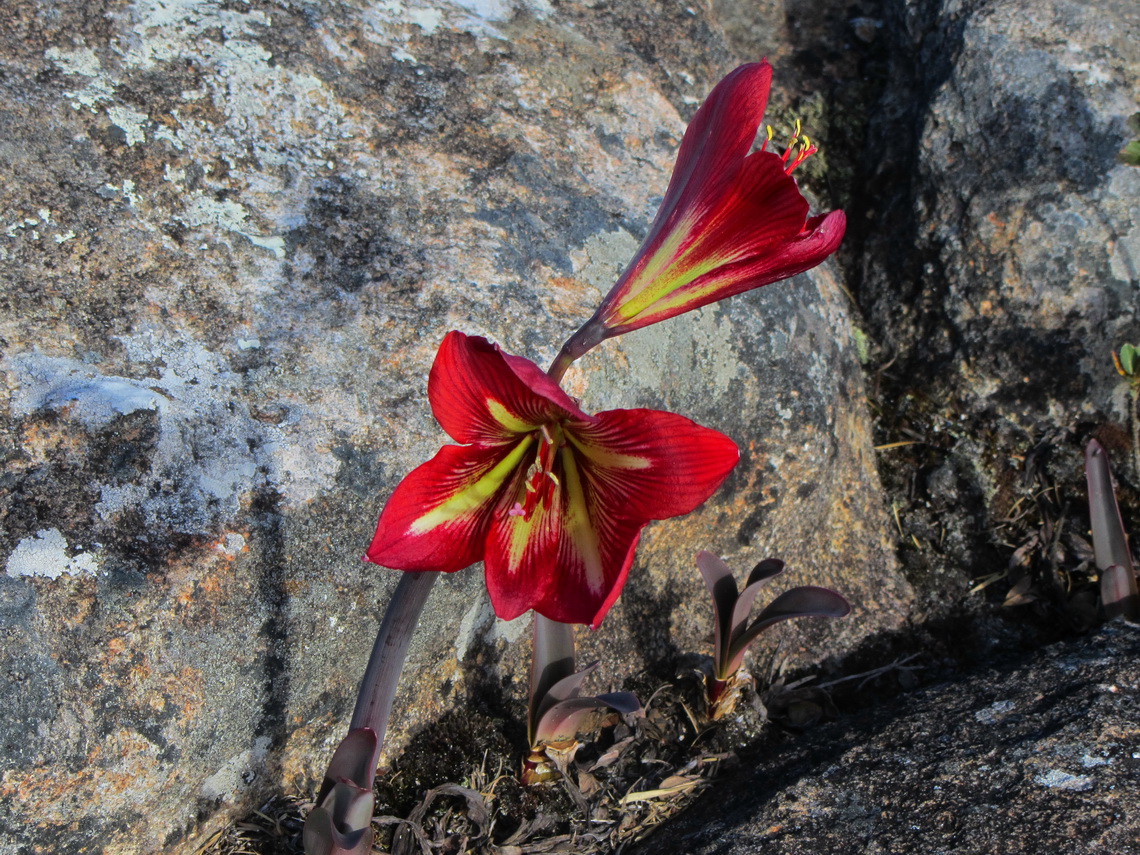 On the next morning we hiked on a day two hours to Pico da Bandeira (GPS coordinates: S20° 26.090' W41° 47.751', altitude 2892 meters) and another half hour to its secondary peak Pico do Calcado (GPS coordinates: S20° 26.404' W41° 47.933', height 2776 meters). Pico da Bandeira and Pico Cruz do Negro are described on the very useful website www.summitpost.org, country Brazil.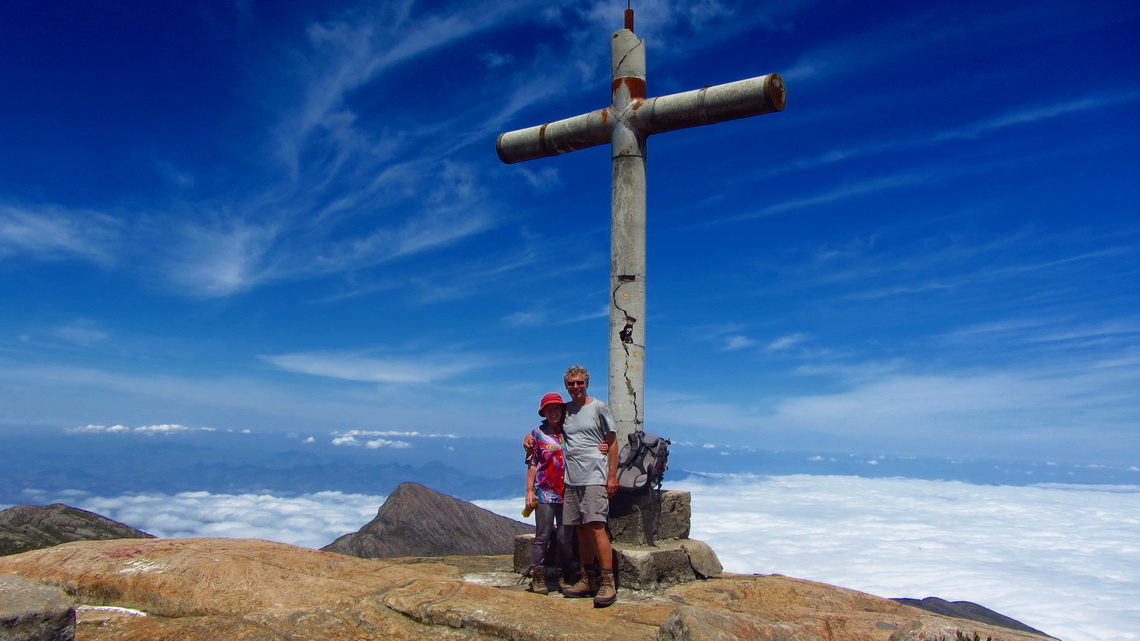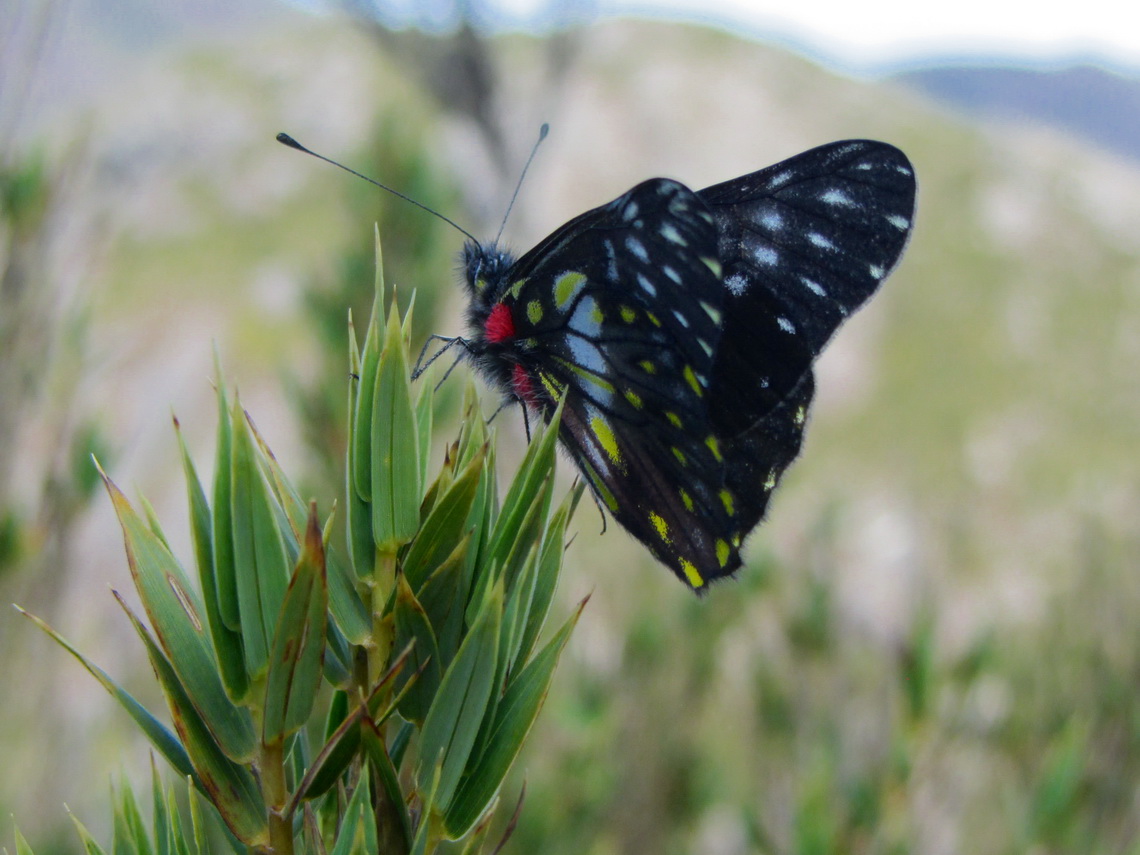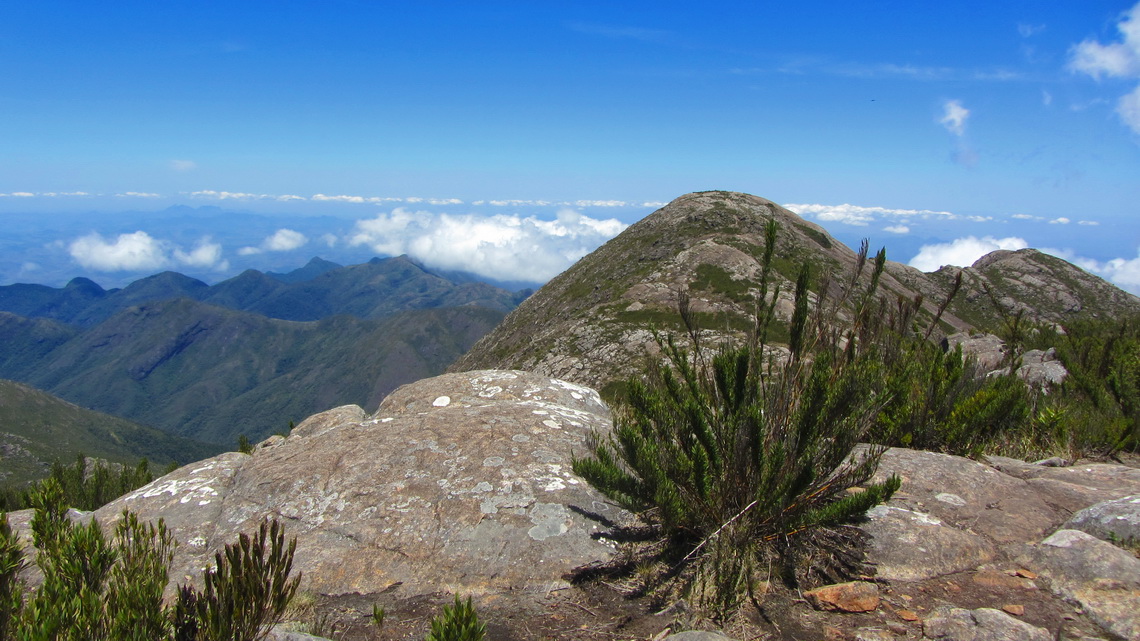 We stayed long on both peaks to enjoyed the sunny weather and the fantastic panoramas, because we considered to stay another night in our tent. But when we arrived at the Terreirao camp our complete food was gone. We had stored it properly on a rope and fixed it on timber in the kitchen area to protect it against animals. Obviously somebody with two feet had needed it urgently - Bon appetit!
Ouro Preto is one of Brazil' three most visited tourist destinations and we know why. Historically it was the center of gold mining and government in Minas Gerais, but today it is center for education and arts. It has many spectacular buildings and baroque churches located often on top of hills with outstanding views. In between are very steep and narrow cobblestone streets; driving here with a bigger car is definitely a nightmare.
Ouro Preto has a reasonable campground on the western side access road (GPS coordinates S20° 22.783' W43° 31.527'). We were in Minas Gerais and of course we had to visit at least one. In Ouro Preto is the mine Mina do Chico Rei (Little king), a former African chief who had bought freedom for himself and his his large family and had grown rich from this mine.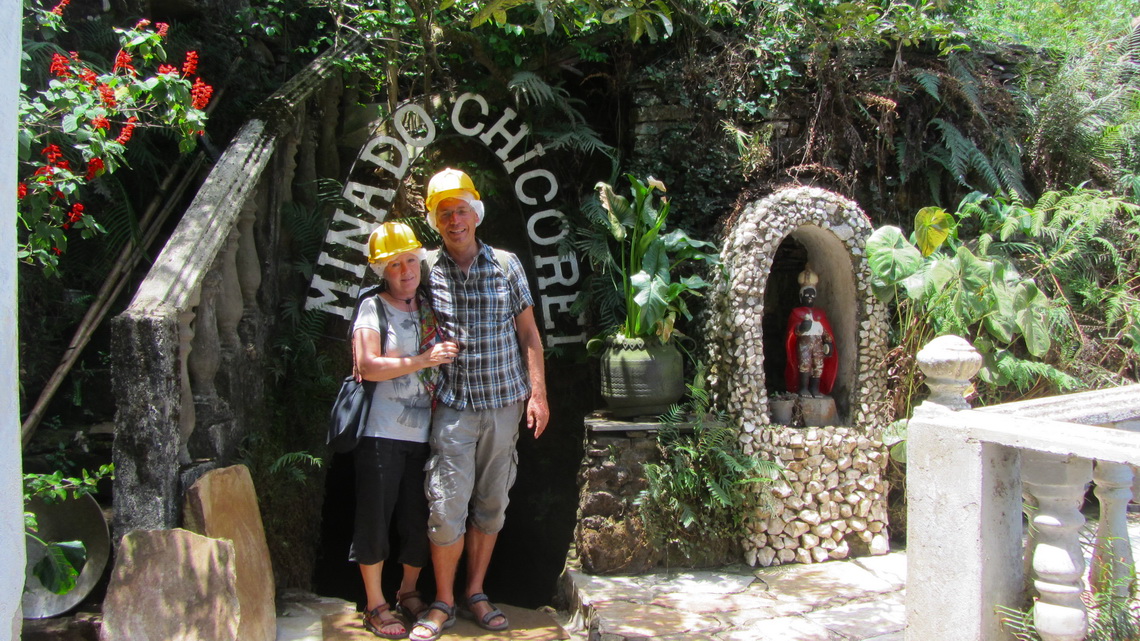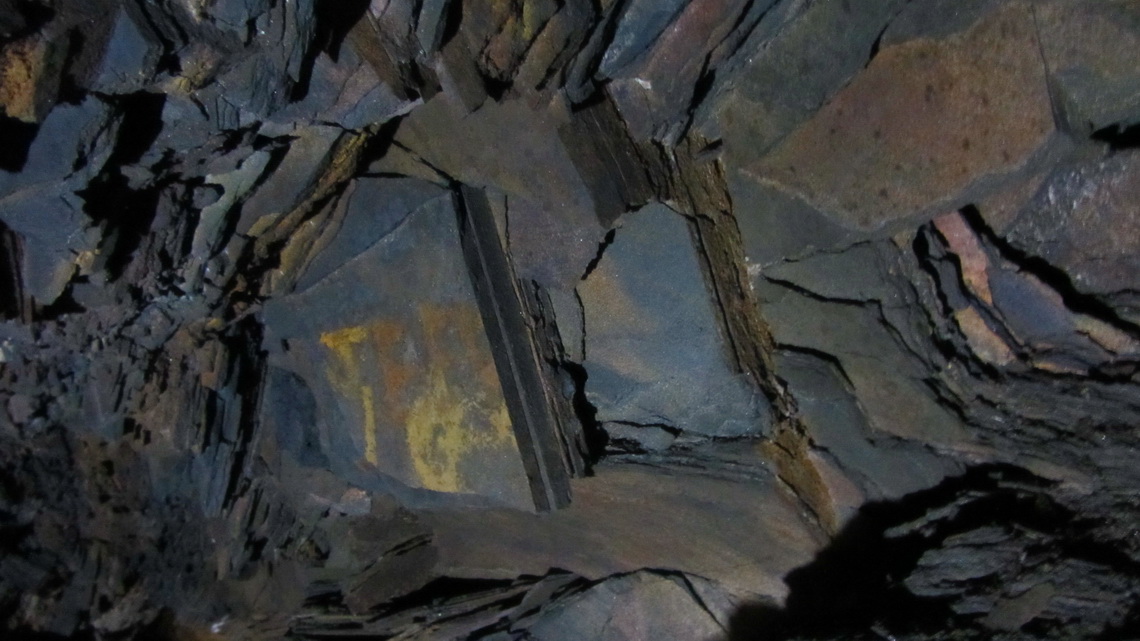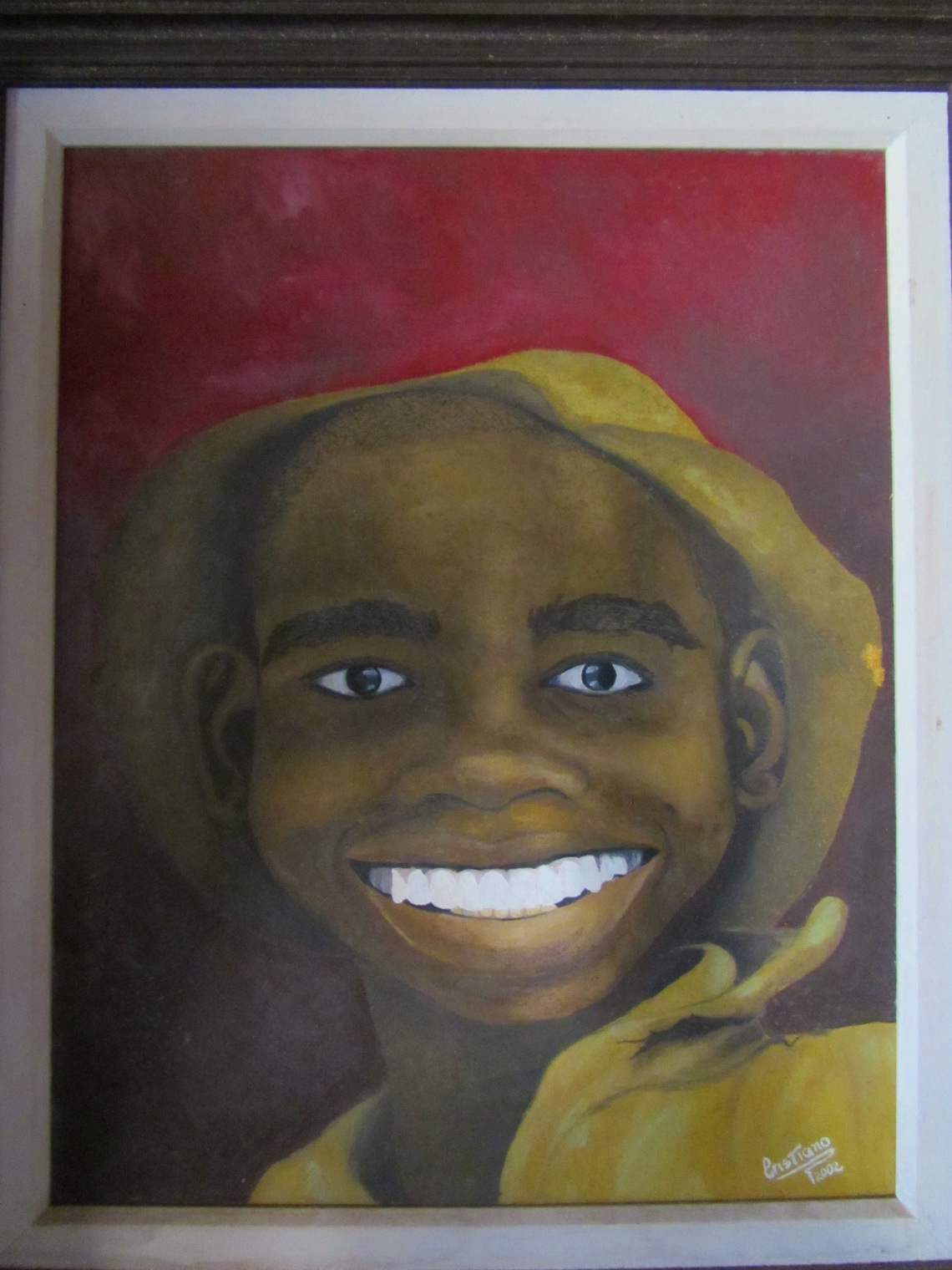 Nowadays they get just few grams of gold for several tons of rocks in this mine - No good business. But in Mariana, a picturesque little town close to Ouro Preto, we saw men in the river washing its sediments.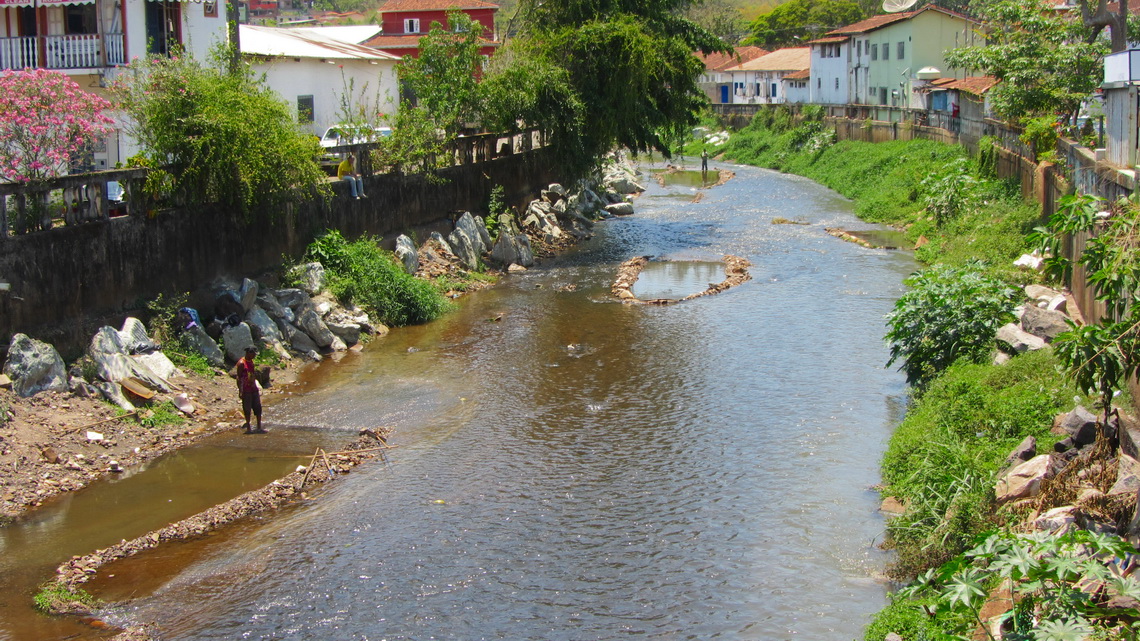 One of the most important and famous man of Brazil's art is Aleijadinho (Little Cripple), the son of a Portuguese architect and a black slave (1738 - 1814). He got this nickname because he suffered a terrible debilitating disease, losing his fingers and toes. Despite chiseled, hammered and carved wonderful baroque figures, altars and frescos only in native materials like wood or soapstone.
His masterpiece are the 12 Prophets which are placed symmetrically in front of the Basilica do Bom Jesus de Matosinhos in the outskirts of the industrial town Congonhas. Below the church are six chapels which show scenes from Christ's Passion with people carved in wood, also designed by Aleijadinho.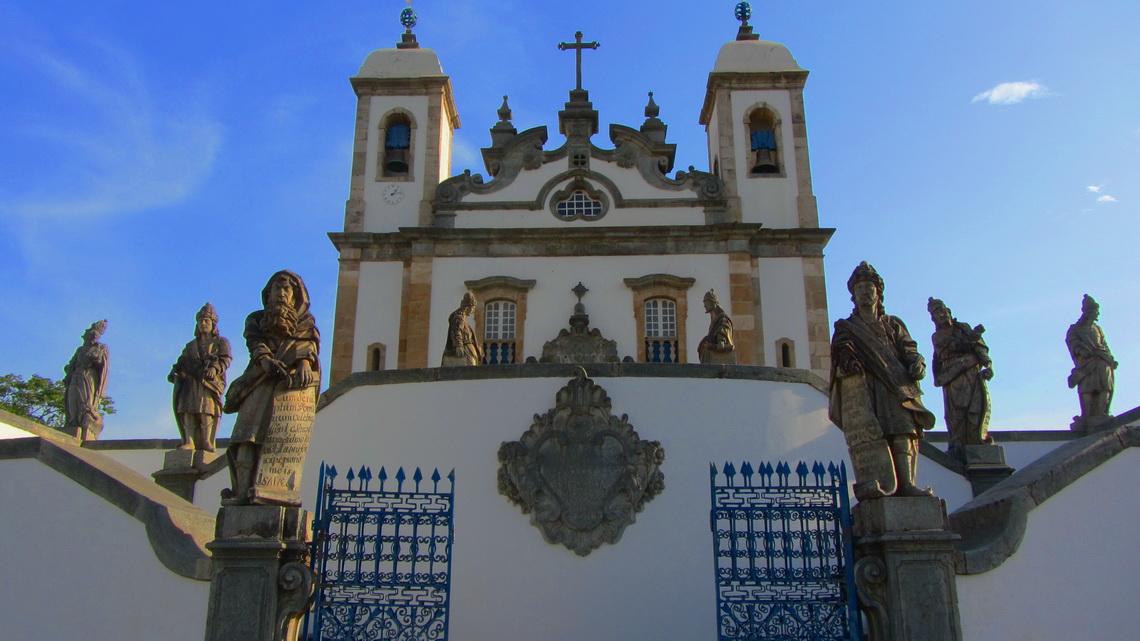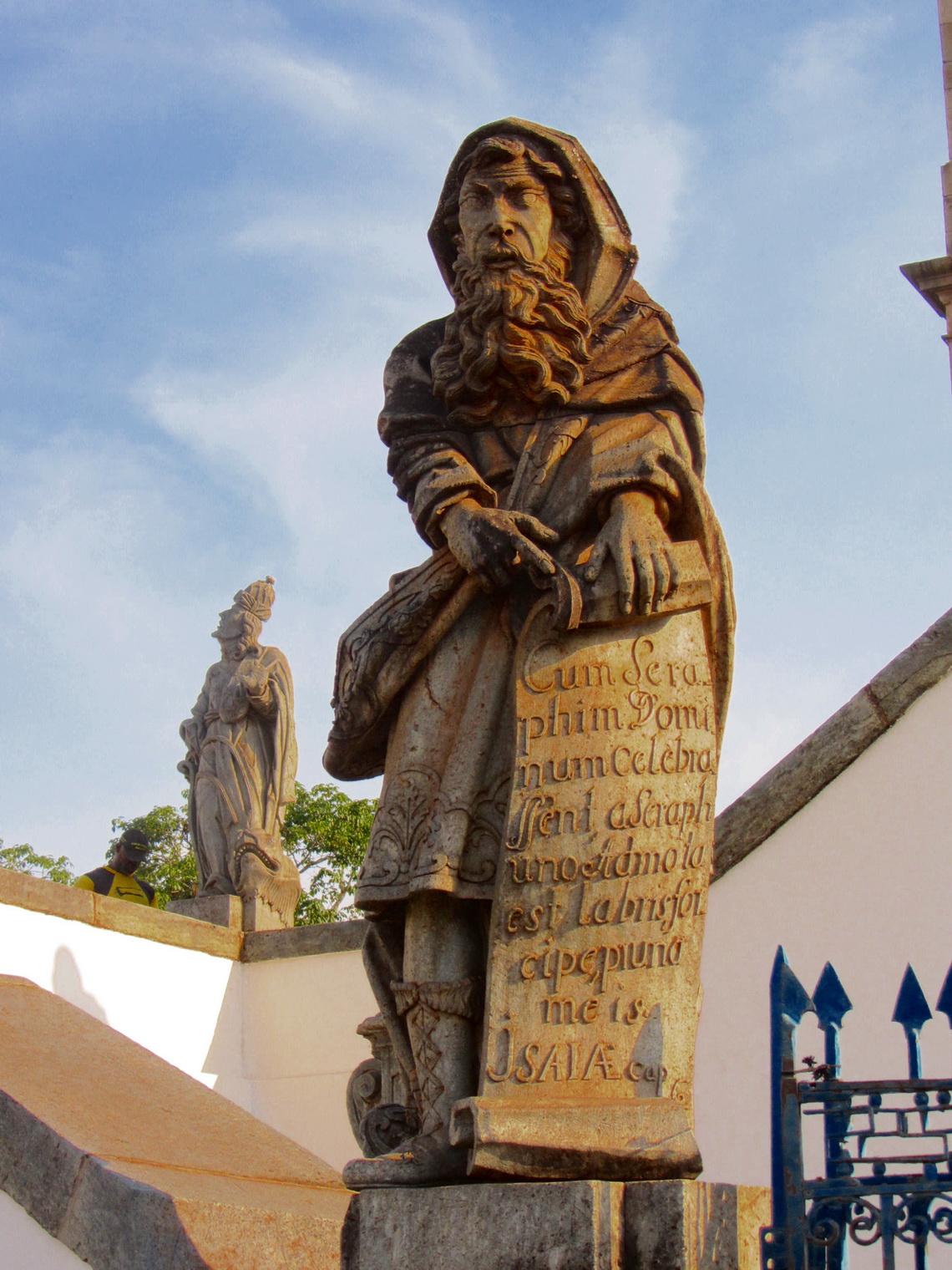 For more pictures, please click here            For a map of our itineraries click here
To download the GPS coordinates file of Brazil, click here