The little town Cafayate and its environment is a natural treasury on foot of the Andes in the northwest corner of Argentina, more than 1500km away from Buenos Aires. After Mendoza it is the second most important wine region in Argentina. 200km North of Cafayate is the pleasant holiday destination Tafi del Valle in the first valley of the mountains.
The Yungas are the rainforests on the eastern shore of the Andes at lower altitudes from 500 meters to 2000 meters sea-level. The are situated nearly the entire Andes ranges from Venezuela to the province Salta in Argentina. Clouds from the Atlantic Ocean are sticking on the first mountain ranges. In Argentina these clouds are sometimes renewed in the Brazilian highlands, which are covered with  thick jungle. Thanks to tropical temperatures and high precipitation wildlife is abundant in the Yungas zones. For instance in Argentina's Yungas are: Tapirs, Peccaries, Pumas, Monkeys and a lot of different kind of birds.

End of February 2013 we had parked our VW California in the premises of our friends Cristian and Sebastian in the northern suburban Tigre of Buenos Aires to fly to Germany. They have several medium-sized motor-homes which they rent to tourists, see their webpage www.andeanroads.com. In addition they offer a small but cozy campsite in the region of Buenos Aires and a parking lot for motor-homes (GPS coordinates: S34 27.058 W58 40.916). Cristian loves Volkswagen Bullies, especially campers. When we came back to Argentina on May 22nd 2013, he had a nice welcome surprise for us.

He invited us to the ranch of his family together with the Volkswagen Camper Club of Argentina. Marvelous El Arenal del Carmen is located approximately 120km Southeast of Buenos Aires in the pampa, see its website. Thus we drove on Saturday, May 25th 2013 with some Volkswagen Camper T2, T3 and T4 to Saladillo, where we enjoyed the best restaurant we had in Argentina so far.
Again we got even more delicious Argentine food; this time cooked by members of the Volkswagen Camper Club: Saturday dinner lentil stew and Sunday lunch Parillada (grilled meat). In between we strolled around the beautiful area of the farm and saw a lot of interesting things.
We would like to thank very much Cristian, Jackie and all people of the Volkswagen Camper Club who came with us - it was an outstanding nice experience for us spending these two days with you in El Arenal del Carmen.
To the Northwest of Argentina we took the excellent Ruta 34, which allows quick driving.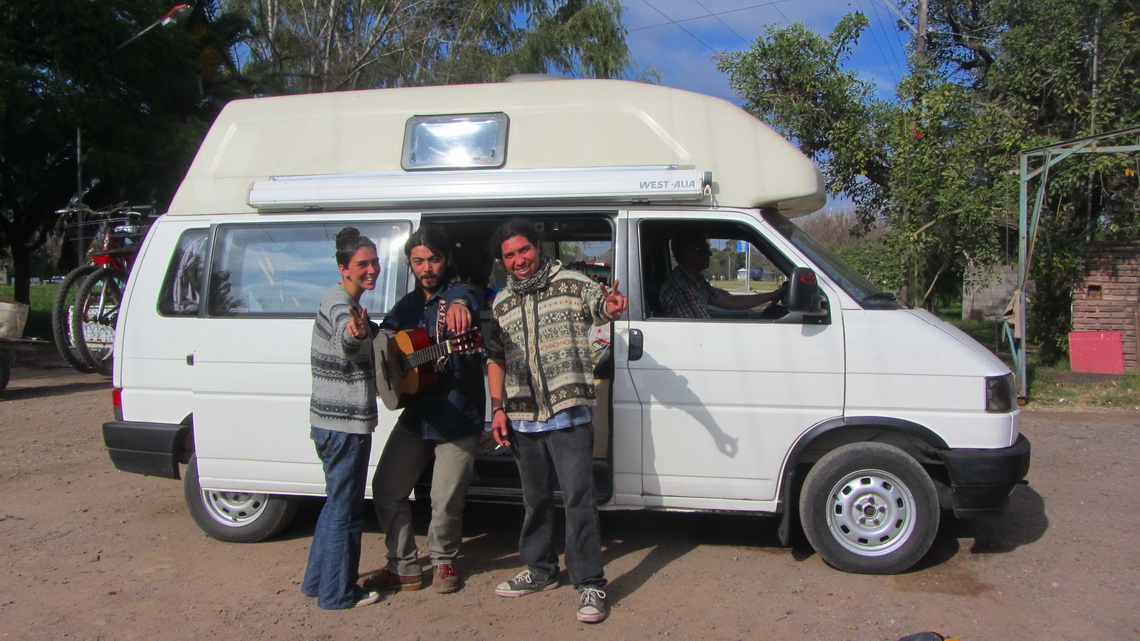 In the evening the made a small fire, sung a lot and played with the guitar and the Bolivian flute. Together we cooked a huge pot of Spaghetti, we had so much fun - Thanks Carin, Esteban and Leo.
After staying three days on the nice Campsite Municipal of Santiago del Estero (GPS coordinates: S27° 46.816' W64° 14.854') we continued to the shore of the river Rio Honda, close to its hot springs. Many people from Santiago del Estero spent their leisure time there.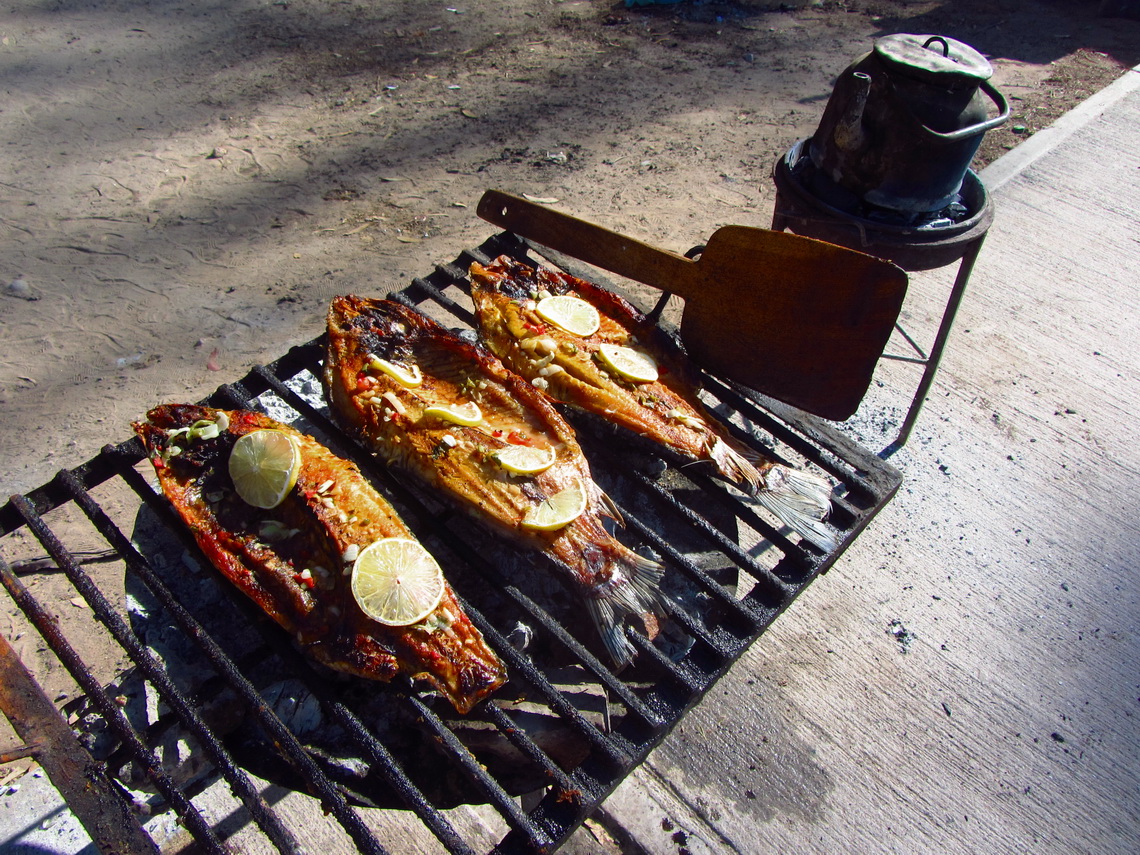 Thanks to the Geocache we found the mystic Museo de Mitos y Leyendas in Tafi del Valle (GPS coordinates S 26° 52.408 W 065° 40.922). Its owner Alejandro welcomed us warmly and told us a lot about the  myths and legends of the ingenious people, for instance: The frog Rana is the symbol of fertility and matriarchy. Marion painted immediately a frog Rana on our car! 
Besides wine Cafayate offers natural wonders like the little mountain Cerro San Isidro, the gorges of Rio de las Conchas and Rio Colarado. On the southern entrance of the town is a pleasant campsite with reasonable facilities (GPS coordinates: S26 04.789 W65 58.623). Directly at the start of the 4 to 5 hours trip into the gorge of Rio Colorado is the beautiful Camping Del Divisadero with basic facilities driven by likeable indigenous people (GPS coordinates: S26° 05.632' W66° 00.776').

Access to the 2637 meters high Cerro San Isidro (GPS coordinates: S26 04.683 W66 01.491) is a little bit confusing. We parked the car on the junction of roads (S26 03.398 W66 01.191). There is a good path few meters back the road to cross the river and to a farm. The good trail to the mountain starts along a fence with a sign La Cuesta (S26 03.515 W66 01.164). Our track is included in the GPS coordinates file of Argentina.

The marvelous gorge Quebrada de las Conchas is the direct way from Cafayate to Salta via a fully paved road. The landscape shows stunning and colorful rock formations. There are several viewpoints, smaller hikes and good places to stay the night with a motor-home. We met the 4 grains de sel from France there and had a nice evening with a lot of red wine - Thanks a lot Morgan and Philipe.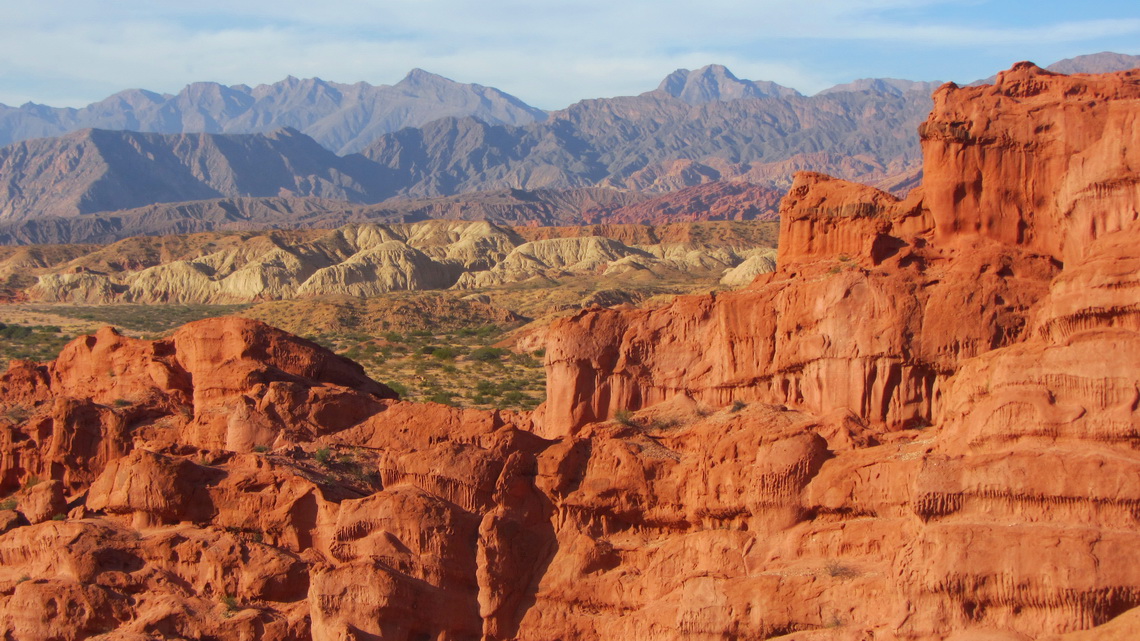 At the lower end of the gorge is a village with a strange name: Alemania - Germany. It consists of few farms and a large railway station because the train from Salta ended here. Unfortunately most railways are no longer used in Argentina and are in dramatic decline.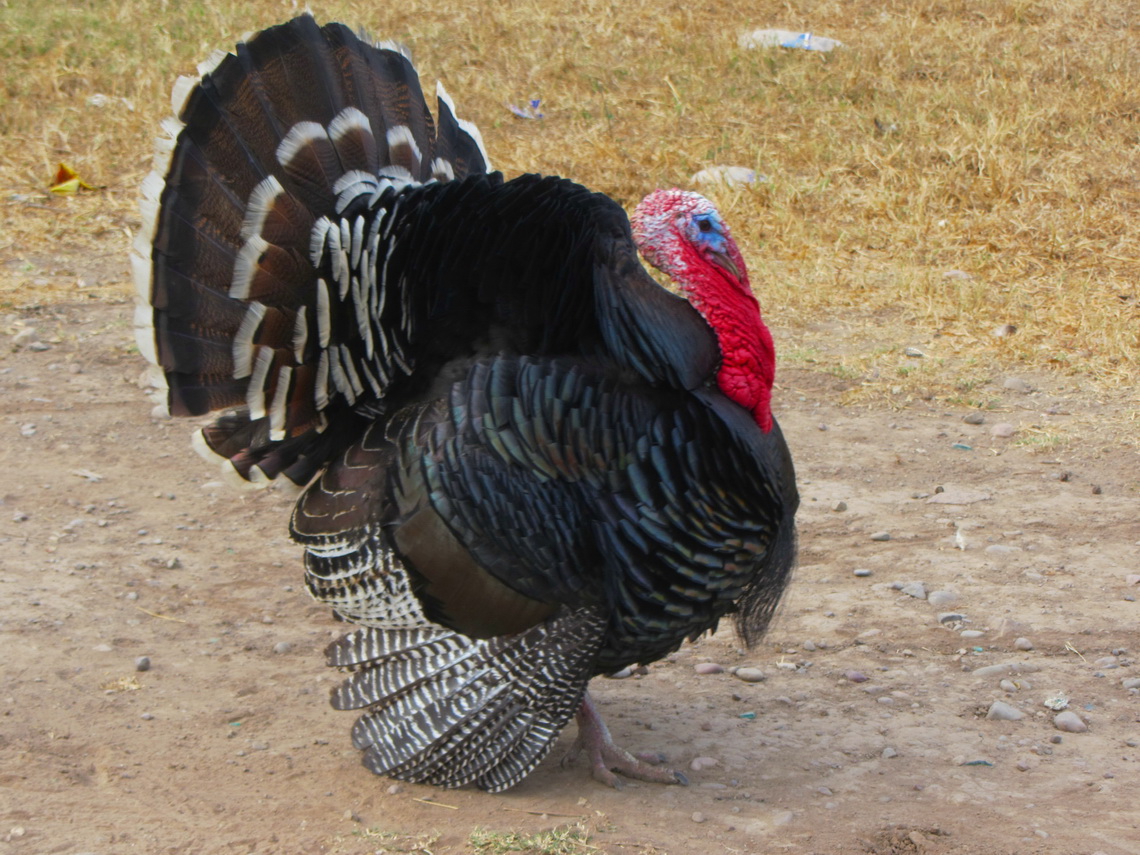 We visited the National Parks Calilegua and El Rey in the Yungas. Both have nice and free campsites, good information sheets from the administrations, nice hiking opportunities and stunning wildlife. The access to the first one is easy, to the latter one adventurous, at least with our car after some rain. Before we drove into the Yungas we were in Salta on the campground Balnearo Xamena (GPS coordinates: S24 48.746 W65 25.076) and met interesting people from Germany, like Ute and Achim from Franconia / Germany, see their webpage  www.erdnomaden.de. Two years ago we had been more than two weeks in Salta, see article Salta and Quebrada de Humahuaca.

A side story about brake discs

Another task in Salta was getting new brake discs for the front wheels of our car. We had humped two units with 17kg from Germany and passed all customs. But when we had flown from Nuremberg / Germany we had gotten a special call after passing security. We had to open our luggage and the brake discs and other spare parts had been checked separately. In Buenos Aires we had found a notice in our backpackers that the Swiss security in Zurich had done the same - obviously the Swiss do not trust the Germans.
We realized in Argentina that we had taken the wrong brake discs from Germany! There are three different versions of brake discs for our car defined. The Volkswagen office in Neufahrn checked it with the serial number of the car and they gave us the wrong type. We cannot complain because we purchased the discs much cheaper on the Internet.

But we were happy that we found matching ones in Salta. Daniel from the large VW Repuestos store in the San Martin street (GPS coordinates: S24 47.568 W65 25.368) helped us and promised that he will get them next Monday. Thus we made a meeting next Tuesday to exchange the brake discs. But it turned out that the inner fixation height is different again. Our version is not available in Salta. We decided to continue with the existing ones, which are close to the limit and to hump again brake discs from Germany to South America on our next return.
Thanks to Cristian we spent a wonderful evening with Cecilia and Martin - Thank you so much. They are also members of the Volkswagen Camper Club of Argentina and they took our brake discs from Germany. We hope that somebody of the club can use them.

After staying three days in Salta we headed to the Parque Nacional Calilegua on June 11th 2013.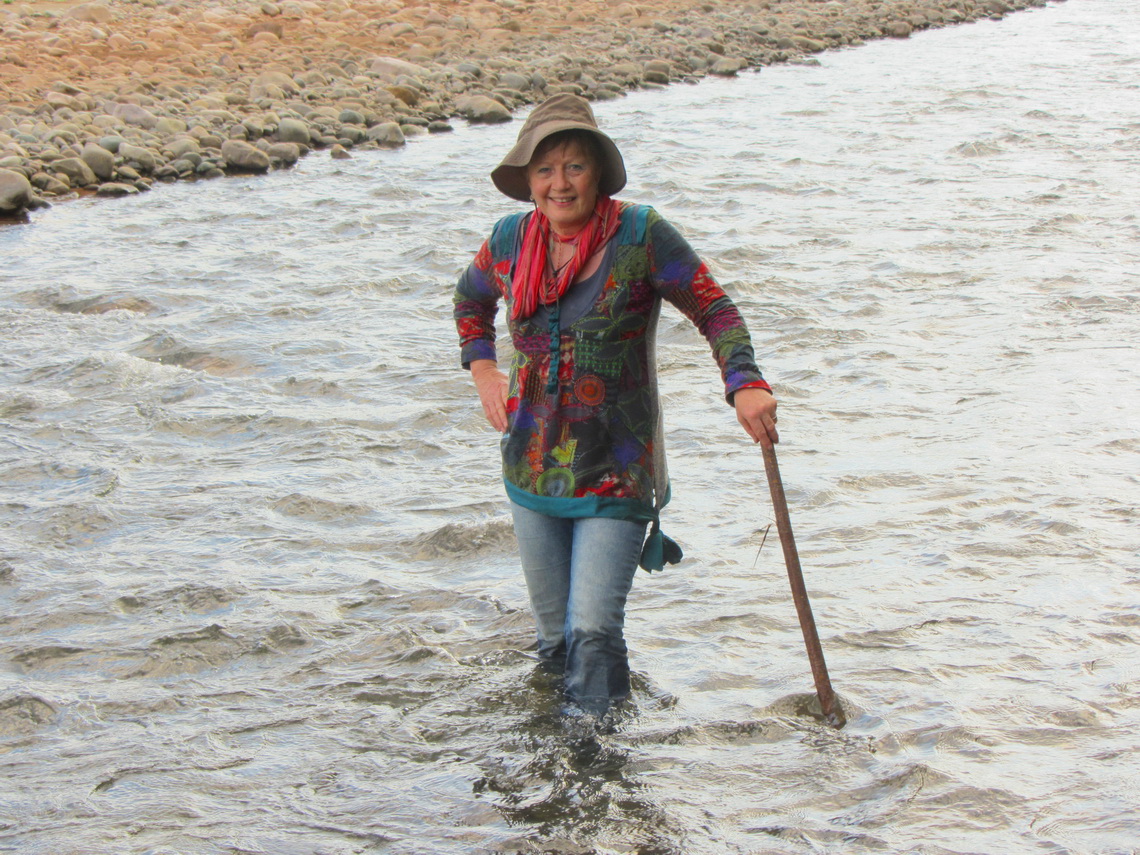 Ute and Achim were astonished that we arrived in the Parque Nacional El Rey with our car because they had real trouble with the muddy road due to some rain on the previous day. We were lucky because the street was dry and the rivers had not too much water. Together we spent a nice evening on the campsite  of the park (GPS coordinates: S24° 43.396' W64° 38.673'), also with some red wine - Thank you very much Ute and Achim.
On the second day we hiked few hours to the waterfall Chorros de los Loros. When we were back we had an unpleasant problem:
A side story about ticks
We both had hundreds of ticks, most of them smaller than a pinhead, diameter less than 1mm on every parts of our bodies. We needed nearly the whole night to remove and kill them with our tweezers. Also on the next days we found some ticks on our bodies. The insertions were itching more than 10 days.
But in contrary to the ticks in Germany they do not carry dangerous bacterias like Lyme borreliosis. Nowadays more than 50 percent of the ticks in Germany carry it. Marion detected in the airplane from Germany to Argentina three ticks on her upper leg.
One week later the three insertions showed the typical rings of Lyme borreliosis. Fortunately we got soon one of the best antibiotics Doxycyclin in Cafayate and we consulting our family doctor in Germany. Marion had to use this antibiotics for three weeks which has severe impact to the human body. Besides she could not drink any alcohol, milk and not eat products made with milk like cheese or yoghurt.
It started raining in the early morning. On the next day we had the appointment to change the brake disks in Salta and Marion's brother Tommy was coming to Salta two days later. Thus we could not afford to stay several days in the nation park to wait till the road becomes well again. Consequently we started in a rush the 46 km drive back to the paved road and we were lucky to manage it.
For more pictures, please click here            For a map of our itineraries, click here
To download the GPS coordinates file of Argentina, click here