Ayacucho is supposed to be the second most attractive and fascinating town in the Peruvian Andes (after Cusco). Ayacucho, also called Huamanga by its 180,000 inhabitants, has a huge colonial inheritance with many beautiful churches and buildings. Andean life is very traditional and authentic because the tourism industry has neglected it more or less so far. The region of Ayacucho was the center of the Wari culture (700 - 1100 AD), which dominated the southern part of Peru between the city Chiclayo and lake Titicaca.
The name Ayacucho means corner of the death. It is located in a poor, rural and remote region. In the early 1980th the Maoist guerrilla organization Sendero Luminoso (Shining Path) was founded here and a brutal civil war with Peru's military government broke out. More than 70,000 people were killed until 1992, mainly innocents in the villages of this region. The shadows of this terrible time are still visible and perceptible, for instance most of the elderly people are very shy or there are doors secured with eight heavy locks.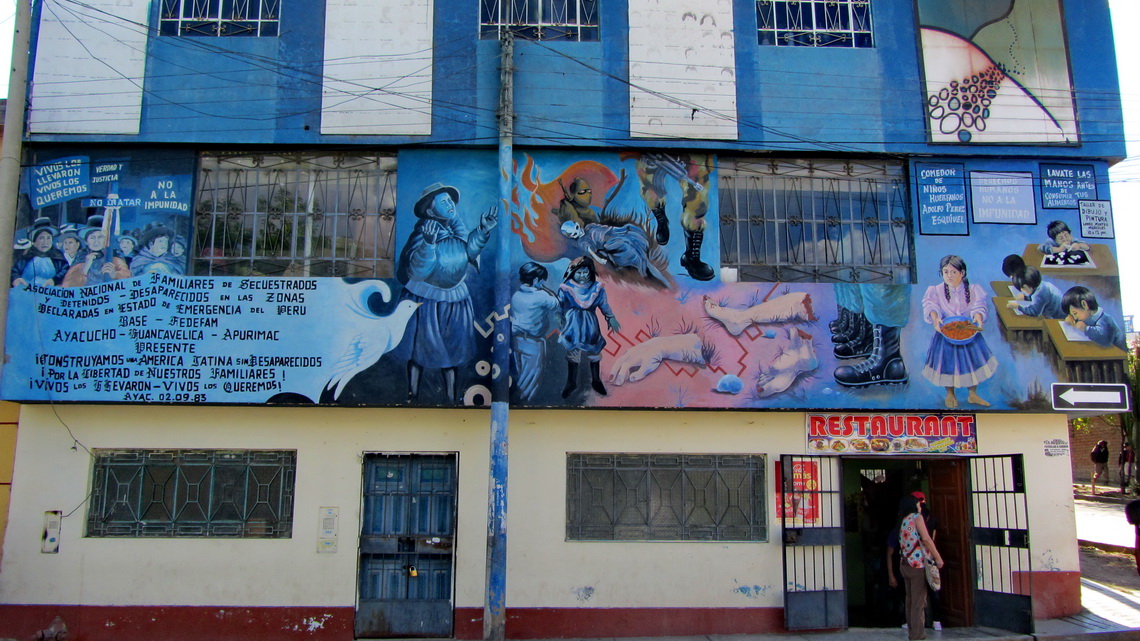 We came to Ayacucho from Cusco on Saturday late afternoon, August 10th 2013. This street had been partially horrible because it was under construction. Two times we were nearly in detonations with huge falling rocks. Sometimes we had to pass awful deviations on narrow and steep rugged or muddy dirt roads. Like in most cities of South America there were high bumps every few meters on the street to prevent drivers from speeding. On a very high one our car gave a loud strange bang and the left top side moved down a little bit weirdly.
Fortunately this incident happened few meters in front of a Volkswagen service station (Global Motors del Sur S.A.C. in the Avenue Cusco 330) and it still was open. Paul and his assistant Gloria welcomed us warm and promised us that a technician will check our car next Monday morning. But he recommended not to drive with our car because we might increase the damage. Thus we took some stuff and searched for a hostel. It turned out that the left front torsion bar had been broken - a very special part not available in Peru. We ordered it in Germany and received it with DHL express 4 weeks later together with new brake disks. The Peruvian customs in Lima needed two weeks for clearance and charged us hell of money, more than 40% of the value. Five weeks later we had back our car with new brakes and front torsion bar. We would like to thank very much Paul, Gloria and the Global Motors del Sur team very much for their extraordinary and excellent support.
While we waited for the spare parts we took light backpacks and visited the jungle of Peru, see article Amazonia. On the way to Ayacucho we had visited the beautiful Laguna Pacucha with the historical site Sondor of the Chanka culture, major enemies of the Incas. Laguna Pacucha provides nice hiking opportunities, we climbed up two hours to the 3695 meters high mountain Cerro Pacucha from the village with the same name (GPS coordinates: S 13°35.875' W 73° 20.947').
Ayacucho is famous for its festivals. It has a nice main spuare with two pedestrian areas. On the main square we found the fine and tranquil hostel El Parque. To the village Quninua we took the public bus to visit the historical site Wari, the capital of the Wari world. 1000 years ago 50,000 people had lived there. 300 years later the Incas had used their infrastructure like roads and settlements for their empire.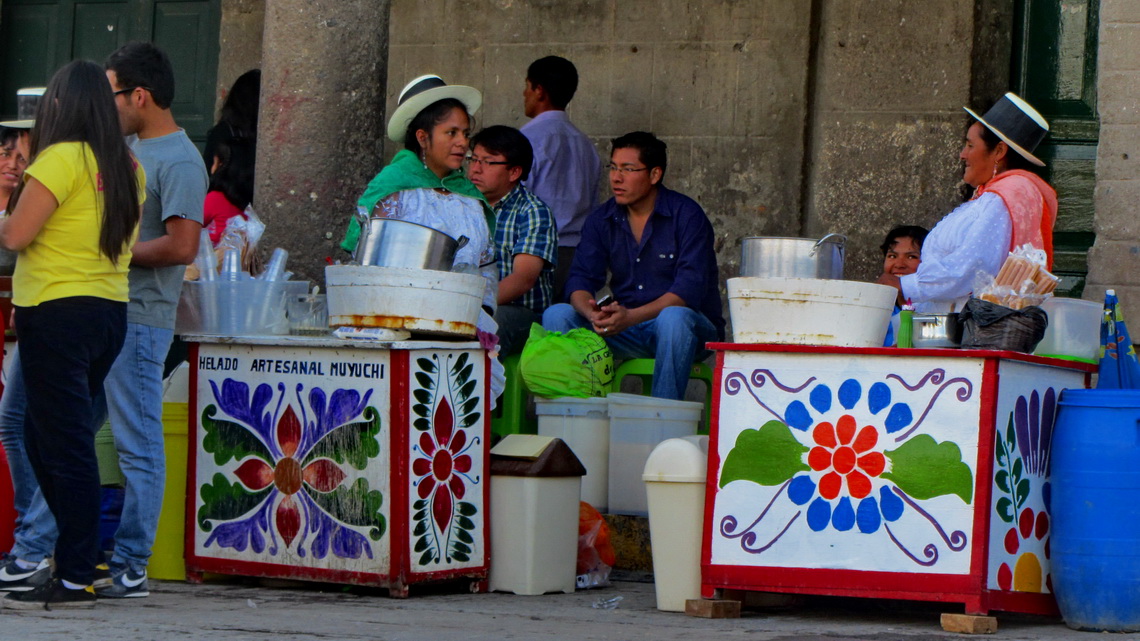 We returned from our jungle trip to Iquitos with a plane via Lima. We took the chance to stay two days in Lima because our spare parts from Germany were still in customs clearance. 32 years ago Lima had been our first city outside of Europe and we had been shocked due to extreme poverty, huge garbage mountains everywhere and foggy nasty cold weather. Thus we had a weird feeling in our stomachs when we arrived in the late afternoon of September 5th 2013. But we found the friendly and quiet hostel Roma in the huge pedestrian area (Ica 326).
Lima had changed dramatically since our first visit. Now it is a modern metropolis with fancy shopping malls, exquisite restaurants and some nice green areas and parks. But there are still quarters with social problems, in Rimac (just opposite of the main square on the other side of the river) Police stopped and forced us to return. Lima is famous for its museums, some have world class status. We visited the Museo Nacional de Arqueologia, Antropologia y Historia in in the quarter Pueblo Libre, which gives an excellent overview about the various cultures of historical Peru.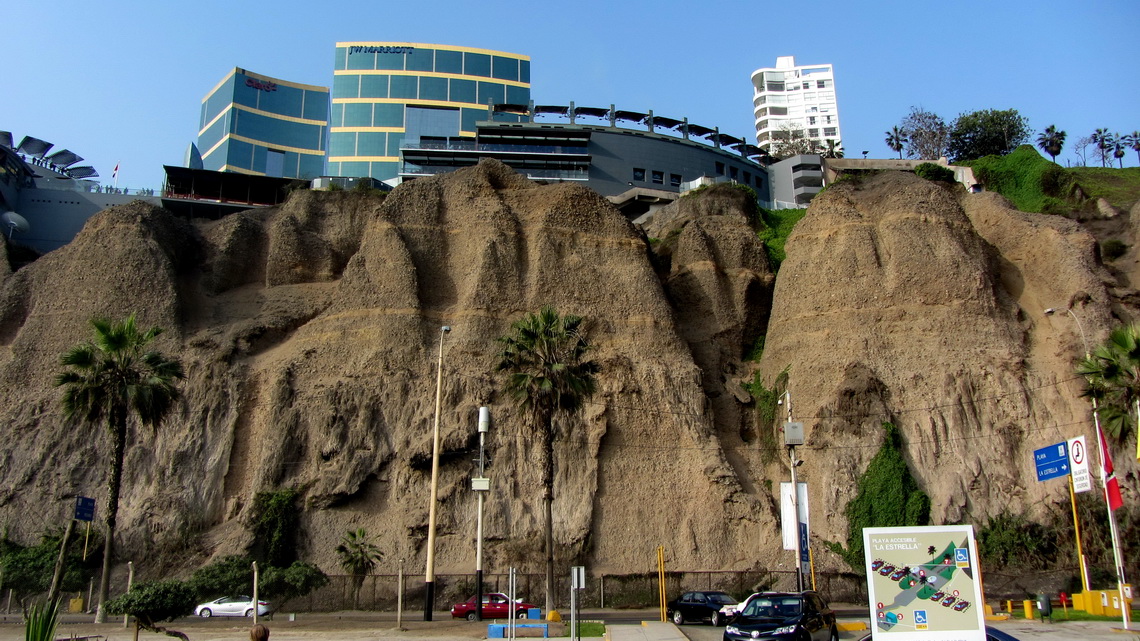 We were more than happy when we had back our car on September 14th 2013. But the left rear brake became hot when we drove the steep street up to Abra Apacheta on the way to Huancavelica. Fortunately we could adjust it. Later we had trouble with losing brake liquid, but a specialist in Barranca fixed it.
The road between Ayacucho and Huancavelica passes beautific landscapes in the Andes. On the 4750 meters high pass Abra Apacheta we hiked half a day to two summits of the Cerros Chanzon Sombrero Central (5030 meters sea-level, GPS coordinates S 13°22.164' W 74°45.087') and Este (5050 meters sea-level, GPS coordinates S 13°22.339' W 74°44.854). The latter one is the highest point in this region and has an eroded crater, which requires some easy scramble few meters to achieve its peak. Both provide stunning views. Our track is included in the GPS coordinates file. Other excellent trekking opportunities are close to the village of Santa Ines.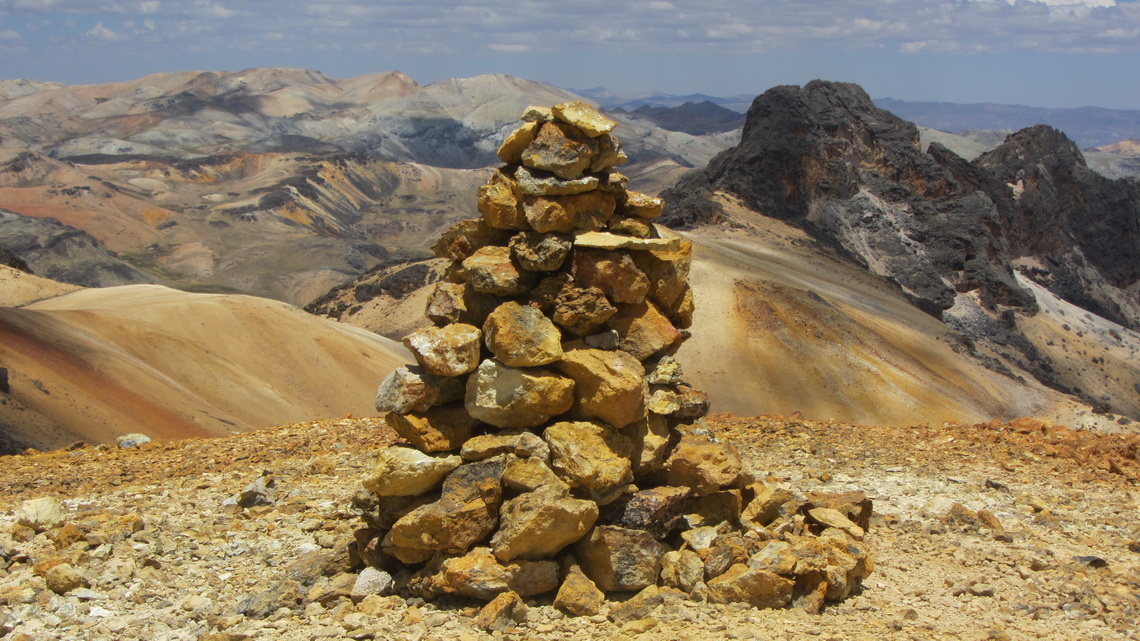 Huancavelica is an enchanting little town in a pristine environment. We arrived at lunch time and some pupils were strolling around. Two girls were curious, came and asked us to picture them. We had a lot of fun with them. Later we enjoyed the hot water with reasonable temperature which allowed swimming. In addition Huancavelica offers superb hikes like the two hours journey to the village Sacsamarca (GPS coordinates: S12° 47.968' W74° 59.514').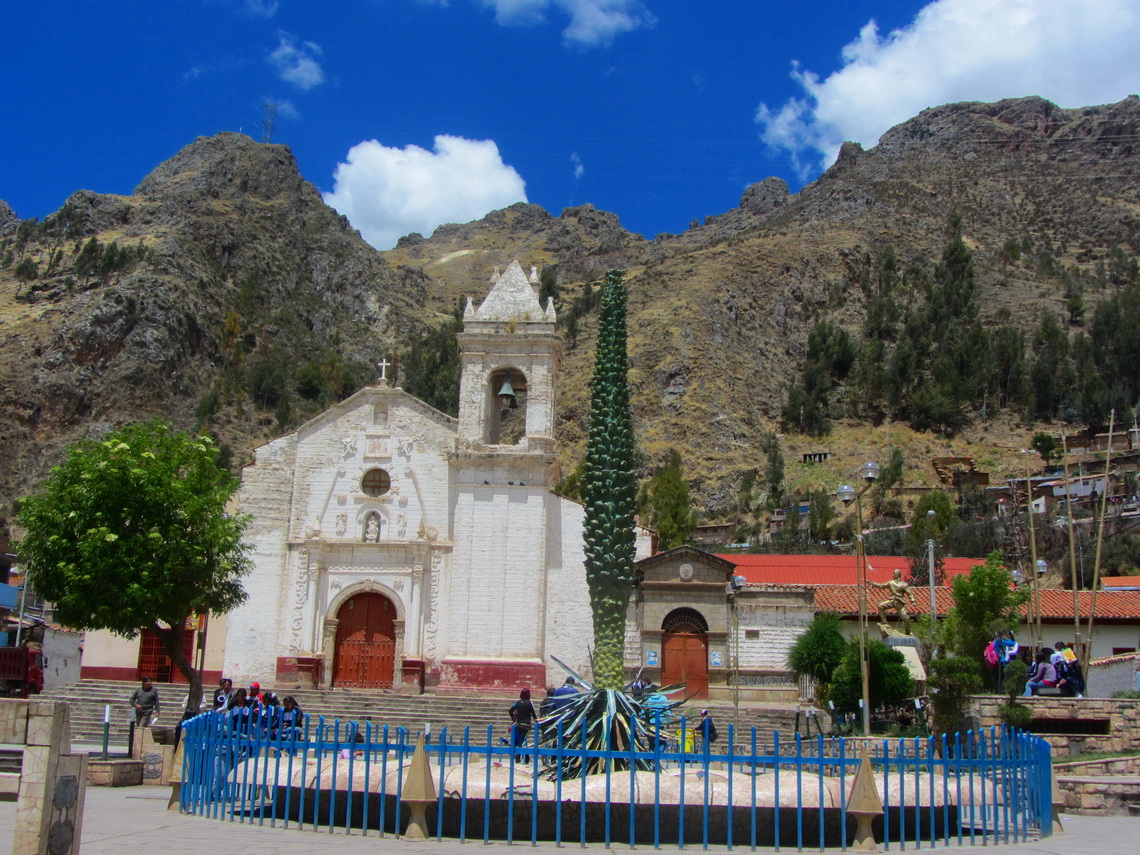 Few kilometers North of Huancayo we visited the monastery Convent Santa Rosa de Ocopa with its fabulous library. More than 20,000 old books were collected by the monks. We had the idea to hike around the pass Abra Anticona, the closest Andean mountain region of Lima. The weather forecast was excellent, but it was snowing heavily with zero visibility when we were there.
For more pictures, please click here                 For a map of our itineraries, click here
To download the GPS coordinates file of Peru, click here