Beautific and hot Nicaragua is the largest country of Central America. Parallel to its Pacific coast runs the Cordillera los Marrabios, a mountain range with some very active volcanoes. Its southeastern end shapes with two peaks the island Isla de Ometepe, which is located in the sweet water lake Lago de Cocibolca (or in newer times Lago de Nicaragua), which is the biggest lake of Central America. Southeast of the vast lake is more or less rain forest up the pristine and remote Atlantic coast. Northeast are highlands with a lot of coffee farms. In the north of Nicaragua was the nucleus of the Sandinistic revolution end of the 1970thies, which had its roots from injustice, exploitation, oppression and poverty of the majority of the Nicaraguan people.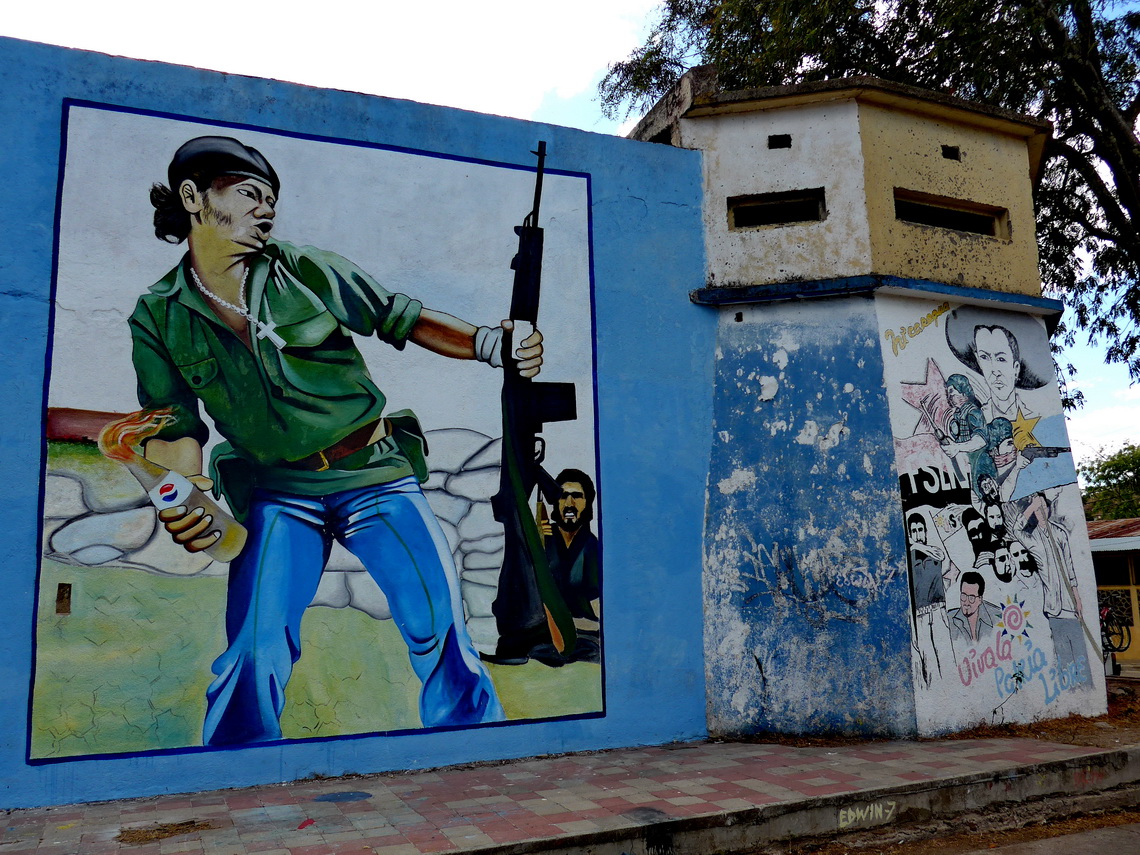 Our first stop in Nicaragua was on its marvelous southern Pacific coast with nice bays and impressive rocks. We headed some kilometers north of the fancy and touristic town San Juan del Sur till we dared to drive to the beach because the roads were so rough and steep that we were afraid that our car could not go back. We stayed two days in Playa Majuagal in the garden of a hostel which was very busy with Howler Monkeys (GPS coordinates: N11° 17.853' W85° 54.862').
The small island Isla de Ometepe is a dream with lush agriculture and some rain forests, two steep mountains with perfect cones, fair beaches with clean fresh water, and an interesting history and culture. We took the ferry from San Jorge with our car which is not that expensive, about 25U$ one way. A good place to stay the night is close to the gate of the ferry directly on the beach in front of an Italian restaurant (GPS coordinates: N11° 27.560' W85° 47.448'). There we met again Michelle and Roy from Brazil, which just had come back from Ometepe. Together we had a fantastic lunch in a little restaurant on the beach and they provided us with a lot of valuable information, to see their nice webpage click here - Thank you so much Michelle and Roy.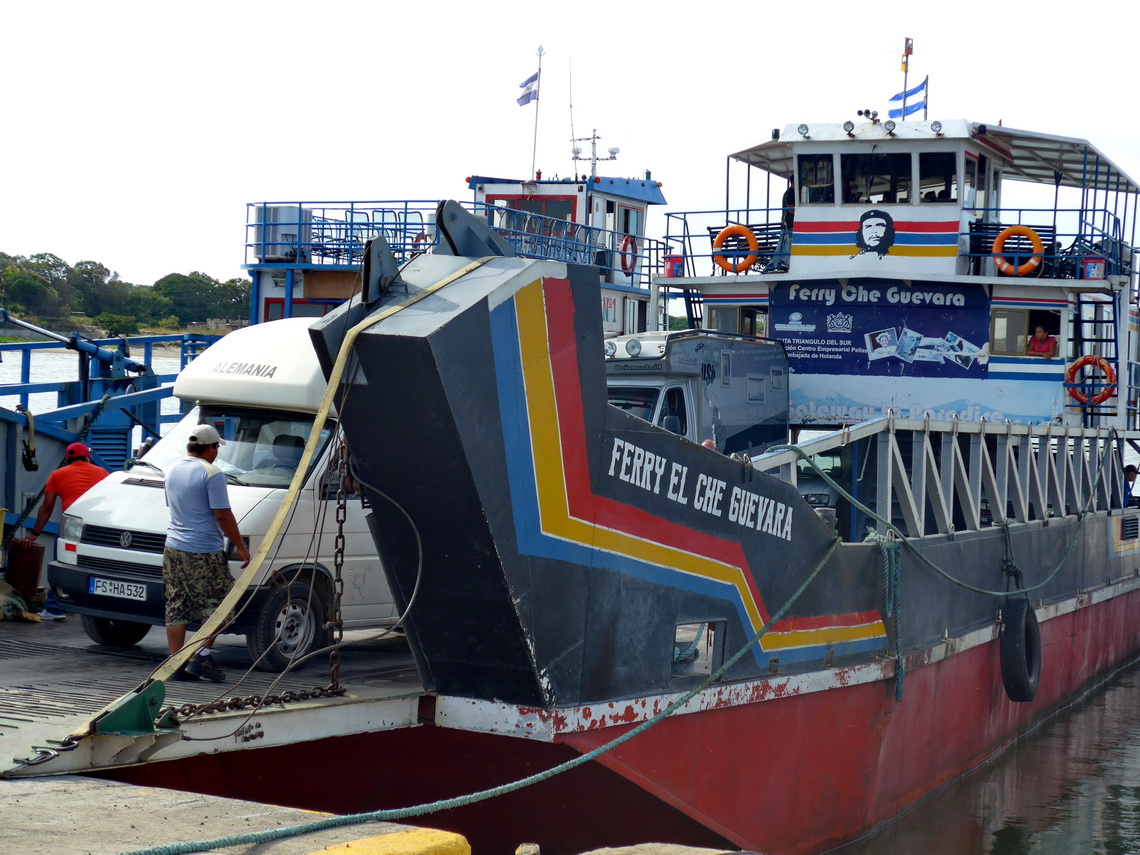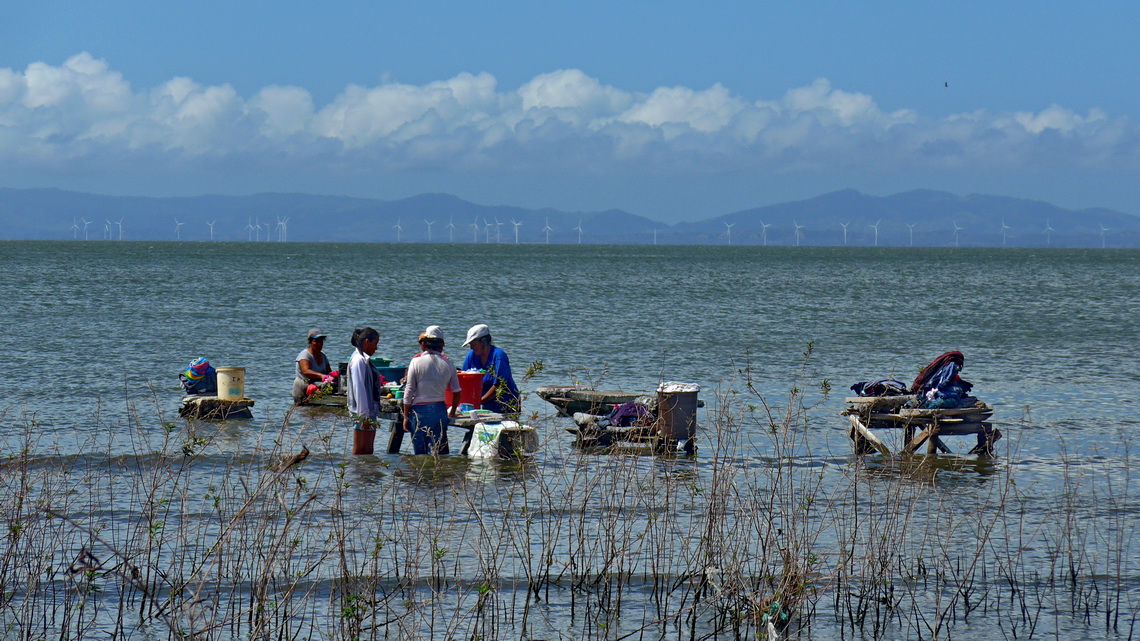 Of course the two stunning volcanos were targets for us. Popular is the lower one, 1345 meters high Volcan Maderas which has a lake on its top. Good paths lead through dense jungle to its crater. We chose the way from the parking lot of the farm Hacienda El Porvenir, where we could stay two nights for little money (GPS coordinates: N11° 28.964' W85° 32.218'). When we arrived there Kurt from Vienna asked us to join the trip. Together we started at sunrise the long trip to Volcan Maderas. It was already dark when we came back to our car because the way was so slippery on upper levels that we were extremely cautious not to hurt ourselves. Despite we had a lot of fun with Kurt - Thanks you so much!  

Another disadvantage of the lush rain forest of Volcan Maderas is a poor visibility, which is not the case on 1610 meters high Volcan Conceptión. Also the eastern way from Altagracia was much better. Thus we needed less time and we came back at noon despite the fact that the vertical distance is much longer (1500 meters versus 1200). At the summit we had strong wind but fortunately from the right direction. The heavy smoke from the crater did not affect us. But the ground was unpleasantly warm at the crater rim! We could stay the night near on the premises of a friendly family who guarded also our car when we were on the mountain (GPS coordinates: N11° 33.239' W85° 34.795'). From there a good path leads directly to the top. These two tracks are included in the GPS coordinates file of Nicaragua.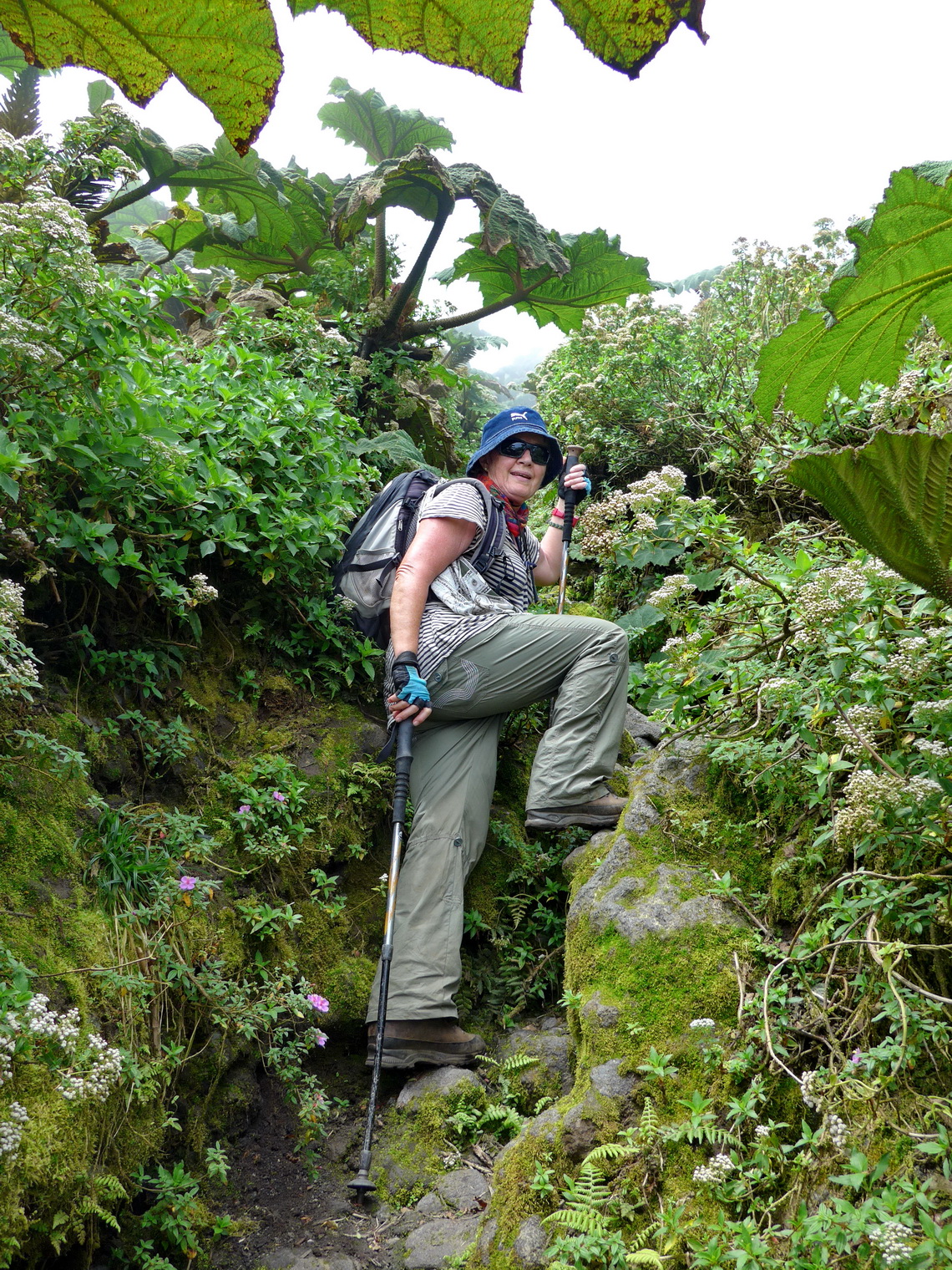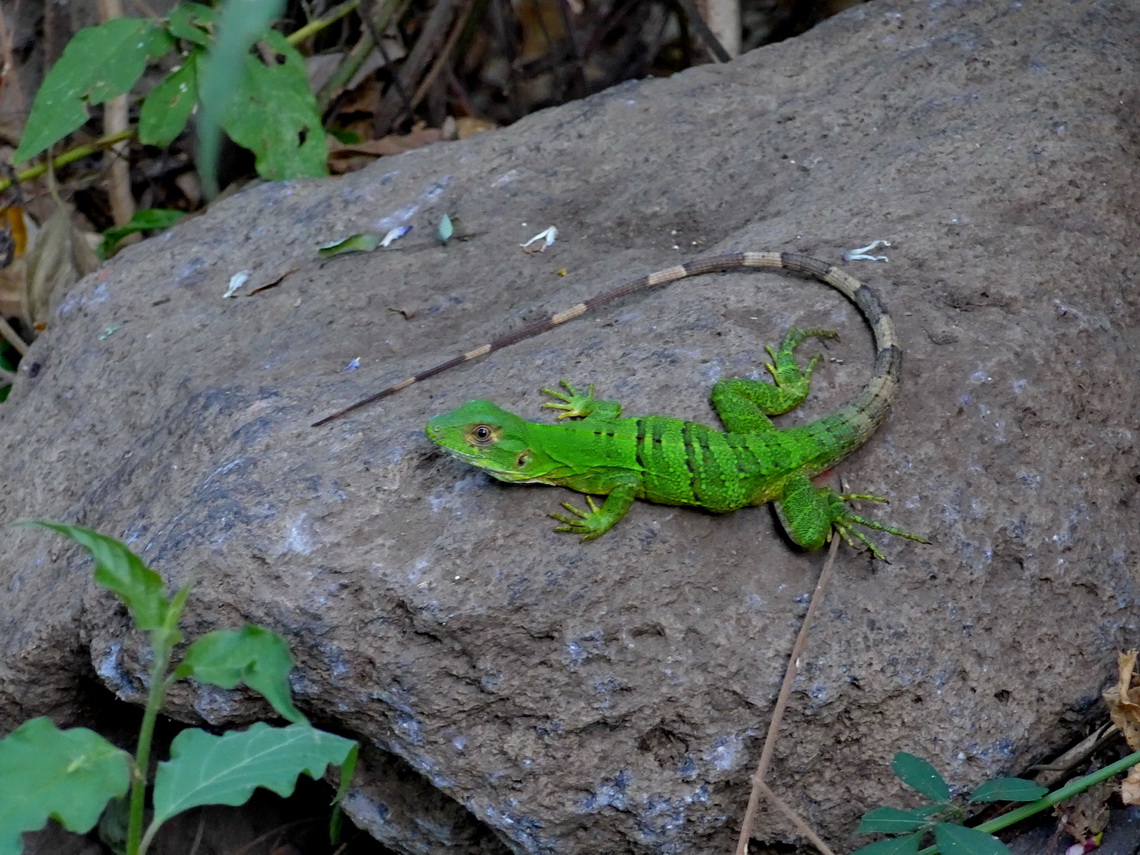 Another nice difference to Volcan Maderas was that we met just two other people on the whole hike. For both volcanoes we went without a guide which was no big issue. Between the two mountains is an isthmus, where we stayed in a parking lot of a restaurant two nights on the beautiful beach Playa Santa Domingo. Swimming was wonderful there but we did not see the onliest sweet water sharks on earth. Unfortunately they are more or less gone due to too extensive fishing. A second perfect place for swimming is the eye of the water - El Ojo del Agua (GPS coordinates: N11° 31.155' W85° 34.011'), where camping is also possible. A little bit disappointing was the museum Museo el Ceibo on the main street close to San José del Sur - not worth the money (5 bucks per person)!
The larger city Granada (120,000 inhabitants) on the northern shore of Lago de Cocibolca is one of Nicaragua's major touristic destinations. It has a beautiful colonial old town and a famous graveyard. Swimming is good on its southern beaches. We stayed two nights on the nearly perfect place of the red cross in the old town (GPS coordinates: N11° 55.823' W85° 56.797') which is also close to the beach. When we came to Granada we needed to fill our gas bottle. From other travelers we knew that there is a large plant few kilometers southwest of Granada which is able to charge on the US system (GPS coordinates: N11° 54.823' W85° 58.386'). We have an US adapter for our German bottle but when we arrived there they told us that we have first to pay the bill on a bank. The manager of the plant wrote the account number on a dirty people including the amount to be paid, which were amazingly less than 3 U$. We had to drive into town, find the right bank, and to wait in a long queue. When Alfred was in front of the clerk he asked for his passport! Alfred feared again waiting more than 1 hour but he could convince the boss of the clerk that the German ID card is sufficient. We are talking about less than three bucks!
Nicaragua is the country for swimming in fresh water. Another superb choice is the crater lake Laguna de Apojo, few kilometers west of Granada. We stayed two days on the parking lot of the Spanish School for little money (GPS coordinates: N11° 56.215' W86° 03.170'). Its surrounding is marvelous, especially in the early morning and late noon.
Another wonder in this region is the 550 meters high Volcan Masaya. Litterally you can drive by car to its strongly fuming crater Santiago (if the wind allows it). The views from the higher eastern crater are stunning. It is a little hike of half an hour to the top of its crater, which is not active currently. Sleeping is excellent at the entrance (GPS coordinates: N12° 00.181' W86° 08.909'). There is also a small museum with touching paintings about the myths and legends of this volcano. In former times kids had been sacrificed  and thrown into the smoking crater to appease the gods.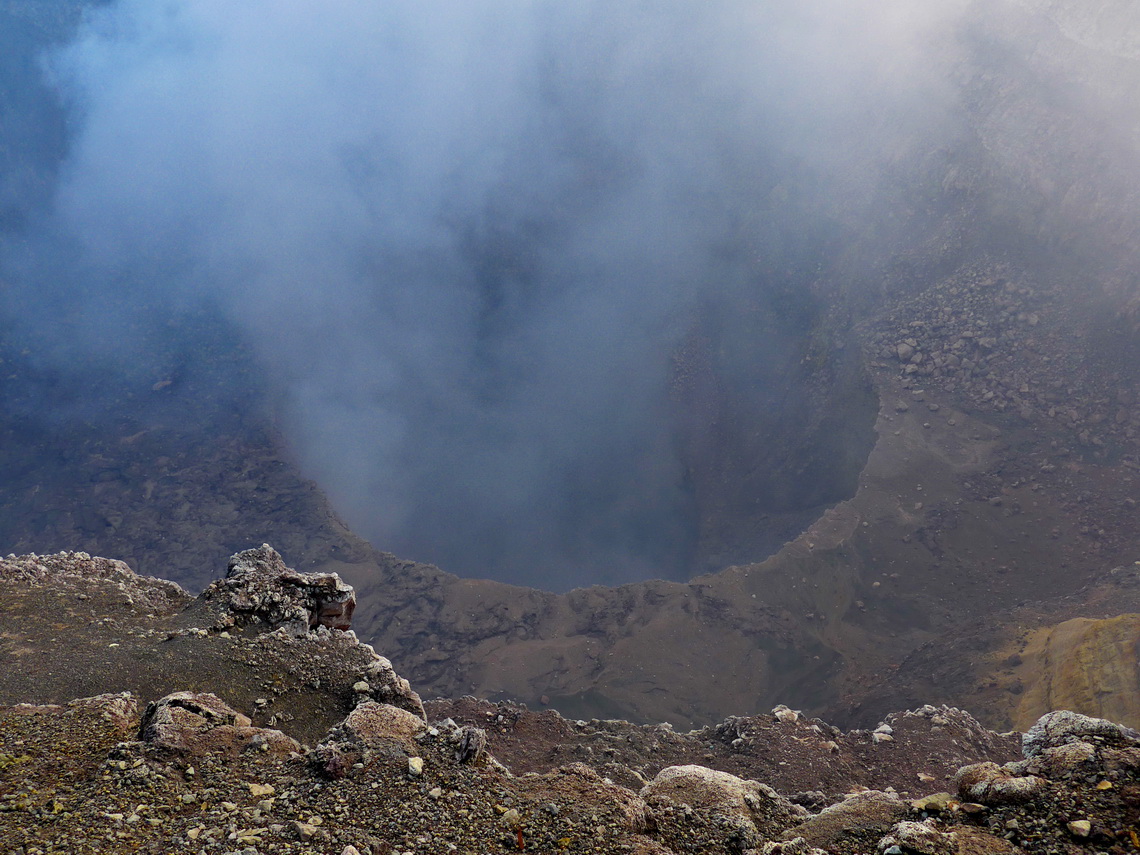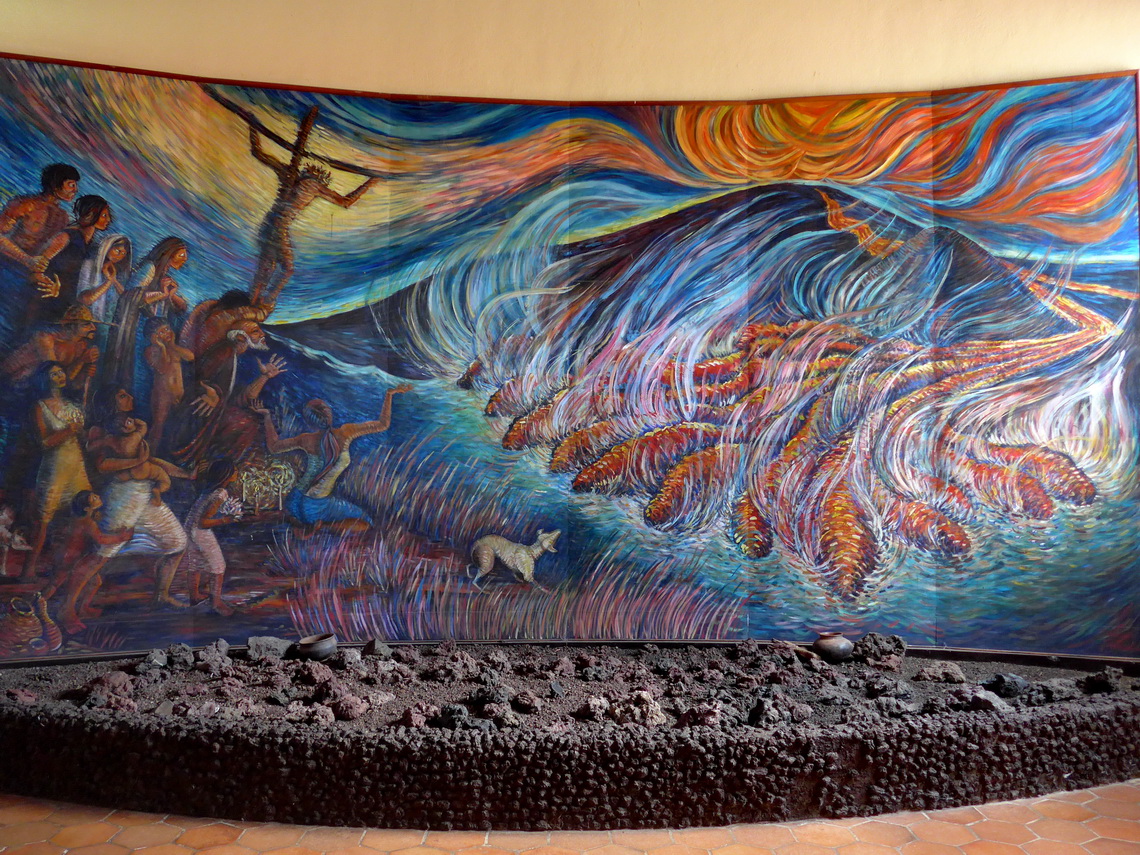 We skipped Managua, the capital and biggest city of Nicaragua because it is a modern metropolis. It had been totally destroyed by an earthquake in 1972. Donated money from richer countries had been embezzled by the rich and corrupt ruling upper class and transferred into their pockets - one of the major trigger of the Sandinistic revolution. Their main base was and is the second largest town of Nicaragua, Leon, which we loved immediately. Here you can grab the history with your hands. We found a reasonable sleeping place on an guarded parking lot close to the center (GPS coordinates: N12° 25.793' W86° 52.666'). The only drawback of León was the nearly unbearable heat - more than 37°C, also in the night.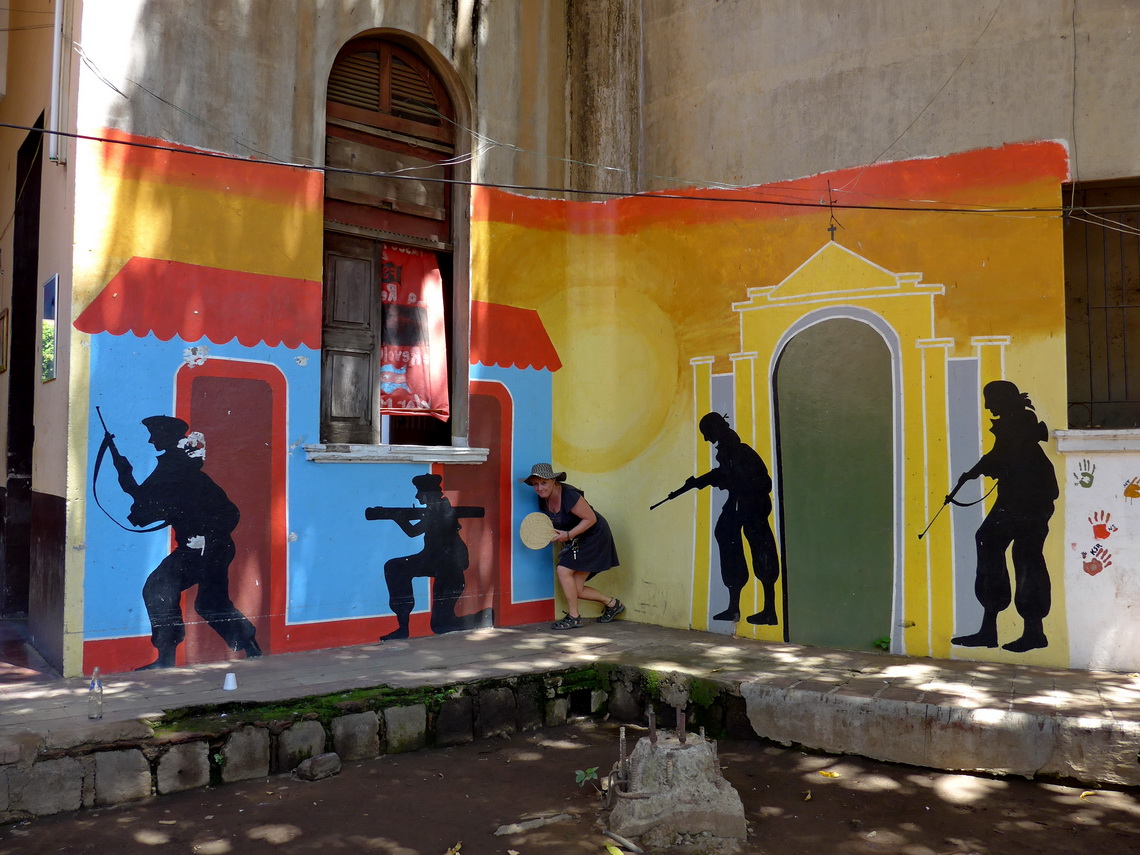 Before we headed to León we wanted to spent some days on the beach. Masachapa and Montelimar, the most closest towns on the Pacific Ocean to Managua were underwhelming - mainly fancy and expensive hotels. We had a recommendation from www.ioverlander.com (Hostal Real) but they wanted 30 U$ per night - unacceptable! Instead we continued to Las Peñitas nearby León. We stayed two nights on the premises of a friendly family (GPS coordinates: N12° 21.581' W87° 01.349') directly in front of the terrific beach. But Alfred forgot his swimming shoes when he went into the water early morning. Again he was jabbed by a sting-ray - extremely painful. The daughter of the owner came with a pump to remove the poison. In addition she put the feet in nearly boiling water which eased the pain a little bit for some seconds. Alfred needed a lot of boiling water! Like the first one in Costa Rica the pain disappeared after two hour, see the previous article. She was sure that the bad guy was a sting-ray which confirmed our suspicion about the first hit in Costa Rica. 
In León we met Frank with his older Mercedes from Germany. Together we went into the impressive mountains few kilometers east of León. The road was a little bit sandy but somehow we managed it with our cars. At the entrance of the park we think that we paid too much money (17 U$ per person) but we could stay two nights (GPS coordinates: N12° 29.668' W86° 42.160'). We did an extraordinary nice trekking to the summits of 1004 meters high Volcan las Pilas and 1079 meters high Volcan del Hoyo. The latter one has a huge circular hole on its southern slope which is a mystery. Nearby are fuming and stinking gaps. The views from both were wonderful. These two tracks are included in the GPS coordinates file of Nicaragua.

In the next morning we climbed up Cerro Negro the major attraction in this area. It is possible to sand-board its southwestern slope what a lot of tourists do. Fortunately we started so early that we were totally alone like on the trip to Volcan las Pilas and Volcan del Hoyo.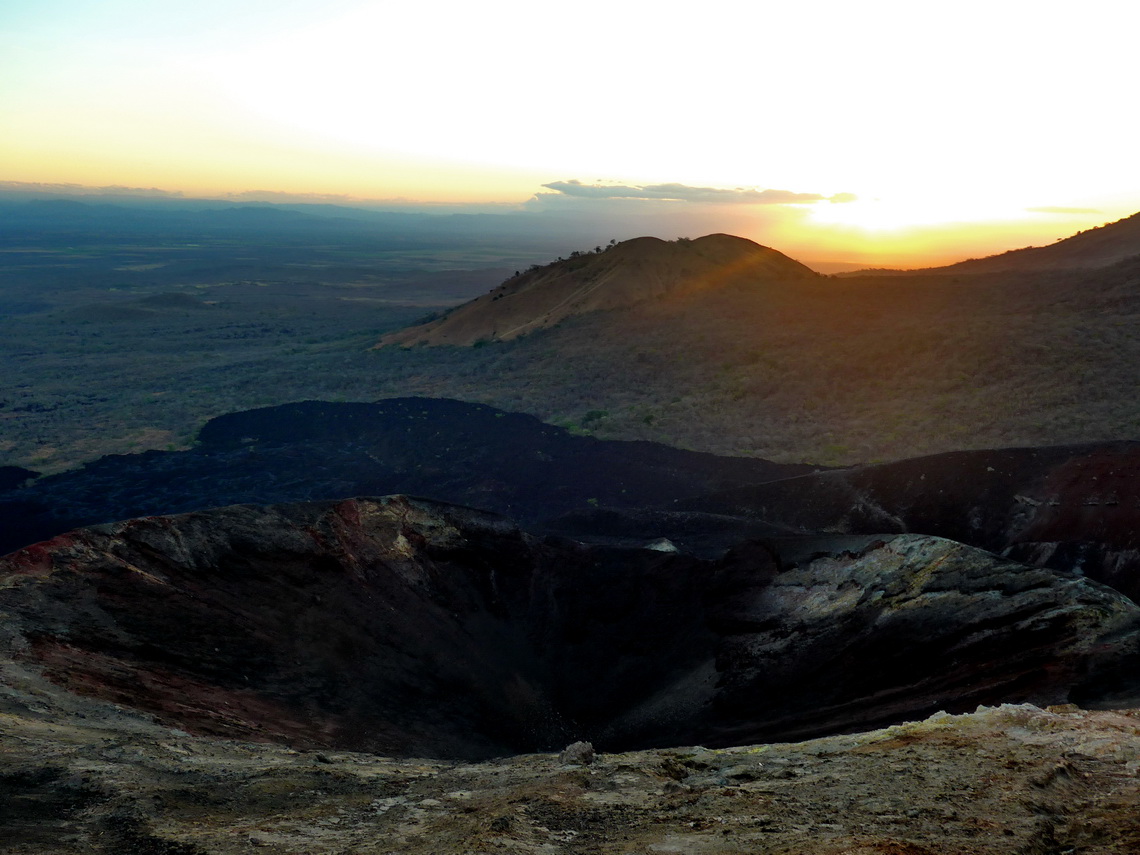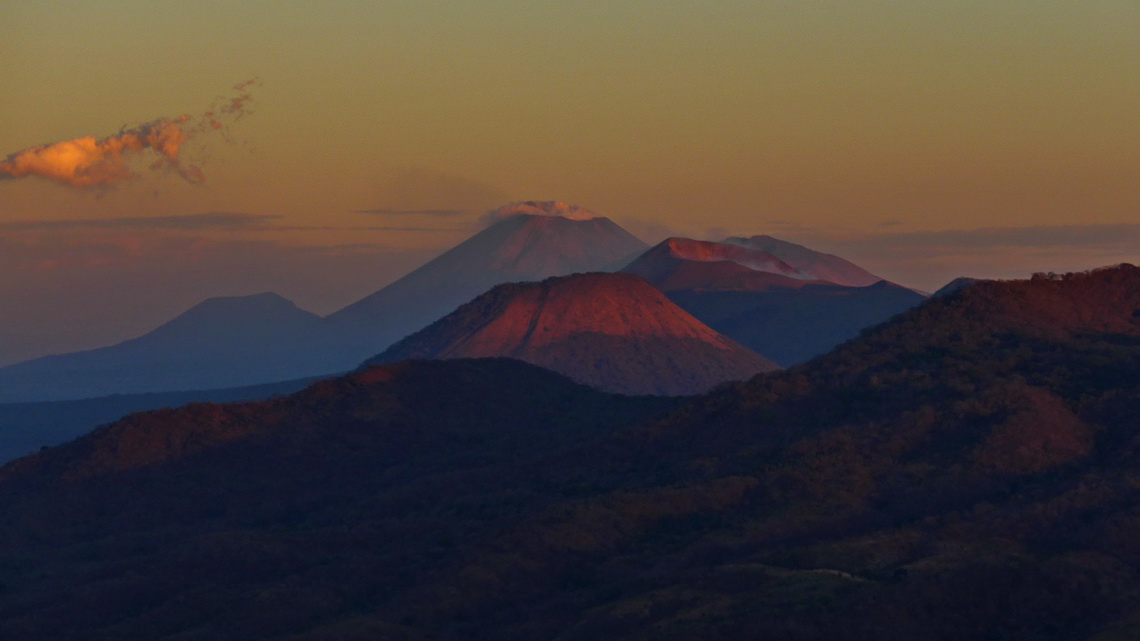 Heading down was pretty fast because we could use the southeast slope with fine gravel - a little bit like snow! We had a lot of fun with Frank - Thank you so much! We all decided to drive together through Honduras and we meet in few days on the border Los Manos.
We continued into the northern highlands of Nicaragua, where we enjoyed cool nights. In Matagalpa we found an acceptable campsite on the gas station DNC (GPS coordinates: N12° 54.609' W85° 56.939'). We spent a fantastic day on Jürgen's farm Aguas del Arenal (GPS coordinates: N13° 01.679' W85° 54.180') where we got a tasty dinner including a lot of background information of living and growing coffee in Nicaragua. Jürgen is from Bavaria, Germany and he appreciates to have guests (Email: This email address is being protected from spambots. You need JavaScript enabled to view it., phone (505) 8885-3234). In the environment of his farm are nice trails, where we saw a lot of animals. We had a lot of fun with Jürgen, his family and his friends - Thank you so much.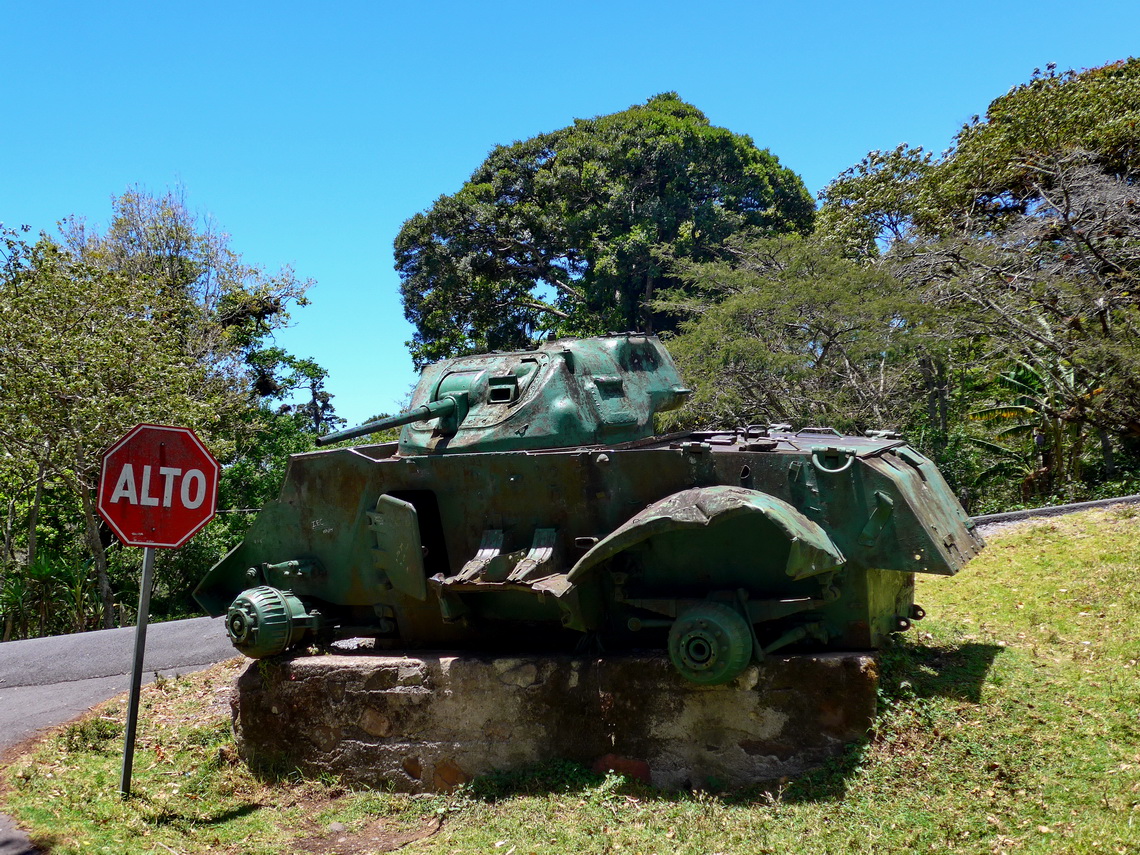 Few kilometers north of the bigger town Esteli we stayed the night in the public bath Campestre Esteli close to the Panamericana - We could use all facilities and we swam a lot (GPS coordinates: N13° 08.908' W86° 22.072'). Our next destination was Somoto with its famous canyon. There we hired a guide for the 5 hours trip through it because we were not sure if we can handle all the way through the water. In addition he had a water-proofed bag for our stuff. Camping was excellent on the parking lot of the canyon, guarded by a family (GPS coordinates: N13° 27.182' W86° 41.288'). In the late afternoon we did a nice hike of about three hours to two viewpoints, see also here.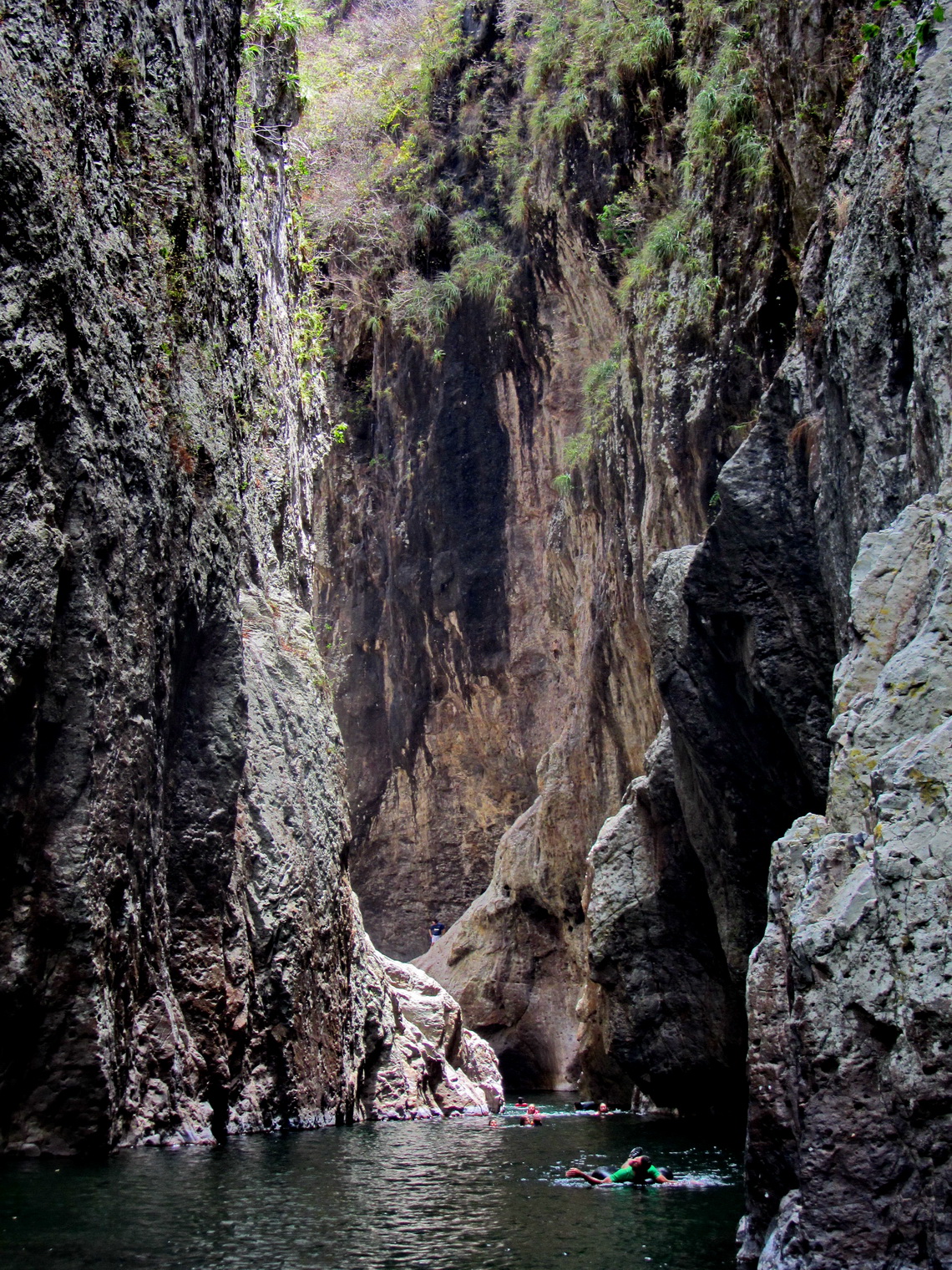 If you like to enjoy hot springs in hot Nicaragua, Termas de Macuelizo is a good choice. It is also a perfect place to spent the night before crossing the border to Honduras at Los Manos (GPS coordinates: N13° 37.982' W86° 33.928'), where we met Frank again and continued to Honduras without any trouble.
For more pictures, please click here                  For a map of our itineraries, click here
To download the GPS coordinates, click here