Belize is a little country on Caribbean Sea with a size of just 22000 square kilometers and 300,000 inhabitants. It was part of the British Empire and became independent in 1981. Hence it is the only state in Central America where English is the official language. Its major attraction is the coral reef along its coast which is the second biggest one on earth and the largest one in the western hemisphere. Sea life is stunning and abundant. Countless tiny islands are in front of its shore.
Besides the ocean some beautiful Maya ruins and little villages with authentic life are other nice destinations. But accessing this paradise was a little bit difficult because we had to pay a very special toll.

After we had finished all paperwork and payed a lot of fees on the Belize / Mexican border in Santa Elena our food was checked. The officer was a younger Lady and her eyes were gleaming after she had opened our fridge. Beer is not allowed if you cross the border she mentioned and she confiscated our two large bottles of delicious dark Indio beer (1.2 liters each). We had purchased a lot of food in Mexico because there it is much cheaper. After that success she was satisfied with an additional onion. Indeed she was very happy and stopped further investigations.
Without beer we spent our first night on the beach of Corozal, free of charge (GPS coordinates: N18° 23.615' W88° 22.736'). Unfortunately the water is relatively murky because Corozal is located on the bay Bahia de Campeche. But Alfred dared to swim in the warm water.
On the next day we headed to Belize City and organized a full day snorkeling tour with Seasports Belize (GPS coordinates: N17° 29.716' W88° 11.176').We payed 90 U$ per person and it was worth every cent! We could park our car in front of the shop. Also a Police station was nearby. The night we spent in front of the Marina Radisson Hotel directly on the waterfront, again free of charge (GPS coordinates: N17° 29.568' W88° 10.860'). There we took our first beer from Belize - acceptable but less tasty than the dark Mexican Indio beer.
Our snorkeling tour started at the South Gallows Point where we saw beautiful corals and some colorful fish. We had lunch on a tiny picture perfect island, where just two men live.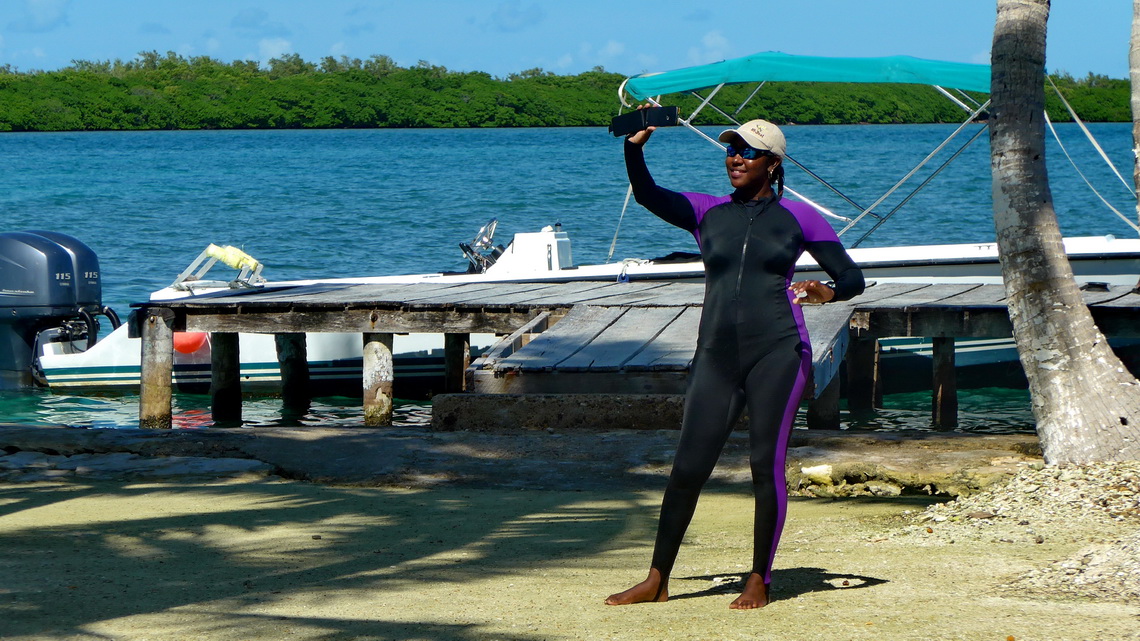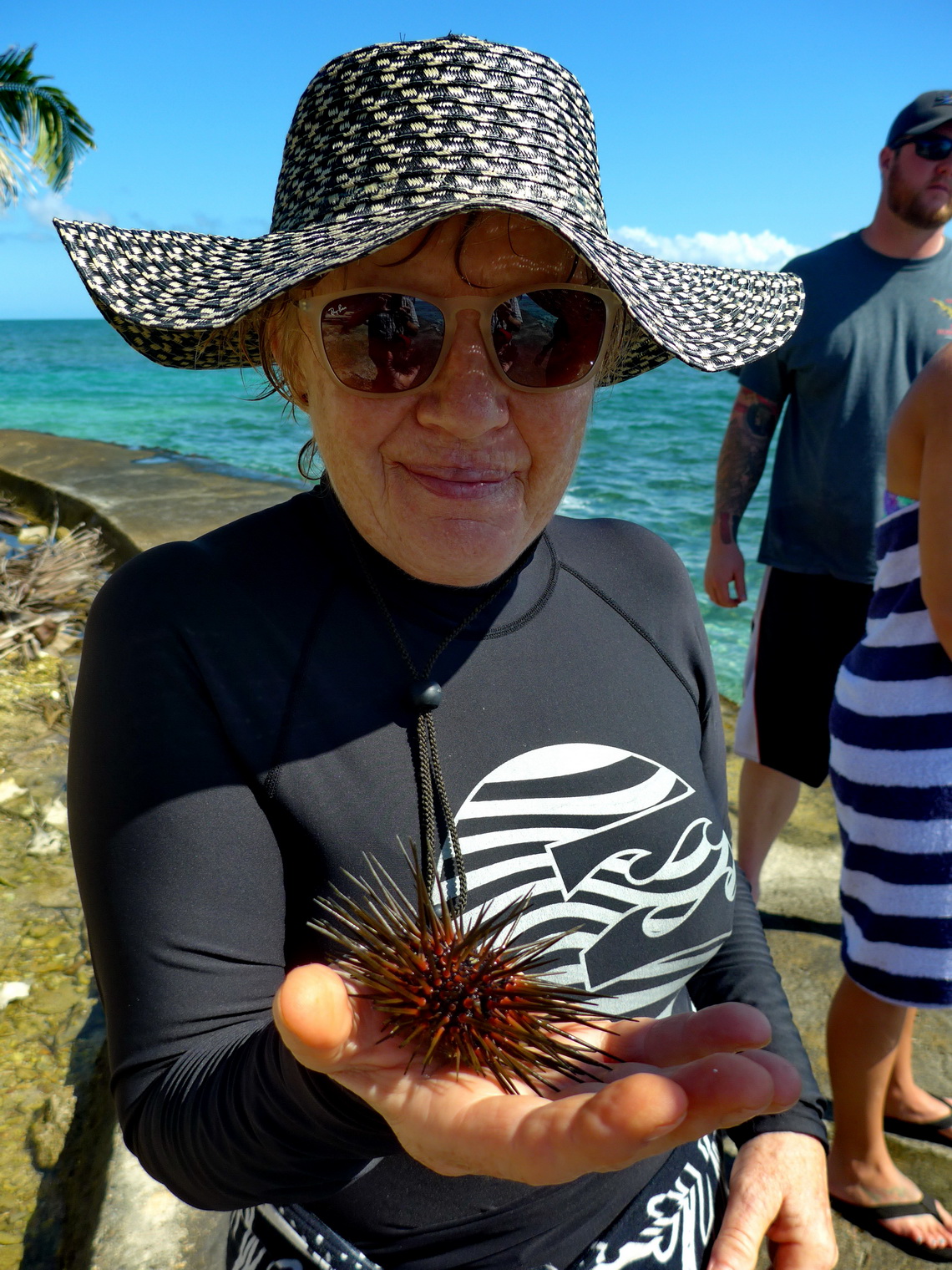 Sea life was extraordinary on the Sargeant's Caye. We saw a lot of various fishes including two different huge rays in the shallow water in front of a sandy and teeny island with a diameter of less than 50 meters.
We would like to recommend Seasports Belize. They did a superb snorkeling tour with a small boat and just eight people, see also their website www.seasportsbelize.com. Victoria is such a nice guide.
The Tropical Education Center few kilometers southwest of Belize City has a good campsite including electricity and WiFi (GPS coordinates: N17° 21.422' W88° 32.480') and some nice trails in the forest. It is a paradise for birds but we no luck in the early morning because it was foggy. We saw vultures, green parrots and some duck like birds.
Our next target was the mystic Actun Tunichil Muknal Cave. It is an old ceremony place of the Maya. Artifacts like some skulls can be seen there. The rangers allowed us to stay the night in front of the gate (GPS coordinates: N17° 07.741' W88° 51.014'). We agreed already on a price with a tour operator which is mandatory to visit this cave. But it started raining in the night. It did not stop in the morning. You have to swim through a relatively wide river to get to the entrance. The water of the rived rose and rose. There is a safety mark in the river. At 8:00AM the water was 8 inches above the safety mark - the ranger had to close the cave. Driving back the bumpy road to the main street between Belmopan and San Ignacio was interesting and a little bit adventurous.
Bustling San Ignacio is the major tourist destination in western Belize. Many tour agencies offer trips to caves, gorges and hidden Maya ruins. Most of them can be visited only if it is dry. But it was raining cats and dogs. Consequently we walked to the nearby Maya ruins Cahal Pech, which are located 2 kilometers outside of the center of San Ignacio. Very close to the center is the good campground Mana Kai (GPS coordinates: N17° 09.660' W89° 04.177').
It was raining again on the next morning. Thus we decided to continue to Guatemala. But it stopped before we came to the border and we visited the beautiful Maya site Xunantunich, which is reached by a free little handy-cranked car ferry.
For more pictures, please click here                        For a map of our itineraries, click here
To download the GPS coordinates, click here