The marvelous landscape East of Mexico City is peppered with dramatic and rugged peaks including the three highest summits of Mexico, lush and dense rain forest, arid deserts, beautiful beaches, gorgeous colonial cities, and some industrial hubs like Puebla with its automotive plants.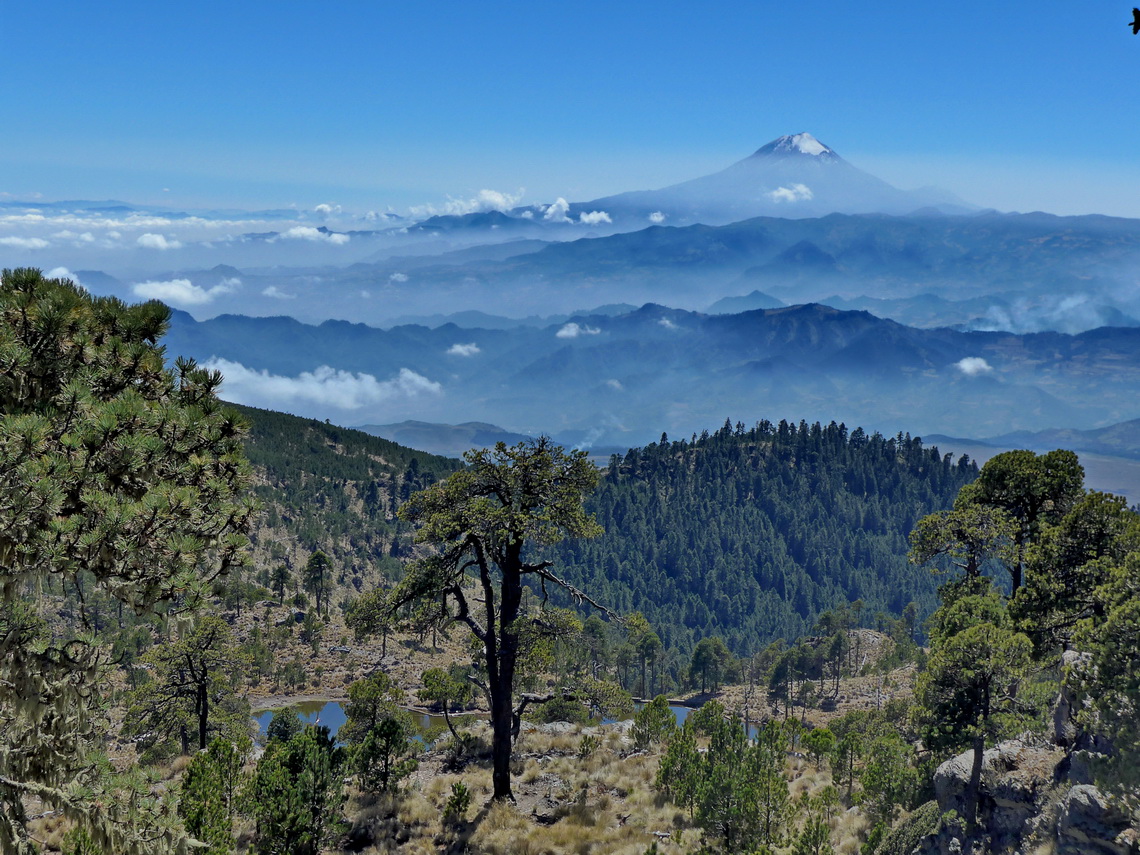 We had been in this wonderful country 20 years ago. At that time we had climbed up the volcanoes of Citlaltepetl (5610 meters sea-level) and Iztaccihuatl which are the tallest and third highest mountains of Mexico. In between is Popocatepetl which had been our dream for more than 20 years. But it had been and is still so active that an ascent is life-threatening. Also we had visited the nice cities of Veracruz and Puebla. Thus we concentrated this time on other highlights in this area.
Our first stop was the stunning botanical garden Helia Bravo Hollis which provides an excellent campsite and superb walking opportunities. It is located in an semi-arid desert close to the little town Zapotitlán Salinas on the street MEX125 in direction Tehuacan (GPS coordinates: N18° 19.678' W97° 27.296'). A good trail leads to Zapotitlán Salinas and the little peak Cerro Zapotitlán with a cross few hundred meters north of the village. Our track is included in the GPS coordinates file of Mexico Central.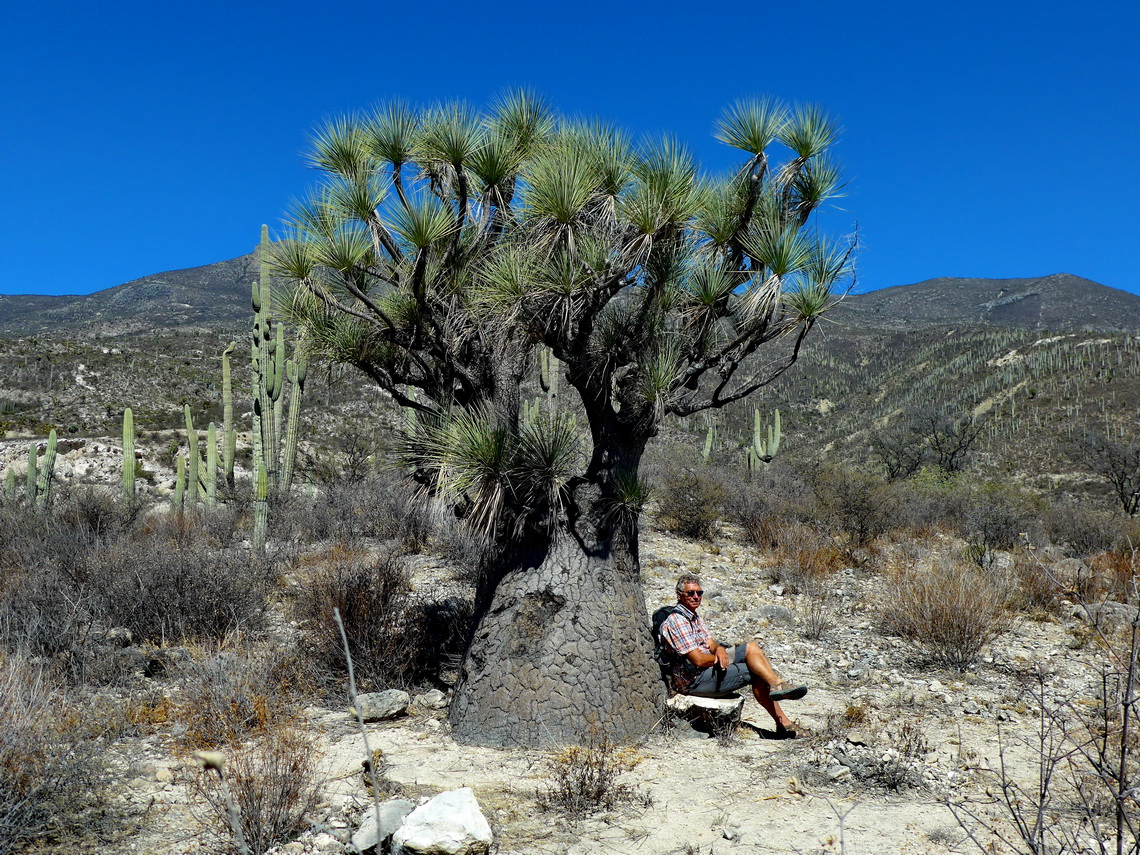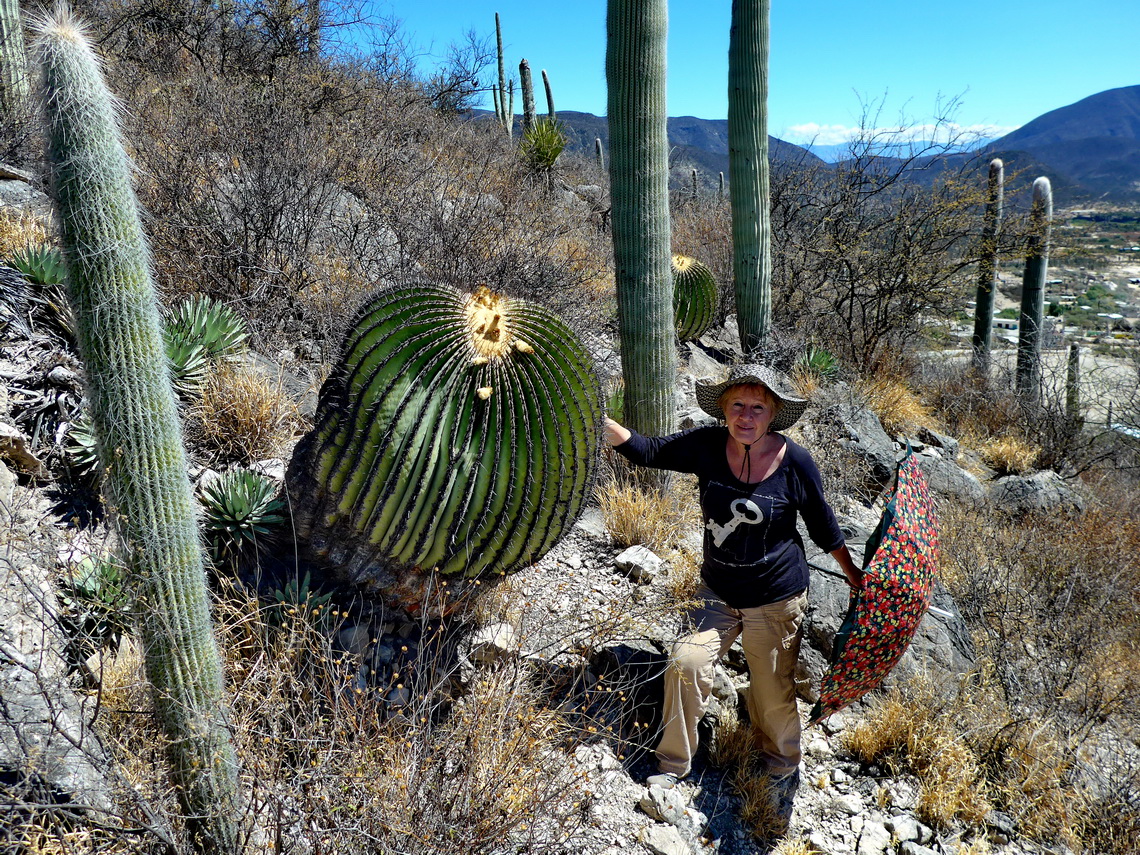 Volcan La Malintzin - Lady of the Green Skirts (or Matlalcuéyetl or Matlalcueitl) is the with 4461 meters sea-level the fourth highest peak in this region. The Spaniards had named this peak La Malinche in honor of a Lady from the today Tabasco state on the Atlantic Ocean. She had supported Hernan Cortes to conquer Mexico 500 years ago. Up today she is seen as a traitor for many indigenous people.
There is an excellent vacation center at the northern foot of the mountain with a reasonable campsite. It is managed by IMSS, the social insurance of Mexico. Good roads lead from Huamantla, Abizaco and Puebla to the 3086 meters high base of La Malintzin (GPS coordinates: N19° 16.834' W98° 02.622'). There was an unexpected surprise when we returned from a little acclimatisation hike in the late afternoon. Familiar German voices were around us reproduced by a lot of teenagers. They were from the German school of Puebla. Their teachers had the idea to climb up the nearly 1400 vertical meters to La Malintzin on the next day.
Puebla is very German driven because their are huge factories of Volkswagen and Audi. Some of the teachers were Germans and did a stay abroad in Puebla. Others have German roots. On the next morning some of the kids wanted to give up after few hundred meters, some achieved the summit with an extraordinary speed. But the teachers forced them on to the tree limit which is approximately 4000 meters sea-level. Some kids told us that they were going to have a big party in the evening but it was quiet at night! Some were so exhausted that they felt down several times during the descent.

The way up is mainly hiking, just on the last few meters are some rocks where easy scrambling is required. The views from the top were impressive, especially to the three 5000er of Mexico. But the smog of Puebla and Mexico City was scaring. Our track including the secondary summit Cerro Tlachichihuatzi is enclosed in the GPS coordinates file of Mexico Central.
Few kilometers northeast of La Malintzin is the little village Santa Cruz Tlaxcala with another holiday resort driven by IMSS with a nice camping area. The Centro Vaccacional IMSS La Trinidad was a former dress plant (GPS coordinates: N19° 21.570' W98° 09.143'). And there was fiesta in Santa Cruz to honor the local saint El Señor del Coro. Extraordinary was the fireworks at night. Finally a little helicopter disappeared in the sky.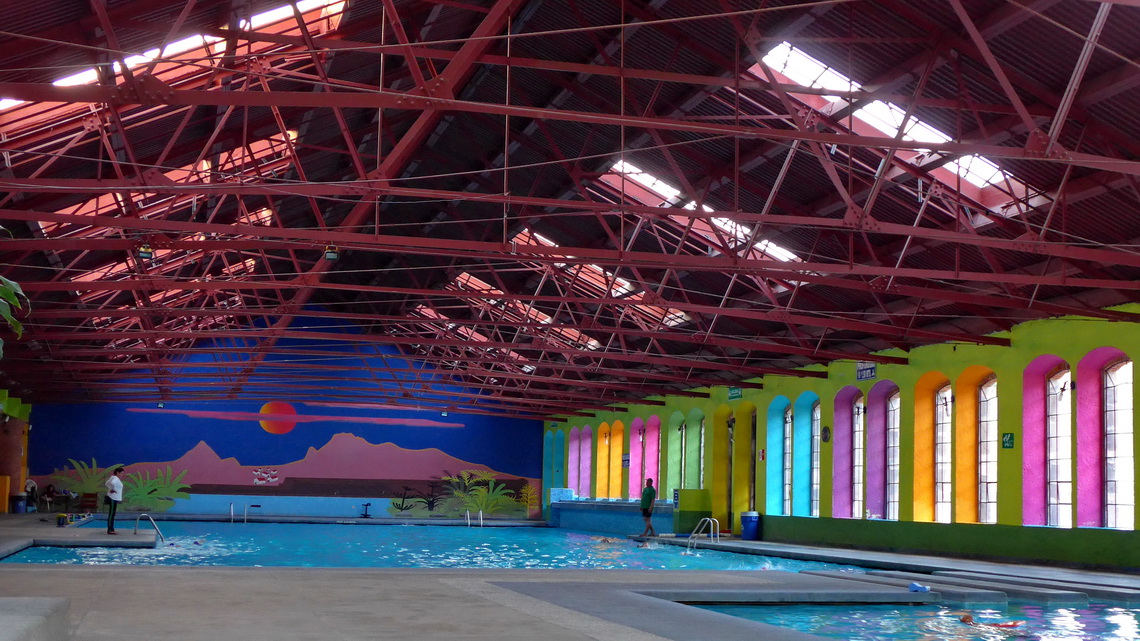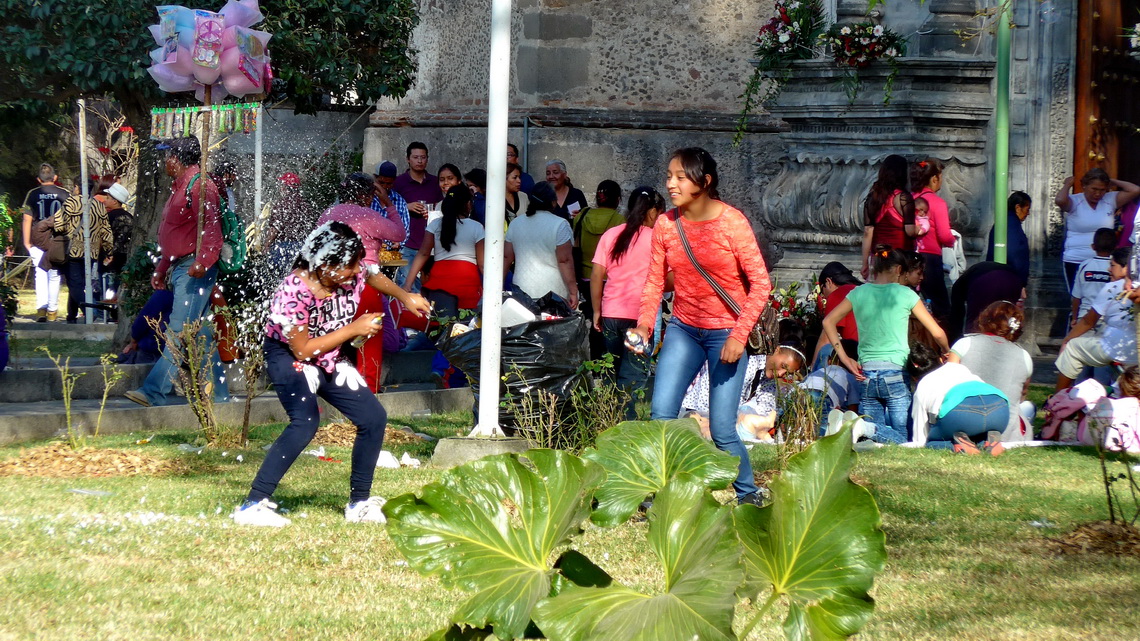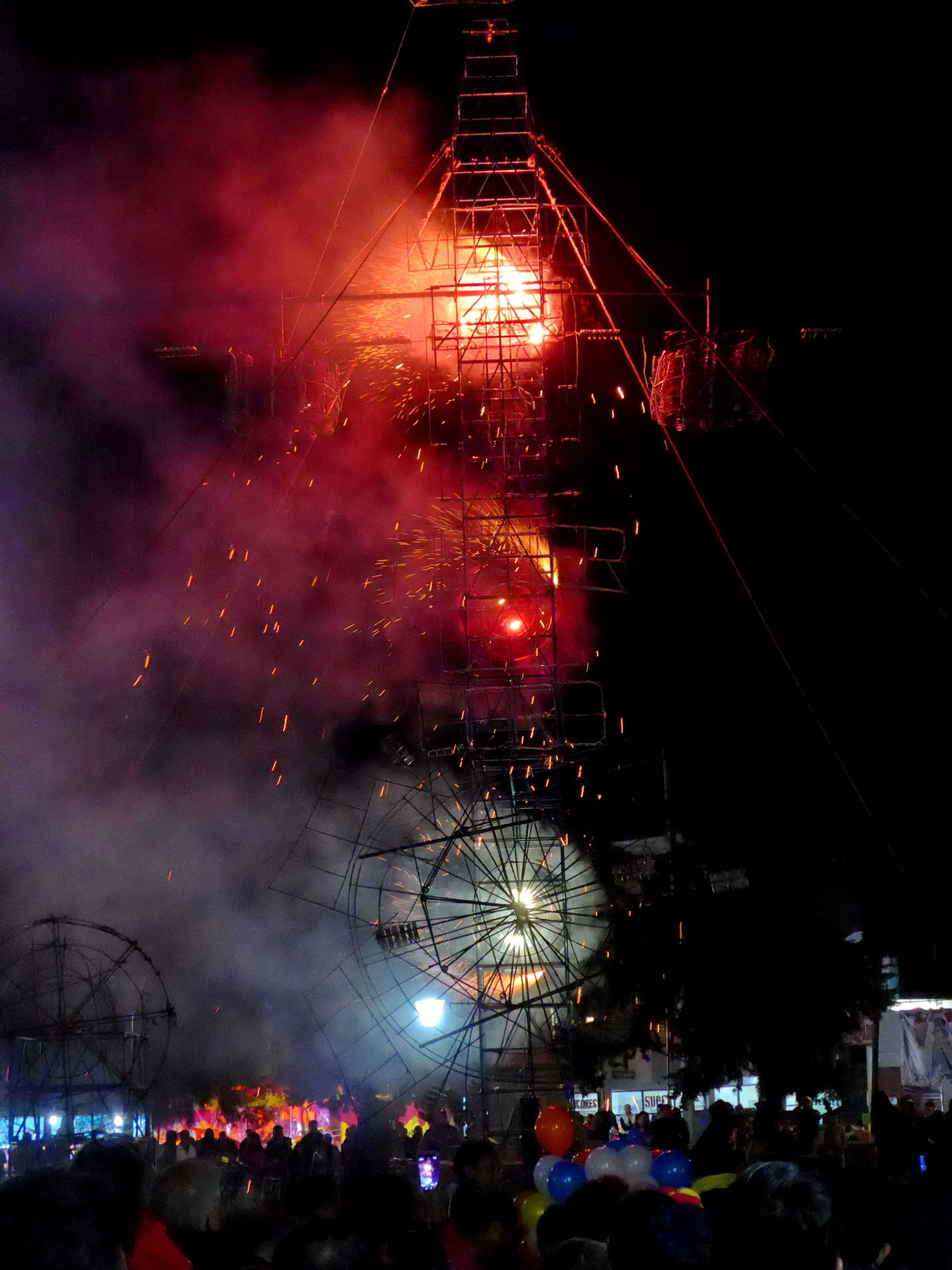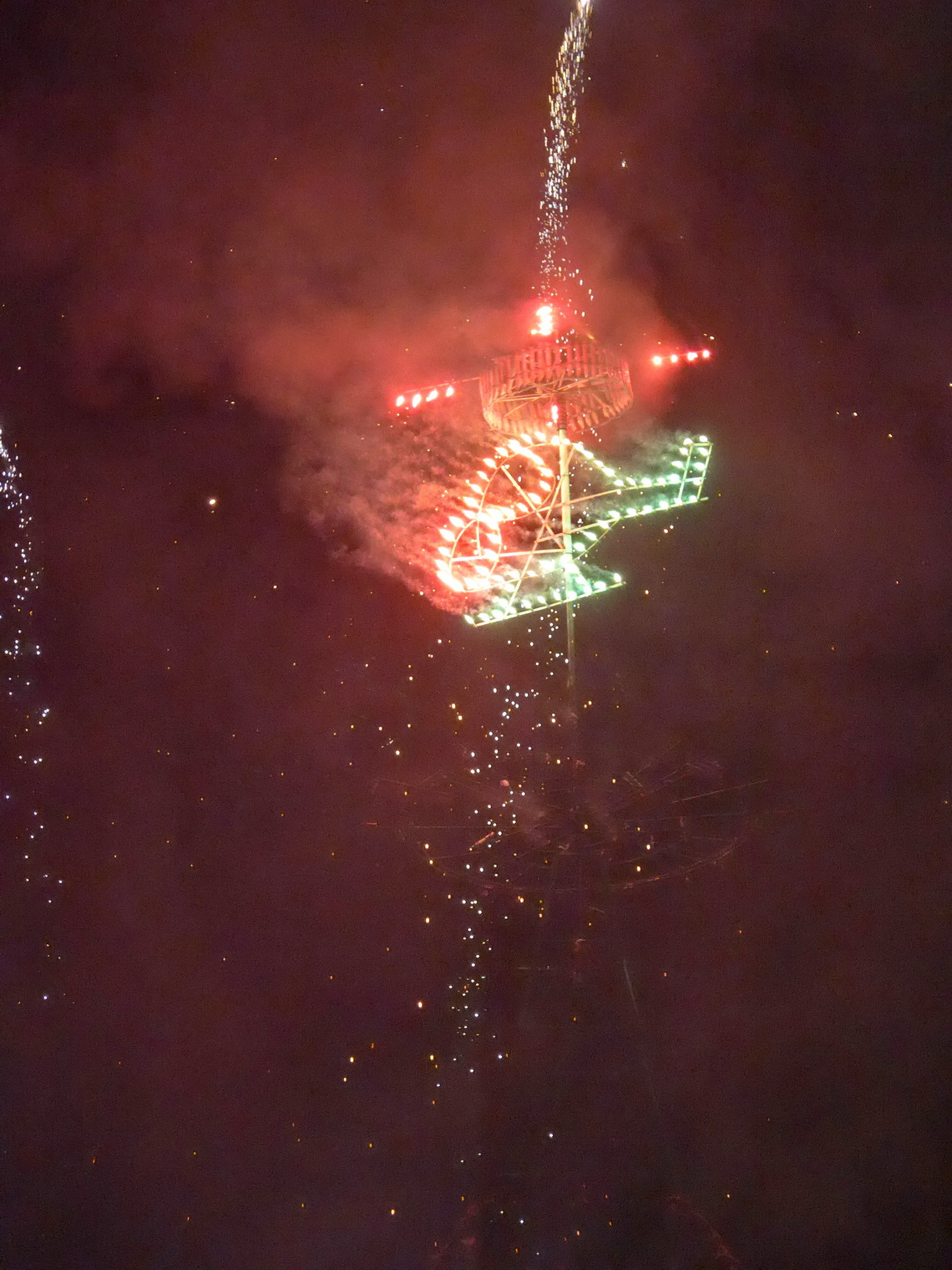 To our opinion Mexico is the fiesta country on earth. There is always one in a nearby village or town. Before the next one we intended to climb up the extinct volcano Cofre de Perote or Nauhcampatépetl which is on the way to the terrific beaches of Costa Esmeralda on the Gulf of Mexico. It is with 4250 meters sea-level the 8th highest peak in Mexico. It is relatively flat but its main summit is a steep quadrangular rock like a suitcase. Indeed Cofre means suitcase and Perote is the town on the northern foot of the volcano. Unfortunately the northern main top is spiked with a lot of transmitters. Its southern peak with nearly the same level has less buildings. The much lower western summit is the most beautiful ones simply adorned with a cross (4062 meters sea-level).
We had some trouble driving to the village El Conejo, where a recreation center had been established similar to the one on La Malintzin (GPS coordinates: N19° 31.426' W97° 09.620'). There is a paved road directly from the town Perote but our GPS circled us eastwards around the mountain via steep dirt roads - not recommended!
The base is with more than 3400 meters sea-level relatively high and a good road / path leads in 2.5 hours to the summit rock. There are stairs to gain the top with the countless transmitters. We had a beautiful day and thus we continued to the southern summit and circled half the mountain via Laguna Tilapa and the western peak. It was an outstanding and remote hike in wild west like country with different pinnacles and large pine forests. We just met another group of people which came the opposite direction. Our track is included in the GPS coordinates file of Mexico Central.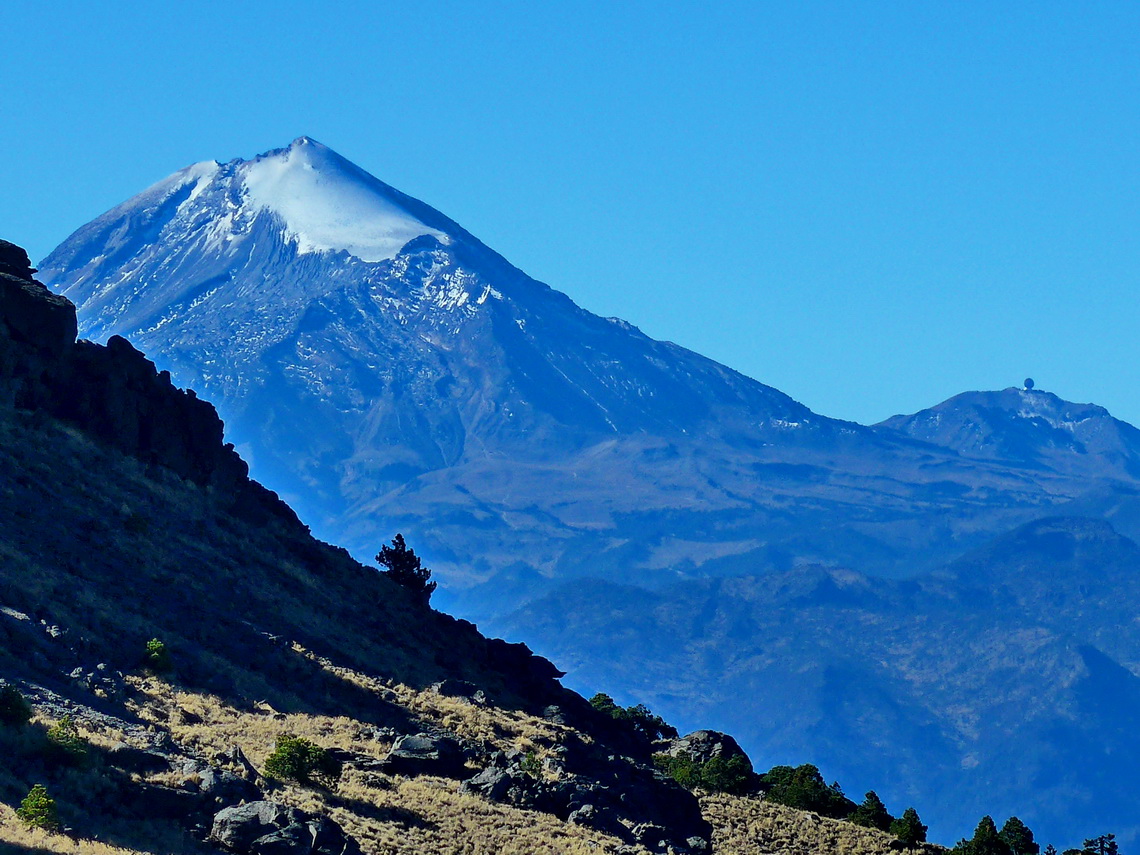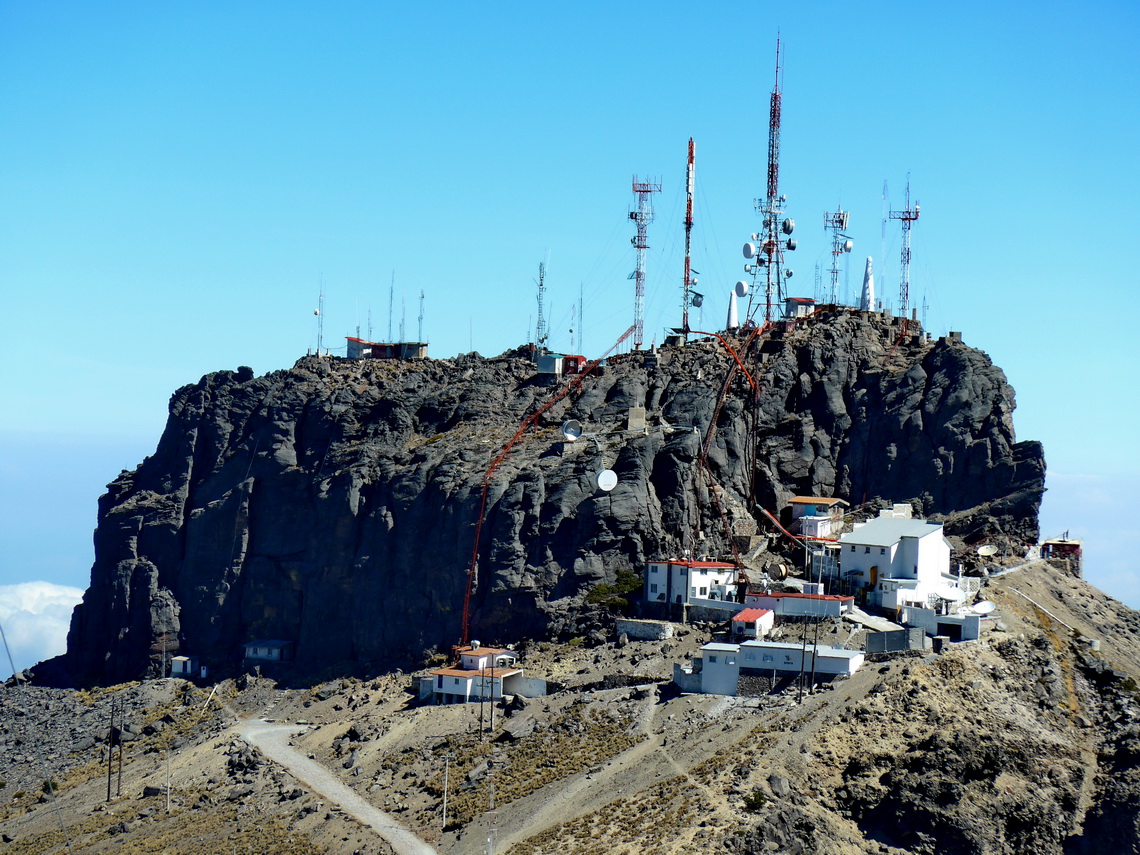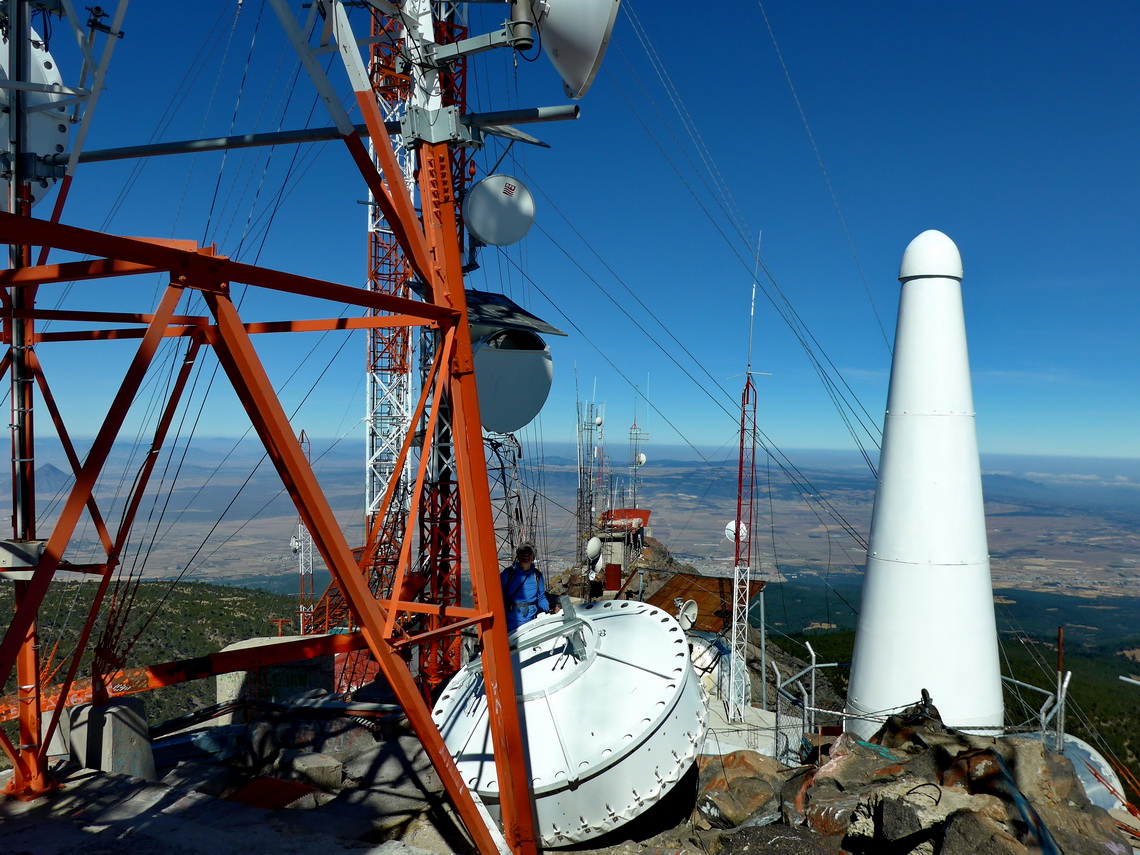 The campsite Coco Loco in Casitas on the southern end of Costa Esmeralda is managed by the nice Swiss guy Martin. We had an excellent camping place directly on the beach (GPS coordinates: N20° 15.991' W96° 48.531'). There were also Achim und Ute from Franconia, which we had met more than two years ago in Argentina. It was a heartly welcome and we chatted a lot. Achim and Ute cooked spaghetti with fresh shrimps for us - outstanding delicious. Thank you so much, Achim and Ute.
The first day we had temperatures of more than 30°C and we could enjoy the Atlantic Ocean. The second day a gale with haevy rain came with a temperature drop to 15°C - really cold! Another German speaking man walked from his home to our campground - Otto from Vorarlberg / western Austria. He invited us to his house few kilometers north of Casitas. Again we had a lot of fun - Thank you so much, Otto.
When the weather became better we spent three days in Tecolutla, the northern end of Costa Esmeralda. Again there was a celebration, the Fiesta de Coco. The inhabitants claim that this is the biggest coconut festival on earth because they cook and decorate an more than 100 meters long stripe with cooked coconut - very tasty but also very sweet. There were a lot of Mexican tourists in town and on the beach. We found the nice campsite Palapas Pelucas with access to the beach and an excellent cuisine (GPS coordinates: N20° 28.998' W97° 00.722')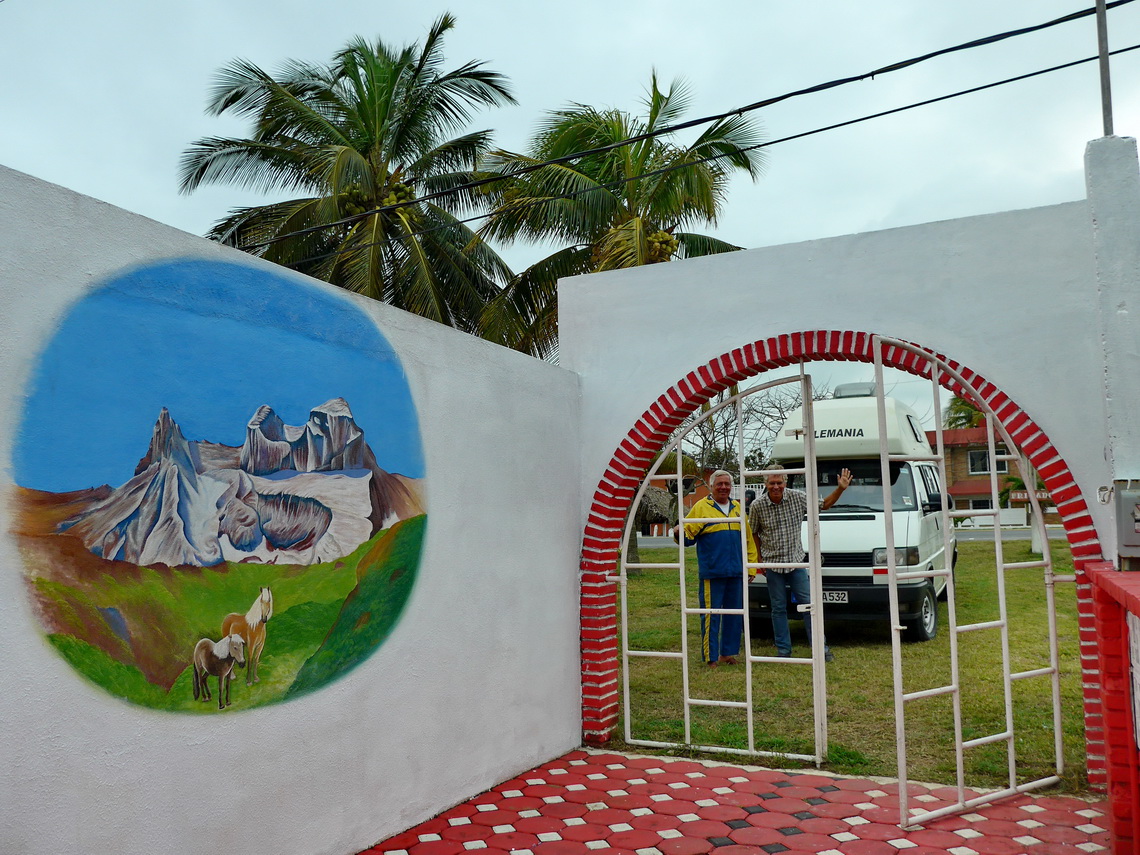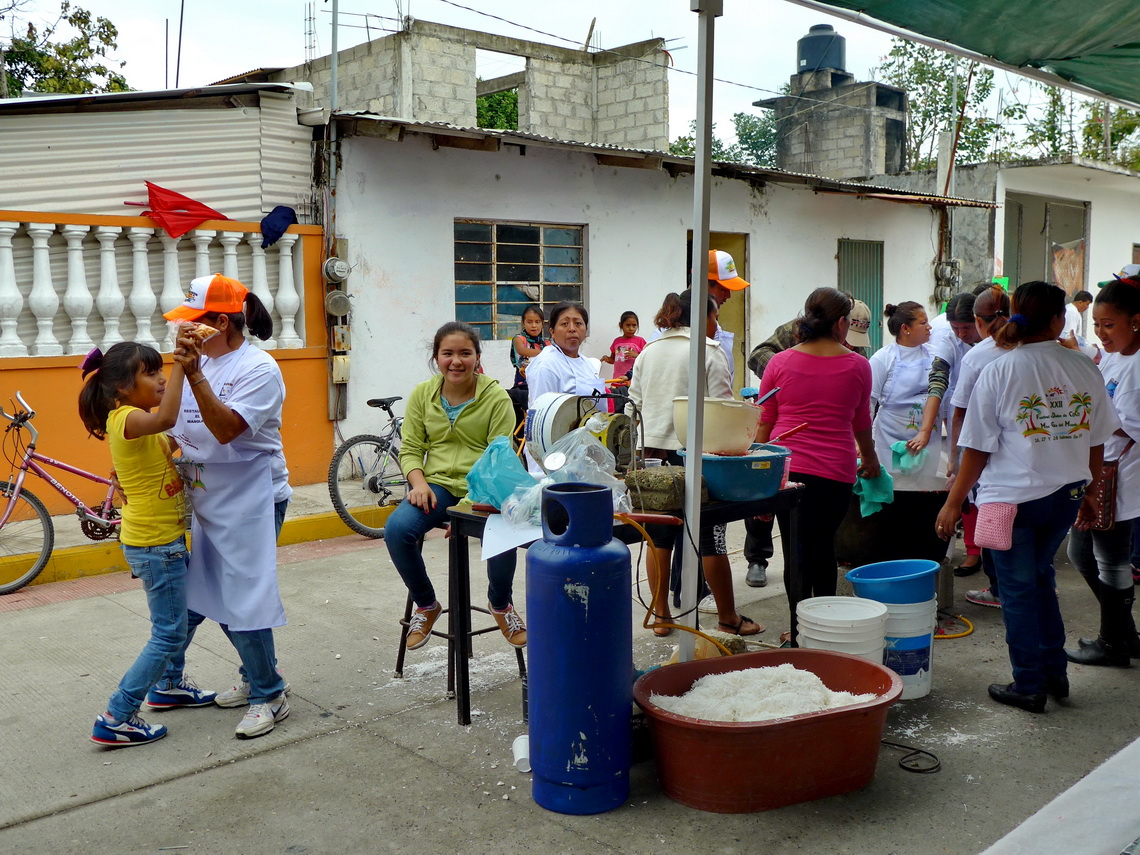 The only place we visited the second time after 20 years were the extensive ruins of El Tajin, the most spectacular reminder of Classic Gulf civilization. We had ruins covered by lush and dense rain forest in mind. But they had been restored beautifully, a little bit like Disneyland. Another highlight of El Tajin are the Voladores - airman performances, a traditional rite by the local Totonac people. Five men with ceremonial clothing climb up to the top of a hugh pole. Four of them put a rope around their waists and rotate down from the pole held by the rope. The fifth man dances on top of the pole and plays a small drum with a flue attached.
We stayed the night in the calm campsite Rancho San Antonio (GPS coordinates: N20° 25.575' W97° 19.716') few kilometers east of El Tajin. Bird-life was stunning there, in the morning we enjoyed a true concert. In El Tajin we met Karl from Fürstenfeldbruck / Germany who drives around the world with his motorbike. Again we had a lot of fun - Thank you so much, Karl.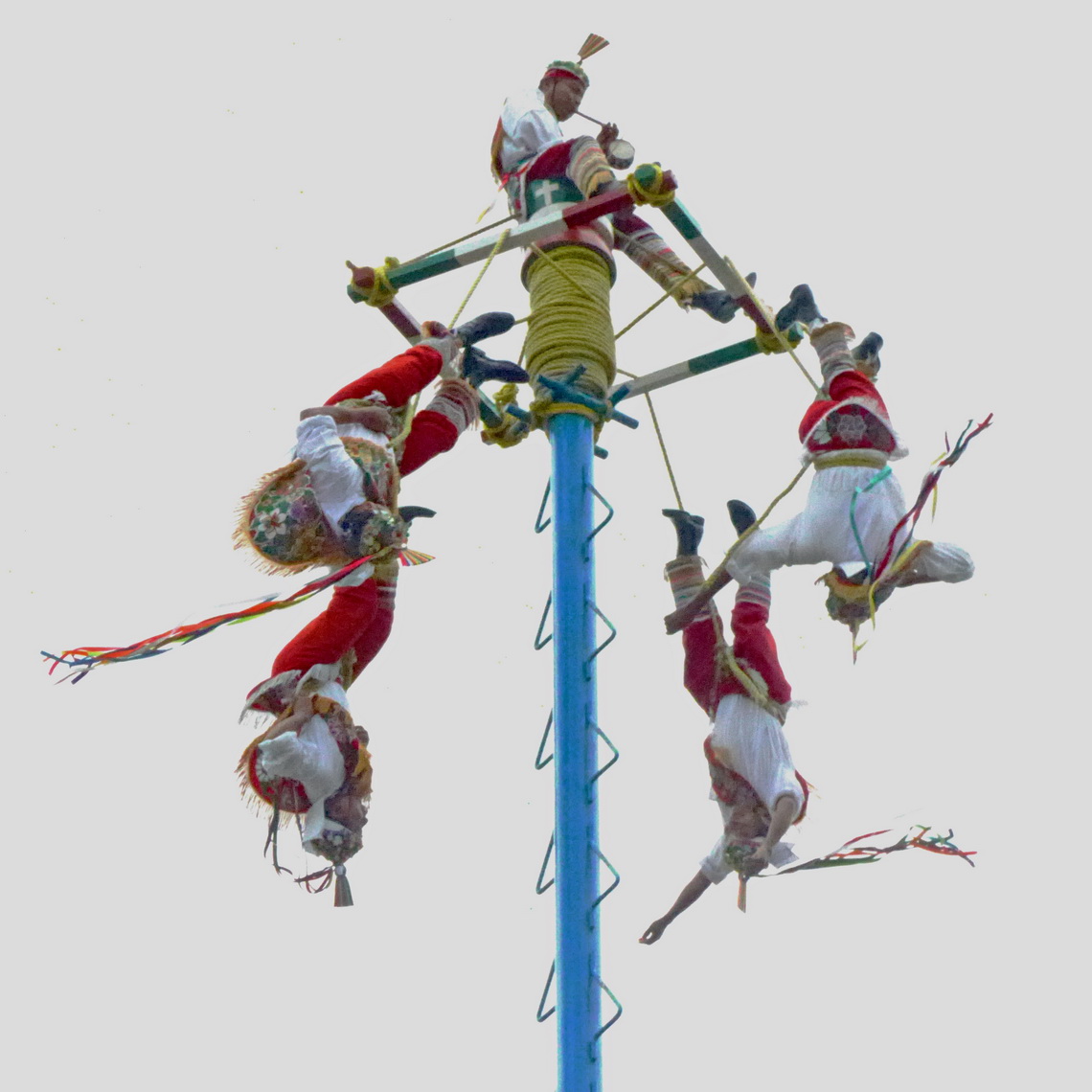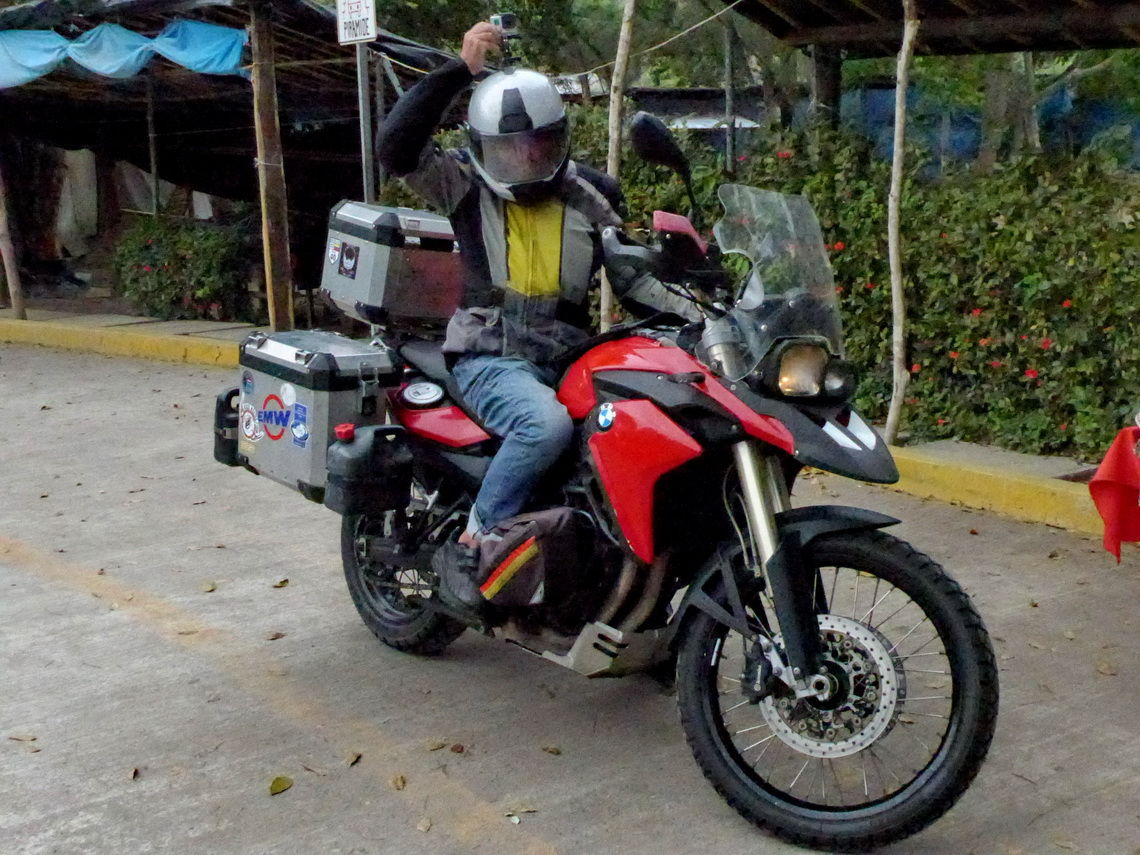 Our last highlight in eastern central Mexico were the caves Grutas de Tolantongo. They are a little bit isolated but other travelers had told us that this one of the most stunning places in Mexico they had been. It is a long drive down a winding steep road from the town Ixmiquilpan into a deep gorge. There is a river with pleasant warm water supplied from a huge cave with an incredible color. It was worth every kilometer!
We stayed two nights on the parking lot of the campsite at the river (GPS coordinates: N20° 39.090' W98° 59.943') and one night on the entrance above the gorge (GPS coordinates: N20° 37.633' W98° 59.255'). In addition to the cave and tunnel, the Pozitas are marvelous. It is a 30 minutes walk from the campsite (GPS coordinates: N20° 38.628' W98° 59.455') and there is no extra entrance fee.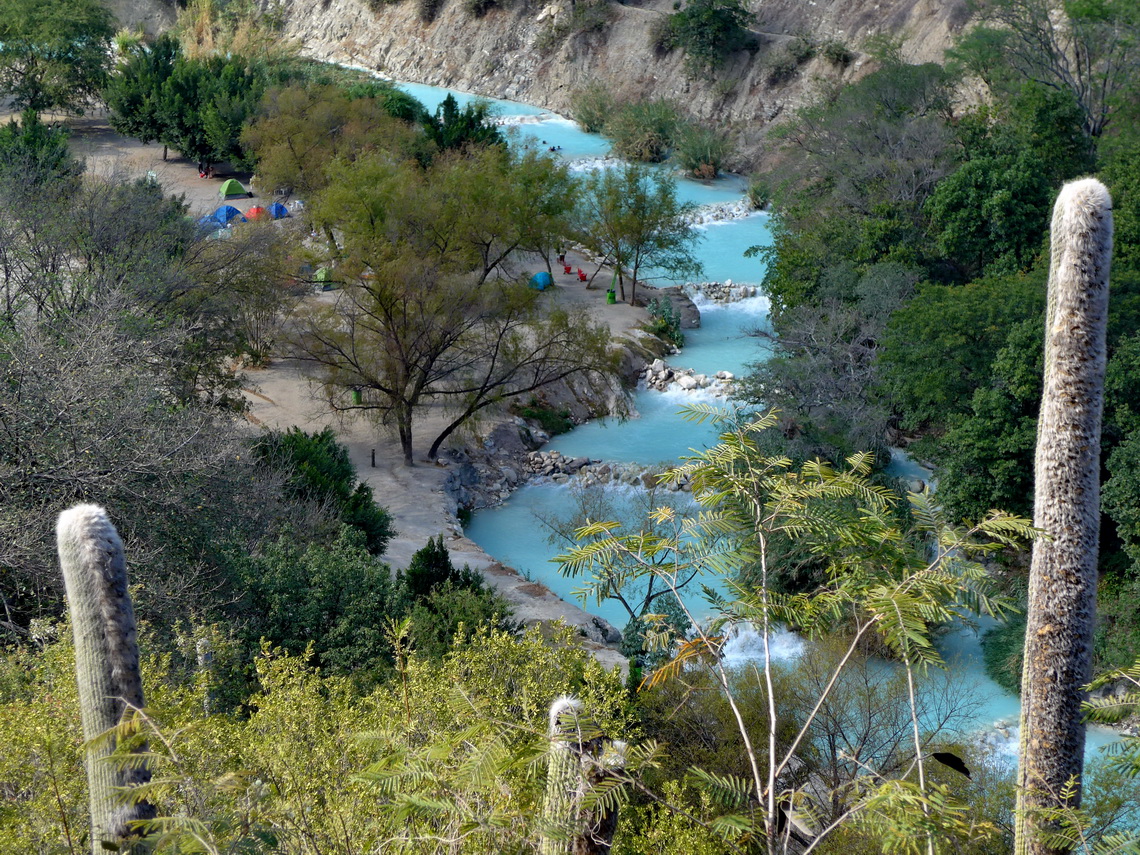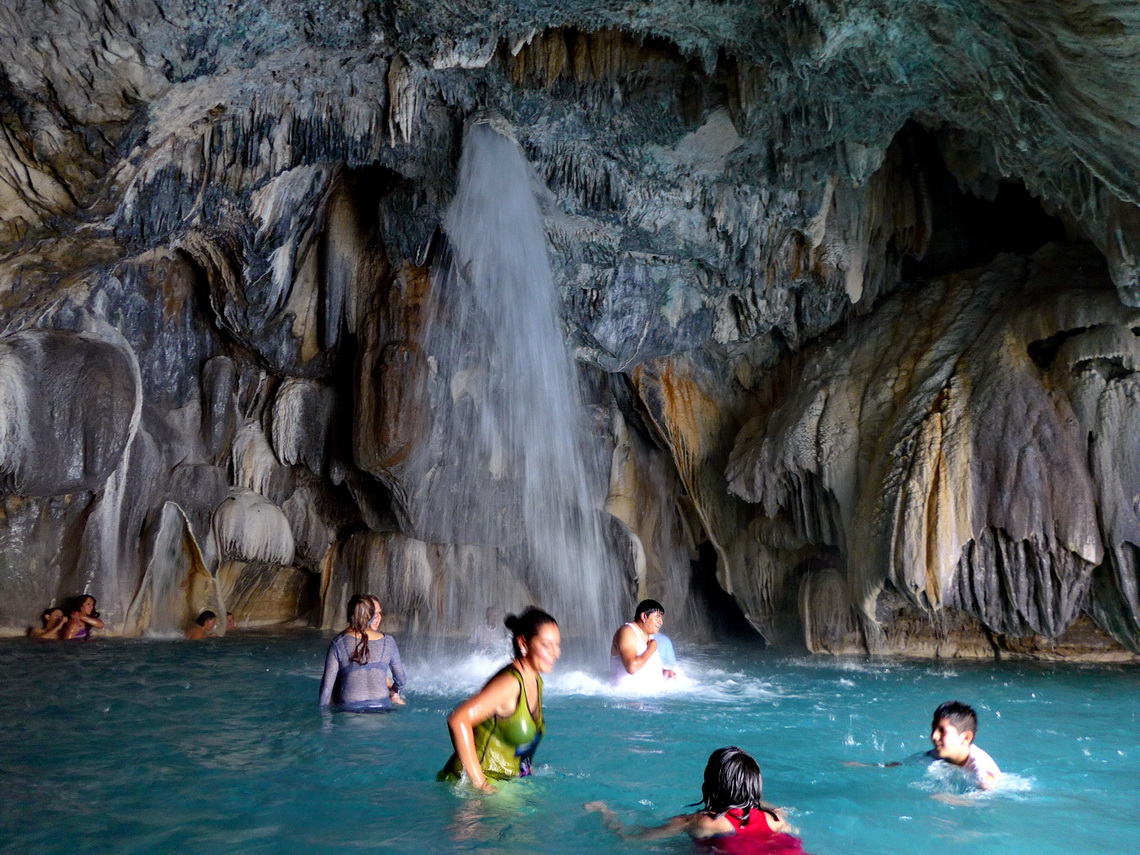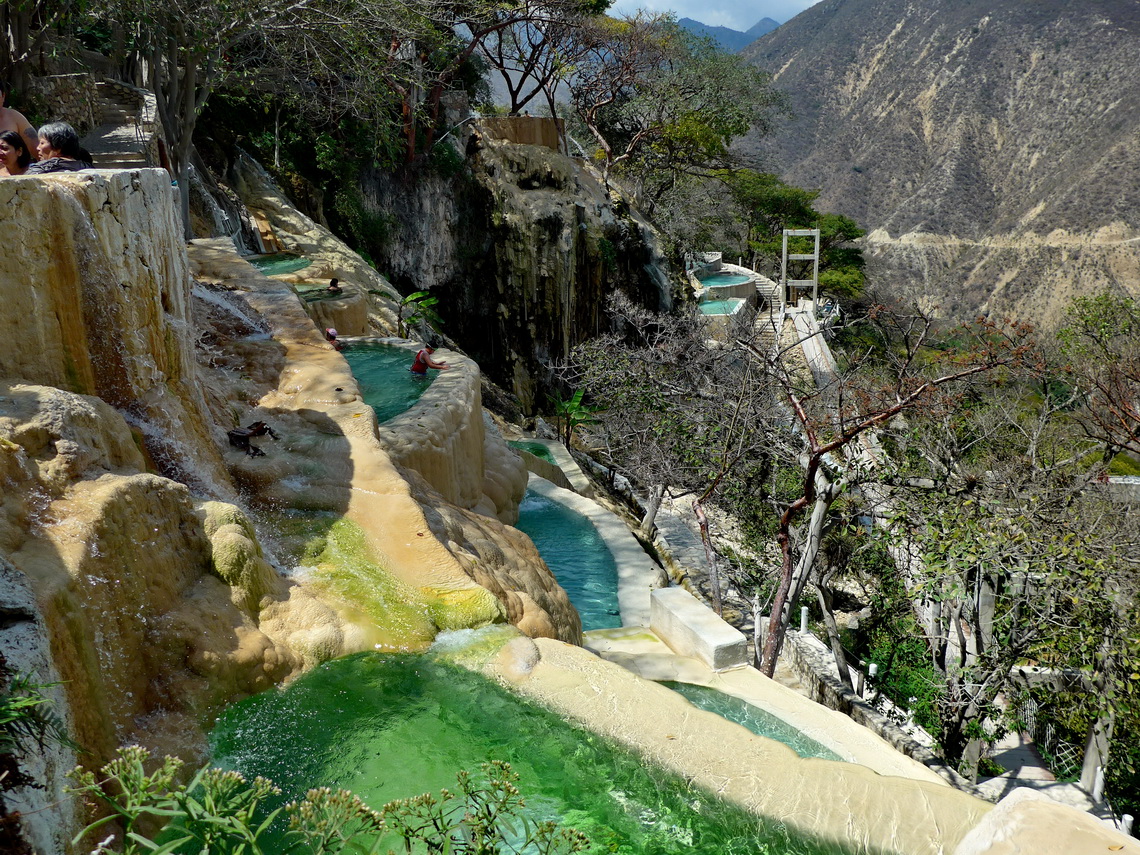 For more pictures, please click here               For a map of our itineraries, click here
To download the GPS coordinates file of Mexico Central, click here