The large stratovolcano Xinantecatl or Nevado de Toluca is with 4680 meters sea-level the 4th tallest summit of Mexico and the 17th highest point of North America. It has an enormous caldera of 1.5 kilometer diameter which is adorned with two mystic lakes - Lago de la Luna (moon lake) and Lago del Sol (sun lake). A decent dirt road leads up to 4150 meters sea-level close to the caldera, where we camped one night.
Xinantecatl is more a mountain range than a single volcanic cone with several peaks which exceed the 4300 meters mark. Its highest summit, Pico del Fraile is a little bit tricky from the caldera, especially if there is some snow and ice.
When we were in its base town Toluca it was rainy and stormy. Even some snowflakes came down to the 2600 meters high town which is not quite often the case. Sadly the extraordinary hefty winter gale killed some people because some scaffolds and bigger advertisement billboards crashed. But Toluca had a very nice surprise for us.

A family of us is living in Toluca and we were invited to celebrate birthday of Alfred's uncle Poldi. After this nice party we visited together some ruins close to Toluca and they supported us to fix some issues on our car. We had so much fun - Thank you very, very, very much, Jarushka, Cuitlahuac and Poldi.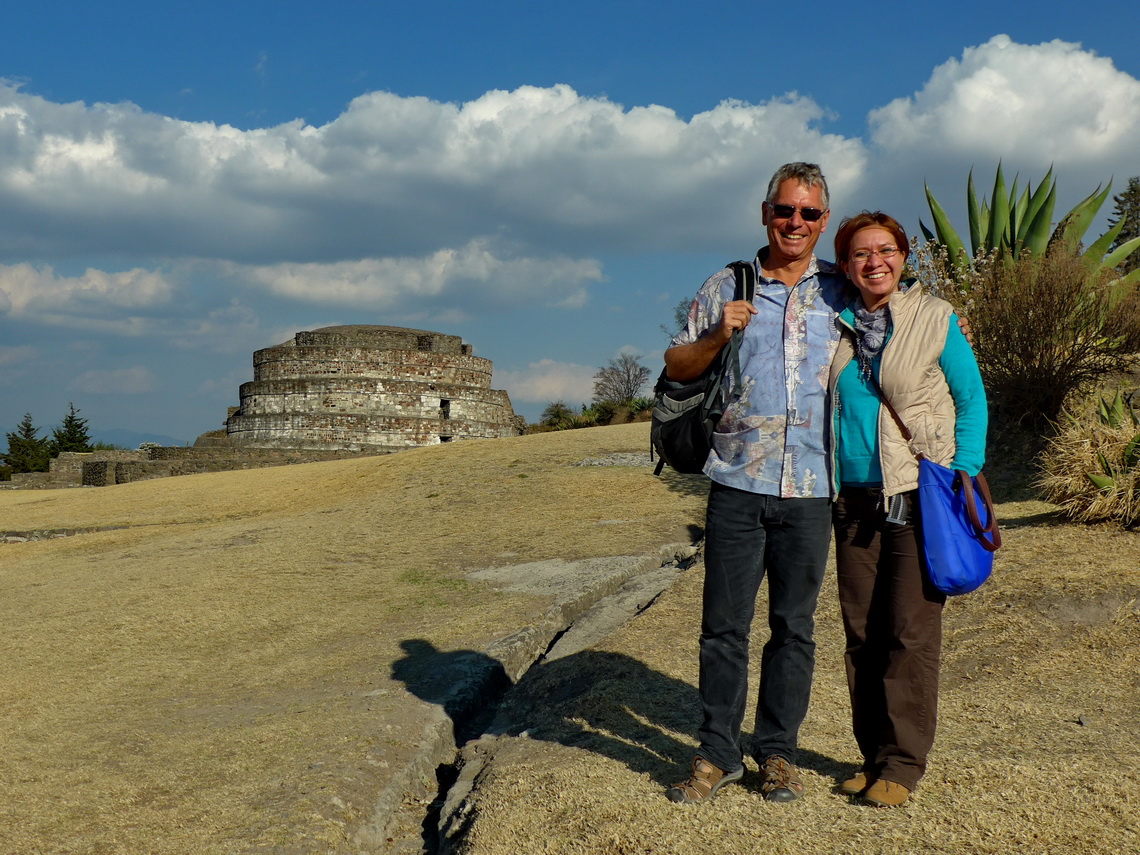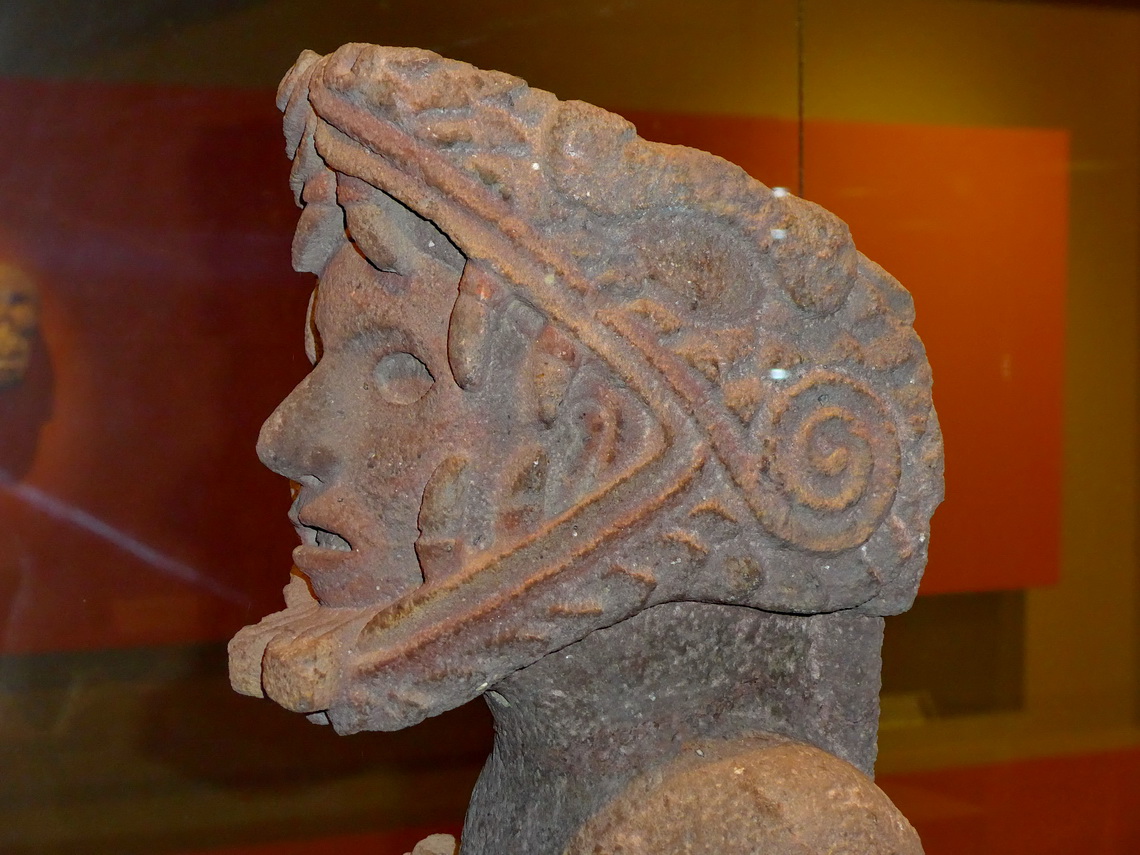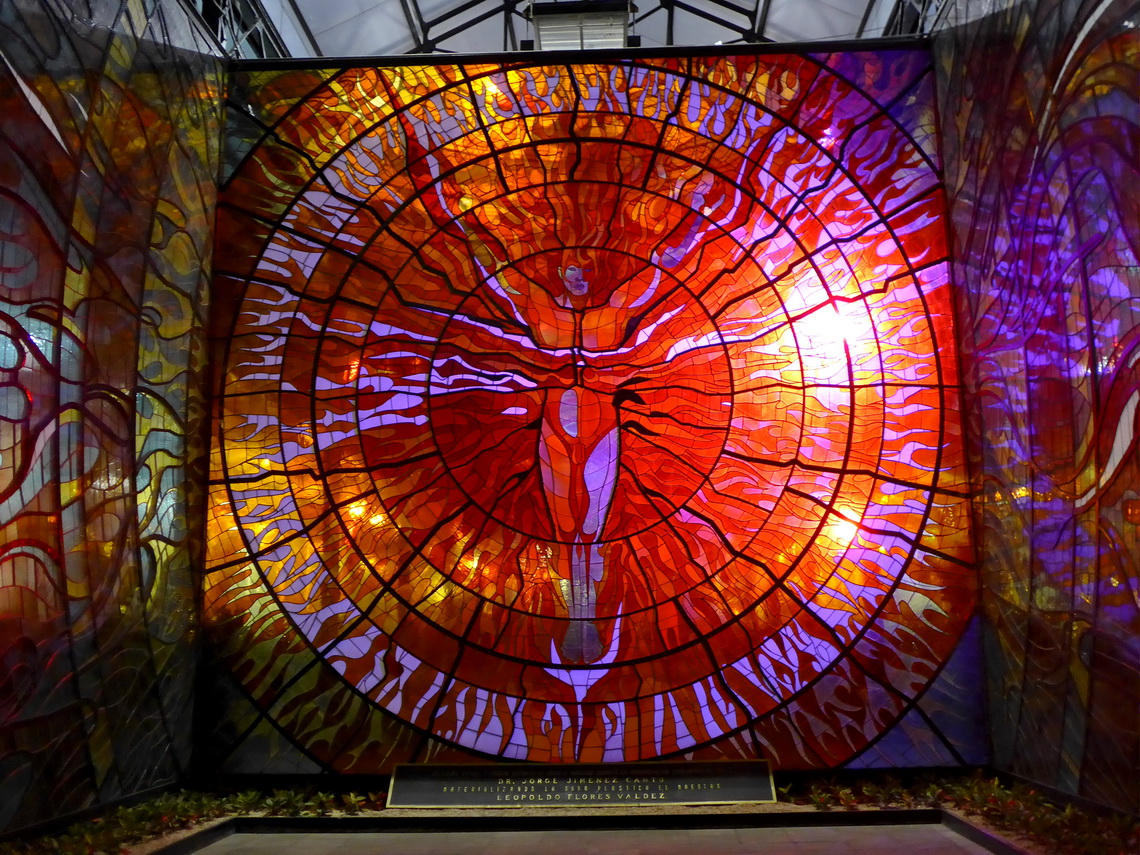 The winter gale brought so much snow in the higher mountains that we decided to wait several days before we try to climb up Xinantecatl. We visited several nice villages in the southern region of Toluca. Tonatico has superb hot springs at the northern end of town and the cozy campsite Rancho de las Piedras 2 kilometers south of its center (GPS coordinates: N18° 47.521' W99° 40.109'). We did a nice walk of one hour westwards to a vantage point with marvelous views to snowy Nevado de Toluca. Our track is included in the GPS coordinates file of Mexico Central.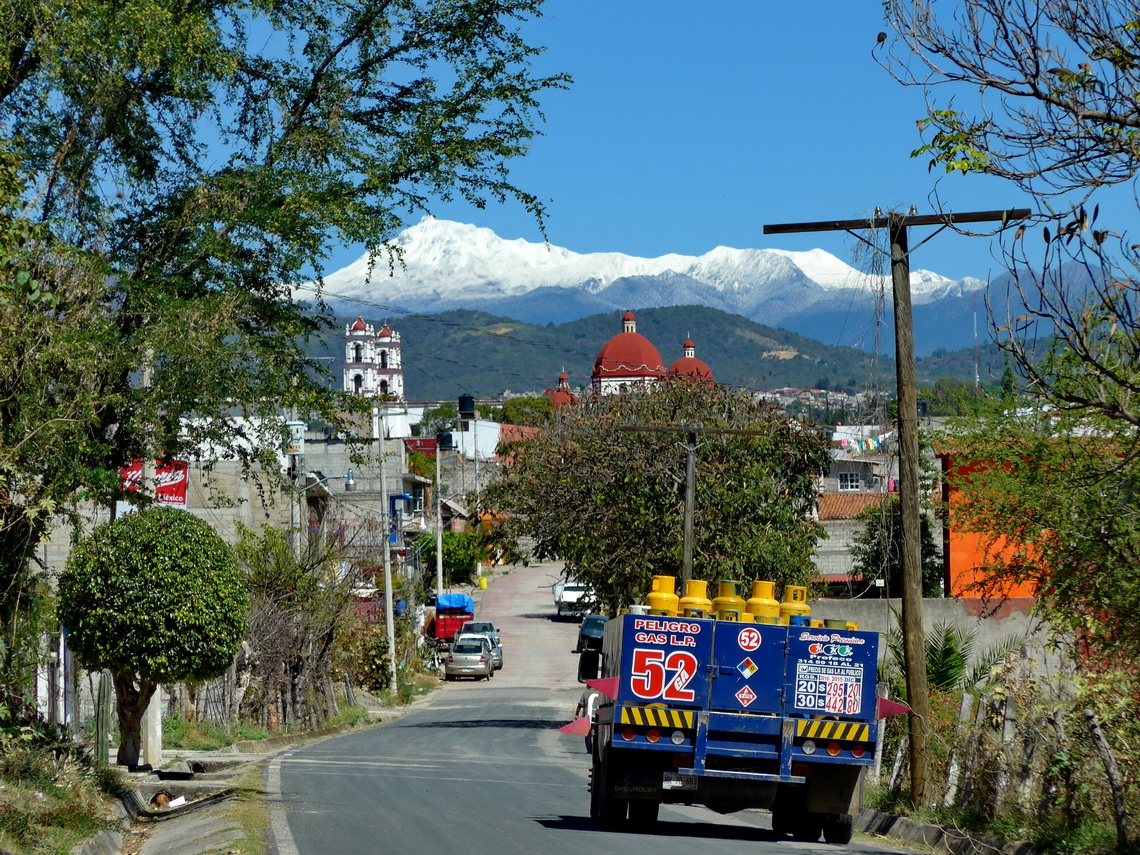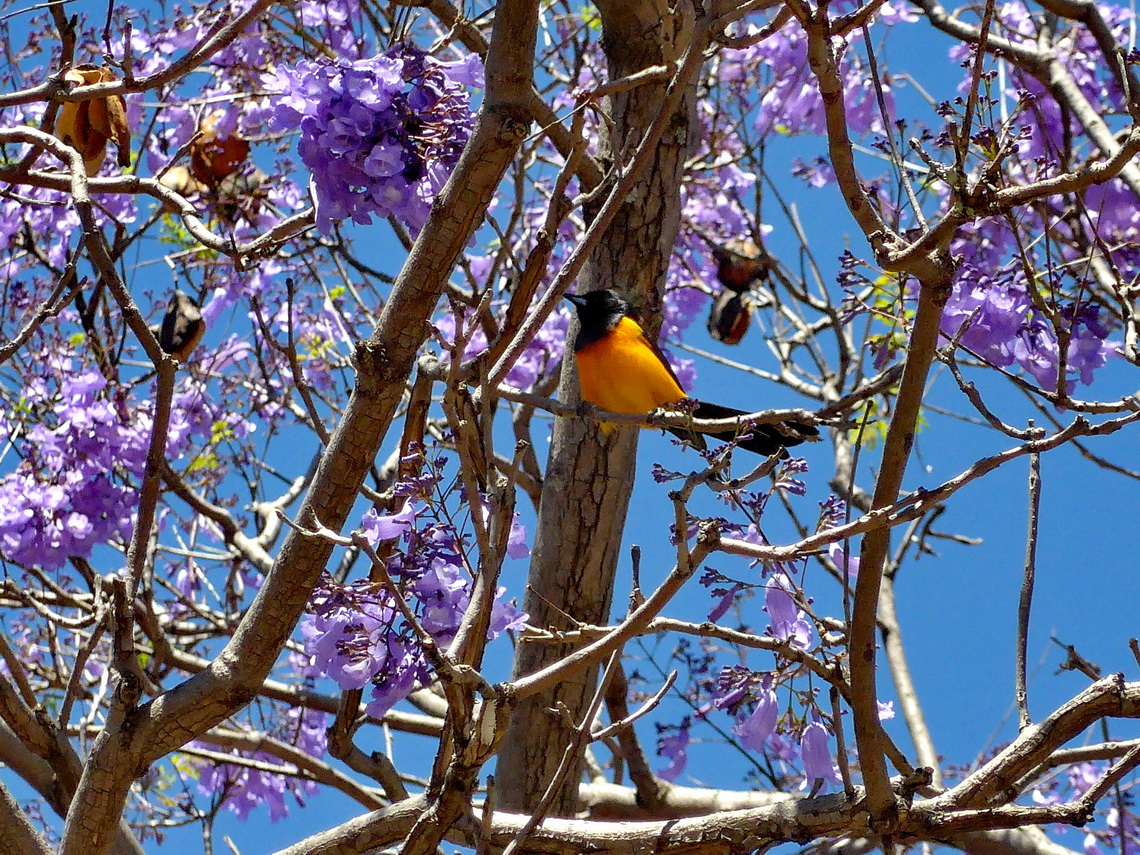 The magical place Malinalco is a must to see, especially for women. According to mythology, the god Huitzilopochtli abandoned his sister Malinalxóchitl because she was practicing evil witchcraft. While she slept, he left her in the middle of the forest. When she woke, she was furious at having been abandoned by her brother. She gathered people loyal to her and marched off to settle in what is now Malinalco. Indeed some rocks remind of witches. Later the Aztecs erected a fortress to educate military staff and for some ceremonials like initiation of high qualified soldiers. Today it is the Cuauhtinchan Archeological Zone on the hill Cerro de los Idolos.
When we came to Malinalco we asked Police for a campsite. They sent us few hundred meters east of town to the site Ecoturistica Mali Kualli. The gate was closed the whole evening so we could not enter. Instead we stayed in front of it and behind Malinaco's graveyard. We felt pretty save because our place was not visible from the main streets and there are other buildings close (GPS coordinates: N18° 57.085' W99° 29.223').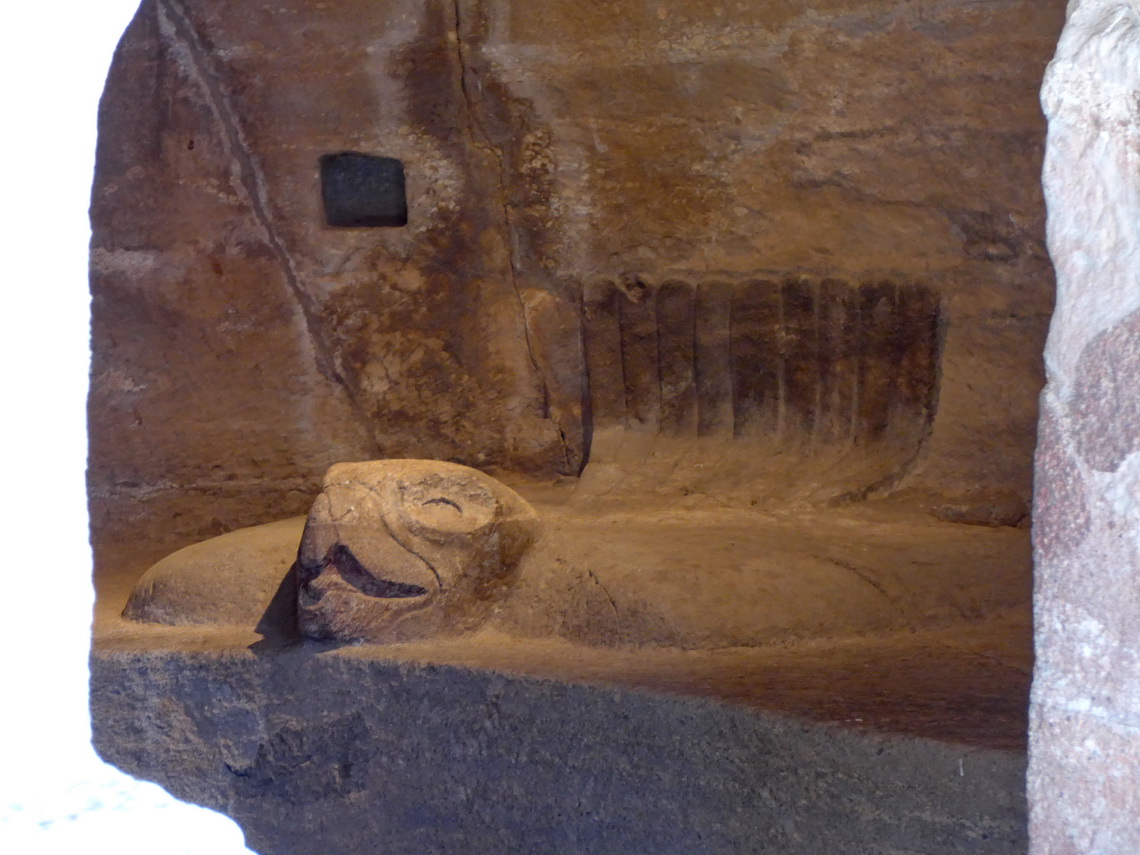 The best road to Nevado de Toluca starts few meters south of the little village Zinacantepe, nearly 3500 meters high. We found an ideal place to sleep in front of its kindergarten (GPS coordinates: N19° 09.664' W99° 48.362').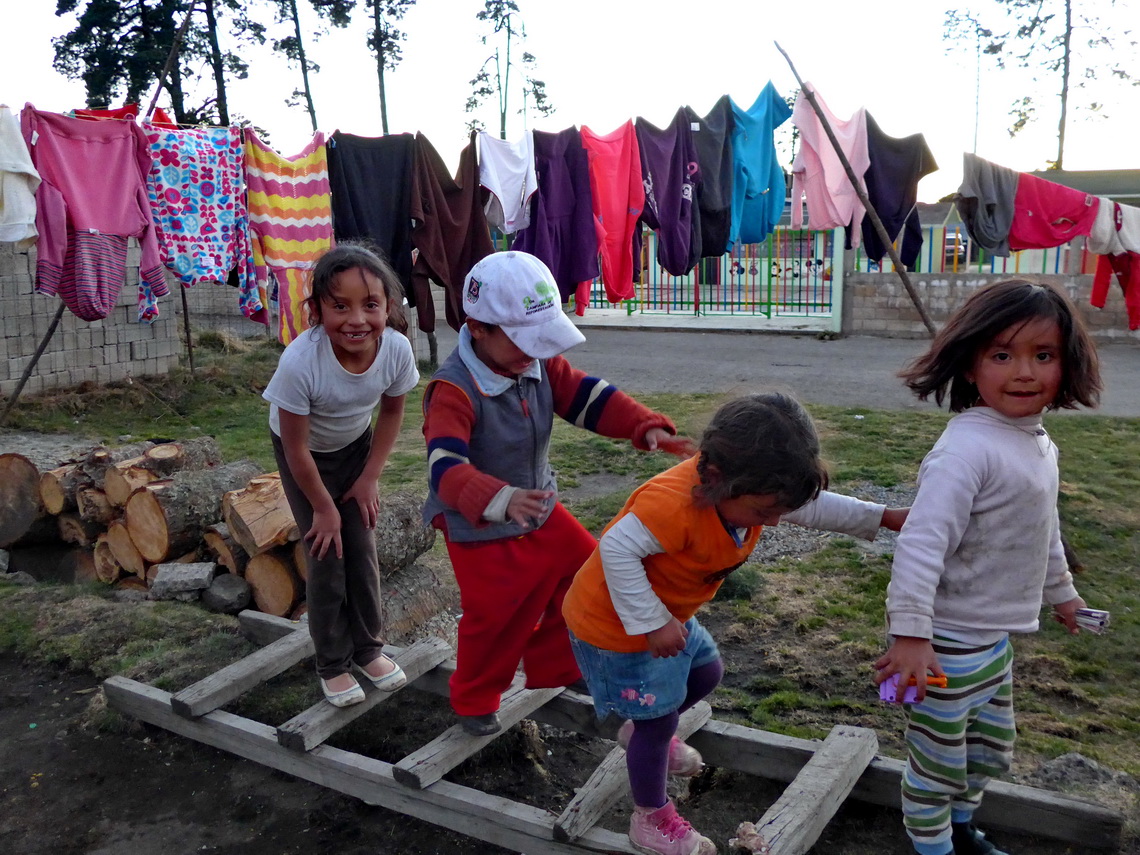 When we drove to Nevado de Toluca we had to park our at the antennas because a fallen down power pole blocked the road. We hike 3 kilometers along the road to the usual starting point to the caldera and continued to 4451 meters high Pico de Humbold (GPS coordinates: N19° 06.660' W99° 44.869'), to its eastern summit with nearly the same altitude and to one of the most eastern peak of Xinantecatl (GPS coordinates: N19° 06.015' W99° 45.075').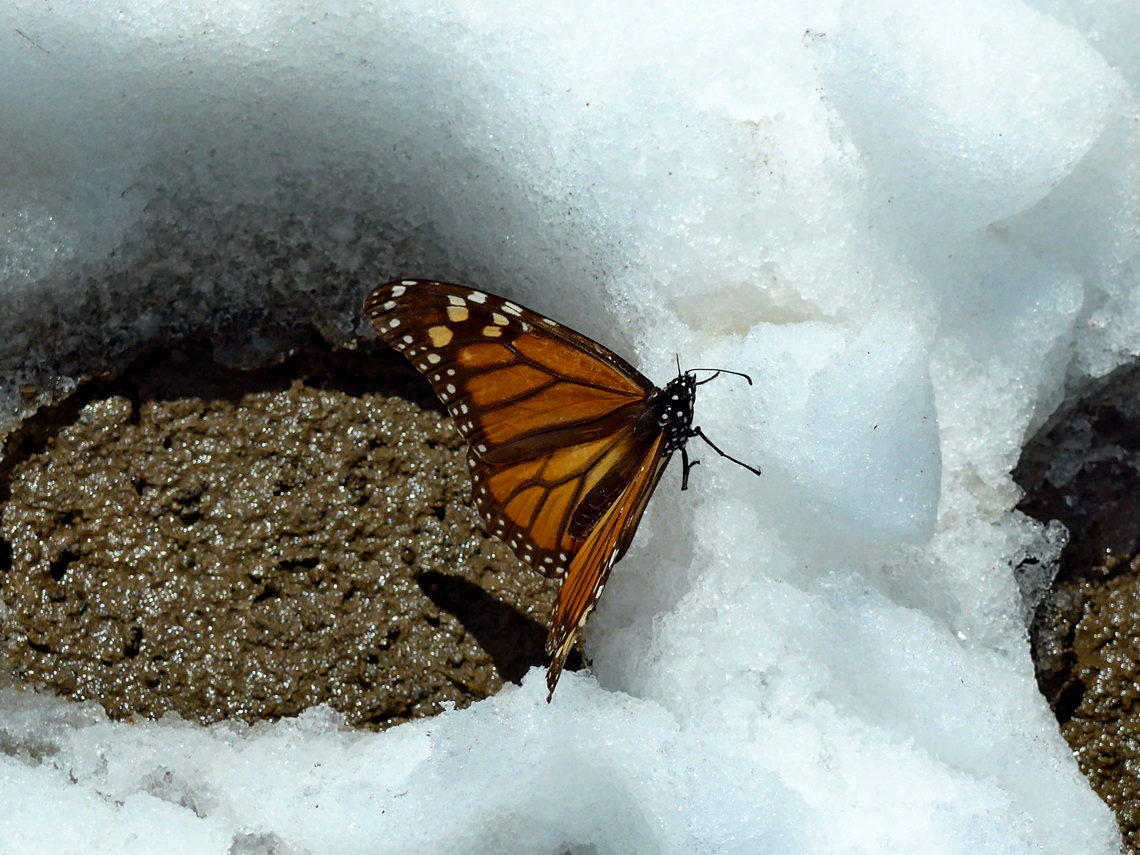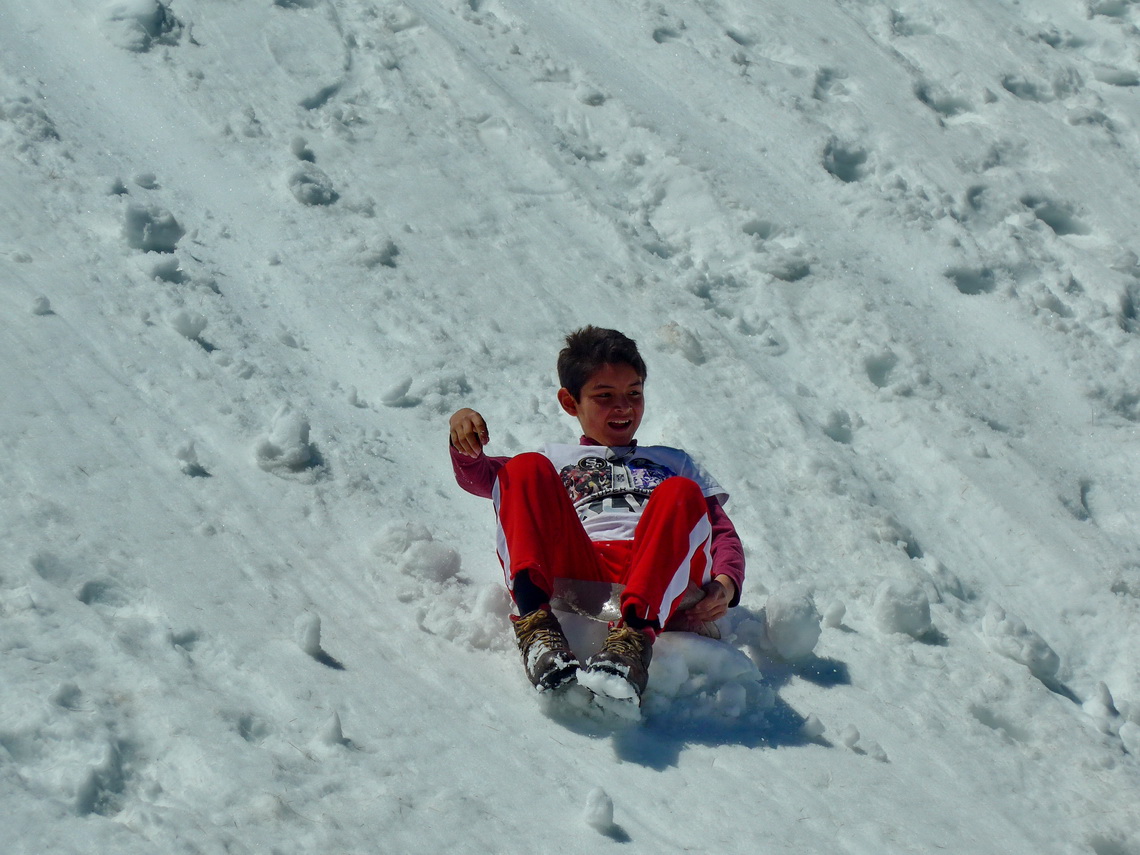 When we came back to our car there was an ugly bypass of the fallen power pole. However we dared to drive the last part of the dirt road and stayed at 4150 meters sea-level (GPS coordinates: N19° 07.146' W99° 44.896'). We were more than happy that our gas-driven heating worked properly on the next morning!

The ascent to Pico de Fraile, the highest point of Xinantecatl via its eastern ridge was challenging but outstanding beautiful. The terrain was mixed ice, snow, rocks and scree with some climbing parts of 2nd or 3rd degree. Fortunately we had crampons and ice-axes. Marion stayed at the 4492 meters high eastern summit like all other aspirants (GPS coordinates: N19° 06.082' W99° 45.679'). Alfred continued to the main summit and met nobody on his way - an extraordinary experience. Our tracks are included in the GPS coordinates file of Mexico Central.
Valle de Bravo is the yummy town close to Toluca. It is located on an artificial lake and its trendiest part is on a peninsula under the huge rock La Peña with many very expensive houses and high sophisticated fences and wall - like prisons! Indeed there is a jail on the other side of the peninsula! Walking to top of La Peña is a nice stroll and around the peninsula very informative. Few kilometers north of Valle de Bravo is the campsite Embarcadero Laumase which is more a dockyard for fancy private ships (GPS coordinates: N19° 13.470' W100° 08.633').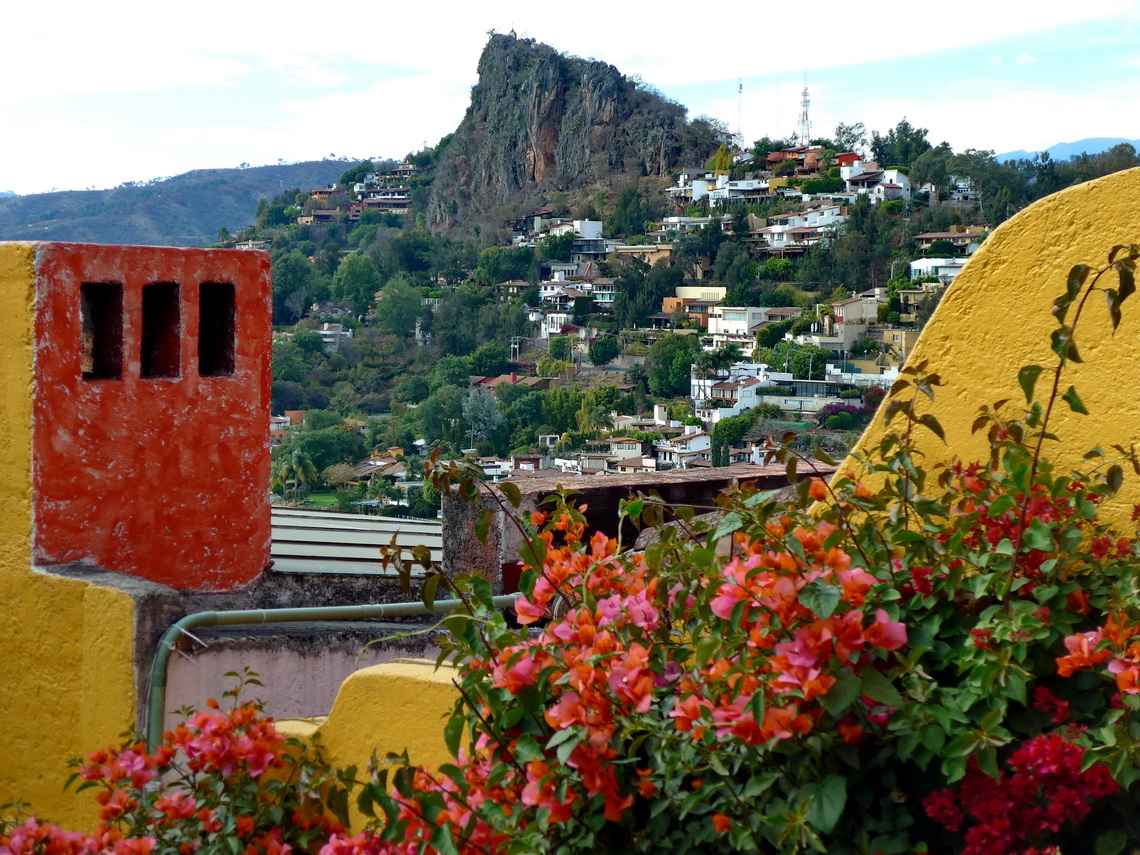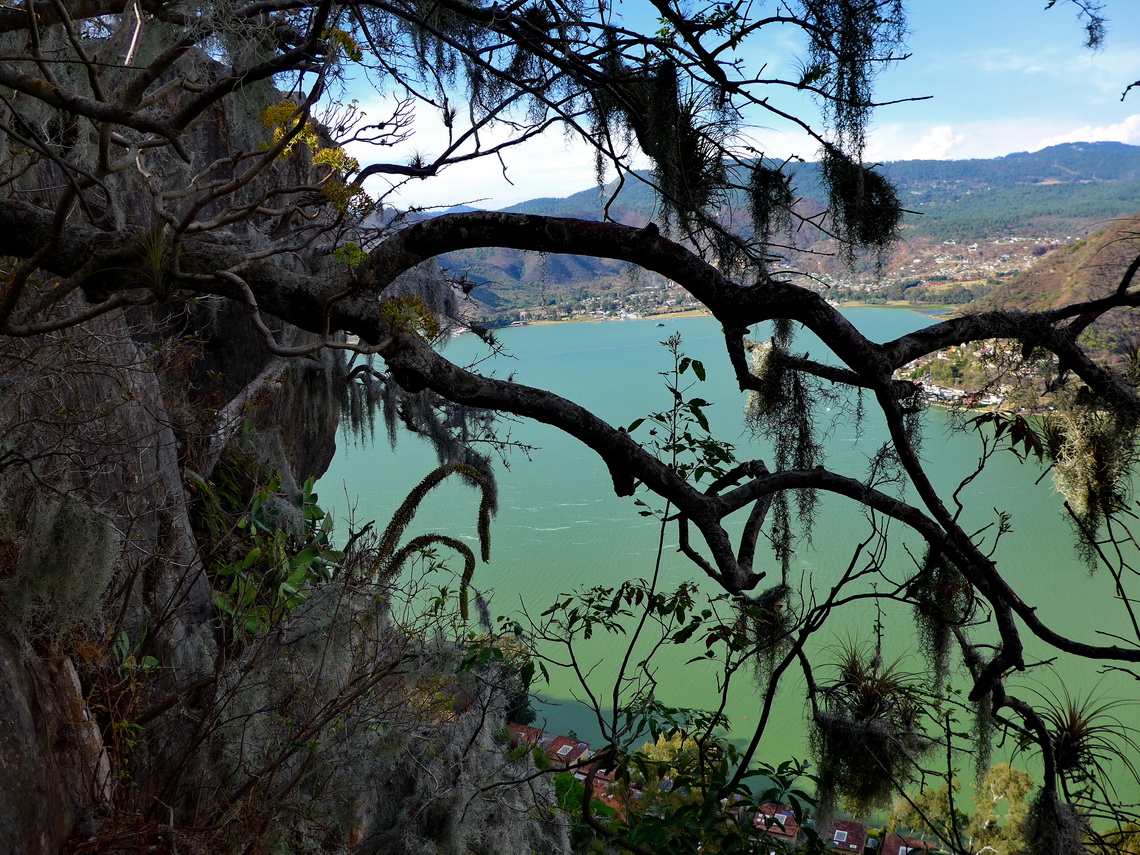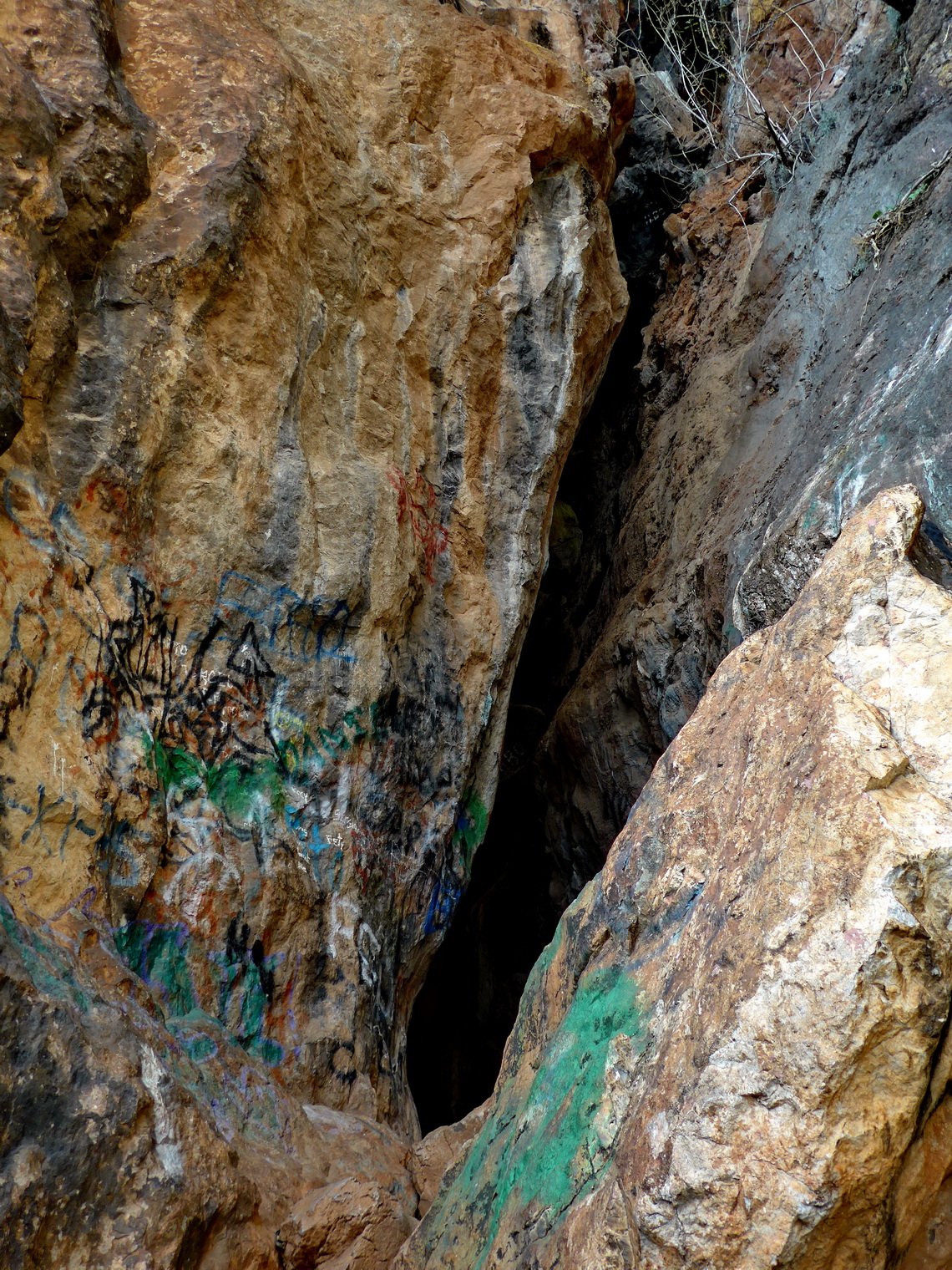 We had no luck with the Monarch Butterflies on Cerro Pelón because we saw just a few alive and many dead, probably caused by the winter gale. In addition we heart that they changed their locations due to global warning. But we climbed up 3514 meters high Cerro Pelón (GPS coordinates: N19° 23.506' W100° 15.785') which was a little bit difficult because there are many different paths. One time we were literally stuck in the dense and lush rain forest. The last part to the top requires some easy scrambling. It is a full day trip from the excellent campsite of the local headquarters of Monarch Butterfly Biosphere (GPS coordinates: N19° 21.851' W100° 17.363'). Our track is included in the GPS coordinates file of Mexico Central.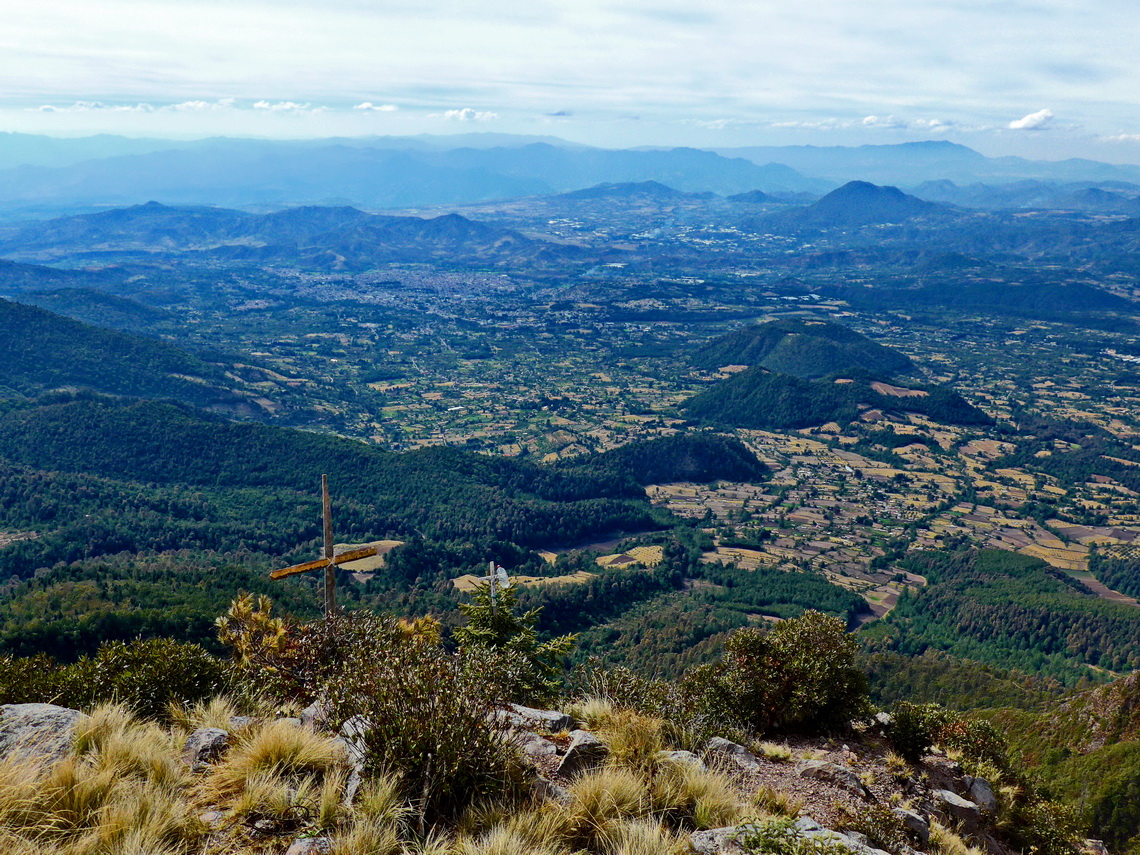 For more pictures, please click here               For a map of our itineraries, click here
To download the GPS coordinates file of Mexico Central, click here