In central western Mexico is its most active volcano located: Volcan de Colima erupts several times every day. At the moment access to its top is more than life-threatening but its bigger brother, the more than 400 meters higher summit of Zapotepetl or Nevado de Colima (4268 meters sea-level) can be climbed with some easy rock scrambling. It is less than 6 kilometers away and it provides stunning views of the volcano.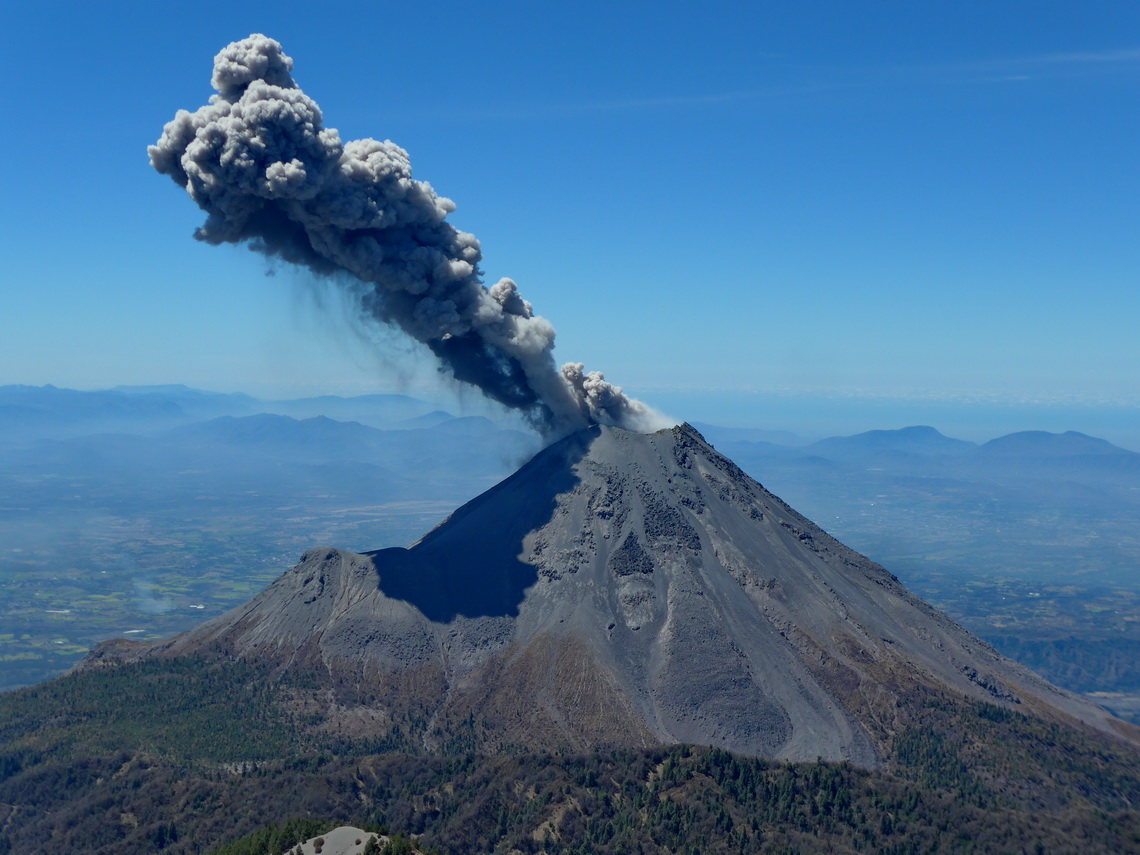 Before we came to Nevado de Colima we traversed the beautiful state Michoacán. We spent a weekend in the fabulous hot springs Balneario Erendira in its eastern part. A nice campsite is included in the hot springs (GPS coordinates: N19° 45.427' W100° 41.482'). Many younger Mexicans were with us - never ending party on Saturday night!
The little town Pátzcuaro is one of Michoacán's major touristic destination which is located on a bigger lake with the same name and some marvelous islands. In Pátzcuaro is the excellent campground of the Hotel RV park Villa Patzcuaro 1.5 kilometers north of its center (GPS coordinates: N19° 32.029' W101° 36.586'). In town we found an ideal long-term parking lot with higher roofs for our car. It is managed by the little shop opposite of the parking by Ana Cristina Pineta Perez and her brother Alejandro - Tel 4341035414. Usually the gate of the parking area is closed and the key is in the shop (GPS coordinates: N19° 31.046' W101° 36.345'). We had a good feeling to park our car there several months when we returned to Europe in April 2016.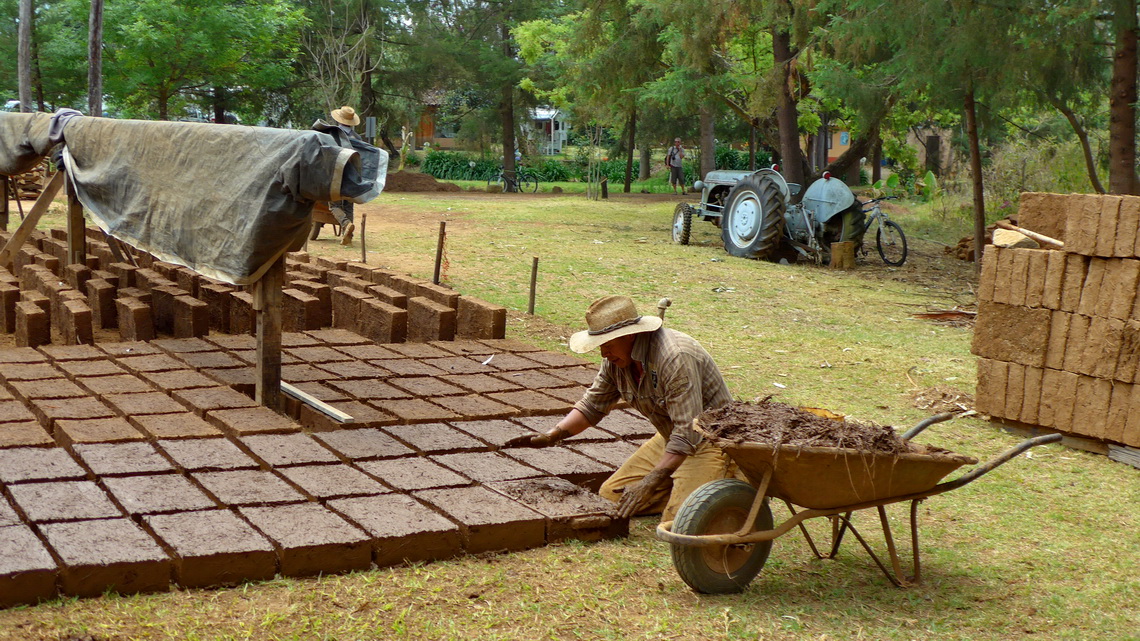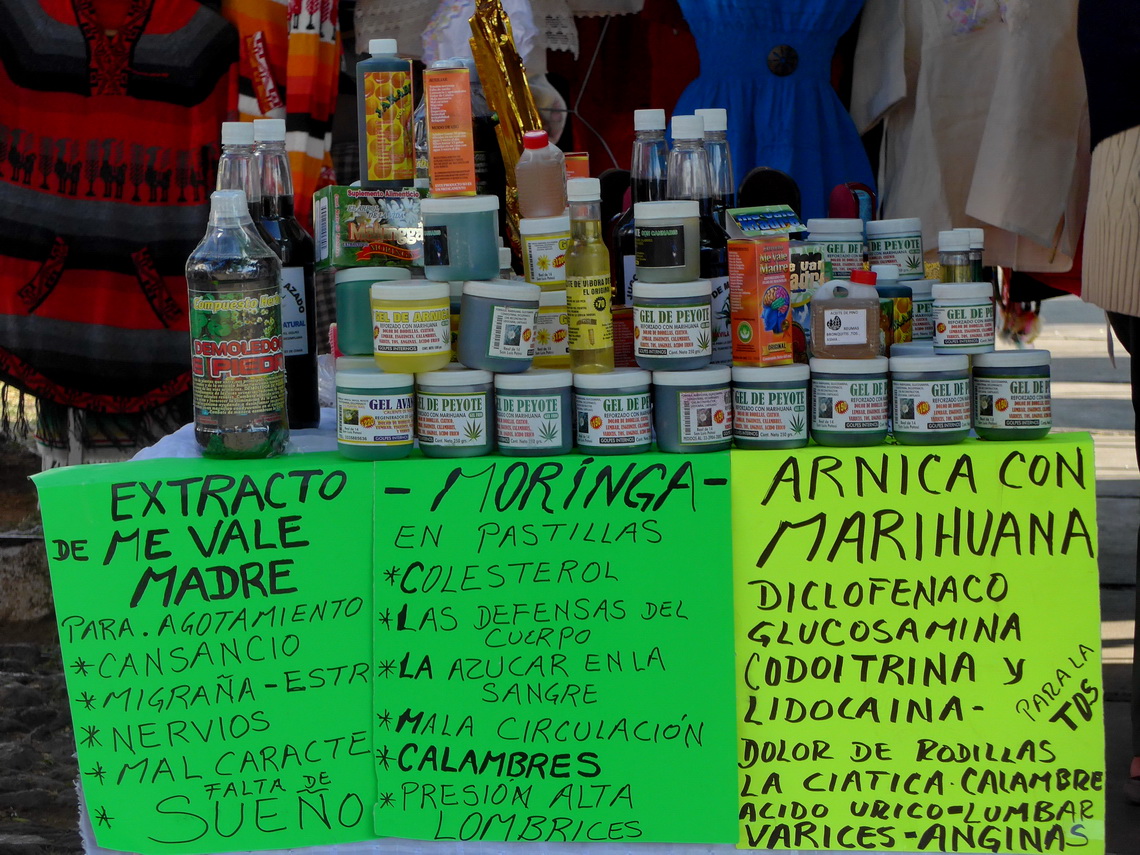 A must to see in Pátzcuaro is the little island Isla Janitzio on the lake. From the pier every few minutes a ferry cruises to the Isla Janitzio, fully packed with tourists. An ugly, 40 meters high statue of Mexico's national hero Jose Maria Morelos dominates the view to the island. In the body of the effigy is a museum included which shows paintings about Morelos fight for Mexico's independence. We circled the whole island by foot and found no tourists on its northern backside in contrary to the busy southern main side.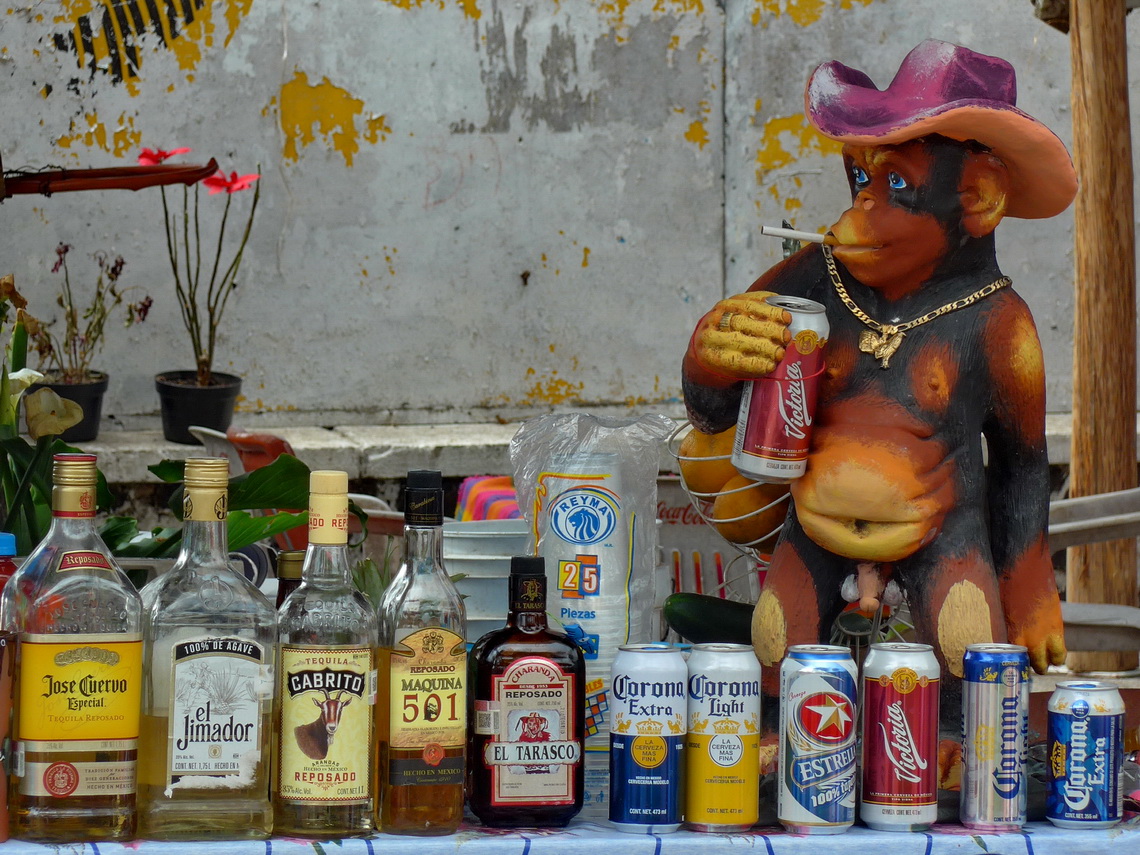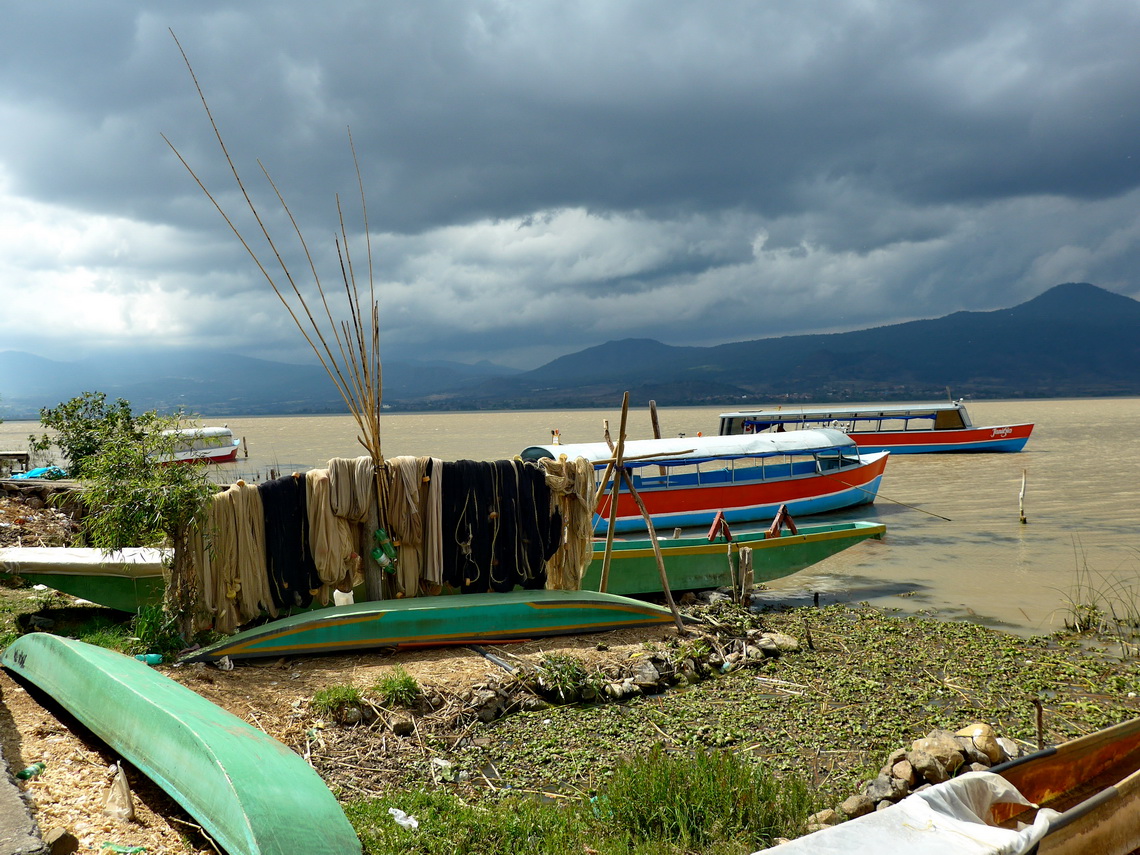 The 2nd largest city of Michoacán, Uruapan is home to to the Barranca del Cupatitzio National Park, the second most visited national park in Mexico. It contains a gorge with some impressive rapids and waterfalls surrounded by lush rain forest. A lot of families enjoyed the park on Good Friday 2016. Another crowd watched the touching performance of Jesus' crucifixion in the center of the town.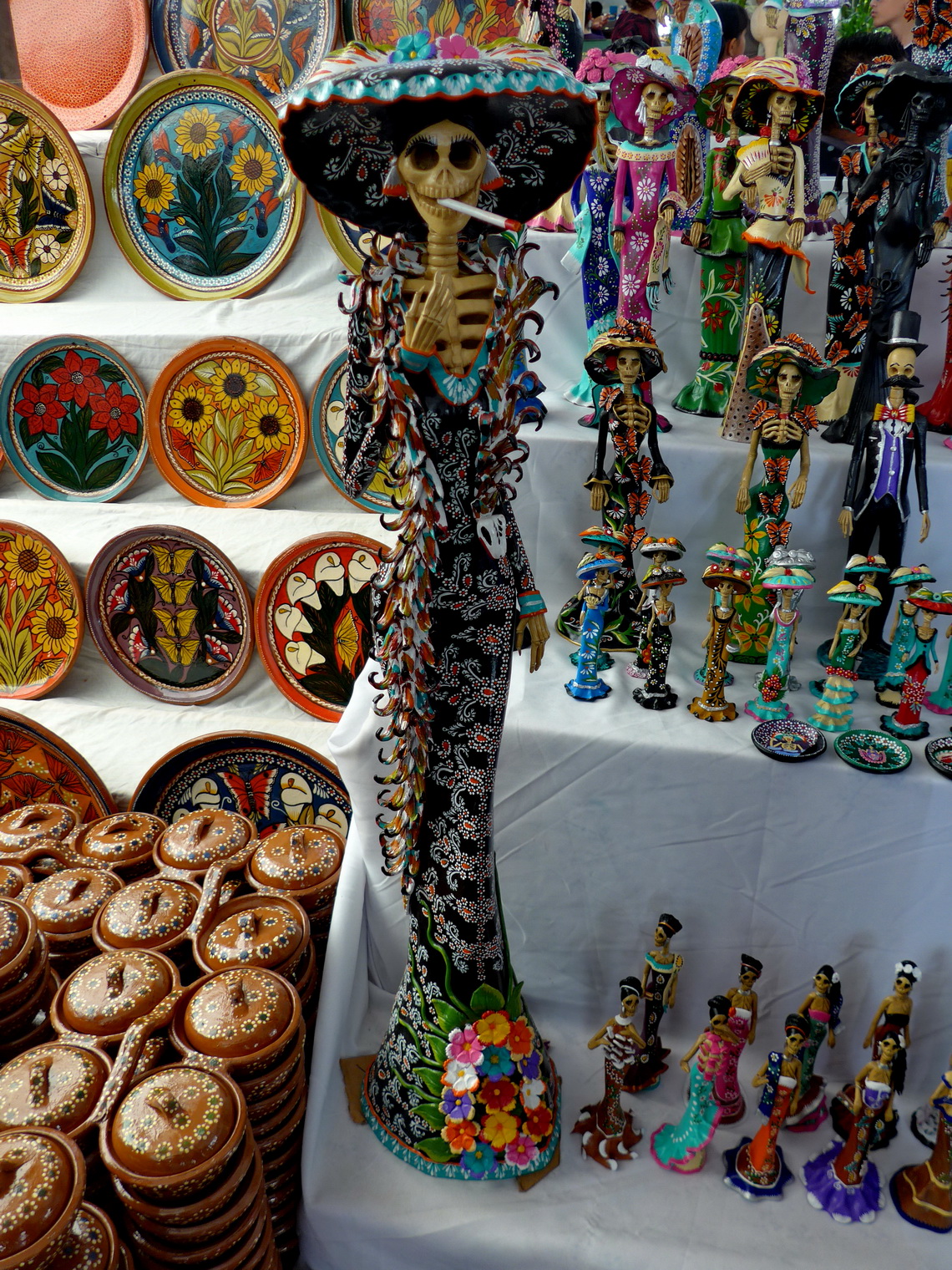 Another top highlight of Michoacán is the dormant volcano Volcan de Paricutin, which surged suddenly from the cornfield of local farmer Dionisio Pulido in 1943. It was the first occasion for modern science to document and investigate a major eruption on earth. It lasted 9 years, left a more than 400 meters high cone and buried two towns under lava and ash. Parícutin is one of the Seven Natural Wonders of the World as assigned by CNN. 
We spent two nights in the decent campsite Centro Turistico de Angahuan which provides stunning views to its environment (GPS coordinates: N19° 32.530' W102° 14.047'). The local people offer horse riding to the volcano and we decided to do our first trip on the back of horses - after five hours our backs were sore and aching! Fortunately the last part to the summit of the volcano was impossible with horses - climbing down was extraordinary fun!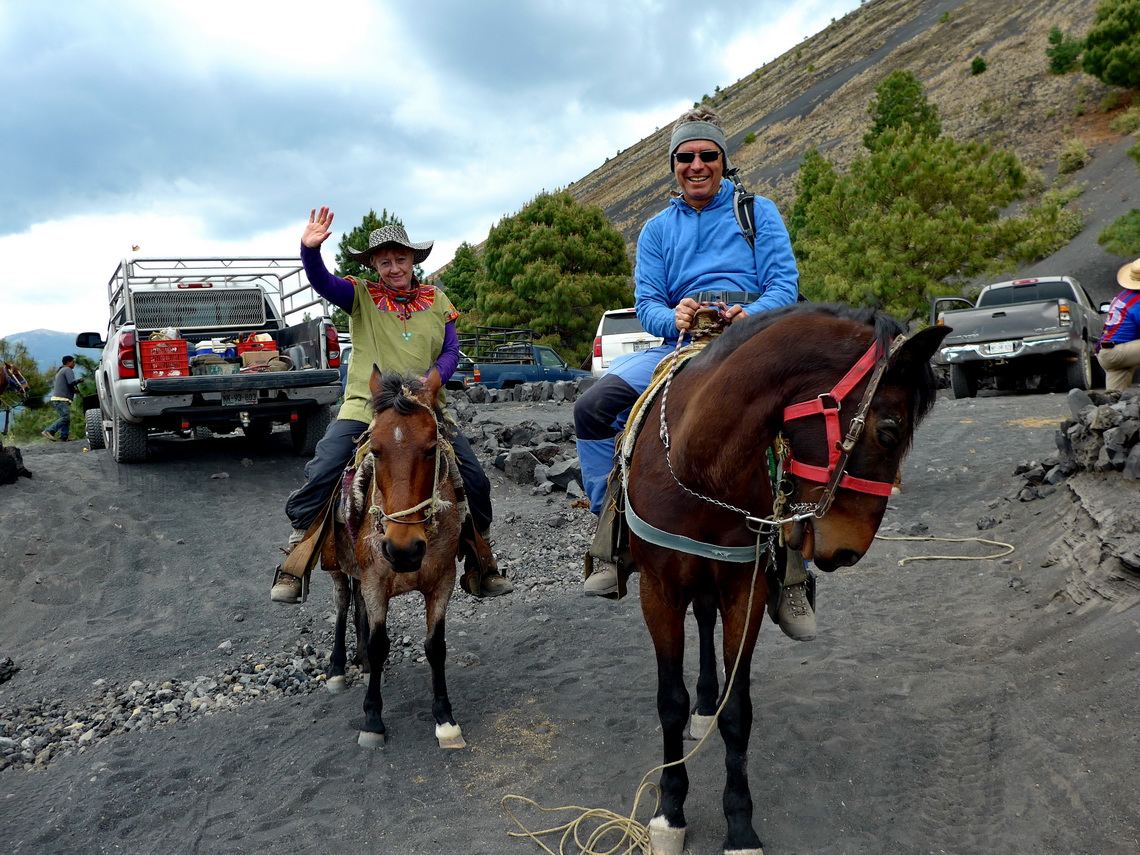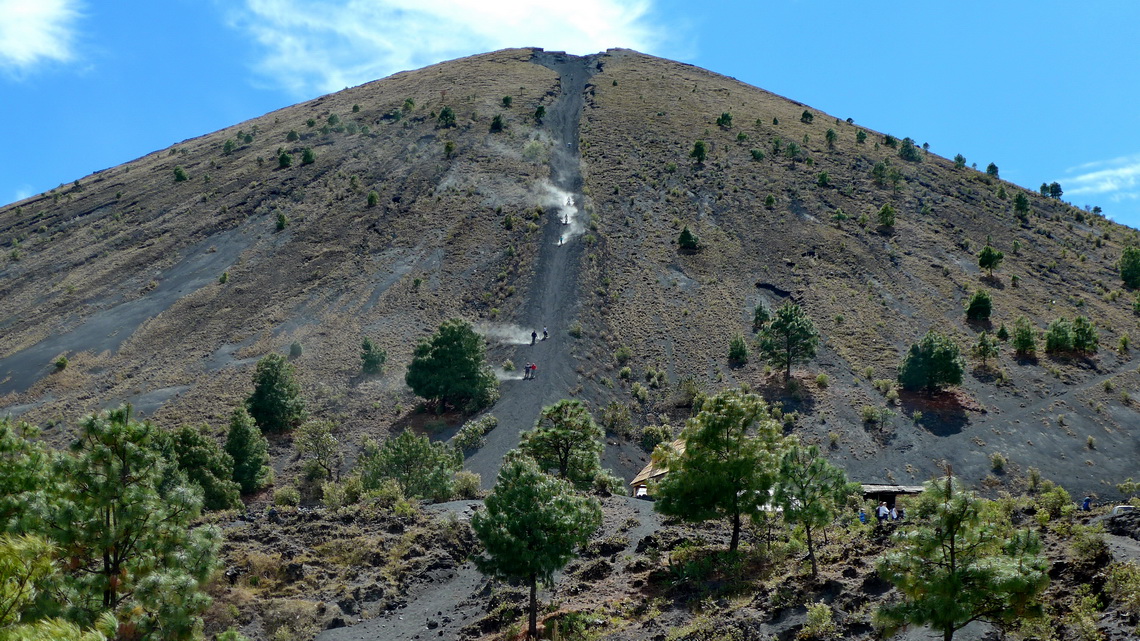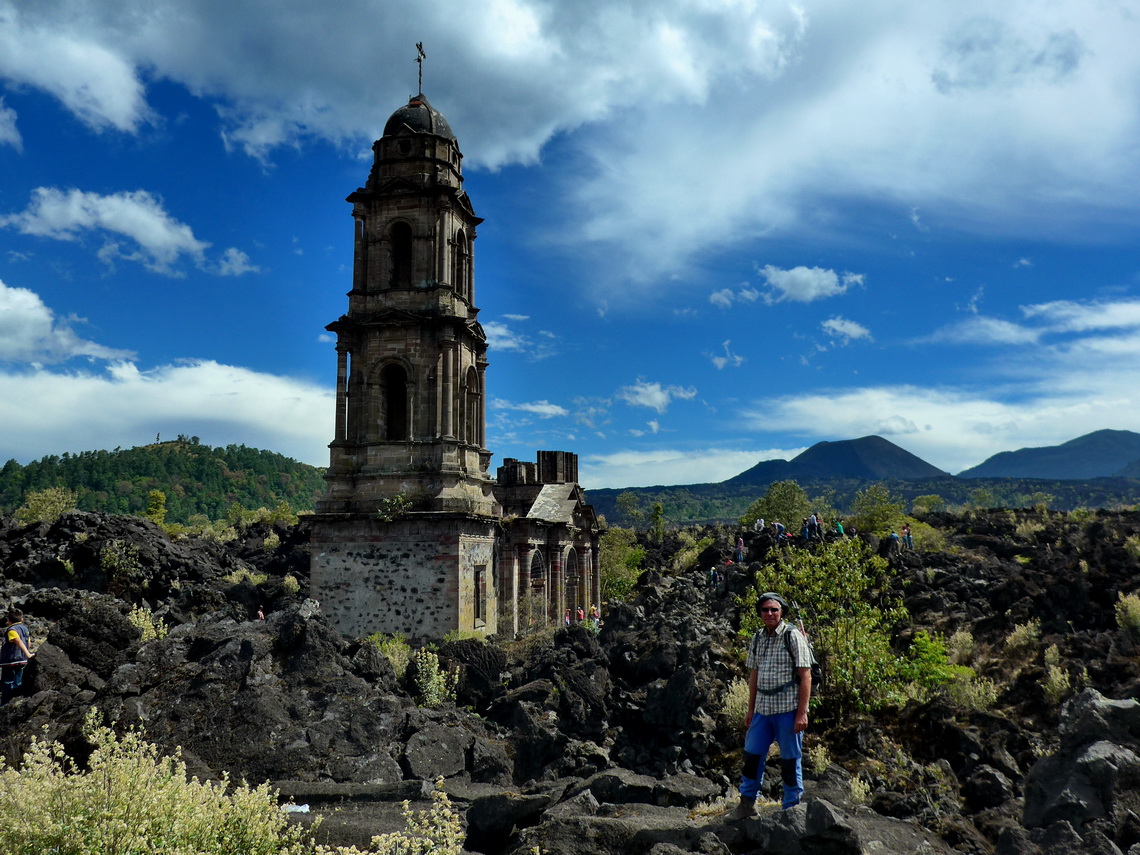 The street from Ciudad Guzman to the entrance of the Nevado de Colima national park became after the little village El Fresnito so rough that we could not manage to drive up with our car. The sand was more than knee-deep. We asked in the only grocery of El Fresnito for a driver with a 4-wheel car. They brought us to the car workshop of the village and its owner organized a tour starting at 5:00AM next morning. Opposite of the car workshop we could spent the night and park our car in the garden of Gulimero (GPS coordinates: N19° 37.132' W103° 31.452'). 
You definitely need a good 4-wheel car to achieve the national park and we had one including a nice driver. We started our hike at approximately 3500 meters sea-level (GPS coordinates: N19° 34.505' W103° 36.533') at sunrise. A dirt road leads to the research building where we saw Volcan de Colima the first time. There was a wooden bar behind a smaller cottage and we used it for a rest - better than every movie! Some excited shouts came out of our mouths! When we wanted to continue our ascent we turned our faces and looked directly in some high-sophisticated cameras - hopefully they were without microphones! Maybe some people have watched us online in the internet?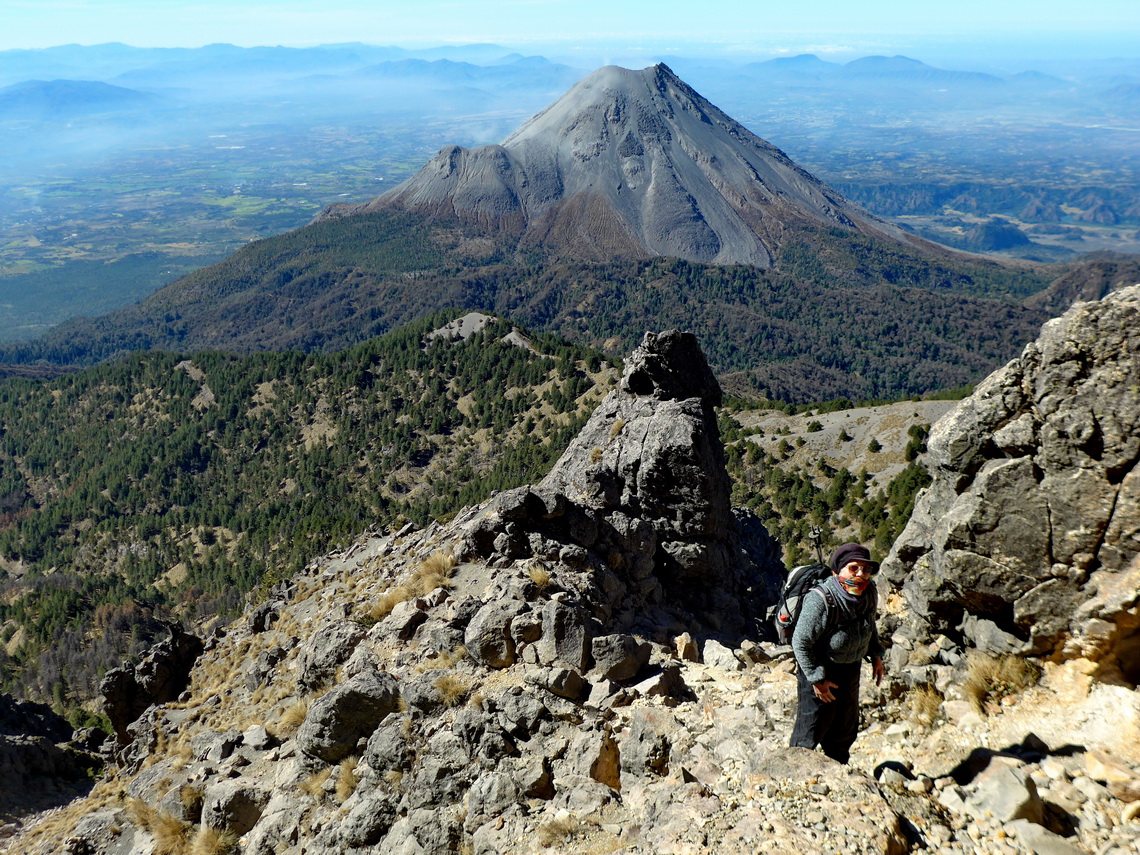 Our track is included in the GPS coordinates file of Mexico Central

Lago de Chapala is the largest lake of Mexico. On its western shore is the settlement Roca Azul with a bigger campground including a swimming pool. Many US and Canada people spent the winter there in huge motor-homes (GPS coordinates: N20° 16.001' W103° 25.299'). Lago de Chapala is famous for its extensive bird-life.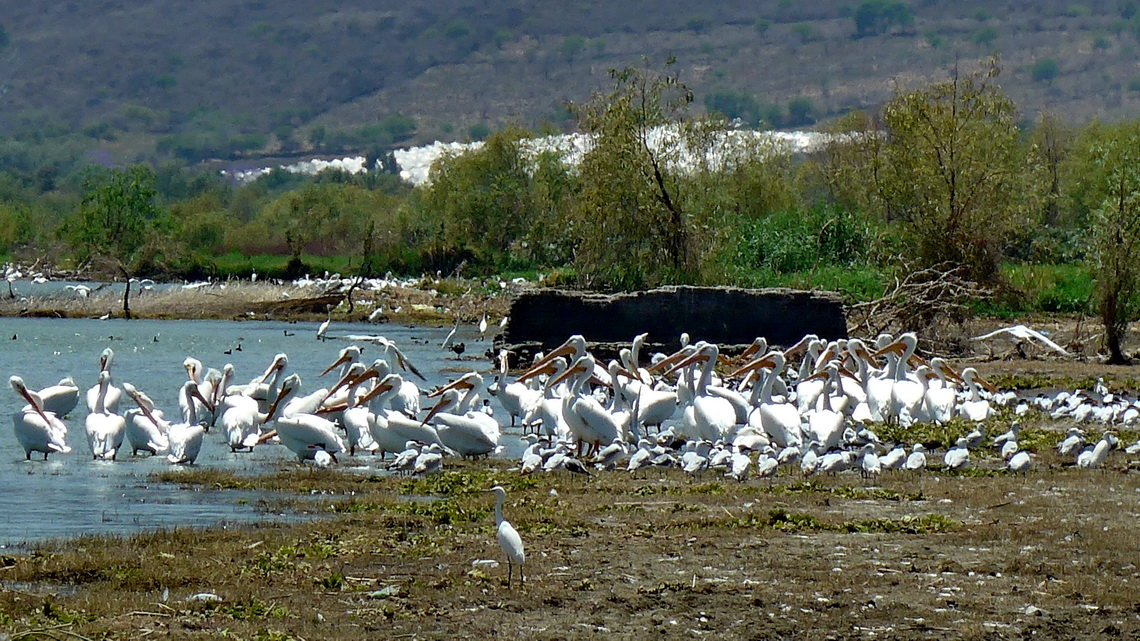 Charly from Switzerland has an excellent restaurant including bungalows and a campsite in the the rural area northeast of Lago de Chapala (GPS Coordinates: N20° 27.893' W102° 29.822'). It is a challenge to find the little village Santa Elena - turn right (east) on the street MEX71 at N20° 30.097' W102° 31.834' if you are coming from La Barca. Charly is such a nice guy and we enjoyed his pool and his beer deeply!
Before we came back to Patzcuaro we stayed one night on the marvelous lake Lago de Camécuaro. Swimming in the crystal clear water is superb, also its campsite (GPS coordinates: N19° 54.247' W102° 12.708'). 
From Pátzcuaro we took the bus to Morelia, which is the capital of Michoacán and also named after Mexico's national hero Jose Maria Morelos. Despite its size with approximately 1,000,000 inhabitants it is a pleasant city with a beautiful old town. Hotel Don Vasco is a reasonable place for the night and it is just three blocks from the center with its impressive cathedral (GPS coordinates: N19° 42.048' W101° 11.387').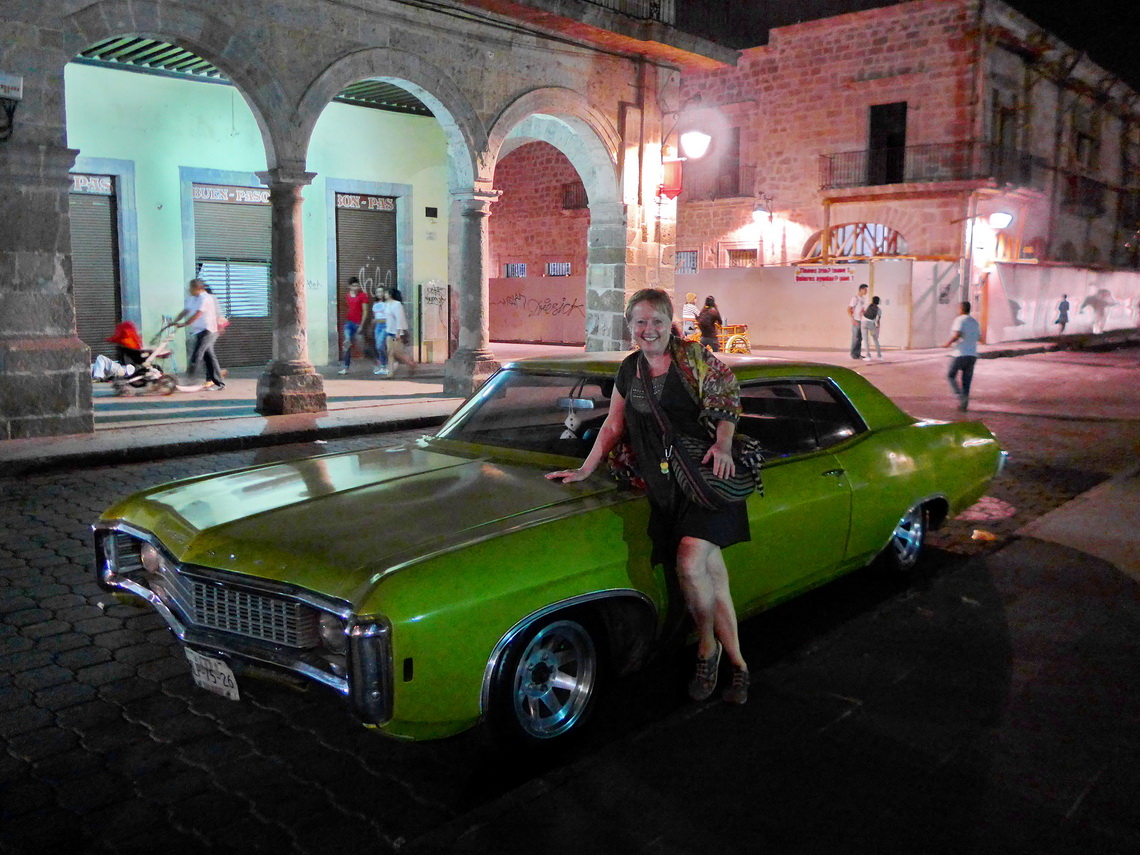 The welcome in Toluca was great, again we had so much fun with auntie Jarushka, uncle Poldi and their family. Jarushka asked us to do a brief presentation of our itineraries through Latin America on a school, which was a honor for us. More than 100 students in the age between 10 and 15 years were listening to us and watching some pictures followed by a questions and answer section. For instance a girl wanted to know how the Germans see the Mexicans globally and also in Germany.
After most of the kids had left the room four boys came to us and told us they have a very important and serious question - What do you think which one is better: Superman or Batman? We had trouble not to laugh or scream  in front of the kids.
For more pictures, please click here                 For a map of our itineraries, click here
To download the GPS coordinates file of Mexico Central, click here