The beautiful and pristine state New Mexico has a lot of different landscapes: Dry deserts and wilderness, lush valleys, and tall and snow-capped mountains.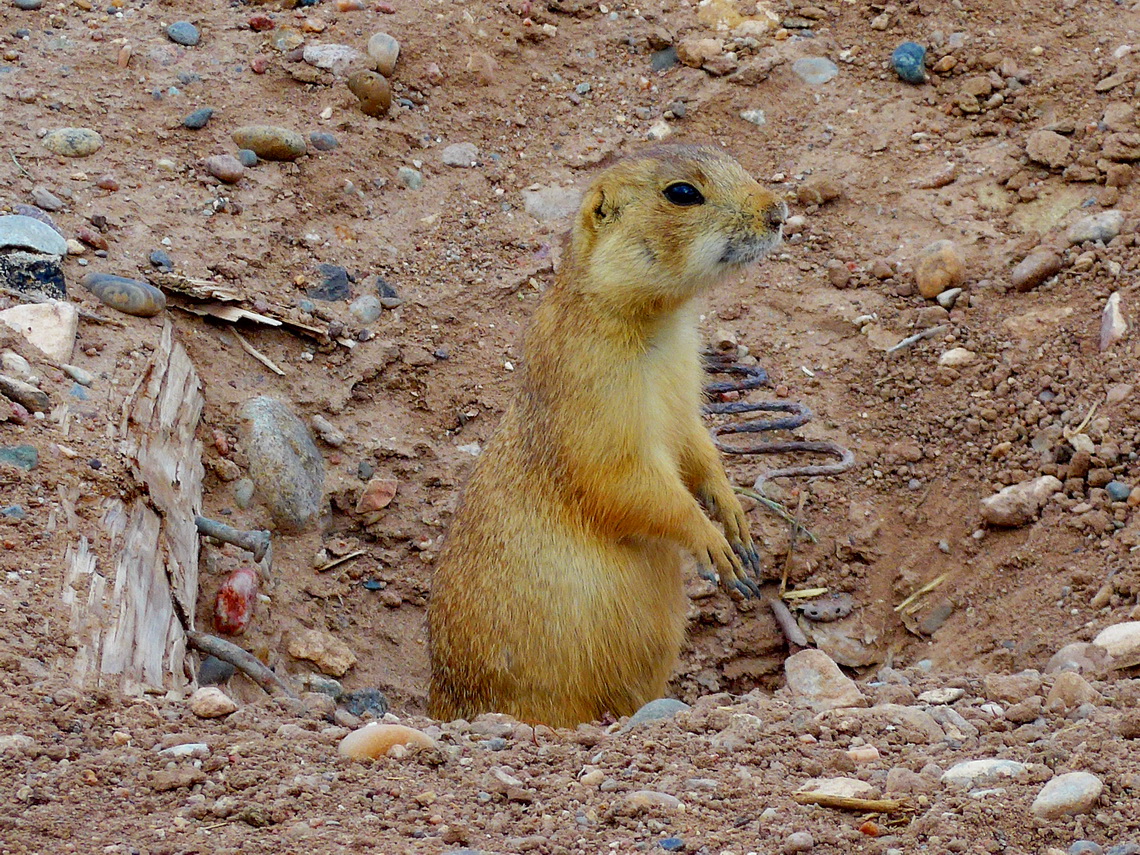 And it is full of history. The first nuclear bomb was developed and tested in its southern deserts. New Mexico's capital Santa Fe was the hub of the railway in the late 19th and early 20th century which connected the East and West of USA. Most fascinating is the Indian art and culture of the indigenous people. The World Heritage Site Chaco is in line with southern touristic magnets of the Maya and Inca monuments. The Anasazi people built a lot of villages, cliff dwellings and cave houses mainly between 800AD and 1100AD.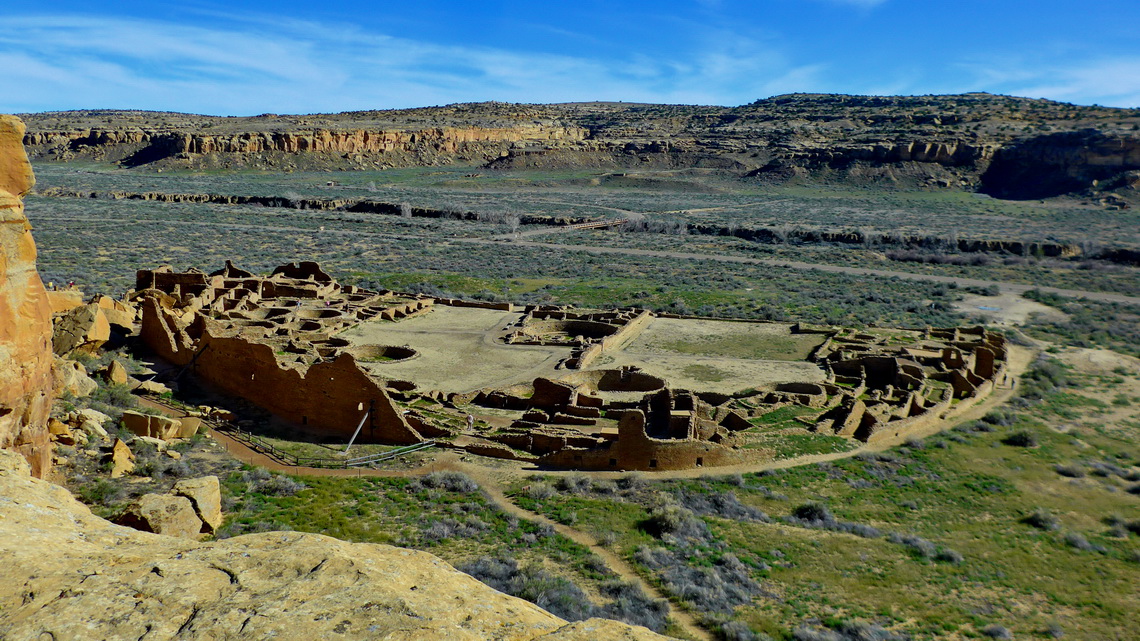 Coming from Texas our first top highlight were the Carlsbad Caverns. It is a wonderful and very deep cave, more than 30 kilometers are explored. 5 kilometers are accessible by tourists without a guide. The caverns are famous for its bats. Sitting at dawn on the entrance and watching thousands of bats leaving the cave is an unforgettable experience. Taking pictures is not permitted because the electronic might disturb the ultrasonic orientation system of the bats.
We stayed three nights with our friends Ilse and Elmar on the free campsite on public lands few kilometers northeast of the caverns (GPS coordinates: N32° 12.282' W104° 20.080'). There are many nice places on the dirt road winding up.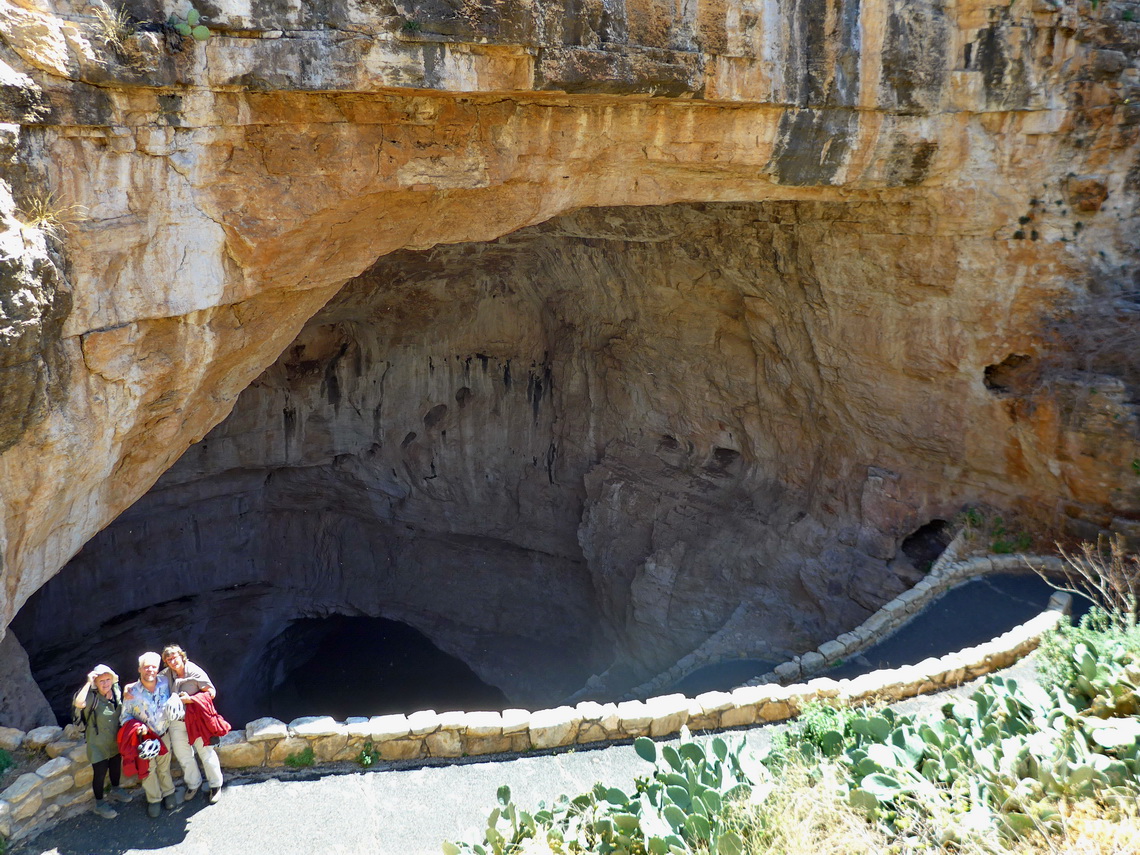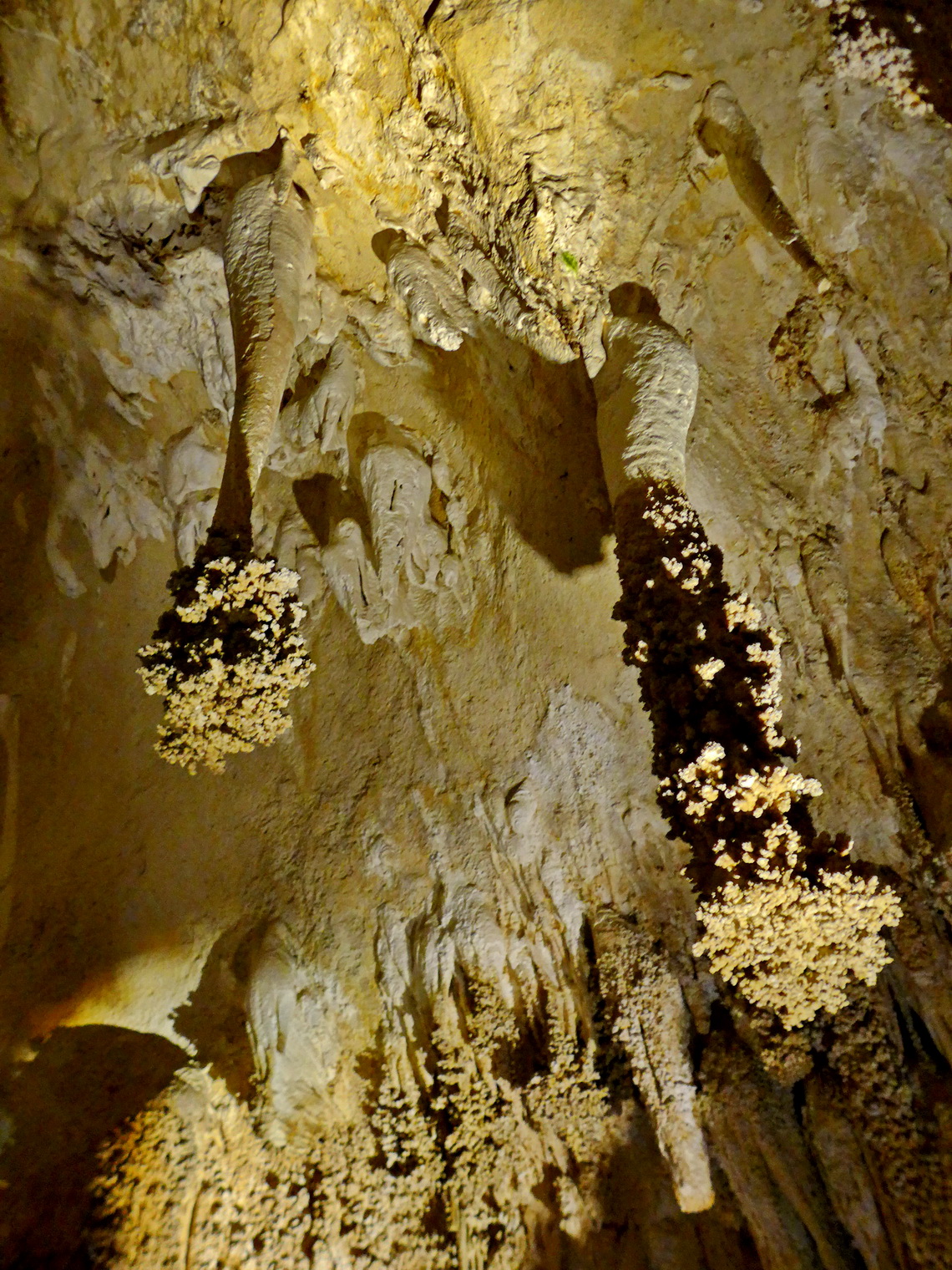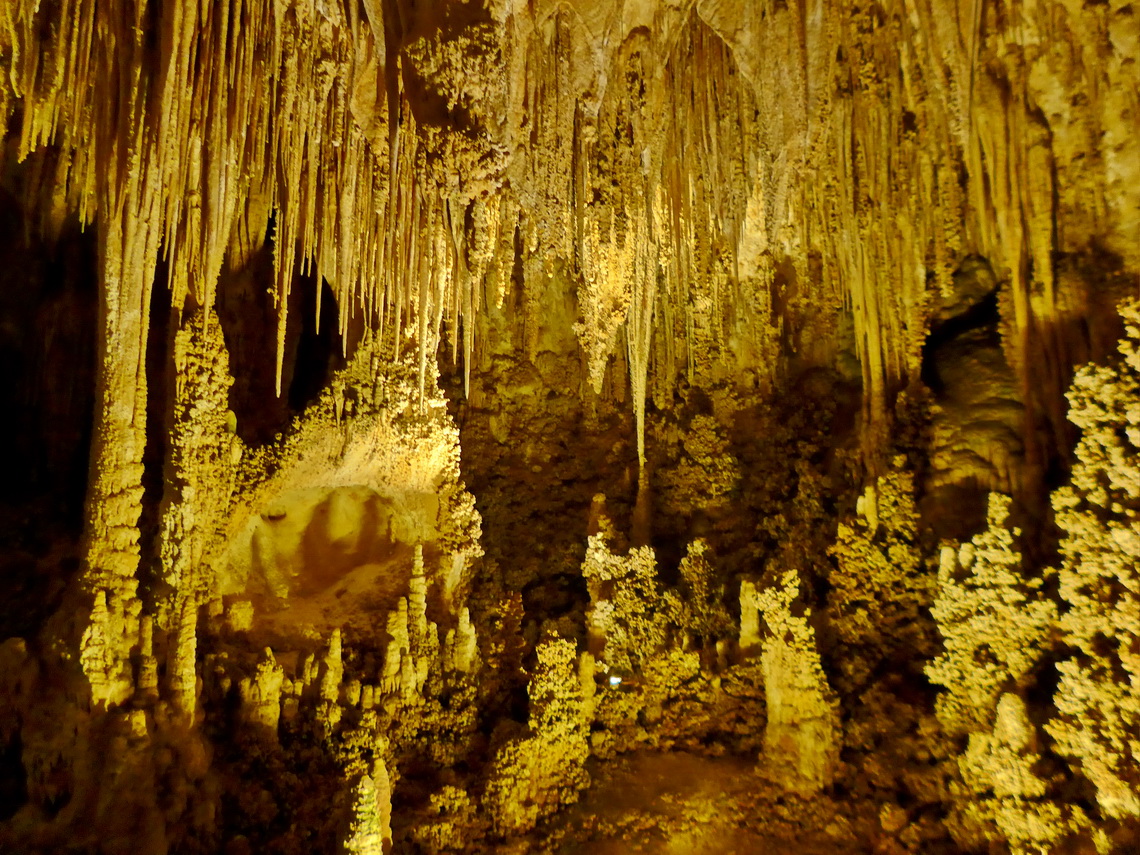 Our next destination was the Lincoln National Forest where we spent our coldest night on this trip with less than -10°C on a really beautiful and free campsite at more than 2,800 meters sea-level (GPS coordinates: N32° 52.823' W105° 46.766'). On the morning our starter battery was dead. Thanks to Andrea we could start our engine with her help. She stayed the night with her two teenagers in a breezy tent.
We continued to the smaller summits Cathey and Sacramento Peak. The first one is a little hike, the latter one is accessible by car. Sacramento peak is famous for its National Solar Observatory. There is an interesting and free museum about the research and a walking tour through the various telescopes with stunning views into the desert 1,700 meters below. The short Cathey Peak trail is included in our GPS coordinates file of New Mexico.

From Sacramento Peak a white plain is visible in the desert, the White Sands National Monument. It is a vast area of snow white gypsum dunes where we hiked the fascinating Alkali Flat Trail in the heat. It is a 8 kilometers loop in the whiteness. This trail is included in our GPS coordinates file of New Mexico.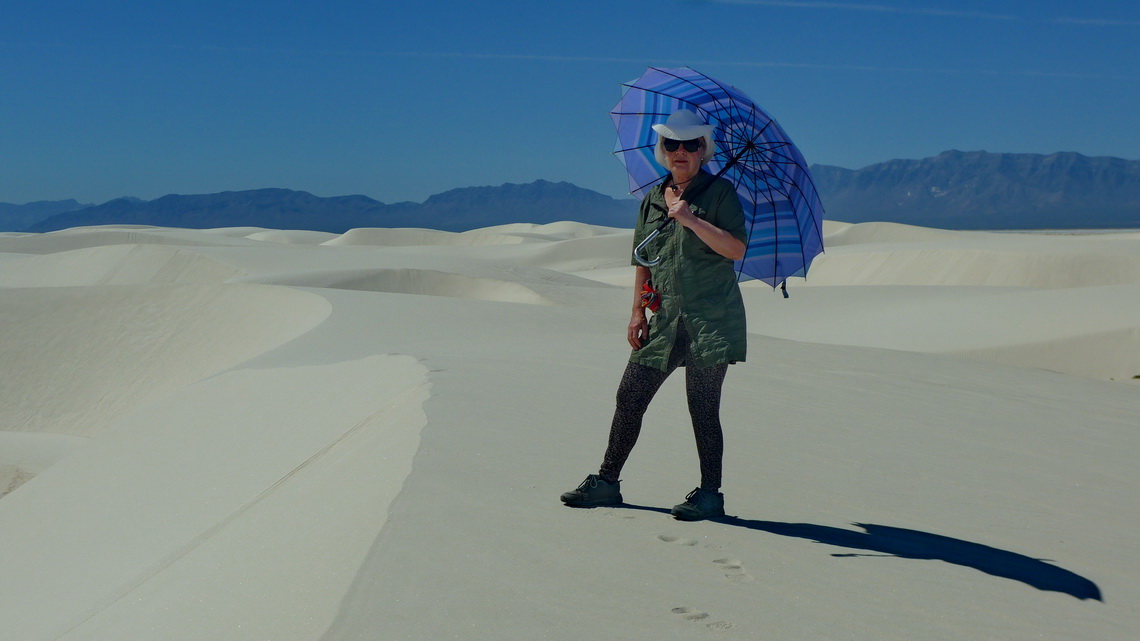 Between the entrance road of White Sands and Alamogordo we found one of the most terrific free campsites in USA on the shore of Holloman Lake (GPS coordinates: N32° 48.731' W106° 07.304'). In Alamogordo we purchased a new starter battery for our motor-home.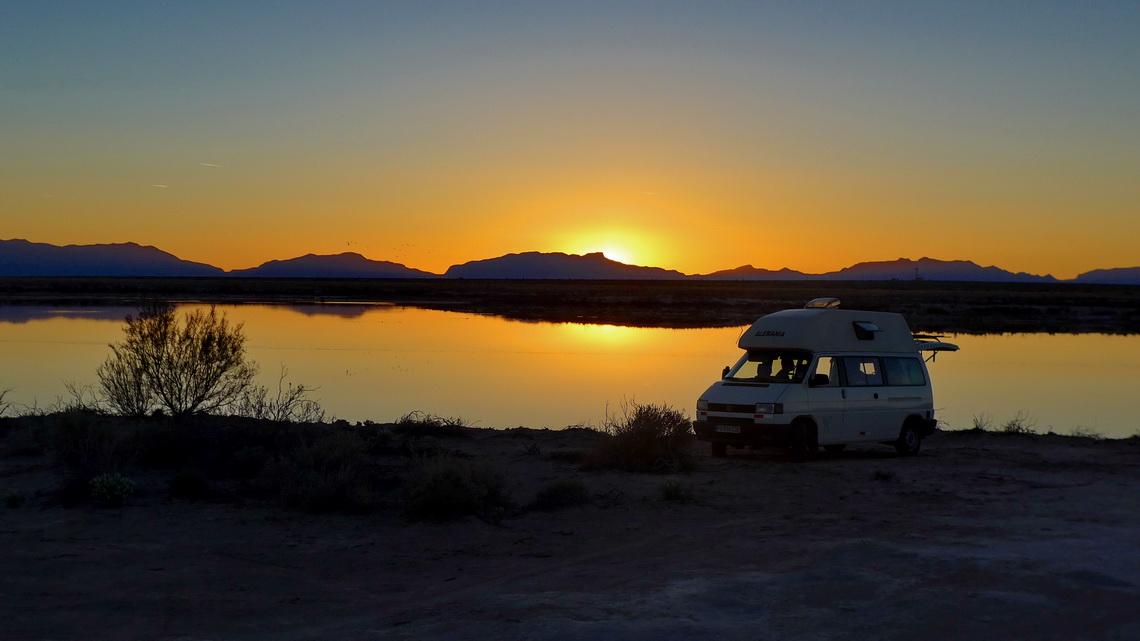 In White Sands we saw tall mountains - 3,645 meters high Sierra Blanca. There is a steep road into the Apache Skiing Center where the trail begins. We could stay the night on the trailhead at approximately 3,000 meters sea-level (GPS coordinates: N33° 23.974' W105° 47.367'). It leads through dead trees to 3518 meters high Lookout Mountain. In this season was a lot of snow on the trail. On top of Lookout Mountain is a sad sign.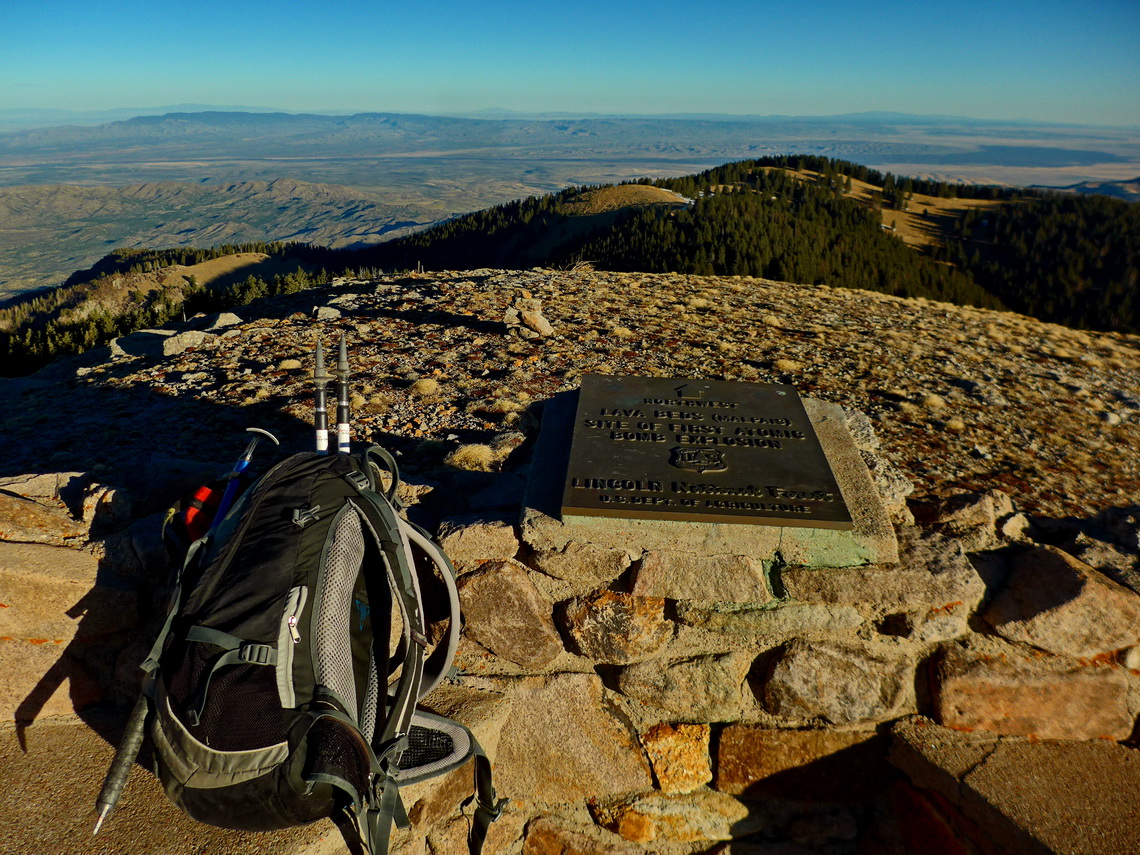 The trail descends to the saddle between Sierra Blanca and Lookout Mountain. Now the fun part started because there were some easy to climb rocks on the sharp ridge. Fortunately it was free of snow. Like on Lookout Mountain the views on the summit were overwhelming.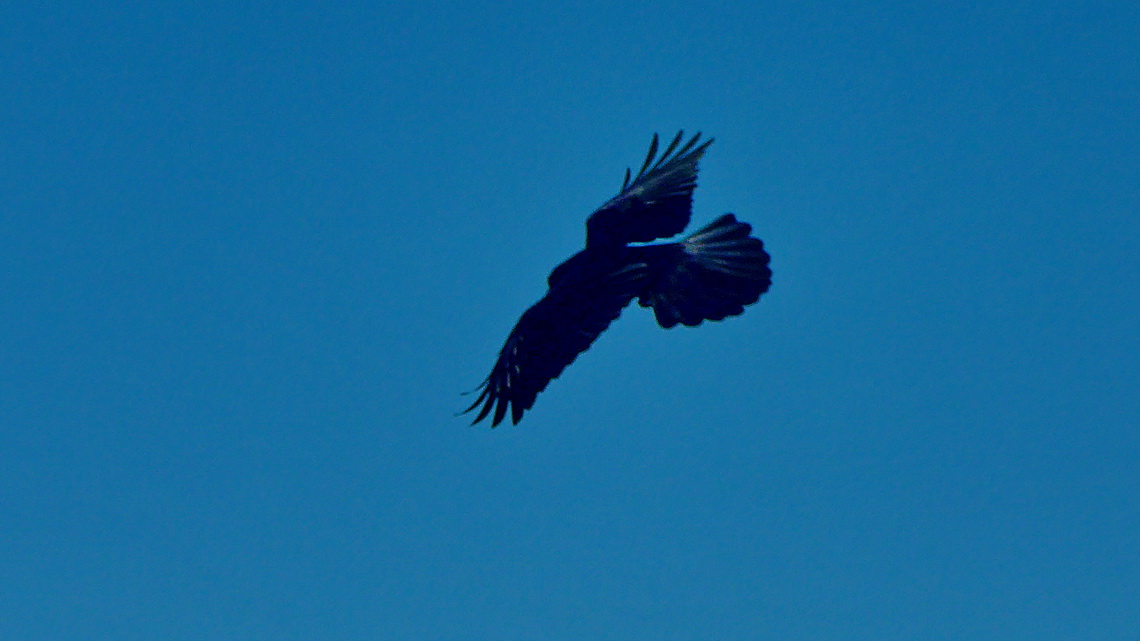 Thanks to the snow on the skiing slopes the return was fast and knee friendly. This trail is included in our GPS coordinates file of New Mexico. 
New Mexico's only real large city is bustling Albuquerque. There are many tourist shops in its old town which has Spanish roots. Here we met Rio Grande again which marks further south the border line to Mexico. Also we drove some miles on the historic Route 66 which connects the Pacific and the Atlantic Ocean sides of USA.

Around Albuquerque we slept on the parking lots of two casinos: In the south Casino Isleta (GPS coordinates: N34° 56.101' W106° 39.749') and in the north Sandia Casino (GPS coordinates:N35° 12.230' W106° 33.866'). Both sides were pleasant and it was fascinating seeing people gambling in colossal halls. We were astonished that many elderly women used the slot machines. Coffee and drinks were free also for non-gamblers like us.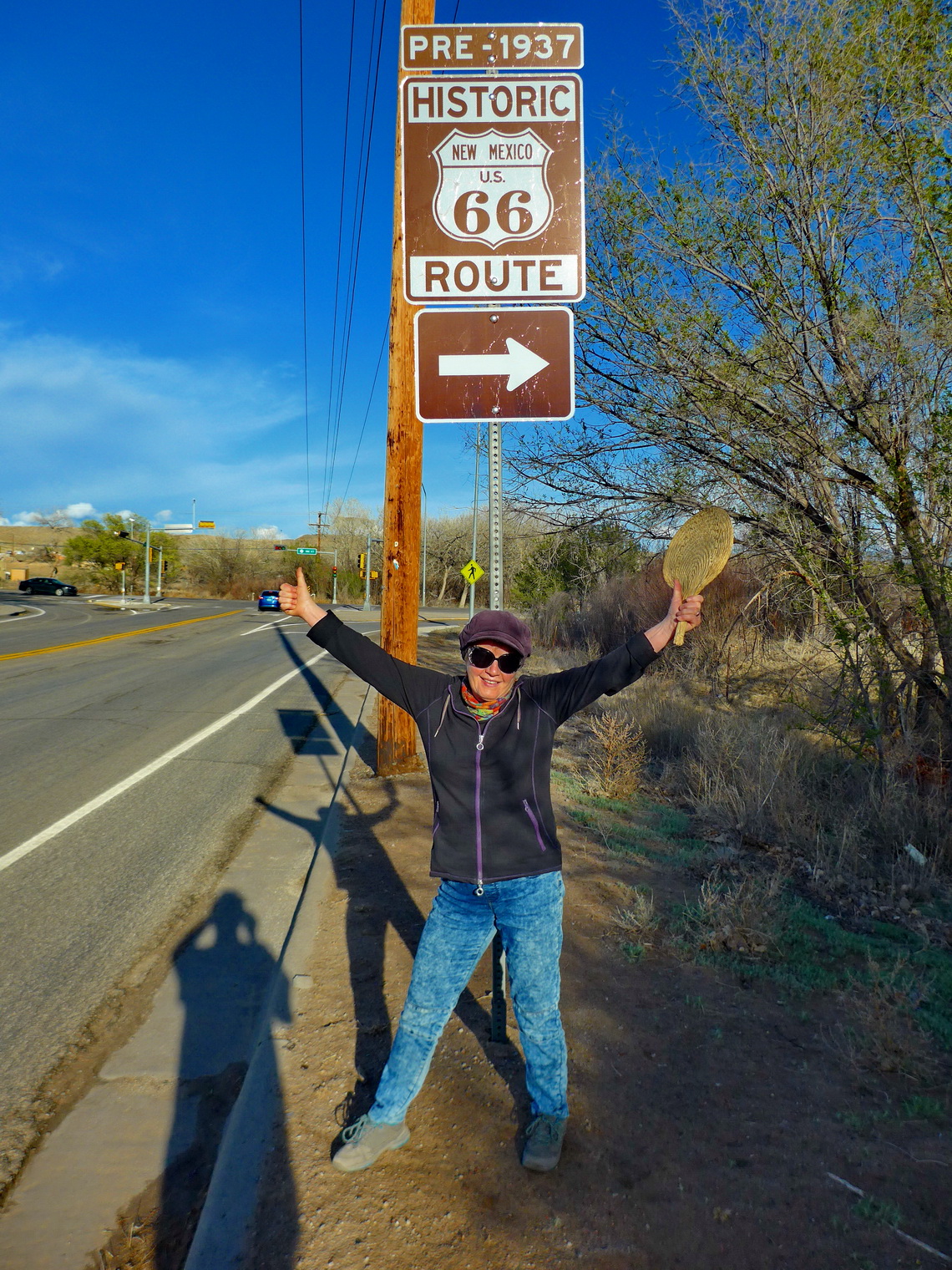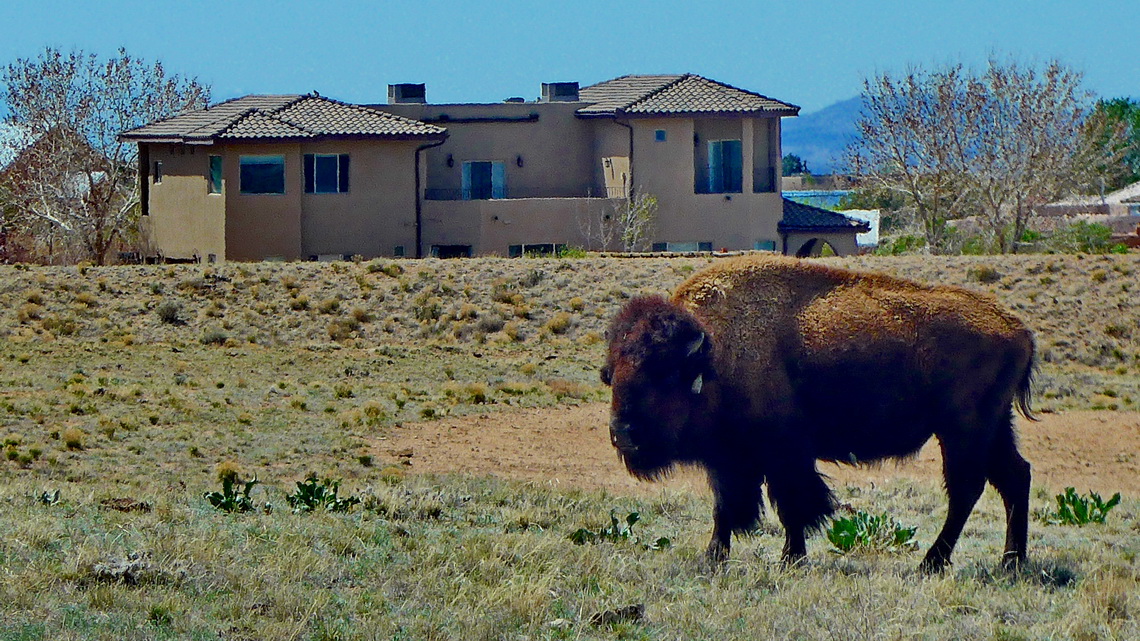 On the eastern side of the Rio Grande valleye is the tall mountain range Sandia Mountains which overtowers Albuquerque more than 1,500 meters. It is possible to drive by car to its highest point Sandia Crest (3255 meters sea-level) what we did. Suddenly we were back in the winter and we hiked to the 3184 meters high North Sandia Peak in powder snow. This trail is included in our GPS coordinates file of New Mexico.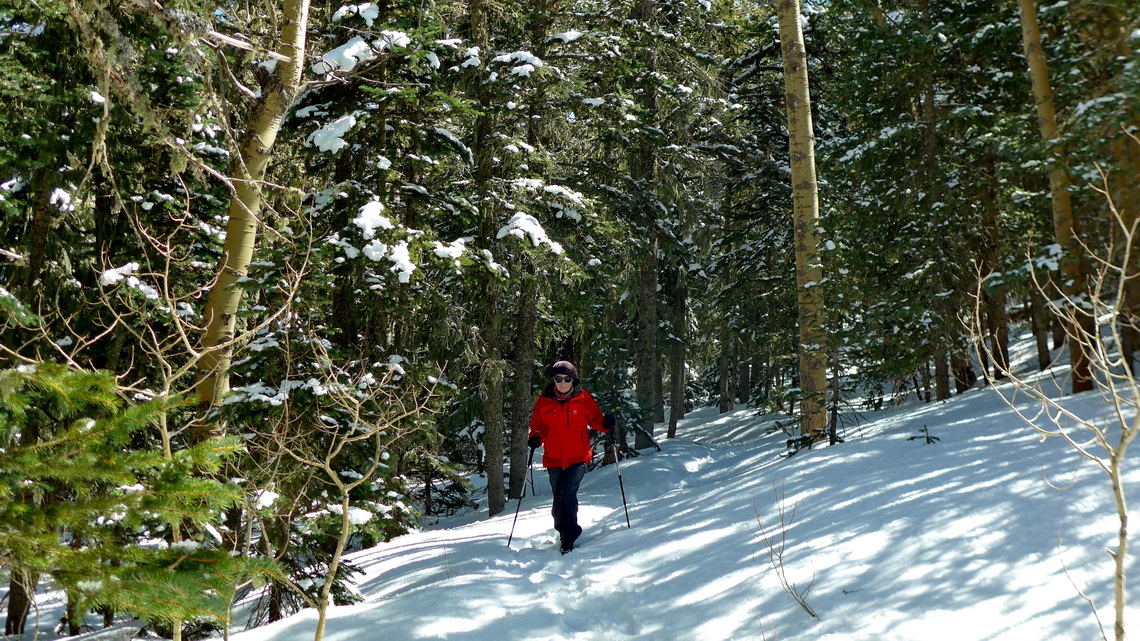 The Museum Tinkertown on the eastern foot of the Sandia Mountains is weird and bizarre. Ross Ward did a stunning job to create hundreds of hand-carved miniature figures shown in scenes of the settlement of America in the last centuries.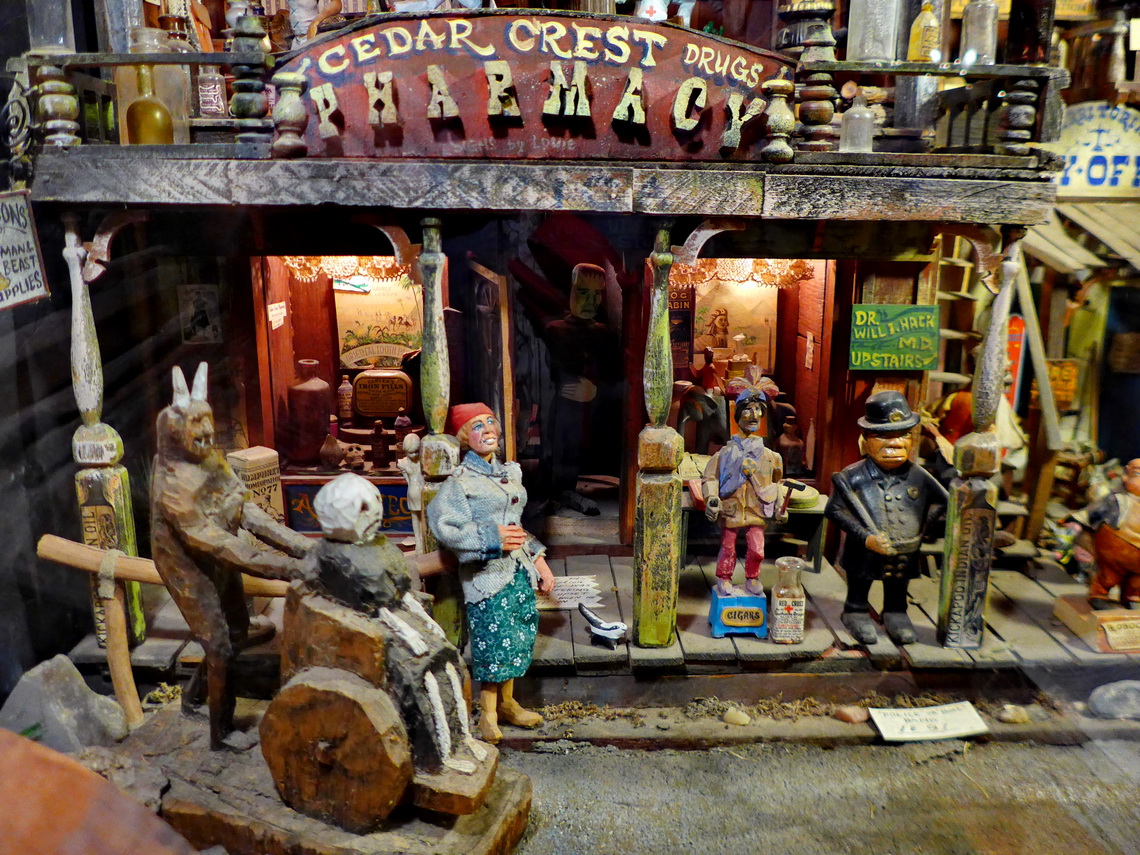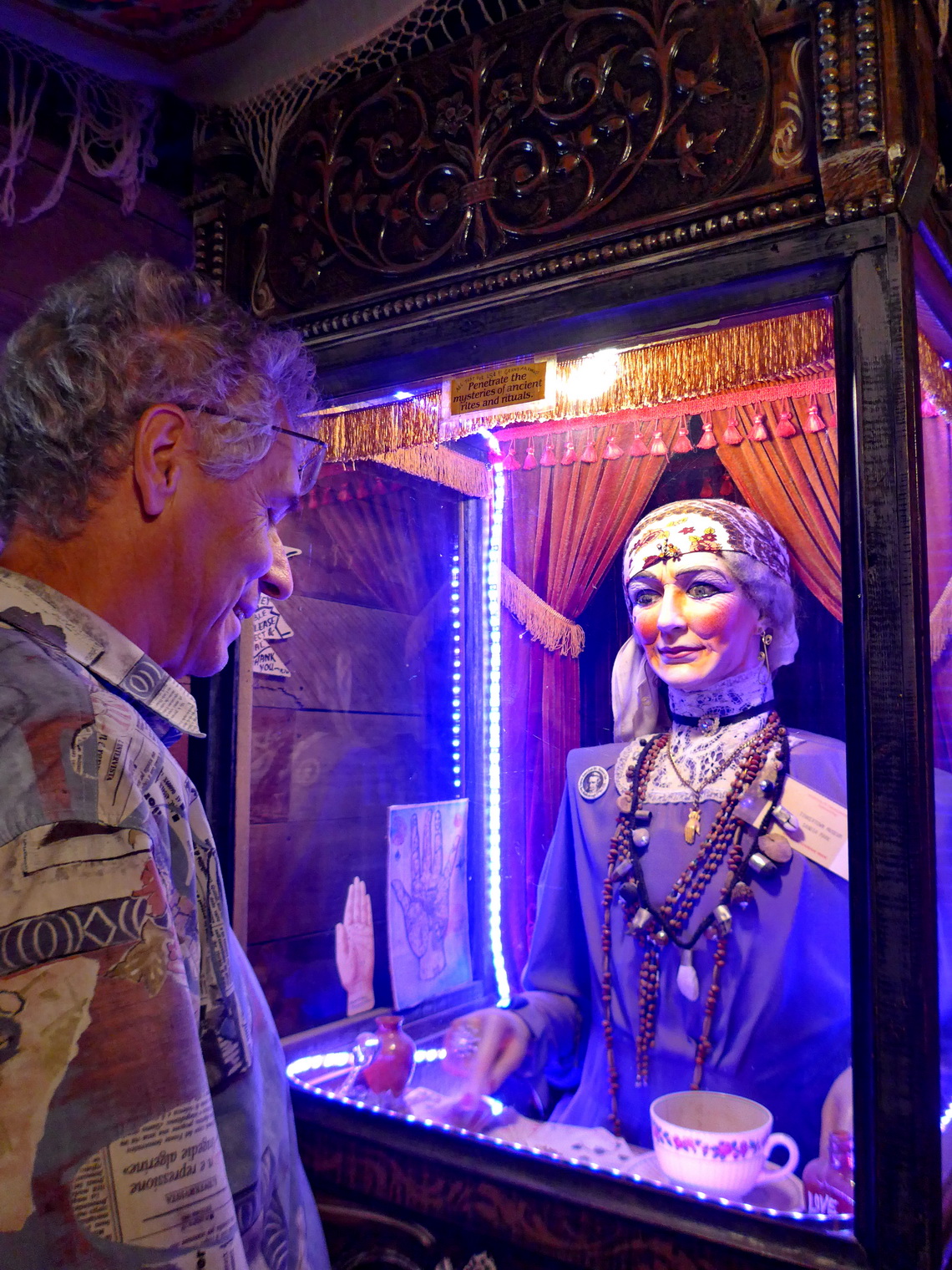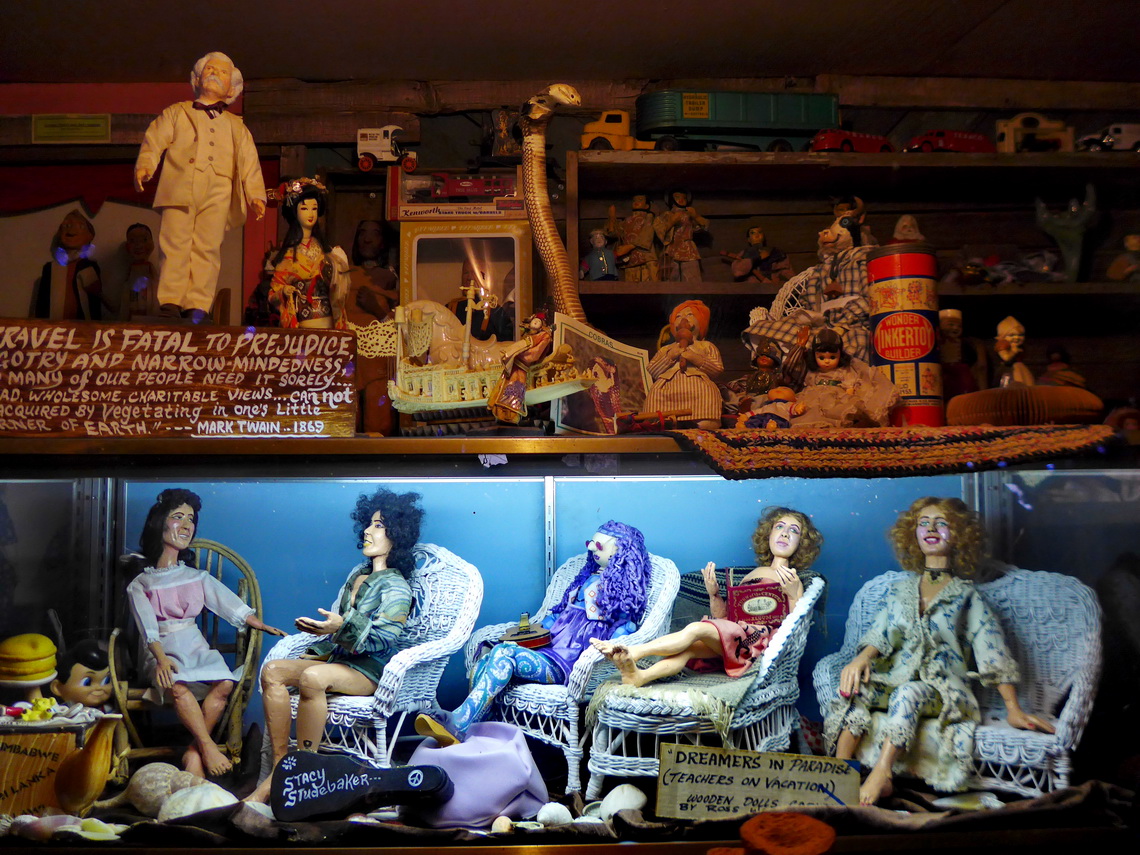 The road winding northwards to Santa Fe is called the historic Turquoise Trail, a National Scenic Byway. There are some old mining towns which now alive with art, crafts and tourism.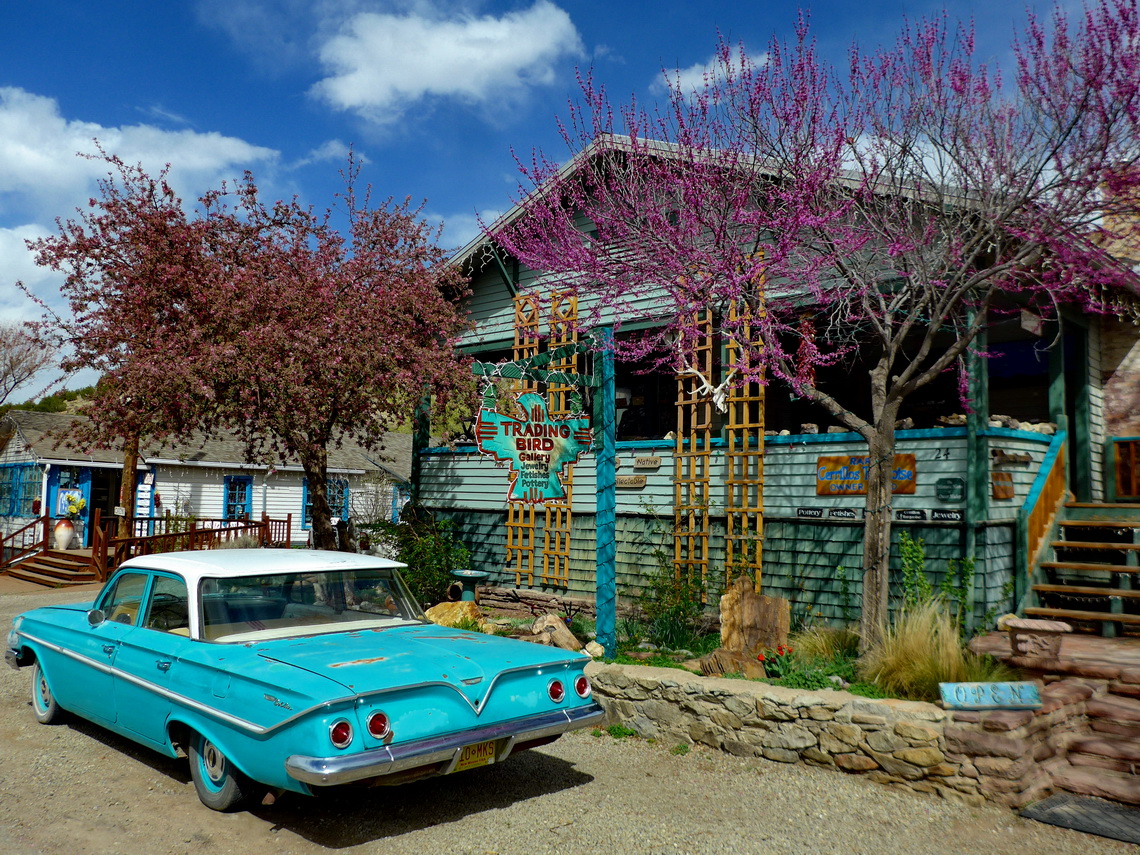 Santa Fe has a much bigger old Spanish town than Albuquerque and thus much more shops where tourists can leave their money for fancy stuff like minerals from the Turquoise Trail. When we visited it on Saturday evening it started snowing heavily (April 1st 2017!). The supermarket Walmart in the southern suburban is a good choice to stay the night without any additional costs (GPS coordinates: N35° 37.137' W106° 02.021').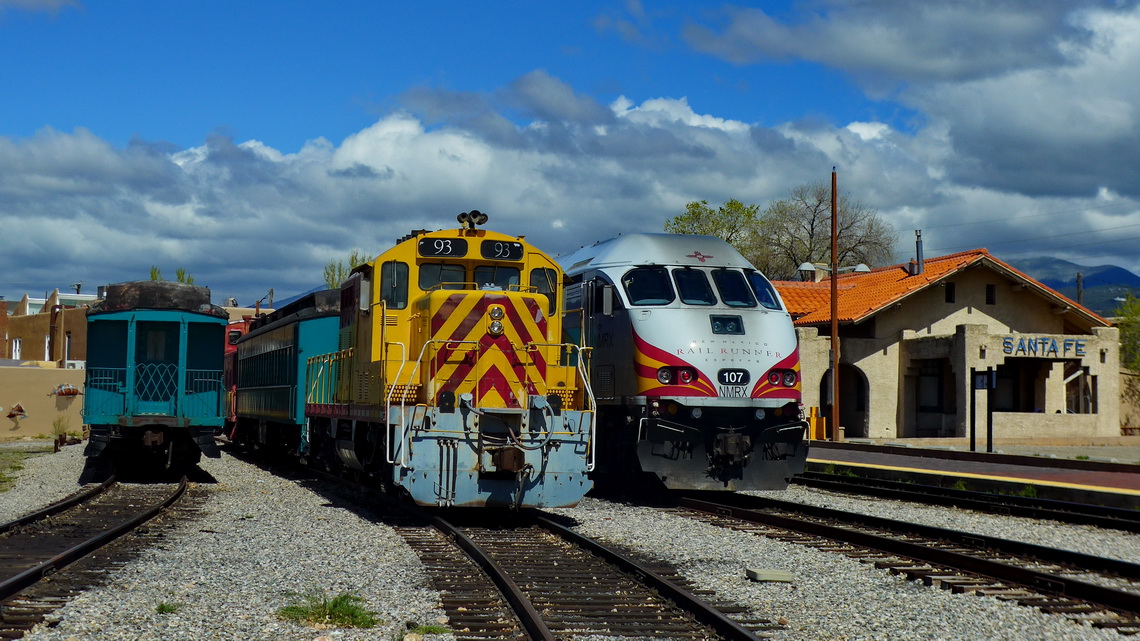 It was cold and windy when we explored the Bandelier National Monument with its fascinating cave dwellings of the Ancestral Pueblo People of northern America. Some are accessibly only by climbing steep ladders. There we met Catherine and Eric from France again who crossed with us the Panama Channel in February 2015. They gave us valuable hints about the Bisti and De Na Zin wilderness area (see below) - Thank you so much Catherine and Eric.  

It has a beautiful but costly campground where we could gain some electricity in its bathroom (GPS coordinates: N35° 47.714' W106° 16.733').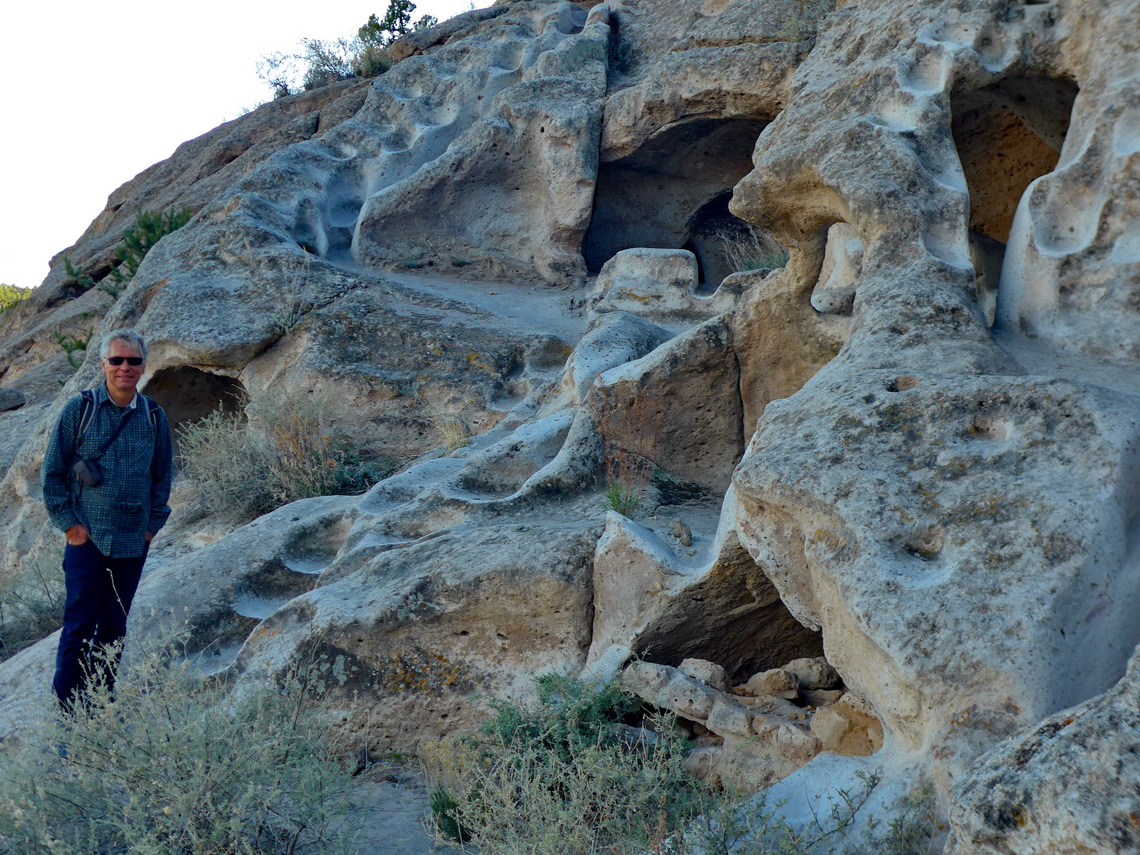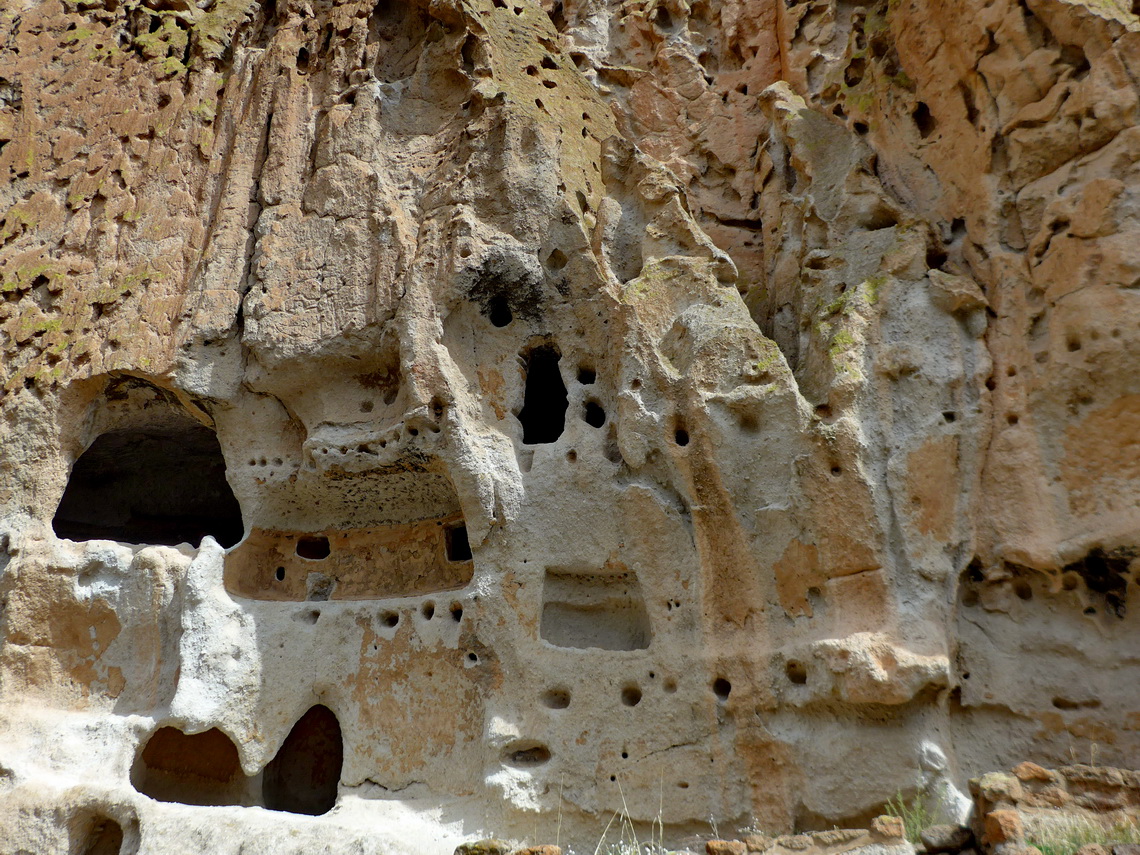 We returned to White Rock because the weather was still not very nice. Thanks to Catherine and Eric we could stay the night on its wonderful viewpoint White Rock Overlook free of charge (GPS coordinates: N35° 49.520' W106° 10.950'). The 8.7 kilometers long Canyon Rim Trail provided us with excellent views into the canyon of Rio Grande despite the bad weather.
On the next day the sun came back and we drove into Valle Grande. But first we had to purchase some food in Los Alamos, the nuclear research town of USA. The first atomic bomb had been developed in Los Alamos. Jesus, the food was expensive - more than triple price of Walmart in USA and 10 times of Aldi in Germany! It seems that the scientists earn a lot money!
Alfred did a short hike from the 2700 meters high saddle of the street to the summit of Cerro Grande. This trail is included in our GPS coordinates file of New Mexico. At dawn we enjoyed the lukewarm water of the Spense Springs. 
The impressive  Chaco Culture National Historical Park is a must to see in New Mexico. It is located in a canyon of a dry desert. There are many old villages in this valley built by the Chacoan People between the mid-800s and early 1100s. We hiked the 10 kilometers Pueblo Alto Trail which offers extraordinary nice views to the ruins on the rim of the canyon. This trail is included in our GPS coordinates file of New Mexico.
At night we slept close to the beginning of the bumpy side road to Chaco free of charge (GPS coordinates: N36° 10.439' W107° 40.709'). In the morning a man of the Indian Navajo tribe came to our car and we invited him for coffee. He told us a lot about the Navajo life in USA.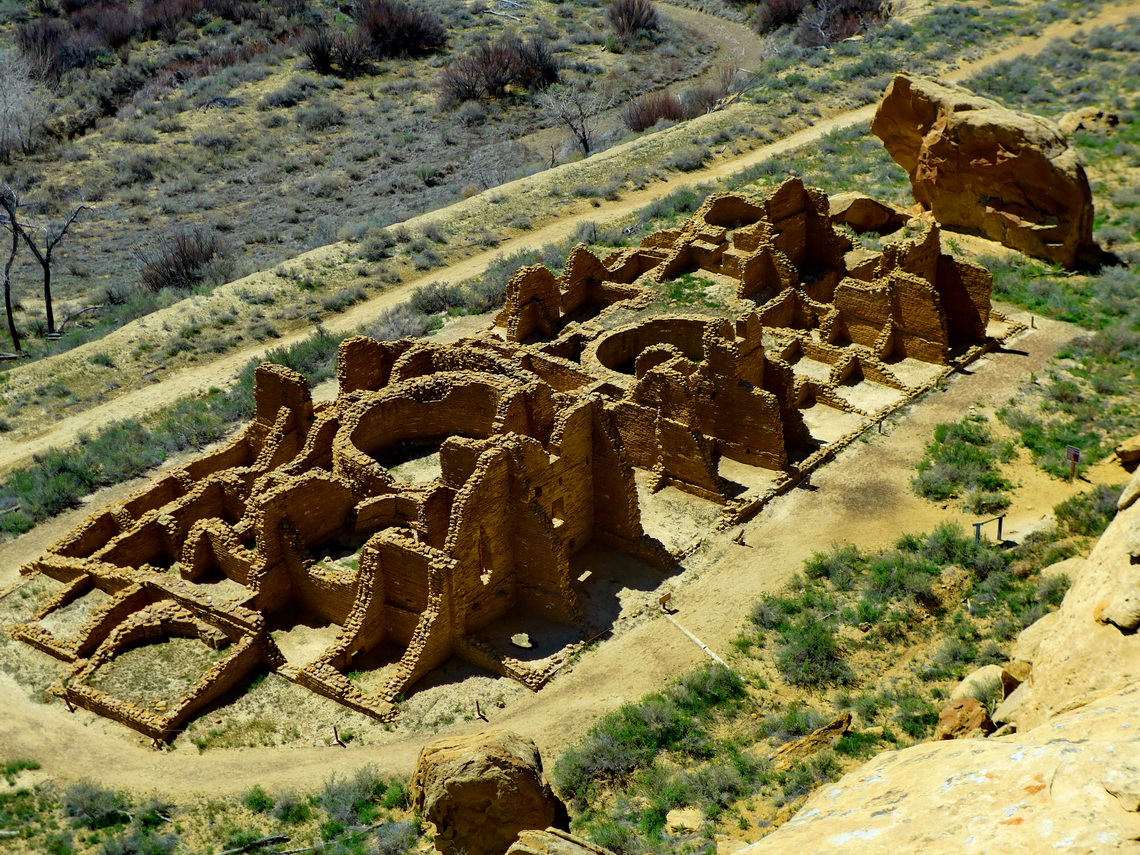 The eastern section on the Bisti / De Na Zin wilderness area is a dream. It is a wonderland with many tall hoodoos, weird rocks and colorful mud. A long and bumpy dirt road leads to the starting point of a short hike to a viewpoint and to a longer one into the valley. Literally we met no other people on the more than seven kilometers long strenuous loop. Free camping opportunities are on both sides of the loop (GPS coordinates: N36° 18.480' W108° 00.546' and N36° 18.737' W108° 00.169').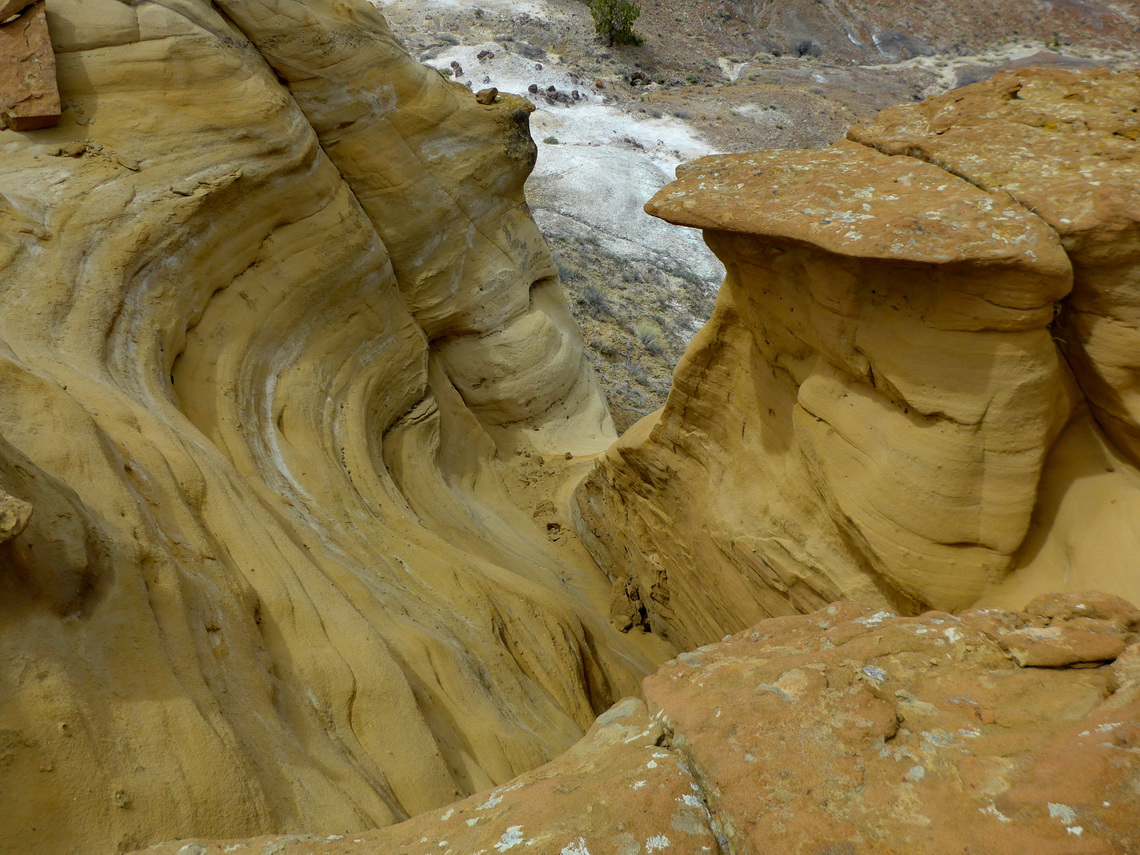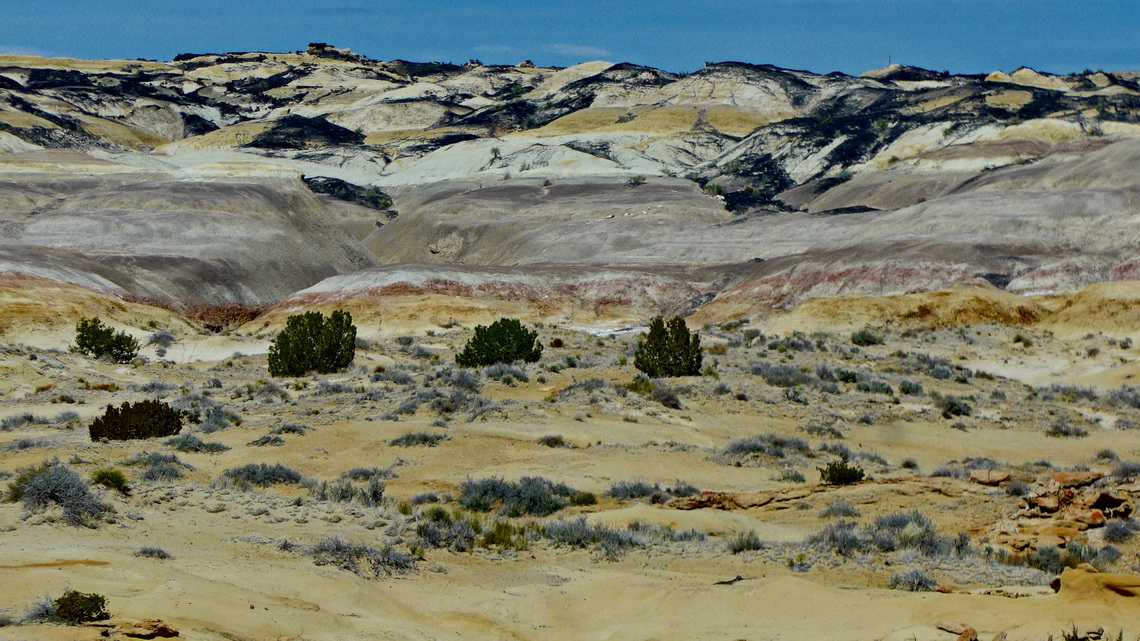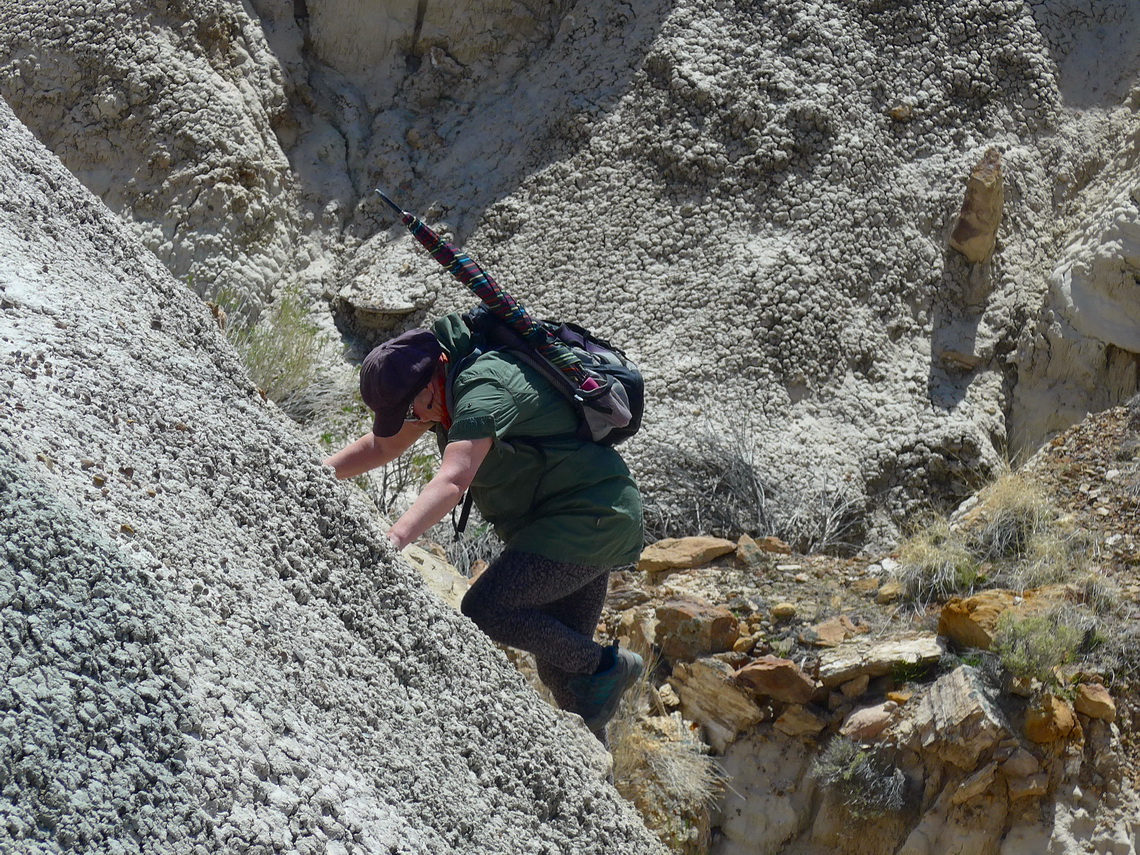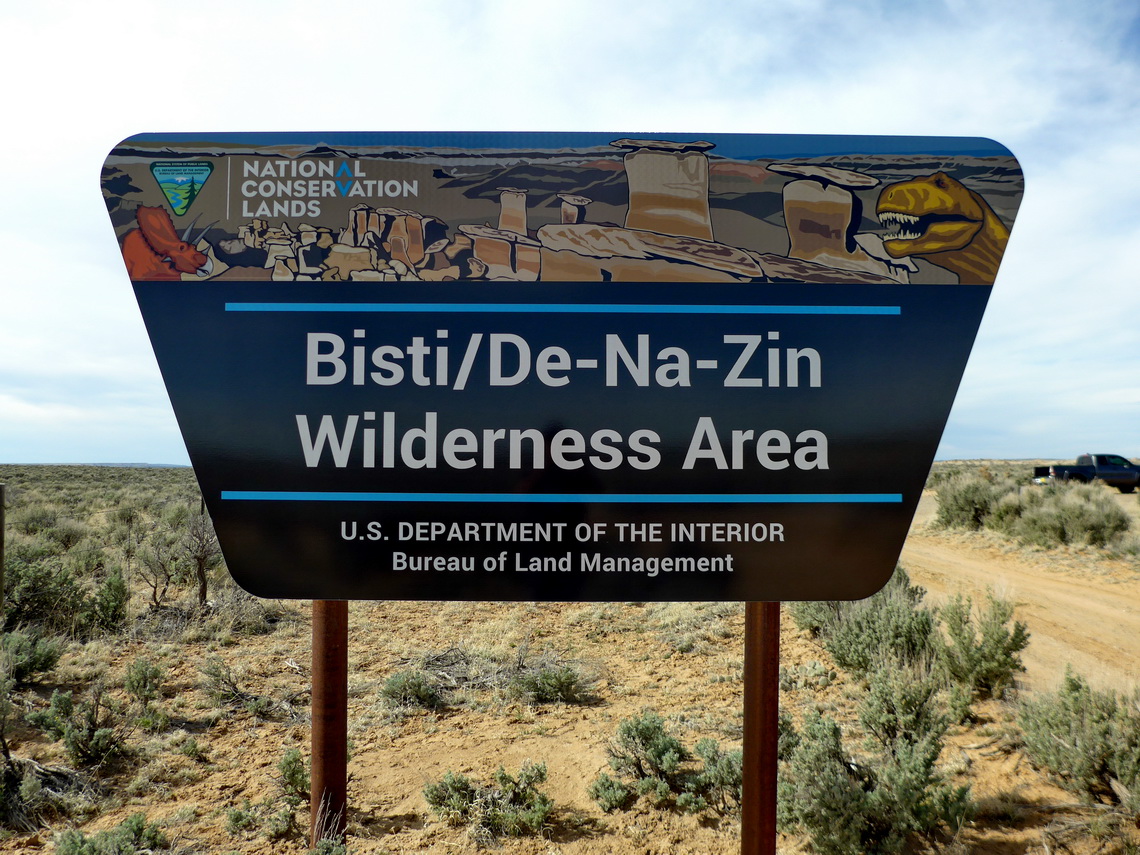 On the western part of Bisti wilderness were more people but we hiked a 15 kilometers long loop mainly alone. Thanks to a neighbor on the free campsite (GPS coordinates: N36° 15.728' W108° 15.170' and a second one N36° 15.550' W108° 15.077') we could add some interesting waypoints to our GPS. They are included in our GPS coodinates file of New Mexico, also the two tracks of our loops.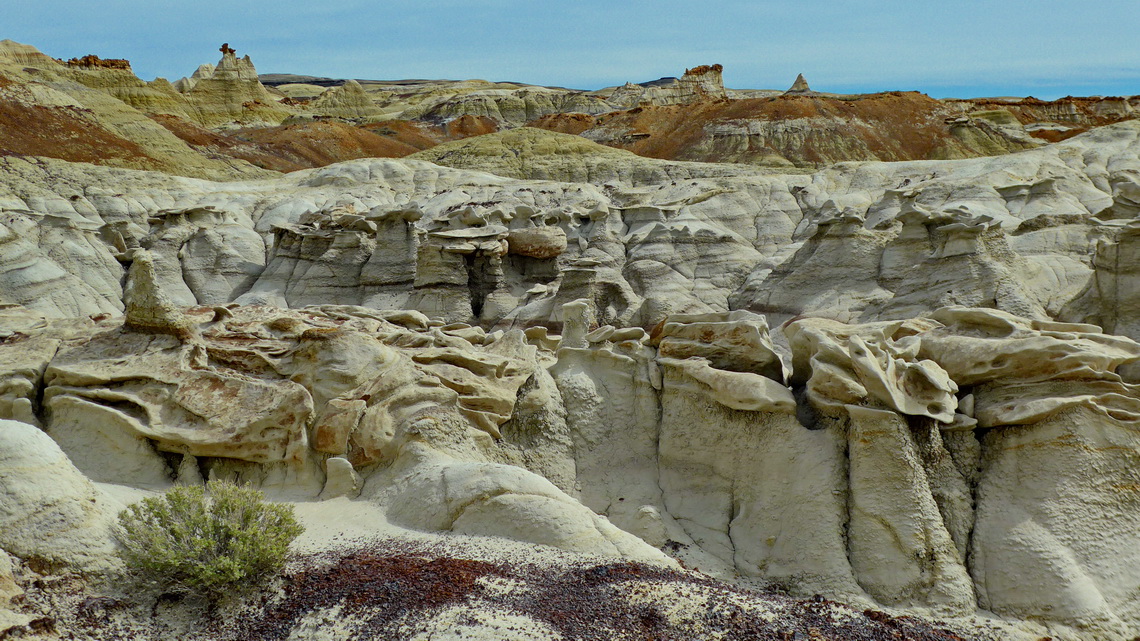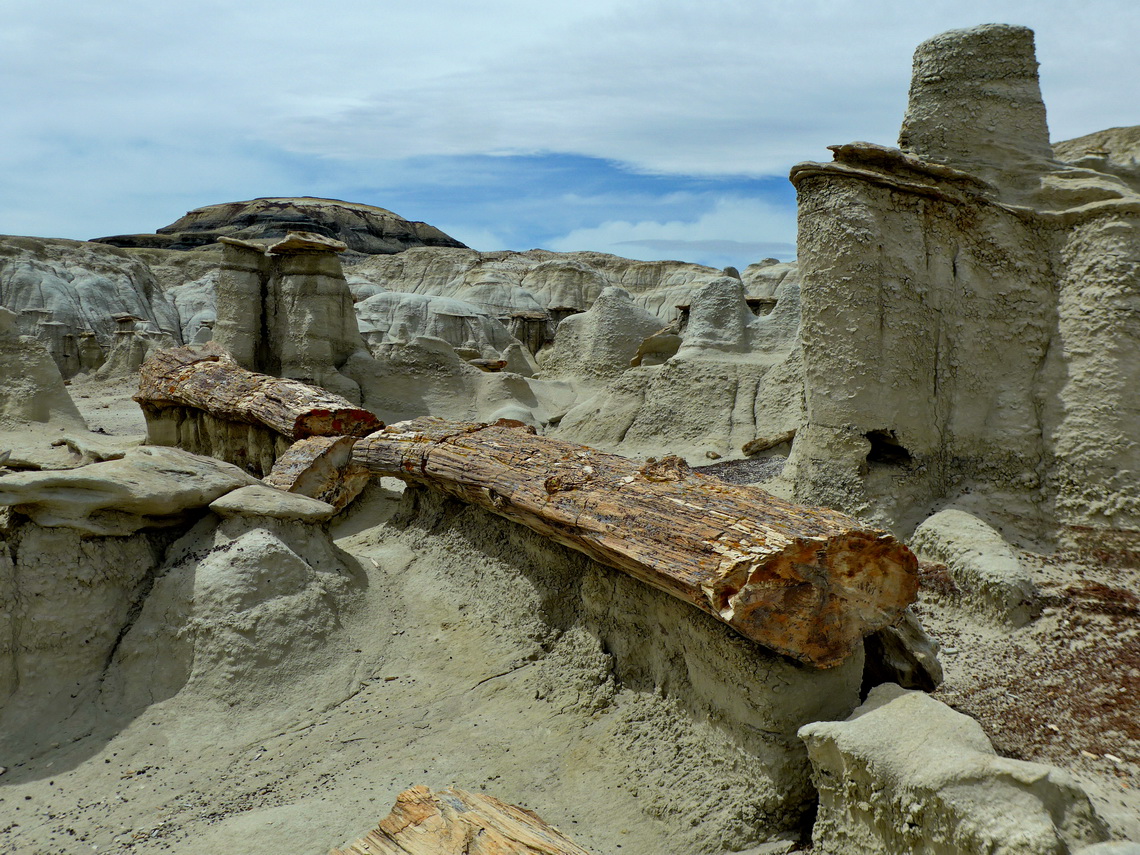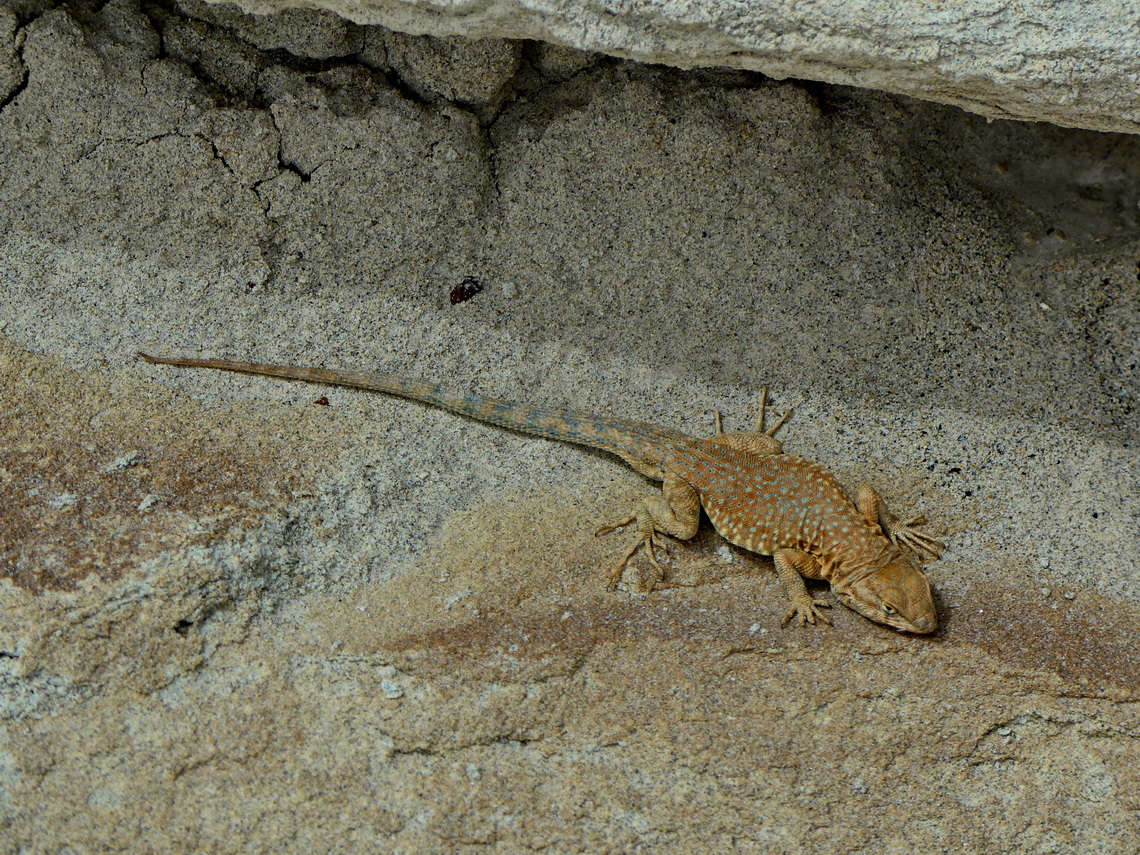 For more pictures, please click here      For a map of our itineraries, click here
To download the GPS coordinates file of New Mexico, click here