In Colorado are the highest peaks of the Rocky Mountains, which are more than 4,800 kilometers long and mainly several hundred kilometers wide. The European Alps are tiny in comparison with the Rocky Mountains but have few slightly higher summits.
American people measure altitudes in feet, thus 14ers are important for them (more than 14,000 feet - approximately 4270 meters sea-level). All 58 14ers of the Rocky Mountains are in Colorado. More than 500 summits exceed 4000 meters sea-level. Its tallest point Mount Elbert (4401 meters sea-level) is the second highest summit of continental USA (without Alaska) after Mount Whitney in California.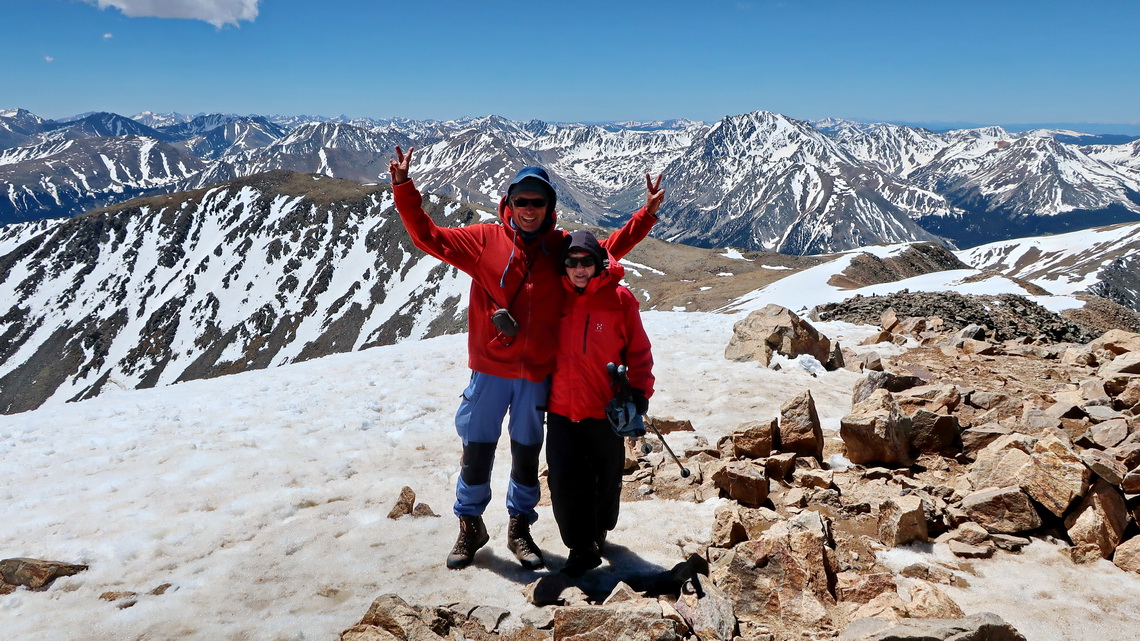 When we came back to Colorado on May 9th 2018 we realized that most of the snow in mountains was gone. We had our skies with us for no use. But we had five weeks tremendous good conditions in the Rocky Mountains mainly with blue skies and very little precipitation. In summer the Rocky Mountains in Colorado are dreaded for thunderstorms and lightening - many people die every year. We had just one in the Great Sand Dunes National Park.
We started in the South of Colorado and explored the deep Royal Gorge of Arkansas River close to Cañon City. Close to the expensive suspension bridge (only for pedestrians) is a very nice and remote campsite free of charge (GPS coordinates: N38° 27.924' W105° 17.508') where we escaped the circus and mass of people on the suspension bridge.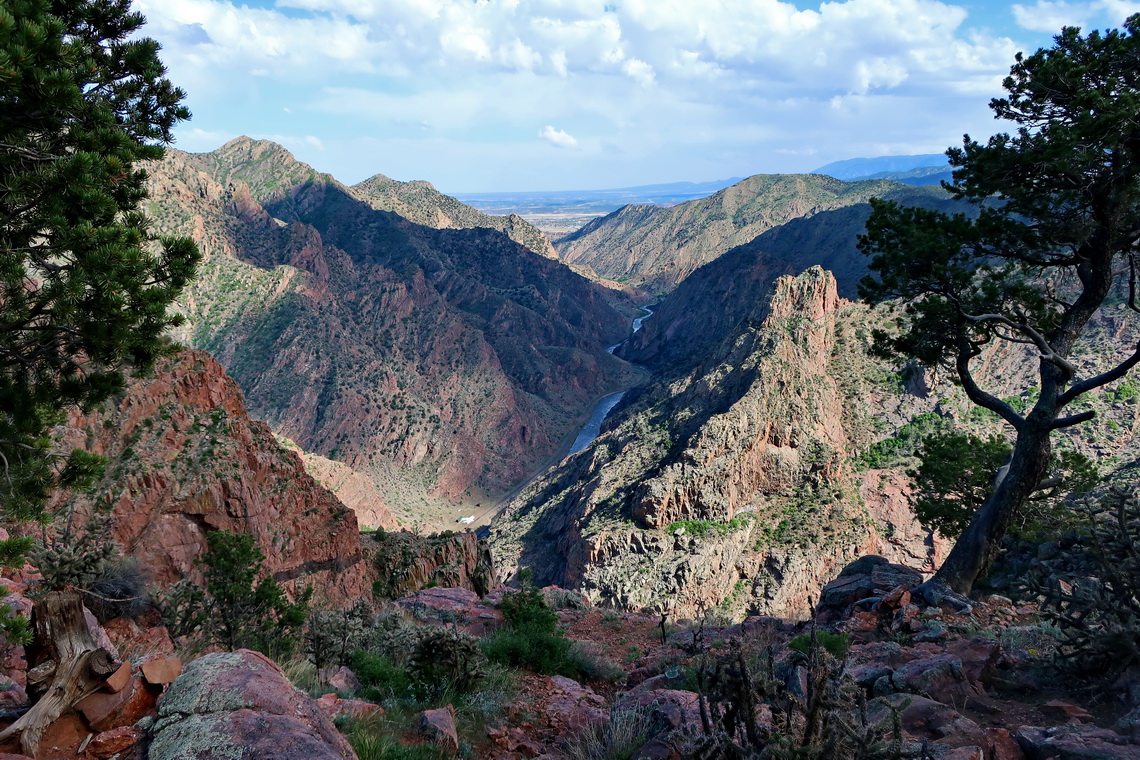 The Sangre de Cristo Mountains (Blood of Christ) in southern Colorado is the second higheet range of the Rocky Mountains. A good beginning of mountain climbing of Colorado's 4000er is the prominent West Spanish Peak (4,135 meters sea-level) because we could drive on a decent dirt road to the Cordova Pass which is already 3,579 meters high. From there it is a 4 hour hike to the summit, first relatively flat in the forest followed by steep scree. On Cordova Pass is a simple campsite without any facilities where we paid U$ 12.- per night (GPS coordinates: N37° 20.912' W105° 01.521').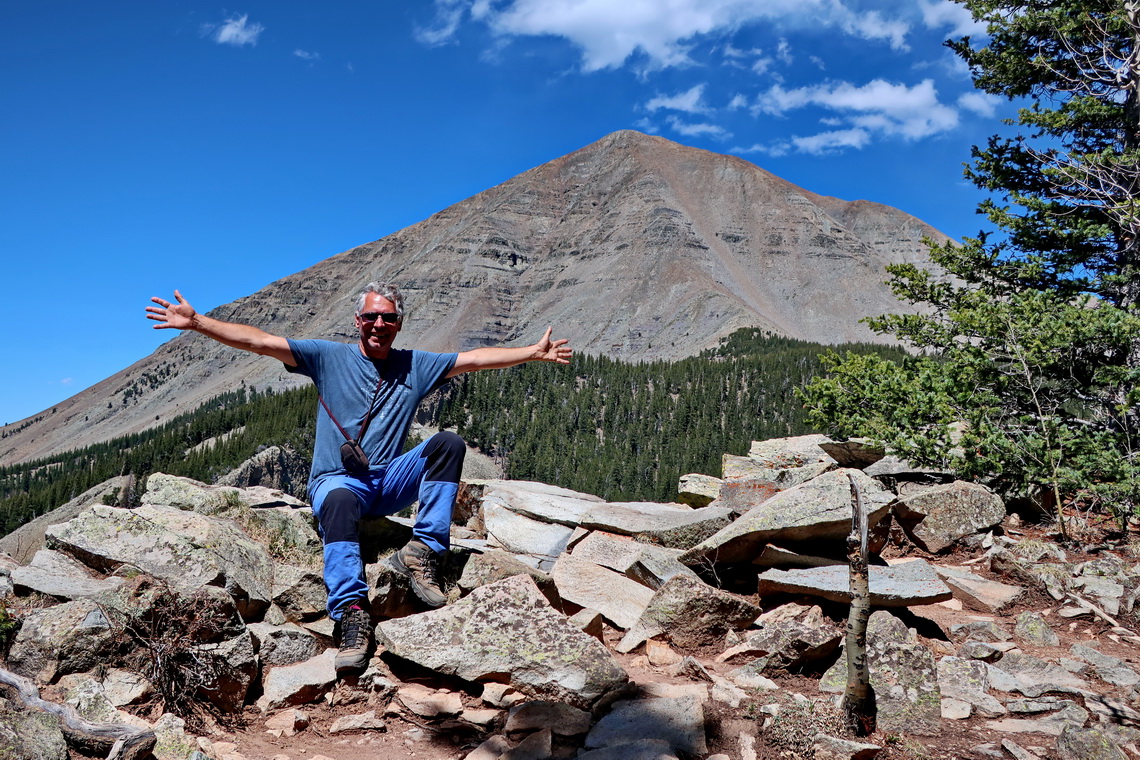 Our next target was Blanca Peak which is with 4,372 meters sea-level the tallest summit of the huge Sangre de Cristo range and 4th highest of the Rocky Mountains. The trailhead is with 2,394 meters sea-level very low but we could camp there free of charge - very nice and remote (GPS coordinates: N37° 32.146' W105° 34.824'). A very bad dirt road continues from the trailhead to the basecamp at 3,600 meters sea-level. This is supposed to be one of the most challenging road in Colorado and few crazy people with very crazy cars drove it. We preferred to take our tent and hike to the basecamp. From there it is a 4 hours hike to the summit. The last part on the north ridge was a little bit rocky but without any major issues. Alfred climbed up 4,287 meters high Ellingwood Point, too.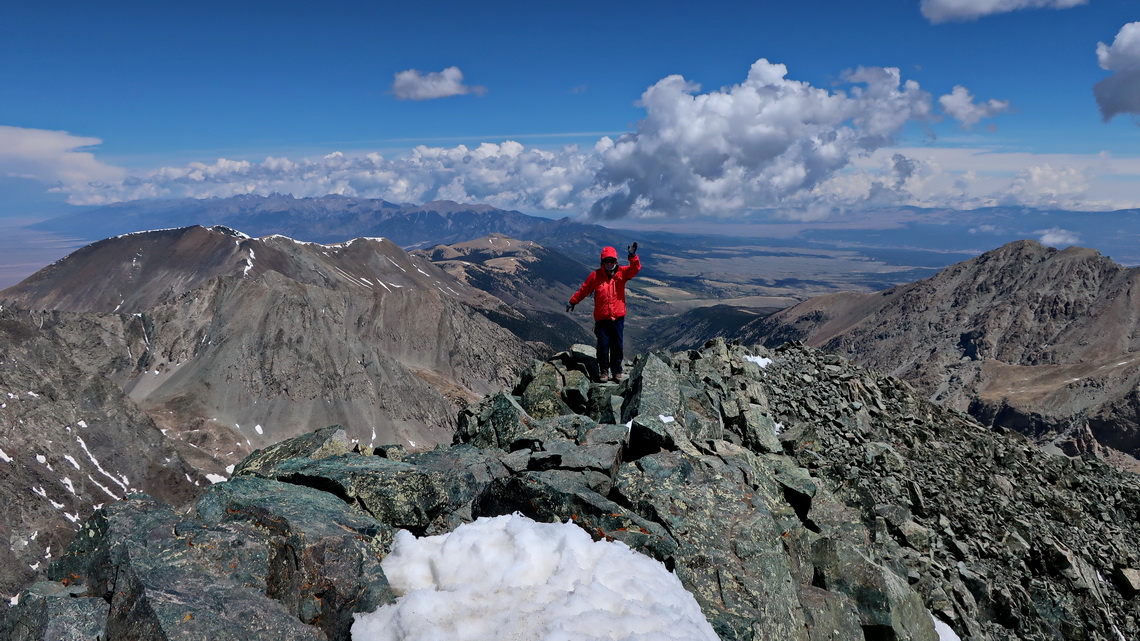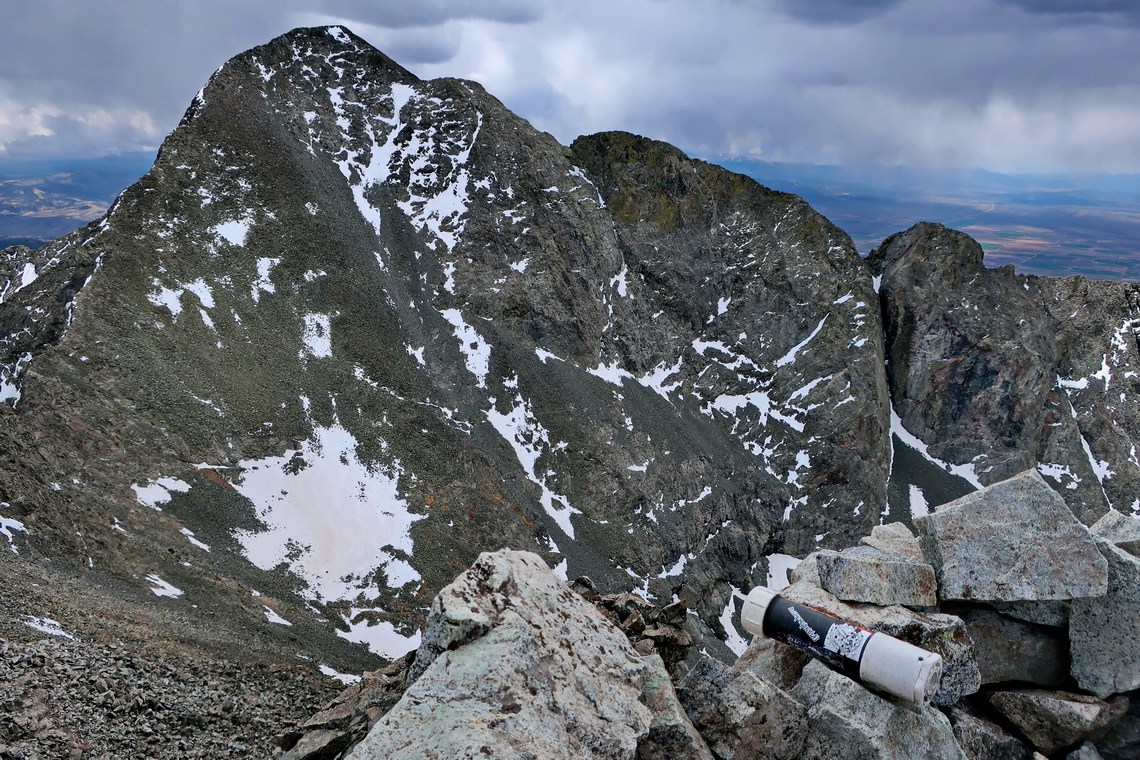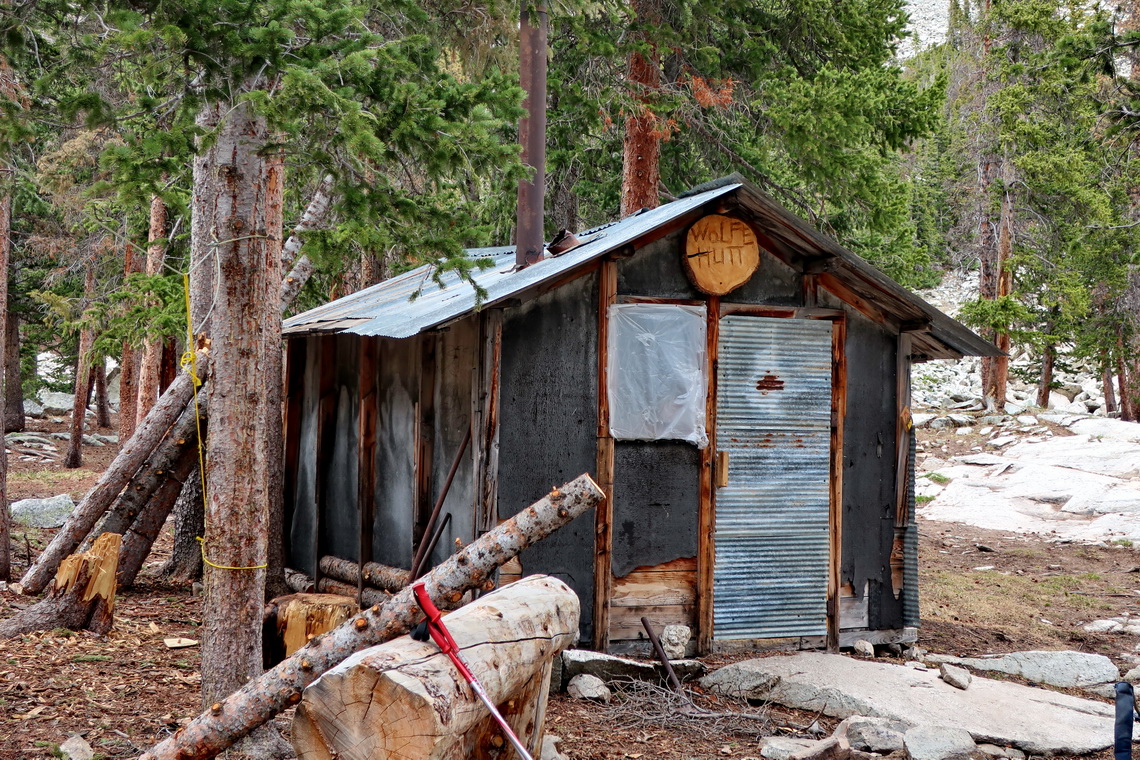 On the western side of the Sangre de Cristo Mountains are the tallest sand dunes of North America with heights more than 200 meters. There is a corner in the mountain range and the endless western wind blows the sand into this corner where it is trapped in the mountains. Even it is desert like there is a lot of rain. Streams are carrying back the sand into the dunes - a perfect and endless natural cycle with an astonishing flora and fauna. Fortunately it is protected by the creation of the Great Sand Dunes National Park.
We climbed up 213 meters tall High Dune - barefooted and fortunately on a cooler day. Camping is quite expensive in the National Park but we found a wonderful campsite closed to the Great Sand Dunes National Park directly on San Luis Lake. It provides electricity on its sites but it is free of charge (GPS coordinates: N37° 40.632' W105° 43.986'). Continuing the street CO17 southwards we saw some strange huge posters.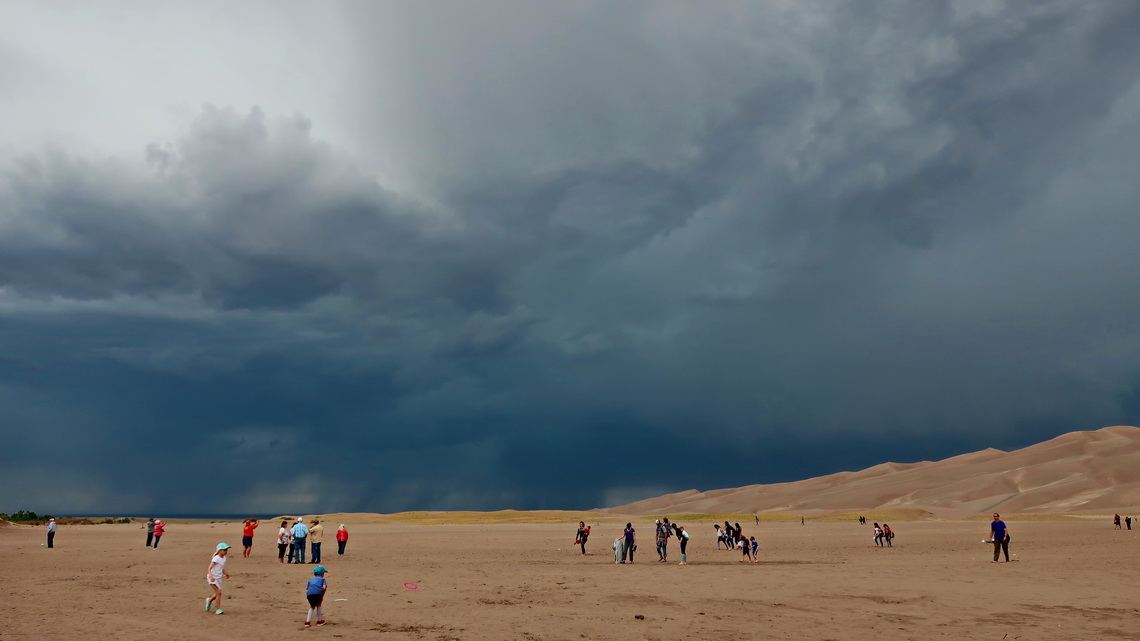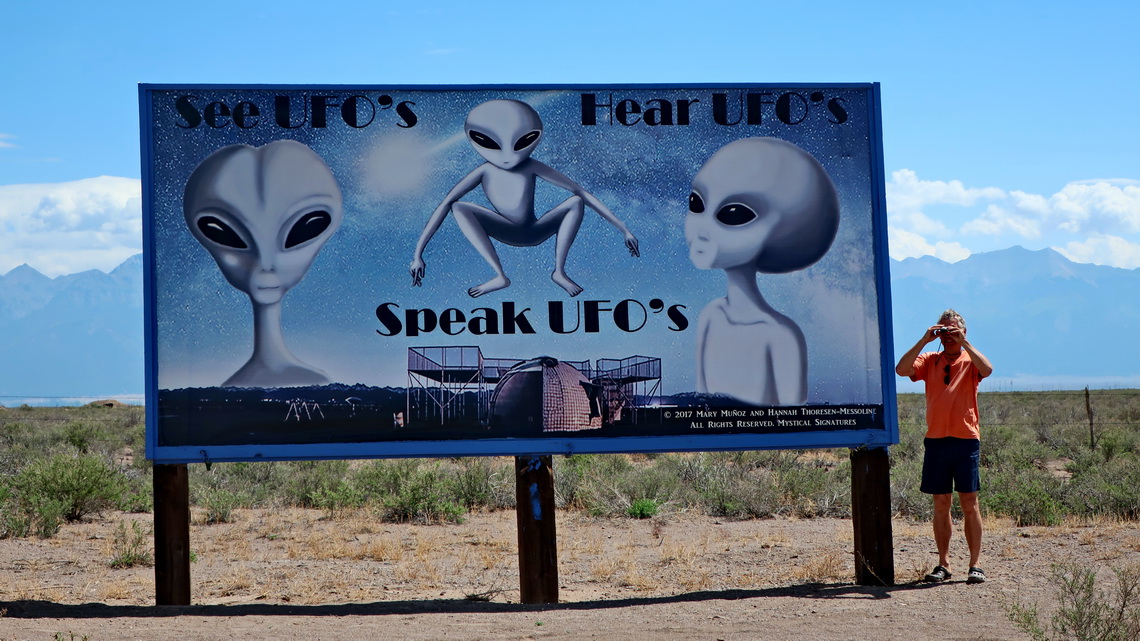 Northwest of the Sangre de Cristo Mountains is the Sawatch range of the Rocky Mountains which is the backbone of the Continental Divide (Pacific / Atlantic waters) of Colorado. Its the highest range of the Rocky Mountains containing its three tallest peaks. Mount Yale is a perfect target for because a paved road leads to the trailhead where we could camp free of charge (GPS coordinates: N38° 48.893' W106° 20.071').
On the other side of the street we found some abandoned camps including a kitchen and other fancy stuff in the woods. The summit of 4,323 meters high Mount Yale is a long hike of approximately 6 hours via Denny Creek with an elevation difference of approximately 1,300 meters..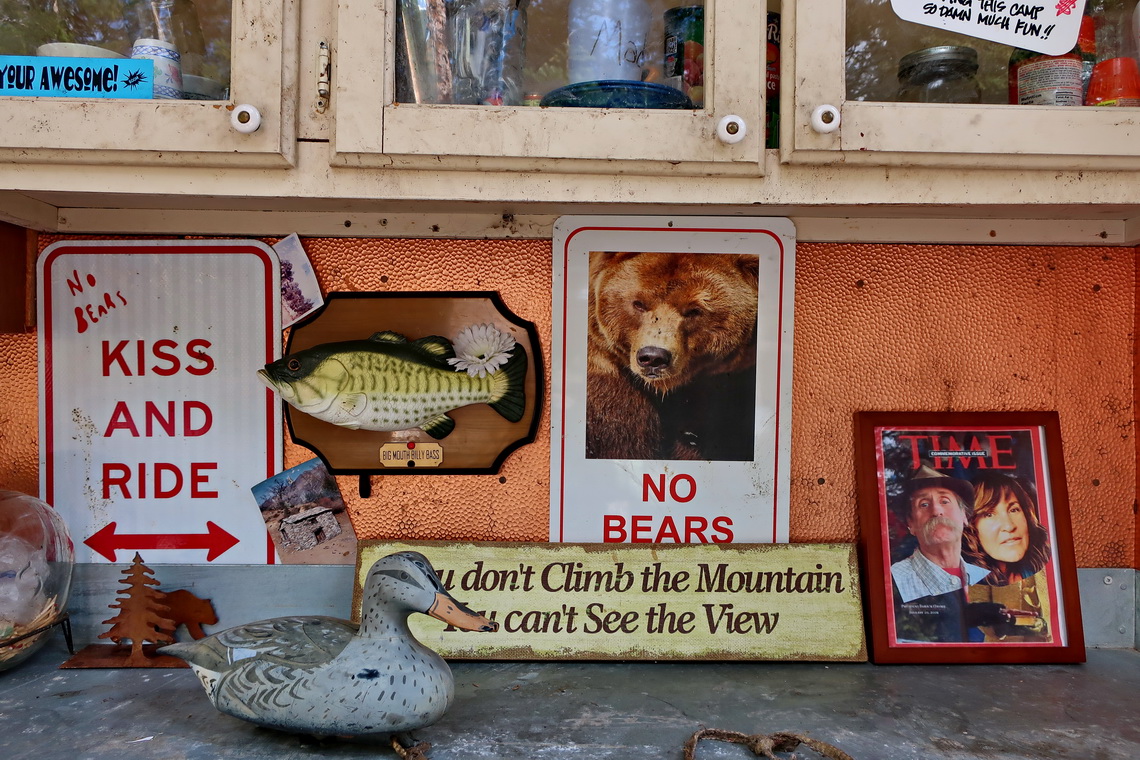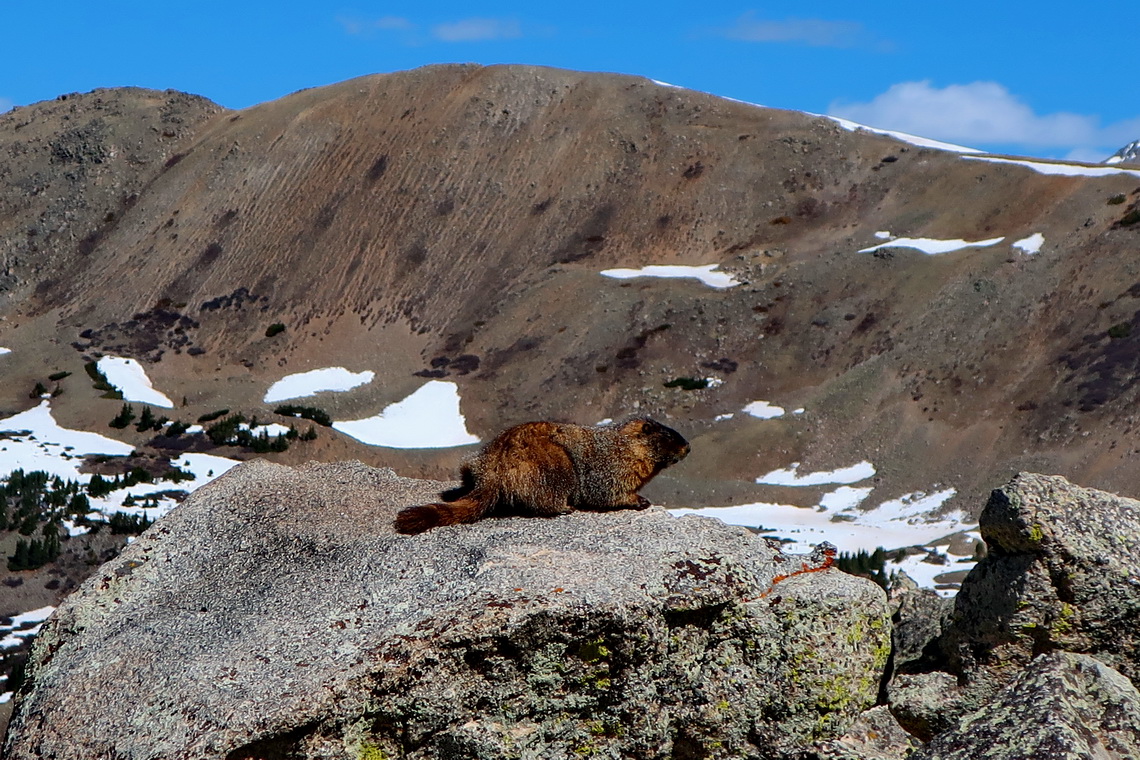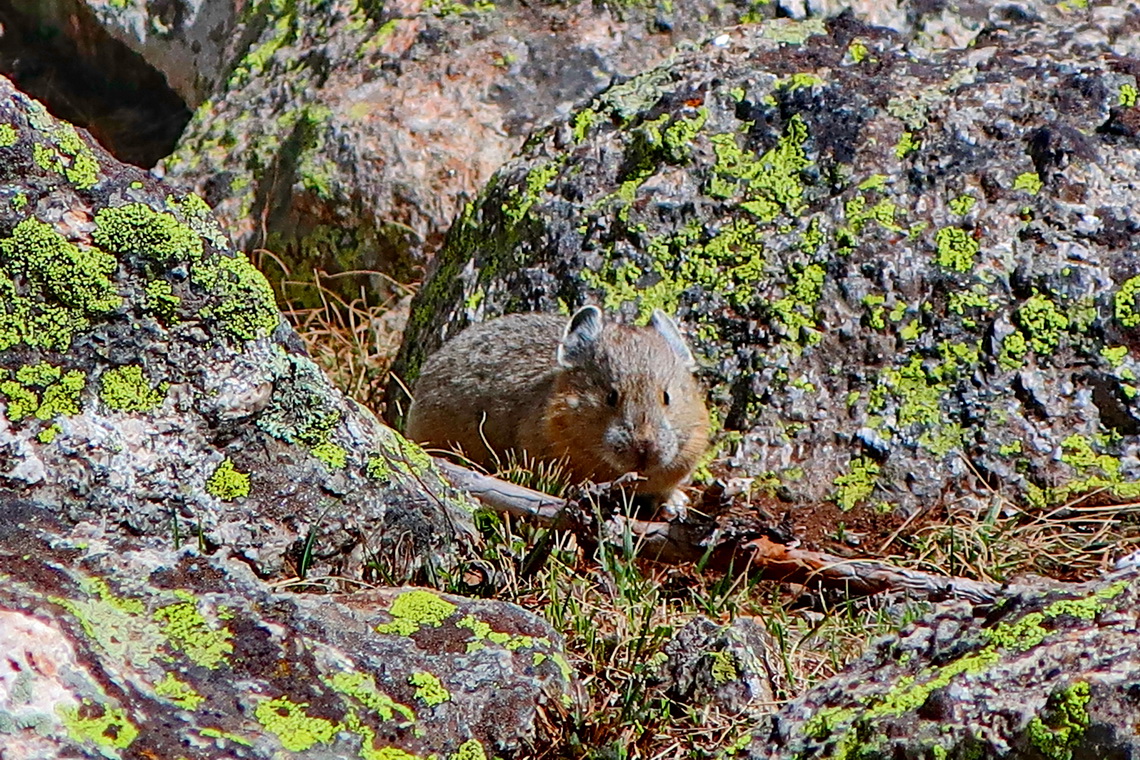 The tallest peak of the Rocky Mountains, 4,401 meters high Mount Elbert is very popular. On some days several hundred people hike to its summit, thanks also to its easy access via the east or northeast ridge. We decided to climb up the long south ridge via the Black Cloud Trail and to camp on foot of the southwestern slope of Mount Cosgriff. Like on Mount Yale the street to the trailhead if fully paved and we found there a free, nice and remote place to stay the night in our little motor-home (GPS coordinates: N39° 04.168' W106° 26.029').
On the first day we hiked approximately 2.5 hours to a beautiful campsite in the meadows below an old mine. We started early on the next morning because Mount Elbert is dreaded for lightening and thunderstorms (Black Cloud Trail!) and the southern ridge is endless long and we had to climb the summit of 4303 meters South Elbert first. We met just one younger man on the whole hike to the summit but maybe around 100 people on the main summit. Back to our tent we were totally alone, again. At the end of the ridge is 4,135 meters high Mount Cosgriff which provides a good view of the whole southern ridge of Mount Elbert.
Leadville is an old silver mining town with some picturesque building few kilometers northeast of Mount Elbert which is with 3,080 meters sea-level the highest incorporated city of the United States. Close to Leadville on the Fremont Pass is the Climax Molybdenum Mine which is supposed to be the world's biggest underground mine. There is also the largest known deposit of molybdenum on earth. Molybdenum is important for the production of steel.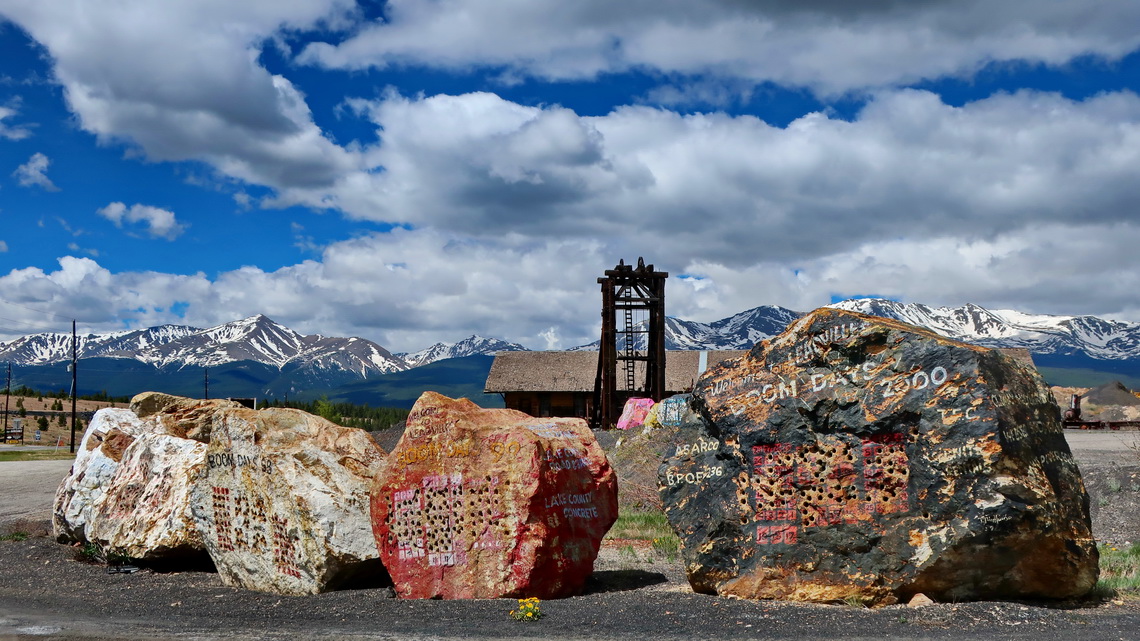 4,348 meters high Quandary Peak is located in the little Tenmile Range of the Rocky Mountains which is between the Sawatch and Front Ranges. The trailhead is close to the main street between the skiing town Breckenridge and Hoosier Pass. For us it is the Mountain Goat Peak because we saw a lot of these majestic animals. It is a 4 hours hike from the trailhead to the summit with an elevation difference of approximately 1,000 meters. We dared to stay the night on the trailhead besides the sign "No Camping". Nobody bothered us there (GPS coordinates: N39° 23.095' W106° 03.703').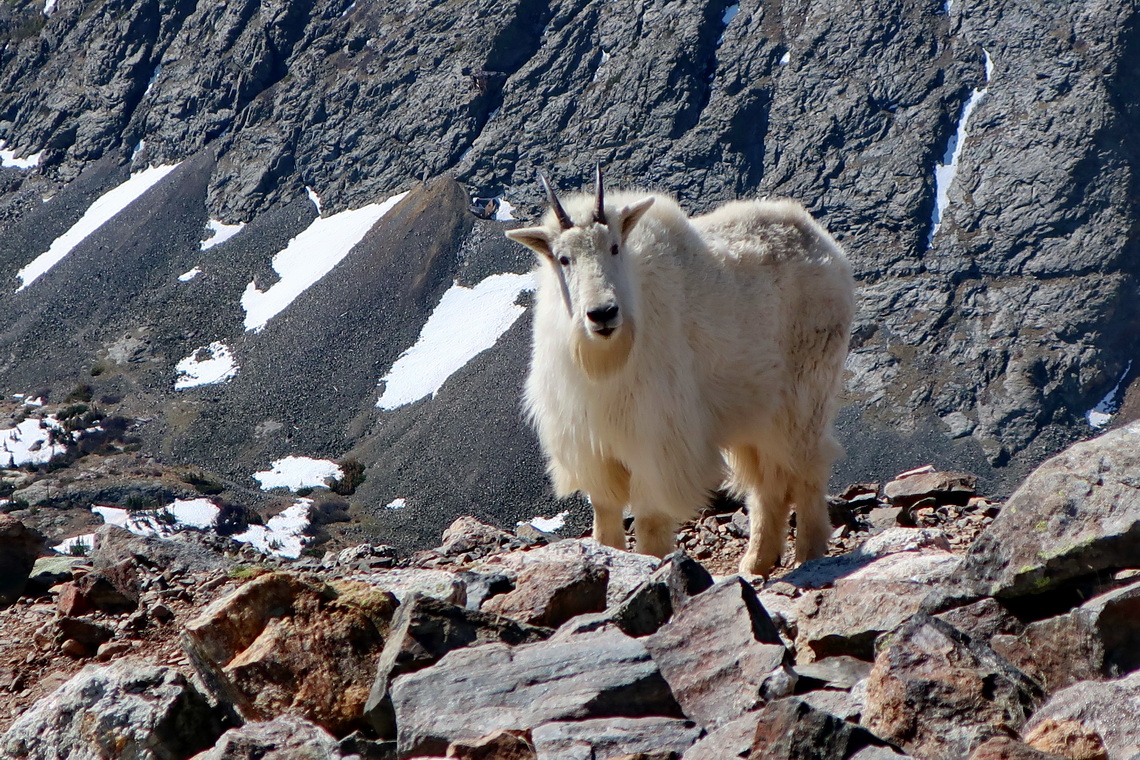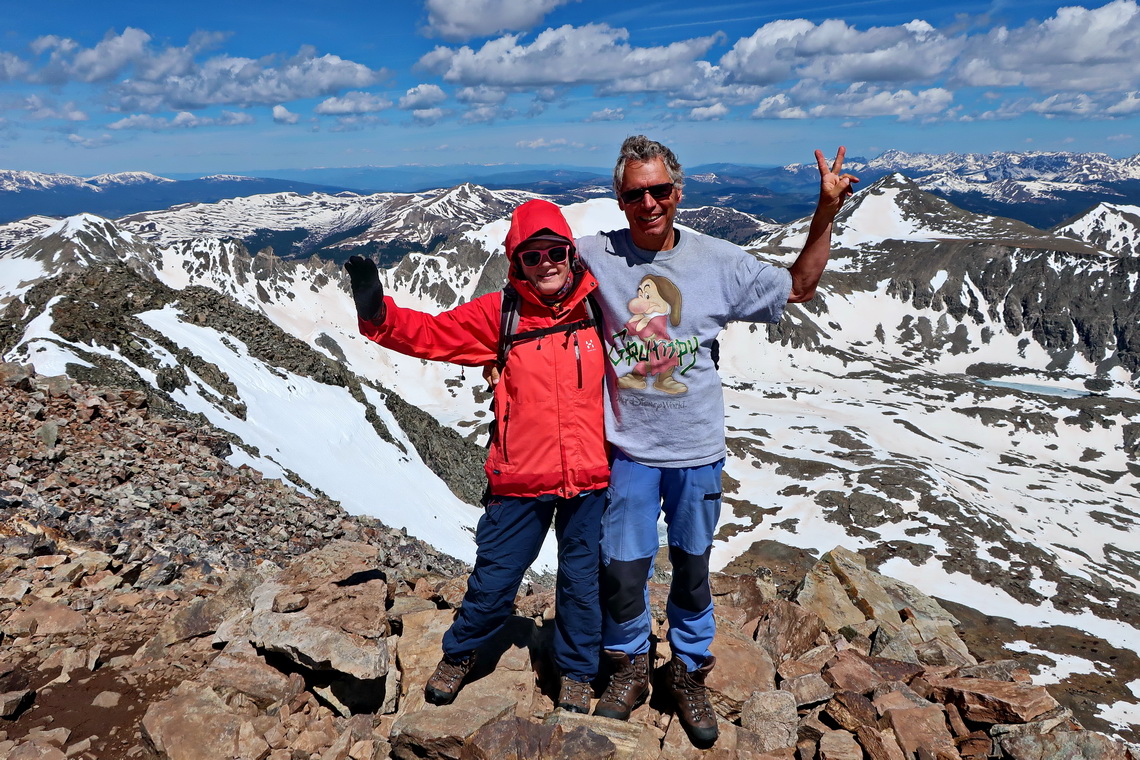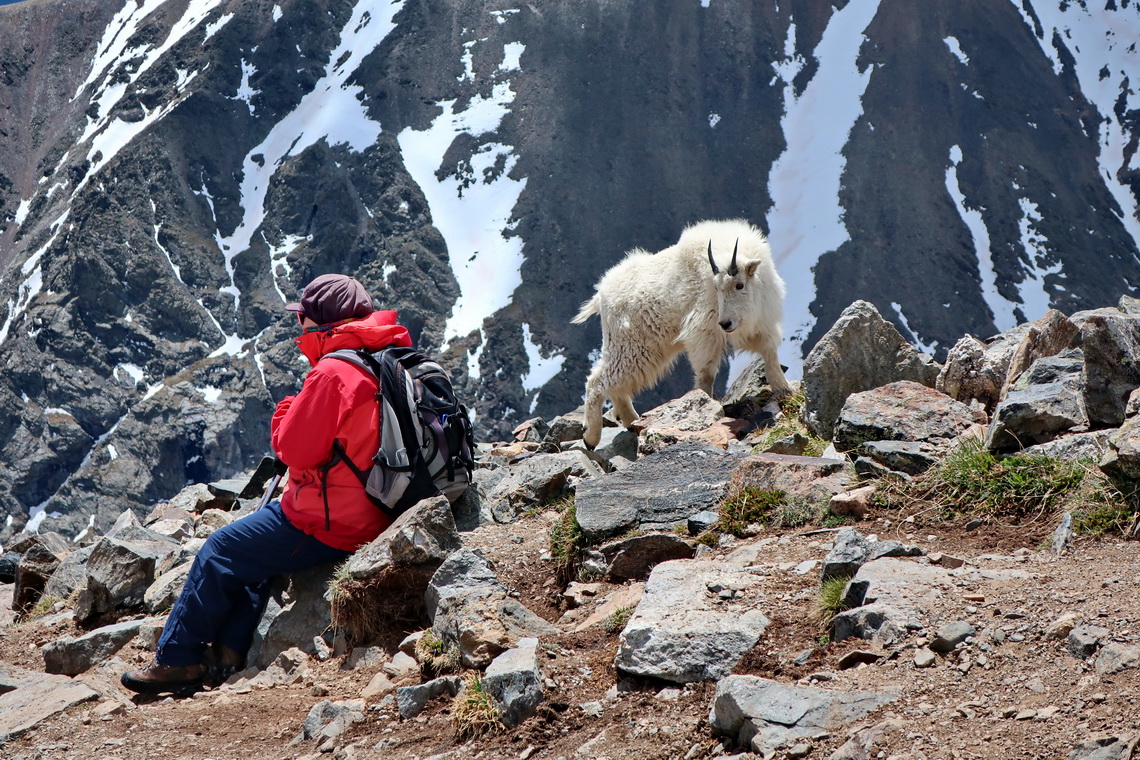 South of the Tenmile Range is the tiny Mosquito Range where we did the fabulous four 14ers peak tour. A bumpy road leads from the little village Alma to the trailhead at 3,664 meters sea-level including a nice campground for 12U$ per night. With our car we did not dare to drive up completely but we found a wonderful campsite two miles down the trailhead in front of an old mining building (GPS coordinates: N39° 18.502' W106° 07.074'). There we met a younger couple from Alaska and we had so much fun together in the evening.
Immediately early next morning we caught a lift to the trailhead because the street was very busy. This is a very popular hike in Colorado, maybe next to Mount Elbert. Weird is that one of the four peaks, 4,323 meters high Mount Bross is prohibited for public access because it is owned by a mining company. The permitted narrow trail leads few meters under its broad summit. Nearly everybody walked on the wide forbidden path to the summit! For us Mount Bross was a very cold mountain. The weather forecast was excellent with little or no wind for our summit day. But we had nearly gale on the way up and we were more than happy that a little open shelter was built on top of Mount Bross.
When we continued to 4,354 meters high Mount Lincoln the wind deceased and we got a perfect day for such a long hike (more than 10 hours). 4,335 meters high Mount Cameron is just a shoulder of Mount Lincoln but Mount Democrat (4,316 meters sea-level) is quite challenging. We hiked up more than 1 hour from the saddle between Mount Cameron and Mount Democrat in the afternoon heat.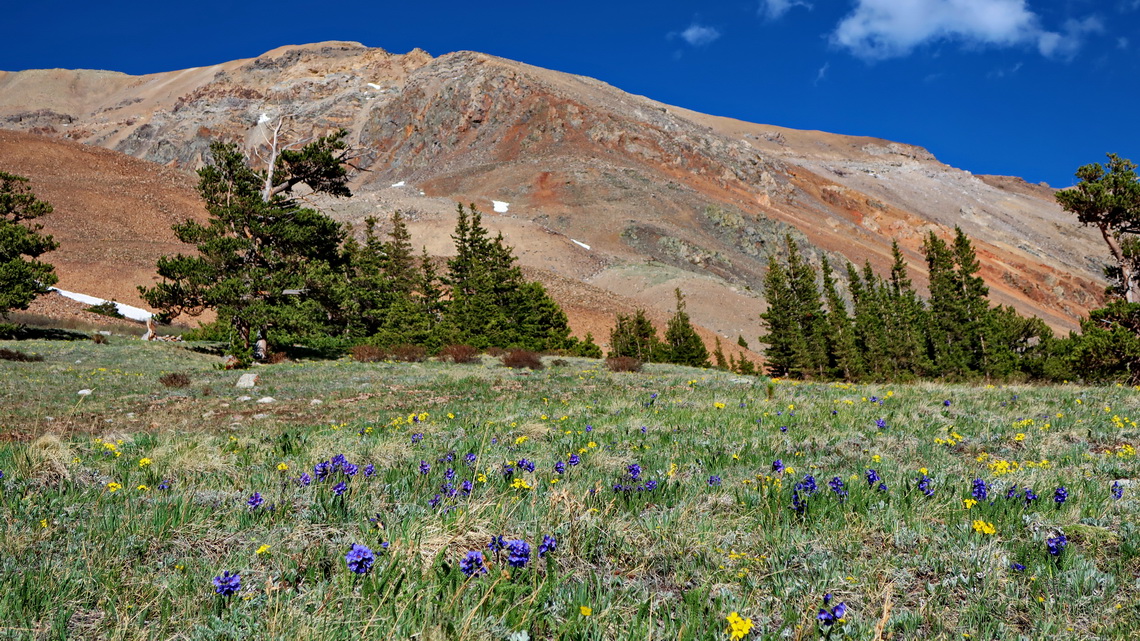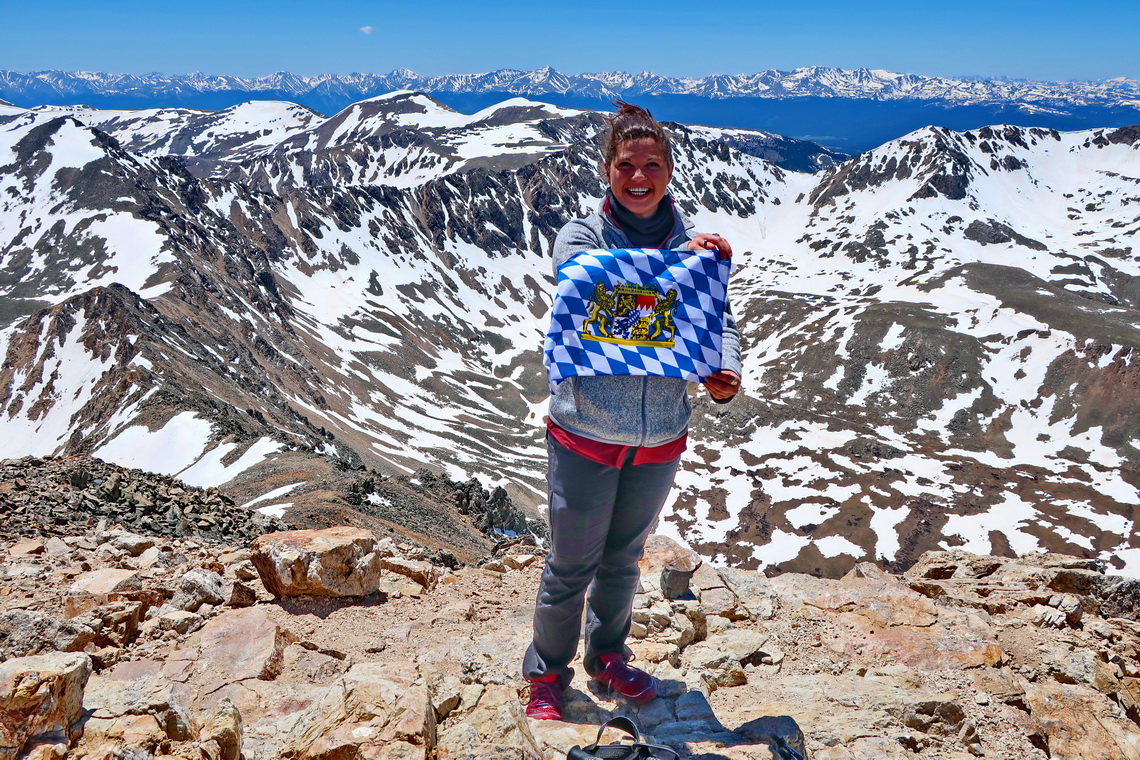 Marion caught a nasty infection, thus Alfred did the next mountain trips alone. We wanted to drive into the Peru Creek in the Front Range with many dispersed campsites which is close to the little village Montezuma but the gate was closed. Weird was that a sign stated that the road opens May 25th if there is no snow. We had nearly no snow at all and it was already June 4th. Many tourists came and were disappointed that this road was closed. However we neglected the sign "no camping" and stayed three nights.
First Alfred climbed up 4352 meters high Greys Peak and 4351 meters high Torreys Peaks which are the two tallest summits of the Front Range. West of the Front Range all water goes into Colorado River which continues to the Pacific Ocean. East of the Front Range the Arkansas and Platte Rivers collect all waters and flow into the Mississippi and finally into the Gulf of Mexico of the Atlantic Ocean.
Greys and Torreys Peaks are very popular from the east due to their proximity to Denver and its suburbans. But their west sides are nearly untouched, a very strenuous mountain trip. An old mining street leads into the Ruby Gulch. Two times a broad and rapid stream had to be crossed barefooted. From the end of the mining street the southern slope to the southwest ridge of Greys Peak must be climbed without any path or traces. The broad southwest ridge continues without major problems to the summit of Greys Peak. A good path leads to Torreys Peak. The western ridge is easy with some traces. On the saddle between Torreys and Grizzly Peak is no path to the southern Chihuahua Gulch but Alfred found his way mainly in deep snow. On the bottom of the valley were either swamps or deep and soft snow. Unfortunately the cord of the GPS bag broke and Alfred didn't realize it. When he detected that the GPS vanished he searched for it one hour without success. Dawn came and Alfred wanted to cross the streams with some day light. Now wading barefooted on the river was anything but pleasant because he had already wet and cold feet, thanks to the soft snow and swamps. Alfred met nobody an this extraordinary trip.

Fortunately we have second Garmin GPS device, which is pretty old and with a broken altimeter. With it Alfred made a seven summits trip along the Front Range two days later: Santa Fe Peak (4,019 meters sea-level) - Sullivan Mountain (4,003 meters) - Geneva Peak (4,044 meters) - Landslide Peak (4,028 meters) - Peak 13218 (4,029 meters) - Red Cone Peak (3,897 meters) - Grumpy's Cairn (3,778 meters). He met just one younger man with a dog on Santa Fe Peak on this superb hike of approximately 28 kilometers and 12 hours.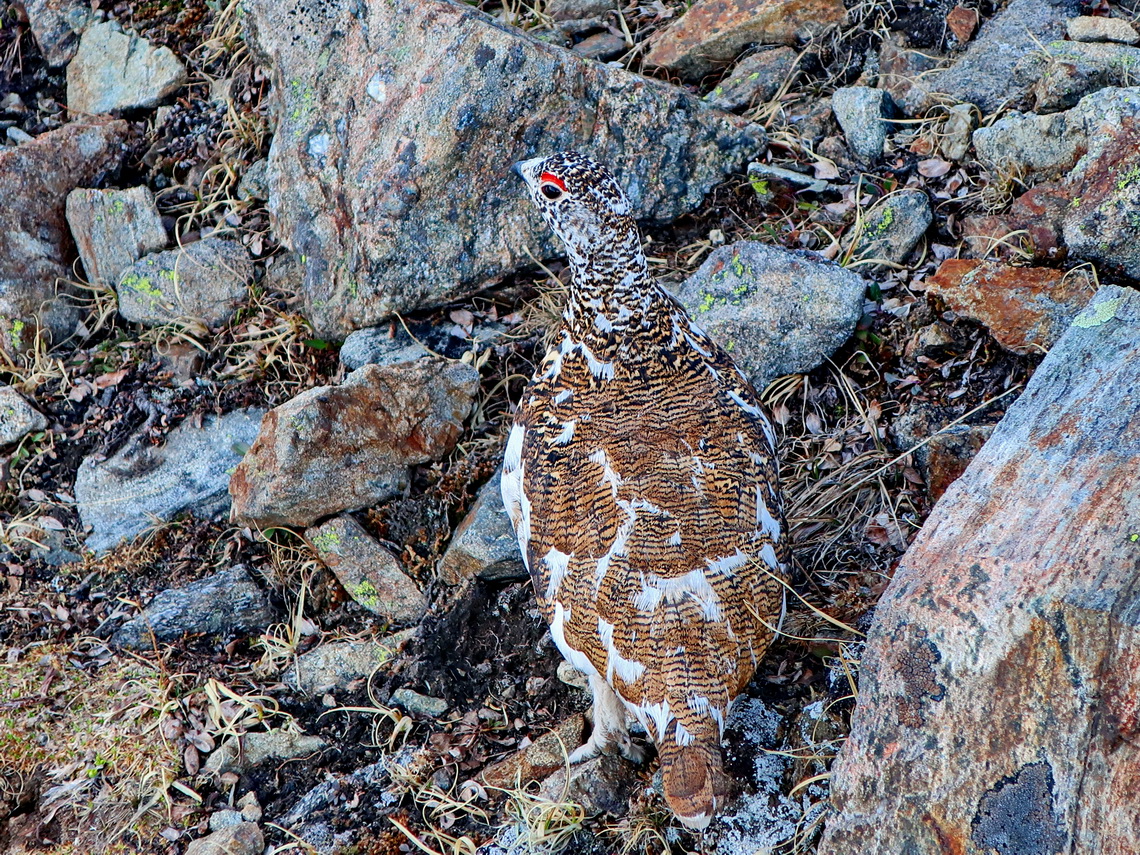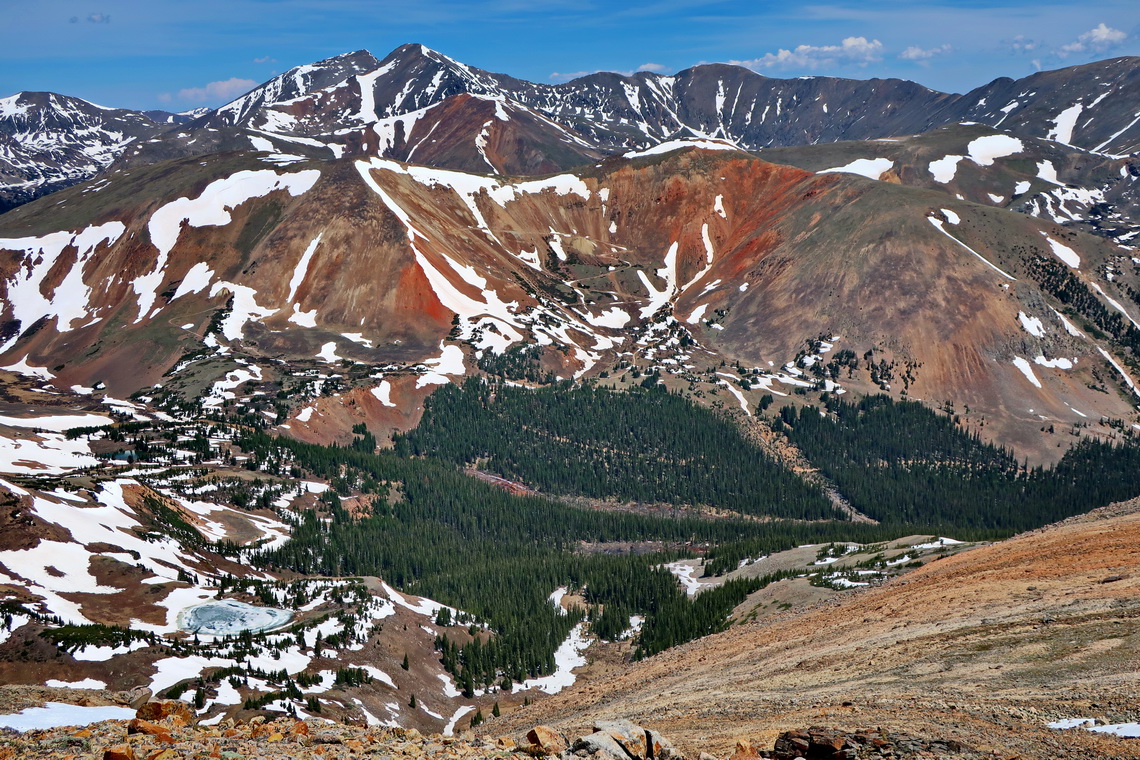 We drove north on the Peak to Peak Scenic and Historic Byway into the Rocky Mountains National Park. There are some nice and interesting towns on this road which were mainly founded due to mining activities during Colorado's Gold Rush which had started in the year 1859.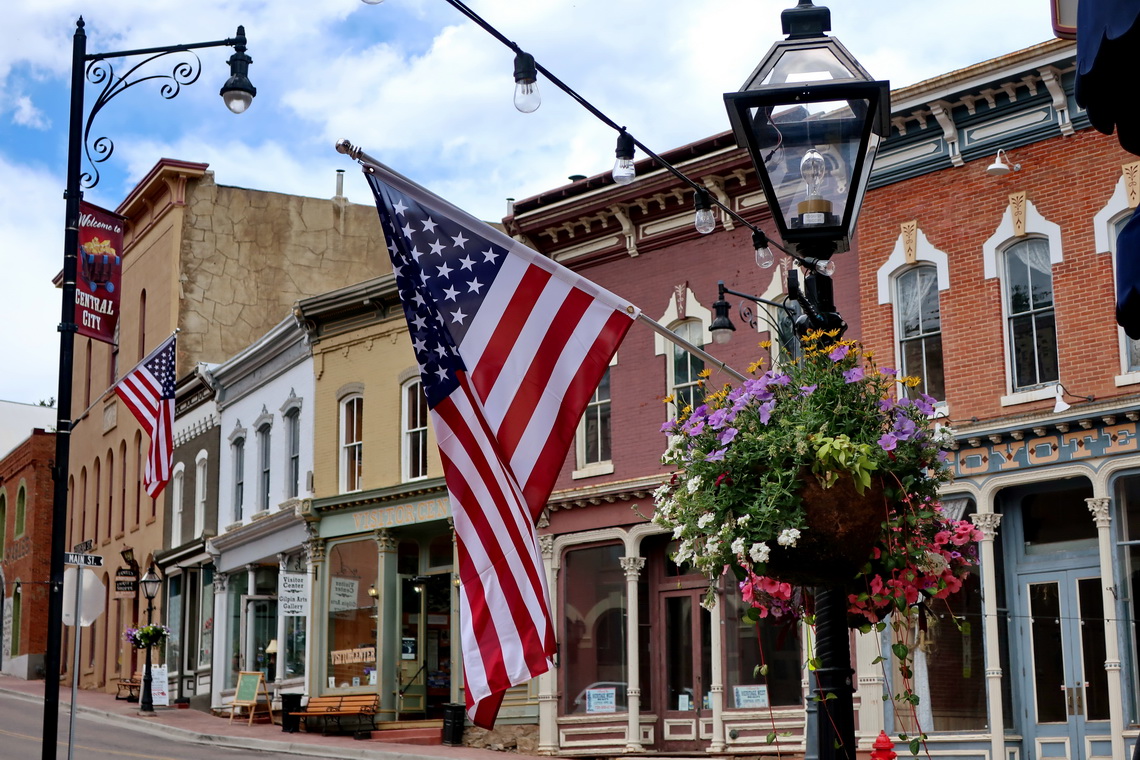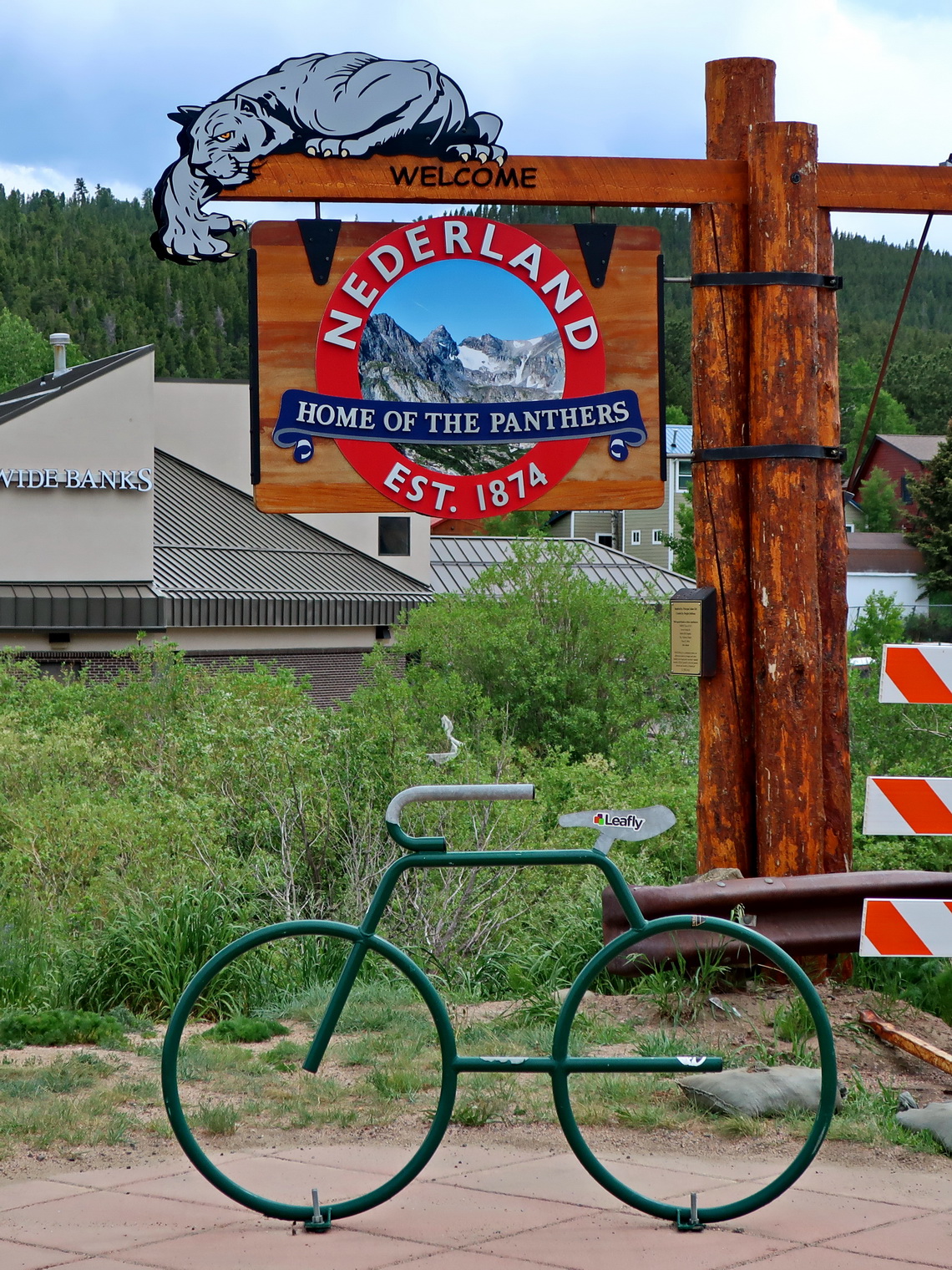 We stayed several days in the southeast corner of the Rocky Mountains National Park. It was difficult to find free campsite but we slept on te trailheads and picnic areas. Just one time a ranger told us in the morning that we cannot park overnight in the National Park without a special permit.
First we were in the Wild Basin with its wonderful lakes. Alfred did a long and impressive mountain tour to 4,133 meters high Chief's Head Peak and 4,056 meters high Mount Alice. Most of the mountains are much steeper here with huge walls than in the more southern parts of the Rocky Mountains. The northern ridge of Mount Alice include some easy climbing. Its southern slope are gently but the descent from Boulder Pass to the Lake of Many Winds was a little bit critical due to much snow. Fortunately a steep side gully was nearly free of snow.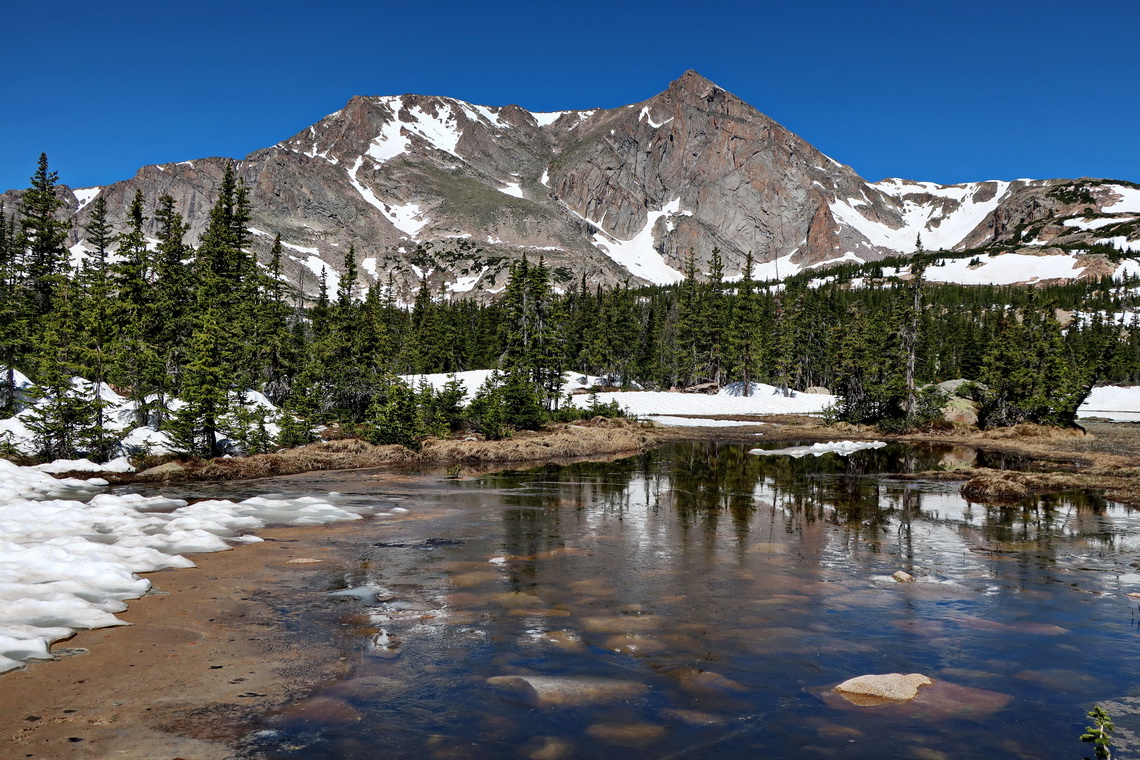 4346 meters high Longs Peak is the king of the Rocky Mountains National Parks, maybe also of the Rockies in Colorado. It is a huge mountain with steep walls on every side exceeding its environment dramatically. This peak is very popular besides the fact that there is no easy way to its summit, indeed it's a dangerous mountain. Several people die every year because of lightening, crashes in snow or rocks, falling rocks, or exhaustion. The keyhole route is the easiest way but it includes two longer traverses in steep walls, a long and dangerous gully with a serious climbing on top of the gully and the final southern face wall (see pictures section). Alfred was more than happy to be totally alone on this extraordinary climb.
Not really totally alone because on the summit were Marmots. Apparently they were used to humans and they had been fed because when Alfred wanted to eat his lunch they came close, very close. Literally Alfred had to defend his meal but he could make a lot of stunning pictures. This is also the Marmot Mountain for us.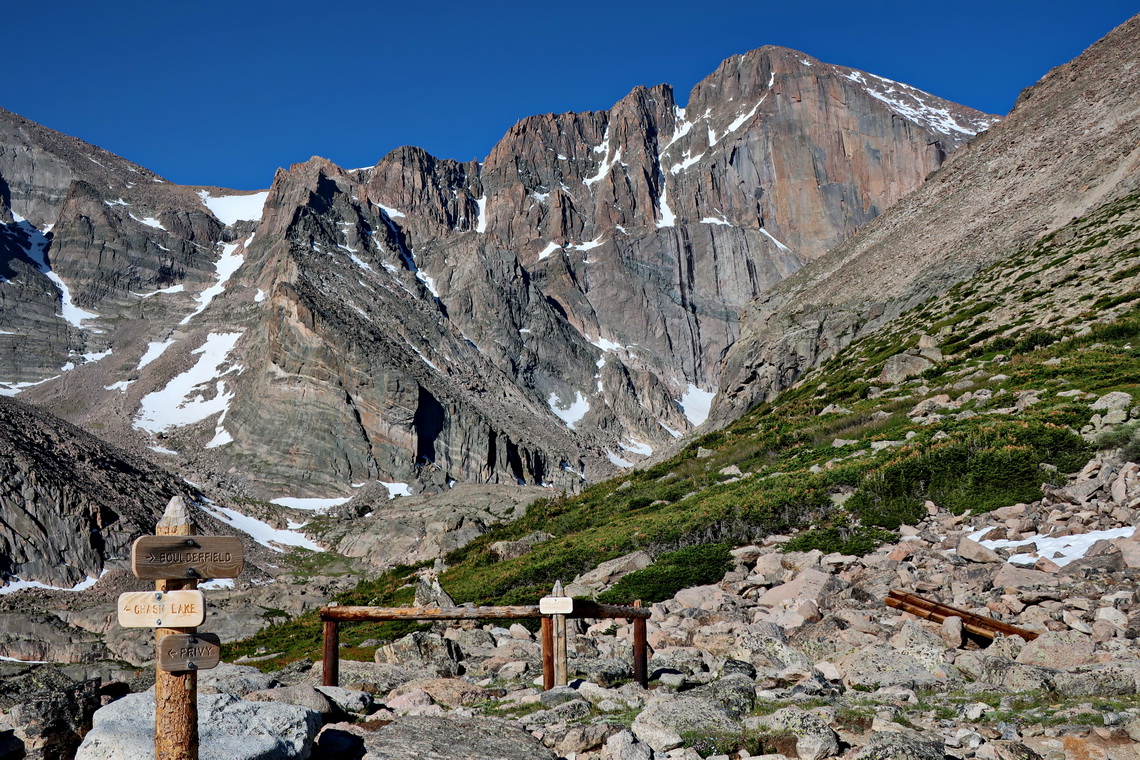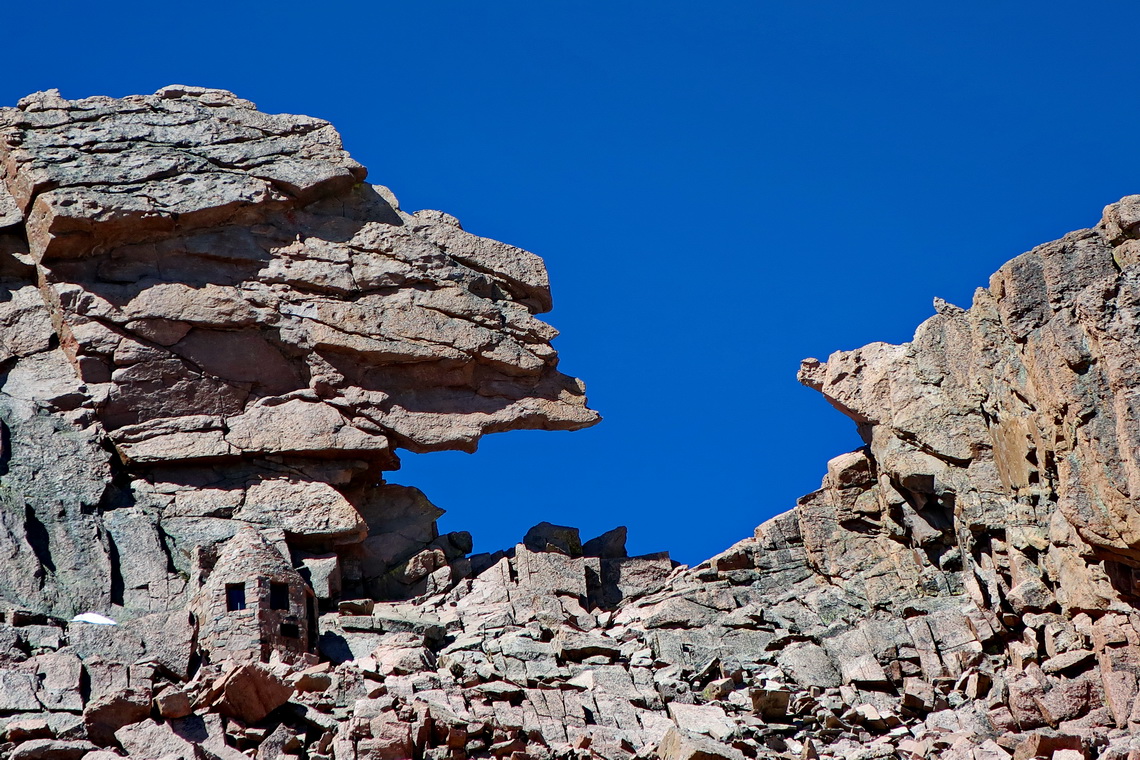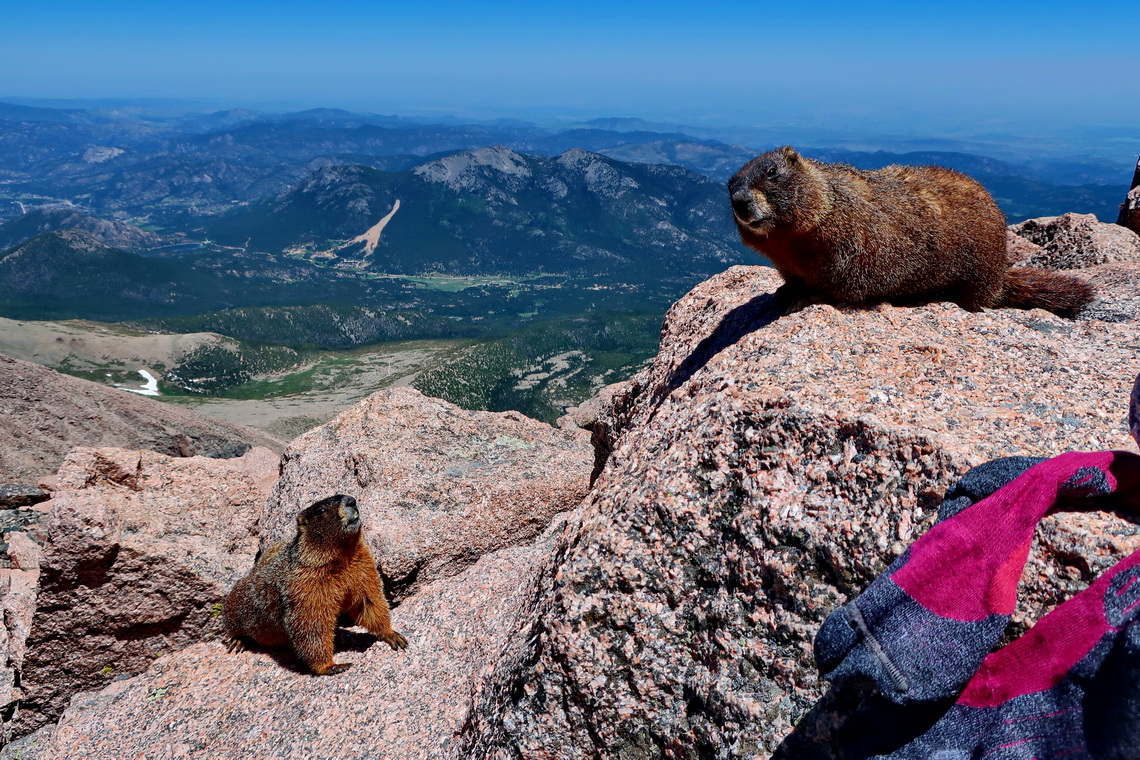 Our last trip in the Rocky Mountains National Park was the Bear Lake Area. We parked our car on the Visitor Center in Estes Park and took the shuttle bus, which is free of charge. First we walked down from Bear Lake to Bierstadt Lake where we took the shuttle bus again. Then we hiked via Nymph Lake and Dream Lake to Emerald Lake with many, too many people. Fortunately we found a side path back from Dream lake to Nymph Lake.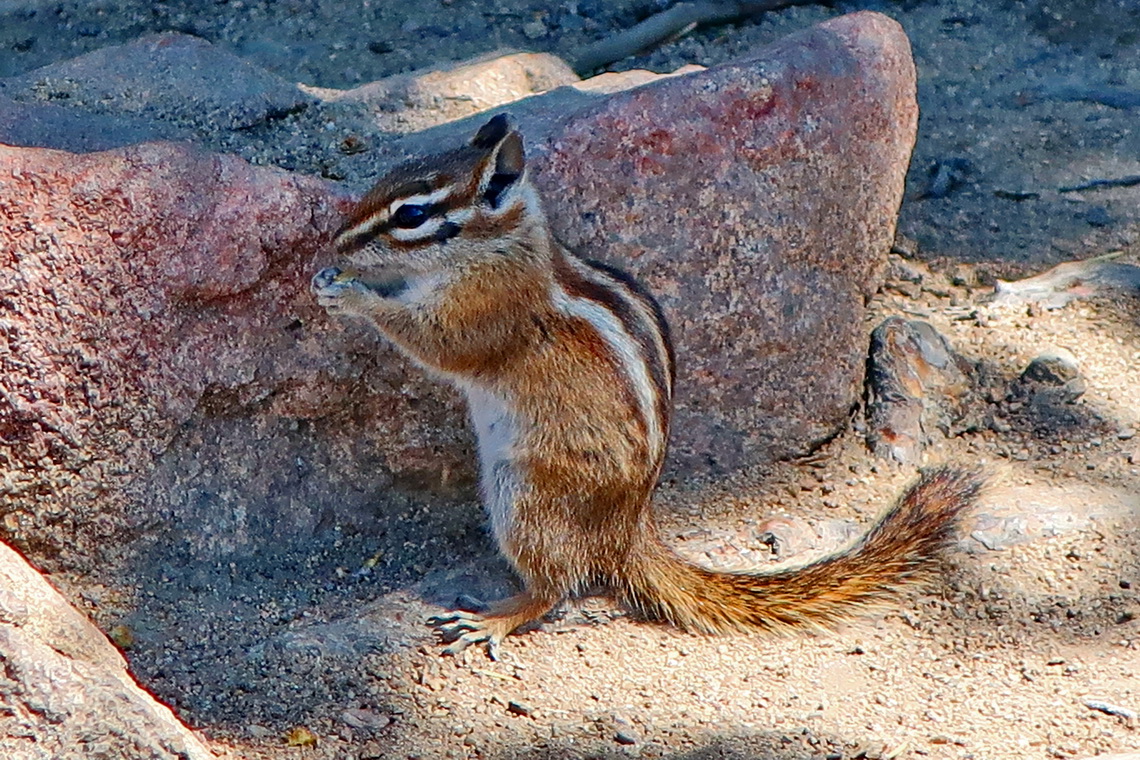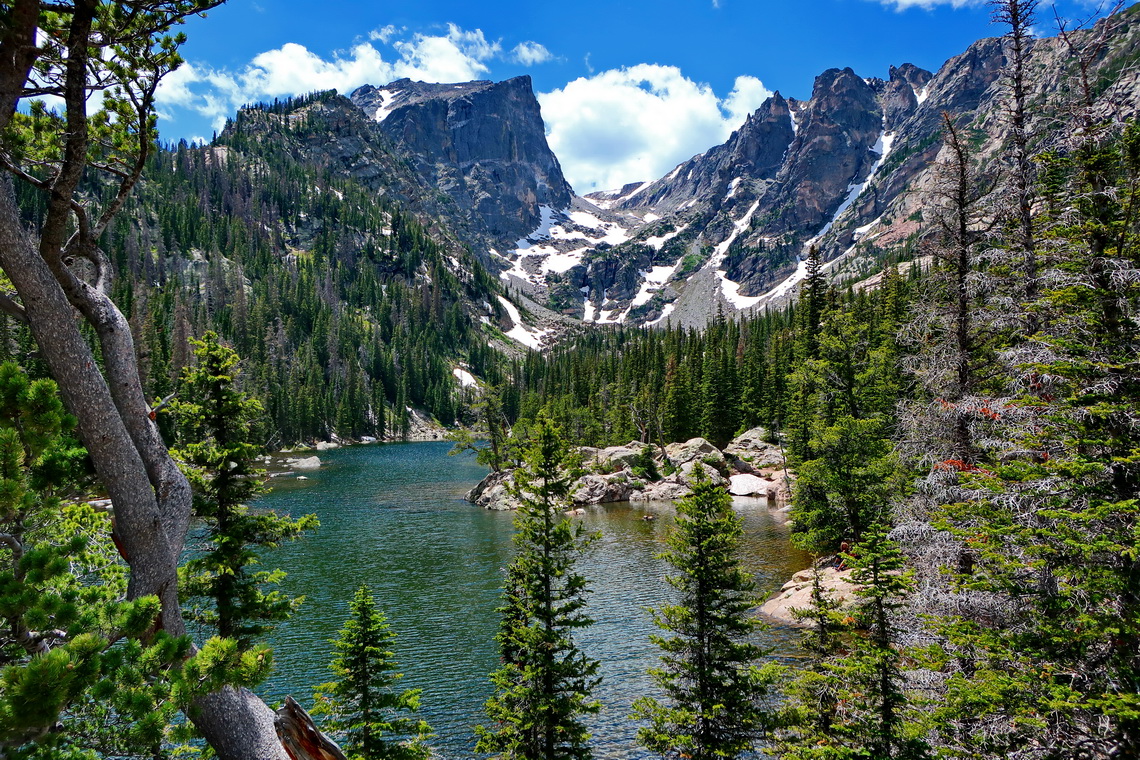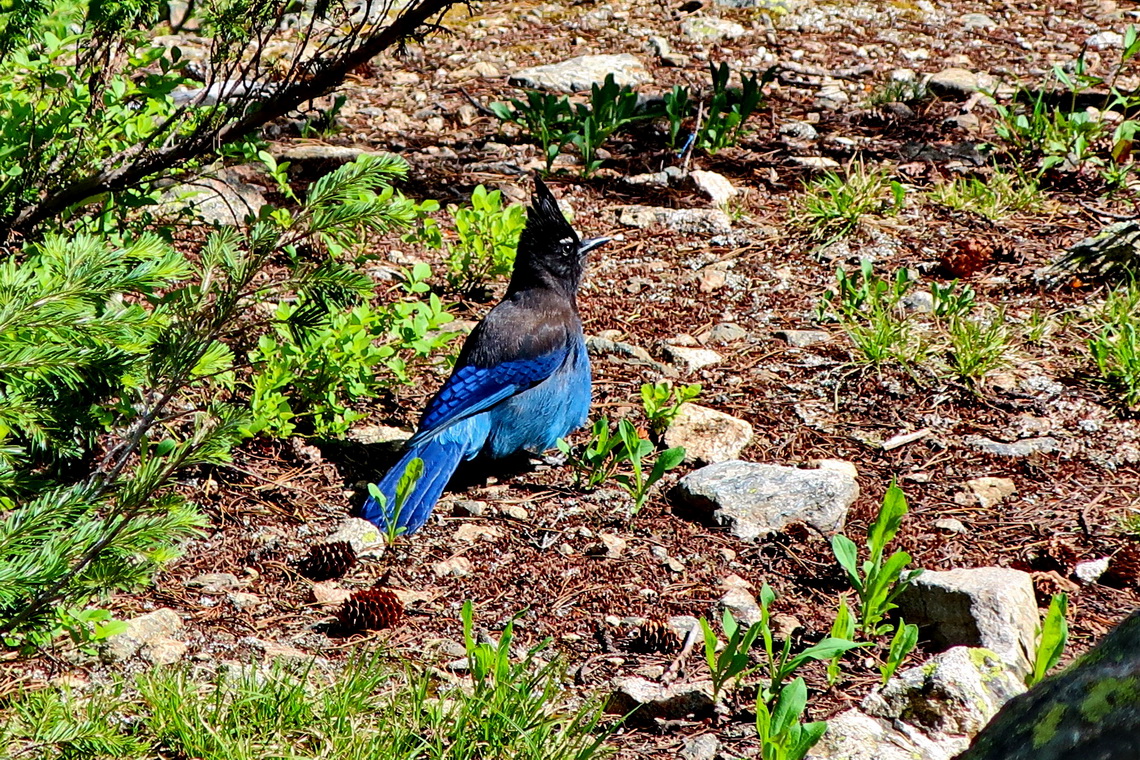 Early evening we drove down to Loveland where we enjoyed a nice surprise. We stayed the night on the Walmart between Loveland and Fort Collins and continued to Wyoming on the next day, June 14th 2018 - Bye, bye Colorado.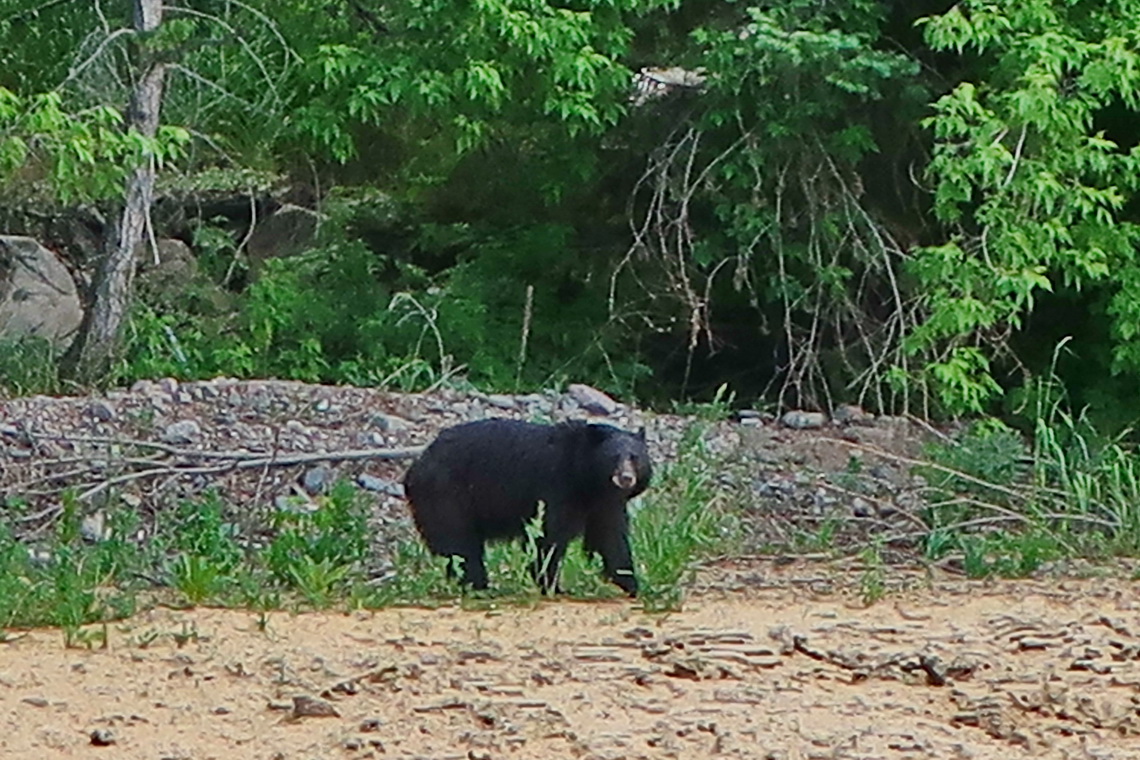 Two general remarks:
Our mountain trails are included in the GPX coordinates file of Colorado besides the hike to Greys and Torreys Peaks. For them data are included which we found in the internet. The altitude is not correct on trips we did later then Greys and Torreys Peaks because on our old Garmin GPS Device the altimeter is defective.

Very good sources for mountaineering in Colorado are the websites Summitpost.org and 14ers.com. The weather forecast at mountain-forecast.com was mainly excellent.
For more pictures, please click here                 For a map of our itinerary, click here
To download the GPS Coordinates file of Colorado, click here