We saw incredible much wildlife in the beautiful mountains of Wyoming. This state is adored with two famous National Parks - Grand Teton and Yellowstone, and many wilderness areas like the majestic Absaroka, Bighorn and Windriver Ranges with the tallest summits of the Rocky Mountains outside of Colorado. There is no bigger city in Wyoming, just half a million people are living on 253,000 square kilometers (2/3 the size of Germany!).
Our first impression of Wyoming was Japanese because we were stopped on the highway close to Laramie by a twin of our car full of Japanese men. They were so excited seeing a European Volkswagen Camper based on EuroVan which is the US version of the European Transporter T4.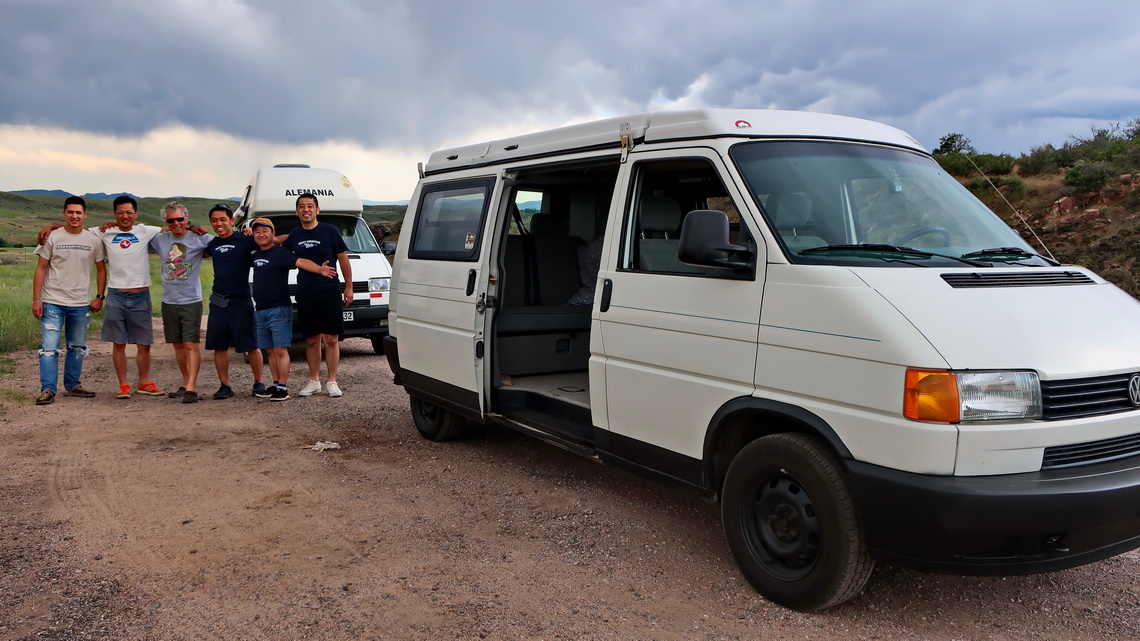 Our first destination in Wyoming was the beautiful Medicine Bow Range which provides an excellent day hike over its up to 3659 meters high summit ridge. On the street to the little eastern access town Centennial we saw a huge fire in the south. A nice and free campground close to the trailhead is the Herder Cabin Road (GPS coordinates: N41° 20.998' W106° 15.646').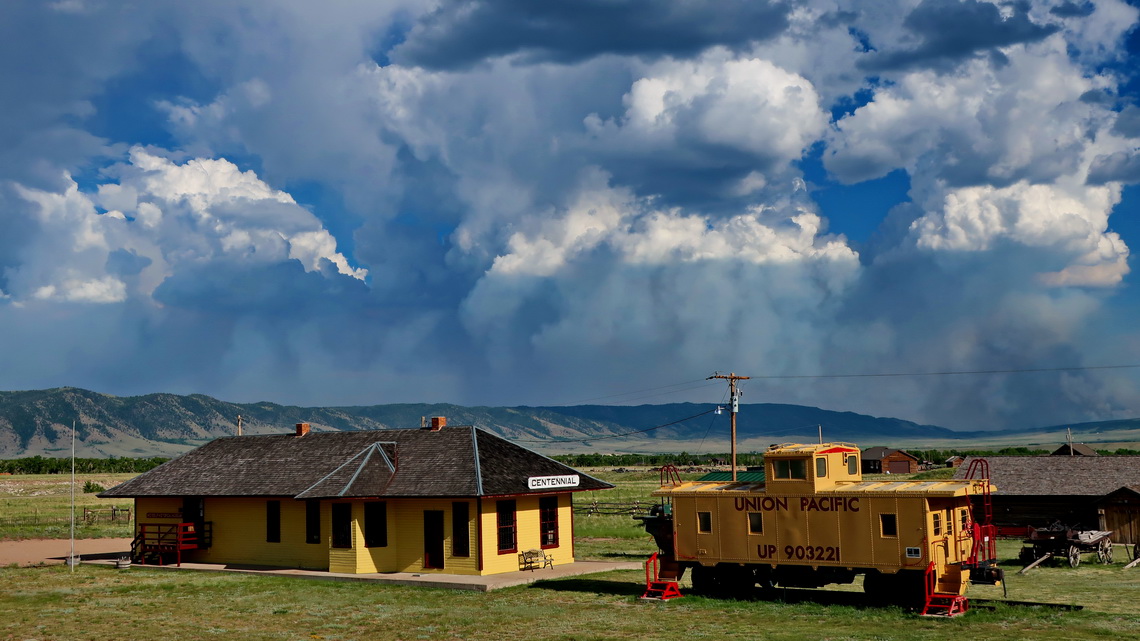 West of the Snowy Range Pass we detected our first Moose in America. Few kilometers north we stayed two nights on the fair and free campsite Treasure Island on shore of the North Platte River (GPS coordinates: N41° 19.925' W106° 43.671'). Saratoga is the next town in the north with the nice Hobo Hot Springs - free of charge including hot showers! Few kilometers north of Saratoga we stayed again on North Platte River, on the remote Foote campground (GPS coordinates: N41° 30.521' W106° 50.444') which is like Treasure Island popular by boaters and fishermen.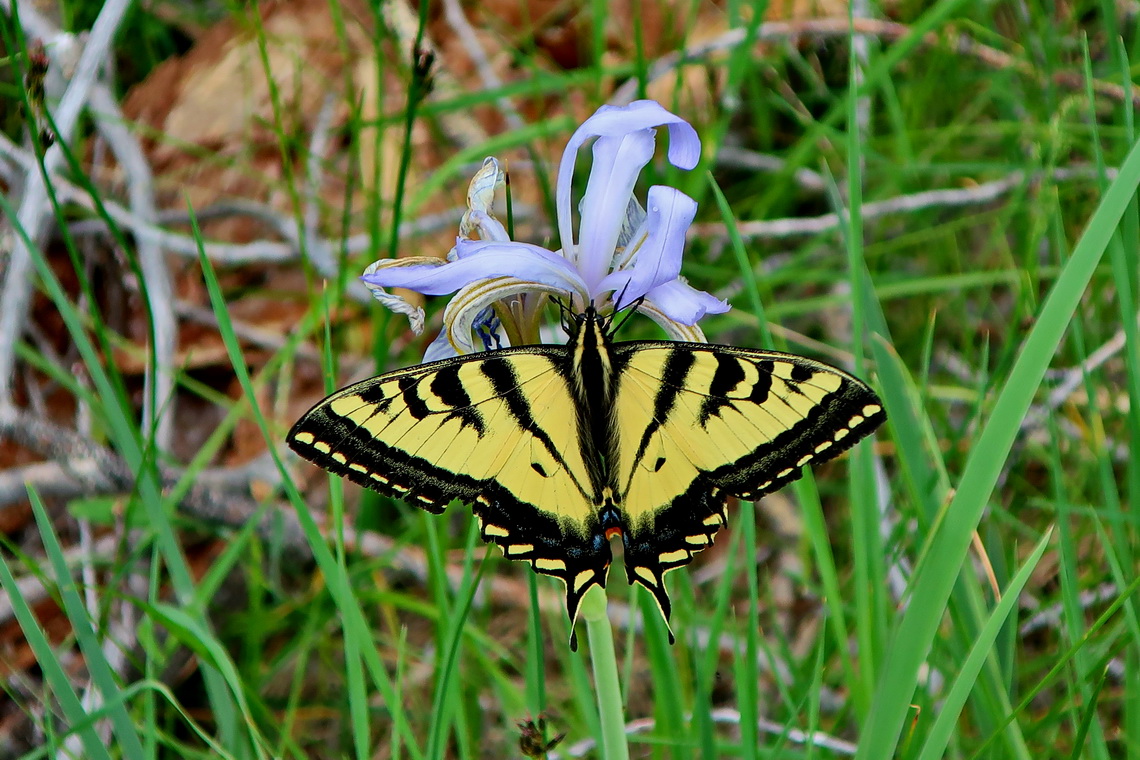 On the way to the snowy mountains of the Windriver Range we stayed one night in the Big Sandy Reservoir - free of charge (GPS coordinates: N42° 14.735' W109° 26.015'). The little town Pinedale is a good access point from the west because a paved road leads to the Elkhard Park Trailhead at 2277 meters sea-level. The Windriver Range is the southernmost area of the Grizzly Bear. Fortunately we bought a bear spray (more than 40 bucks) which is basically a huge pepper spray. This is the best way to prevent an attack without killing the bear.

Our idea was to hike with our tent to the base of awesome Fremont Peak but we decided to stop half the way because we should cross a huge river with belly-deep water. It was very rapid and there was a little waterfall directly under the crossing - much to dangerous! This year there was still a lot of snow in these mountains and it was melting like hell in the end of June heat. However we camped close to the huge stream and enjoyed a wonderful night in the wilderness without meeting a bear. Half the way from Elkhard Park Trailhead to our campsite is the little summit of 3143 meters high Photographers Point which provides excellent views of the higher mountains of the Windriver Range.
Grand Teton National Park is a must to do in Wyoming. Jagged peaks rise abruptly more than 2000 meters vertically from the valley Jackson Hole. Its highest point, 4199 meters high Grand Teton is accessible only by difficult and technical rock climbing but its southern neighbors Middle Teton and South Teton are fairly easy with moderate scrambling. Again we had the same problem like in the Windriver Range - still to much snow.
Consequently we hiked in lower areas like the stunning Table Mountain (3388 meters sea-level) which is is just 4 kilometers opposite of Grand Tetons impressive west wall. Going up we chose the standard route via the northwestern valley. This was quite challenging because there were huge avalanches in the valley, one was more than 1 kilometers wide. The hard snow was not a big issue but the countless trees moved by the avalanches. Back to the trailhead in the Teton Canyon we walked down the steep west face where we met some excited people because they had seen a Grizzly cub, which we did not detect.
Another nice day hikes are the traverse of 3074 meters high Mount Glory to Ski Lake from the parking lot of Teton Pass or Phillips Canyon and the walk round of Jenny Lake from the ranger station with the same name. On Mount Glory we met just one other man, but Jenny Lake is very popular because you can shorten the hike by an expensive boat.
Close to the southern entrance of the Grand Teton is the little town Jackson bustling with tourists (end of June). We enjoyed a big rodeo there with many horses, peoples and huge motor-homes, some half camper half horse carriers. There we stayed two nights (GPS coordinates: N43° 28.444' W110° 46.049'), another good opportunity is on foot of Shadow Mountain, few kilometers east of the southern entrance (GPS coordinates: N43° 42.217' W110° 37.365').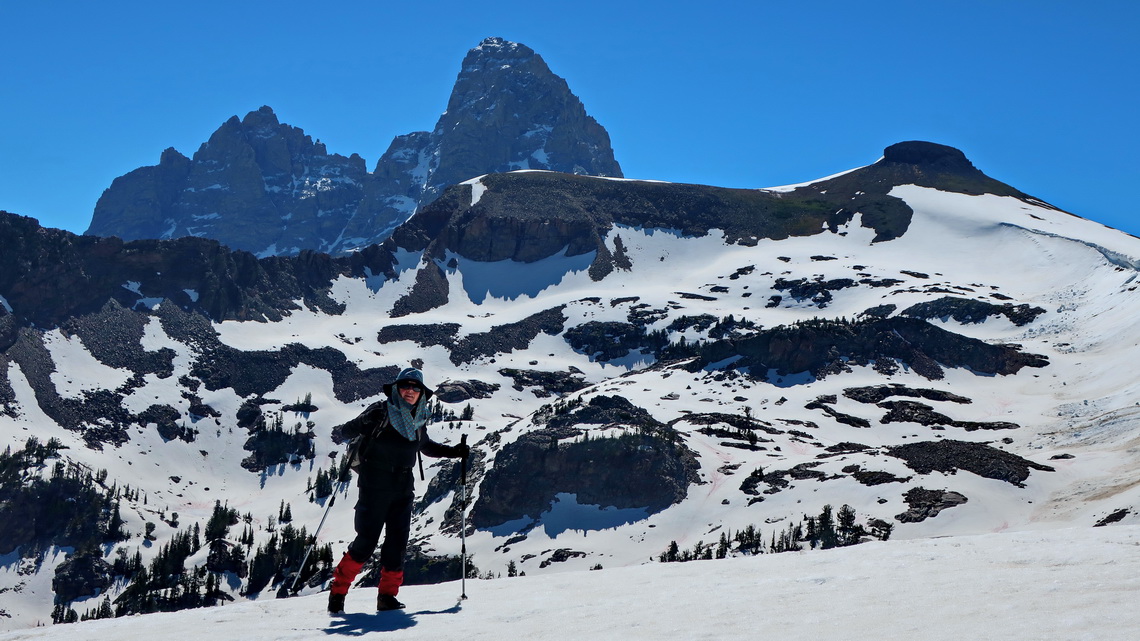 After our trip around Jenny Lake we headed northwards in the National Park and we saw a sign "Signal Mountain 5 Miles" in the late afternoon. We were reluctant to drive up this mountain with our car. Fortunately we did it because this was a highlight we never forget. Not the excellent view from the top but the wildlife on the street. Firstly we saw a Black Bear sow with two cubs investigating an old tree trunk. Fortunately we were in our car because more than 80% of all human Bear attacks are from sows with cubs. Secondly a magnificent bird was in the meadow very close to a parking lot. We did a lot of nice pictures.
Yellowstone was the first National Park on earth, established in the year 1872. Basically it is a high plateau which includes the world's largest active volcano with a caldera of approximately 55 kilometers diameter. The last eruption of this supervolcano was 631,000 years, ago but it is still a restless and dangerous giant. There are to many tourists for our taste (in July) but the landscape and wildlife is overwhelming.
There is a parking lot direct at the southern entrance, where we spent a quiet night (GPS coordinates: N44° 07.969' W110° 39.873'). Our first activity was hiking to Lone Star Geyser, which erupted after we had waited 60 minutes. In the Upper Geyser Basin it is fuming, hissing, steaming and whistling everywhere. Many hot pools with extraordinary colors are embedded between the geysers.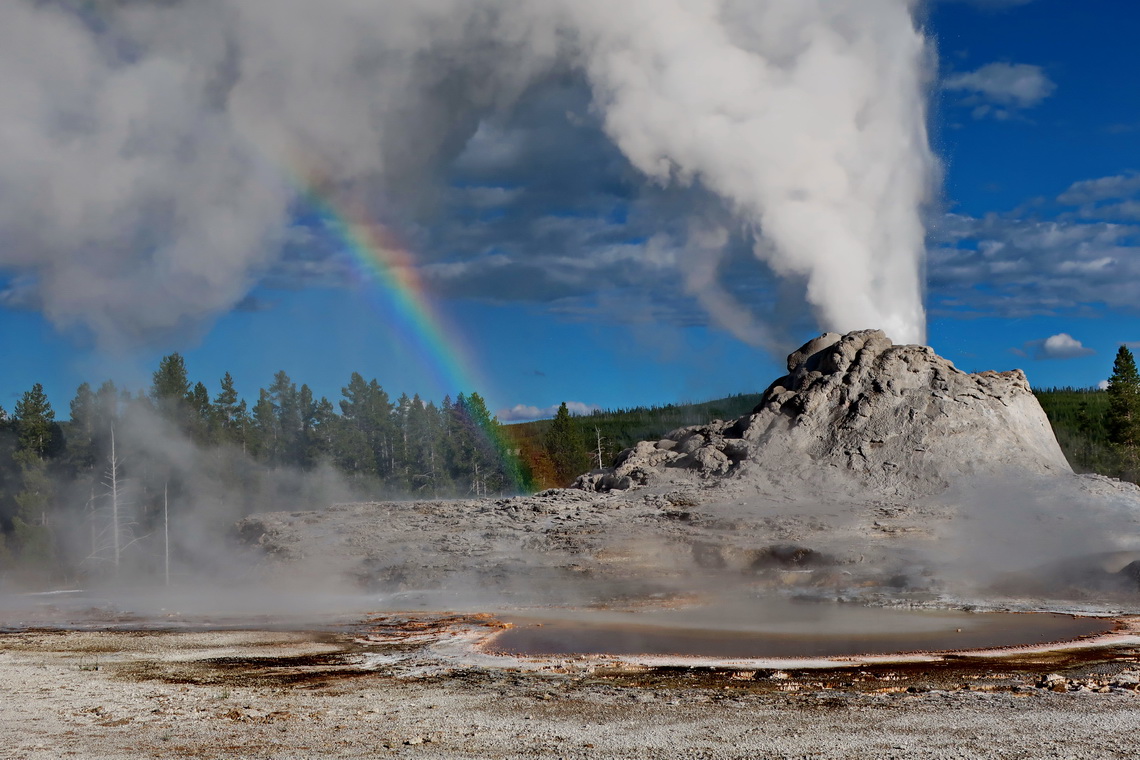 We stayed two nights on a parking lot close to the little village Yellowstone West (GPS coordinates: N44° 44.065' W111° 06.624') which provides all needed facilities like a coin laundry with showers. Our following day in the park was the Bison day. Other top highlights were the Norris Geyser Basin and Mammoth Hot Springs Terraces.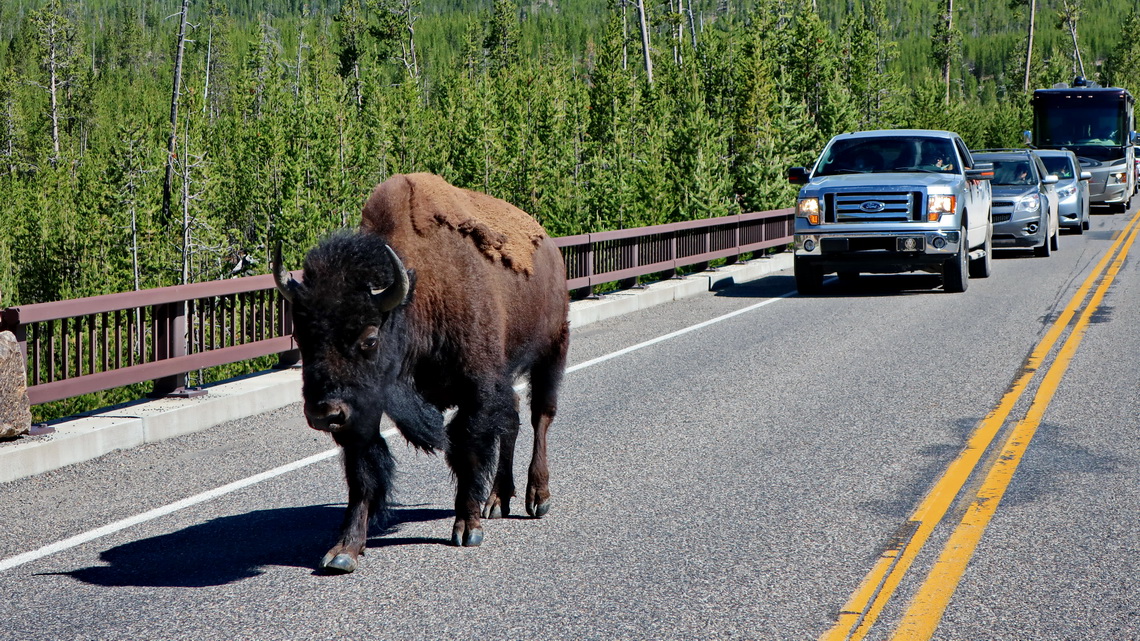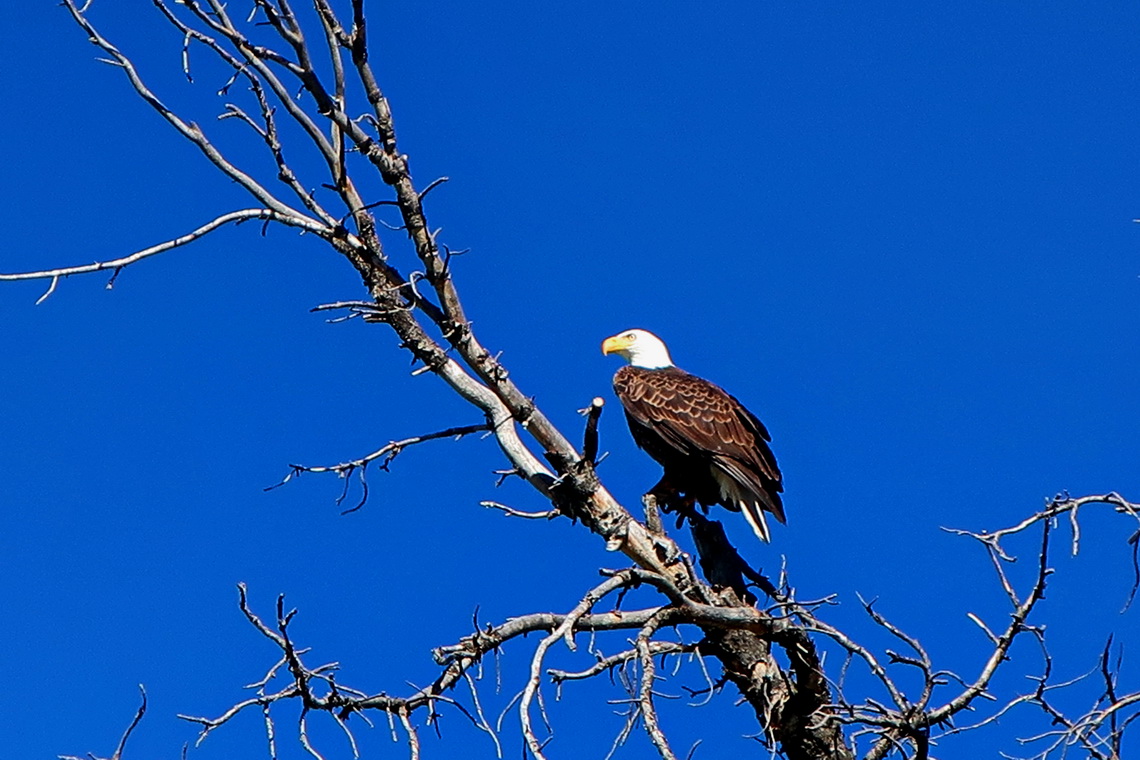 The parking lot of the graveyard of Gardiner on the north entrance is a good choice for the night (GPS coordinates: N45° 02.121' W110° 43.475'). The following day in the park was the Bear day. Firstly we spotted a younger brown Black Bear climbing up a tree trunk. Secondly we saw our first Grizzly Bear at dawn. Other top highlights were the ascent of 3122 meters high Mount Washburn and the Grand Canyon of the Yellowstone.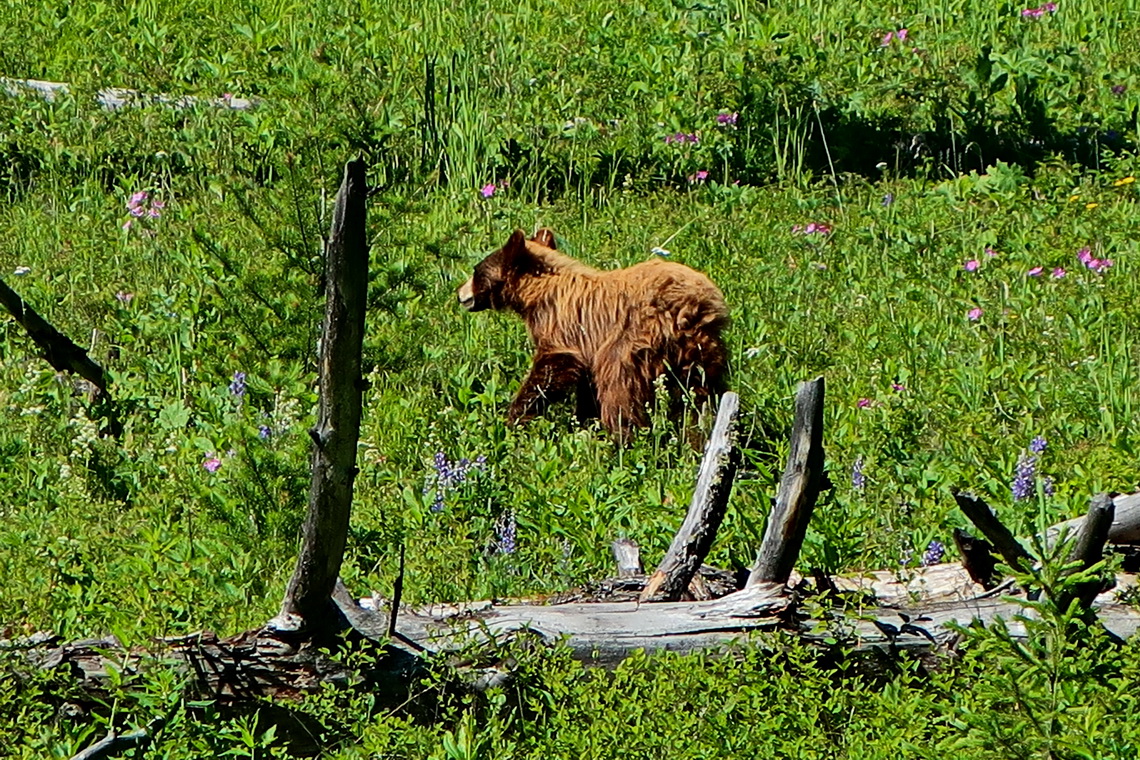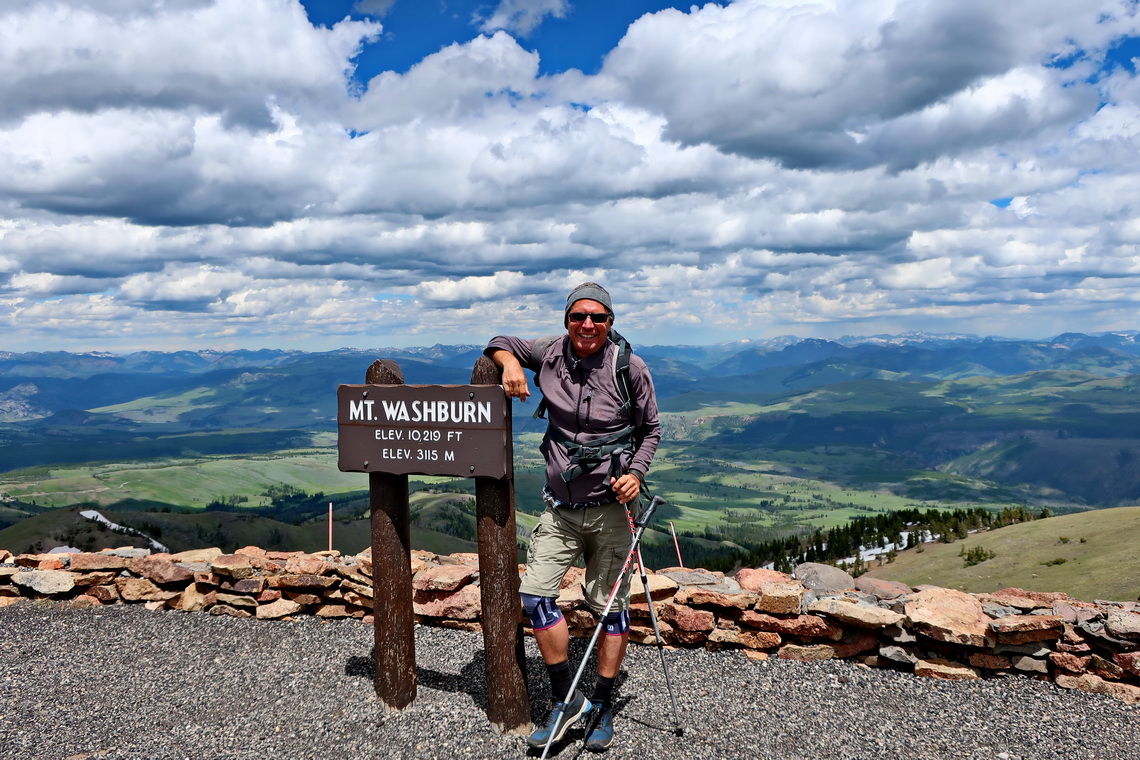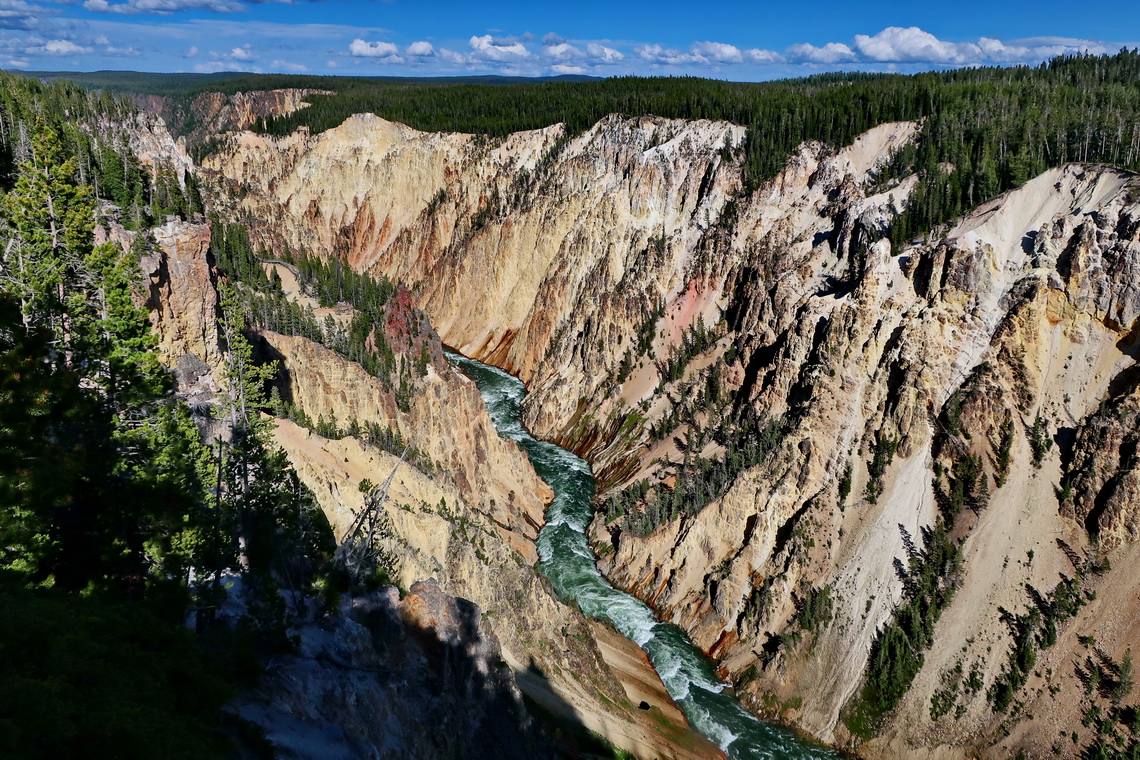 After being with so many other people in Yellow wanted to visit something less crowded. The Absaroka Range of the Rocky Mountains is located few kilometers east and not very well known, even if there is a peak over 4,000 meters sea-level - 4,011 meters high Francs Peak. But first we came to the little towns Cody and Meeteetse.
Cody is very touristic because it is the Buffalo Bill town with four expensive museums. It is named after Buffalo Bill because his original name was William Cody. He was the first introducer of the Wild West with famous shows to the other world including Europe, first time in the year 1887 where he impressed Queen Victoria and Kaiser Wilhem II deeply. He even met the Pope Leo XIII. For our taste he is a somehow shady person because he had shot more than 4000 Bisons within 18 months.
Meeteetse is a cozy little village where not many tourists stop but with very nice inhabitants. It is the gate into the Absaroka Range and has a little interesting museum which is free of charge.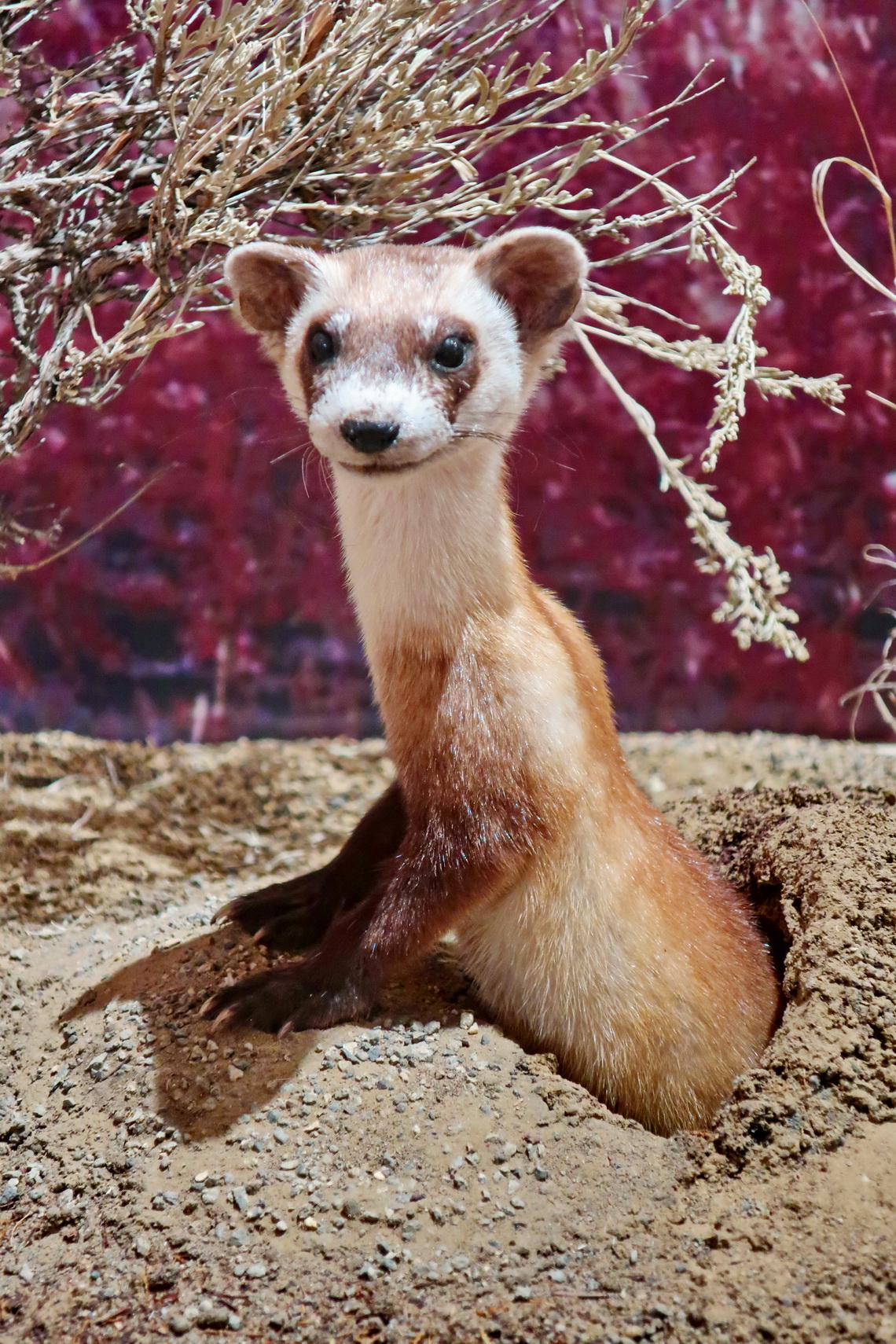 We continued on a decent dirt road to the beautiful and free Brown Mountain Campground (GPS coordinates: N43° 56.110' W109° 10.708'). We did not dare to continue the following 6 kilometers to the trailhead to Francs Peak because the street was partially flooded. Early in the morning we wanted to hike to the trailhead but a very gentle teacher offered us to drive us wigh his 4x4 Ford. We were more than happy because our backpack were heavy with stuff including our little tent for three days - Thank you so much.
We walked three hours to a little mountain hut where we stayed two nights. We were totally alone until we returned to our car. Not really because a younger brown Grizzly wanted to visit us for dinner on our first evening. When we detected it (approximately 50 meters away) Alfred took the Bear spray and Marion yelled "Du Saubär". The beast was so scared that it returned immediately, run to the wall (see following picture) and climbed it up within 20 minutes through the steep and icy snow and rock - more than 600 meters vertically. We never will forget this impressive climb and terrified Bear, unfortunately we could not make any pictures because of the distance. Fortunately we had not to use the Bear spray to shoo him away.
On the next day we wanted to hike to the summit to Francs Peak. After two hours it started raining in the morning and Marion returned. Alfred continued to the ridge and the weather became sunny. A high plateau with a marvelous meadow (approximately 1 kilometers long and 500 meters wide) with many flowers in full blossom followed on the way to the summit triangle at 3,700 meters sea-level. This meadow was dotted with minimal six Grizzlies - no way to continue to the summit. A Ranger in Meeteetse told us that the Bears love to eat the moths there because it is pure protein.
Alfred returned and met Marion on the upper slope to the ridge. Together, we continued to the opposite summit of 3710 meters high Brown Mountain, where we saw no more Grizzlies.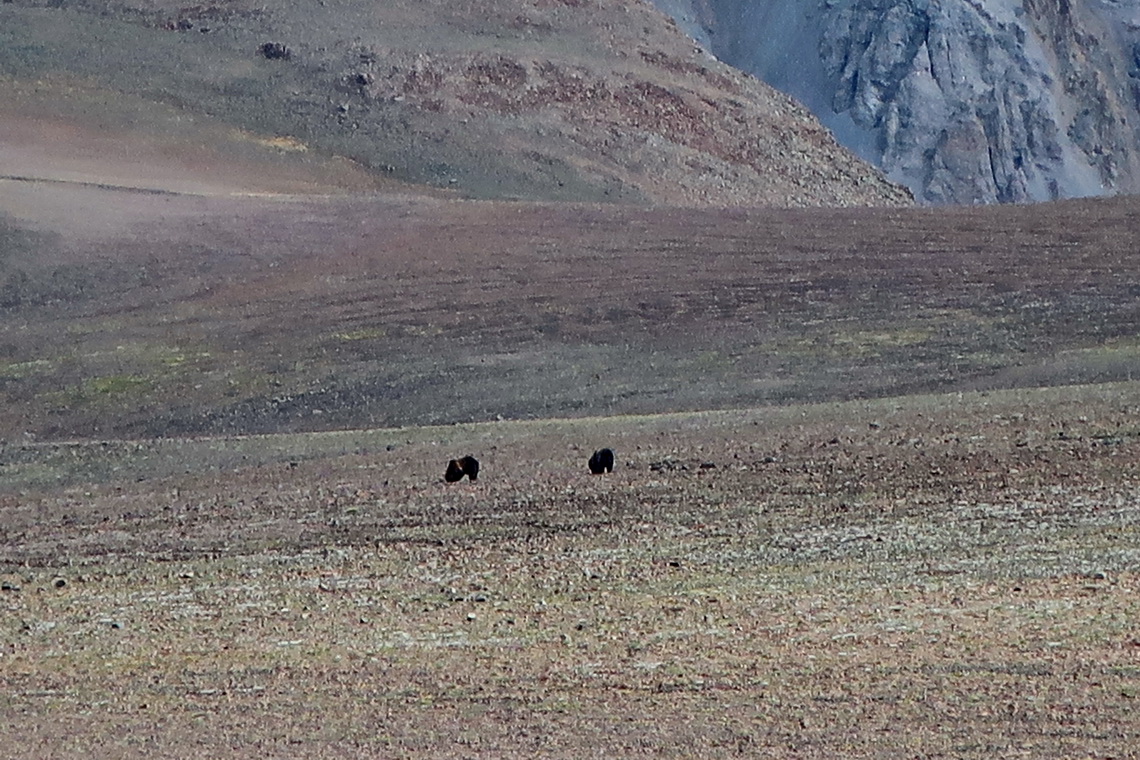 Thermopolis claims to have the largest mineral hot springs on earth. There is a nice area with volcanic activity, two commercial pools with a lot of fun devices and one public bathhouse. The latter one is free of charge but they have a strict time limit of 25 minutes spending in the pools. If you enter the really hot water you know why.
4,017 meters high Cloud Peak in the Bighorn Range is the most northern 4000er of the Rocky Mountains. This range stretches parallel to the Absaroka Range in the east. Access to Cload Peak is easy because there is the highway no 16 between Thermopolis / Worland and Buffalo over a pass higher than 3,000 meters. It is a very, very long day trip - thus we decided to take our bigger tent and to camp inbetween.
After hiking 4.5 hours we found a nice spot close to a waterfall with already prepared campsites. We did not see any Bear but we had big trouble with bugs. We could not sit down during dinner because these mosquitoes were so nasty. Instead we walked around with our plate and spoon followed by a black cloud. Fortunately we had no bugs in our tent.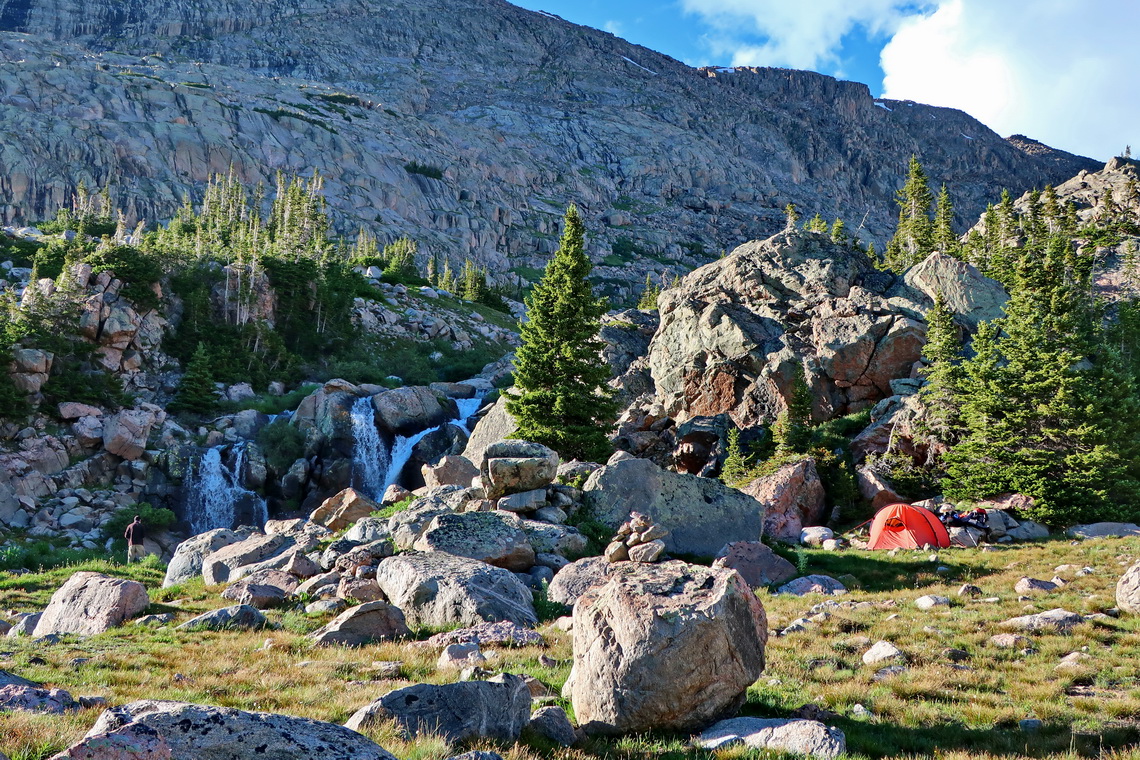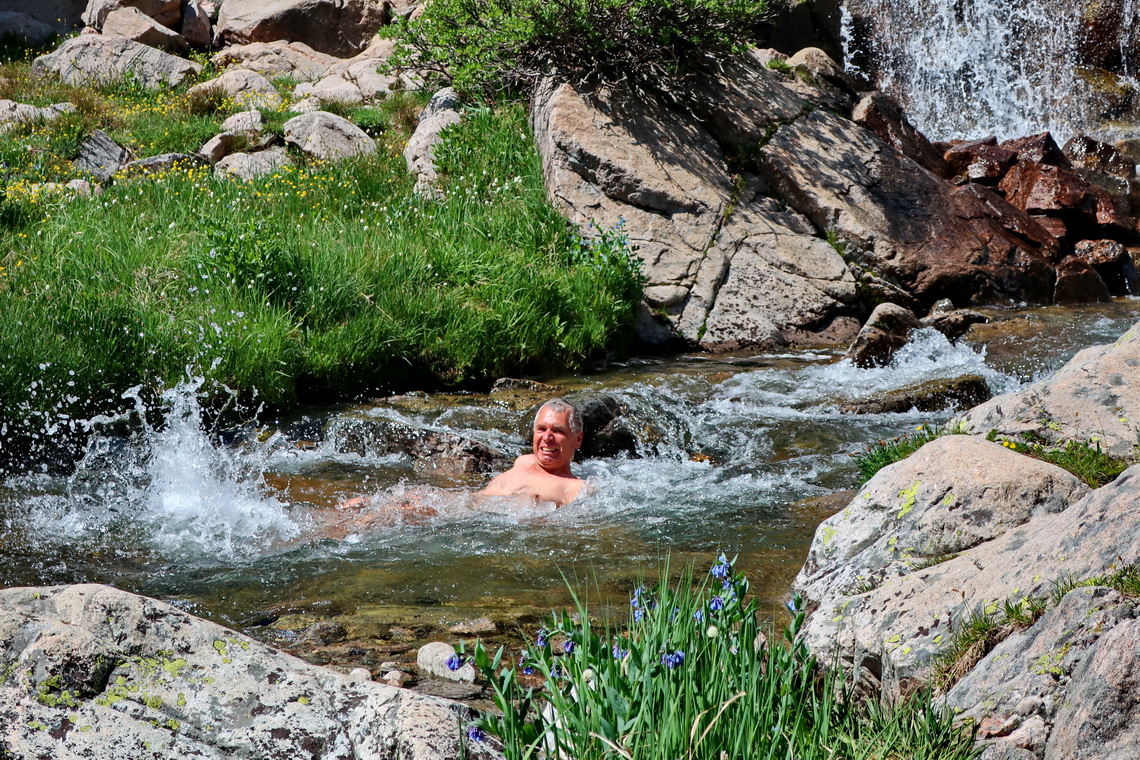 The climb to Cloud Peak is approximately 3 hours with some scrambling over huge rocks and scree. We enjoyed a lovely day end an outstanding view from the summit.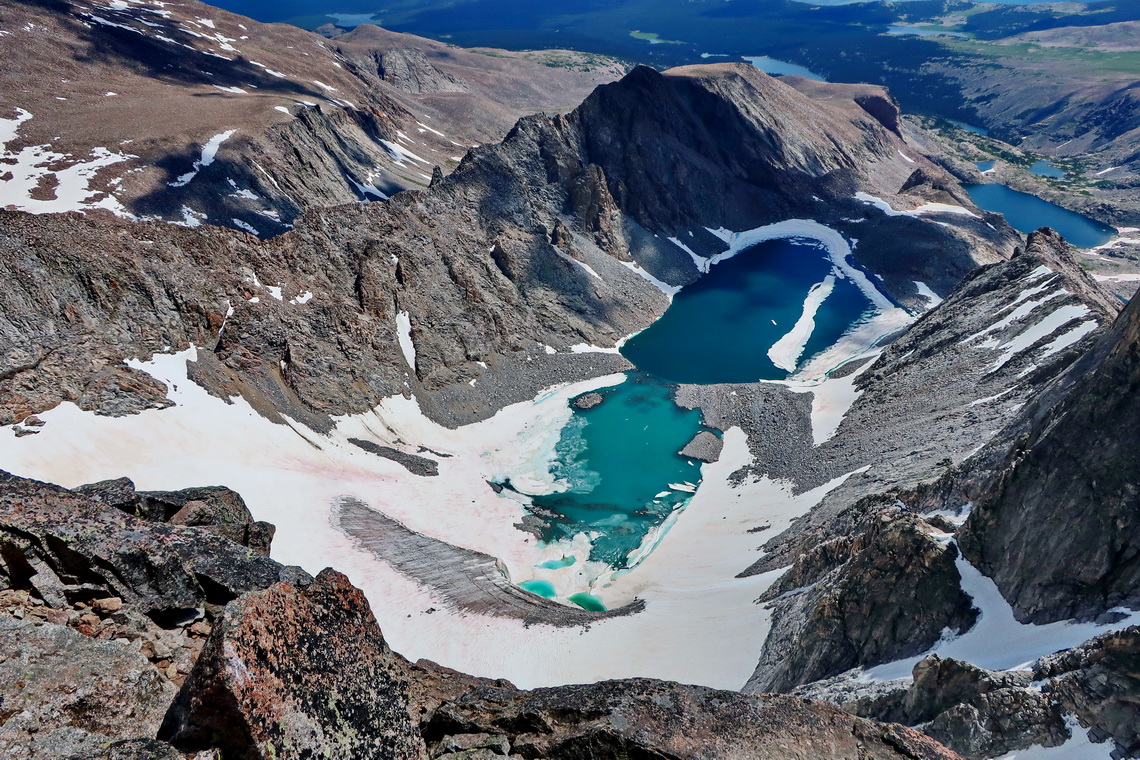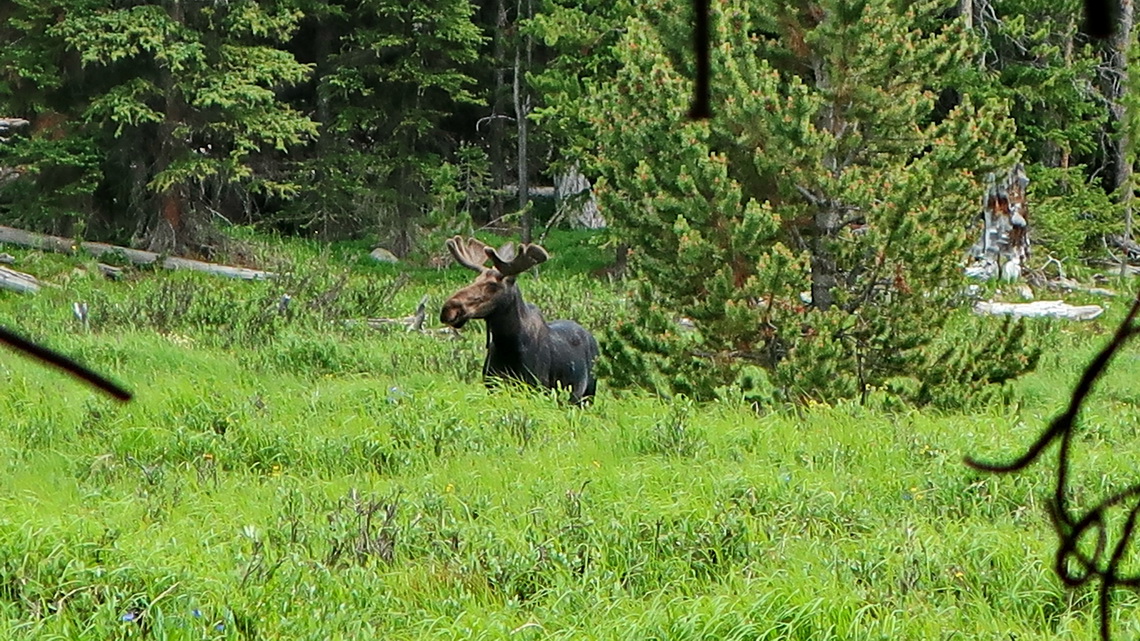 On the good dirt Tensleep Road to the trailhead are many good opportunities for dispersed camping. We stayed as closed as possible to the trailhead where camping is not permitted (GPS coordinates: N44° 15.082' W107° 13.066'). Other nice and free campsites are on a side road few kilometers east of the main road (GPS coordinates: N44° 09.854' W107° 08.662'). Beautiful is the day-use are on Meadow Lark Lake, which is suitable for swimming in relatively warm water (GPS coordinates: N44° 10.782' W107° 13.262').
All of our mountain trails are included in the GPX coordinates file of Wyoming. The altimeter of our Garmin GPS device is broken, thus the sea-levels are not correct.
For more pictures, please click here                                For a map of our itinerary, click here
To download the GPX Coordinates file of Wyoming, click here