Finally we came to Alaska after we had started our journey in South America more than eight years ago. We had met many nice people, had observed a lot of stunning animals, had seen beautiful landscapes and cities, had climbed up more than 250 exciting mountains and had driven approximately 140,000 kilometers with our little camper.
Our impression about Alaska is that it is everything but cold, at least in summer. We spent more than seven weeks in central and southern Alaska which is accessible by roads. The sun was shining nearly always with temperatures higher than 25°C, and we had just two days with rain. We enjoyed swimming in many lakes with pleasant temperatures, sometimes in front of icy mountains. Our car was full of warm gear like excellent sleeping bags which we never needed.
Alaska was Alfred birthday present because we crossed its border on June 23rd 2019. We celebrated both events in the only bar in the "Downtown" of Chicken which is an old gold mining town with seven inhabitants based on the census 2010.

On the way to Fairbanks we came to the small town of North Pole with its kitschy Santa Claus House where Christmas is celebrated permanently. For us a better highlight was our free campsite on Harding-Birch Lake where we enjoyed our first swim in Alaska. Fairbanks is a typical American mid-size city with the interesting Pioneer Park.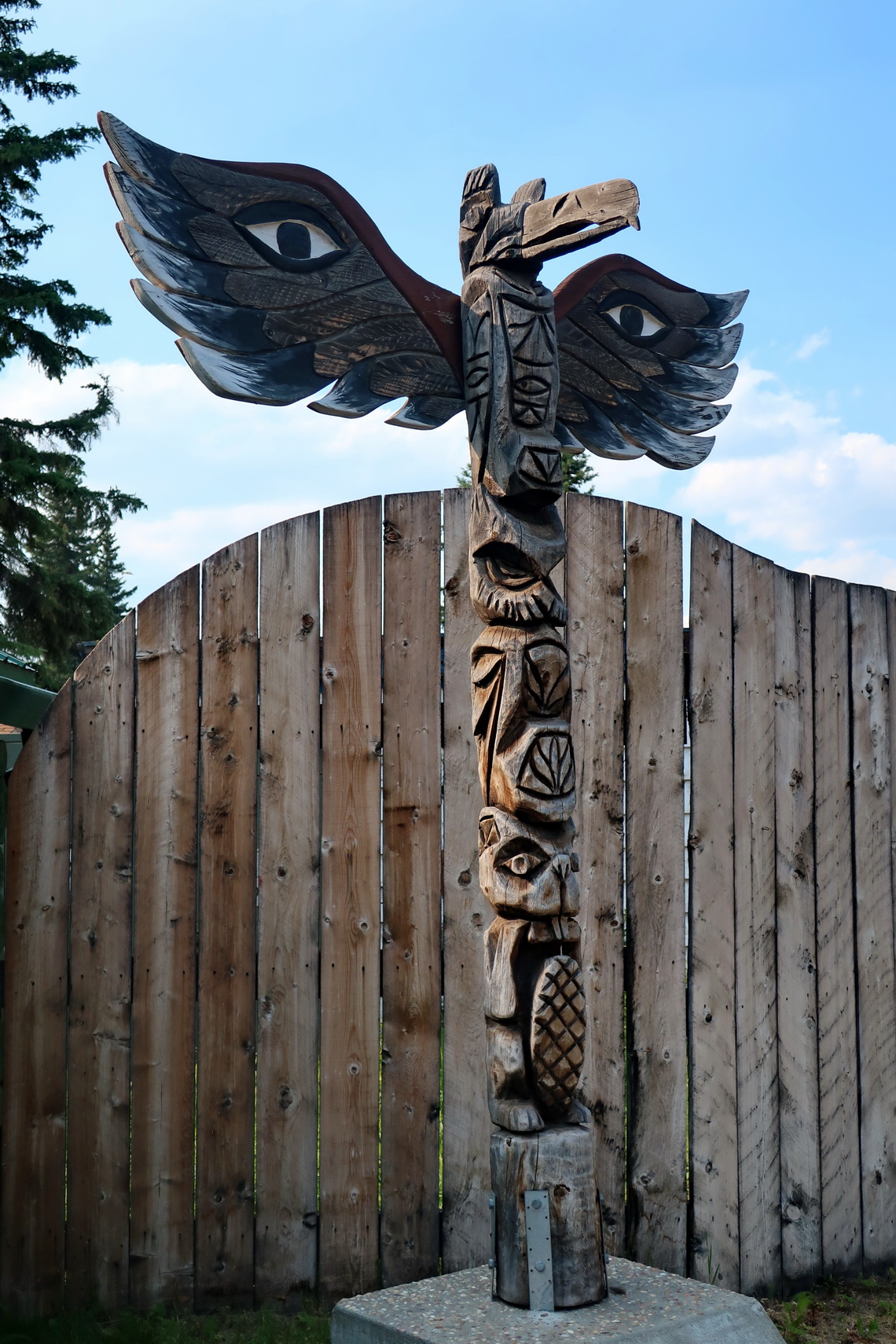 From Fairbanks we headed north few kilometers to climb up 977 meters high Wickersham Dome in the White Mountains over its gentle southern slopes. Besides the sunny weather and beautiful flowers it was a scary experience because we saw huge wildfires in the North. The summit of Wickersham Dome is our northernmost mountain and location so far.
Our trail to Wickersham Dome is included in the GPS coordinates file of Alaska.

We spent 12 wonderful days in Denali National Park. Mainly we spent the nights free of charge on BLM land near Otto Lake. On the first days we hiked most of the trails close to the impressive Visitor Center, like Horseshoe Lake, Rock Creek and 1311 meters high Mount Healy Ridge. We took the free shuttle bus to the trailhead of Savage Alpine Trail where we hiked a nice loop.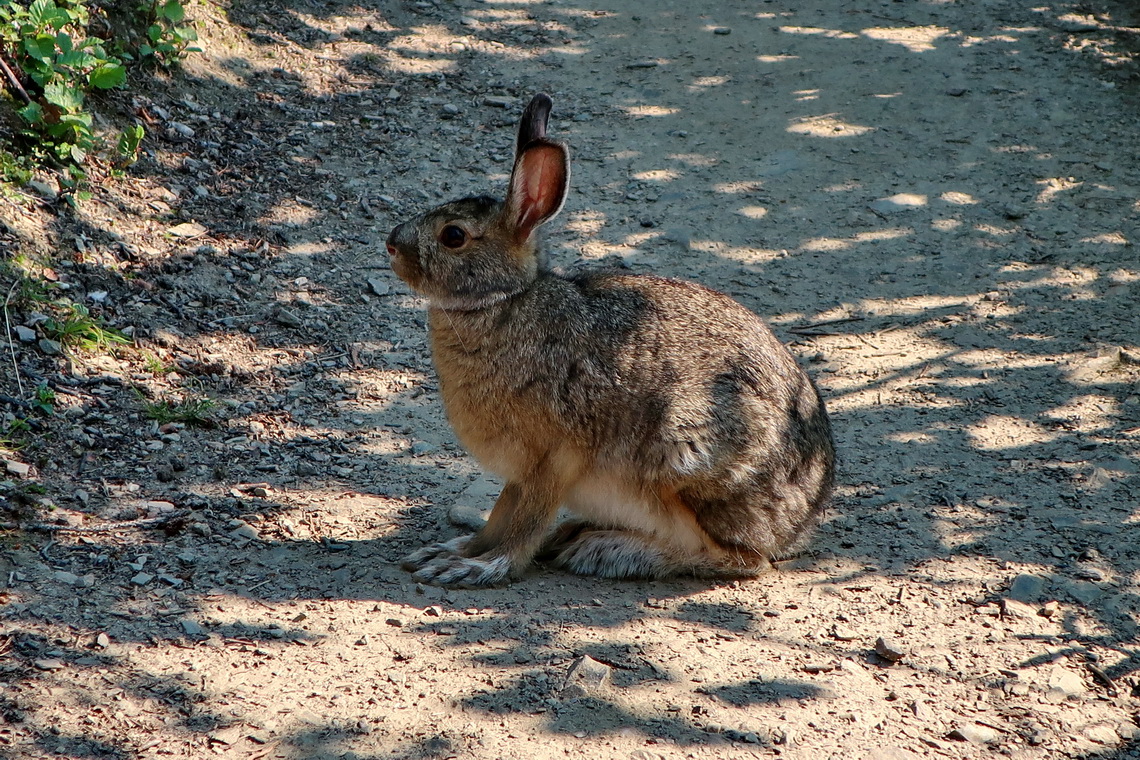 From these trails you cannot see mighty Denali which is with 6,190 meters sea-level the highest mountain in North America. To see it we decided to stay 6 days in the backcountry. Denali National park is divided into several units where backcountry camping is permitted. But you need a permit from the park authorities and they allow just very few people per unit per day. We discussed this issue with the rangers in the Visitor Center and chose unit 11 (Stony Dome) for one night, unit 34 (Mount Galen) for two nights and unit 36 (Jumbo Creek) for two nights. The latter one is opposite of Wonder Lake where you have the closest road access to Denali. Private cars are for forbidden on the road to Wonder Lake. With the backcountry permit we got tickets for the green camper bus for 44 bucks each. In the park campers can choose every green bus in any direction with this ticket without additional costs. The backcountry permit is free of charge also the bear proofed food containers which are mandatory for safety.

We caught the camper bus at 12:30PM and the ride to unit 11 was more than six hours. Thanks to the bus driver Mona we had a lot of fun and we saw some animals like Grizzlies and Caribous. Fortunately we soon found a reasonable campsite in unit 11 because the rule is that you have to stay minimal half a mile away from the street and out of sight. Next day we hiked to the summit of 1457 meters high Stony Dome where we met two guys from Texas. On the way back to our tent we saw Denali the first time. When we returned to the street and stopped a green camper bus its driver was the same Lady like the previous day. Again we had a lot of fun. 
1536 meters high Mount Galen was our highlight because we saw Denali from our tent and nearly from the whole ascent. Close to its summit we met a Grizzly which was snoozing in the midday heat. Fortunately we could make a bigger deviation around the beast. Unit 36, Jumbo Creek was tough because it was very bushy and sometimes muddy. On the first day we returned to the street without our tent and took the bus to 620 meters high Wonder Lake. Neither in unit 34 nor unit 36 we saw other humans.

The north summit of Denali towers more than 5,300 vertical meters above Wonder Lake which is one of the tallest relief on earth. We took a pleasant swim in Wonder Lake and hiked back to our tent few kilometers along the street. The views were stunning but we saw some wildfires in the north of Denali and more and more smog. On the next day Denali with its satellites was barely visible due to smoke from the wildfires. Thus we decided to return to our car one day earlier.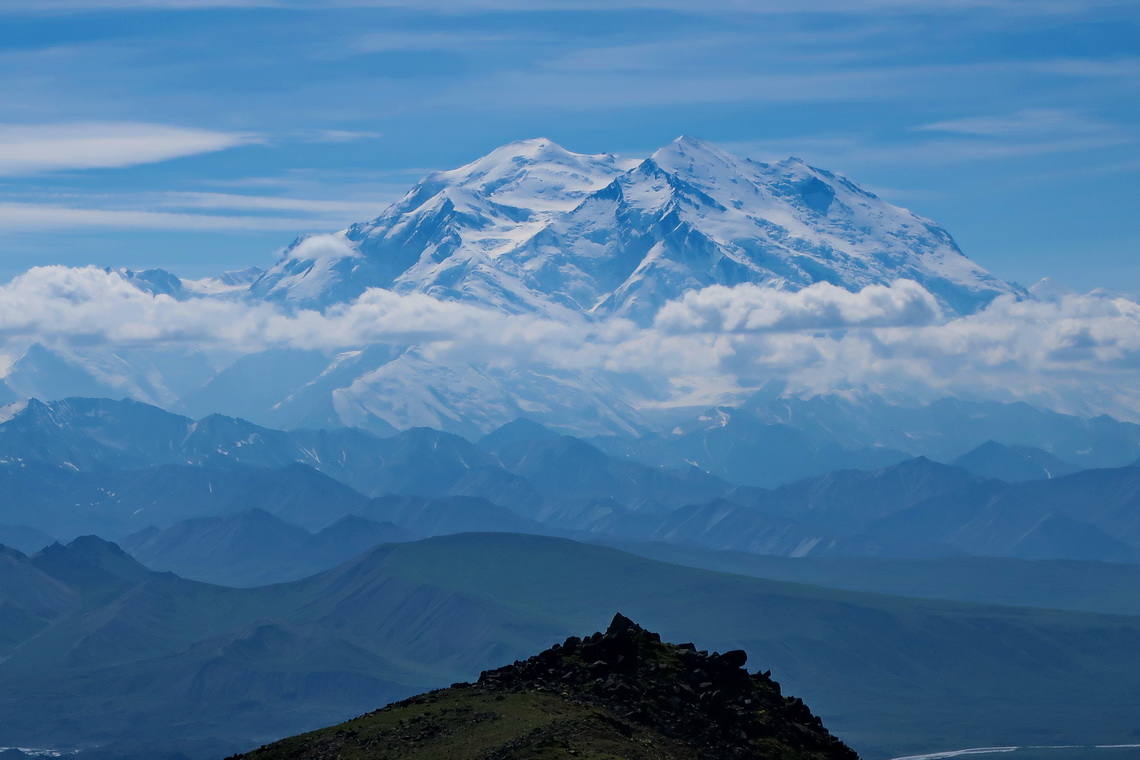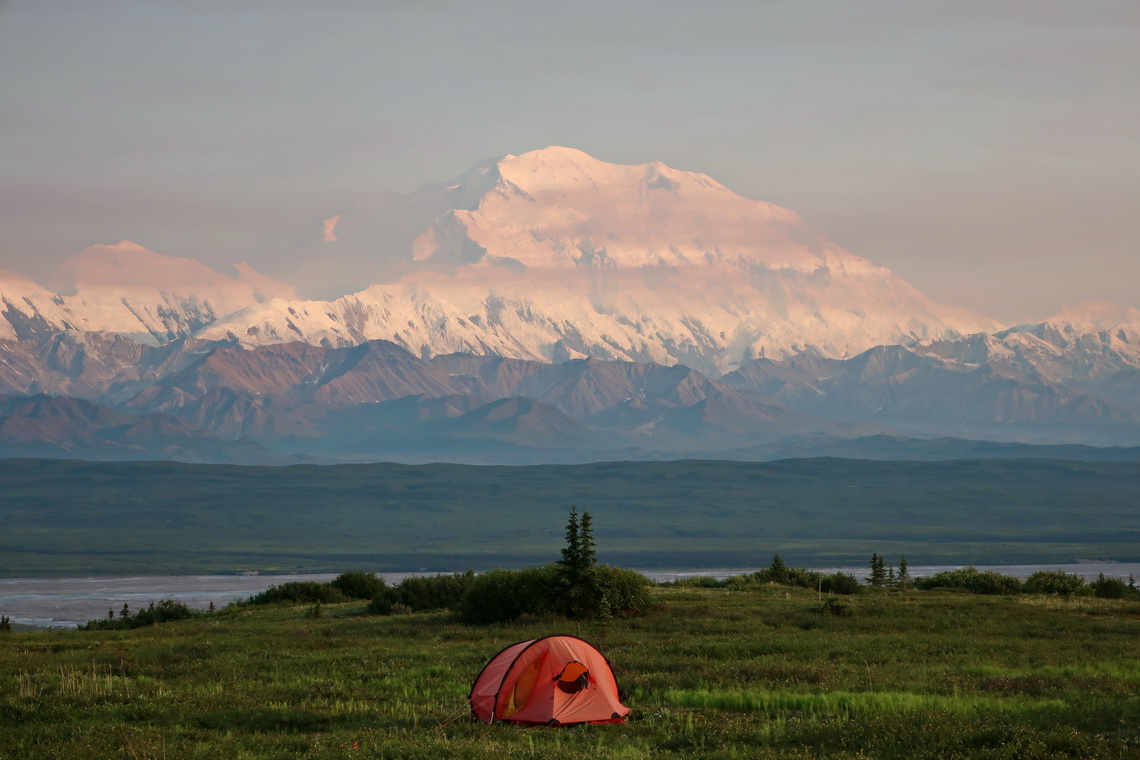 Our trails to Mount Healy Ridge, Savage Alpine, Stony Dome and Mount Galen are included in the GPS coordinates file of Alaska.
We celebrated our good time in Denali National Park with delicious Alaskan beer.
South of Alaska's biggest city, unpleasant Anchorage is the Kenai peninsula which is accessible by decent roads. It's a paradise for nature lovers, fishermen and hikers adorned with many glaciers in the Chugach Mountain Range. Our first destination was the marvelous Portage Valley where we did some nice trails.

Our trail to Byron Glacier is included in the GPS coordinates file of Alaska. We met German friends on the boondocking site of Portage Valley and spent two only rainy days together with playing cards, fixing some issues on the car and enjoying the excellent Begich, Boggs Visitor Center. With the help of our friends Alfred repaired the generator which did some unpleasant noise due to loose and broken screws - Thank you so much Marion and Peter.

Salmon was heading up Kasilof River to spawn and die afterwards. There were many people of all shades fishing them with huge nets and they caught a lot of Salmon. The atmosphere was exciting like on a public festival.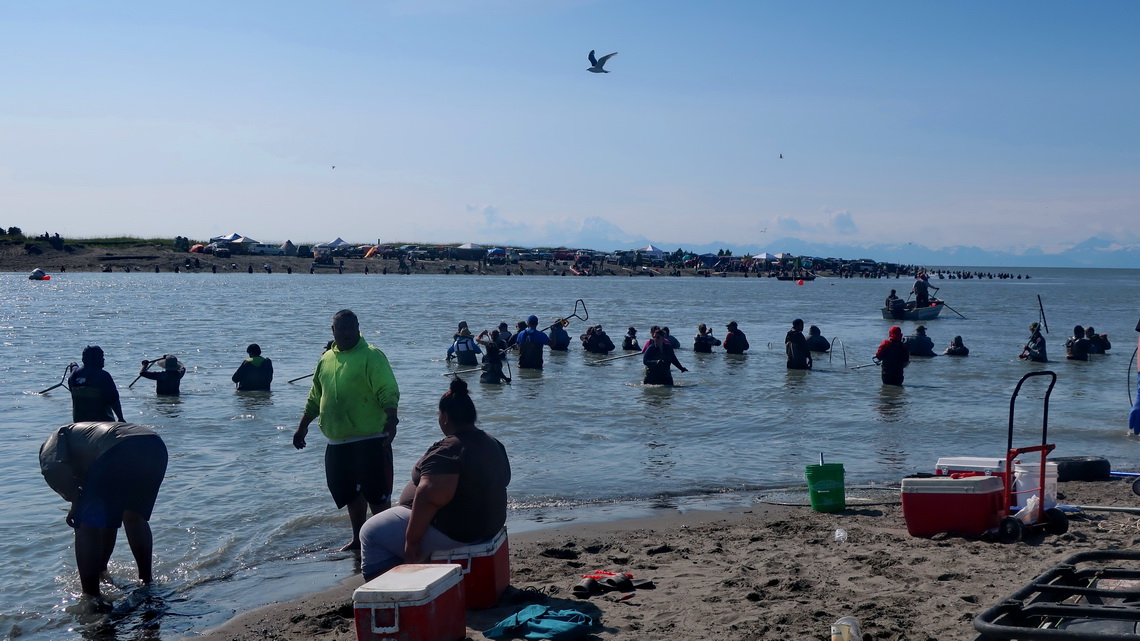 Homer is located on the southern end of the street and consequently the end of the Panamericana. Its major attraction is halibut and a seven kilometers long and very thin peninsula, the Homer Spit. For Alaskan standards it is a crowded and very touristic piece of land with fancy restaurants, shops and hotels. After few hours we avoided it but we found nice trails like Bishop's Beach, Calvin & Coyle and Eveline (20 kilometers east of Homer). The latter twos are included in our GPS coordinates file of Alaska.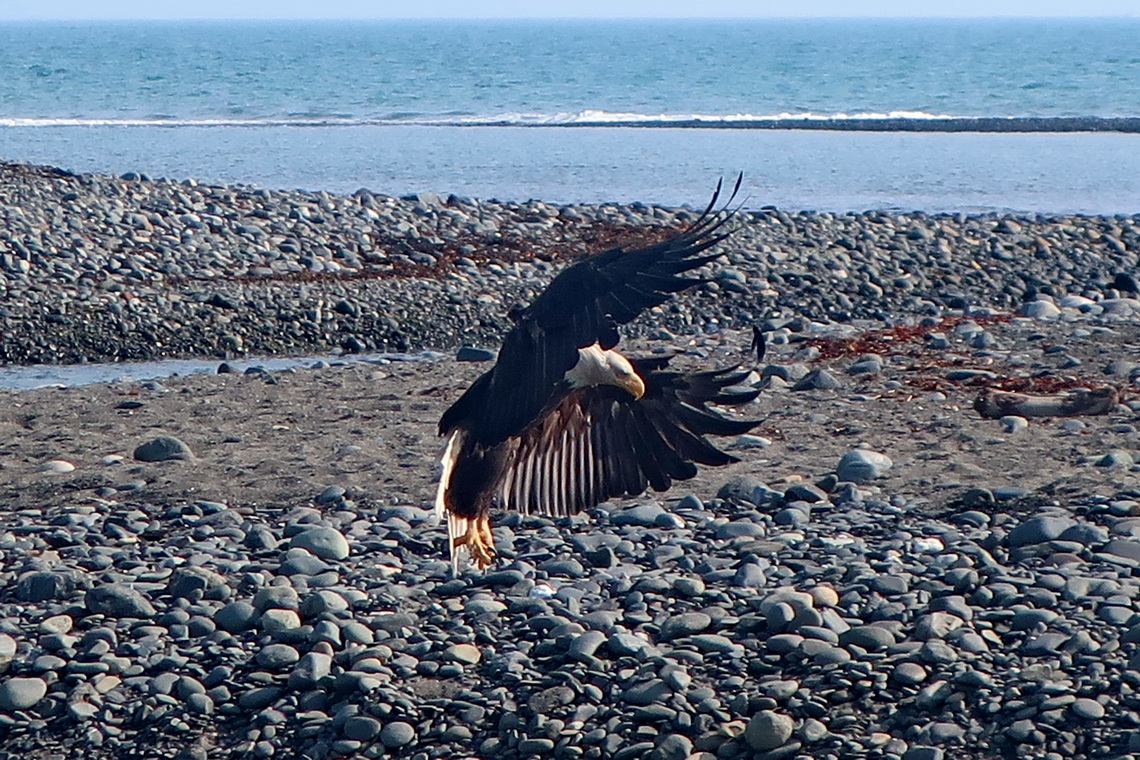 Close to Homer is Anchor Point, which is North America's most westerly highway point. On its marvelous beaches were some Bald Eagles, too. Alfred took a short swim in the Cook Inlet of the Pacific Ocean - very refreshing!
We spent six days in beautiful Seward which is for us the most interesting town on Kenai Peninsula. We did the superb hikes to Exit Glacier, Harding Ice Field, Tonsina Point and 921 meters high Race Point of Marathon Mountain. Very impressive was the day hike to the 1071 meters vantage point to the Harding Ice Field because we had a fantastic view of the huge glacier which is with 780 square kilometers the largest ice field which is located entirely in USA.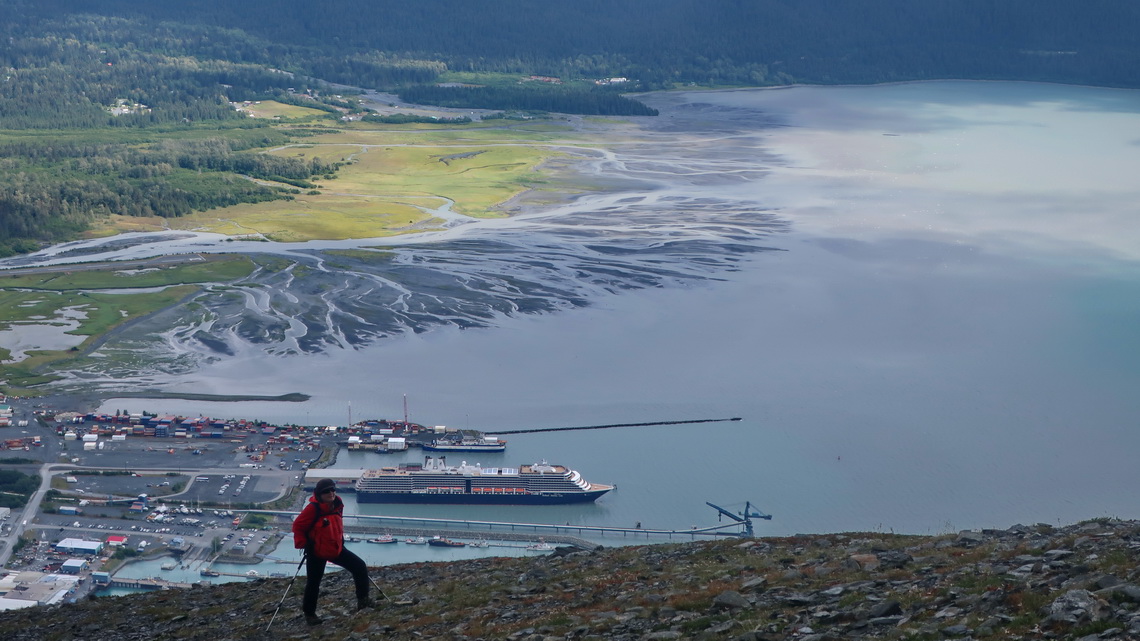 Our trails are included in the GPS coordinates file of Alaska. Another top highlight in Seward was the boat trip in Resurrection Bay, where we saw a lot of wild- and sea-life including the cute Puffins. Unfortunately they were so far away that the quality of the picture is not very good.
Our intention was to take the ferry from Whittier to Valdez to see the Prince William Sound. We had booked it two weeks in advance but we got two days before our departure a message that all ferries of the Alaska Marine Highway are on strike and canceled which caused a lot of trouble to many tourists. Consequently we drove back to Anchorage to enter the Glenn Highway. In addition the strike gave us the opportunity to climb up 1058 meters high Bird Ridge Peak which provides stunning views to the Cook Inlet.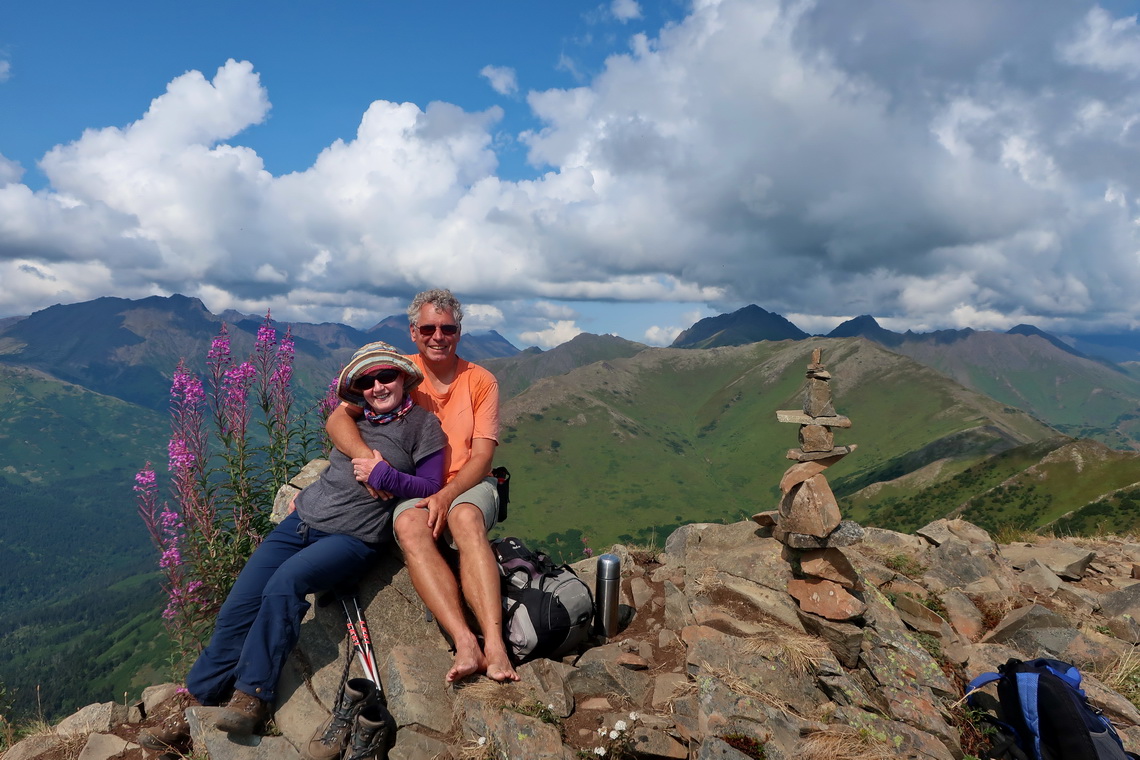 Mighty Matanuska Glacier flows down directly to Glenn Highway. By coincidence we detected the little mountain Lion's Head (971 meters sea-level) just in front of it. Close to its top is a radio station and there was a gate at the trailhead with the ask to call AT&T which we did. The man on the other side of the line was very friendly and gave us permission to enter the AT&T premises where a decent trail leads in two hours to the top. The views were overwhelming!
Our trails to Bird Ridge Peak and Lion's Head are included in the GPS coordinates file of Alaska.
The last 60 kilometers of the road from Glennallen via Chitina to McCarthy is rough, very rough. But it leads into the heart of Wrangell-St. Elias National Park, which is together with the Canadian Kluane the largest National Park of North America. We spent five days in this area and did some superb trails, which are all included in our GPS coordinates file of Alaska. Half the way is the short Crystalline Hills Trail. Two marvelous trails lead to the tongue of Kennicott Glacier (from west and east). We took the shuttle to the famous Kennicott mine and hiked the 6.4 kilometers long Eric Mine Trail, which ends on the old and rotten cable station of the Eric Mine and provides nice views of Root Glacier.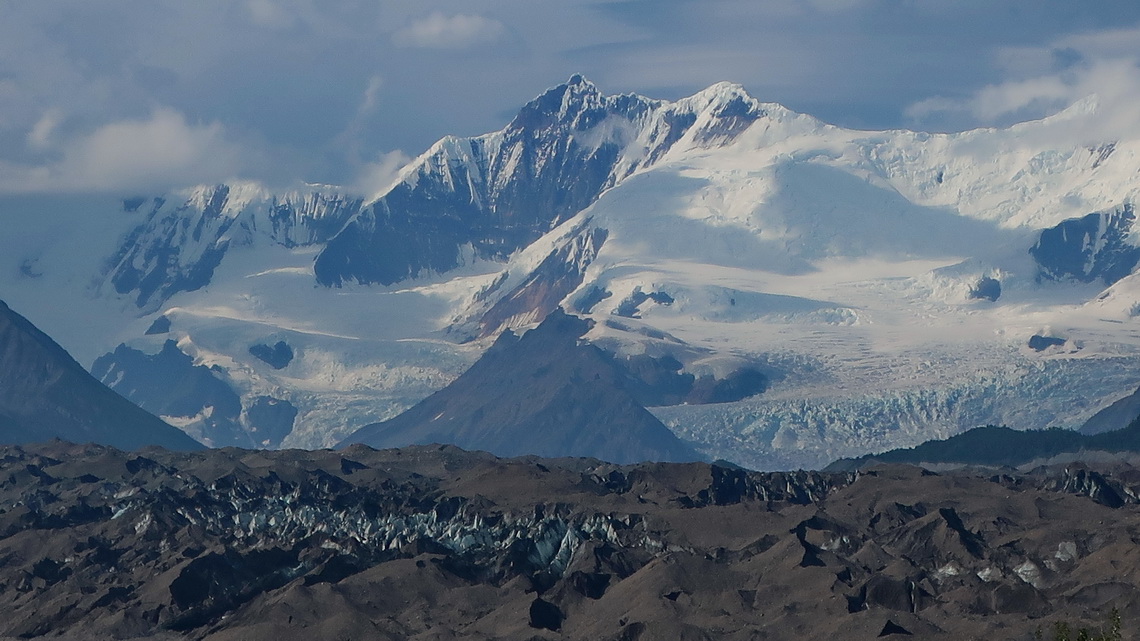 Disaster struck us when we drove back to the little village to Chitina because we had two punctures within one hour, It was the second one of our whole trip in America. The first one had been in Patagonia - Ushuaia, our southernmost town! Our major problem was that we have just one spare tire. Thus we waited on the dusty roads for friends from Germany we had met two days ago. They took Alfred with the two broken tires to Chitina where we found a repair shop. But both were in such a bad shape that they could not be fixed. The technician of the shop went to a huge pile of old tires. Fortunately he found two which matched but they were very old and in a shabby status with many cracks. We payed 50 bucks for both tires and our friends brought Alfred back to our little camper - Thank you so much Tanja and HP.

On the next day we drove slowly and carefully to Valdez, where we got new tires within two days for an acceptable price.
Valdez has a sad history due to the largest oil sill in North America in the year 1989. Thanks to a lot of helpers from many nations nature recovered mainly. Today it is a nice town with a huge port because the Alaska Oil Pipeline ends there. Major attraction is the Solomon Gulch Hatchery with incredible many Salmon. For our taste a little bit unappetizing but it was nice watching Sea Lions and Sea Otters hunting Salmon - for sure heavenly for them!
Close to the highest point of Richardson Highway which leads to Valdez is the impressive Worthingon Glacier. We climbed up its Southern Moraine and to the little Thomson Peak (1214 meters sea-level) from the summit of the street. Both trails are included in the GPS coordinates file of Alaska.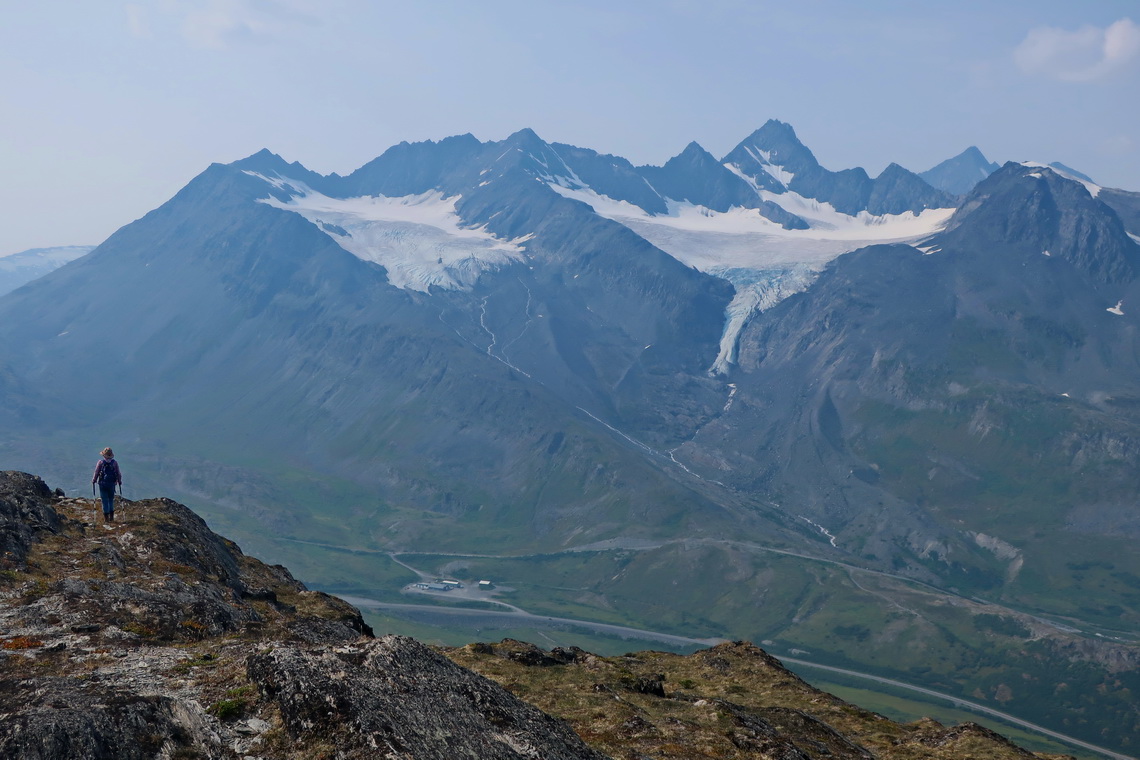 It weather permits the Tok Cutoff Highway provides excellent views to the huge volcanoes Mount Sanford (4949 meters sea-level) and Mount Drum (3661 meters sea-level). It leads to the Alaska Highway where we did a shorter hike to Hidden Lake before we crossed the border to Canada on August 13th 2019.
Most of our overnight places are included in the GPS Coordinates File of Alaska 
For more pictures, please click here                 For a map of our itineraries, click here