Our trip in Cambodia started excitingly: We had to change the bus on the border to Laos and drove few kilometers to a rest stop in the middle of nowhere. It turned out that we had two flat tires. Fortunately there was a little workshop on the street and the technicians did an amazing job and we could continue our itinerary to Siem Reap with just two hours delay. This was our first contact with the incredible gentle and admirable Cambodian people.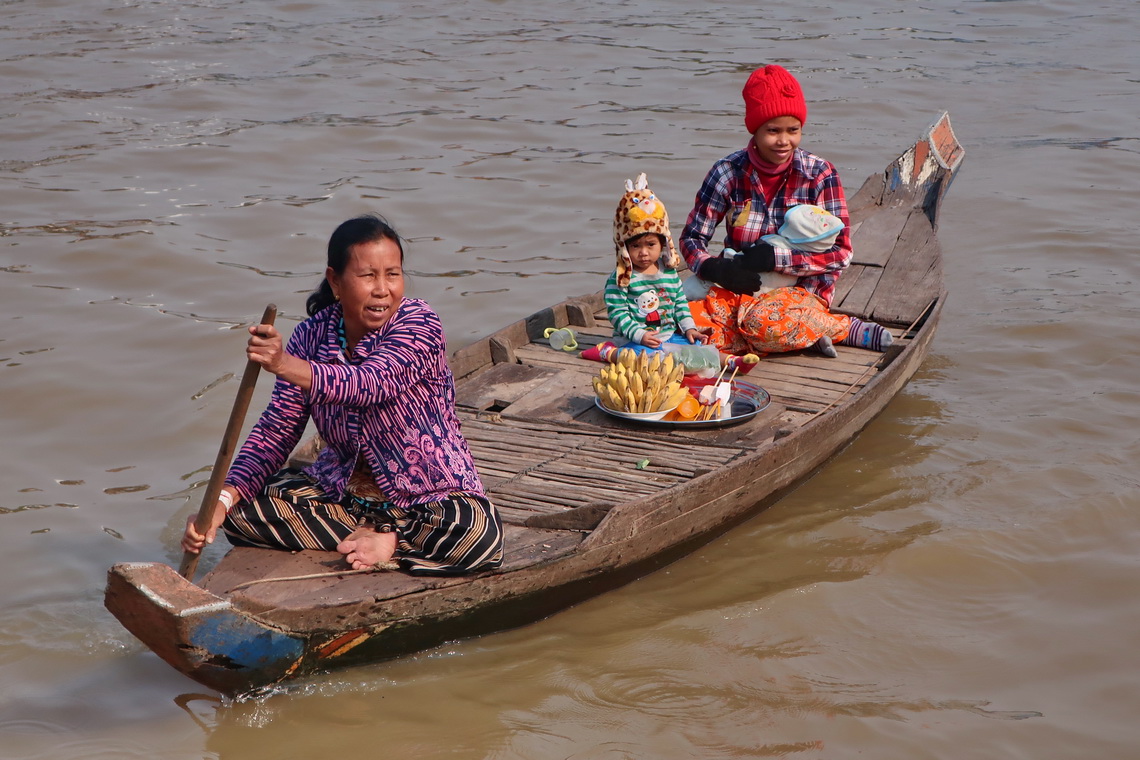 Siem Reap is the hub for the Angkor Wat temple complex which are the most important touristic destination in Cambodia and one of the most impressive ruins on earth built by the Khmer between the 9th and 13th centuries. Angkor Wat is the identification symbol of Cambodia, consequently on its national flag and it is an UNESCO World Heritage Site.
By today more than 1000 temple were discovered in the more than 200 square kilometer large area. Angkor Wat is the largest known temple of our world so far. In the historic kingdom of the Khmer had lived up to 1 million people between 802 and 1431 AD. On our first day we visited Angkor Thom - Big City which had been the capital of the ancient kingdom. We strolled a full day in its huge area with many temples and ruins.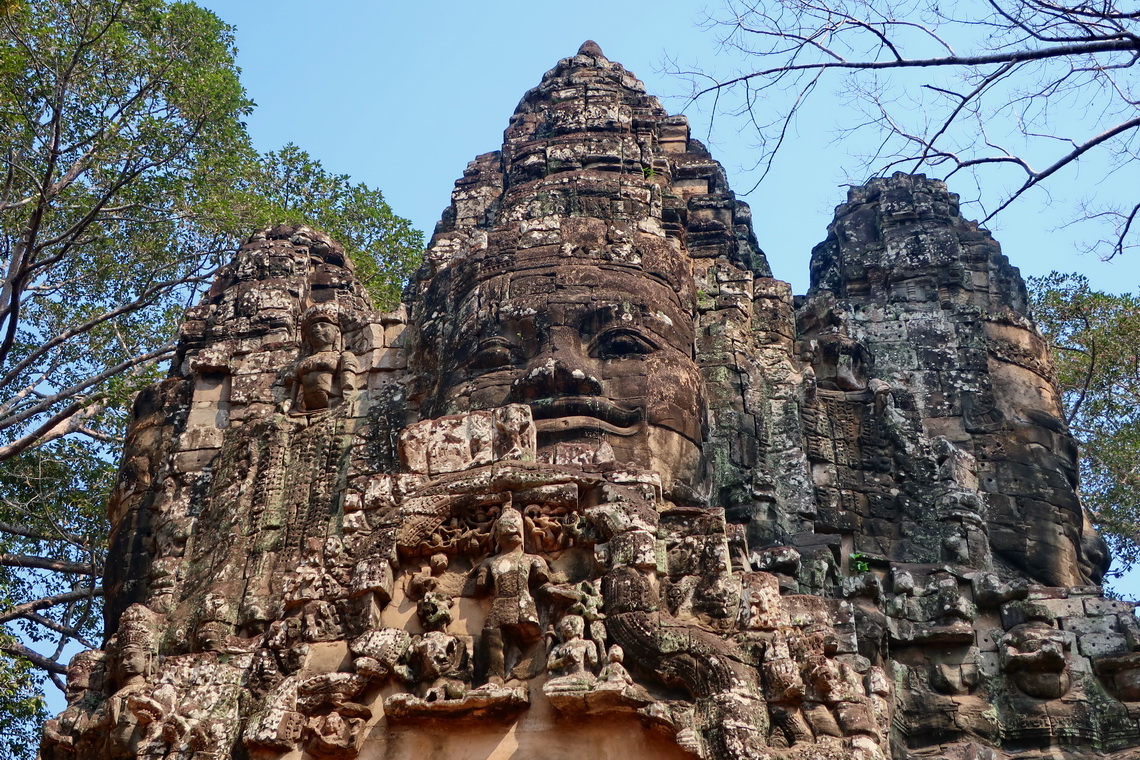 On the next day we pedaled mainly along Siem Reap River to Angkor Wat, where we spent also a full day.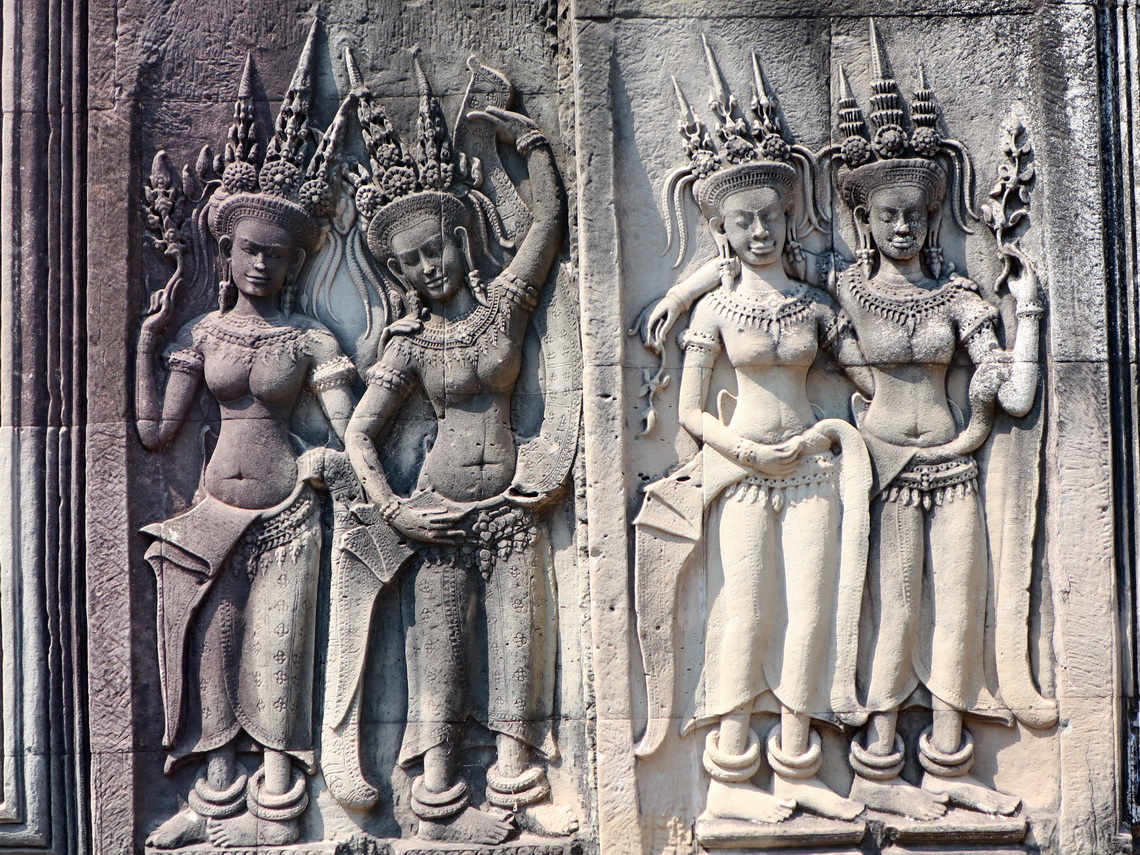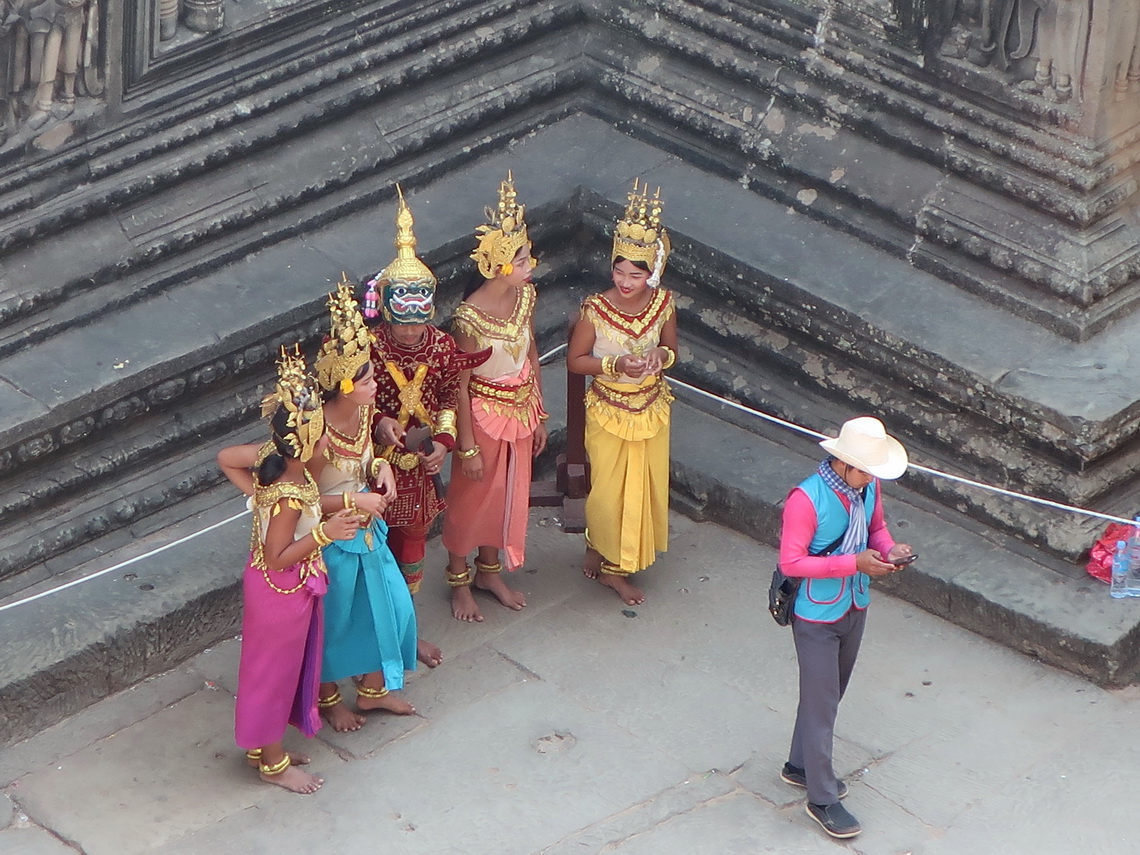 On the last day we took a private taxi to the ruins far away from Siem Reap.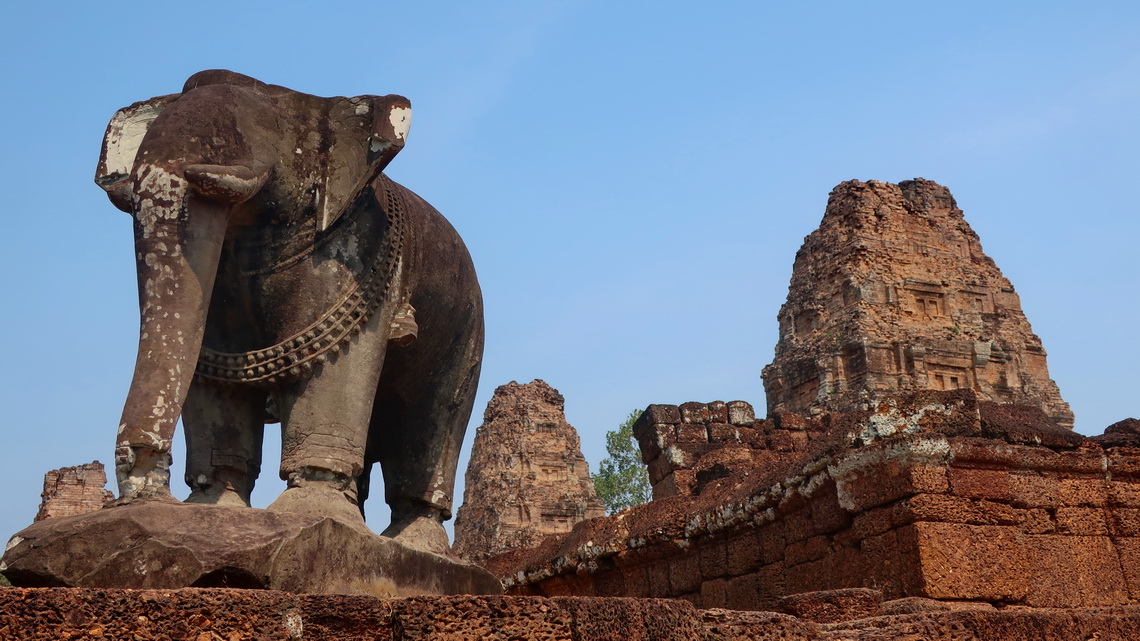 After three days we saw more than enough ruins despite the fact that we had visited just a fraction of Angkor Wat. Siem Reap has a pretty city center including a large pedestrian area with a remarkable nightlife.
Our top highlight in Cambodia was the trip from Siem Reap to Battambang with a public boat on Tonle Sap Lake and Sangker River. The latter one often quite narrow and not very deep - sometimes we were stuck with our little boat. But this gave us the opportunity to see rural Cambodian life on the water. In addition it was possible to sit on the roof of the boat to get even better views. Most of the people were waving to us with real enthusiasm. They seemed to be happy beside their harsh life and dreadful history. Approximately 25% of Cambodia's population had been slain by the horrible Khmer Rouge regime between 1975 and 1979 - 2 million people had been killed during this genocide.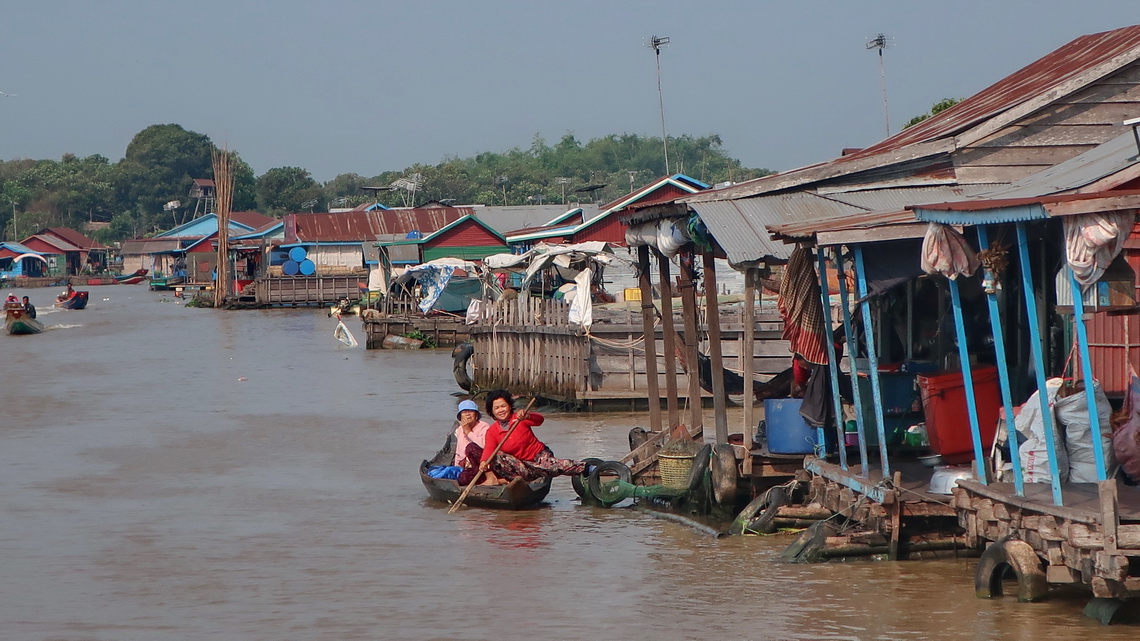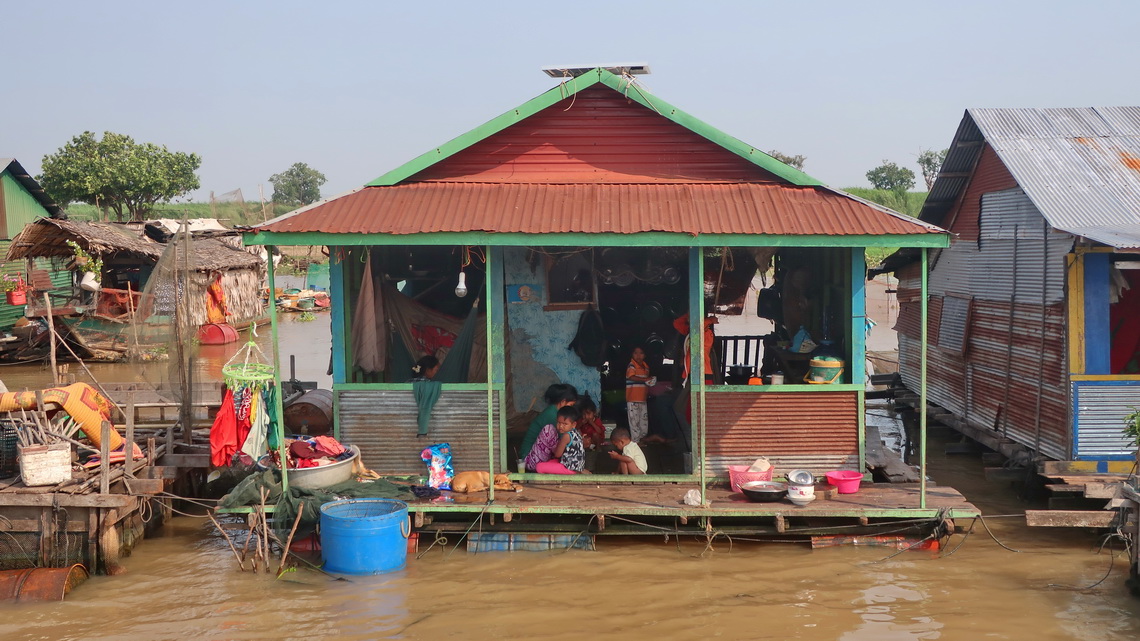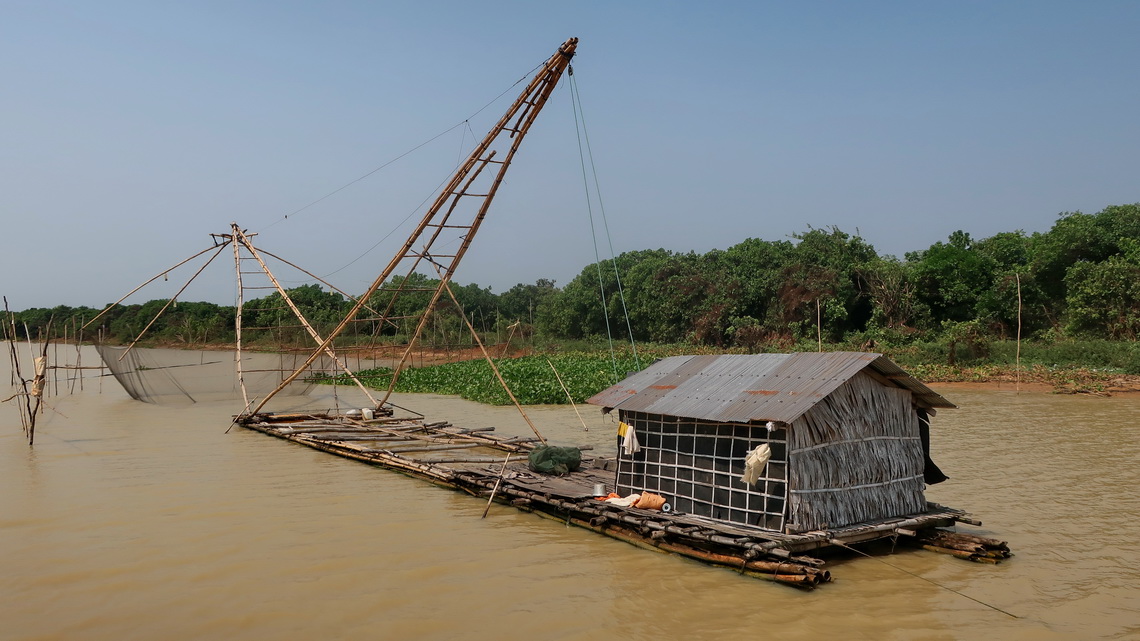 Battambang is with 200,000 people Cambodia's second biggest city without major attractions but it is close to the 130 meters high mountain Phnom Sampov with some pagodas, caves and a sad story.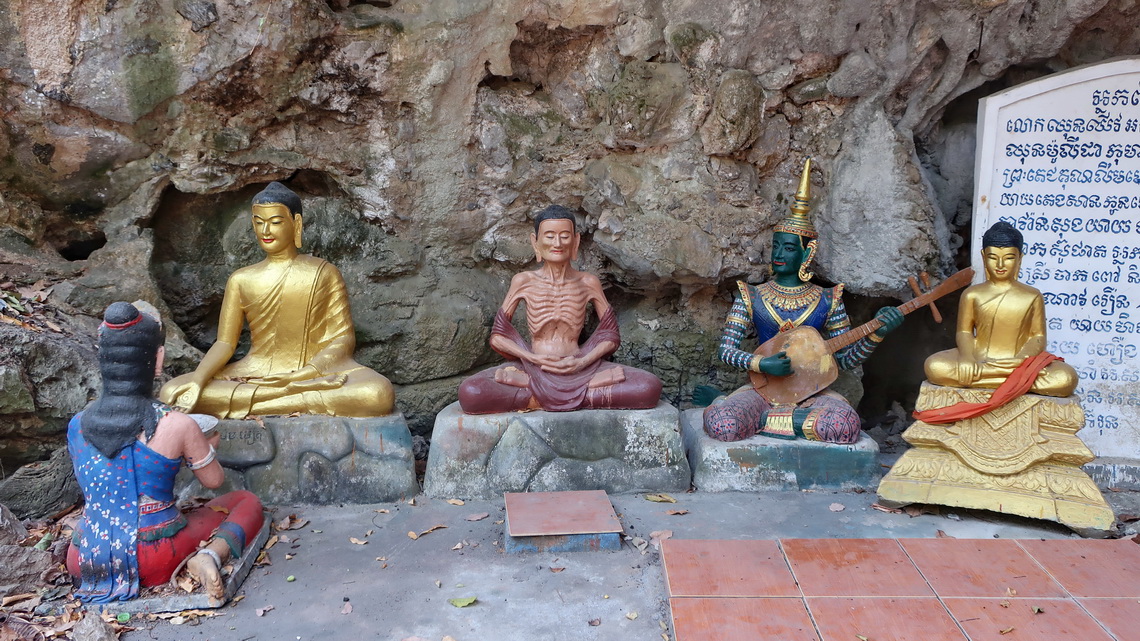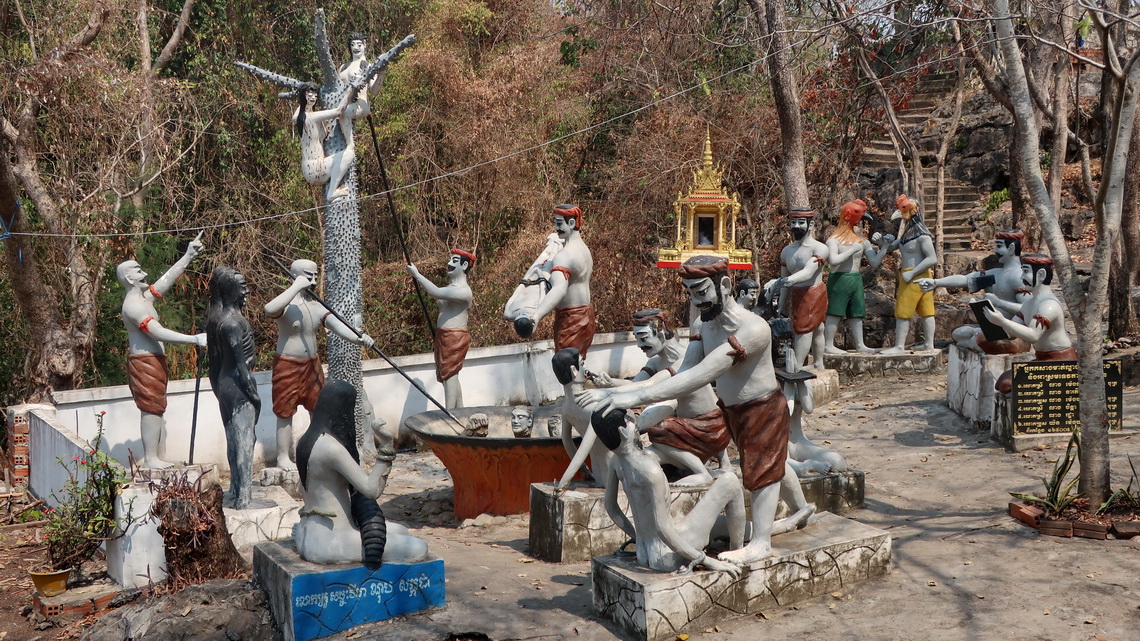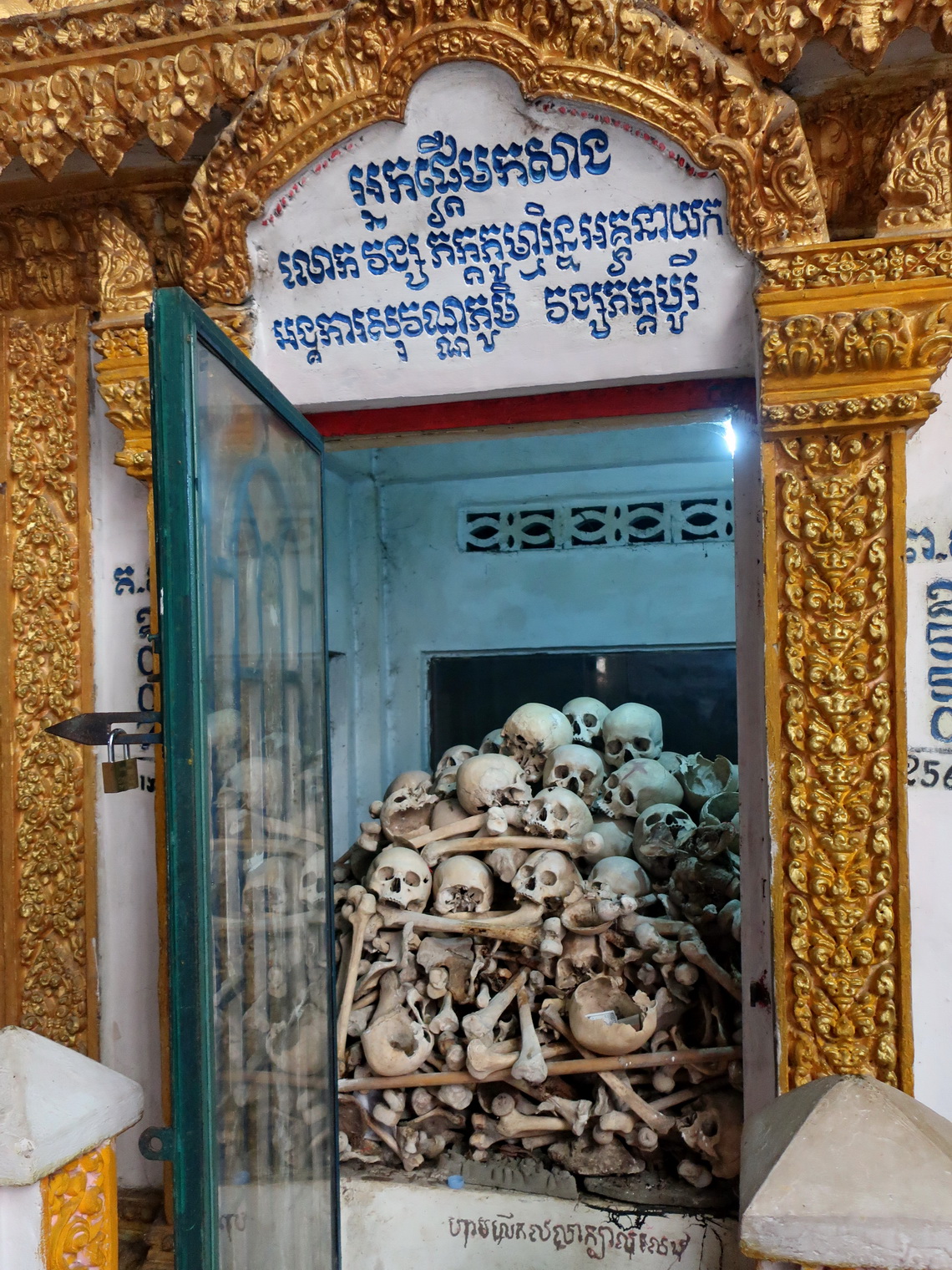 Phnom Penh is with more than 1.5 million inhabitants Cambodia's metropolis and capital. It is a busy city full of energy located on the mouth of the Tonle Sap River into the Mekong. It is one of the major tourist destination of Cambodia - its nightlife is legendary now.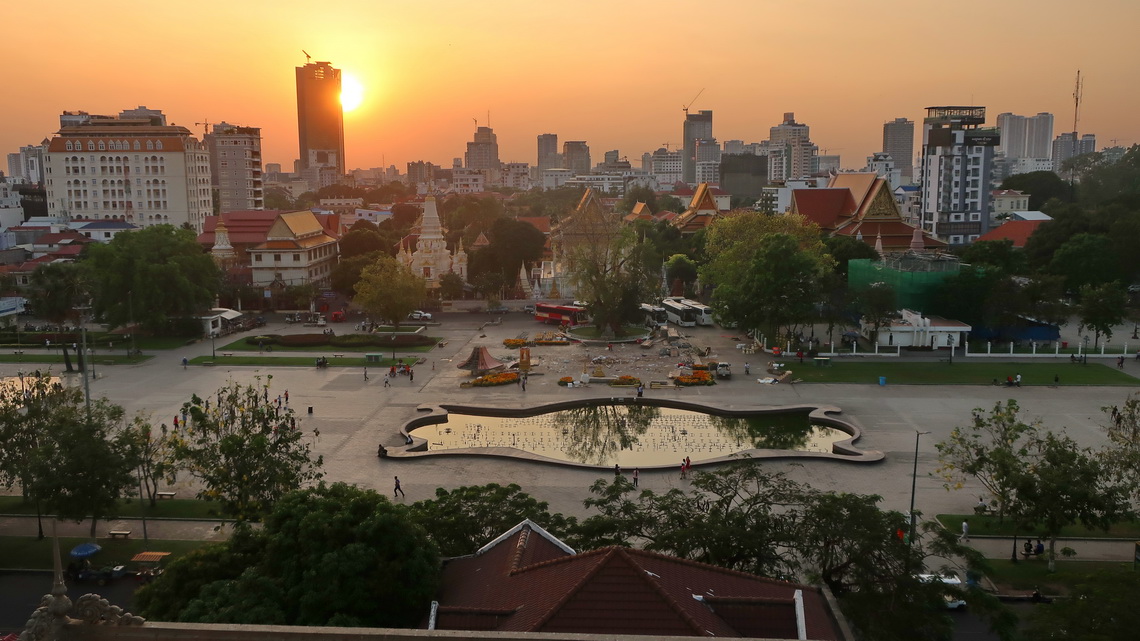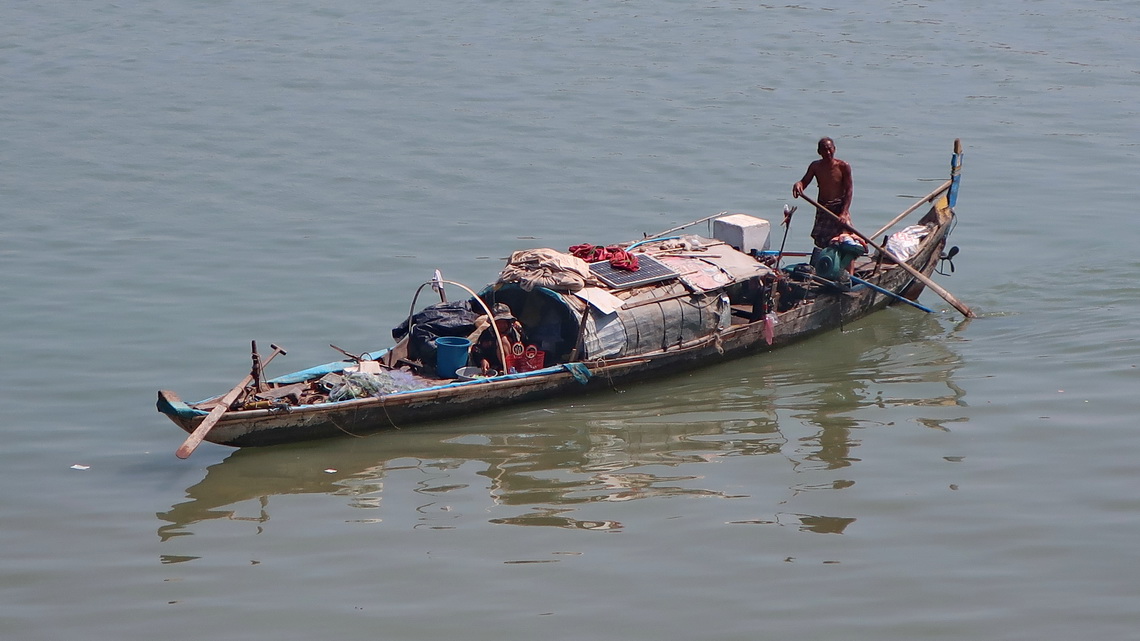 The coast of Cambodia is wonderful but its major town Sihanoukville is awful at the moment. Chinese investment companies rebuilt the city completely and there is construction everywhere including trash, dust and mud. Due to the Corona Virus in China literally nobody was working when we were there. Other travellers recommended us to go to the fishing village Otres (7 kilometers south of Sihanoukville) but the situation was nearly the same.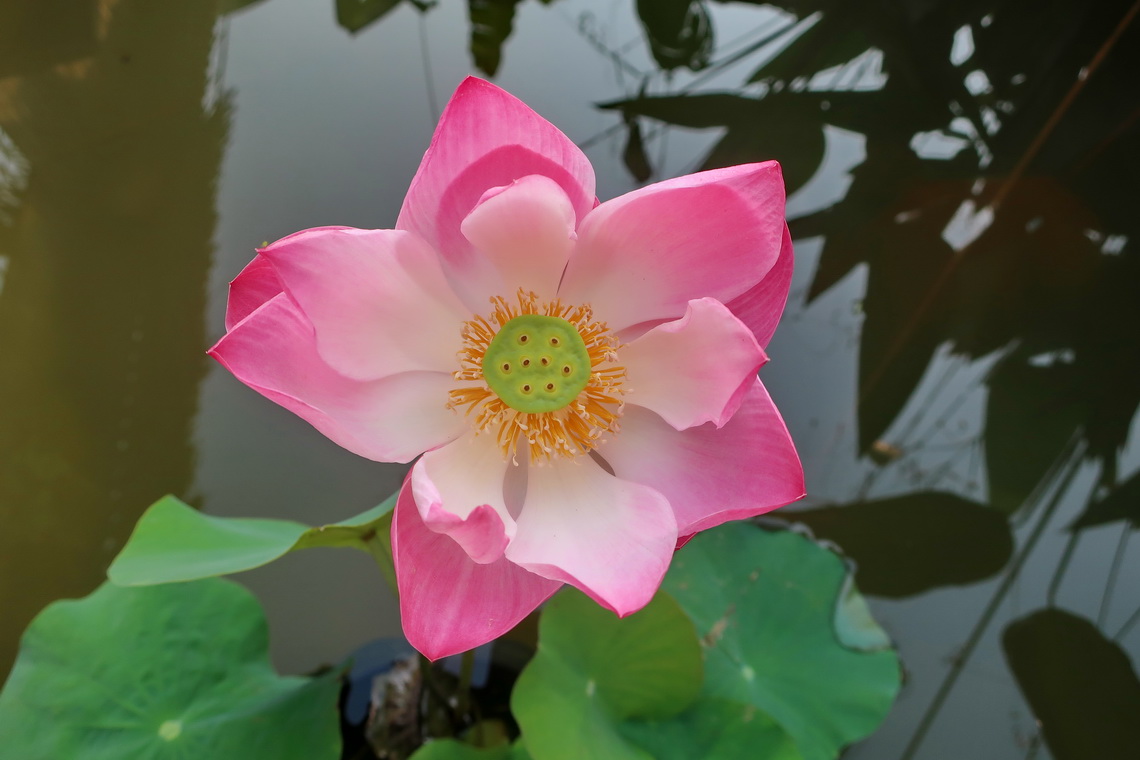 Fortunately there are some marvelous islands in front of Sihanoukville in the Gulf of Thailand. We spent two days on pristine Koh Ta Kiev in the interesting Ten 103 Guesthouse. We were the oldies there and the food was excellent. But we did not try the joints which were offered on the bar. Another beautiful island is Koh Rong Sanloem where we stayed two nights in the wonderful and remote Sleeping Tree Hotel which is accessibly only by a 45 minutes hike through the dense jungle and where we slept  in a nice tipi directly on the beach. We added a third day in the Dolphin Bay Resort which is located on more busy Saracen Beach.
Sadly we said goodbye to Cambodia and continued to Trat in Thailand on February 14 2020.
Some of our hikes including Phnom Sampov and waypoints are included in the GPS coordinates file of Cambodia 
For more pictures, please click here                                                     For a map of our itineraries click here