In Summer 2021 we spent a lot of time in Italy, especially in its Alps in the northwest corner. There are many gorgeous mountains, beautiful lakes with pleasant warm water, the Mediterranean Sea, interesting villages and towns, and a lot history.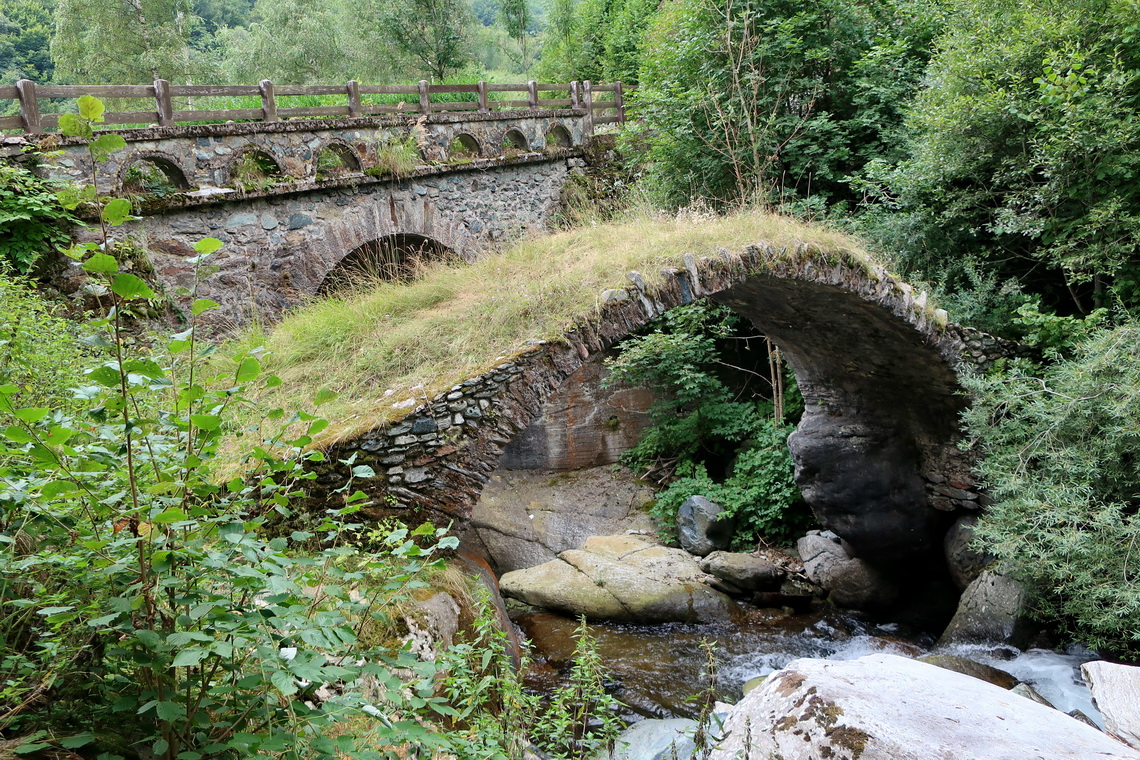 We traveled two times to Italy, first between July 19th and August 8th and second between August 23rd and September 26th 2021. Our first itinerary started with witches in western Tirol, Austria where we biked from Serfaus to Hexenseehütte - hut of the witch's lake, where we stayed two comfortable nights with very few people.

The traverse north / south ridges of 3035 meters high Hexenkopf - witch's head was a superb mountain challenge with some less difficult scrambling on a marvelous day. A part of few meters was like sitting on a horse with the difference that it was very steep and deep on both sides - falling down not allowed!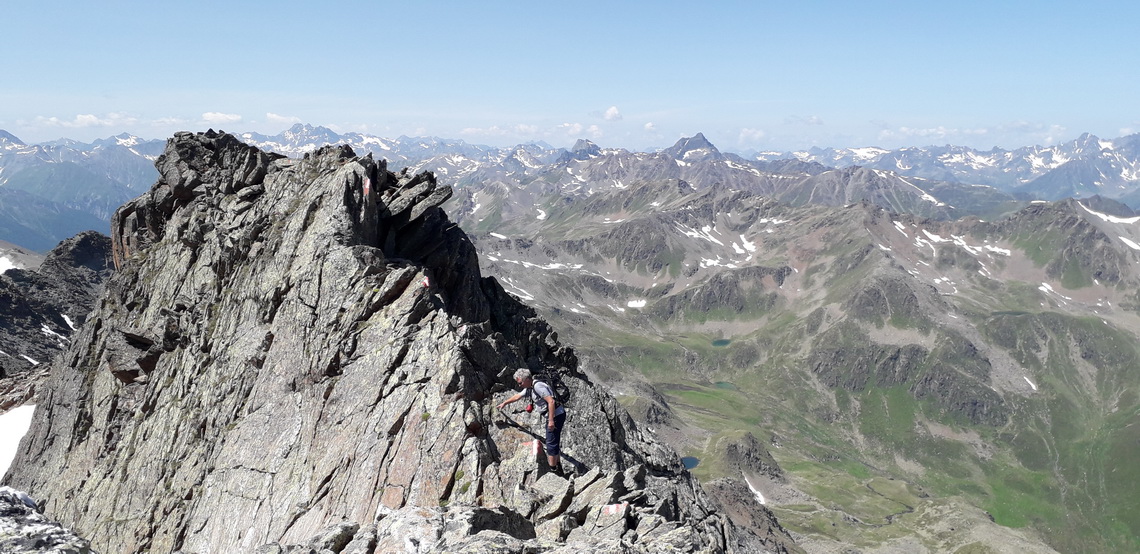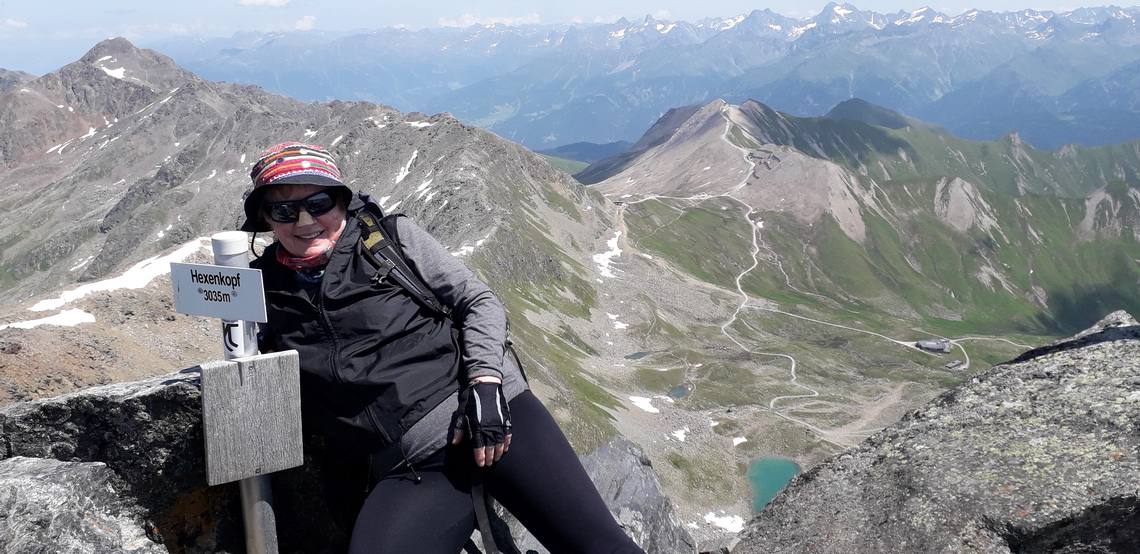 On the second day we enjoyed a nice downhill with our bicycles. In between Alfred hiked two hours to the summit of 3004 meters high Furgler. We continued to South Tirol in Italy and traversed wonderful Piz Lat (2808 meters sea-level) which is located close to the triple border point Austria / Italy / Switzerland.
Unfortunately the weather became a little bit unstable but we explored with our biked the upper Vinschgau around the impressive village Glurns. before we continued to 2503 meters high Umbrail pass via 2757 meters high Stilfser Joch. From Umbrail pass 3033 meters high Piz Umbrail is a short trip without any difficulties - perfect for shaky weather. Even more suitable are the popular hot springs Leonardo Da Vinci few kilometers south of Bormio - might be also a test if the Covid-19 vaccine works due to too many people in the little basin.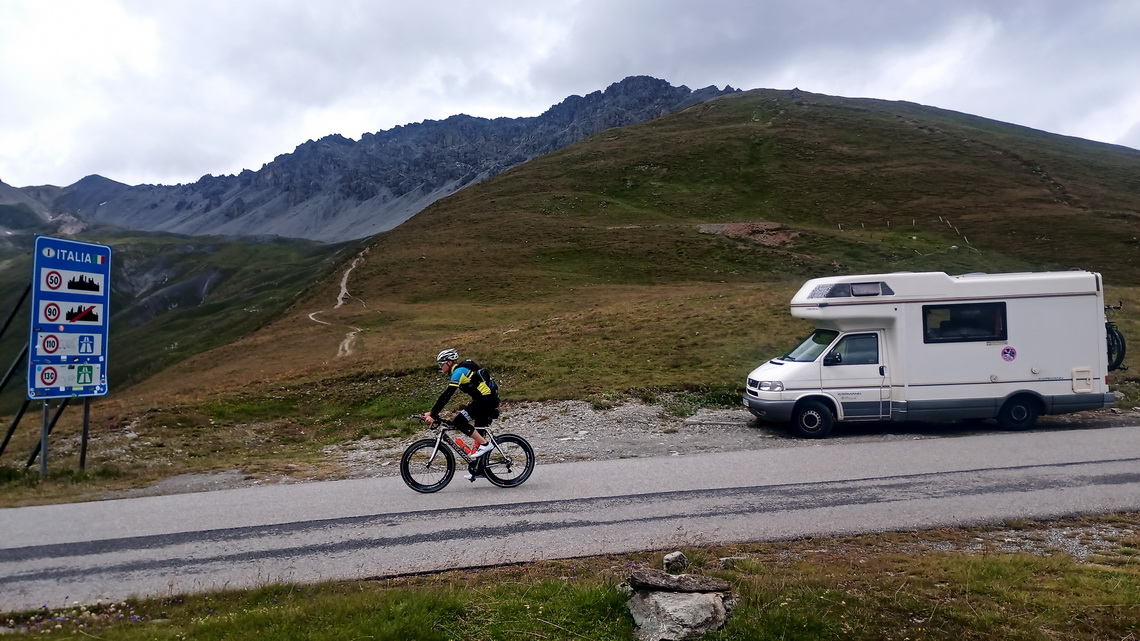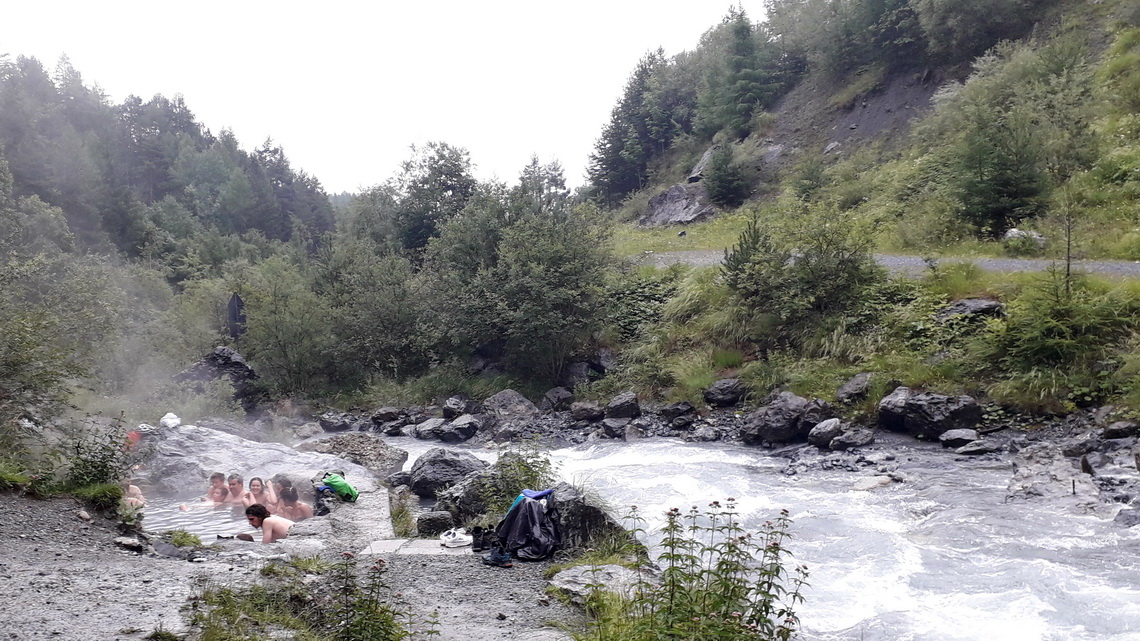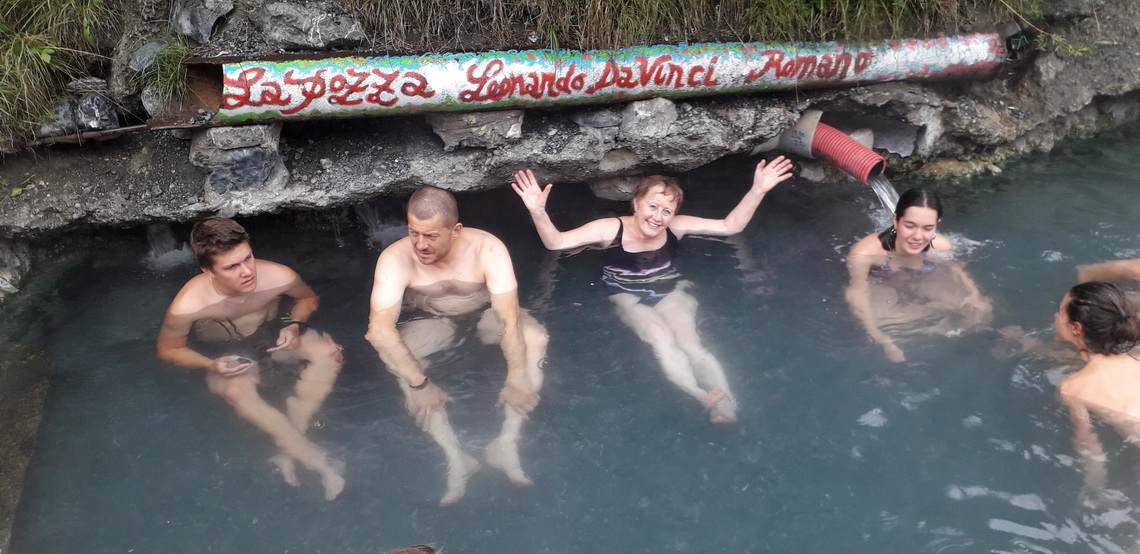 On the following day we used the sunny weather to climb 3133 meters high Pizzo Filone in the Livorno Alps. It is a terrific viewpoint between the icy Ortler and Bernina Alps and we identified many peaks we had ascended in the past like Piz Bernina in the year 1980 on a cold April day.
Thanks to the app park4night we found a nice sleeping and starting point close to an educational center. It was not clear for if it was allowed to stay the night and there was nobody to ask. Early morning Police came and we feared trouble, but they asked us very friendly to leave in three days because there is a bicycle race! In general Italy is a paradise for motor-homes because you can stay wherever it is not forbidden and there are a lot of needed facilities - mostly free of charge or for little money.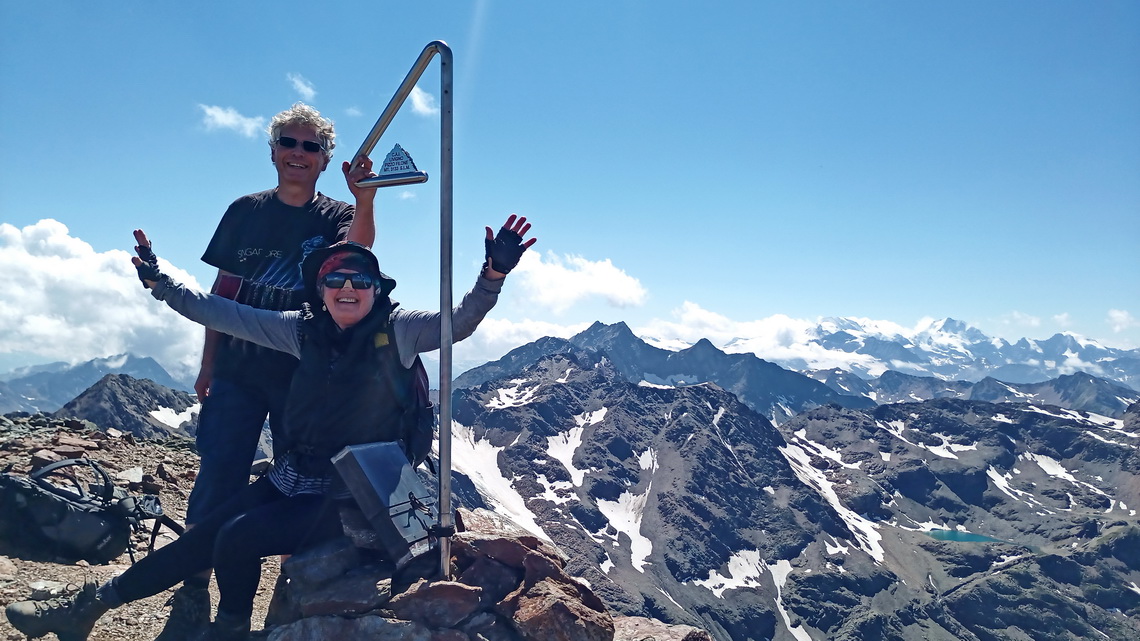 We spent one week on shore of the wonderful lake Lago D'Iseo. Its water temperatur was with 24°Celsius perfect for longer swims. Firstly we stayed in the nice village Marone, secondly in Zone which is 400 meters above the lake. Zone provides nice hikes and has some attractions like impressive earth pyramids and some ancient buildings.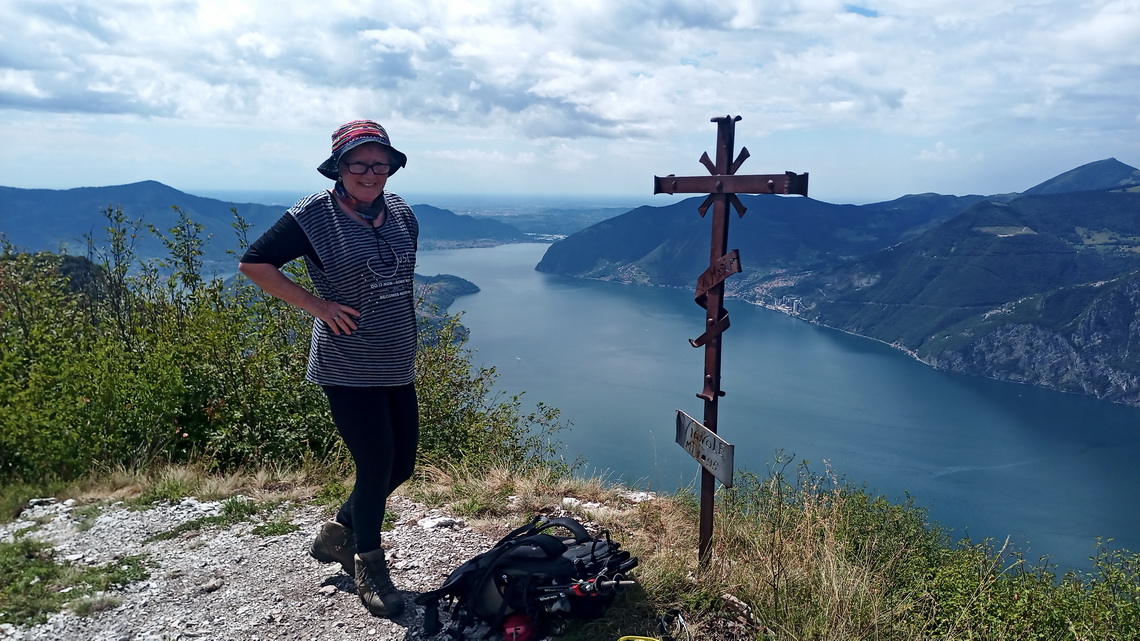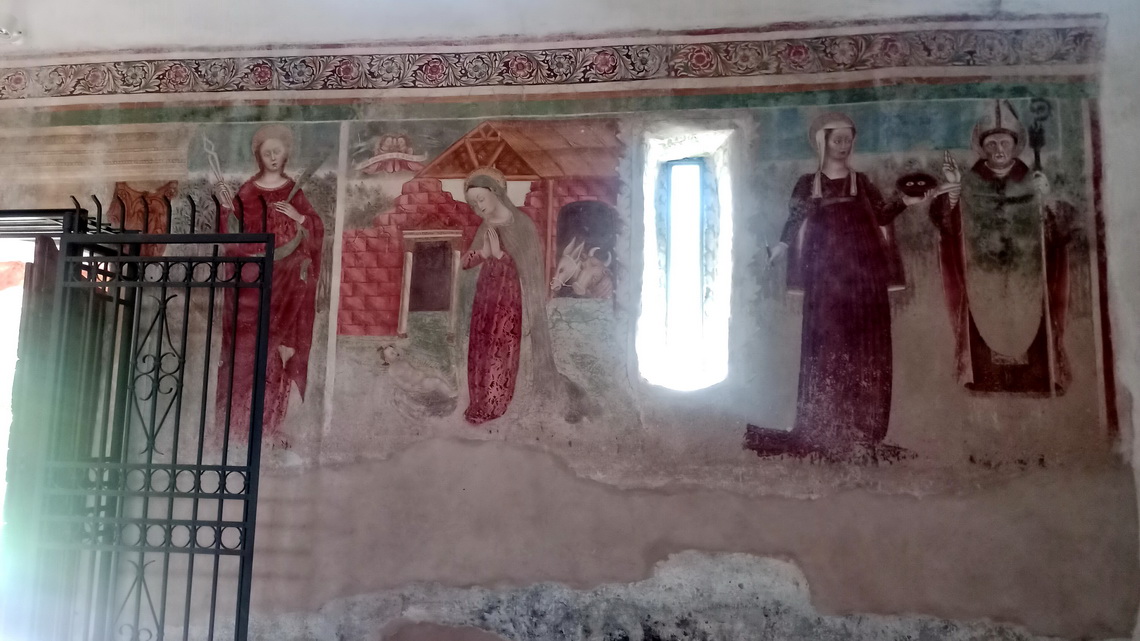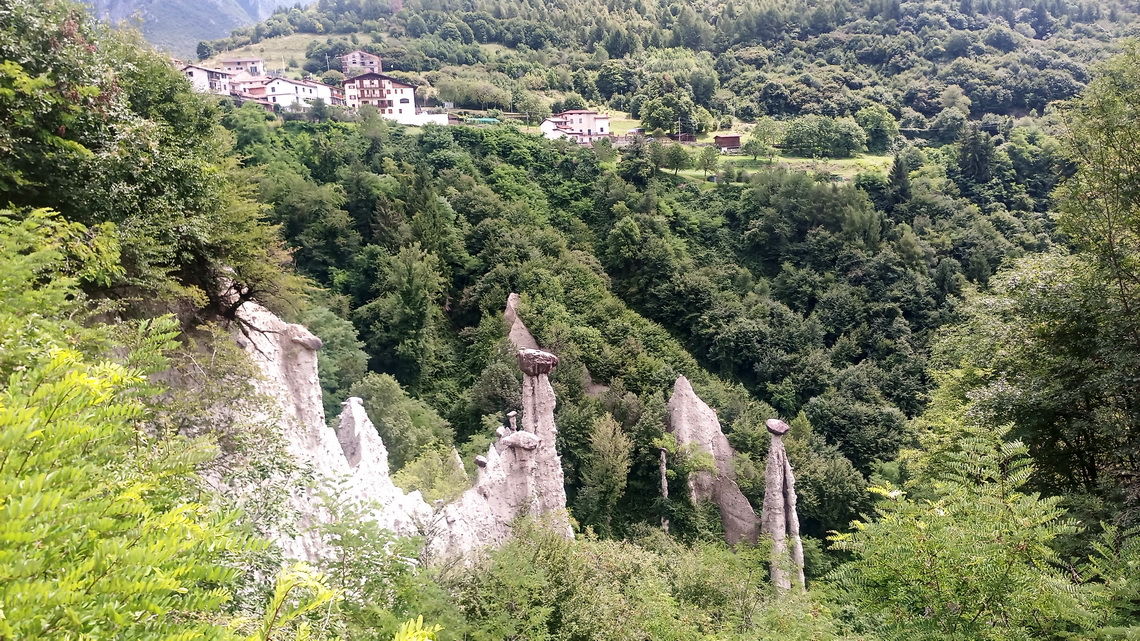 We got a call from our friends Rudi and Rupert that they want to do some mountain climbing with us next weekend. Consequently we drove in a rush back to the Brenner pass where we picked them up. We just stopped in Sirmione on the southern shore of Lake Garda for a walk in the rain. With Rudi and Rupert we explored the wild Valley of Pflersch which is just a few kilometers west of Brenner. The highlight was the long and exhausting trip to 3174 meters high Schneespitze in the Stubai Alps. Firstly 1 hour by bike and secondly 5 hours hiking including some nice scrambling on iron ropes to the summit - total more than 1,900 meters vertical difference.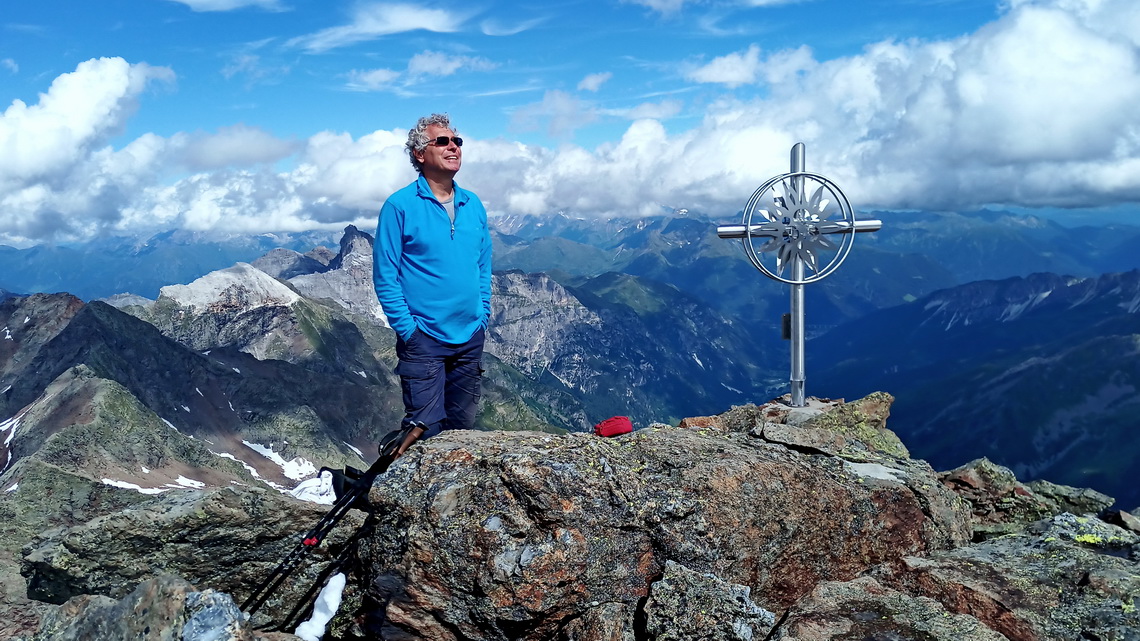 We came back to Germany on August 8th 2021 and enjoyed our cozy base camp in Munich for some days. Our next target were the two peaks of Cima Di Val Loga, both a little bit higher than 3000 meters sea-level. It is a gorgeous hike from the northern shore of lake Lago Di Montespluga few kilometers south the border Italy / Switzerland on the pass Splügenpass. Further down is the awesome lake Lago Di Como where we found a beautiful spot in Gravedona, located directly an the beach and free of charge. There we spent three days, bicycling and swimming in pleasant warm water (about 24°C).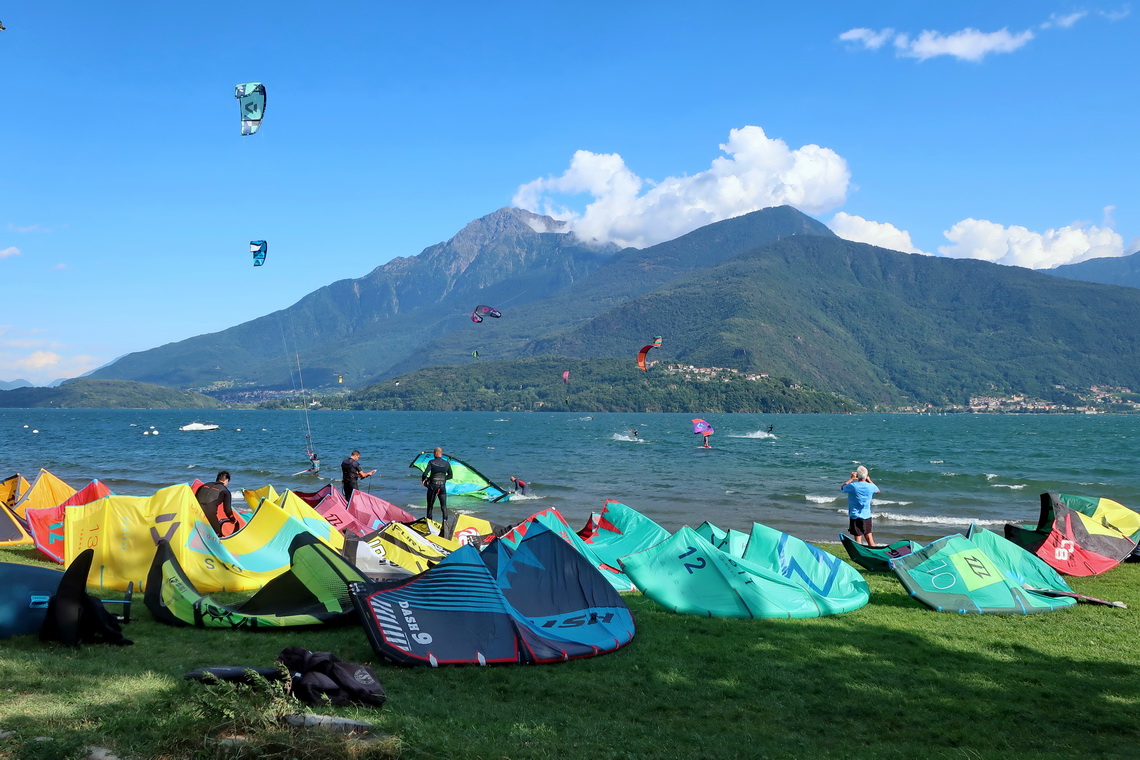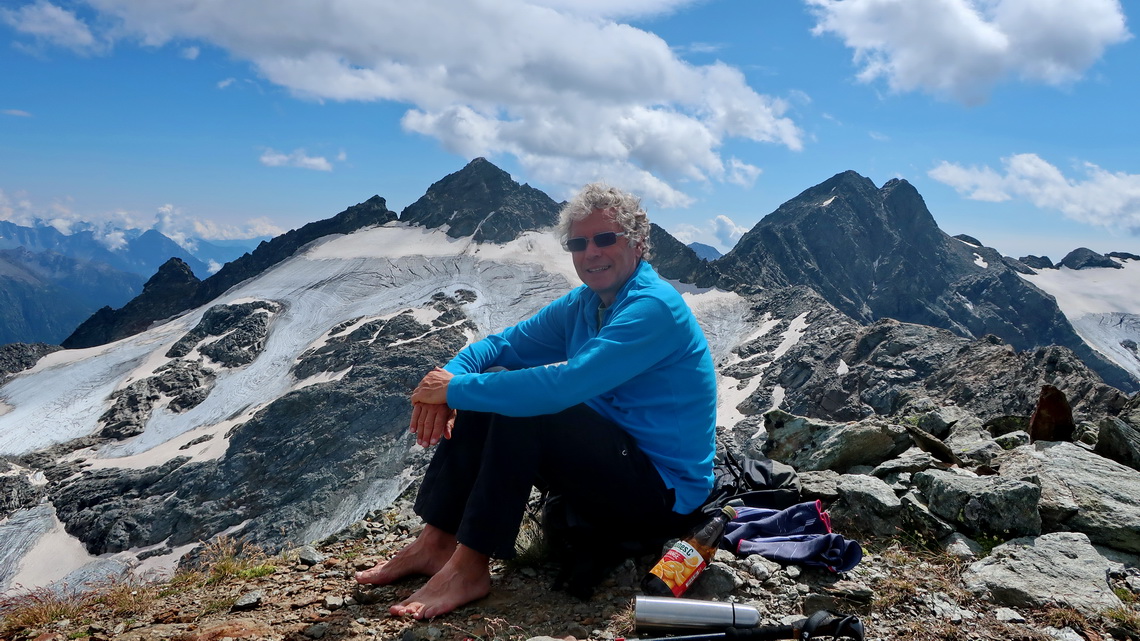 We crossed the flat Padan Plain via the busy town Como and the mediaval village Candelo into the Graian Alps in its long valley Valle Di Locana. The drive to the end of the street close to the mountain hut Rifugio Savoia via 2612 meters high pass Col Del Nivolet was endless but we could stay there in an outstanding alpine environment. Fortunately we have warm and cozy sleeping bags, and a good heater in our little motor-home.
The weather was fine for two days and we could climb up 3438 meters high Monte Taou Blanc and 3225 meters high Anticima Punta Leynir. The first one was a little bit critical due to some scrambling on steep and icy rocks in the morning. When we were on the summit we could not believe our eyes because we saw a guy doing this dangerous climbing with a bike!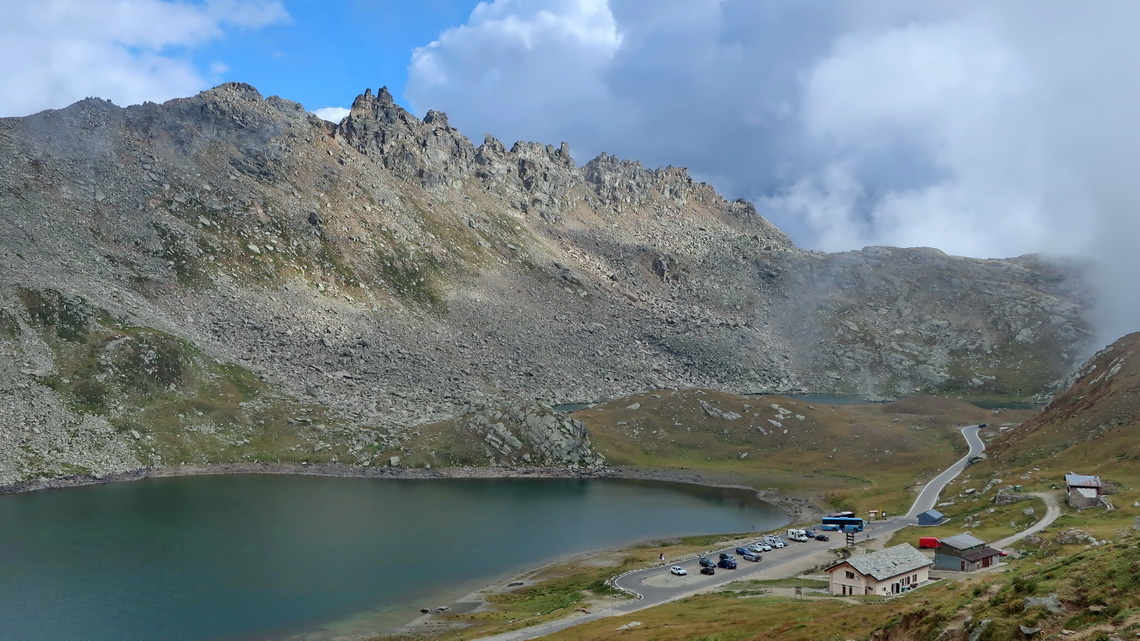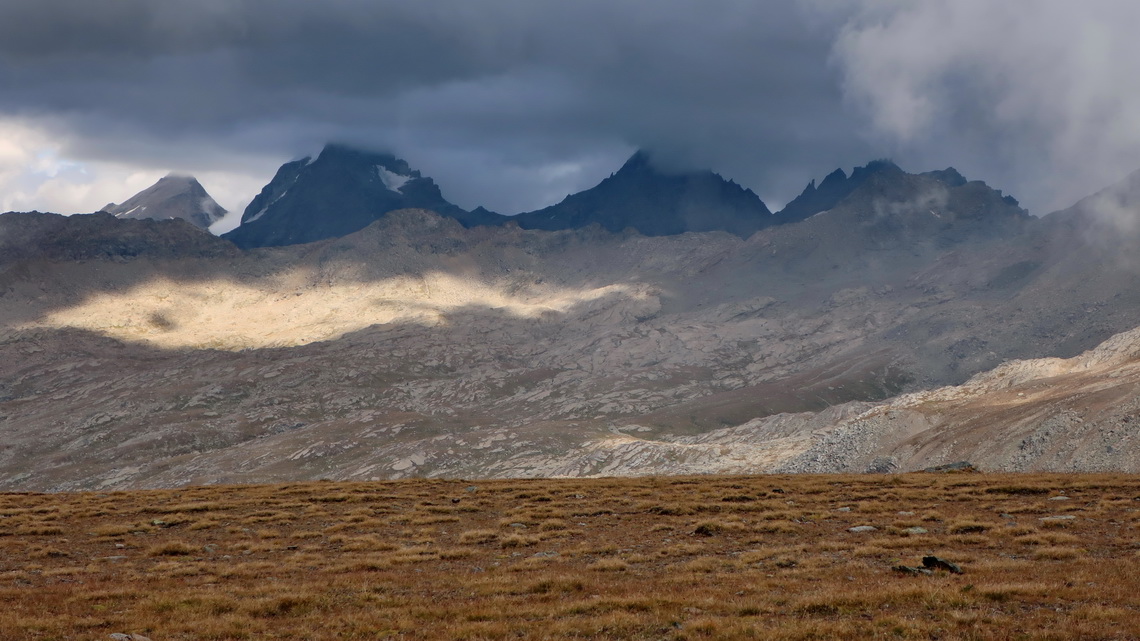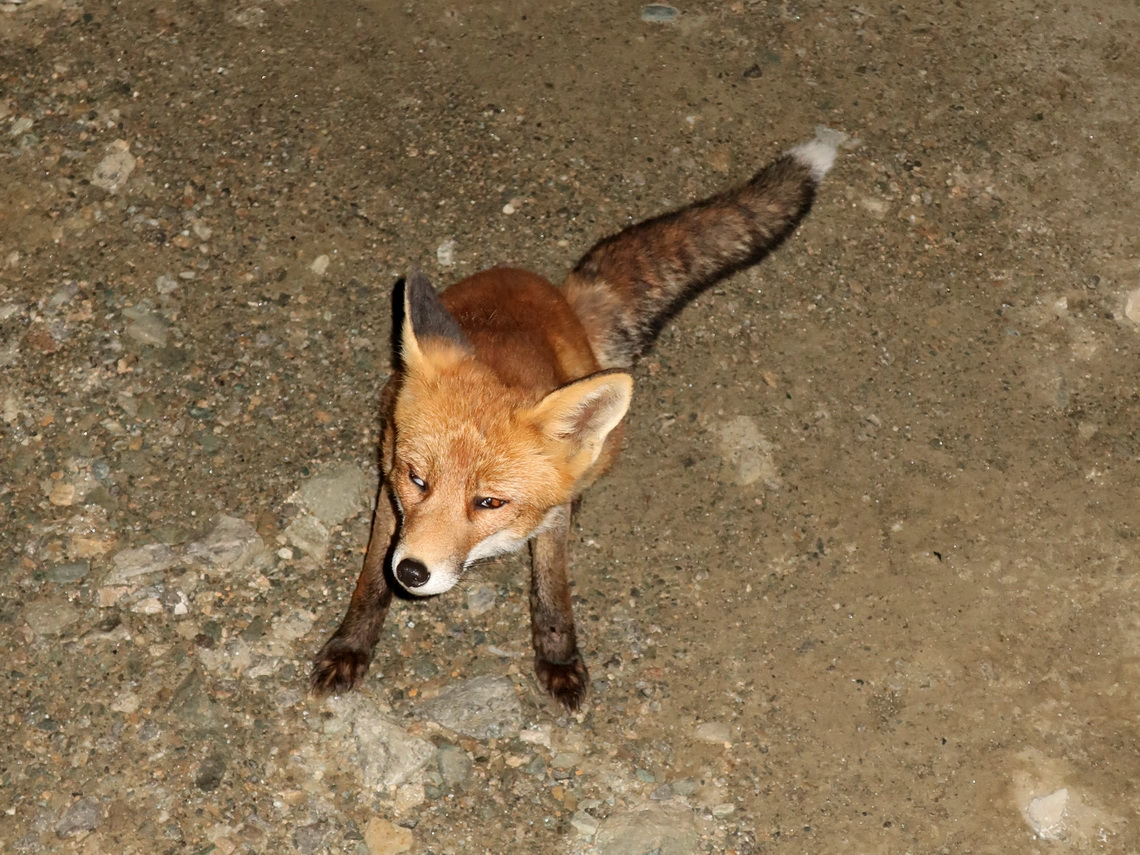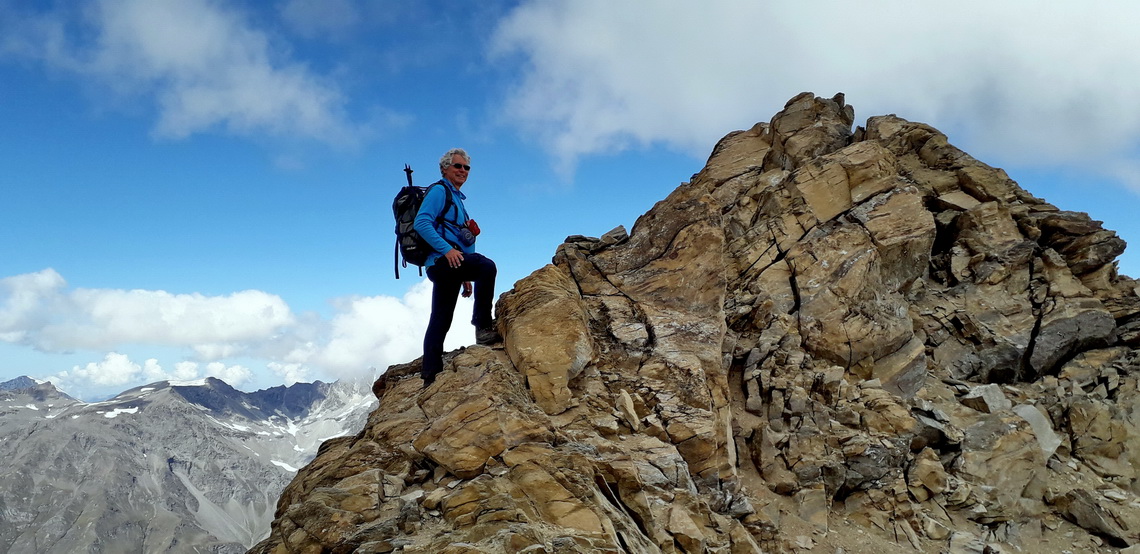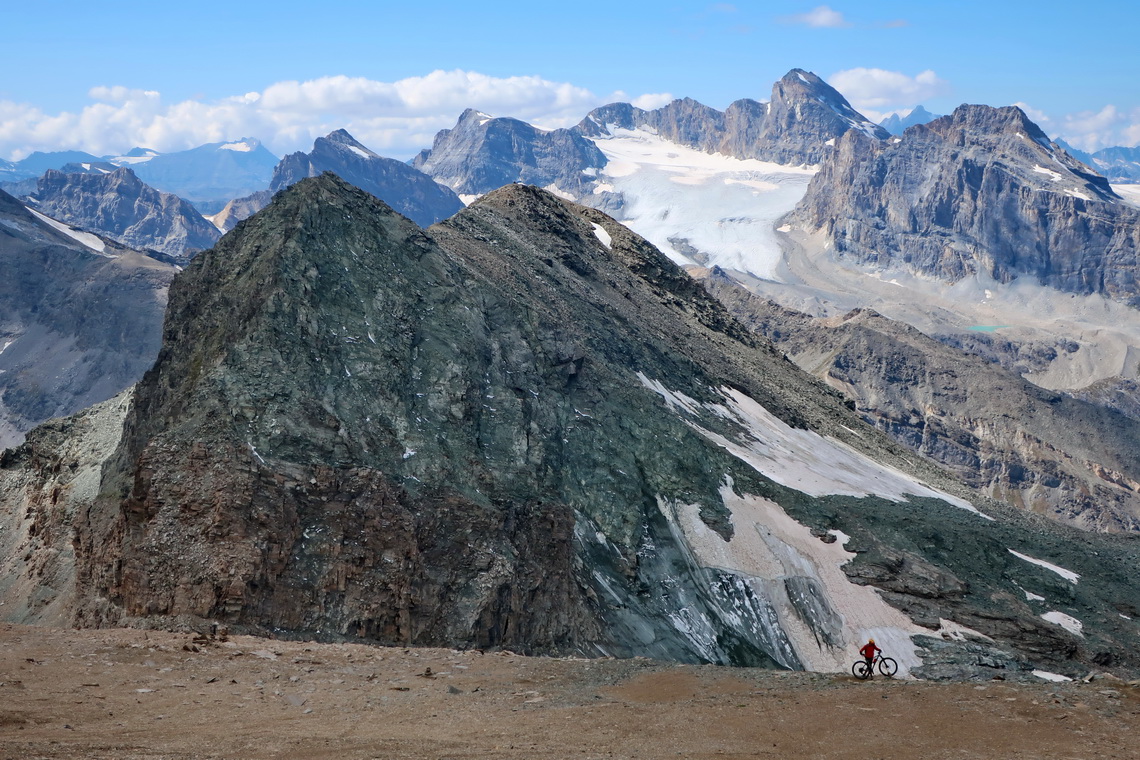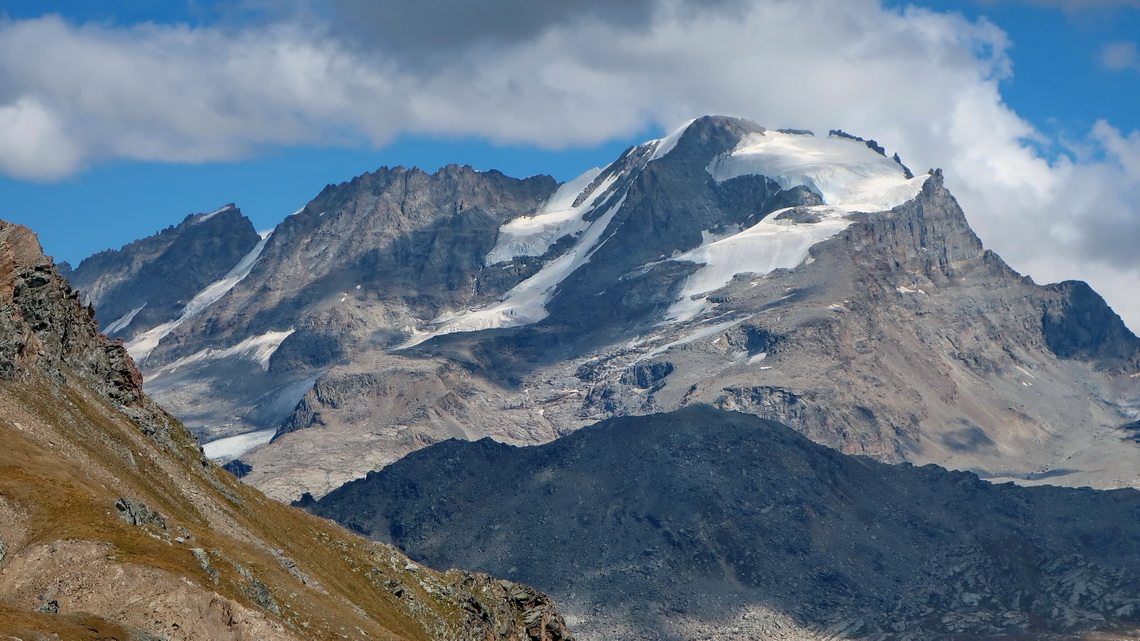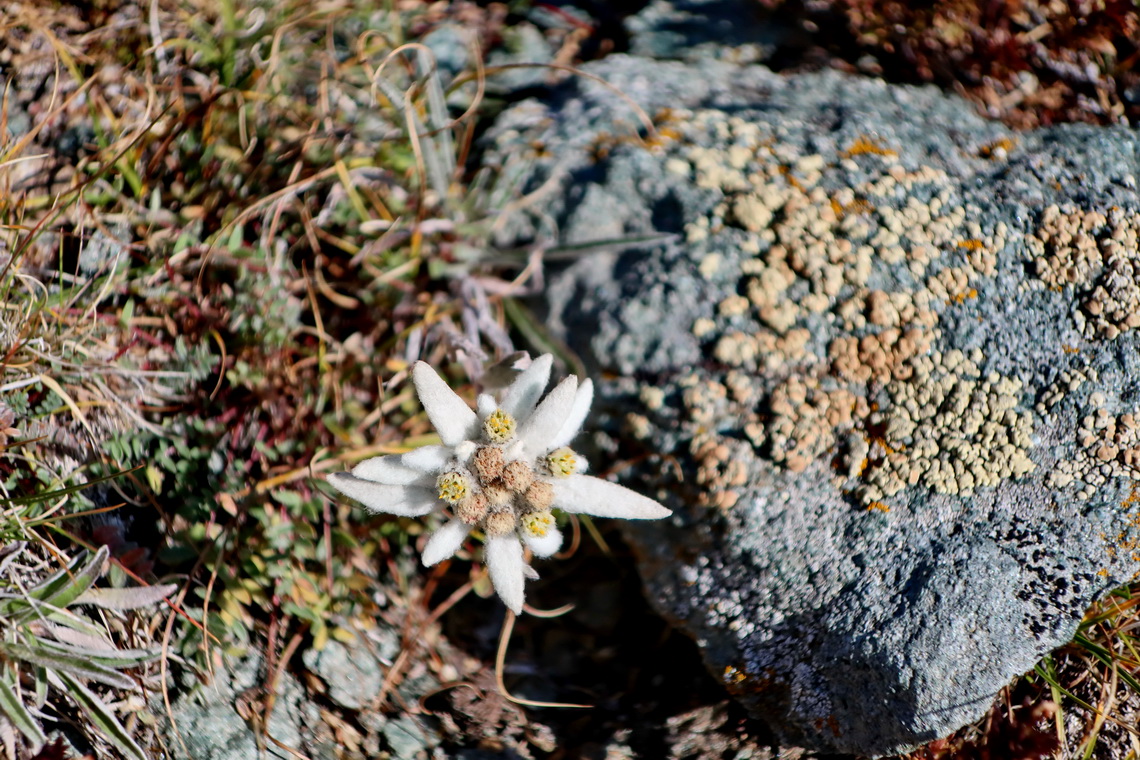 We relaxed some days in the little nice town Pont Canavese in the lower Valle Di Locana which has a superb campsite free of charge including electricity! We cycled to the interesting villages Molino Di Forzo and Alpette on steep roads with minor traffic.

Our intention was to do some peaks the upper valley of Po but the higher mountains were always in clouds when we stayed there. Instead we bicycled narrow roads to more or less forgotten villages in a pristine environment with a lot of dense forsests.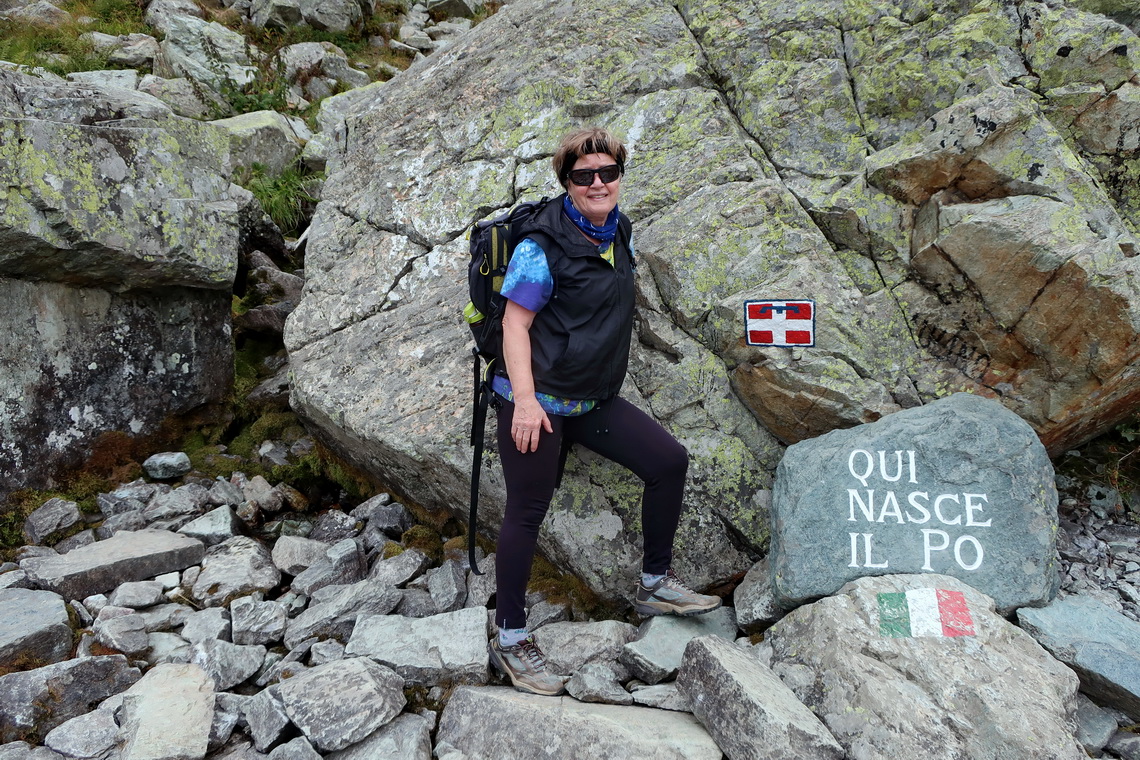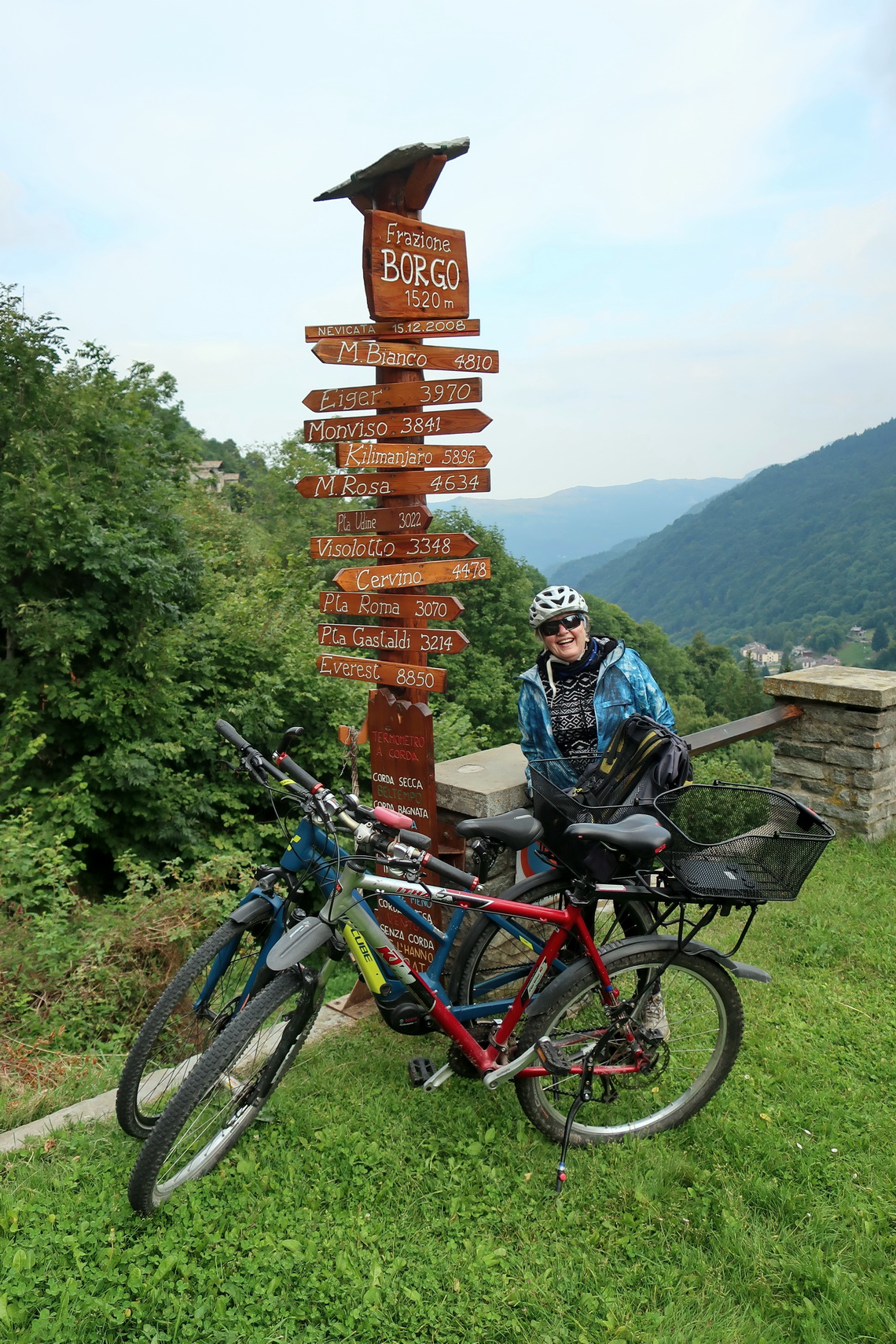 Marion's sister Jutta and her husband Hermann joined us in the busy town Pinerolo. Together we continued to the nice city of Alba with bicyles from the free campsite in Castiglione Falletto, and to the Ligurian Alps for Marion's birthday present.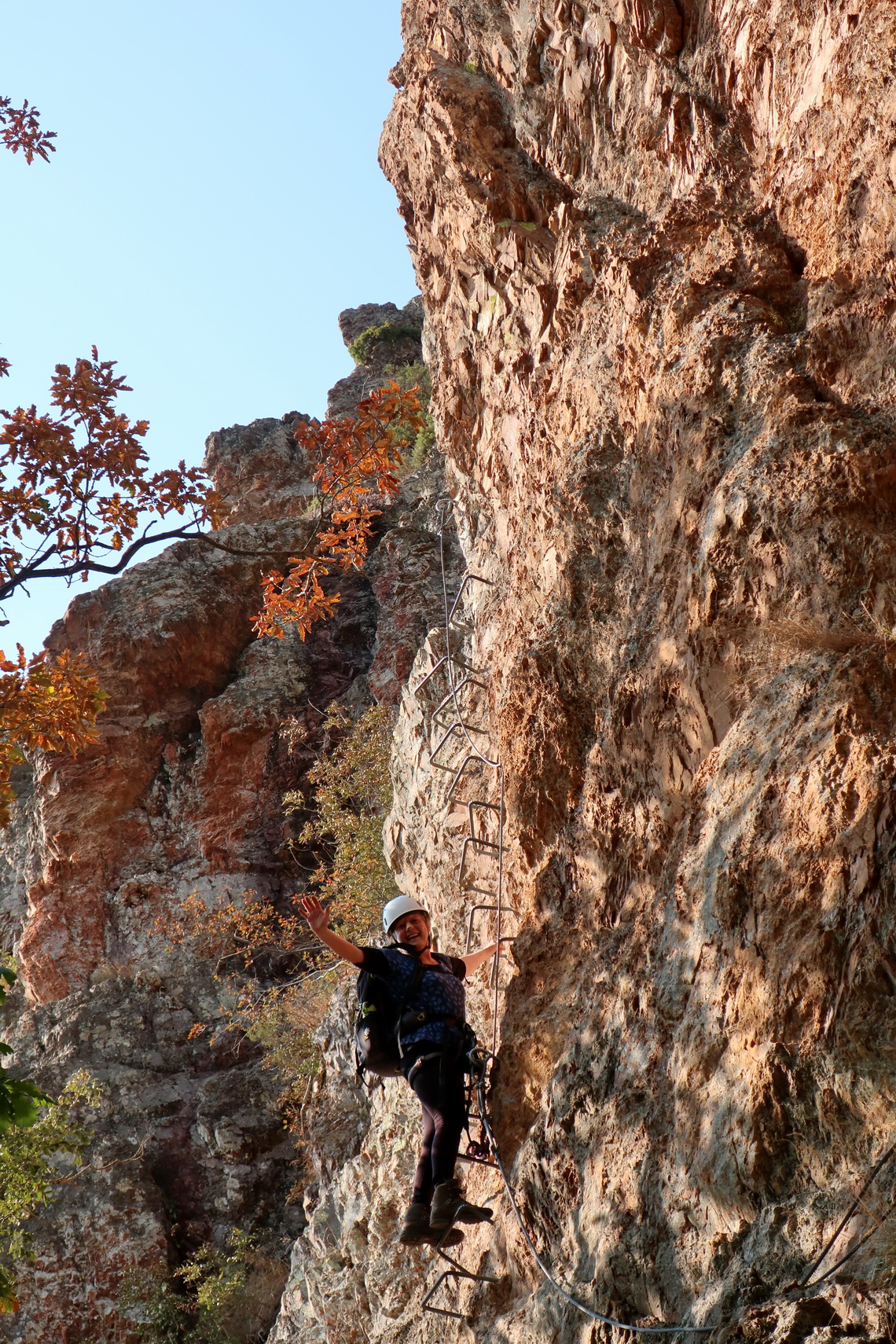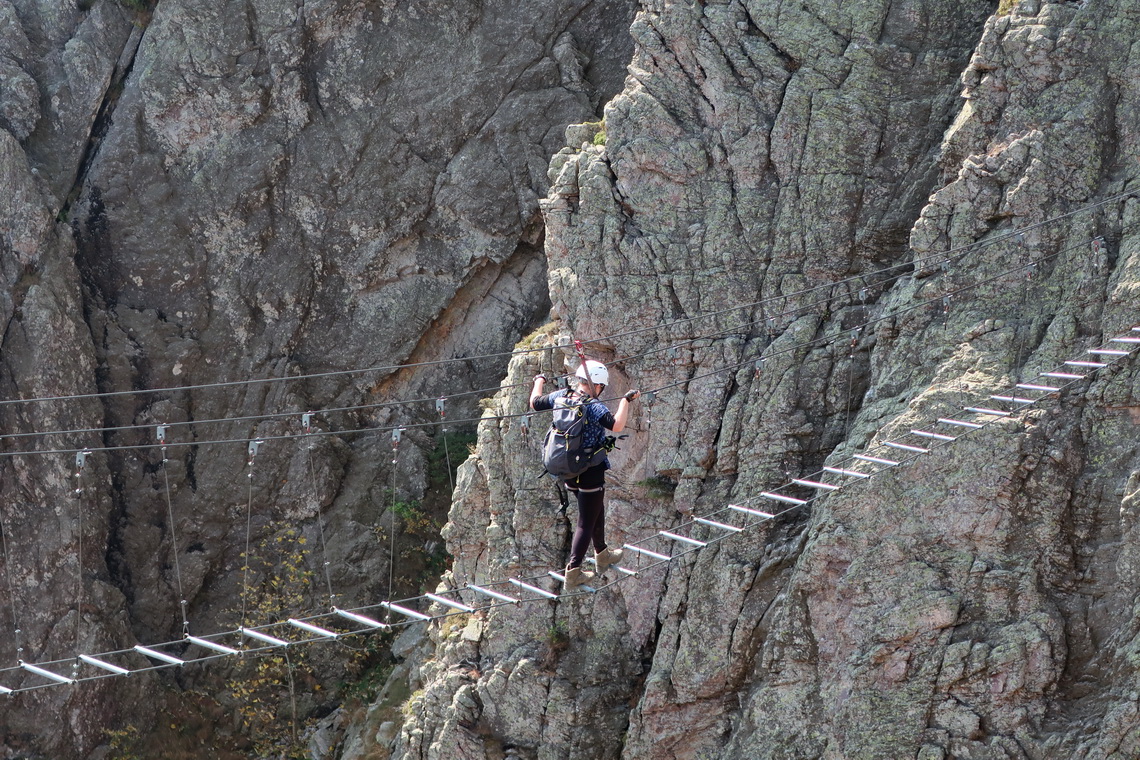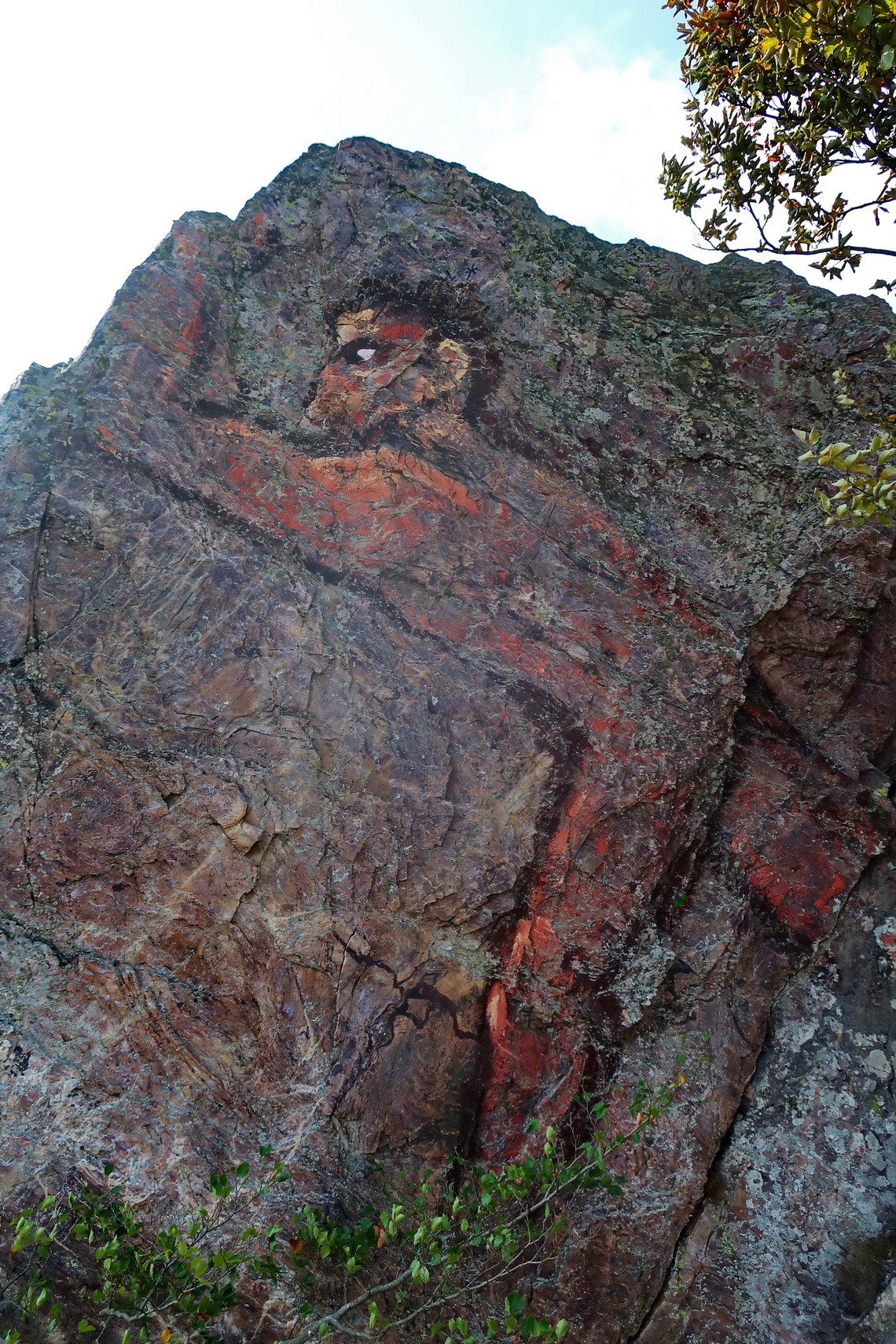 The Mediterranean Sea was our next target - we stayed few days in the area of Borghetto Santo Spirito / Finale Ligure and Imperia. Swimming in the water was wonderful, about 25°C.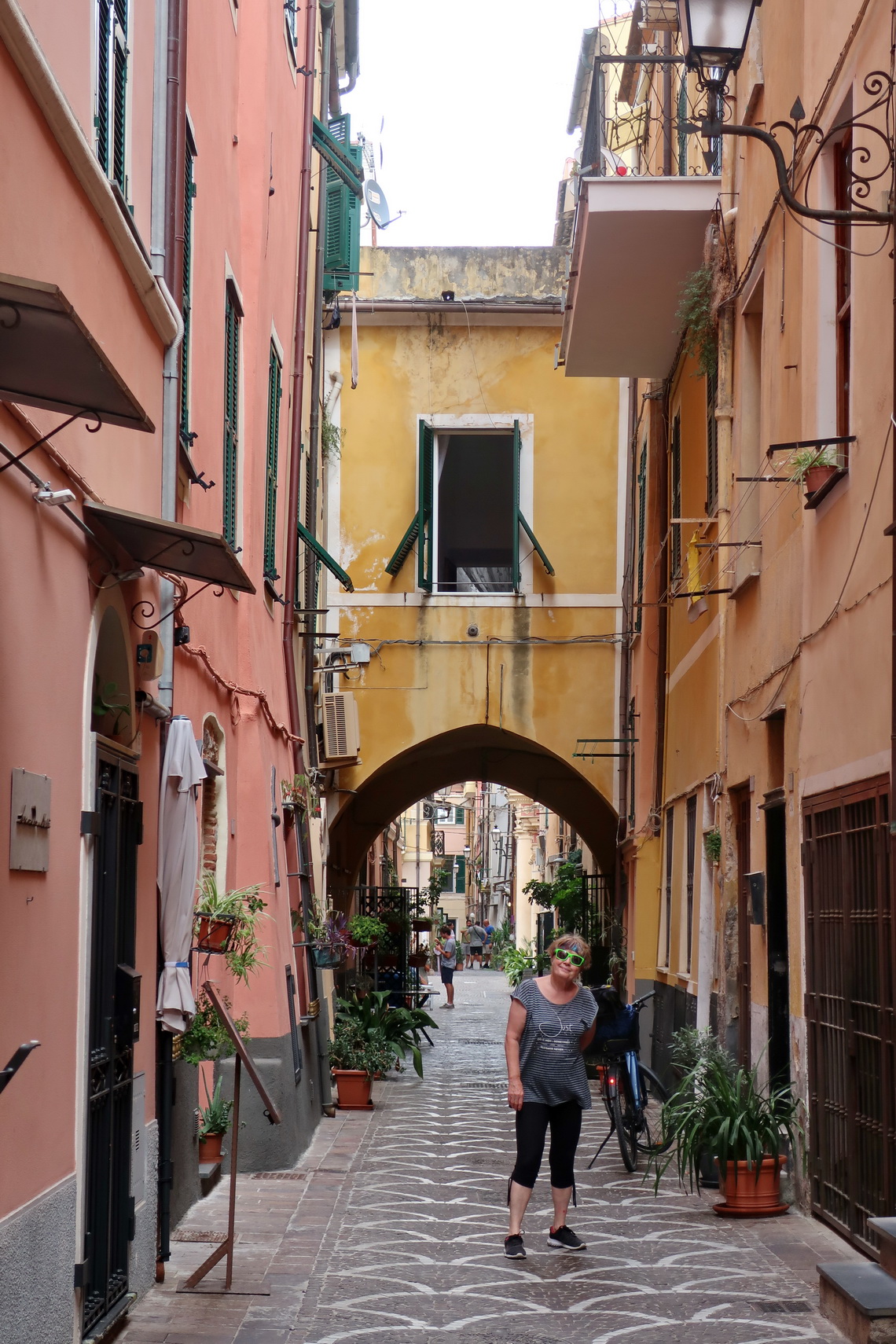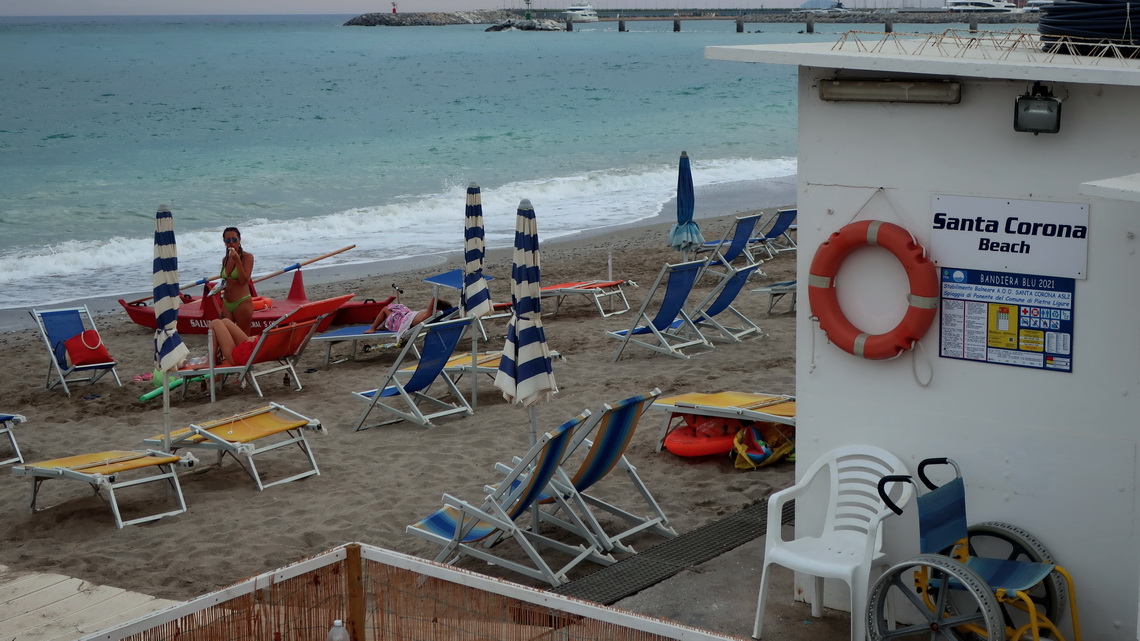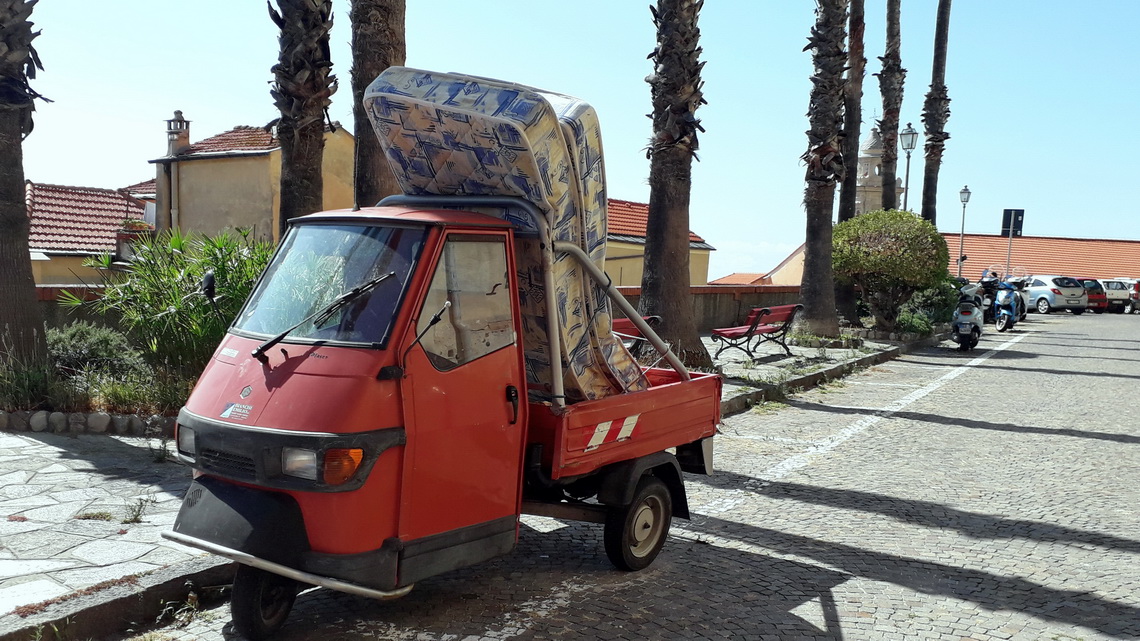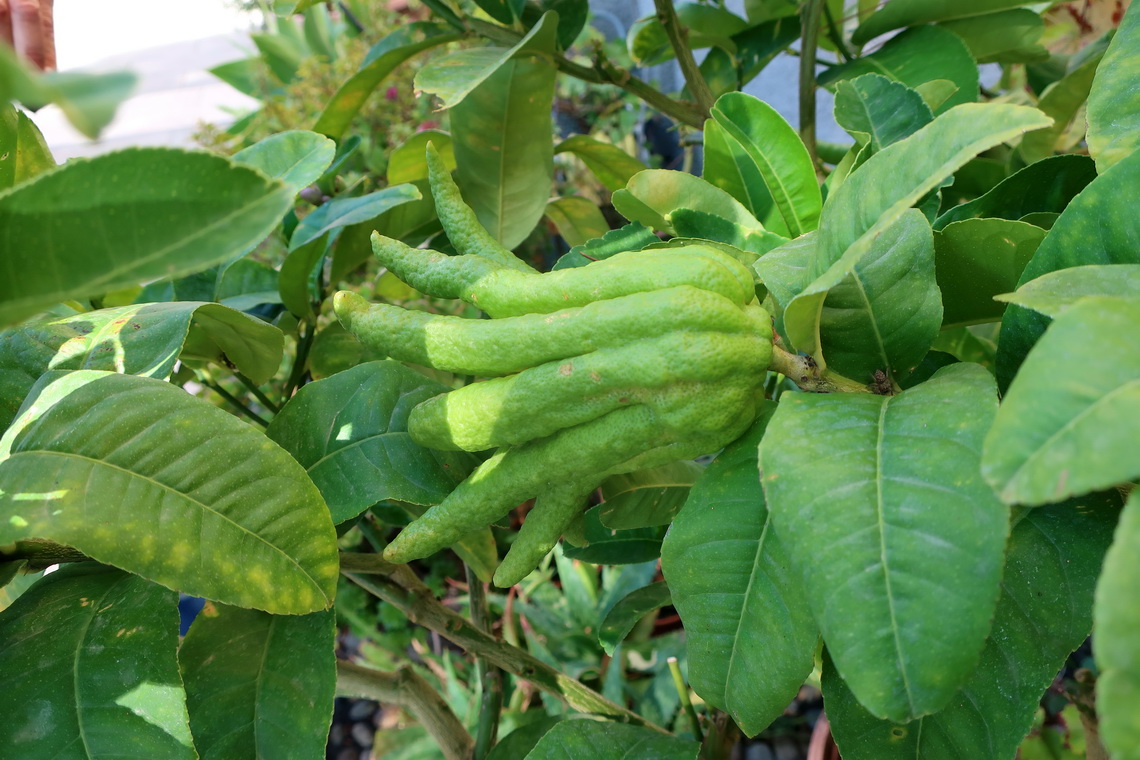 Few kilometers north of Imperia is the more than 1300 meters high pass Col Di Caprauna which is the starting point for the superb hike to the summits of Monte Della Guardia and Monte Armetta (1739 meters sea-level). We had marvelous view, also to the Mediterranean See.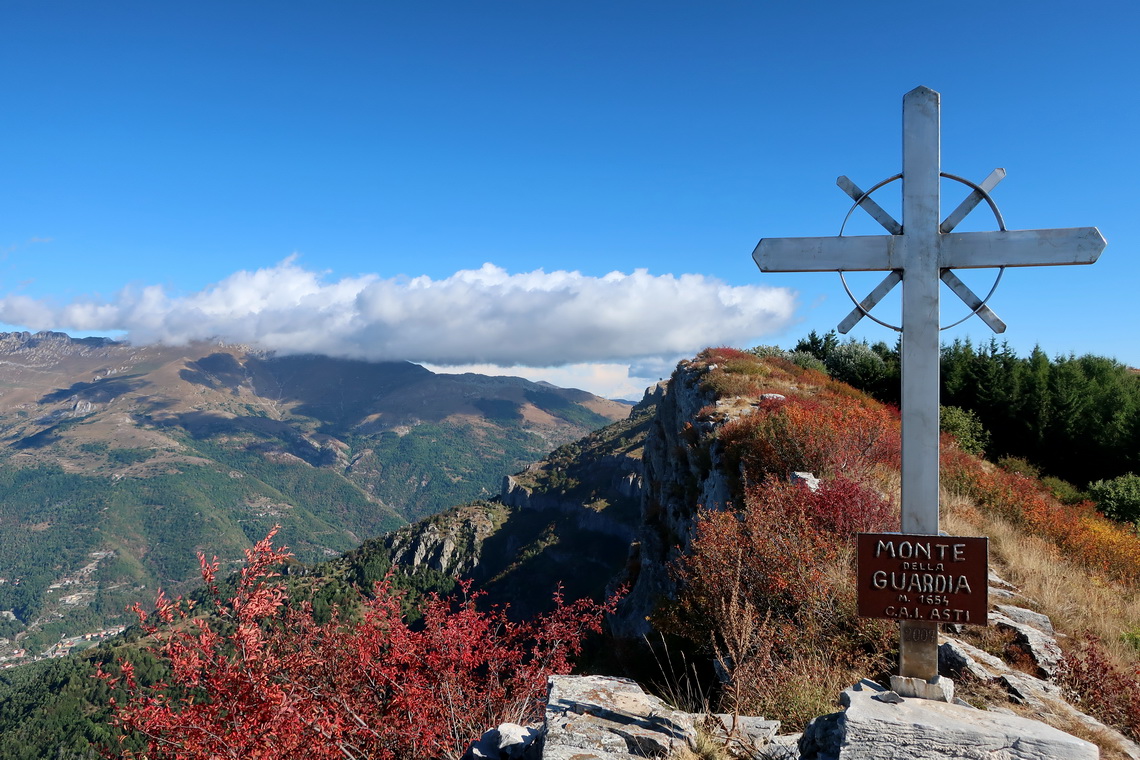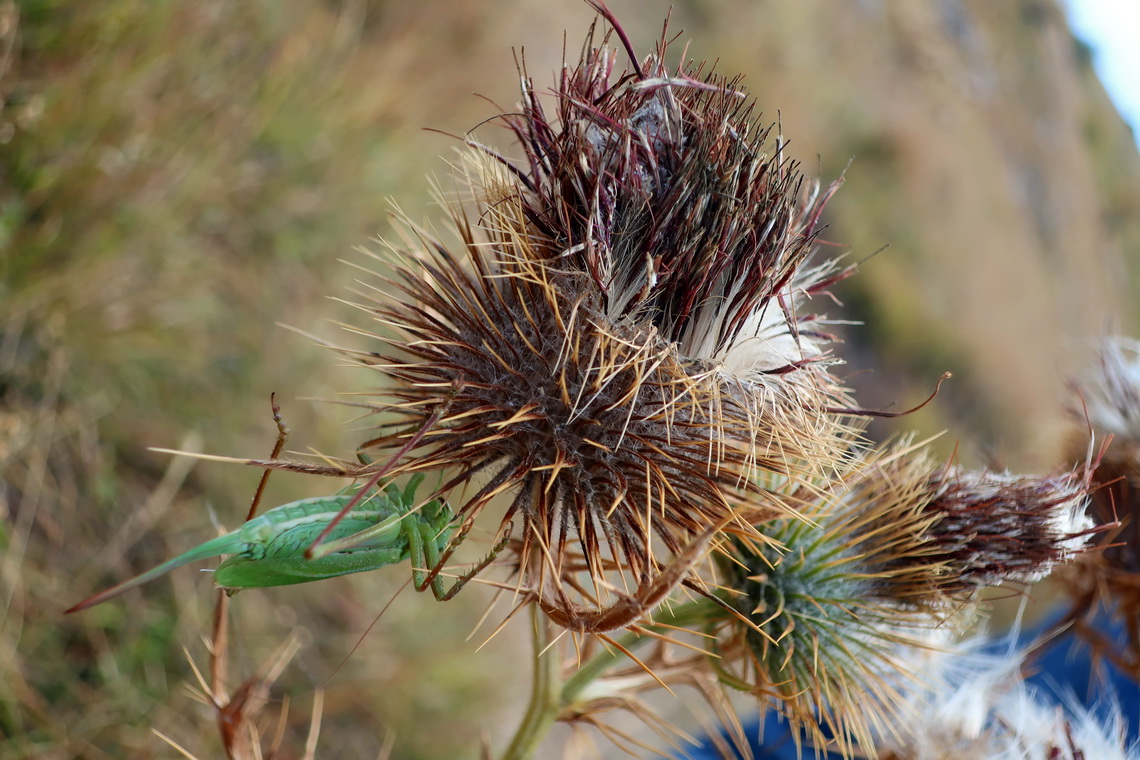 On our drive back to north we visited the beautiful cities Mondovi and Asti.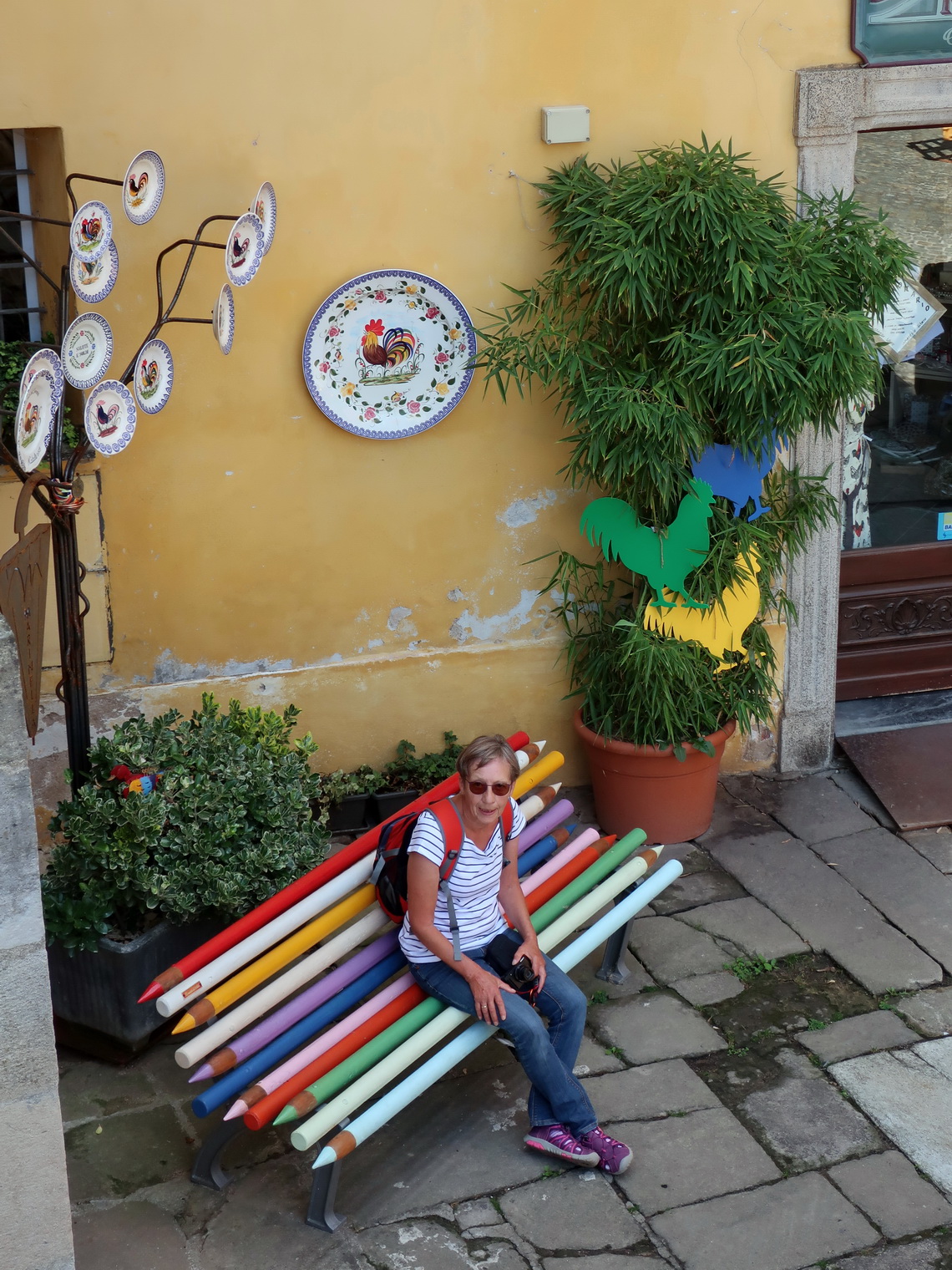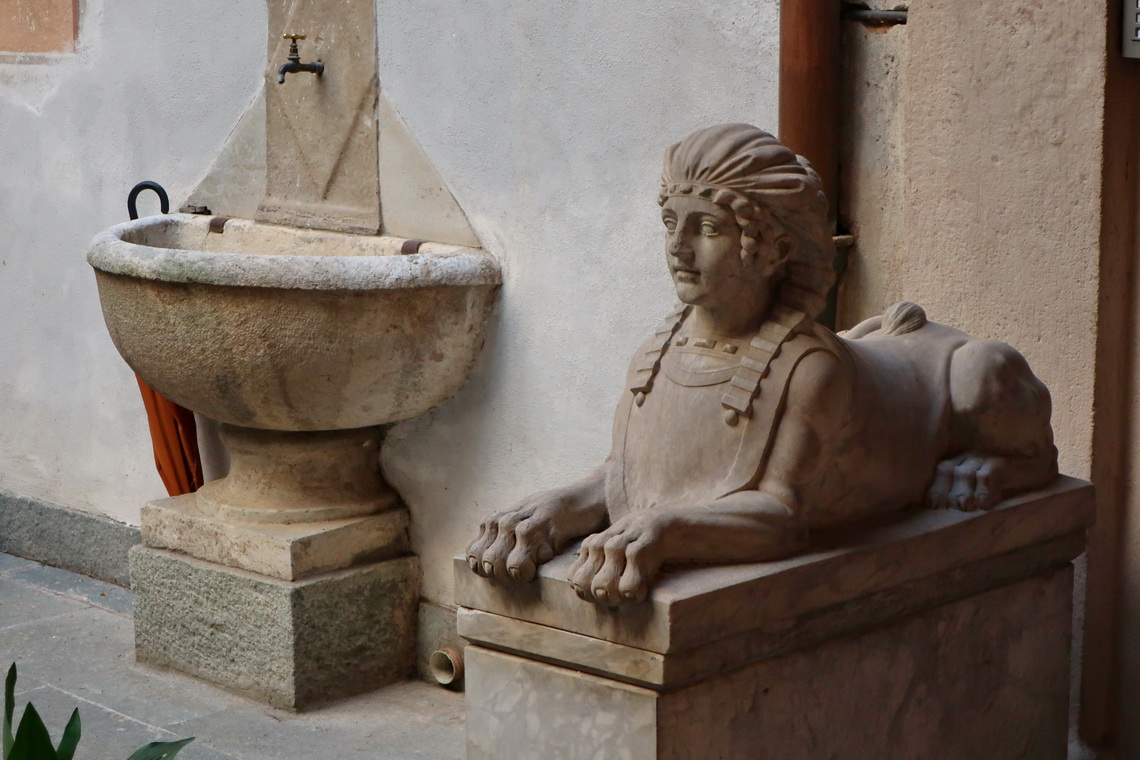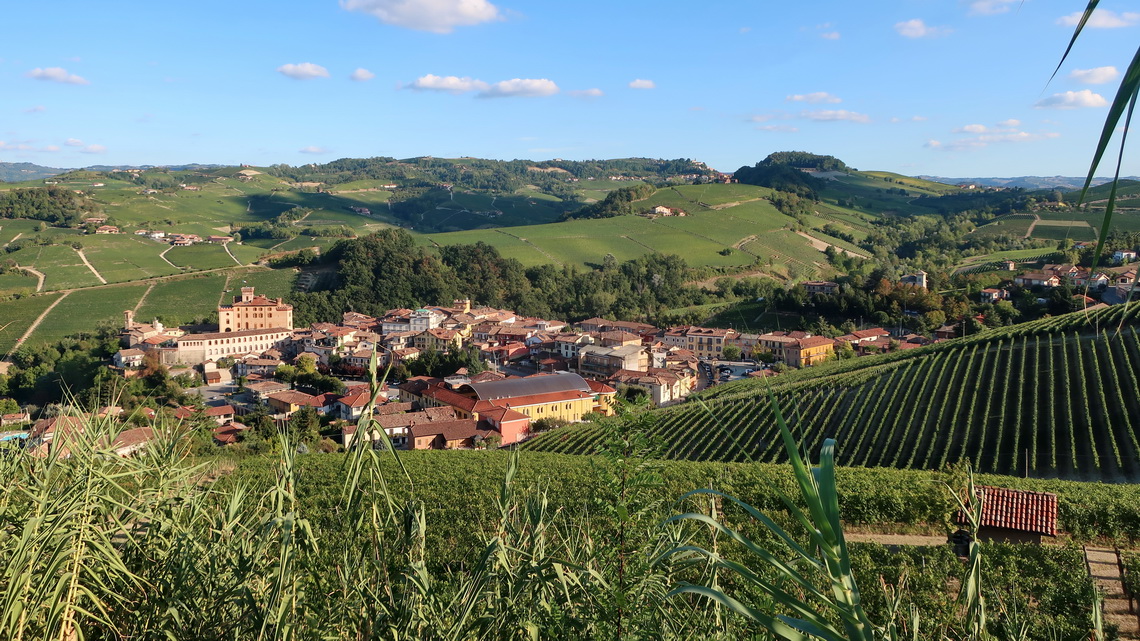 The village Orta San Giulio is remarkable: Firstly, its bigger lake Lago di Orto with crystal clear water is nice for swimming (few kilometers west of the huge lake Lago Maggiore). Secondly there are many stunning murals on its walls and houses - the are mainly movie related. Thirdly its holy hill - Sacro Monte D'Orta is an UNESCO World Heritage Site because there are 20 chapels which show the life of holy St. Francis of Assisi in very realistic scenes with stunning figures made in the 16th / 17th / 18th centuries.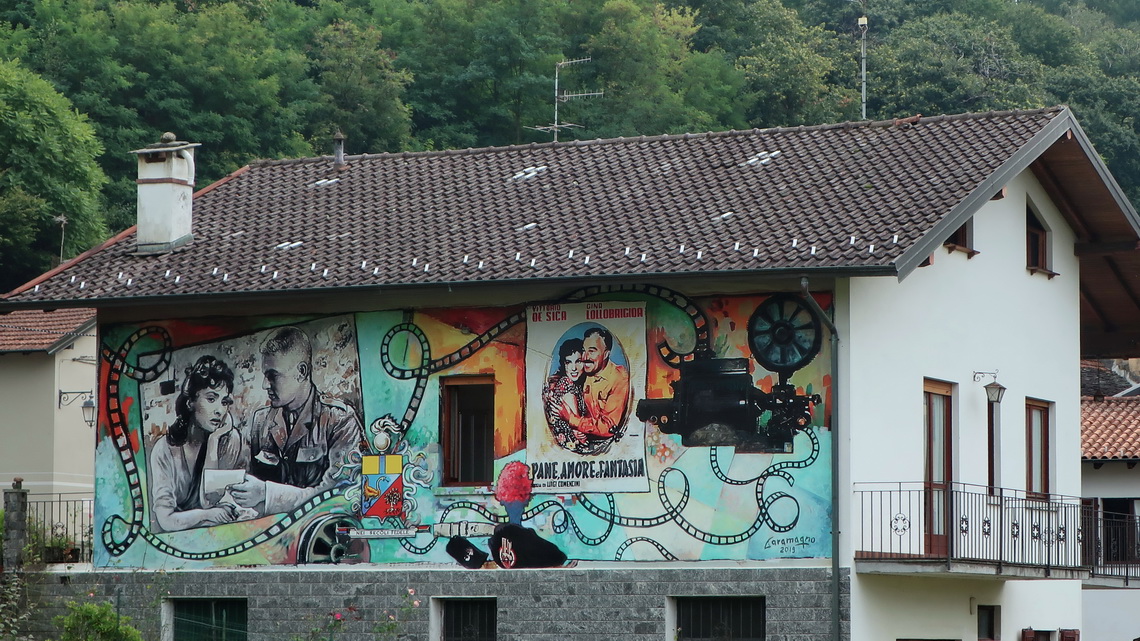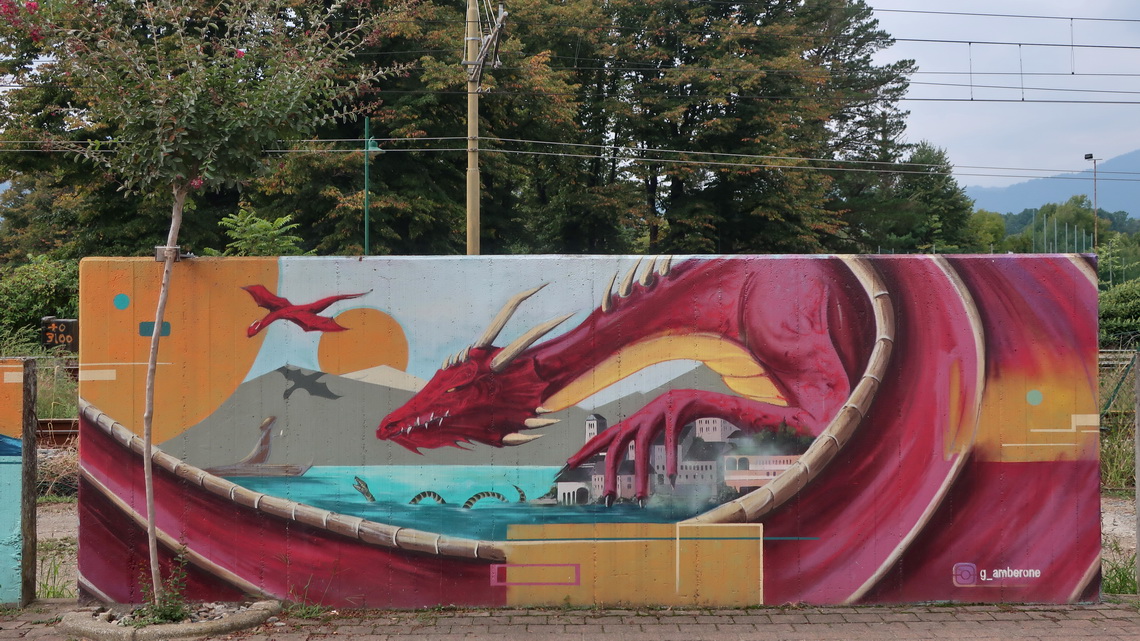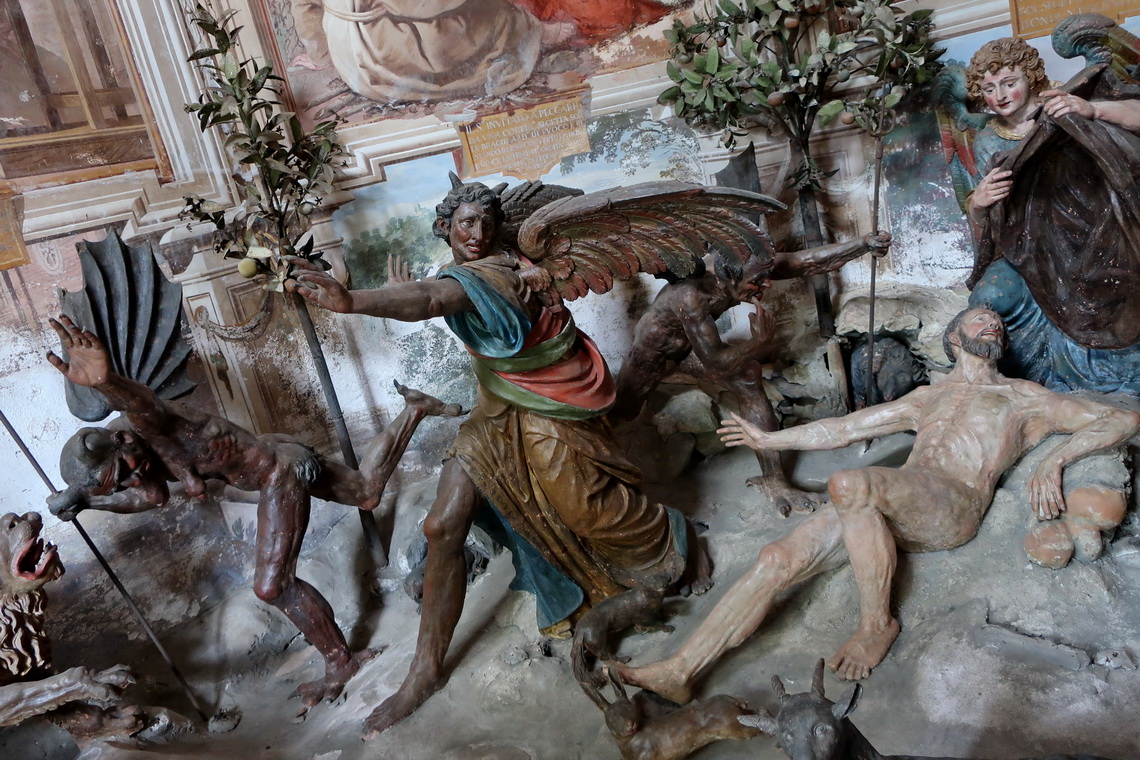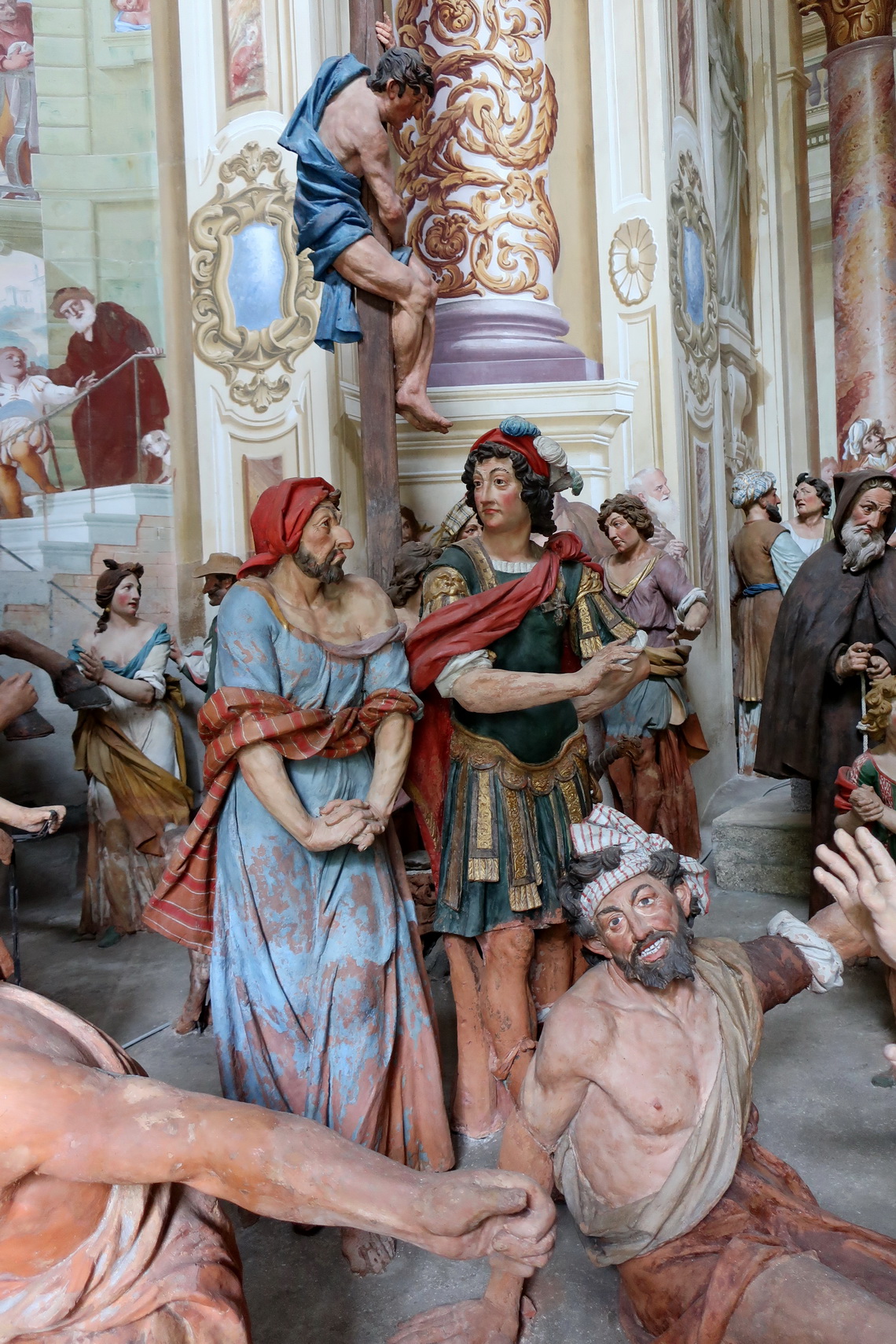 Our last mountain tour was 1534 meters high Monte Spalavera which provides excellent views to the enormous Lago Maggiore and the Monte Rosa massif which is the second highest range in the Alps. Our Garmin GPS led us the wrong street to the access point Il Colle via the village Aurano. The street became steep and steeper, and narrow and narrower. Our little motor-home became big and bigger and even more bigger - a real nightmare and Hermann was in our back with his not much smaller camper. Fortunately there was very little traffic and the descent was much better.
In the late afternoon we refreshed in Lago Maggiore (23°C water temperature on September 23rd) in the pretty village Cannobio. On the next day we left Italy and headed via the 2067 meters high San Bernadino pass back to Germany.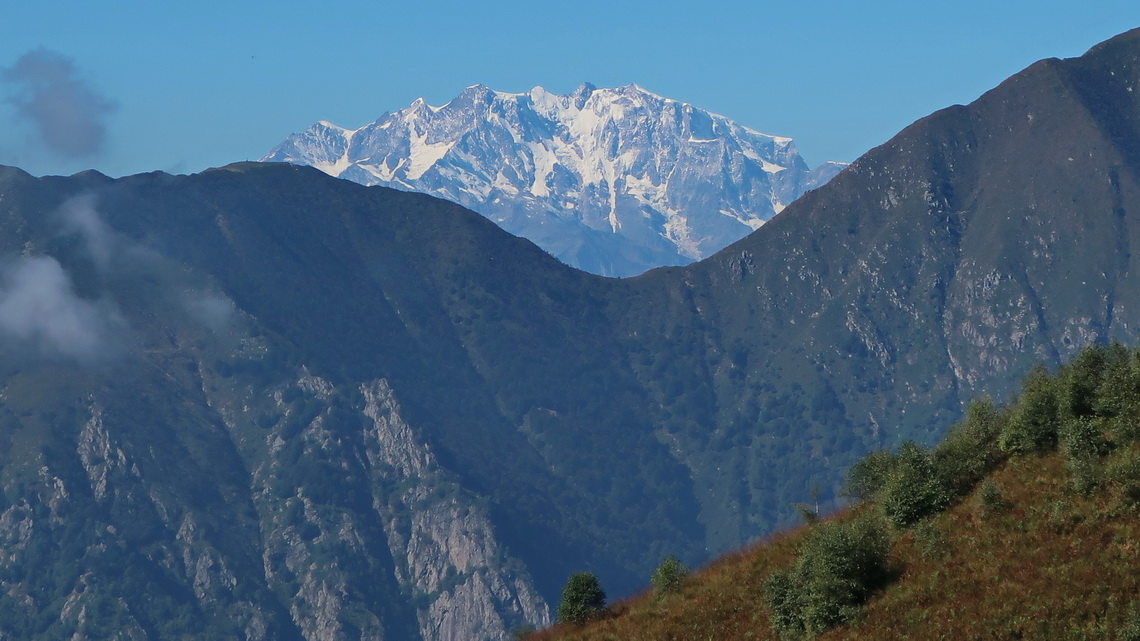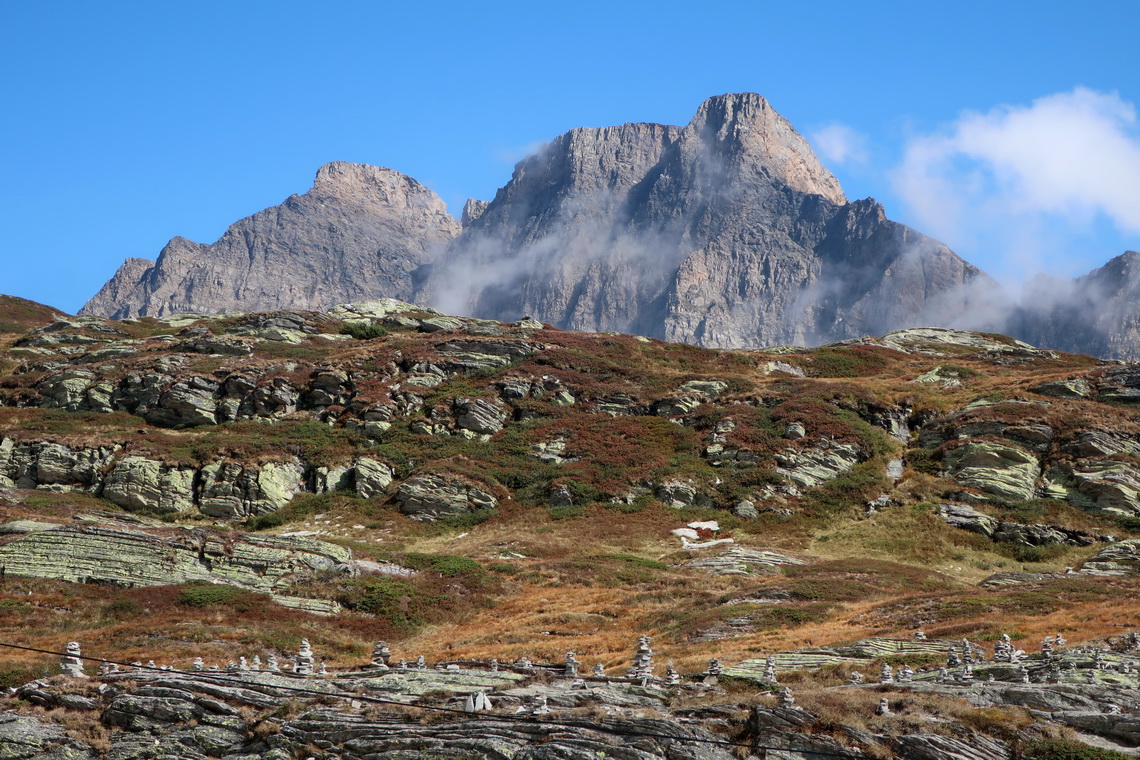 Most of our hikes, bike rides and overnight staying places are in our GPS coordinates file of Italy.
For more pictures, please click here
For a map of our itineraries, click here
To download our GPS coordinates of Italy, click here