The landscape of Spain is very mountainous. Indeed the third and fourth highest European mountain ranges (after Caucasus and Alps) are in Spain with sea-levels above 3400 meters - Sierra Nevada and Pyrenees. Its marvelous coasts are quite often rough and rocky. In the recent years In the last years Spain has built a lot of via ferratas where you might enjoy climbing without a lot of equipment.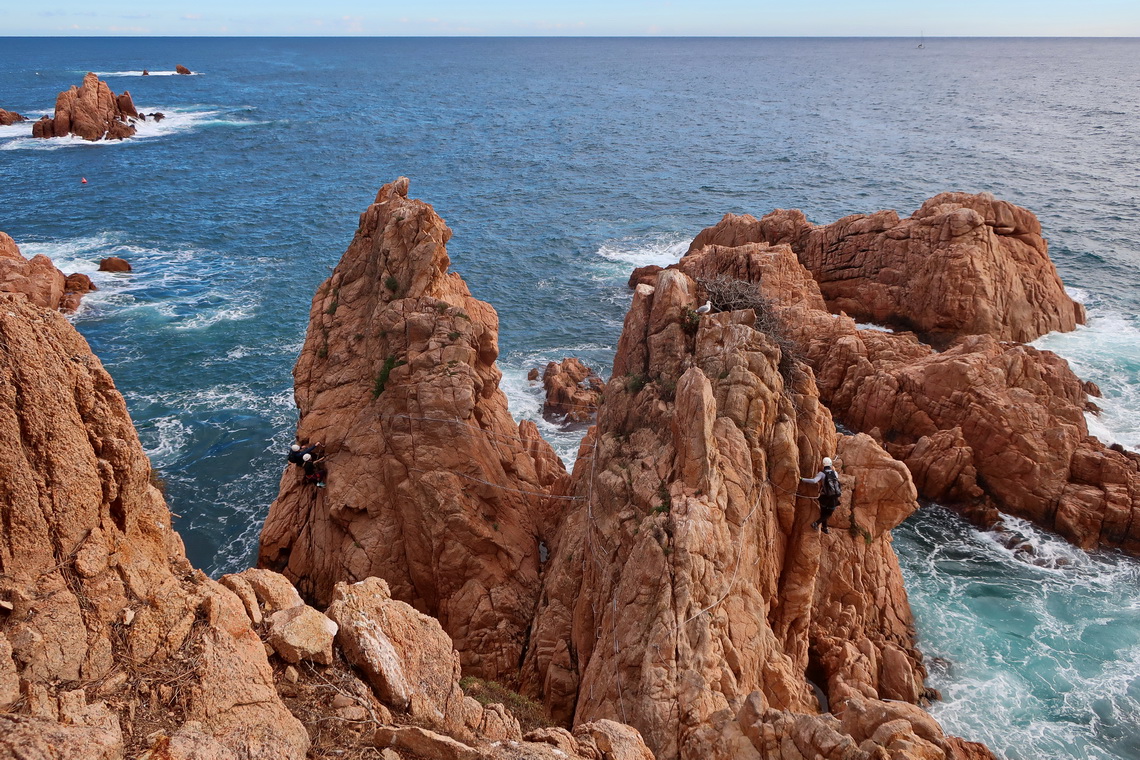 We came to Spain on November 15th 2022 with our camper to enjoy the pleasant winter climate on its southeast and south cost and to follow more ore less our itinerary with our little two daughter Eva (two and a half years old) and Marion brother Tommy in the year 1986. Our first stop was the nice mountain village Agullana which is located few kilometers west of the main border station La Jonquera between France and Spain close to the Mediterranean Sea.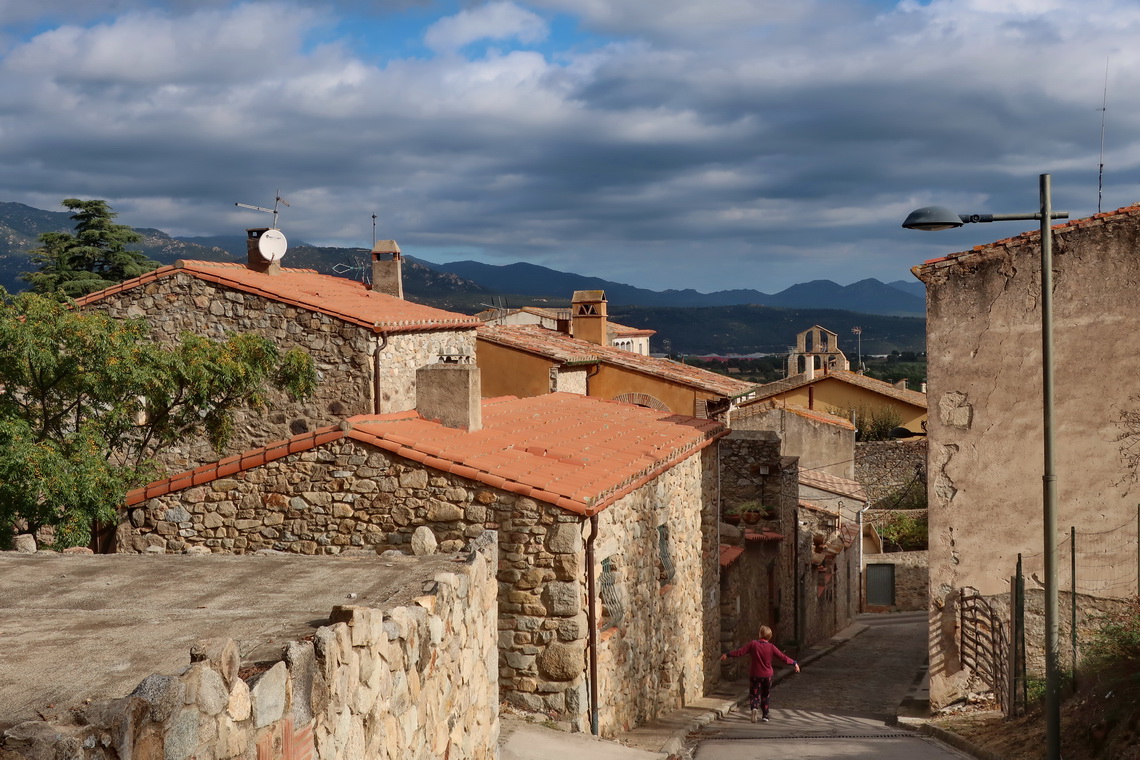 In the little village Agullana
We spent two days in the little town Roses with its nice beaches. Swimming in the Mediterranean Sea was comfortable due to 20°C water temperature. There are some nice bicycling opportunities around Roses - we visited the summits of 186 meters high Puig de Les Muralles with its interesting gothic ruins Castrum Visigòtic and 226 meters high Puig Rom.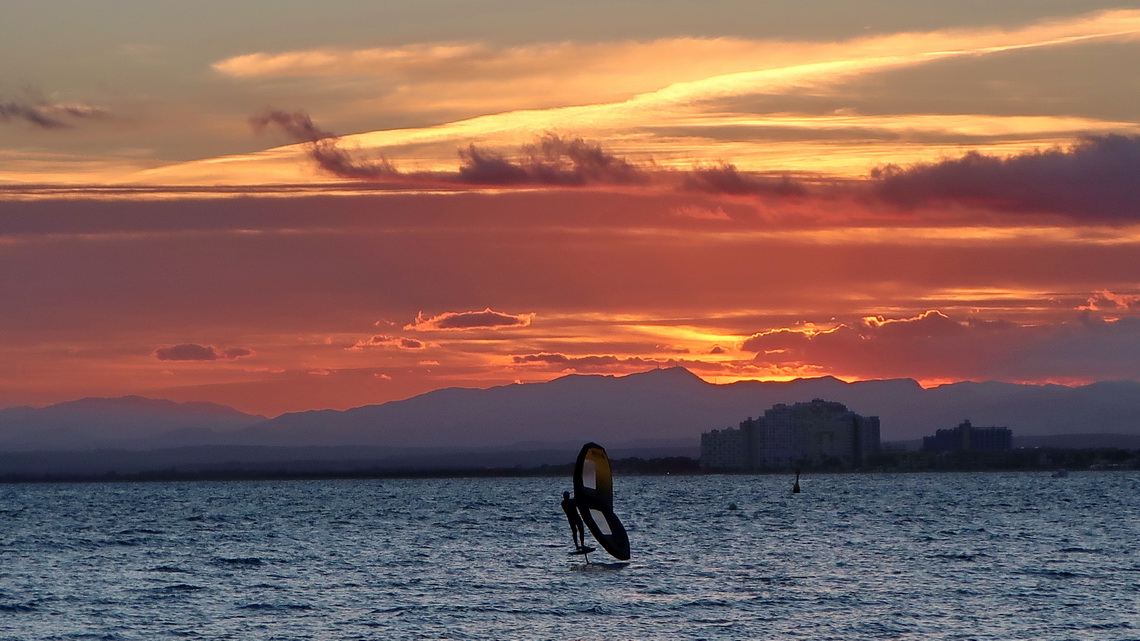 Sunset on the beach of Roses
The artist Salvador Dali is the most famous man in nearby Figueres, the first bigger city after the French / Spanish border. Dali himself rebuilt the old theater of Figueres as a museum, and he is buried in its crypt. We visited this stunning place on a rainy day.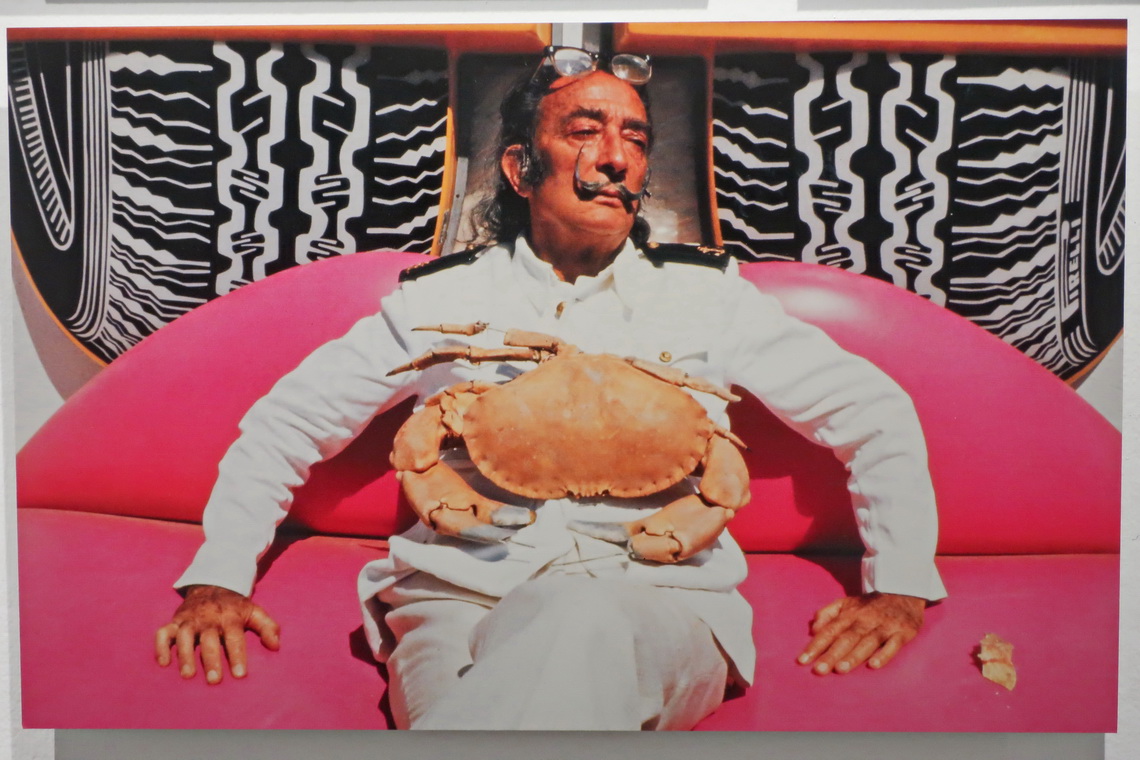 Salvador Dali (1904 to 1989) with a huge crab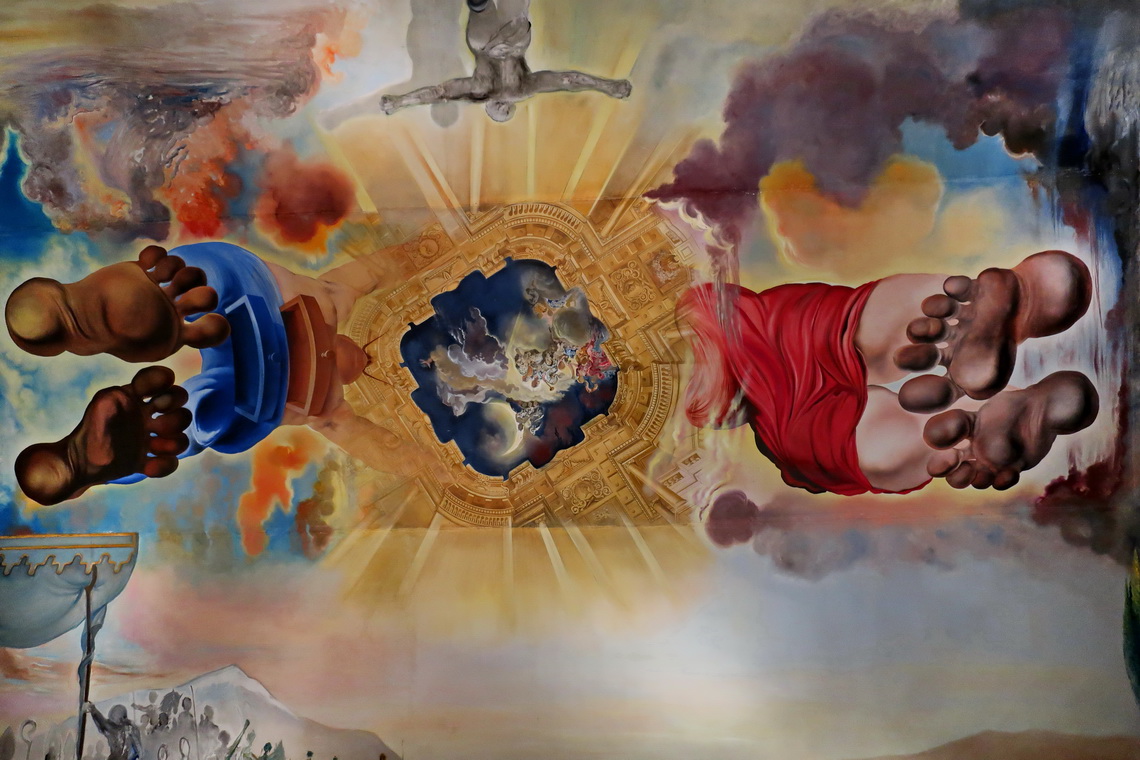 Ceiling painted from Salvador Dali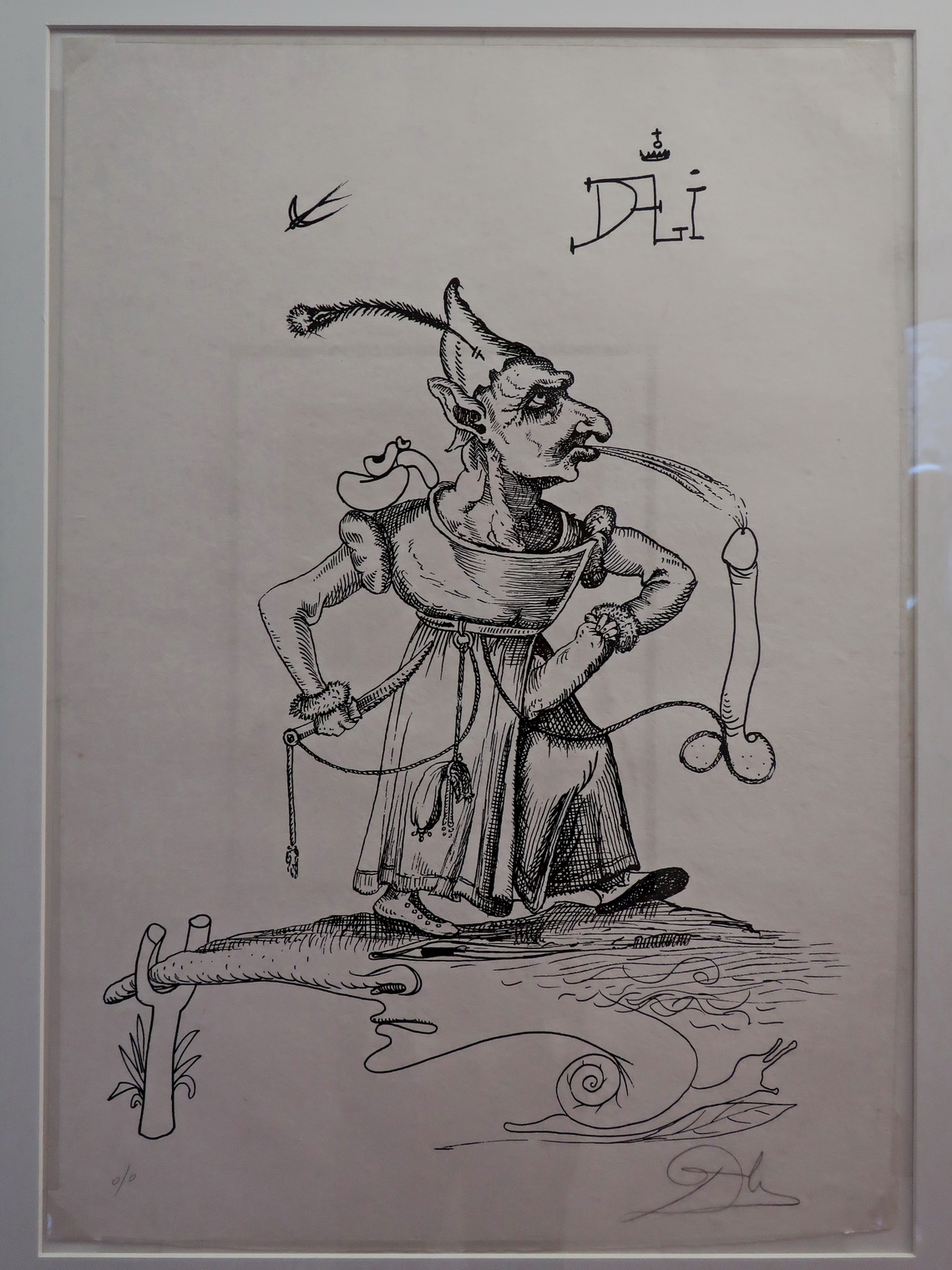 Typical sketch of Salvador Dali - maybe not loved by the catholic church
Our first via ferrata in Spain is the Gorges de Saleny - a narrow gap through the rocks just 10 kilometers west of the beaches of Torre Valentina which is a short and easy climb including an airy Tibetan bridge at its end. Further up the road is the church Sant Martí de Romanyá built in the 11th century.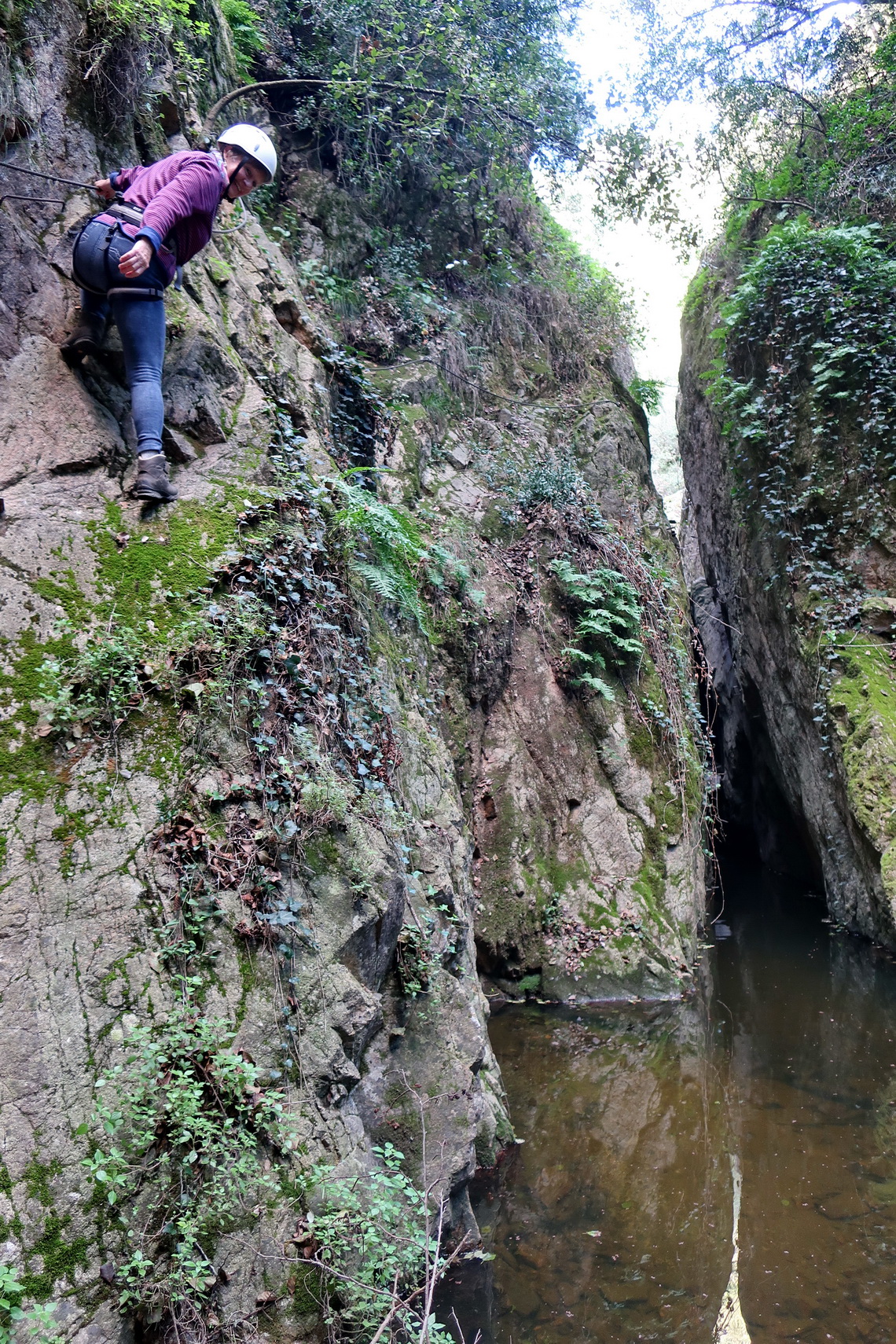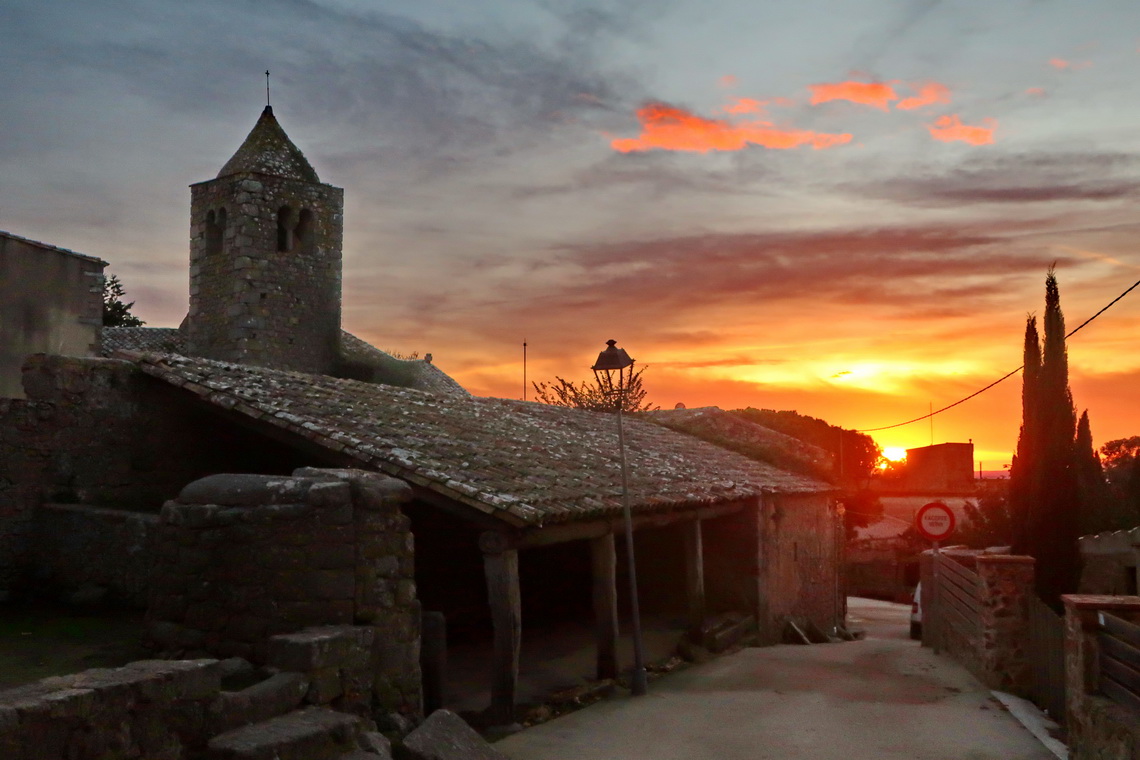 Marion's sister Jutta and her husband Hermann joined us in the beach town Sant Feliu de Guíxols on November 21st 2022. On the following day we climbed challenging via ferrrata Cala del Moli which is on the eastern rocky shore of Sant Feliu de Guíxols - A true highlight of all via ferratas we know not limited to Spain!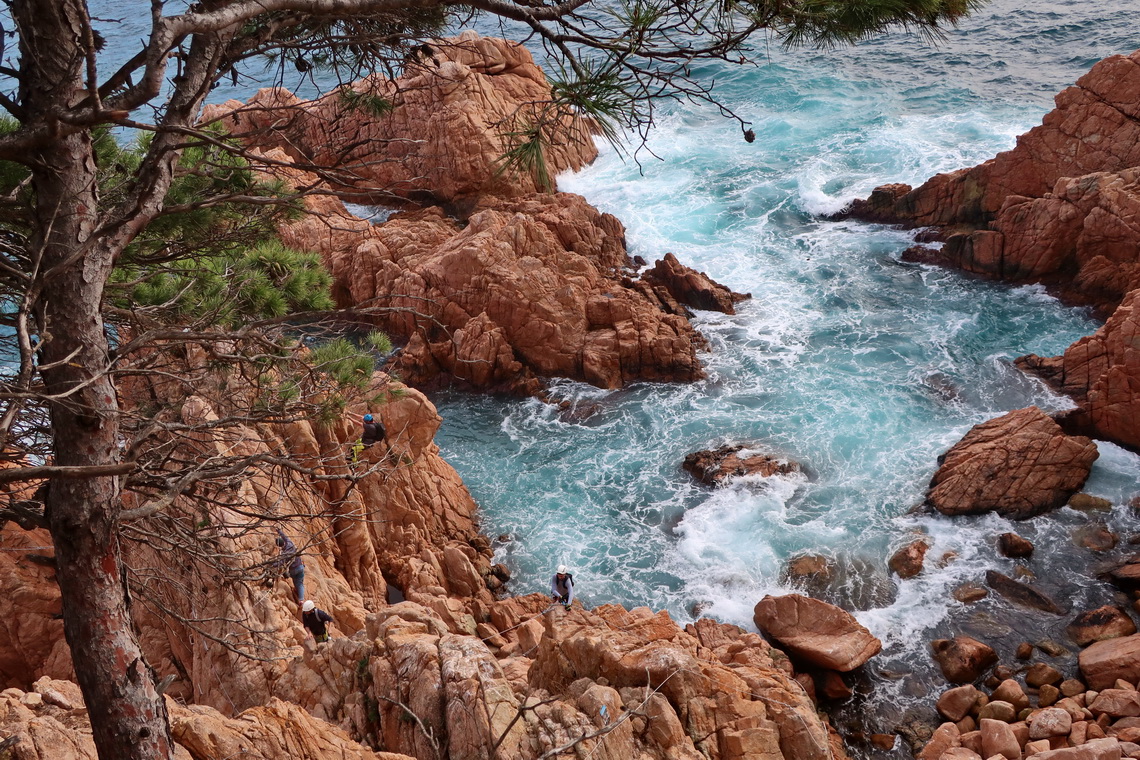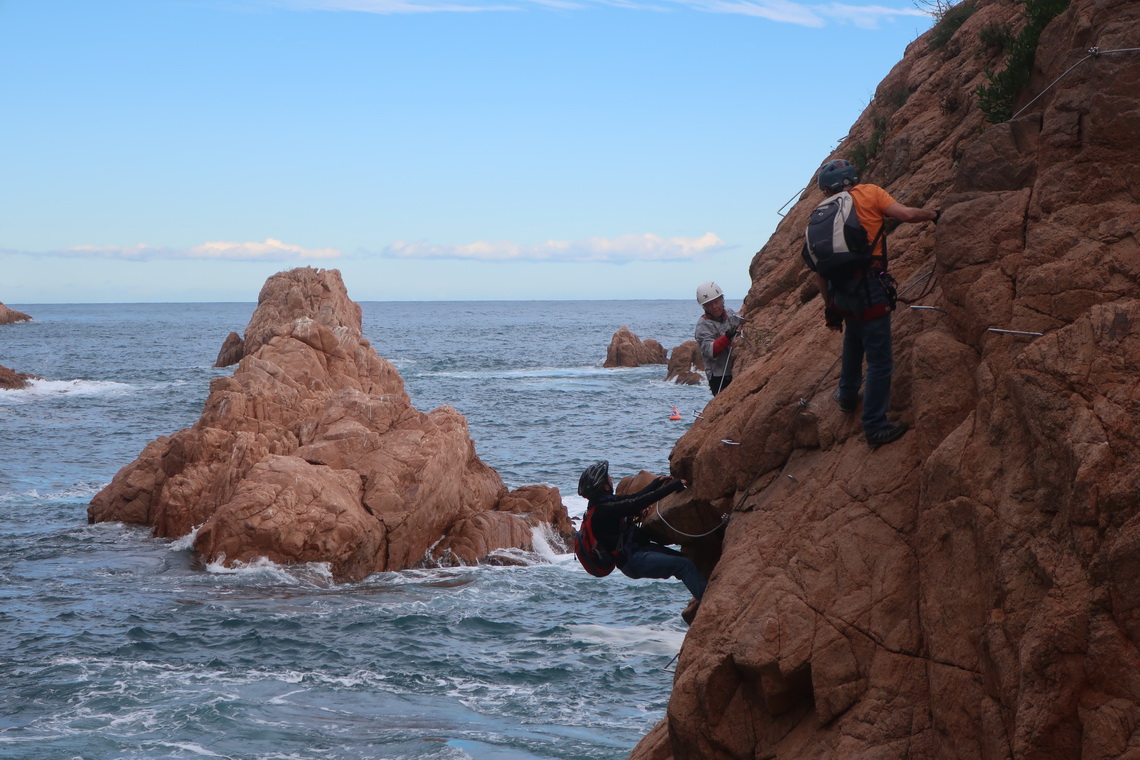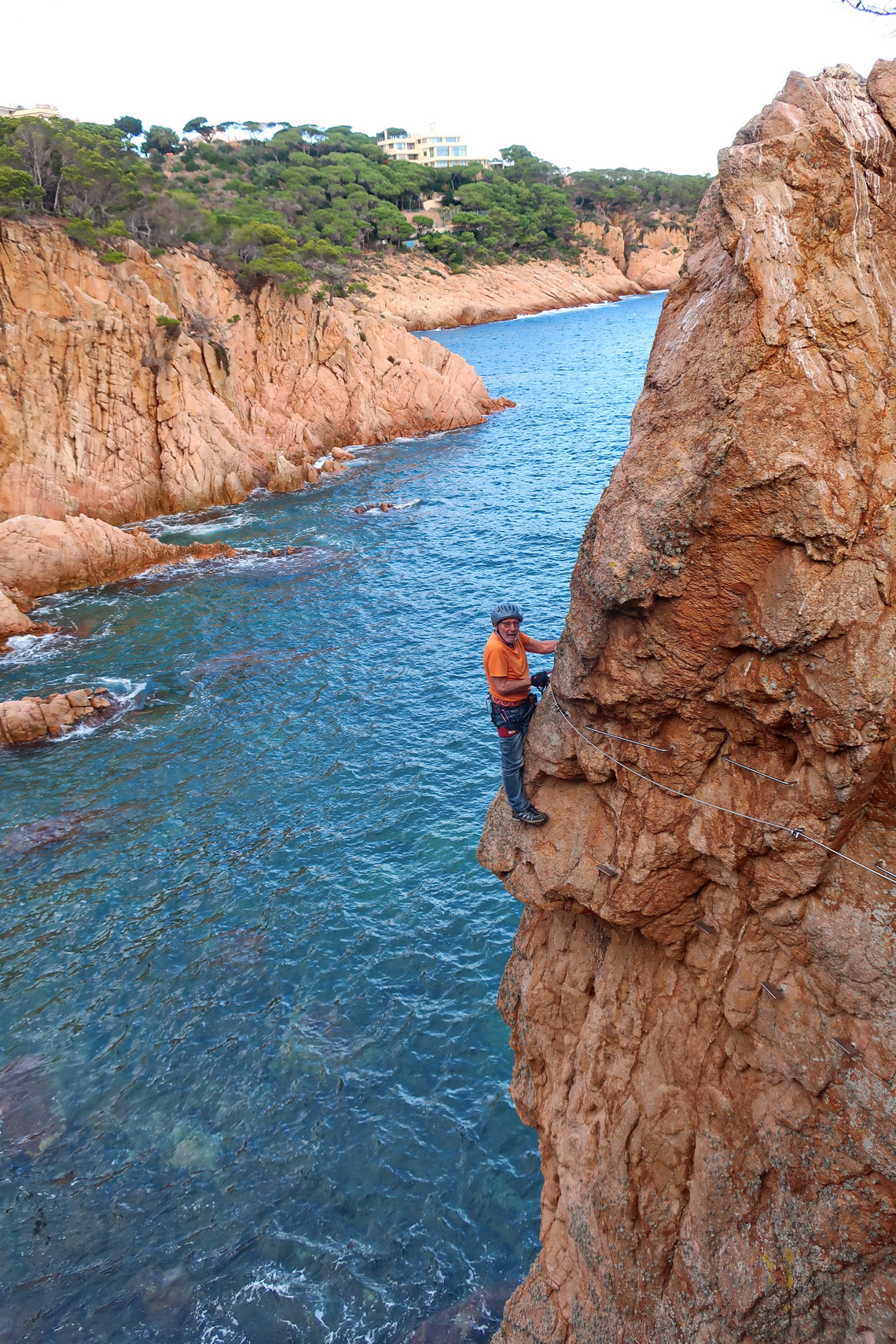 On the way to Barcelona we stopped in the holiday and beach towns Torre de Mar and Lloret de Mar, and Breda with its impressive cathedral which is in the northeastern mountains of Barcelona.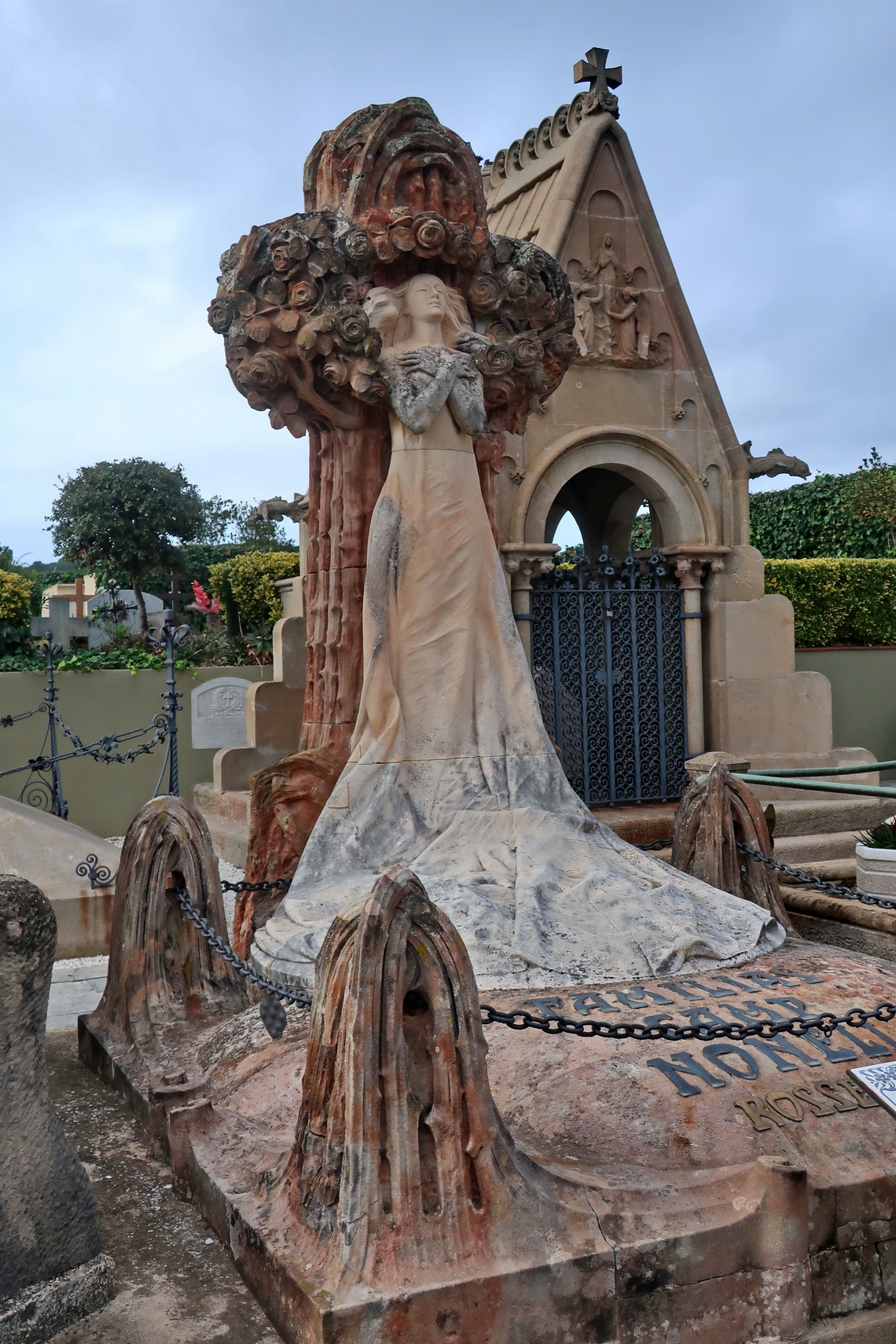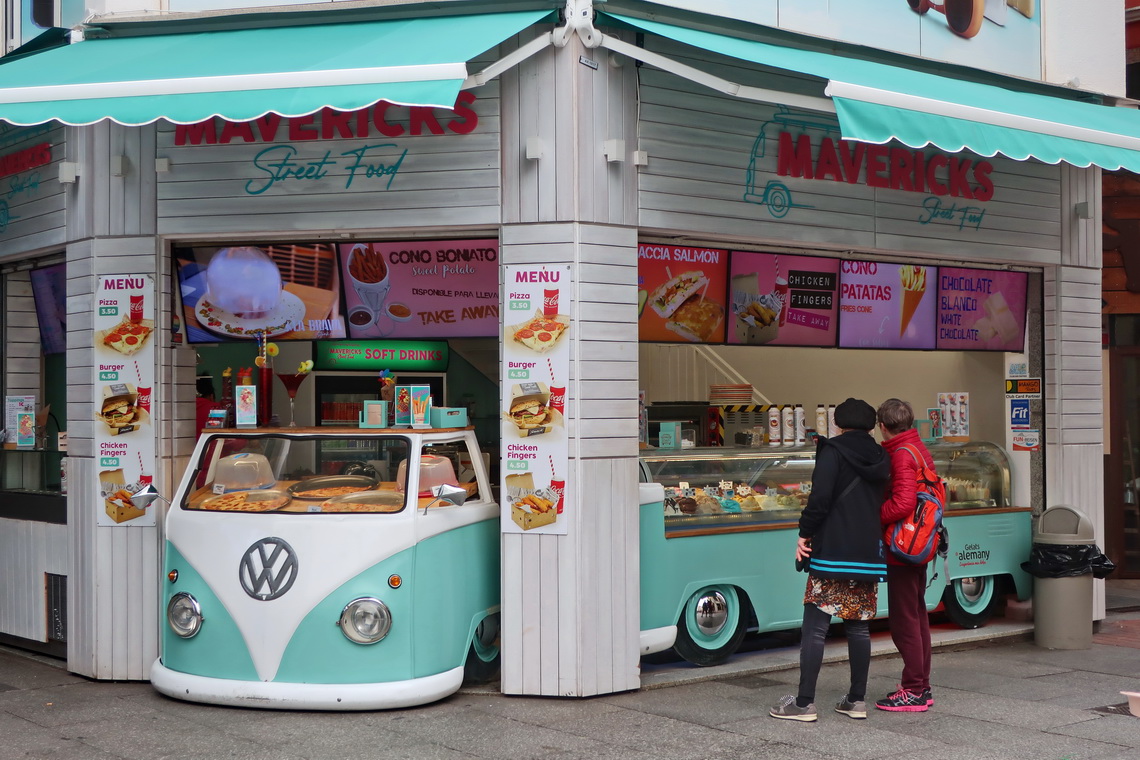 The little village Montmelò was ideal for us to visit Barcelona because there is a train station close to its camper parking place. We were in approximately one hour in its downtown. It was already the forth time we visited this wonderful city, and it was Friday afternoon / evening when a lot of people were in town.

Barcelona is the town of Antoni Gaudi (1852 to 1926), one of the most famous architect on earth. He was a leader of Catalan Modernisme with is a kind of Jugendstil with irregular pattern inspired by nature.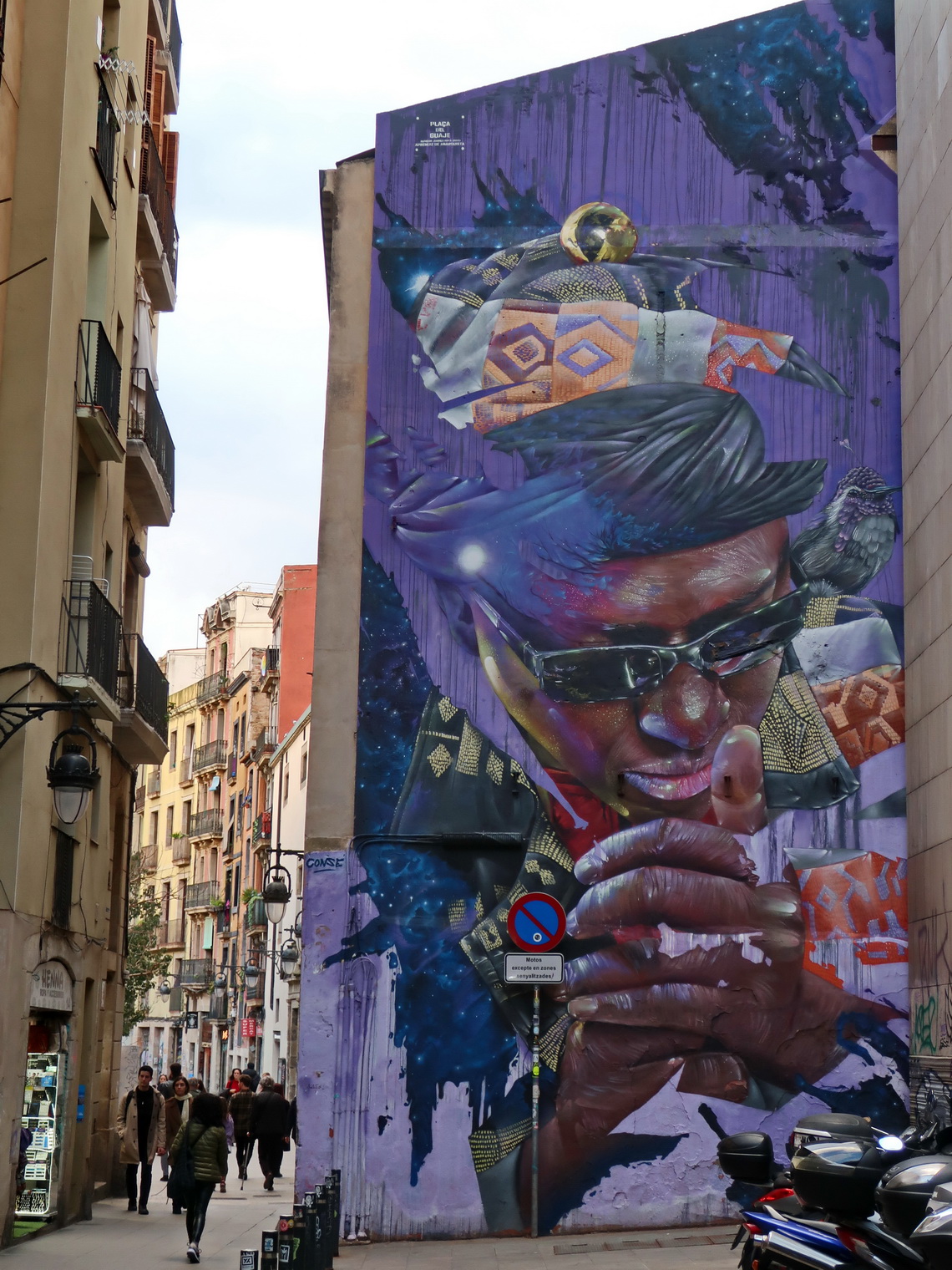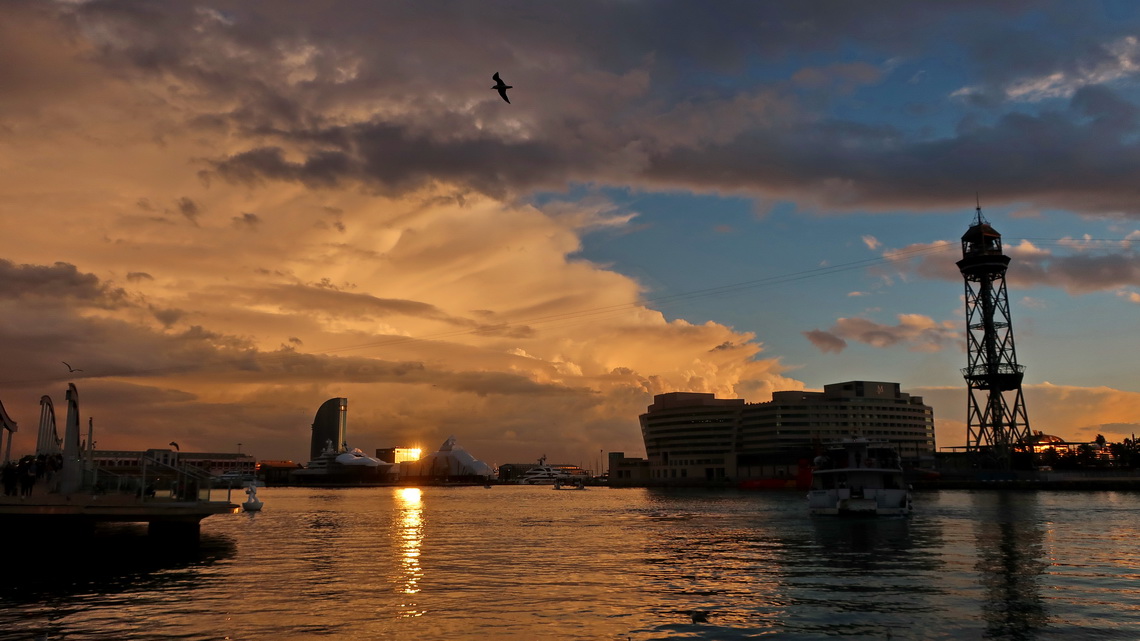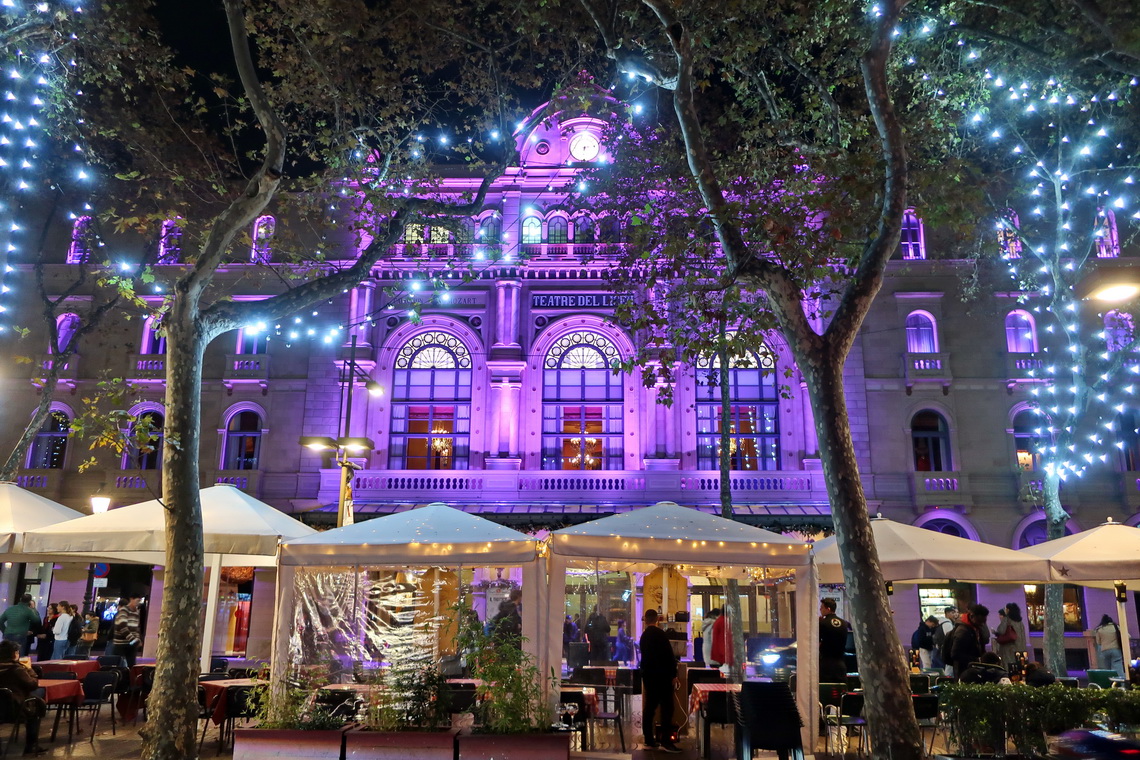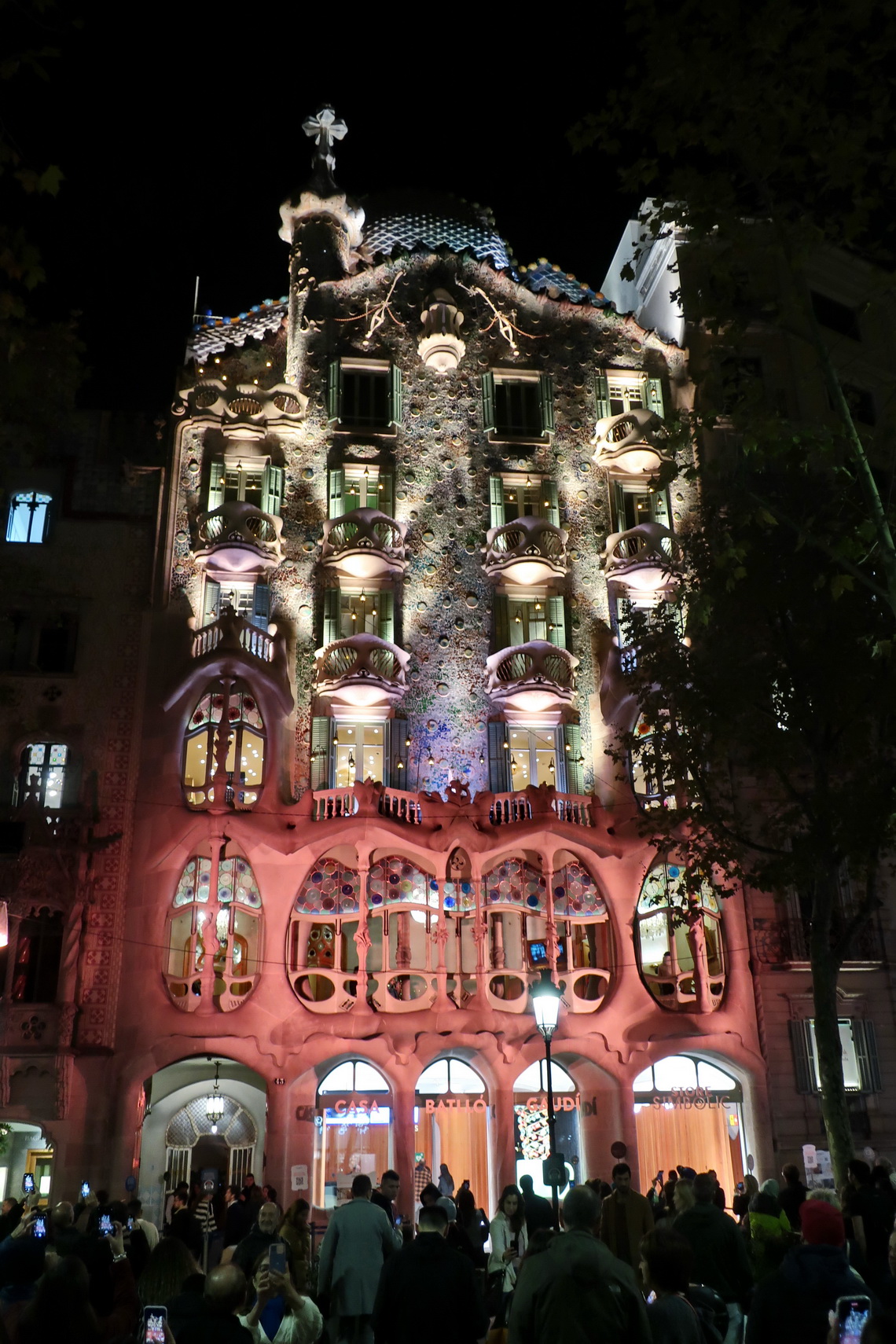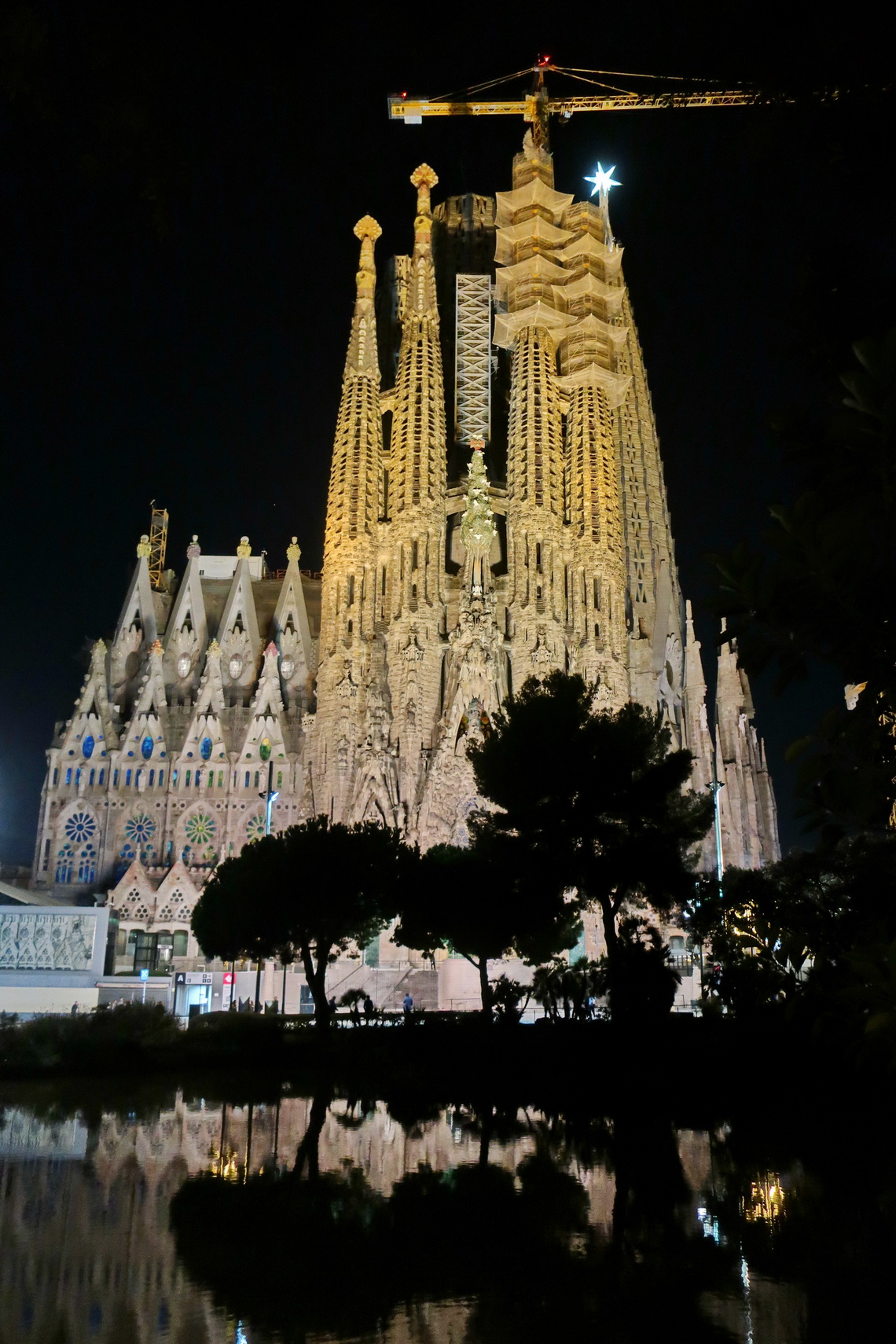 We continued to the pleasant holiday and artist town Sitges, and to the village Atafulla with its impressive castle. In Atafulla we found a beautiful overnight staying place where we overlooked the southern coastline and enjoyed nice sunsets. We took our bicycles to drive to the busy city of Tarragona which has an important port and a lot of Roman ruins like an ancient amphitheater.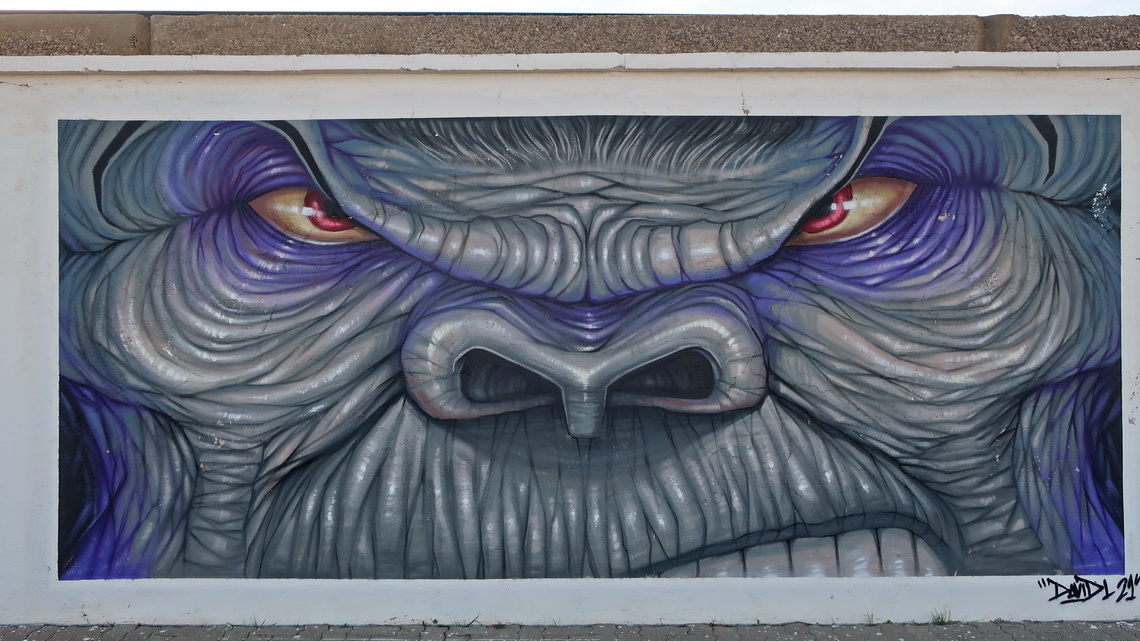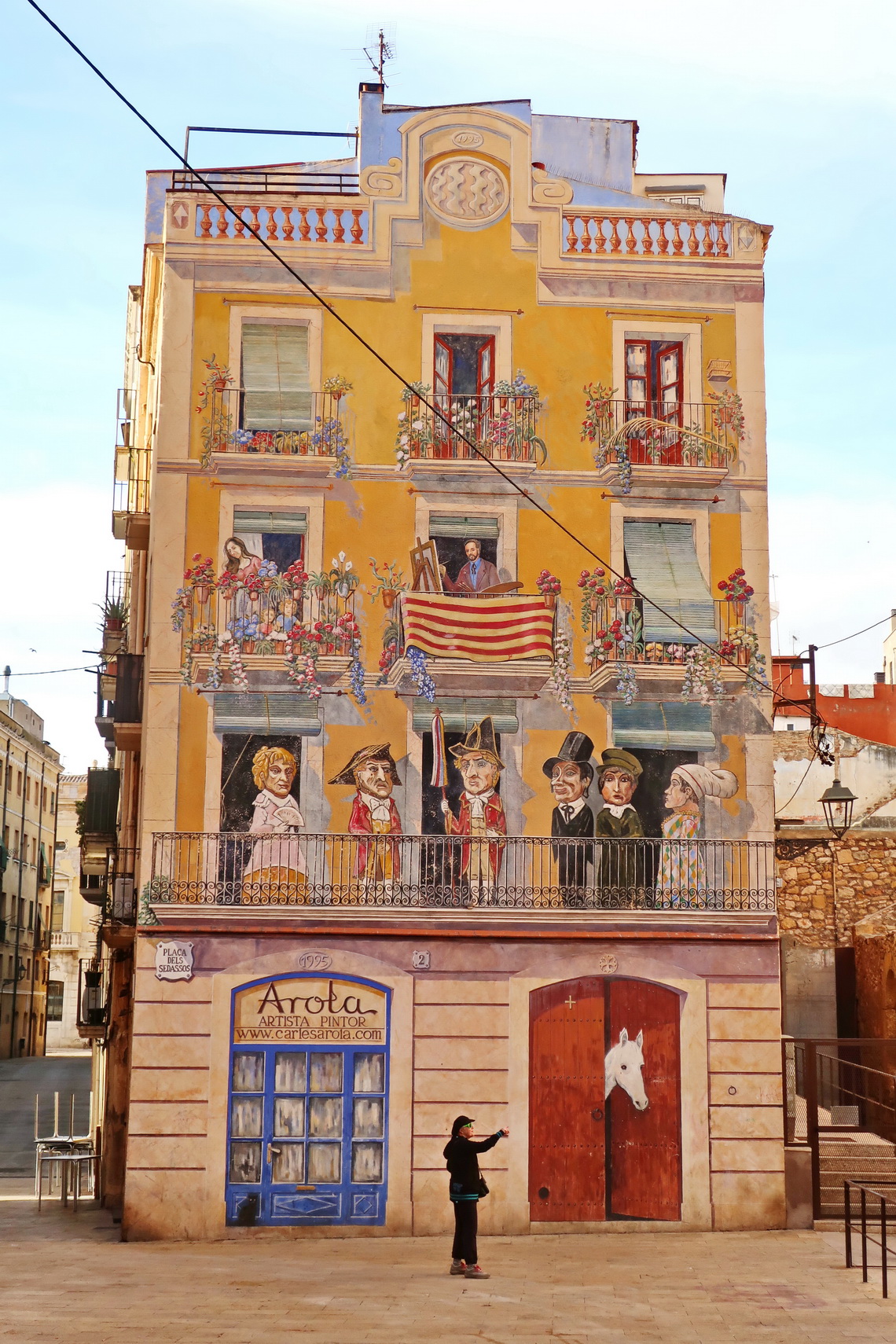 We stayed three days in pleasant La Selva with is on foot of the mountains few kilometers north of Tarragona. We hiked a full day to the hermitage Ermita de Sant Pere Del Puig, continued to the 717 meters high summit Puig D'En Cama and returned to our camper via the nice way Cami del Rec.

The little mountain village L'Albiol has an ancient fortress. Few kilometers west is the awesome gorge and cave Grau dels Avencs de a Febro with a short via ferrata.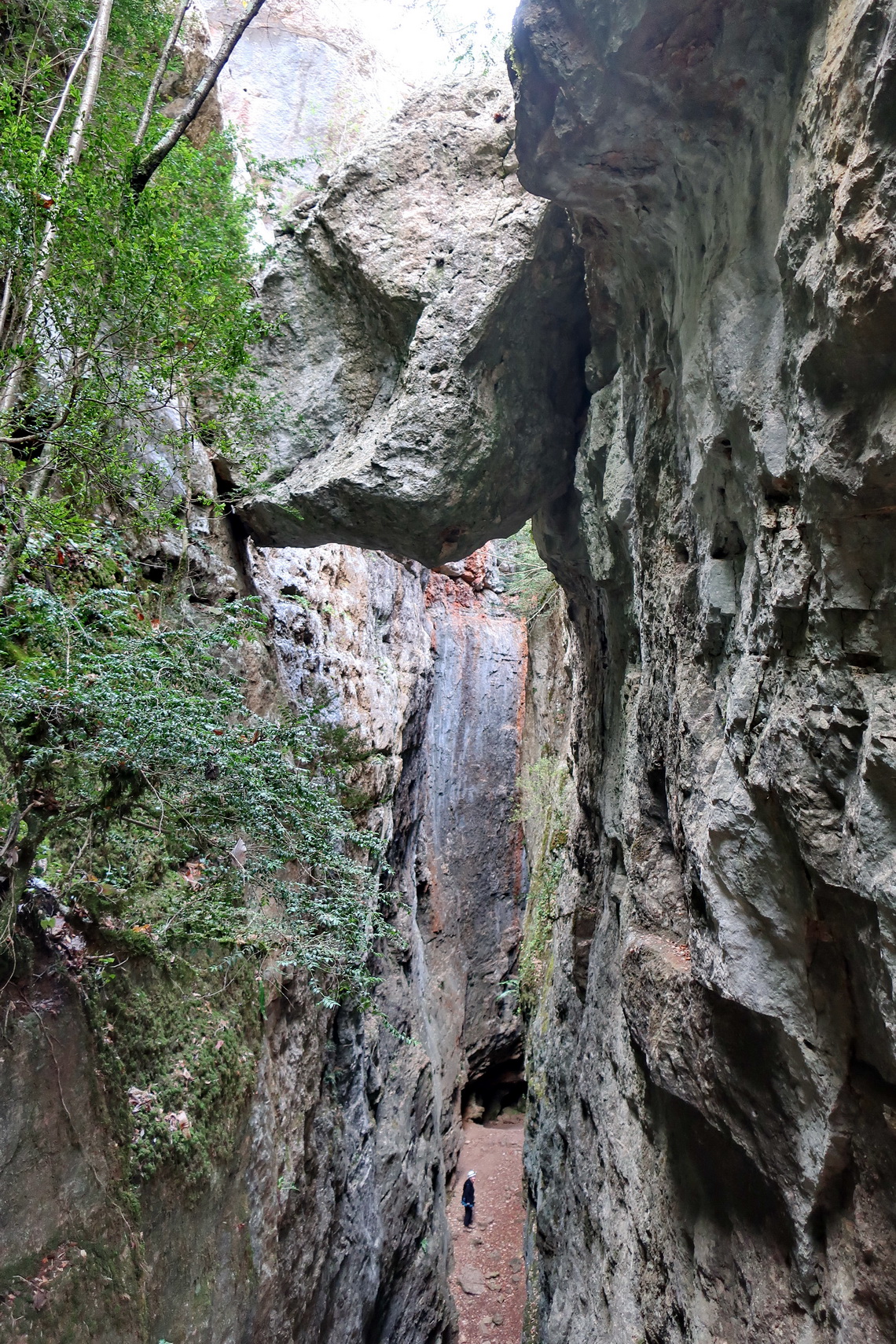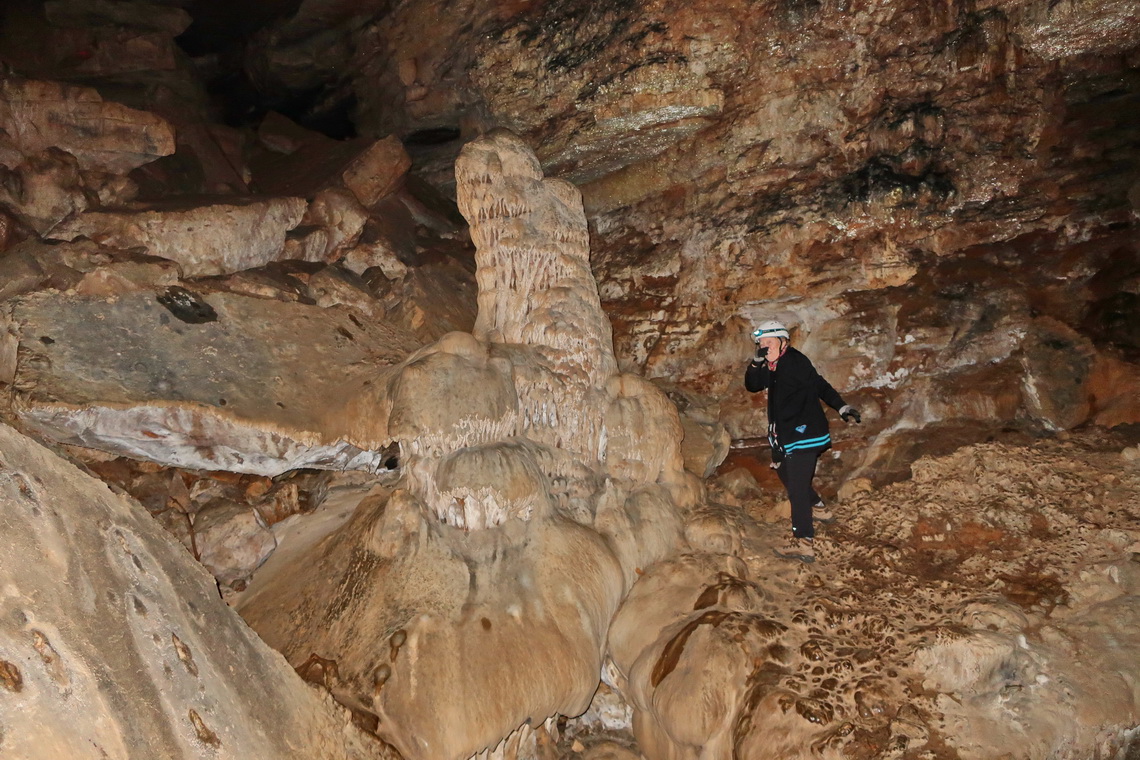 Another day trip from La Selva is Montblanc - not the mountain. Indeed there is a village with the same name like the highest mountain of the Alps. It is a medieval city with some impressive buildings like the city wall around its old town.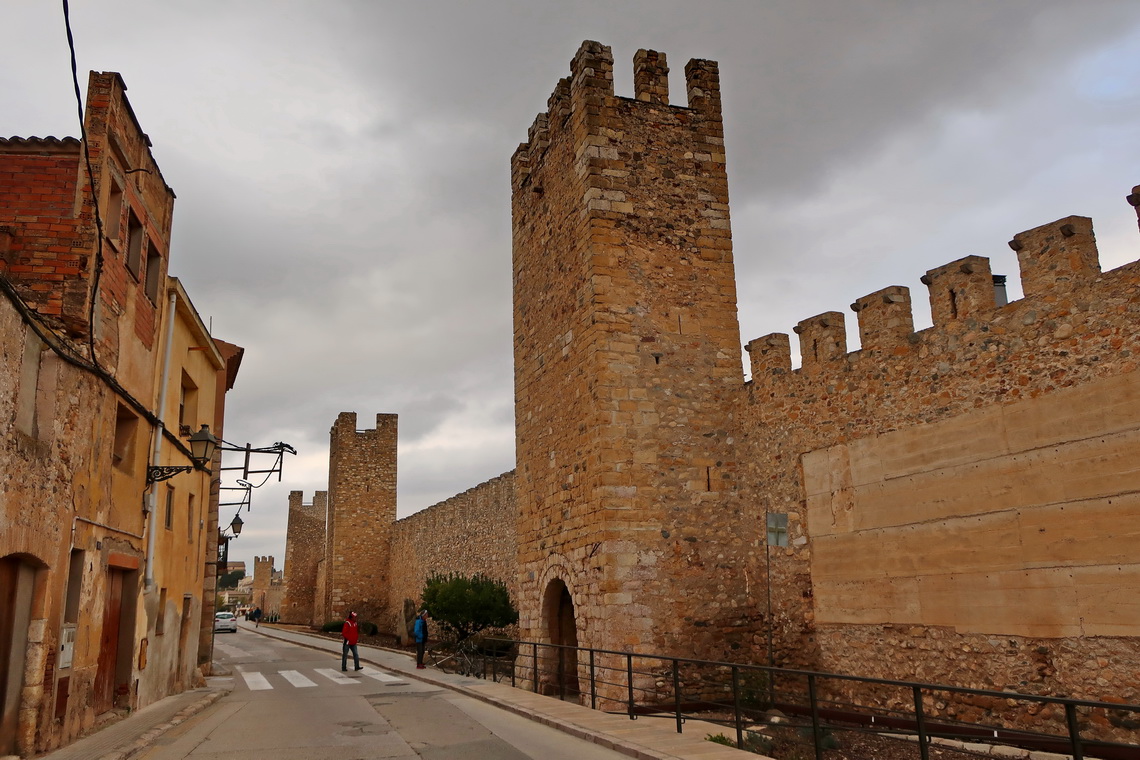 The river Ebro is the second largest of the peninsula Iberia. Its delta marks the southern end of Catalonia. The delta is used for rice agriculture and a part is a protected with the natural park Parc Natural de l'Ebre which is an important refuge for birds like Flamingos and Ibis. This area is well known for bicycling but we ended up two times on pristine and marvelous beaches where we had to pull our bicycles through the sand.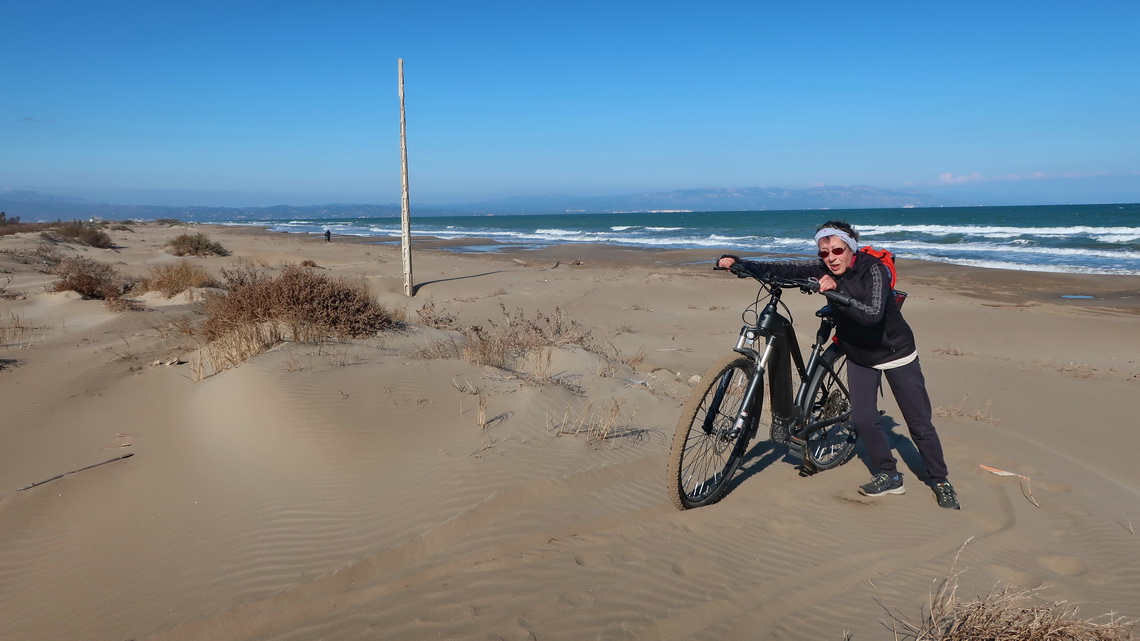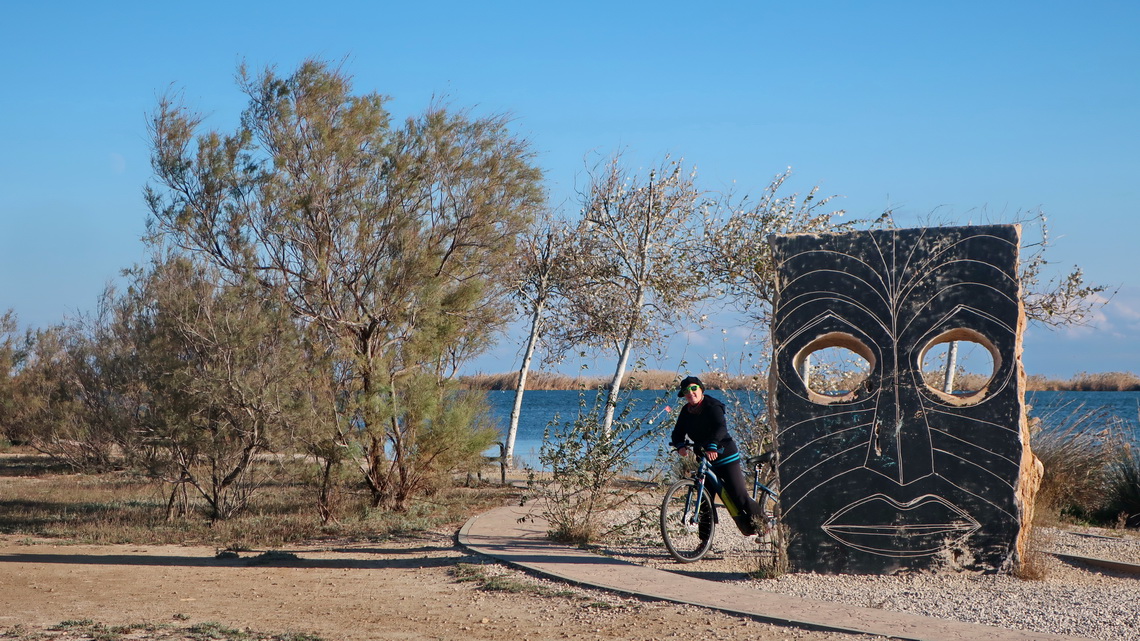 Remarks an our itineraries in Spain:
Finding an overnight staying place is very easy in Spain, sometimes we could park close to the beaches free of charge. We used the App and Website park4night. Sometimes we paid few Euros to get some service mainly electricity to charge our batteries when our solar panel was not able to provide enough power.

Thanks to Vinzenz Morello the website https://www.celaontinyent.es/vias-ferratas/ is a very good source for via ferratas in Spain. Applicable GPX files can be downloaded from this website.
For more pictures, please click here
For a map of our itineraries, click here
To download our GPS coordinates file of Spain, click here