The Repubblica Argentina belongs to the Italian Grimaldi Group. Grimaldi is one of the biggest sea freighter companies in the world, mainly between Europe, South America, Asia and Africa. Grimaldi is specialized on car transportation, but also on containers. They have some passenger cabins on most of their vessels, usually around six cabins. One big advantage of Grimaldi is that you can take a car with you. And a lot of equipment, for instance bicycles. Another one is the Italian flag, so the cook is from Italy! A good cook is very important, because you stay approximately 5 weeks on board till you reach Buenos Aires. If you want more information take a look to www.grimaldi-freightercruises.com.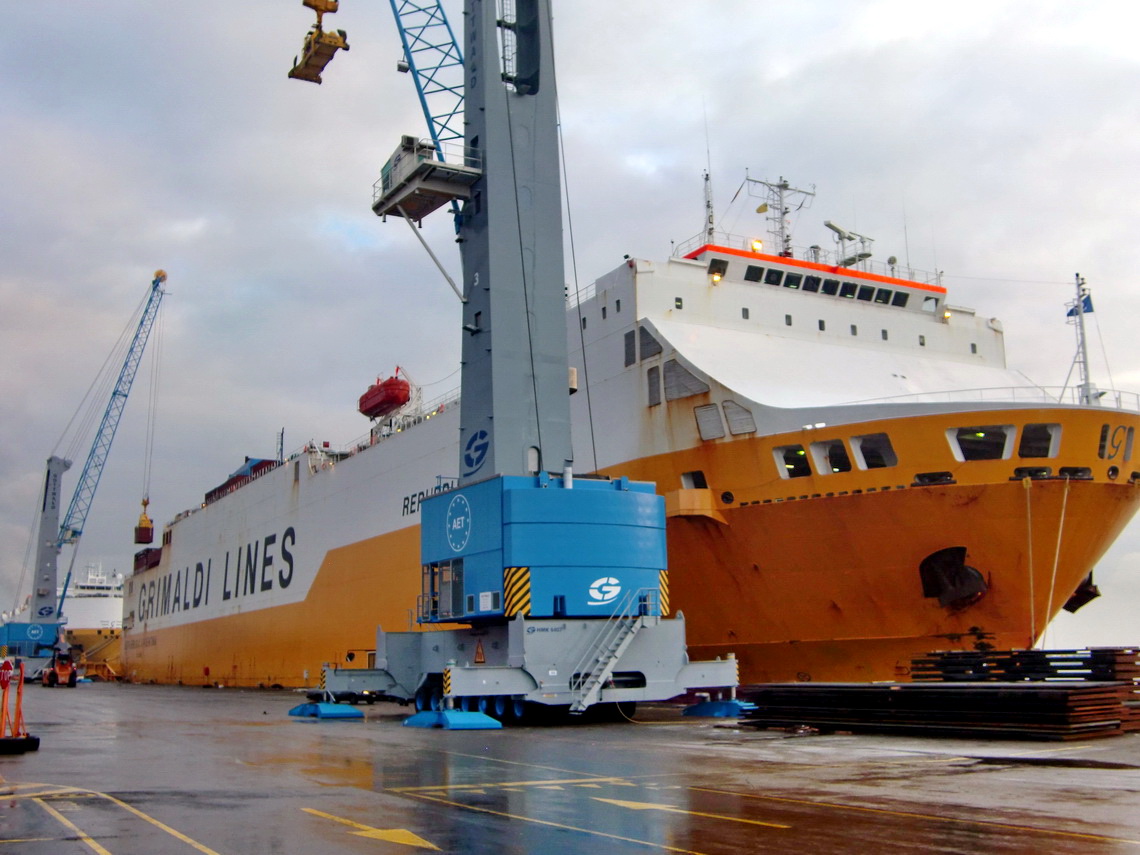 This vessel has 9 decks, so it is very height (approximately 25 meters from top deck to sea level). It is more than 250 meters long and 30 meters wide. Our car was placed in the 4th deck between some huge agriculture and mining machines.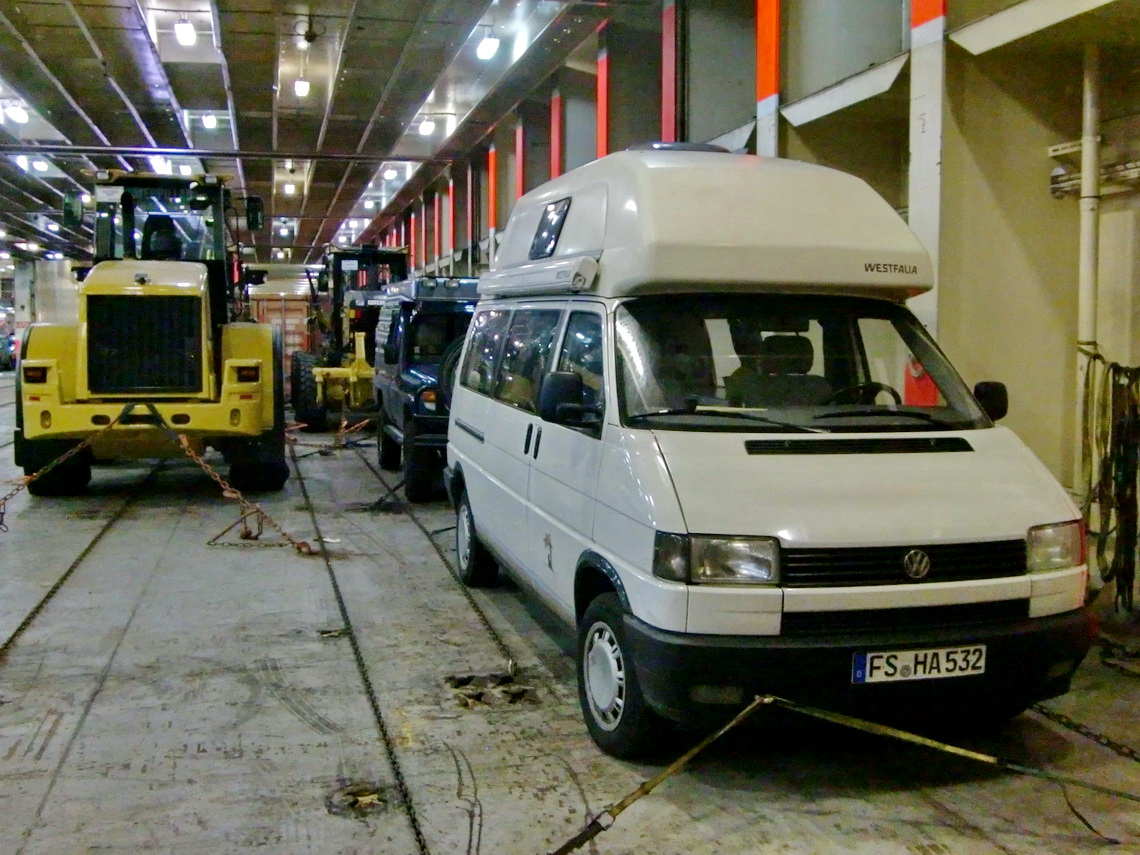 We were very lucky with the cabin: Due to the 20 days delay and the change of the vessel we got the owner's cabin. It means plenty of space: A living room with a desk, a sleeping room with a double bed and a relatively large bathroom.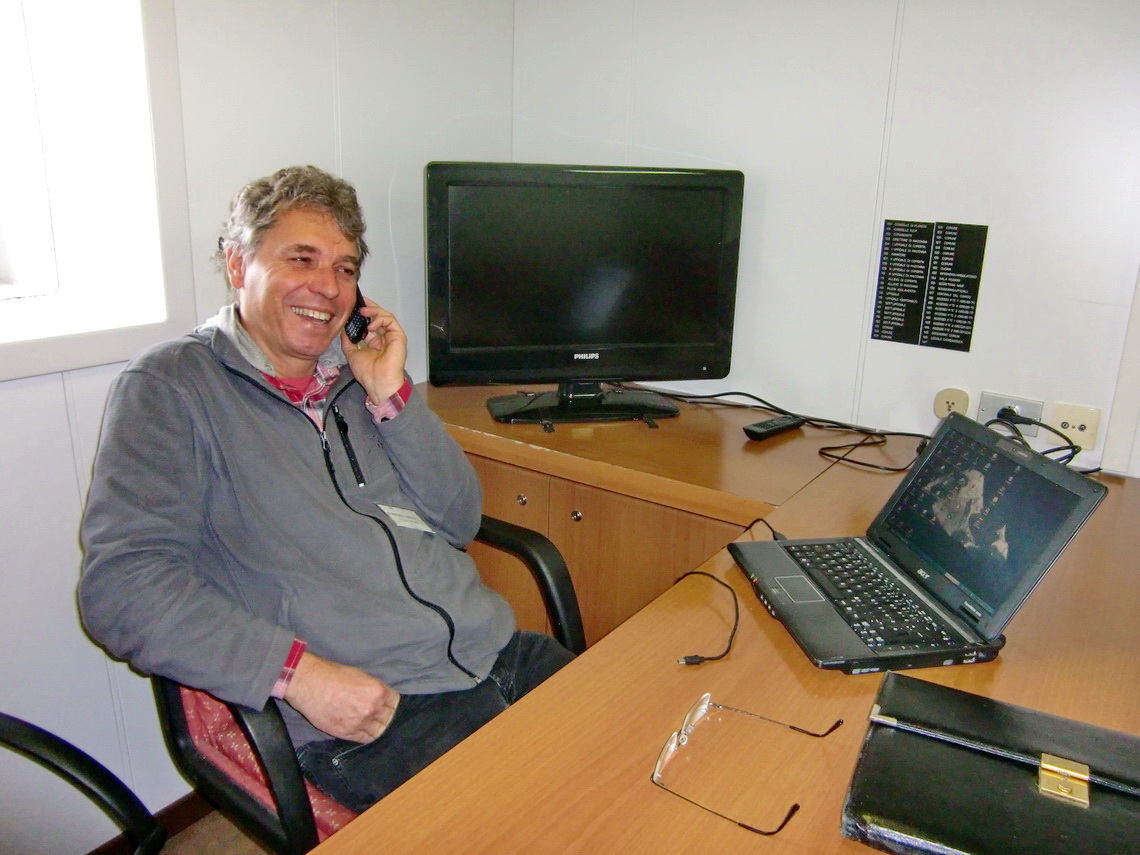 All cabins, passengers as well as staff, are placed in the 8th deck on the front side of the vessel.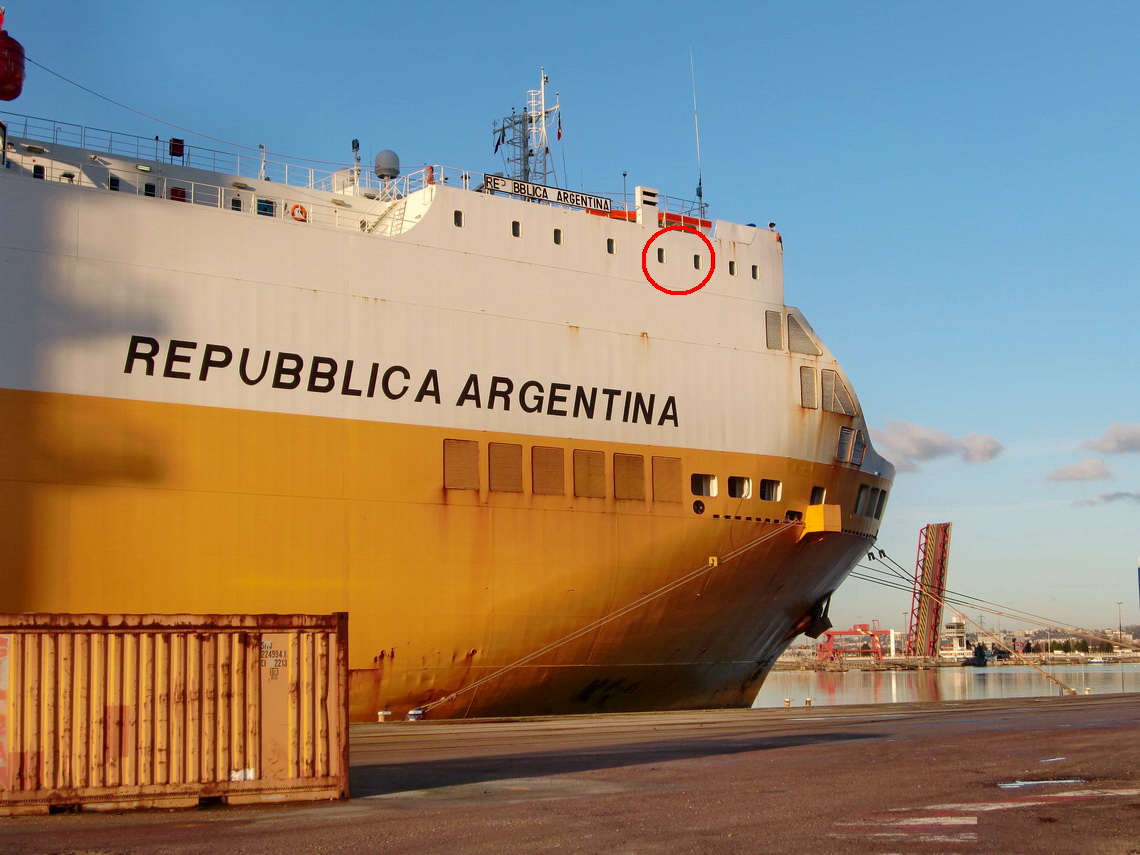 Other useful facilities for passengers are:
Training room with two bicycles, table football and table tennis

Common dining room for all officers and passengers

Common lounge including a small library with English, Italian, French and German books

Washing and drying machines
Life on board is usually very calm: You read a lot, exercise languages, do some sports, walk a little bit on the top deck, eat a lot, discuss with other passengers, ...  The food is tremendous, so you should do a lot of sports. Always a complete menu with four dishes for lunch and dinner:
Typical Italian starter like Minestrone or Spaghetti

Fish, always very tasteful

Meat

Desert, usually fruits or ice cream

Espresso  
We skip breakfast very often, because of our weight and lunch is served already at 11:00AM.
On top is a nice, huge walking area. Also some weird cars are stored outside on the top deck. These are really 2nd hand cars with some damages like broken windows or without bumper bars. Also a lot of personal stuff is stored in many cars like shoes, blankets or bicycles. Several are looking like garbage bins! Their destination is West Africa: For sure their value in Europe is less than their shipping costs.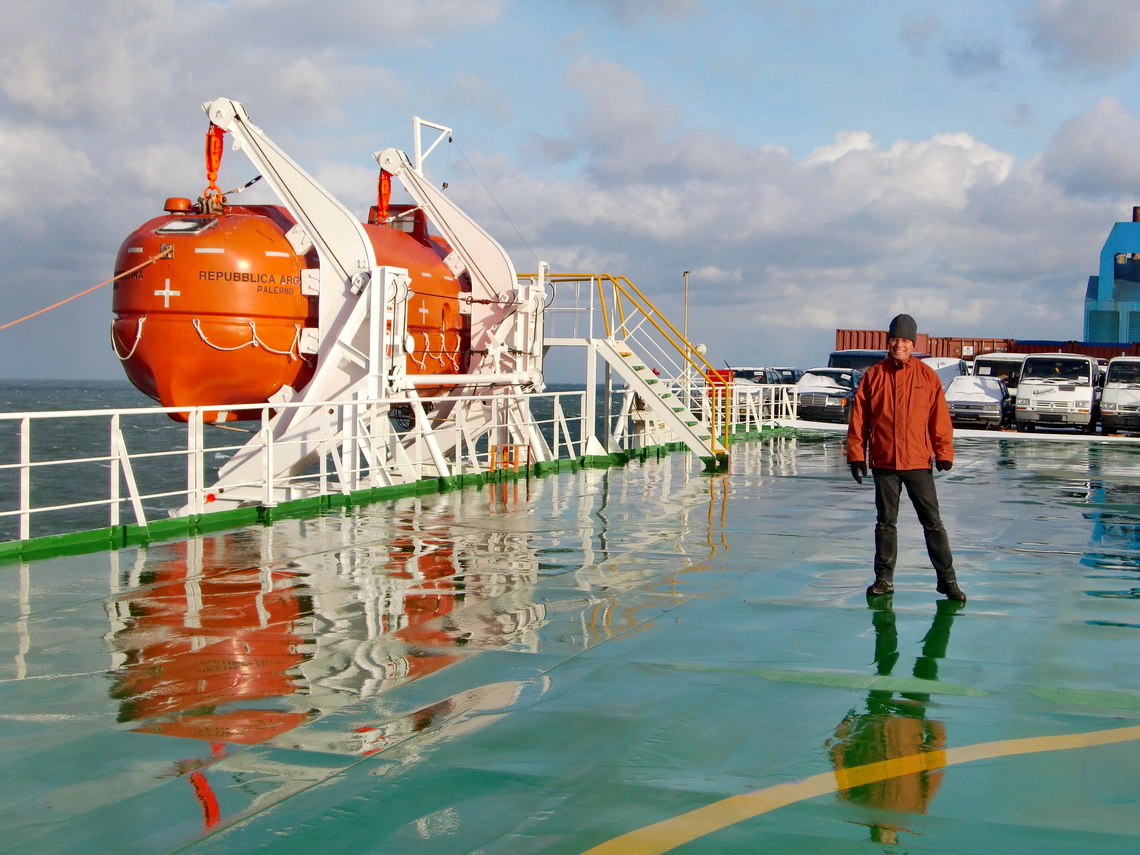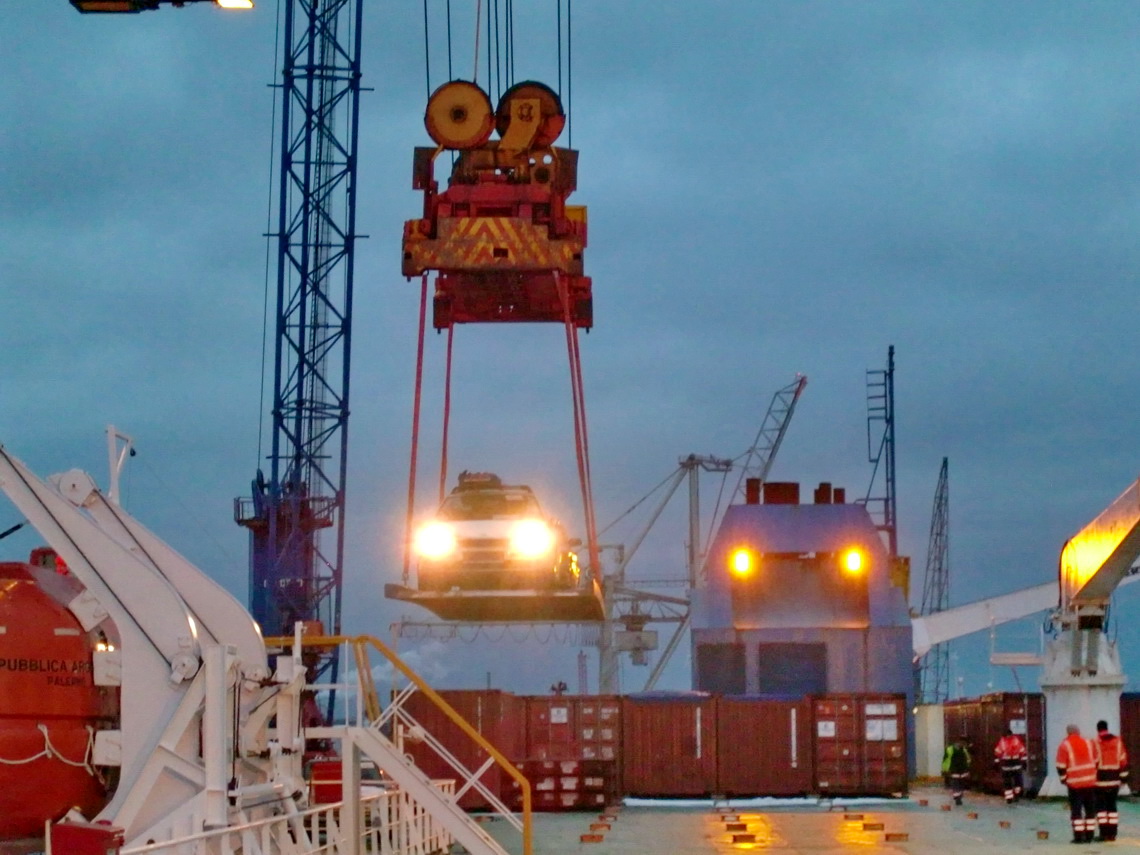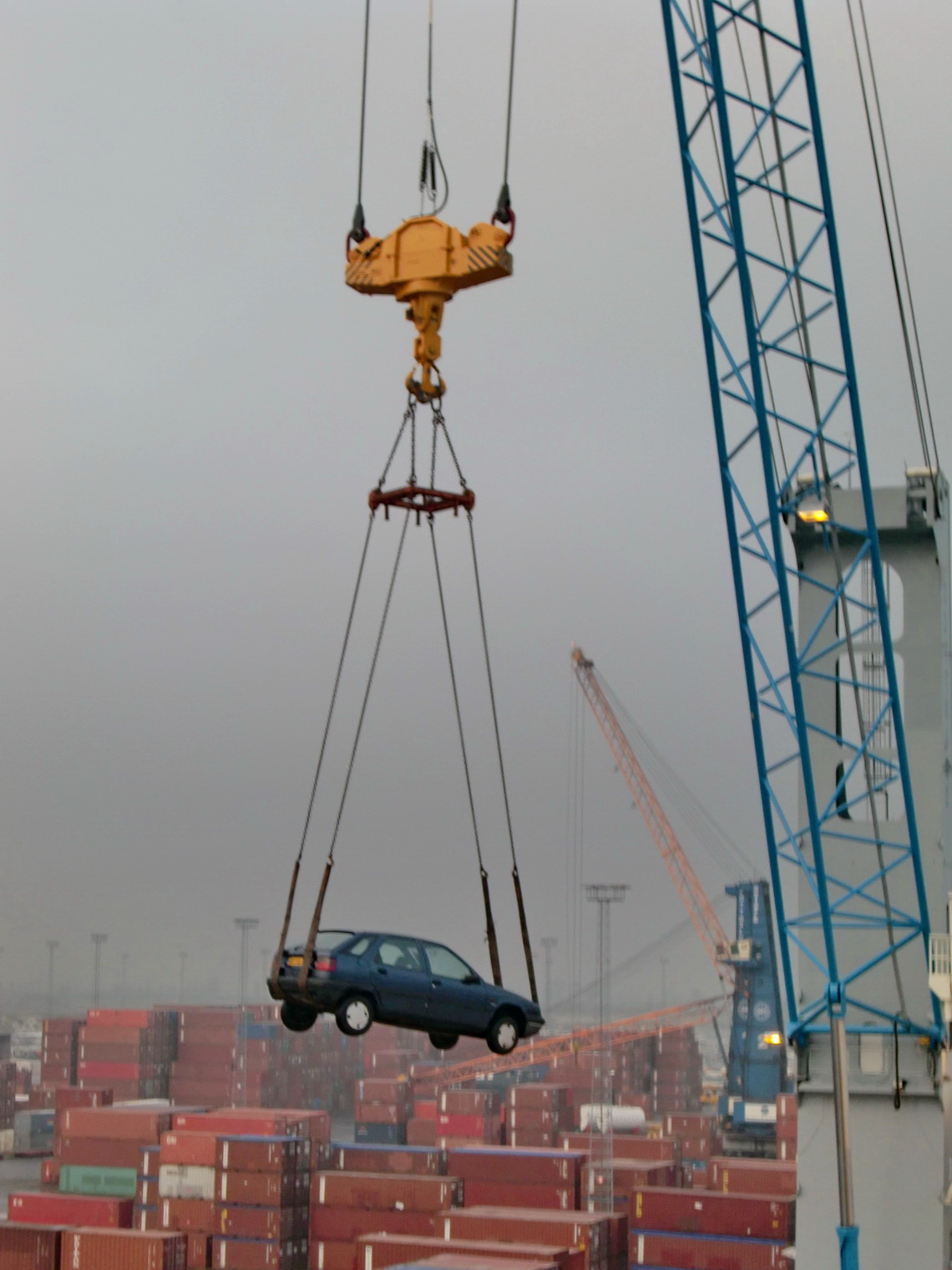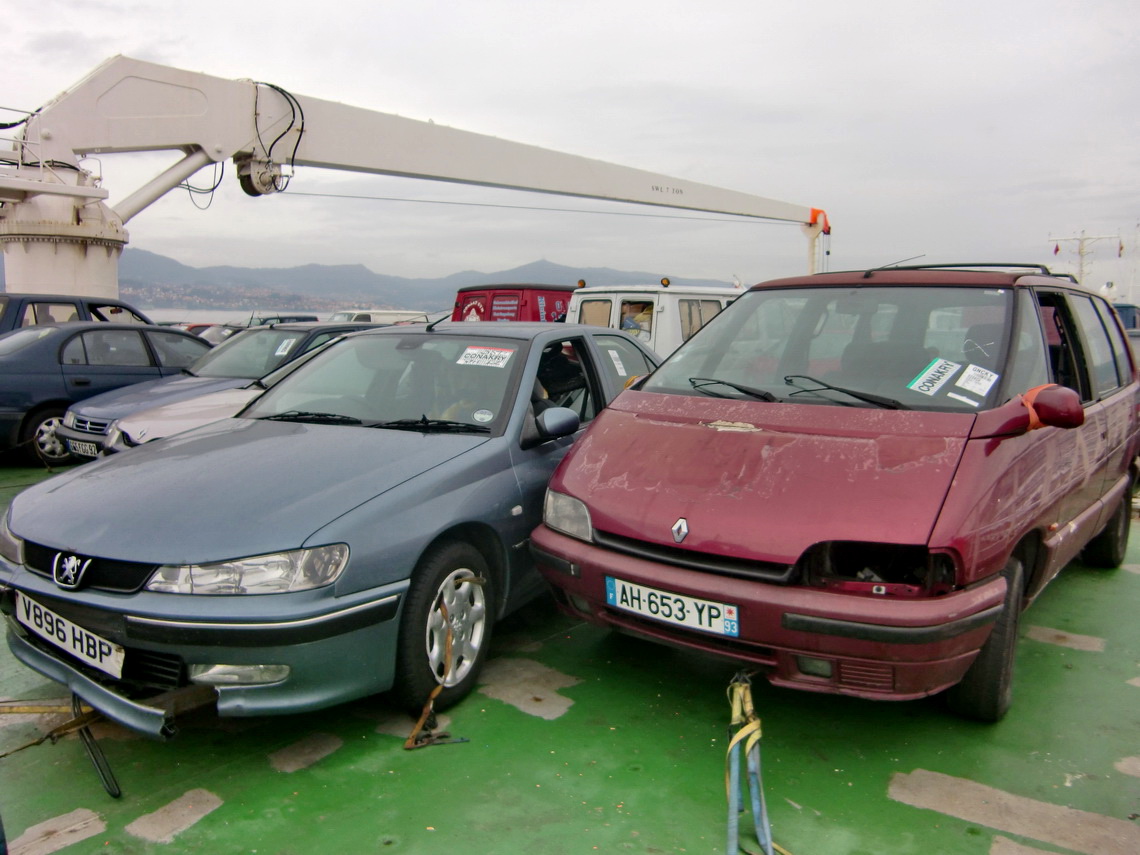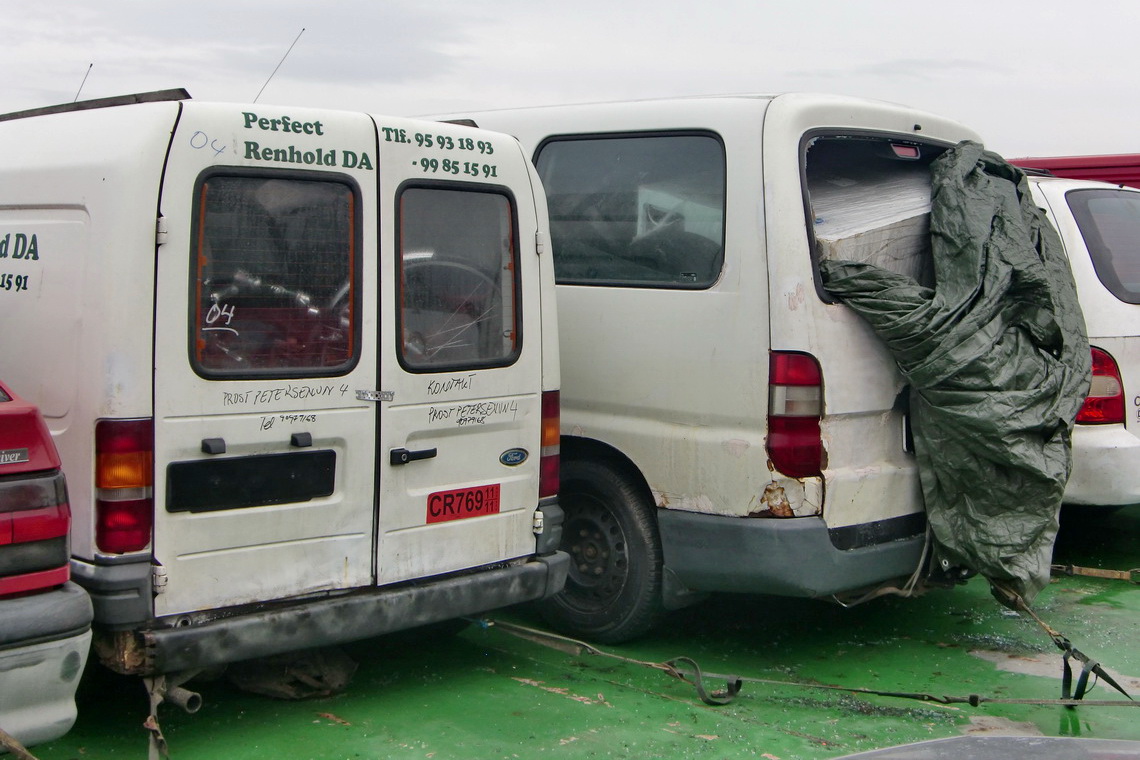 The new cars and machines were brought in over the ramp and stored in the lower decks. There are many, many new cars, mainly for Argentina and Brazil. Also some containers are stored inside and on top of the vessel.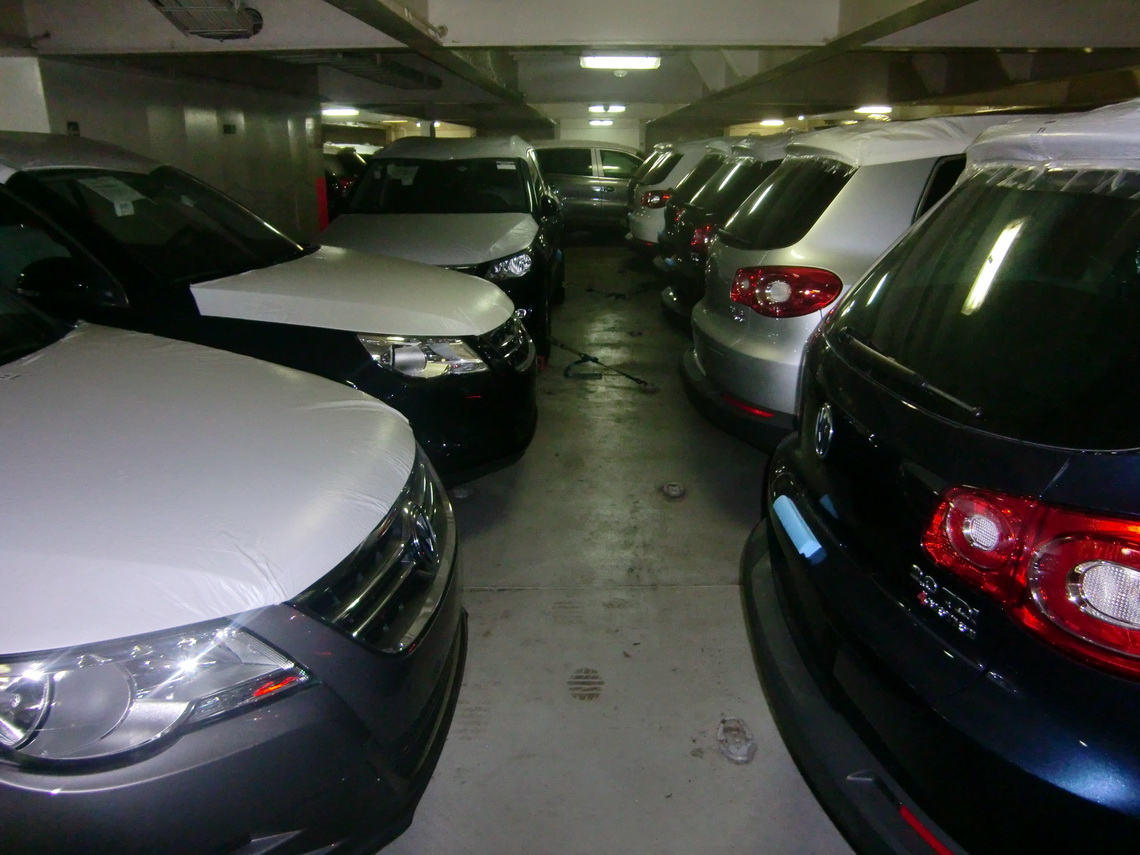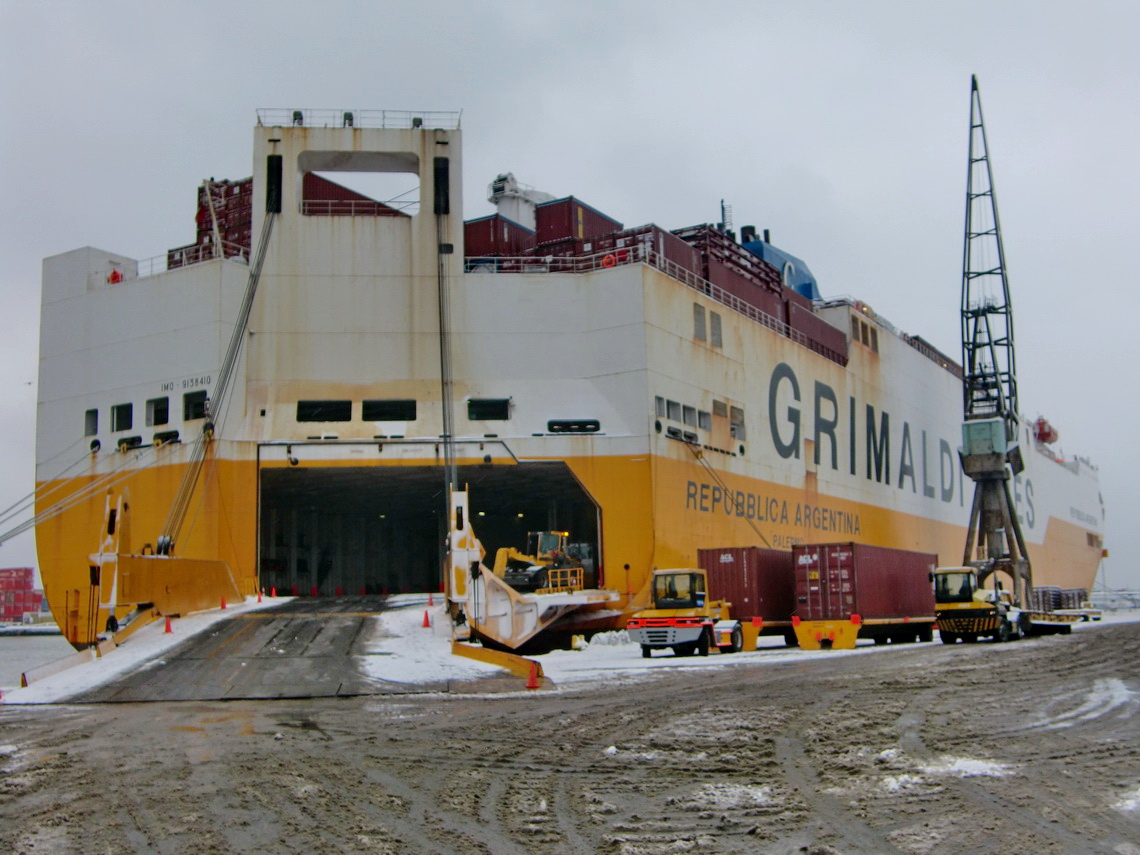 Also our car and we came in over this ramp. But sometimes we had to use the second entrance, which is not recommended for cars.
The crew of the vessel was very international: Most of the eight officers and cadets were from Italy, one from Ukraine and one from the Philippines. Nearly all of the labor staff was Philippians (21 men). Also the nationality of the passengers is a nice European mixture: One Swiss couple, two French couples, one German couple, two Ladies from Belgium (one in the mid seventies!) and one very young French man. The communication onboard was mainly "pidgin" - a mixture between French, Italian, English, Flemish, Swiss German and German. We had a lot of fun!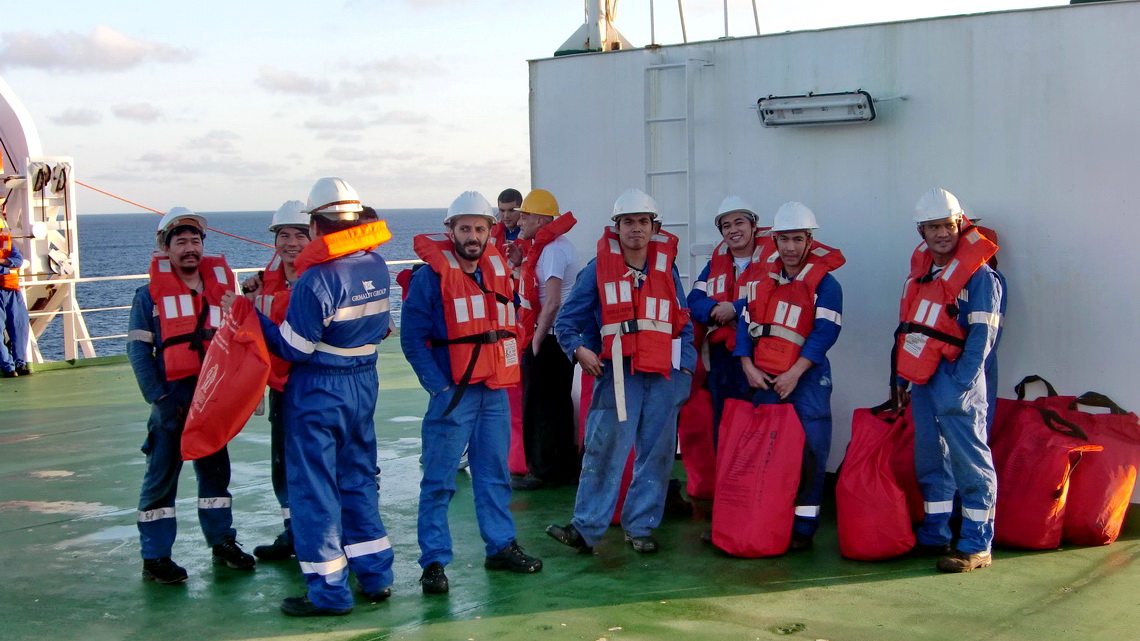 In general the mood on board was very pleasant and comfortable. The crew was very friendly and helpful, for instance we could visit the wheelhouse whenever we were offshore. And we got some very good Italian coffee in the wheelhouse, ....
Example schedule of one of our days on the vessel:
8:00AM: Some physical exercises, usually stretching and bicycling

9:30AM: Shower

10:00AM: Walking on the deck, enjoying the sun and watching the dolphins and flying fishes

11:00AM: Lunch

12:30PM: Working on www.marionandalfred.de or learning Spanish

2:30PM: Table tennis session

4:00PM: Working on www.marionandalfred.de or learning Spanish

6:00PM: Dinner

7:30PM: Walking on deck, enjoying sunset

8:30PM: Reading
And we had to do some emergency exercises, e.g. to check and use or life vests. One exercise included moving into the lifeboat.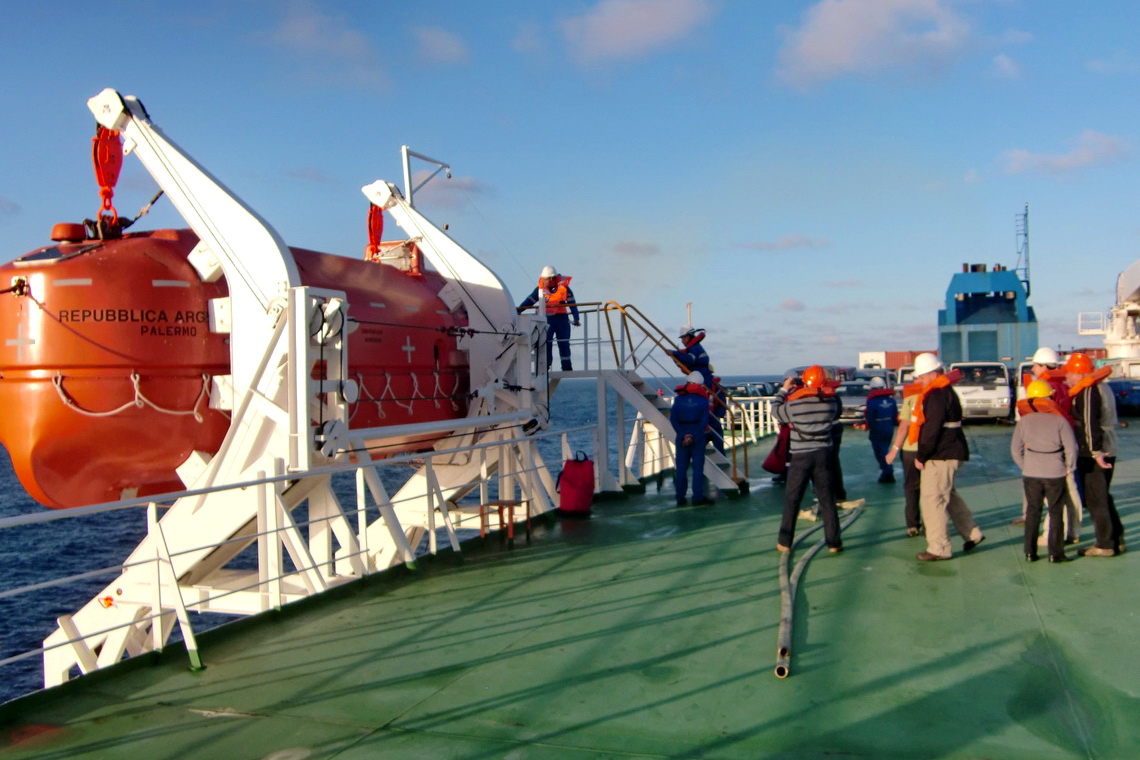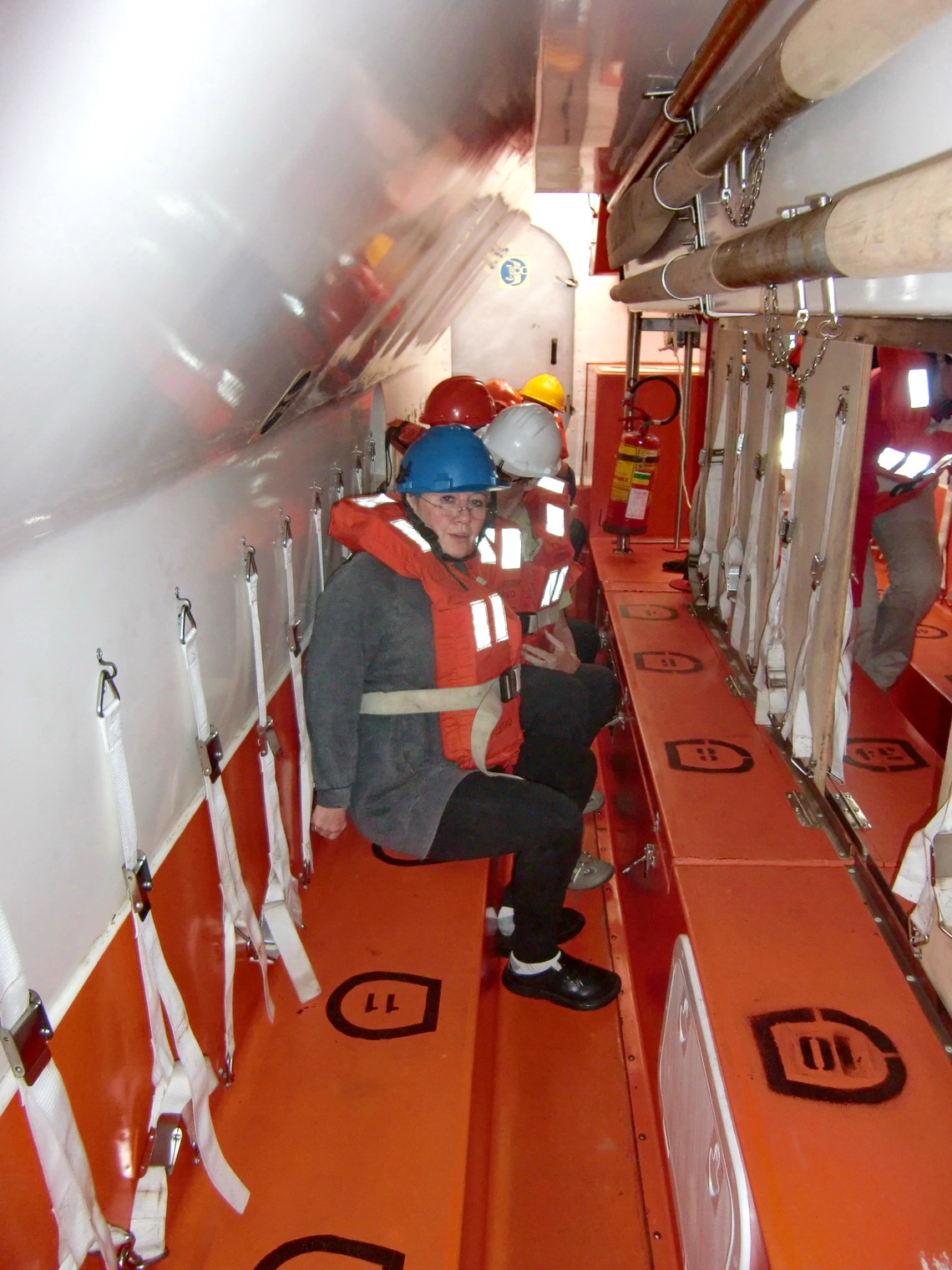 Hopefully we never have to use the lifeboats in a real emergency case!
Few days before we arrived at Buenos Aires we could see the engines. The Argentina Reppublica is driven by one main and four secondary motors. The force of the main engine is closed to 30,000 hours powers, which allows a maximum speed of 35 kilometers per hour. It has eight cylinders, each approximately eight meters high.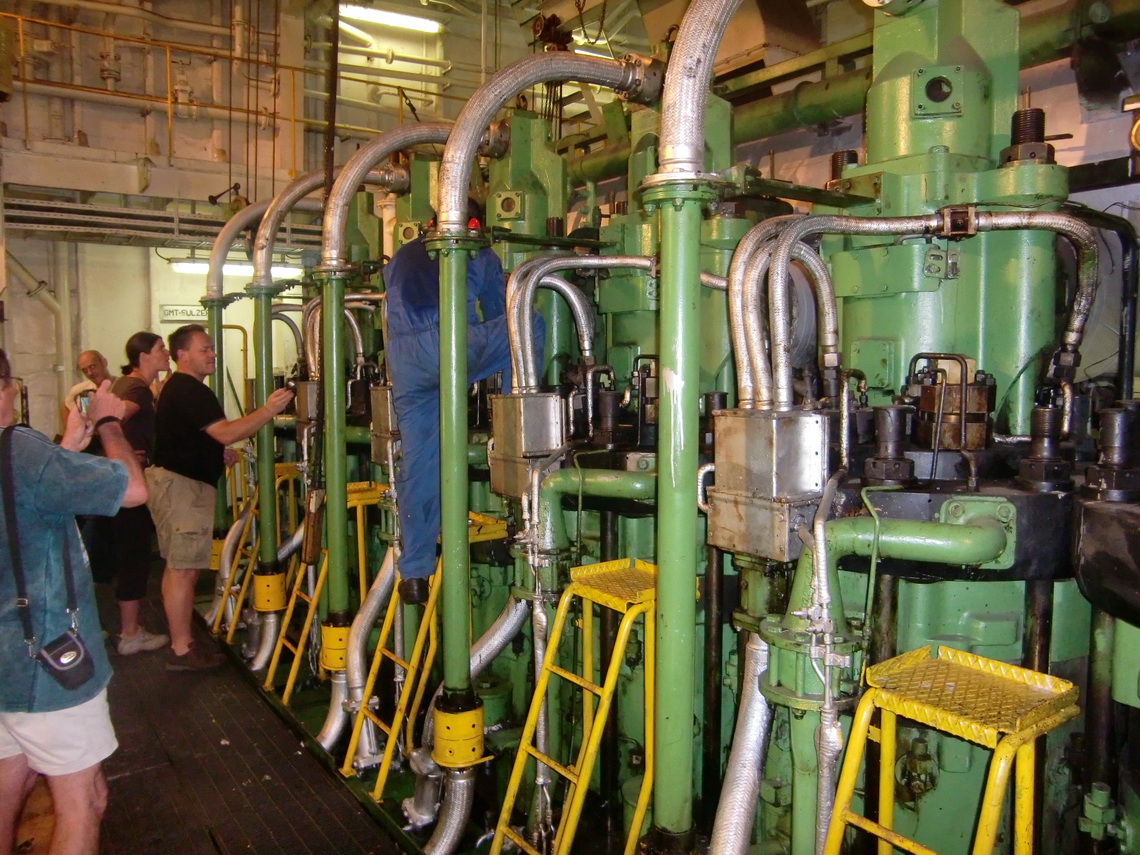 At the bottom of the main engine the shaft drive to the propellers comes out. The diameter of the shaft drive is enormous.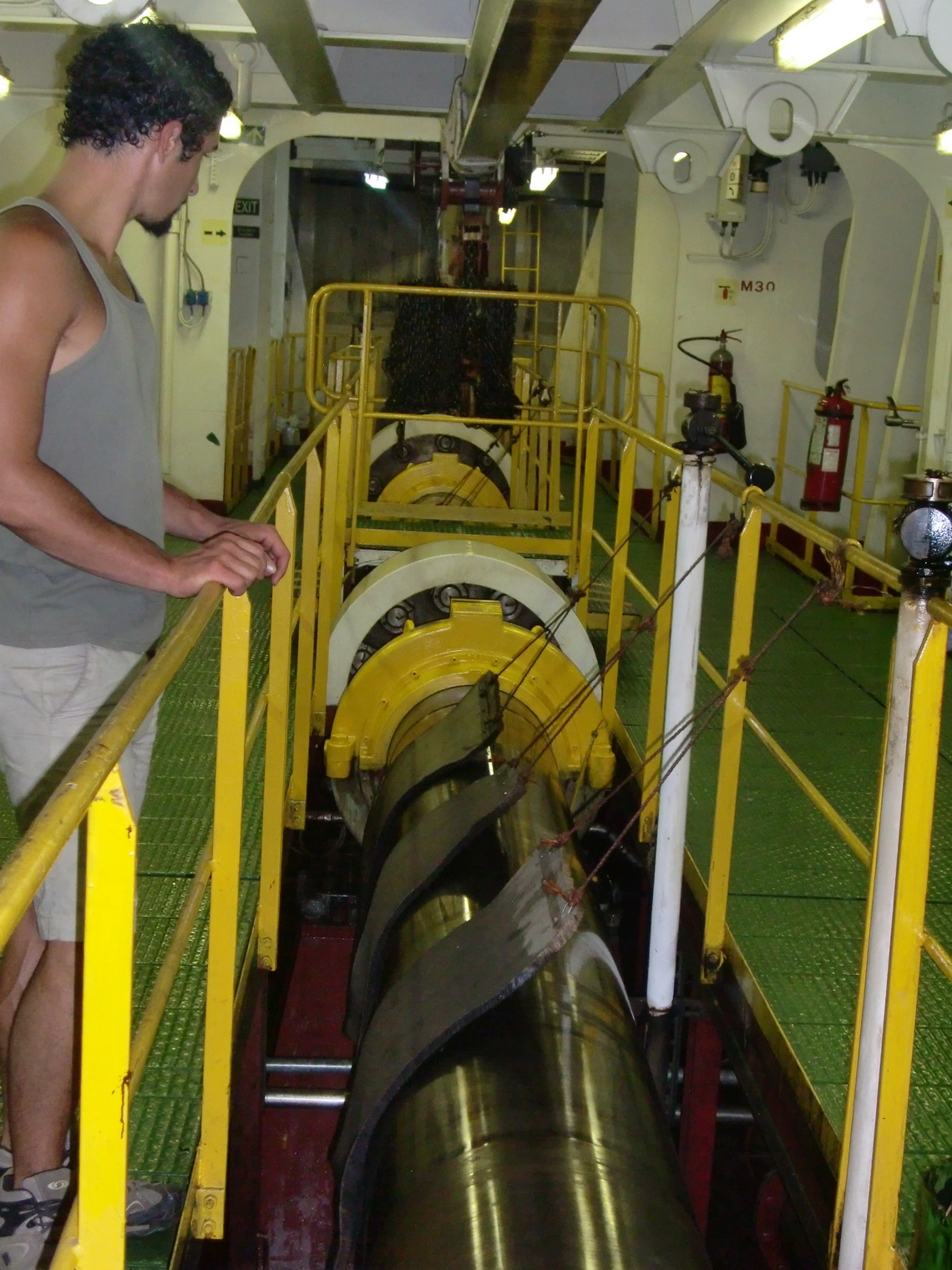 And there are tremendous large tools like 1.5 meter long screw wenches. Also some spare parts like a huge piston, more than 6 meters high. The secondary engines are for generating electricity, cooling, heating and supporting maintenance of the main motor. In addition this vessel has a fresh water generation device, which converts the salty water from the Ocean to sweet water.
There is a lot of Embedded Computer Technology in the control room like monitors for the cylinders of the main engine or the tanks. This ship has 12 tanks with an overall capacity of more than 2000 cubic meters.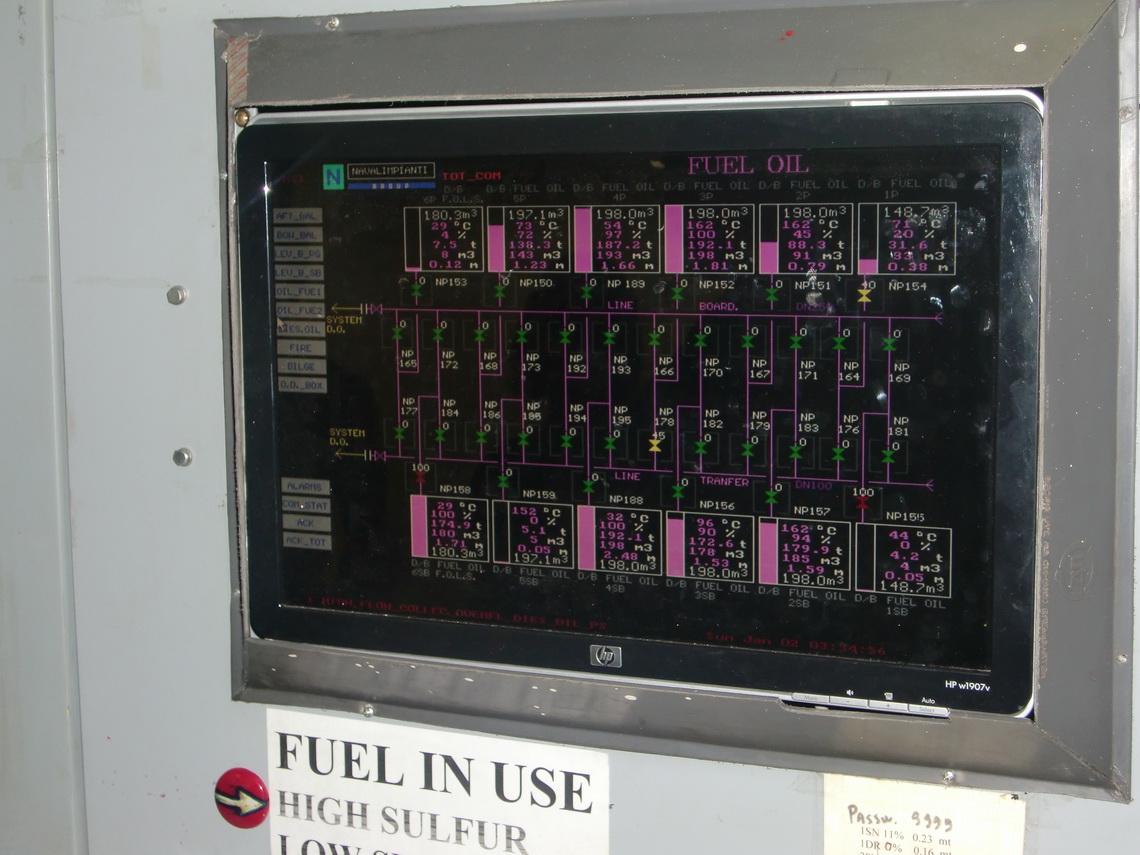 In Europe they have to use the costly low sulfur fuel to reduce air pollution. Hopefully it will be soon mandatory to use worldwide only low sulfur fuel, but correspondent laws are still under discussions.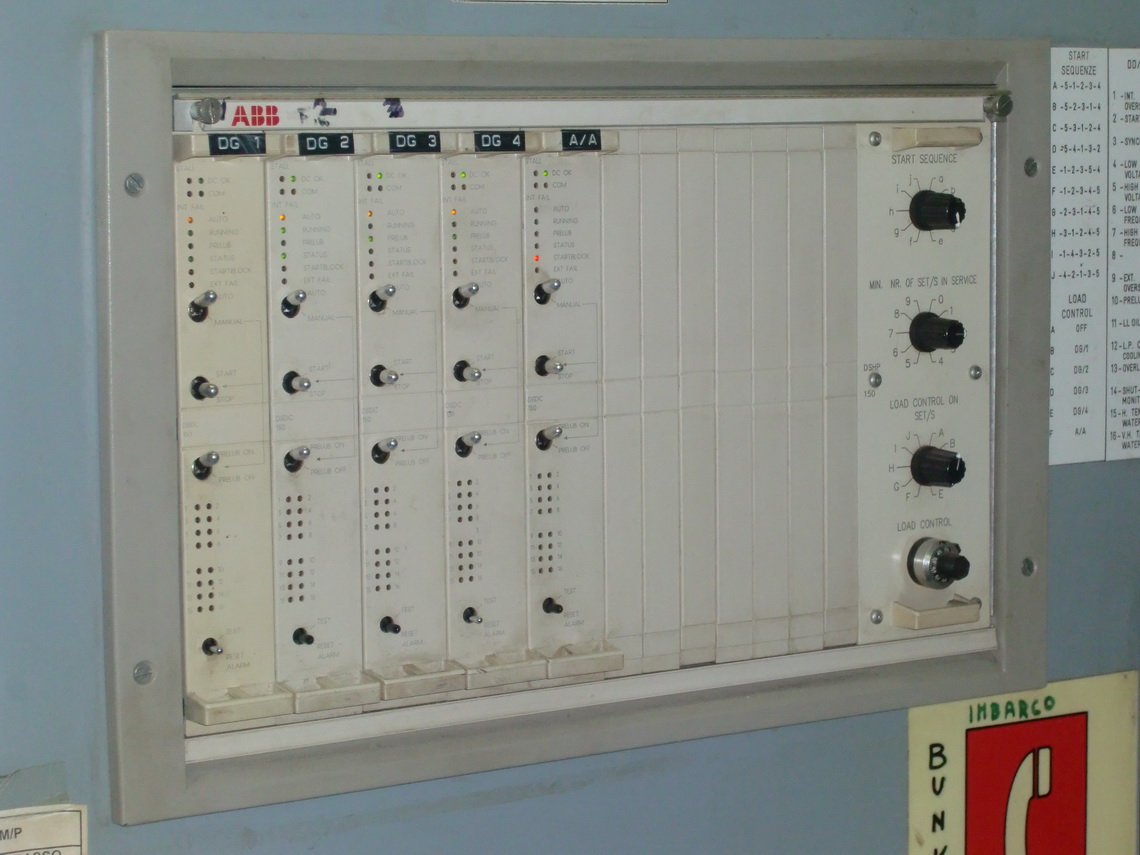 The computers and control units are state of the art of the year 1998, when the Repubblica Argentina had its launching. The only exception is the internal communication system with some relatively old fashioned equipment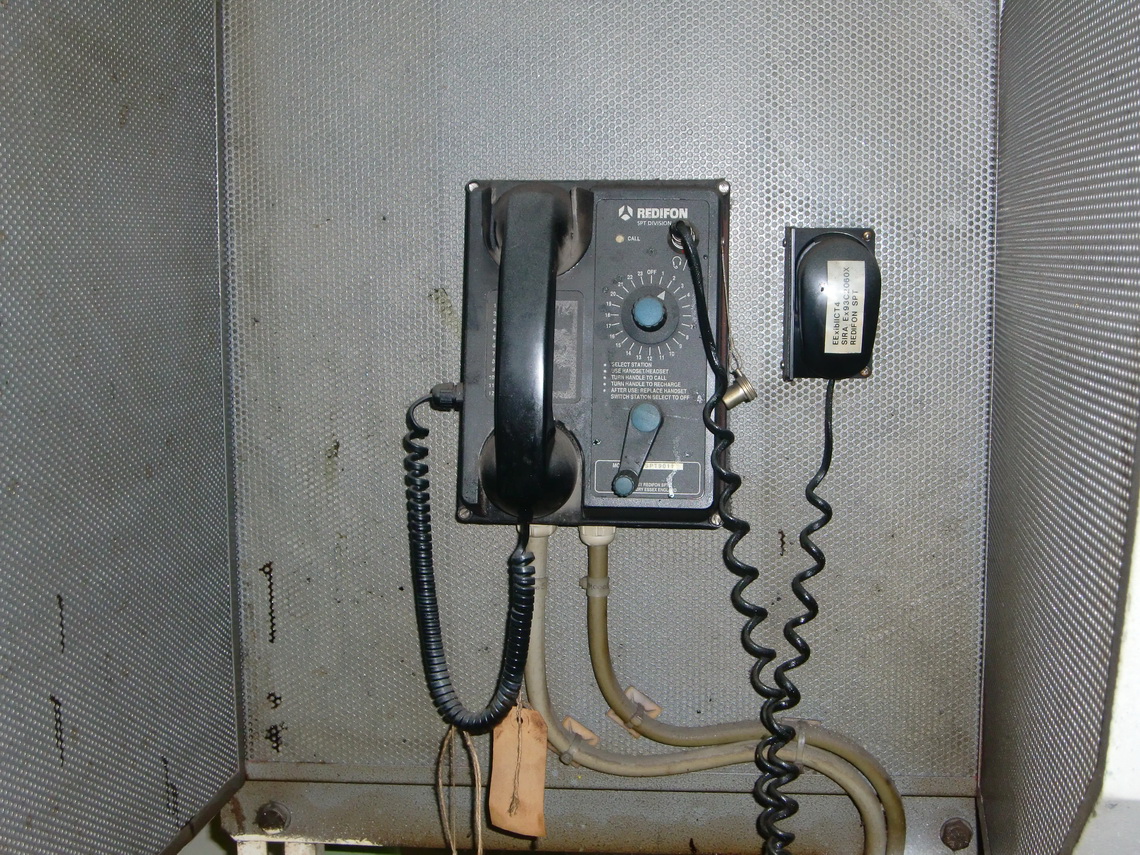 On the other hand this freighter has satellite phone including Email communication, which can be used by the passengers for acceptable fares, e.g. one Euro per Email.  

In summary this was a great journey. The only real issue we were forced was that the air in our cabin in the morning sometimes smelled a little bit like burnt fuel. But it was possible to sleep outside on the top deck. Travelling by ship to South America means that you experience the vastness of the Atlantic Ocean and the hugeness of our planet much deeper than by plane. And you have a lot of time and quietness for things you would never do if you travel by plane. It is perfect for calming down!