Central Sweden offers a lot of hiking and mountaineering capabilities along its border to Norway and on the coast of the Baltic Sea. In between the landscape is relatively flat covered by huge forests and with some nice villages and little towns. Its capital Stockholm is located on the coast of the Baltic sea. It is a bustling metropolis with 2 millions inhabitants, a lot of interesting culture, many green parks and some impressive waterfronts.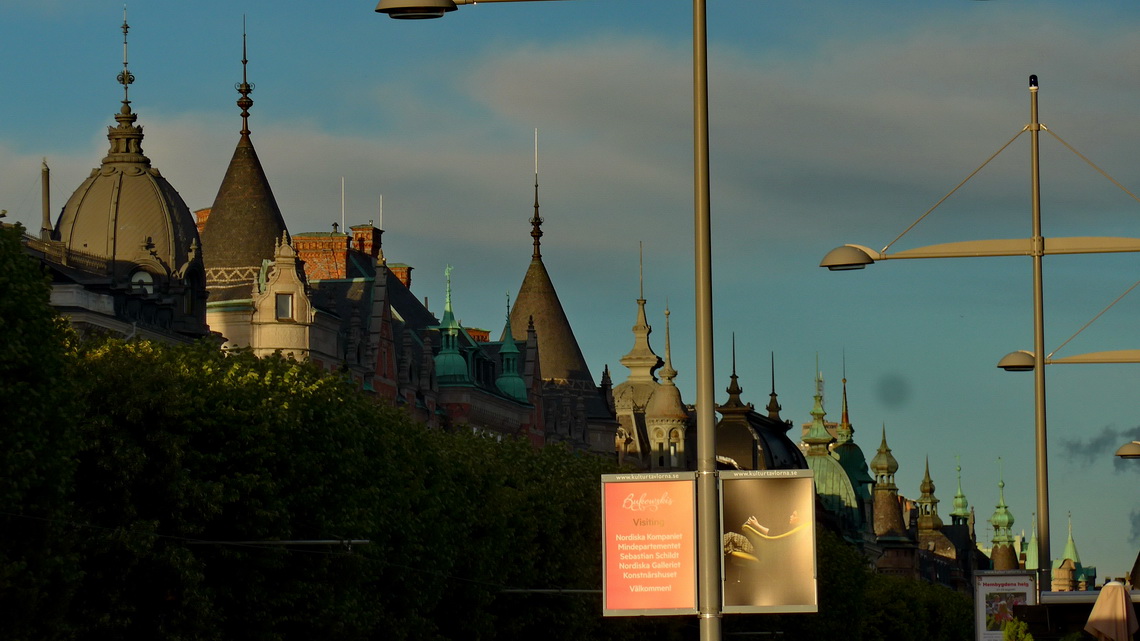 After we had crossed the border from Norway on the E14 we turned on the first southern street right and continued to the mountain hut Storulvåns. There was a big parking lot and it was nearly fully occupied. The mountain hut is like a little village with a large hotel including some big buildings.

Our idea was to do the three days hike Jämtlands-triangle. The second day covers a small part of the huge and famous Kungsleden trail which leads from northern to central Sweden along the border with Norway. It was foggy and rainy when we arrived at Storlvåns but the weather forecast was promising for the next days. Alfred climbed up 1382 meters high Getryggen in the mist, where he met just two people on the summit.
Indeed it cleared up at night and we started our three days trip in the sun. Thanks to the rain it was muddy and we had to cross the endless wetlands of the fjell plateaus. Thus we decided to hike with our rubber boots. But there were wooden planks on the whole path whenever it became slushy - nearly the whole way! The classic Jämtlands-triangle is more than 47 kilometers and we estimate that more than 80% are covered with wooden planks! And there were people, people and people hiking with us. Sure we met more in one day than in one month in Norway!
Three kilometers before the next mountain hut we went few hundreds meters along the shore of the river Enan on the northern foot of the mountain Fruntimmersklumpen where we found a reasonable campsite. Alfred walked at dawn to the top of 1308 meters high Fruntimmersklumpen where he was totally alone besides a Polar Fox!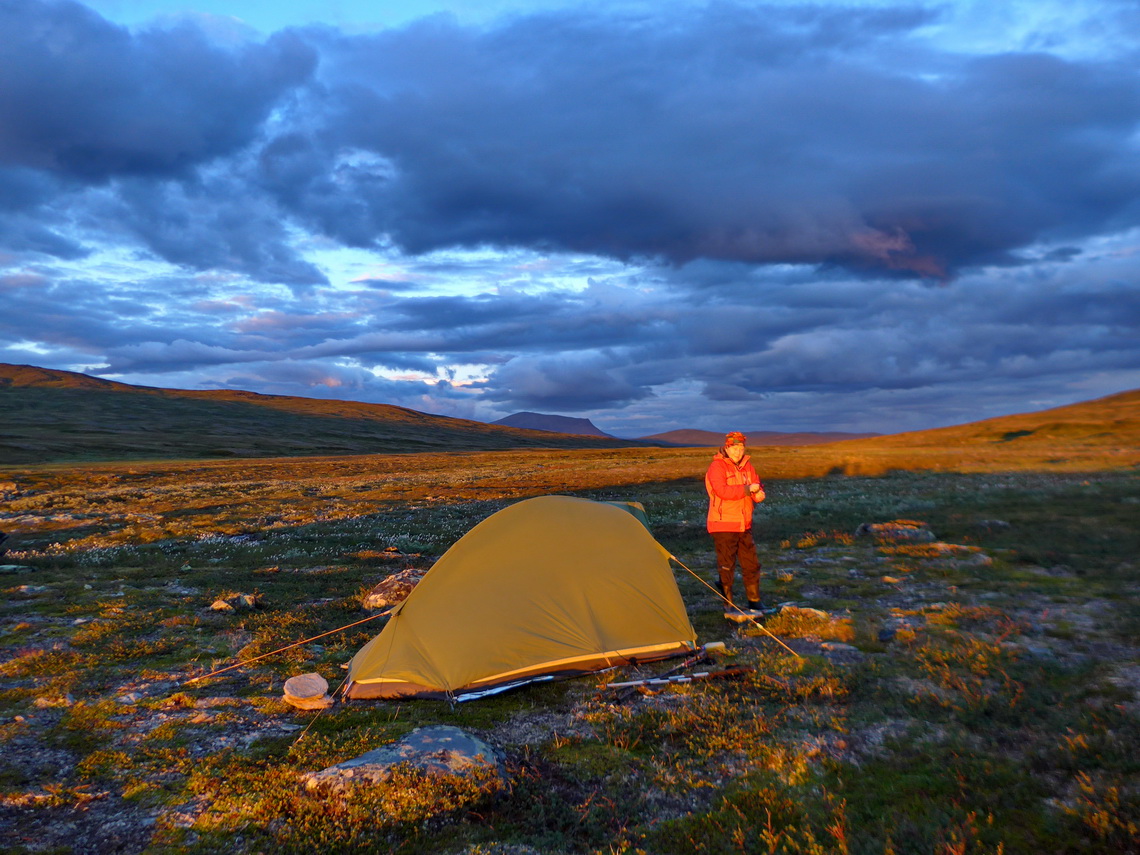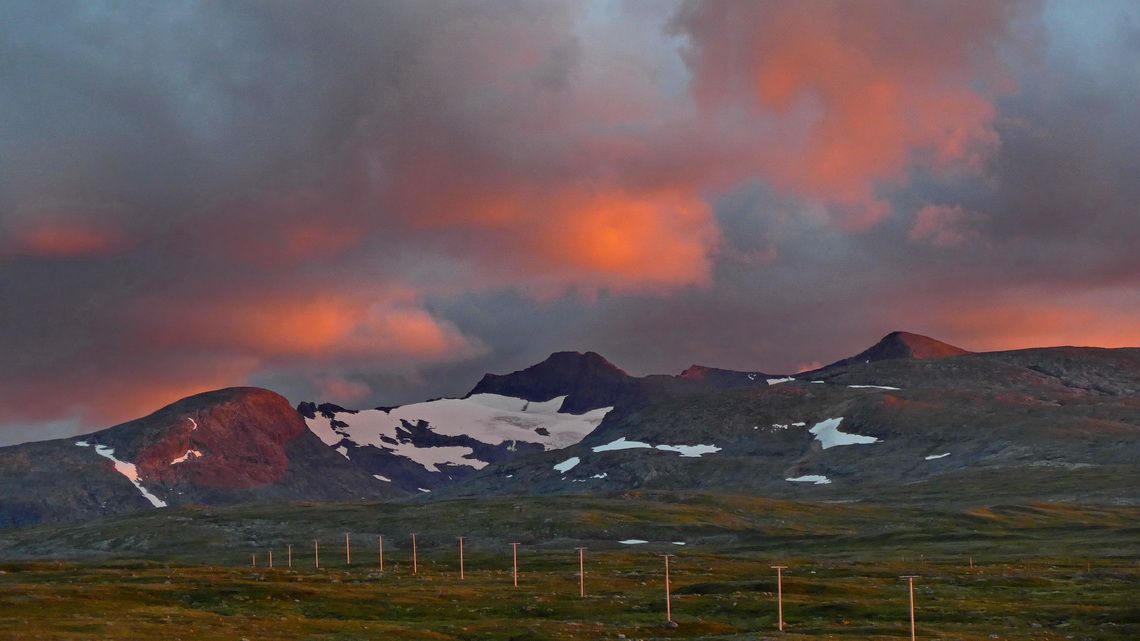 On the next morning two curious Reindeer greeted us three meters in front of our tent. And the mountain Storsyllen looked so promising that we decided to try to climb it up. We had a weird feeling with our rubber boots when we scrambled its eastern ridge above its large glacier. But we achieved the summit and Alfred also ist neighbor Lillsylen. Few people were with us and also some from the western, Norwegian side.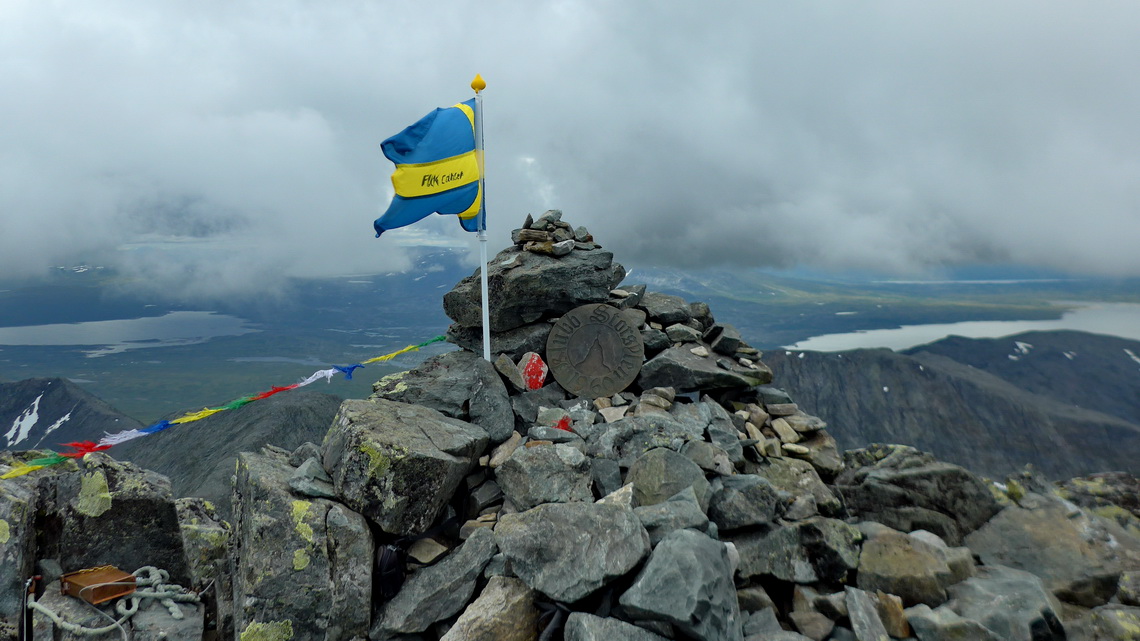 We spent another night on our wonderful campsite on foot of Fruntimmersklumpen environed by Reindeer. On the next day we returned to the hiking highway Kungsleden. After few hours we followed an eastern side path and we we were happy about our rubber boots - no planks! On foot of the 1070 meters high mountain Storulvåfjället we continued without any visible trail along its western ridge to the summit. After being in the crowd of the Kungsleden we enjoyed the remoteness. Just some Reindeer were with us.
Before we left the mountains we walked on top of the little mountain Honingsberget (515 meters sea-level) and to the Petroglyphs of Glösa. Outstanding was the starting point on the lake Alsensjön where we could swim in lukewarm water and stay the night. 200 kilometers east we found pleasant warm water on shore of the lake Hultsjön close to the village Viksmon. We circeled this lake with our bicycles and visited the old hammer mill Graninge Bruk. On shore of the Baltic Sea we hiked in the national park Skuleskogen on top of 281 meters high Slåttdalsberget with its impressive crevice Slåttdalsskrevan and few kilometers south 234 meters high Jonnilsberget. We enjoyed on all of these superb trips the pristine, wild and remote environments; and we had a lot of sun!
All our mountain hikes are included in the GPS coordinates file of Sweden. If the starting point is a reasonable free campsite it is marked with the tent symbol in the file. Click here to download our GPS coordinates file of Sweden.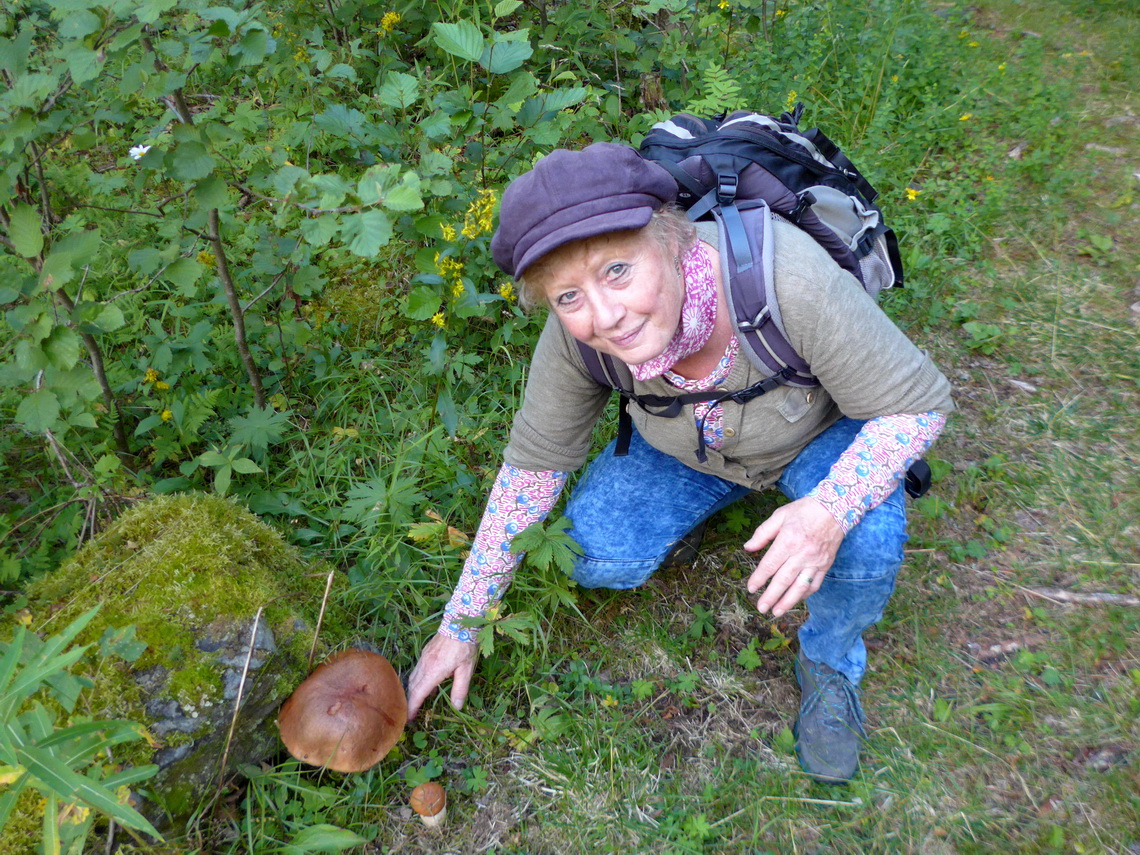 On the way to Stockholm we made a short stop in Sweden's university city No 1 Uppsala. Indeed we met a lot of younger there. Another interesting town is Sigtuna, which is supposed to be the oldest town in Sweden (founded 980 AD).

Traffic in Stockholm is chaotic, also on Saturday afternoon. Our GPS insisted thew we should drive through a city tunnel with 2.90 meters height which we did not dare with our motor-home. Instead we were stuck in one-way streets and road construction. Finally we arrived at the parking lot on the street Strandvägen where a lot of other camper stayed directly on the waterfront (GPS coordinates: N59° 19' 53.0" E18° 05' 18.0"). We were lucky twice because we found a place and we had to pay nothing. Usually it costs approximately 25U$ per day but it is free on weekends.
We explored the city with our bicycles which is a good idea because the distances are large and Stockholm has many lanes exclusively for bicycles. Stockholm's spirit is very Italian like with a lot of sculptures, parks, fountains, formidable old houses and little cobbled streets. Maybe the shining sun and warm weather reinforced our impression.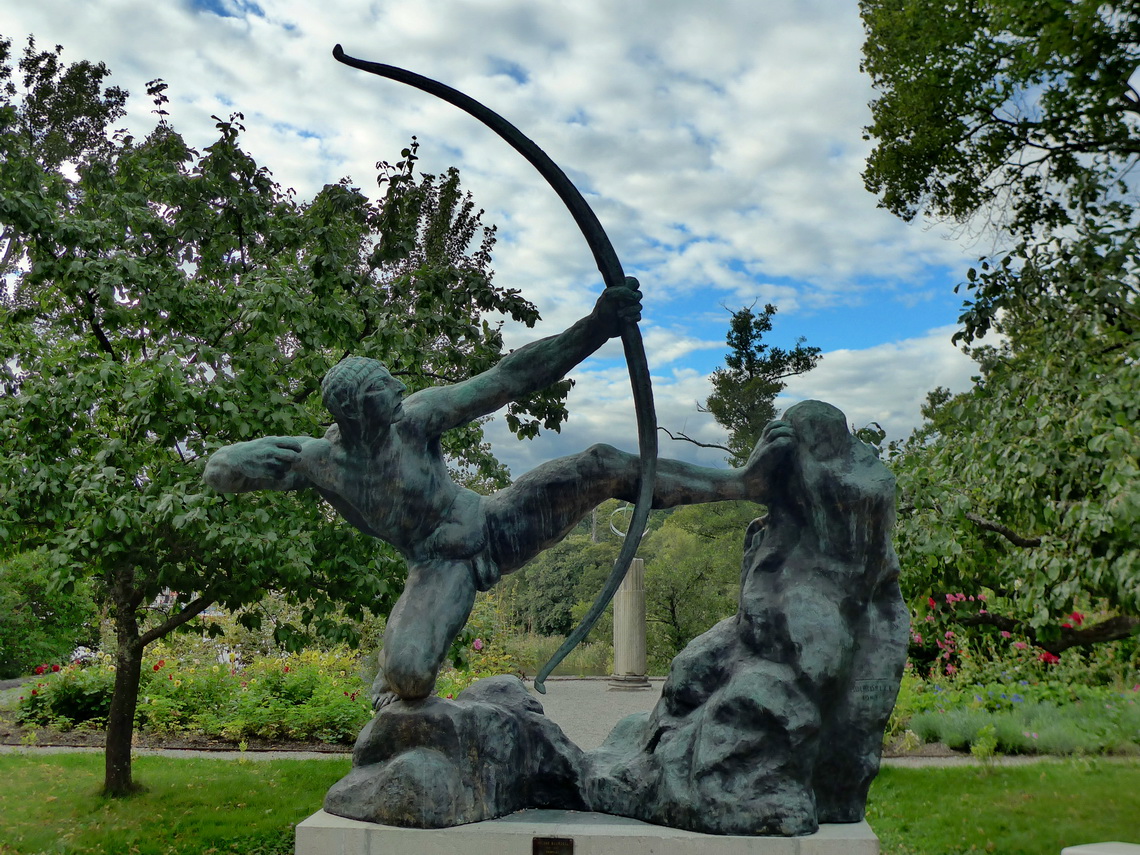 The plains in southern Sweden are endless, just interrupted by countless lakes. On the second biggest lake, Vättern (125 km long) we met our friends Elli and Roland from Germany. They know an outstanding nice free campsite on the southwest side of the lake where we spent two day together. Swimming was a pleasure despite the water's fresh temperature (16°C) because it was hot at noon. We had a lot of fun - Thank you so much Elli and Roland.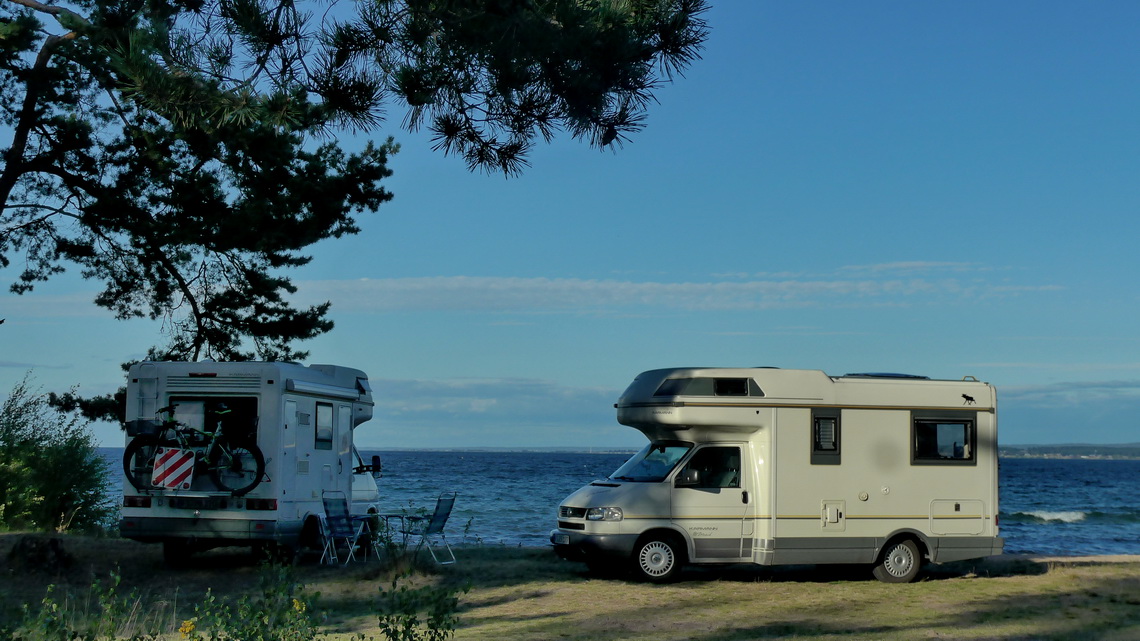 Elli and Roland recommended that we take the Finnlines ferry from Malmö directly to Travemünde. This was a very good advice because we saved several hundreds kilometers driving and we payed just 90U$ for us both including our motor-home. The best on the 8 hours seafaring was the sauna and whirlpool on the vessel which we could use without any additional costs.
Back to Germany we spent a day in the Hanse town Lübeck, which is a marvelous treasure in northern Germany.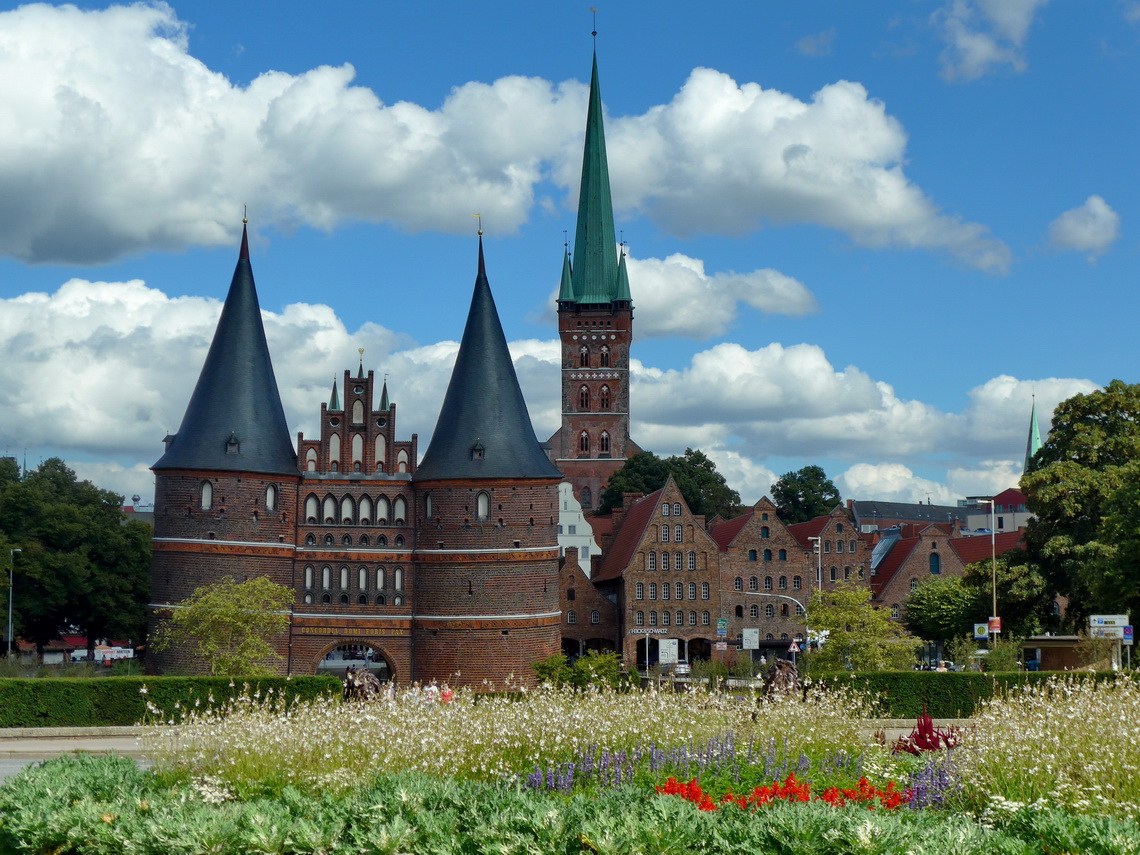 For more pictures, please click here                             For a map of our itineraries, click here
To download the GPS coordinates file of Sweden, click here