Tanzania is a peaceful tropical paradise in East Africa with friendly and mainly happy people. Its nature is overwhelming with famous national parks like Serengeti, pristine beaches on the Indian Ocean and Lake Tanganyika, and huge mountains like 5895 meters high Kilimanjaro which is the tallest peak of Africa. In addition there is a lot of touching culture like Stone Town on the island Zanzibar.
Of course we had the intention to climb up Kilimanjaro. Close to the mountain and between the two larger cities Moshi and Arusha is the Kilimanjaro International Airport where we entered Tanzania together with Marion's brother Tommy mid of January 2019.
Firstly we spent two days on the wonderful Banana Farm between the airport and Arusha. Its owner Godwin Ndosi showed us proudly his farm for bananas, coffee, other tropical fruits and dairy products. Impressive is the wastewater treatment where he produces litterally gas for the whole village with cow shit. He filled up a huge 20 kilogramm cylinder with digester gas which is similar to propane but without any costs.
Arusha is a good base for the higher mountains and Safaris to the world class National Parks Serengeti, Ngorongoro Crater and Tarangire National Parks. We loved the hotel Meru Inn where we spent many nights.The first two days we looked around and investigated many tour operators because you cannot climb up Kilimanjaro by you own. We ended up with SD Safaris in our hotel which gave us the best conditions and service. We never regretted our decision and did first Mount Meru, second Kilimanjaro and third Safari with them.
Mighty 4566 meters high Mount Meru rises more than 3000 meters above Arusha. It is a perfect shaped vulcano in the wonderful Arusha National Park. It is also a good acclimatization tour for Kilimanjaro and therefore highly recommended. It is very comfortable because there are two cozy mountain huts on the way to the summit where we had to scramble a little bit on chains on the summit day.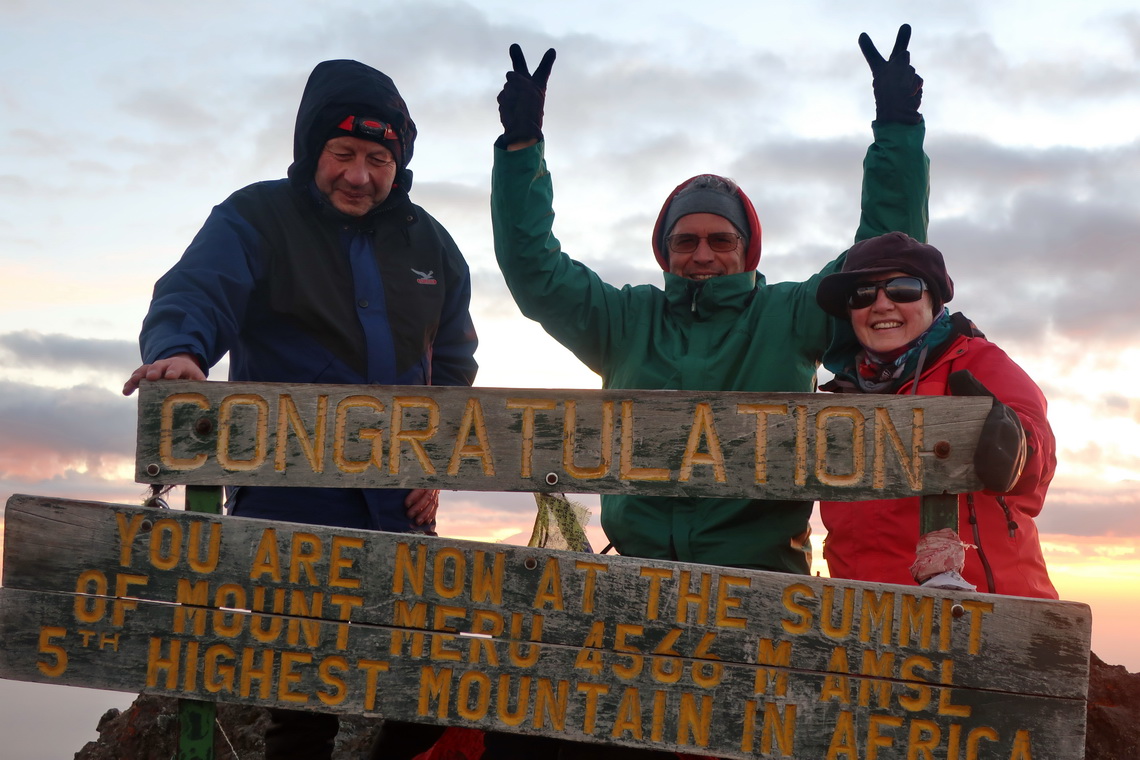 On the fourth and last day we hiked just 3 hours in the morning from the Miriakamba Hut to the Momella Gate where we saw many Africa Buffalos. After lunch we did the wildlife drive in the Arusha National Park with is also called Little Serengeti due to its extensive game on small patches of open grassland.
For Kilimanjaro we chose the Machame Route which is a seven days hike and its suitable for proper acclimatization. The first camp is just 3020 meters high but then you stay three nights always over 3800 meters sea-level with a little rocky peak - Lavatower (4689 meters high) in between. We had to negotiate toughly to reduce the porters from 14 to 10 men. Besides we had a cook and two mountain guides. The costs for Kilimanjaro National Park are extremely high (about U$ 150.- per day per person in 2019) but the expenses for people and food are very low. For us it was really a luxury tour because we did not carry heavy backpacks, the porters built up our tents, we got warm water for washing and tasty meals three times a day.  
On summit day we started at midnight on a dark night with uncountable starts. It was a light chain into heaven because of many, many people. All African people were chanting nearly all the way to the crater rim. It was a very special and touching mountain experience which you might have just on Kilimanjaro. Thanks to our good acclimatization we had no problem to get to the summit which is more than 1200 meters vertical difference. The highest point (5895 meters sea-level) called Uhuru Peak (freedom peak) was like an ant hill but our guides managed that we had two minutes on the summit sign. Fortunately the crater rim is huge and there were many nice places where we could enjoy sunrise and marvelous views.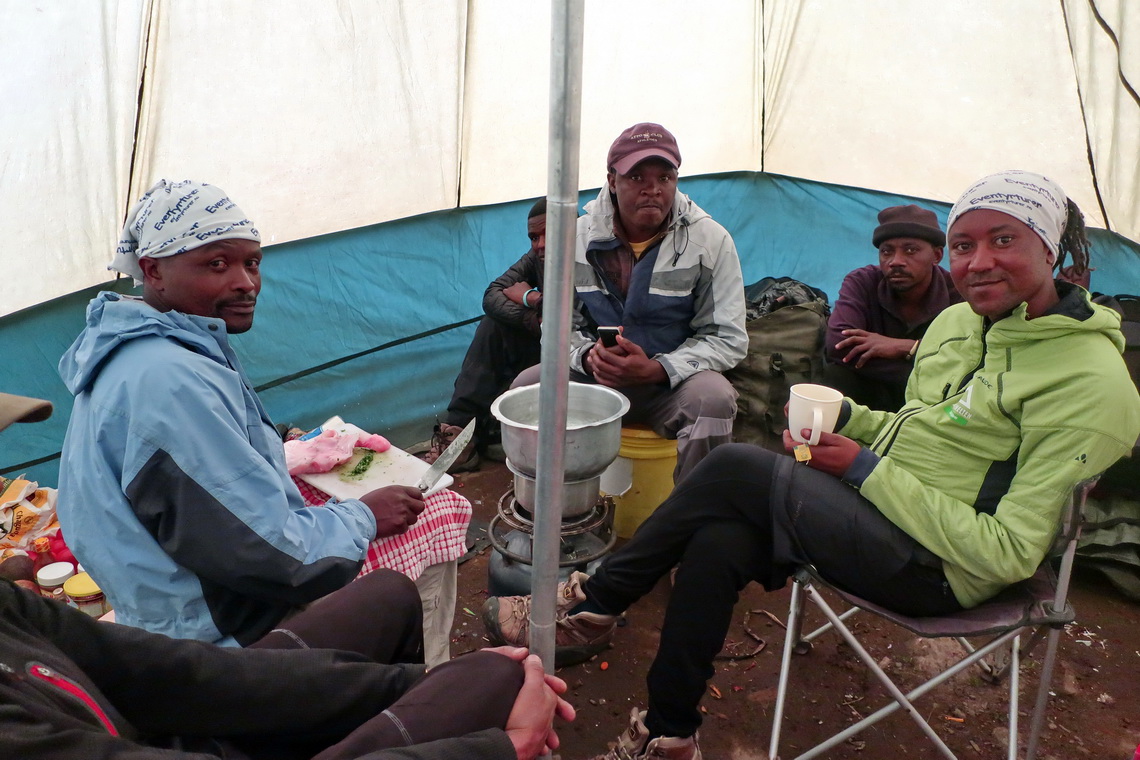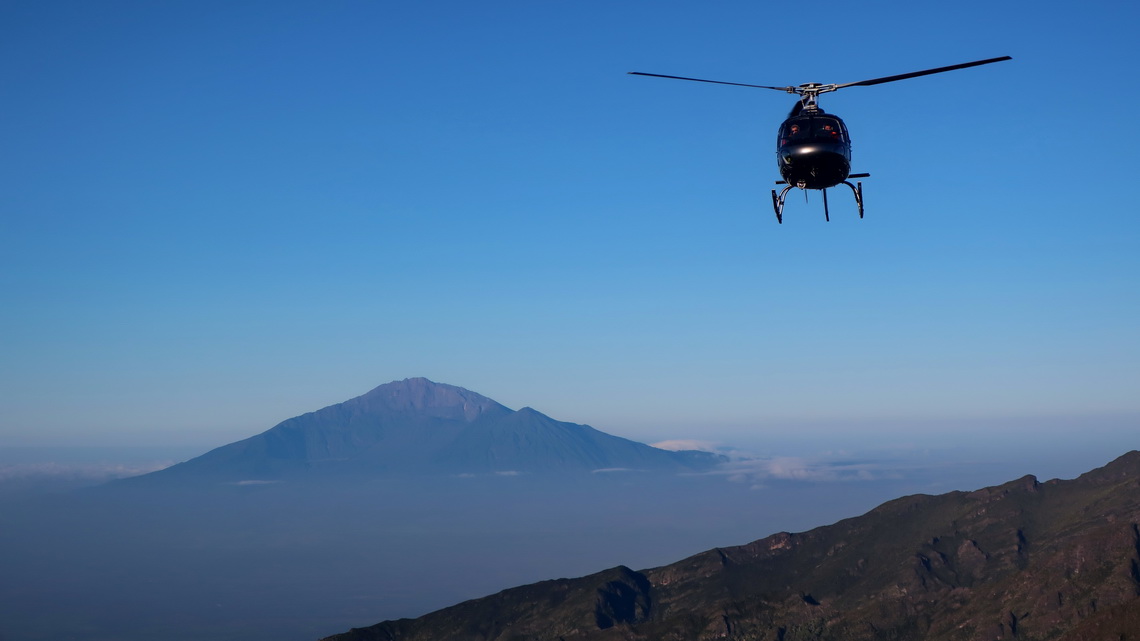 Kilimanjaro has a good rescue system with helicopters. On the second morning we were waked up by a helicopter which landed directly in front of our tents. A doctor from Great Britain came to us and asked us if everything is okay. He gave us his card with his number and moved to the next tent. Our porters were very excited about the helicopter and made many pictures with their mobile phones.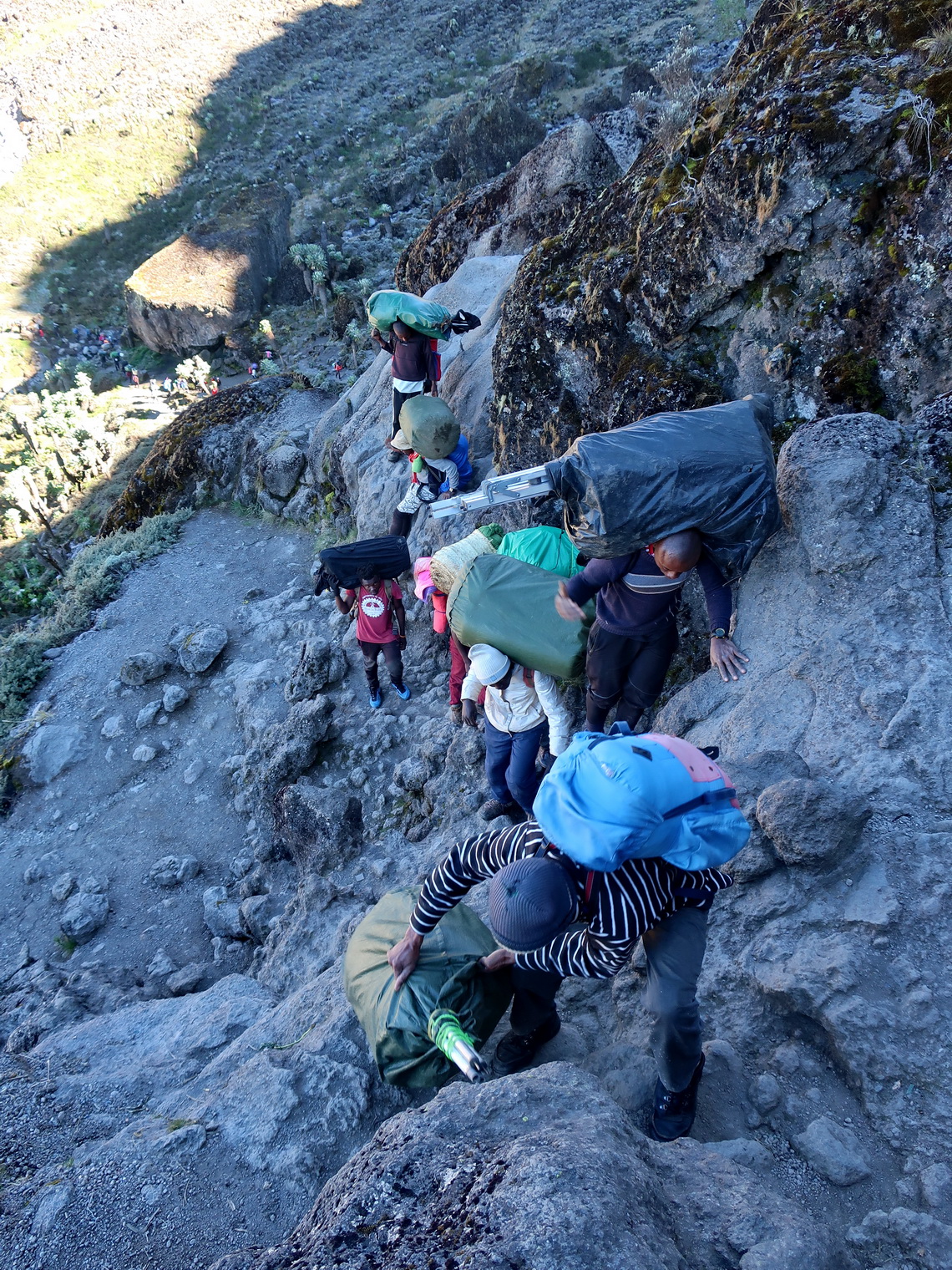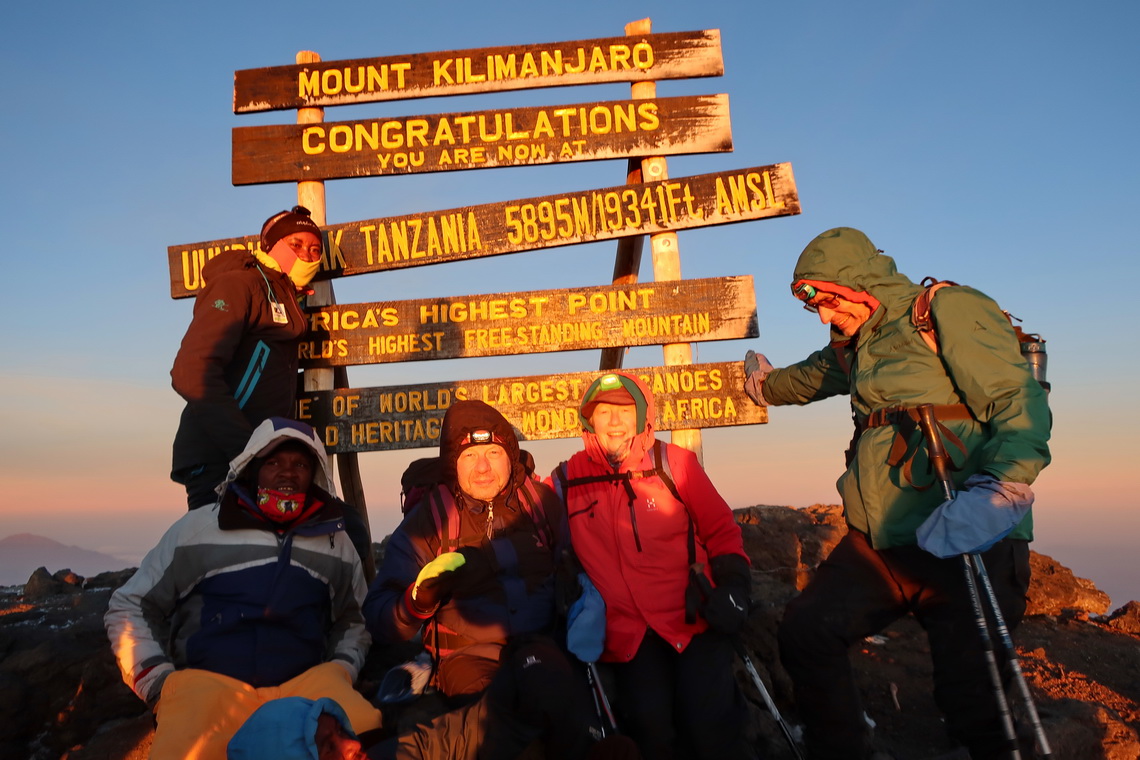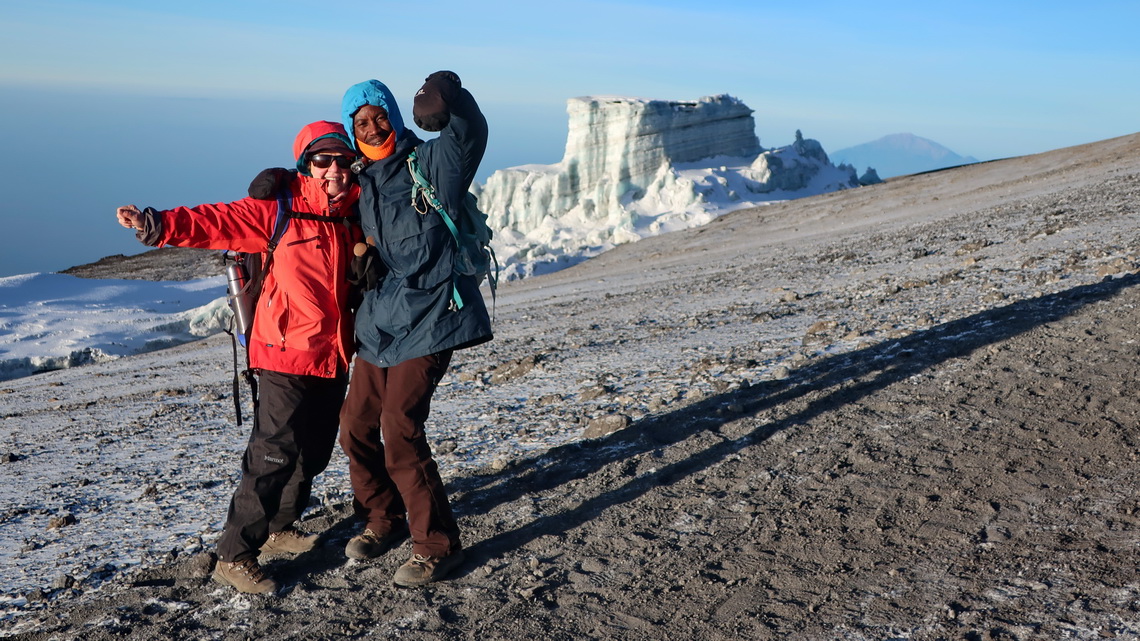 Our tracks and waypoints of Mount Meru and Kilimanjaro are included in our GPS Coordinates file of Tanzania. For more pictures of Mount Meru and Kilimanjaro click here,

Next was an outstanding safari trip into the wonderful Serengeti, Tarangire and Ngorongoro Crater National Parks. SD Safaris offered us a budget safari for a reasonable price with sleeping in our tents. Together with couple from Spain and a man from China we were in a typicel safari car where we could open to roof to have better views. Our first destination was the Tarangire National Park which is famous for elephants.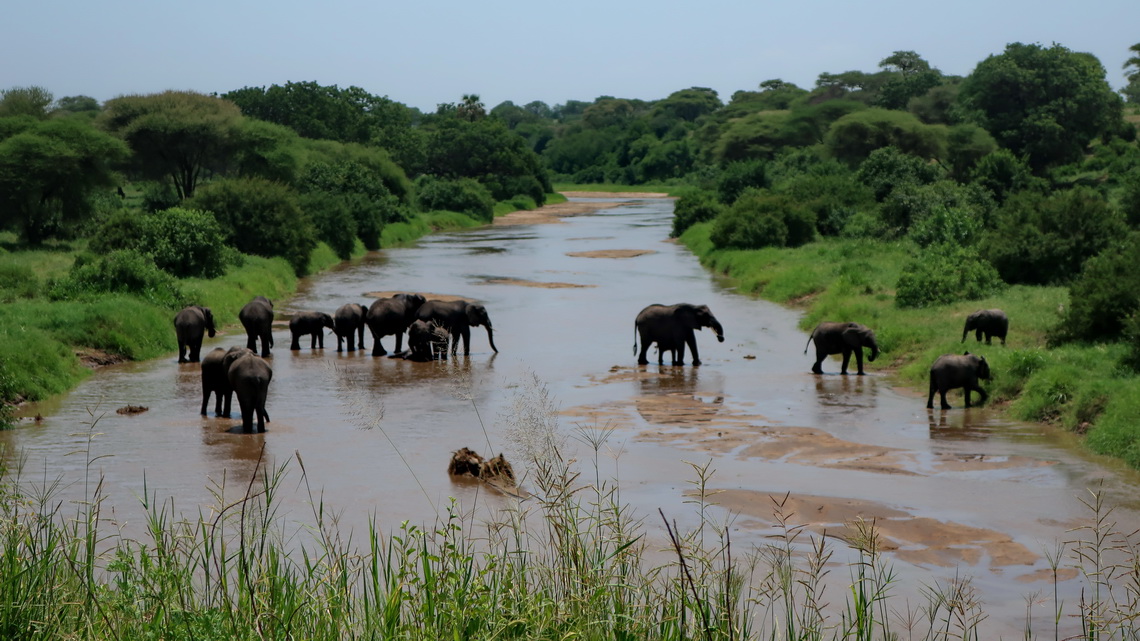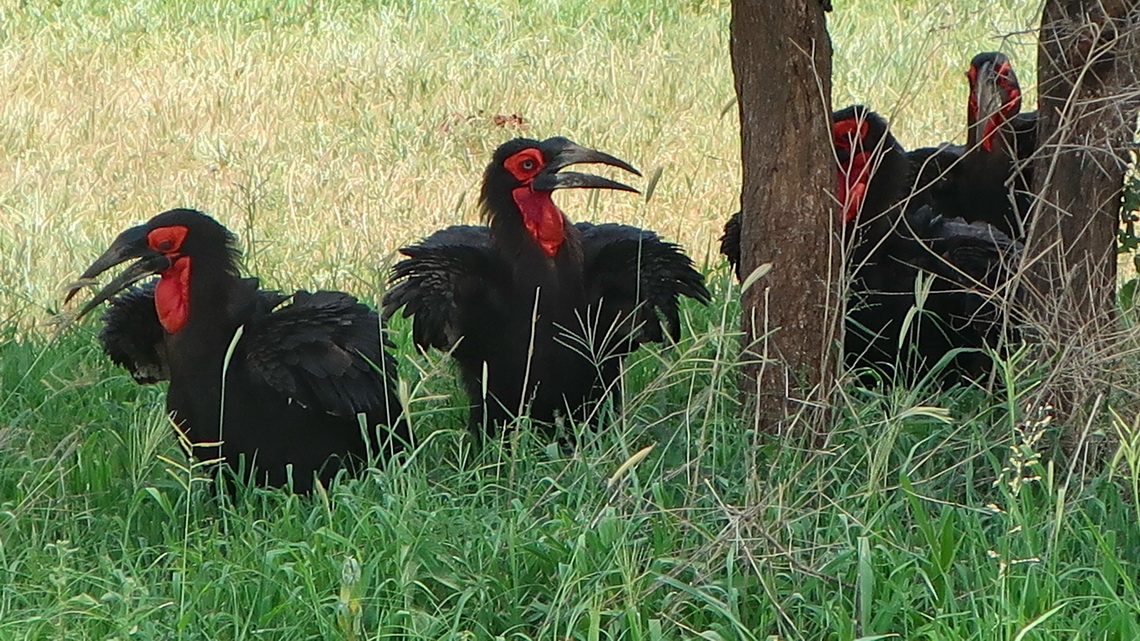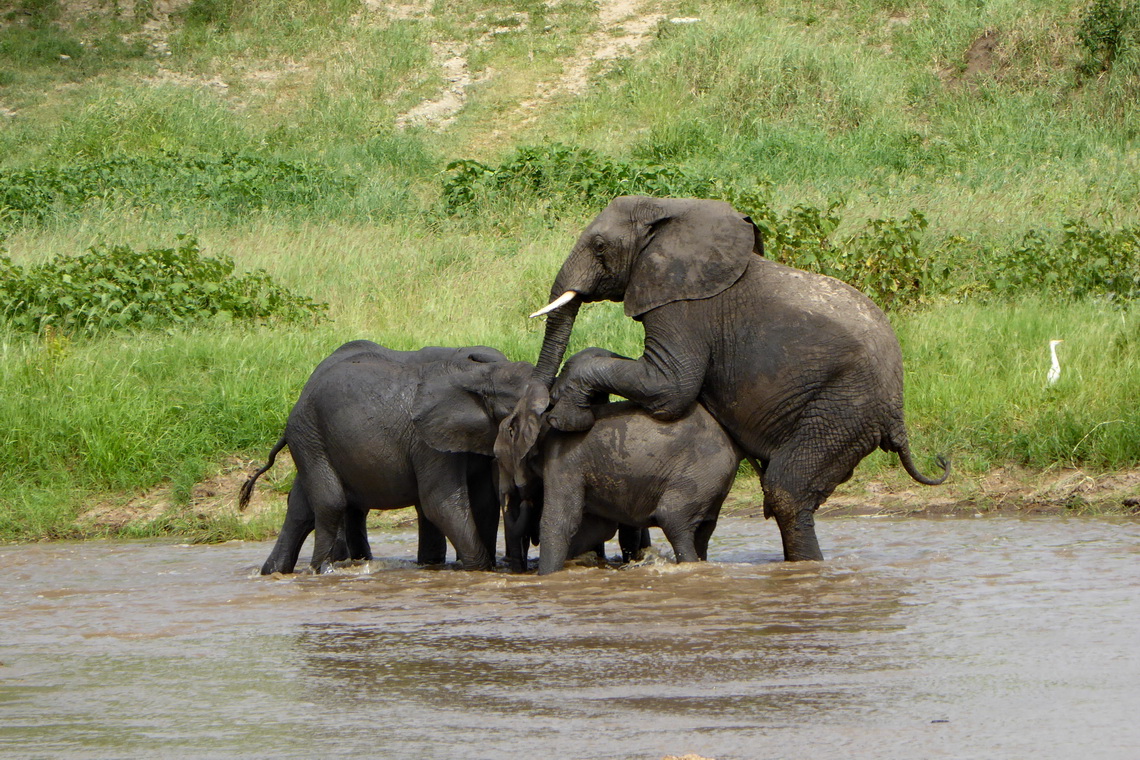 On the second day we came to Serengeti where we stayed one night. The wildlife there is incredible.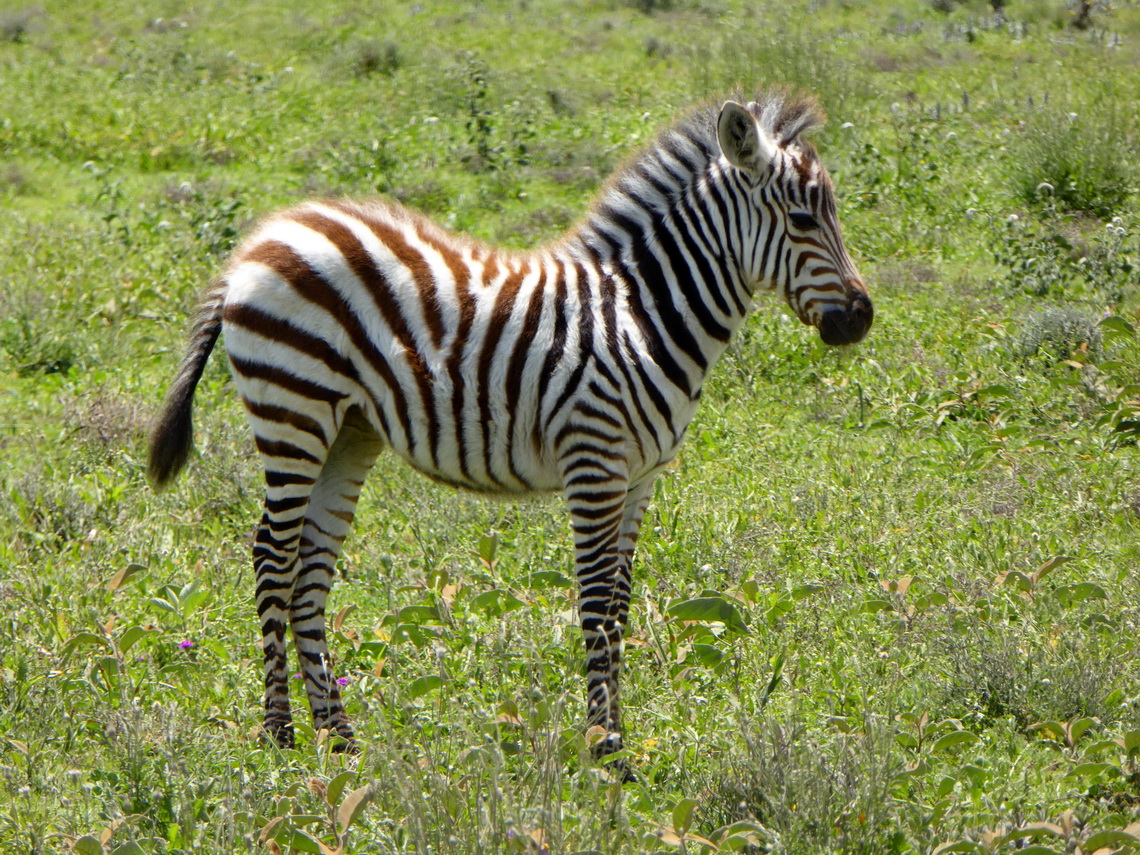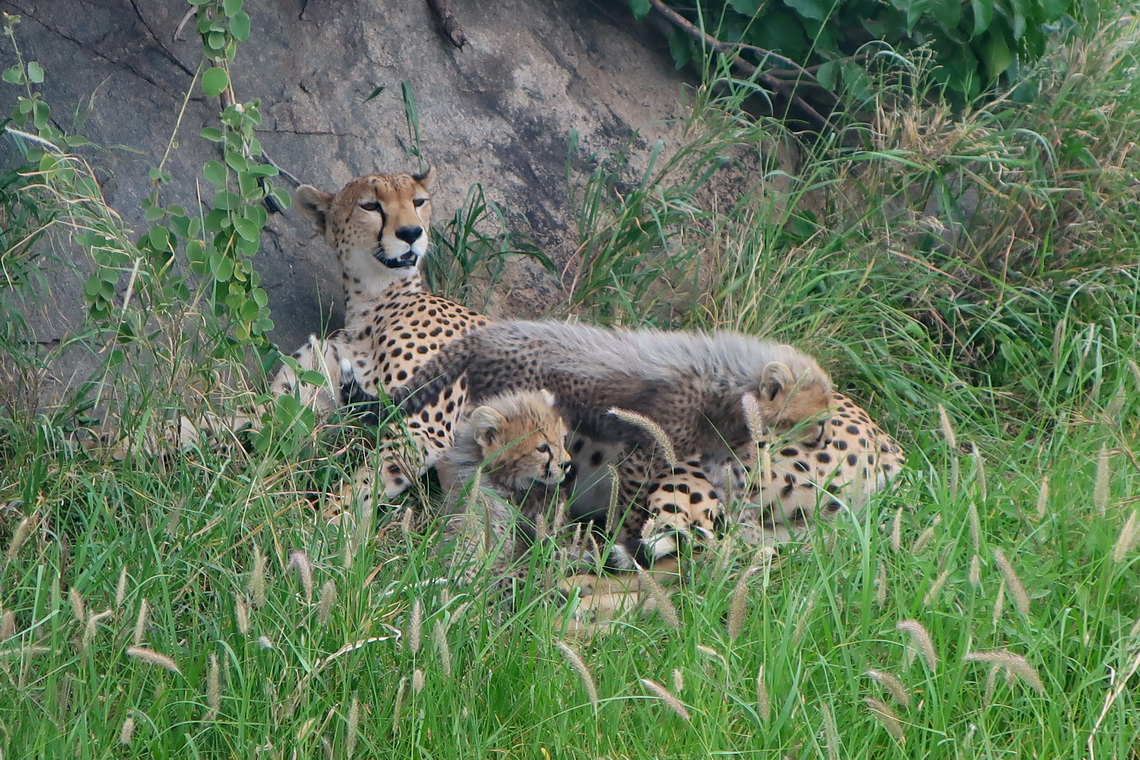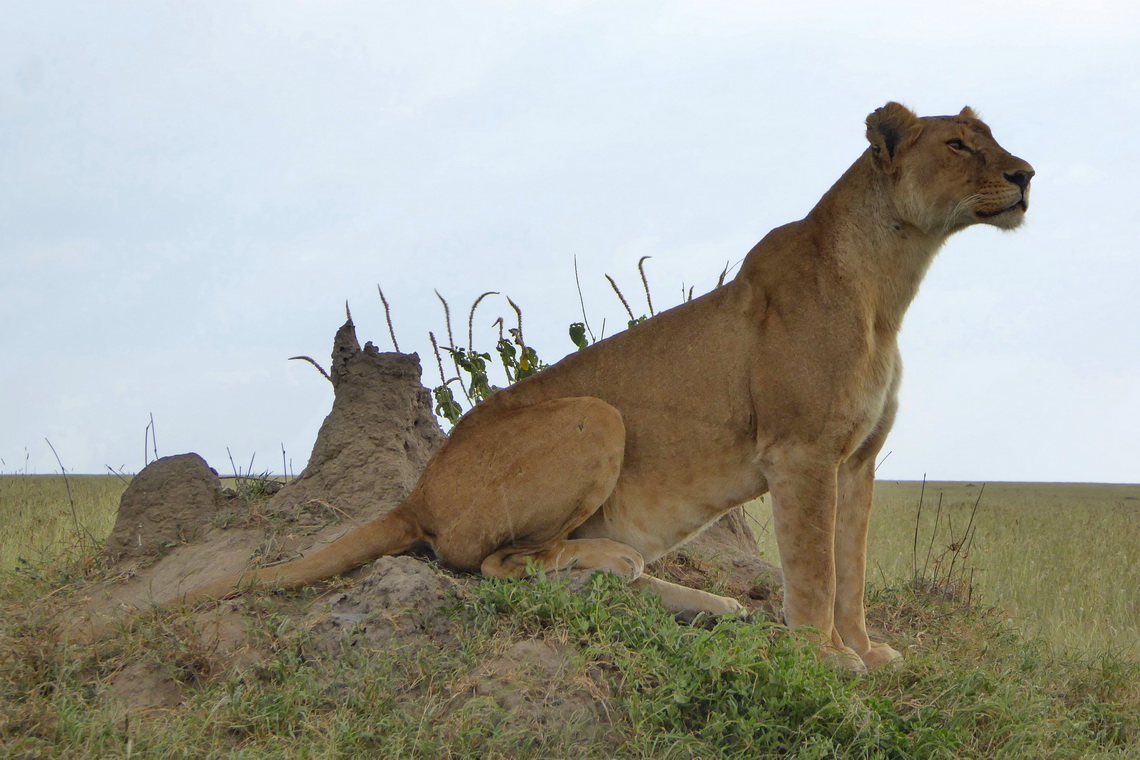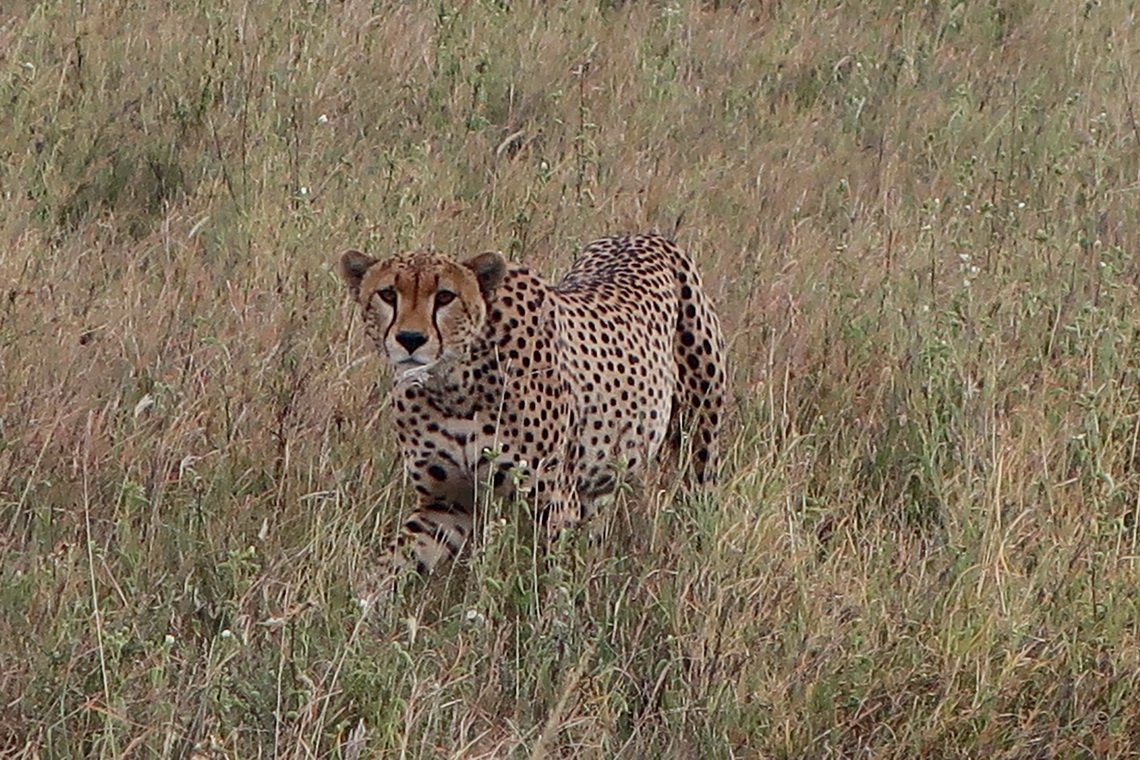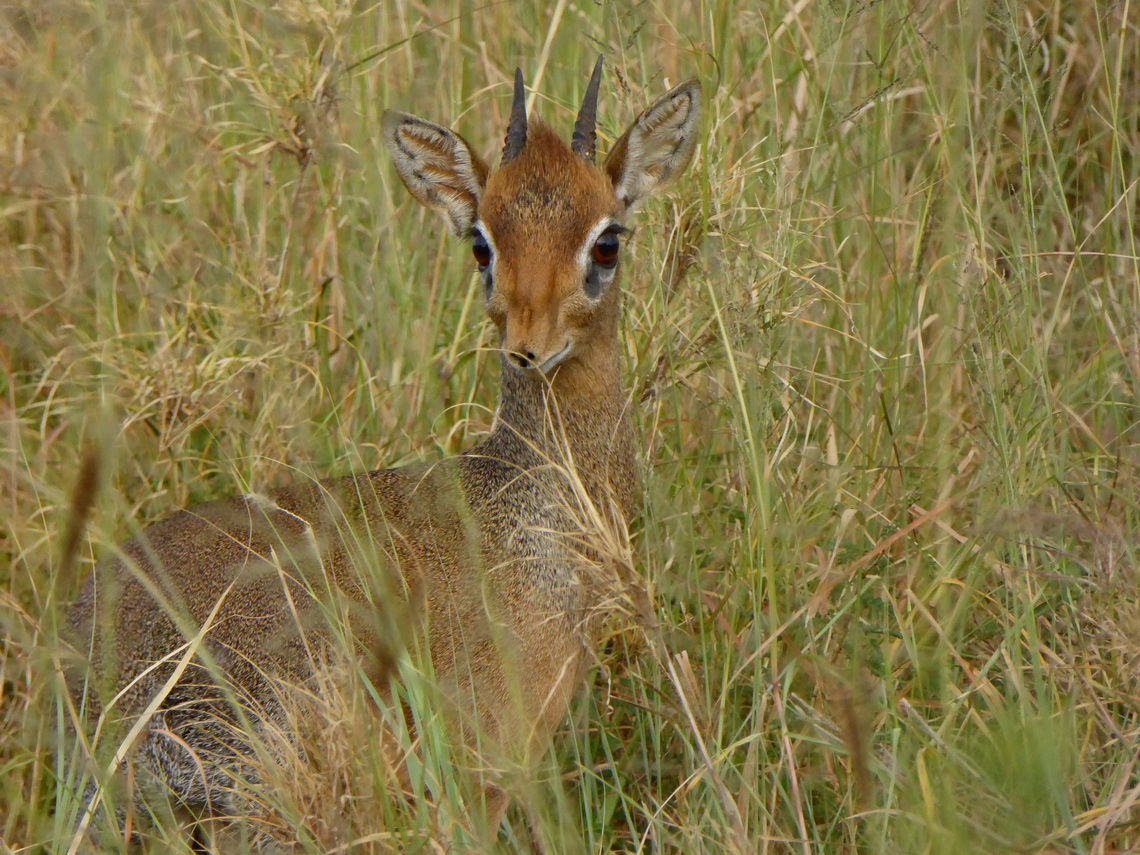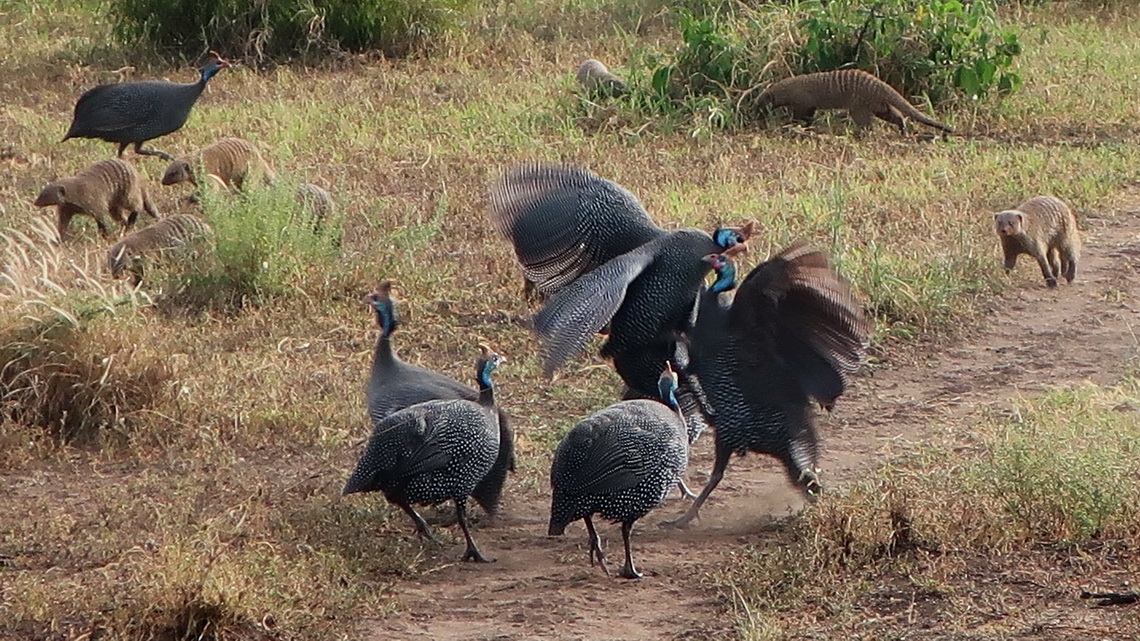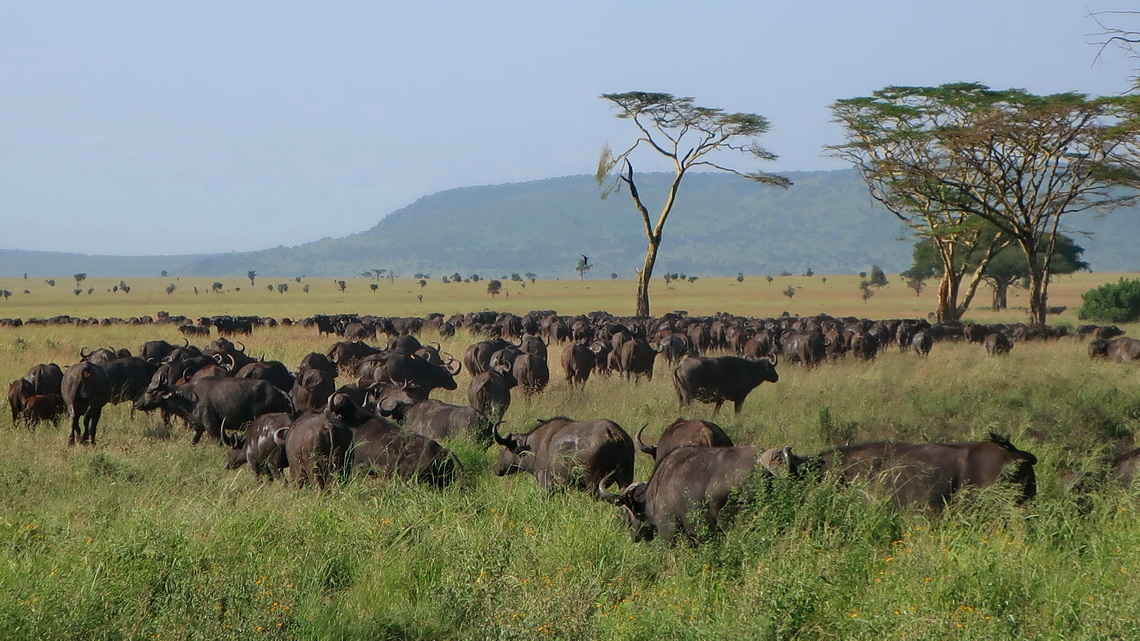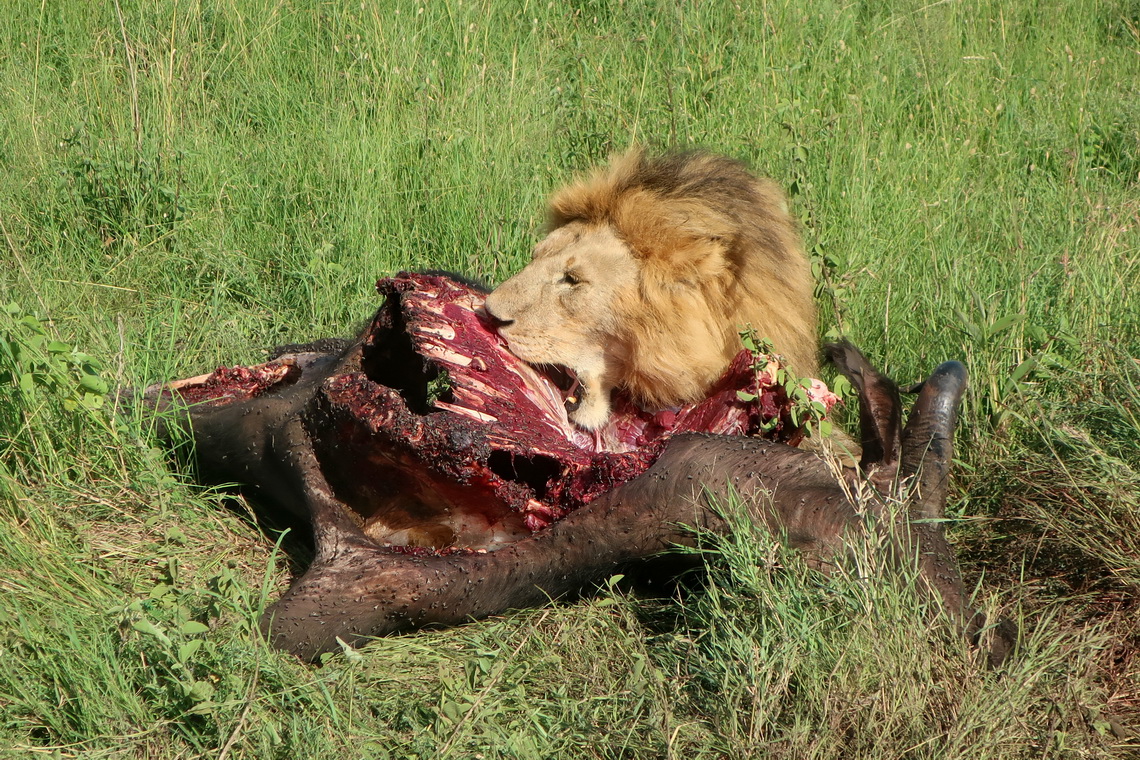 We had a puncture when we came into Serengeti and our driver managed it professional. But when we headed out the left back suspension spring of our car broke. Another safari car stopped and its driver literally carved the broken part out of a bigger tree brunch. We drove slowly, very slowly more than 20 kilometers on the wrong right side to reduce pressure on the critical spring. Somehow our driver managed to get a new spring in the late evening and we could continue to Ngorongoro Crater with a comfortable car again - A true African experience!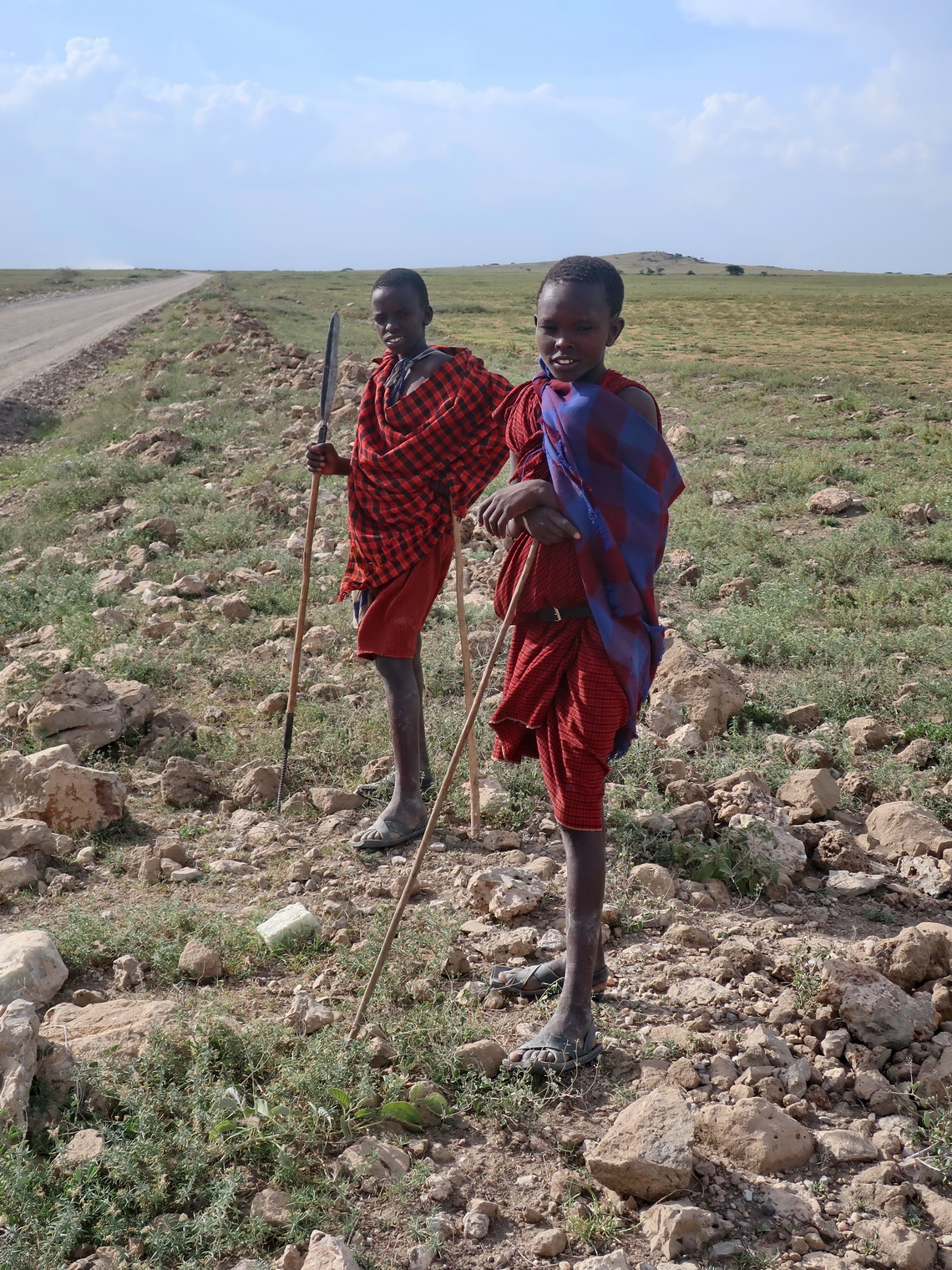 Ngorongoro Crater has one of densest game population on earth. It is a crater of approximately 20 kilometers diameter and just the elephants walk out on the steep crater walls. There we saw extraordinary many animals and we had many highlights like hunting Lions, strong Buffalos chasing away Lions, Hyena striking a baby Wildebeest, ...
For more pictures of Serengeti, Tarangire and Ngorongoro Crater click here.
On the way to the Indian Ocean we visited the Usambara Mountains which are famous for the violets. A beautiful afternoon hike is Irente Viewpoint. Tanga is the second biggest port city of Tanzania without accessible beaches but the close Amboni Caves are very nice. Outstanding is the huge beach of Pangani which is approximately 40 kilometers south of Tanga.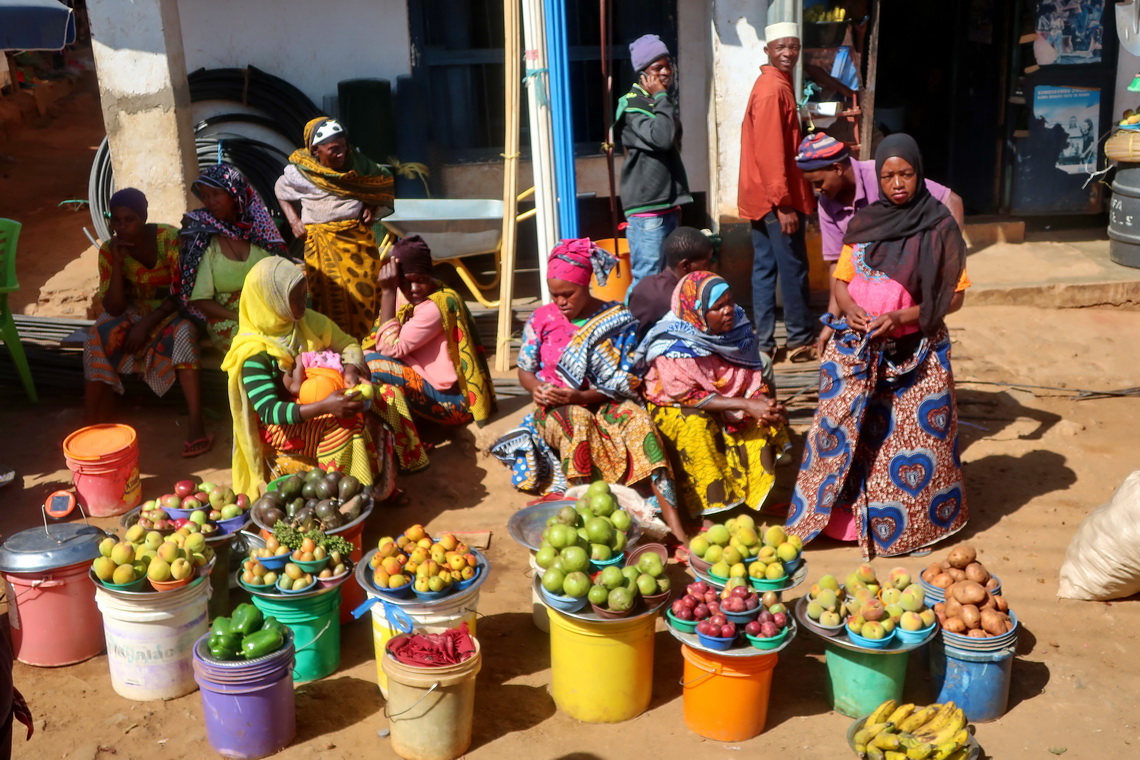 From Pangani we took the little ferry to Mkotoni / Zanzibar, a six hours ride on the Indian Ocean in a tiny ship with many people - another true African experience. The port of Mkotoni is so small that we had to change into feeder boats. From there we took the bus to Stone Town which is the historic quarter of Zanzibar City with narrow streets. Its history is very touching even sad because it was a major hub of slaves for centuries.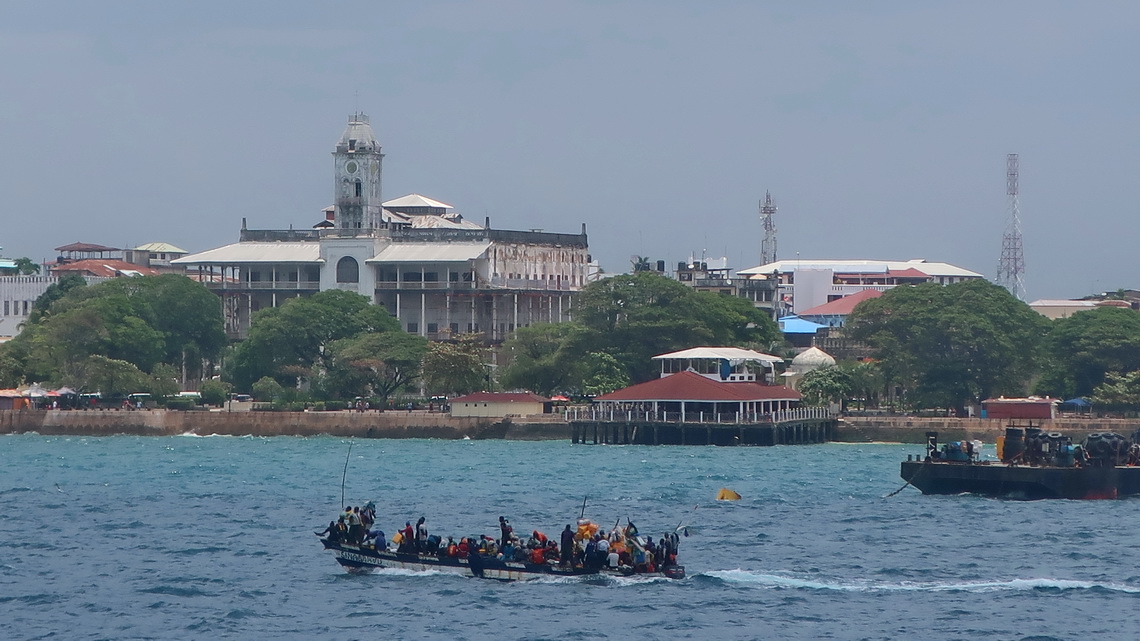 Jiambiani is a quiet village on the southeast shore of Zanzibar with the outstanding nice hostel Maus Place and the impressive Cuza Cave in walking distance where we could swim in fresh water. The water temperature of the Indian Ocean was approximately 30°C thus cooling down was a little bit limited. Close to the hostel lives Captain Mhodi who did a wonderful sailing and snorkeling tour with us with a little typical East African boat with two wings. Unfortunately we had no wind out and we had to row a lot. But back Captain Mhodi rushed along the beach with full sails and greeted everybody on the beach.
Nungwi on the northern corner of Zanzibar is after Stone Town the second major tourist destination of the island thanks to its terrific beaches. We hiked a full day on its western beach. On the second day we did also a snorkeling tour on a bigger boat with many people but it was not as impressive as the one in Jambiani (and more expensive, too).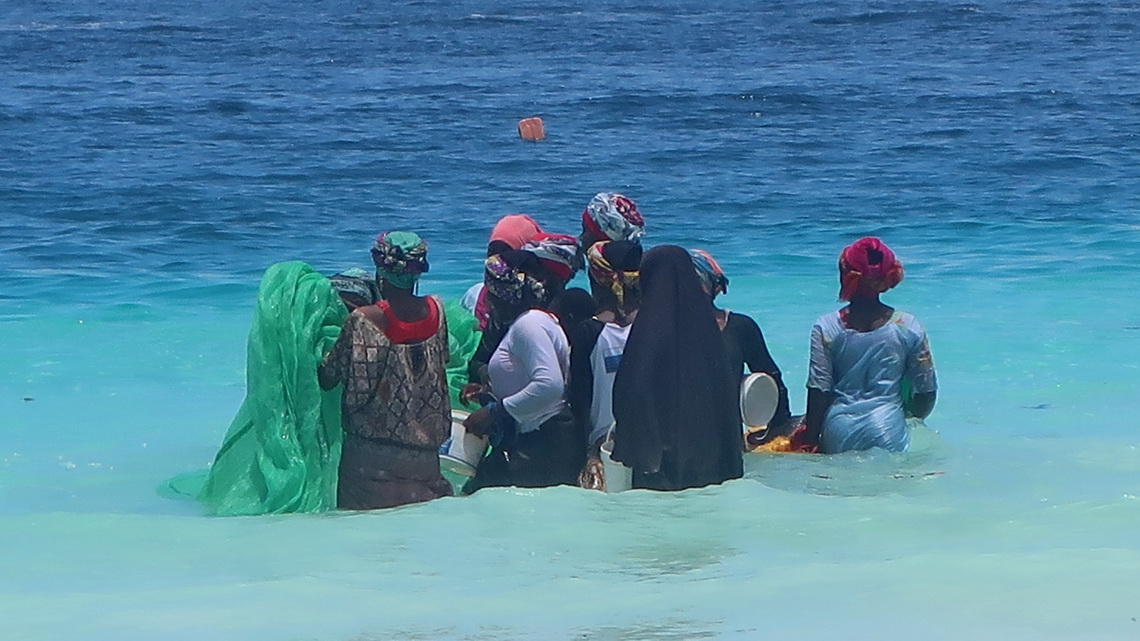 We returned to Stone Town and said sadly good-by to Tommy who took a plane back to Germany end of February. We continued with a comfortable highspeed ferry to the capital Dar es Salaam which was with temperatures of more than 40°C the hottest point in Tanzania for us. It was the first time we used the air condition also in the night.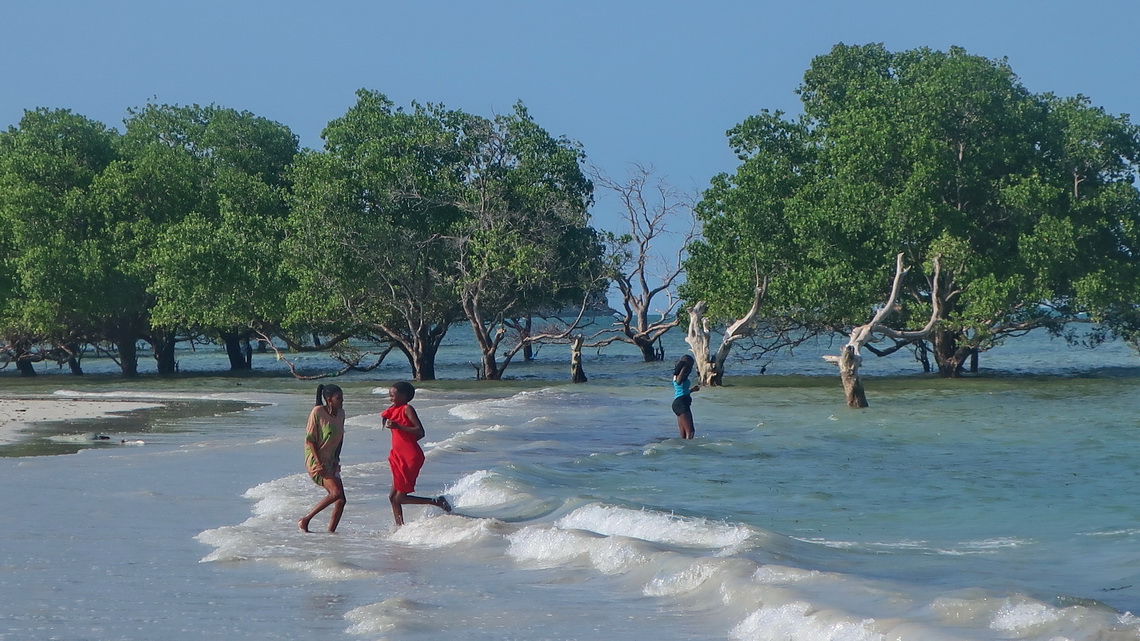 For more pictures of Zanzibar, Dar es Salaam and the northern Indian Ocean coast click here.
From Dar es Salaam we took the train to Kigoma on shore of Lake Tanganyika. 48 hours for 1251 kilometers. Another true African experience, we were the only white people on a crowded old train. On the first night we were lucky because we convinced the conductor that we could sleep in a first class compartment with two beds. It was so bumpy that Alfred hit sometimes the roof in the upper berth. There was no first class service to Kigoma thus we were parted in two compartments with six berths - male and female separated (2nd class). The service on the train was excellent, for instance we had running water in the compartments. Food and drinks were delivered whenever we asked for it, and there was also a dining wagon on the train.
Kigoma is a pleasant city on shore of wonderful Lake Tanganyika where we found the nice hostel Leaders Lodge. Its friendly manager Aidan showed us his family farm close to the border to Burundi. We wanted also to visit the first town of Burundi which can be done usually without any paperwork. But there was a mess on the border because rebels had stolen a car and had hit the barrier of the border. After waiting a longer time the officer told us that it is too dangerous today. We were not unhappy about his decision because we saw on the border (Burundian side) more guns in two hours than in Tanzania in two months.
Kigoma's main attraction is Gombe National Park where Jane Goodall had explored the live and behavior of the Chimpanzees. It is a nice two hours trip on a little boat to the park. Scouts are looking for Chimps and inform the guides of the places. Then the group hikes as fast as possible to the place a kind of cat-and-mouse game. The scouts and guides know all of the Chimps by name, all have a different personality - the closest relatives of humans! After hiking two hours we detected an elderly female Chimp in the trees. After two hours more and we were already a little bit disappointed we could enjoy an elderly male with his nephew lolling on a rock - perfect for pictures. 
The beaches of Lake Tangayika are outstanding, also suitable for swimming in fresh water with temperatures around 25°C. Our favorite one is Jacobson Beach few kilometers south of Kigoma. It is a short ride on a mini bus and 30 minutes hike.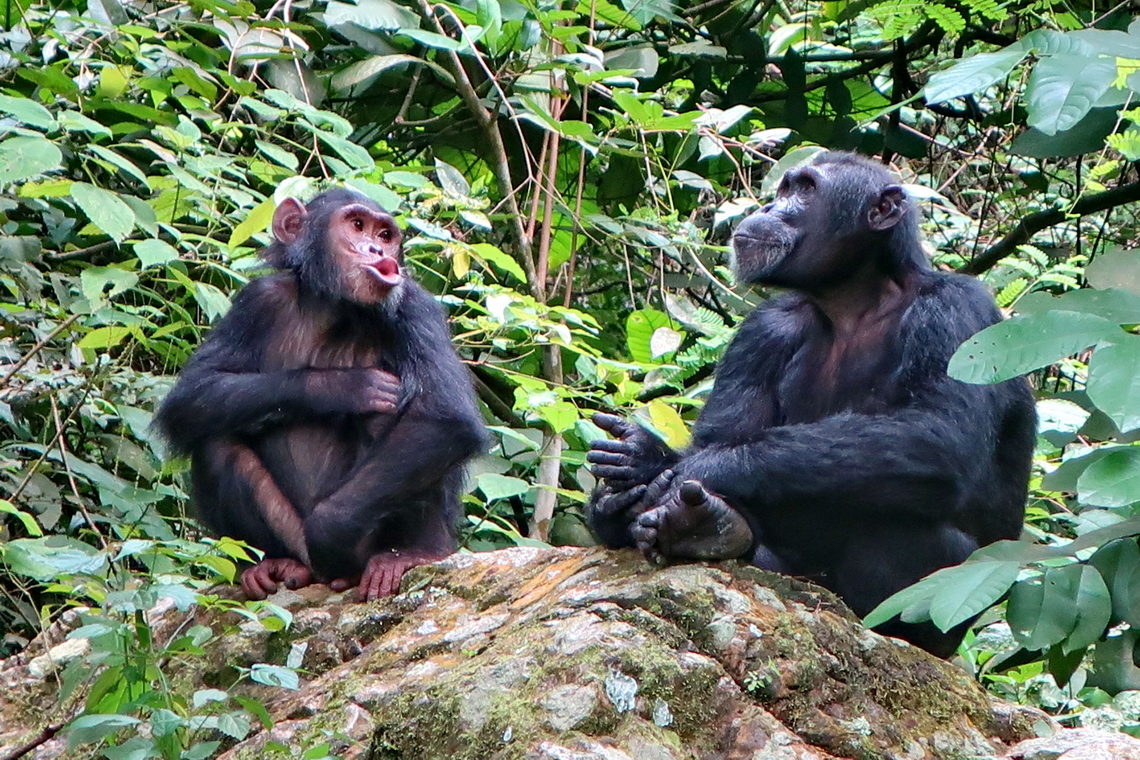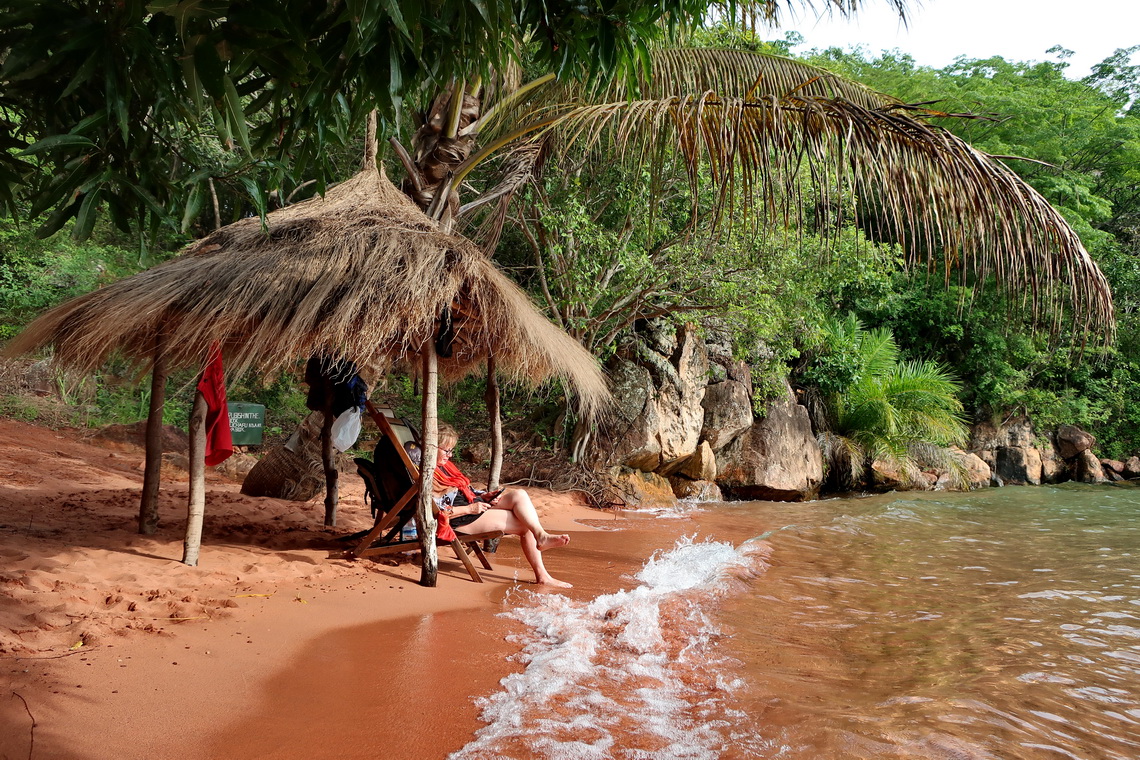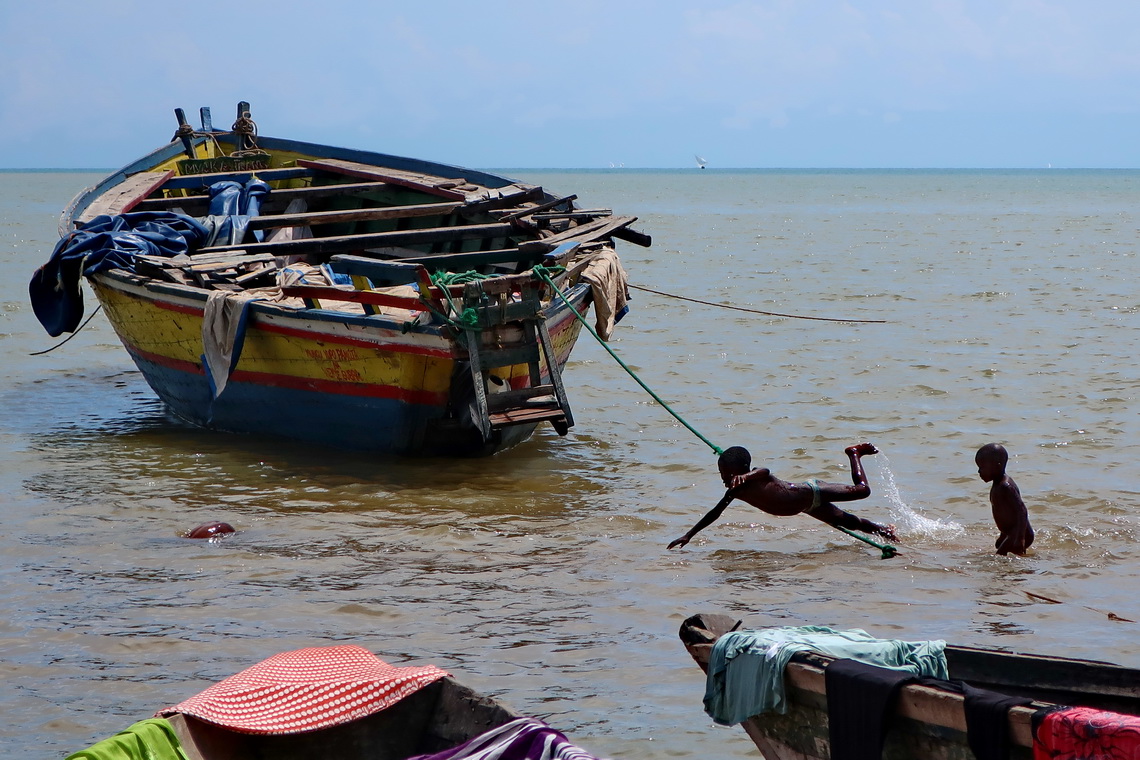 Heading eastwards again with the train we stopped on the first bigger city, Tabora. We spent two night in the nice John Paul II hotel, explored the city and visited with a bike taxi the famous Livingstone Tembe few kilometers southwest of Tabora.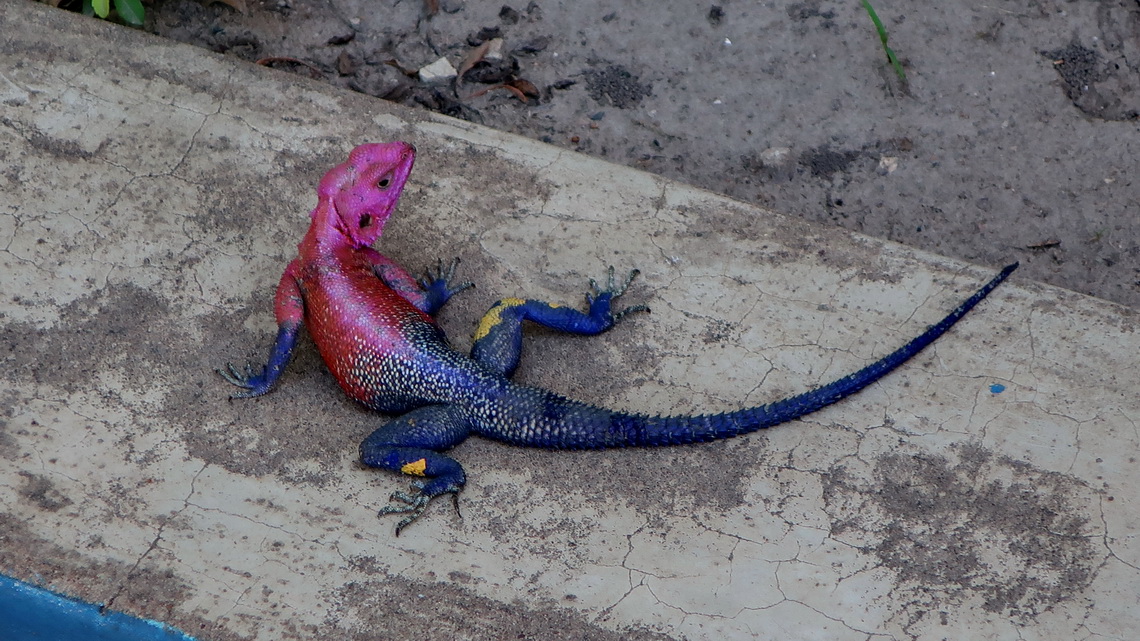 Tabora is a railway transfer station. We took the train to Mwanza, the second largest city of Tanzania on shore of Lake Victoria. This time we could enjoy first class in the night. Mwanza has nice beaches with some weird rocks and there is the ferry to Ukerewe which is the largest island on Lake Victoria. We spent one week on Ukerewe in the nice Monarch Beach Resort. Swimming is not recommended in Lake Victoria because of bilharzia but we saw a lot of local people in the water. We learnt that the children get medicine against bilharzia in school.
In Ukerewe we hiked to the nice summit with the Kagahara Cross and we rented bicycles for an incredible low price. Ukerewe is an ideal bicycling place because there are very few cars. We explored the island deeply and cycled to the little village Halwego with the Pango cave and summit. Another beautiful day tour was the east cost with the villages Bukindo and Kagunguli.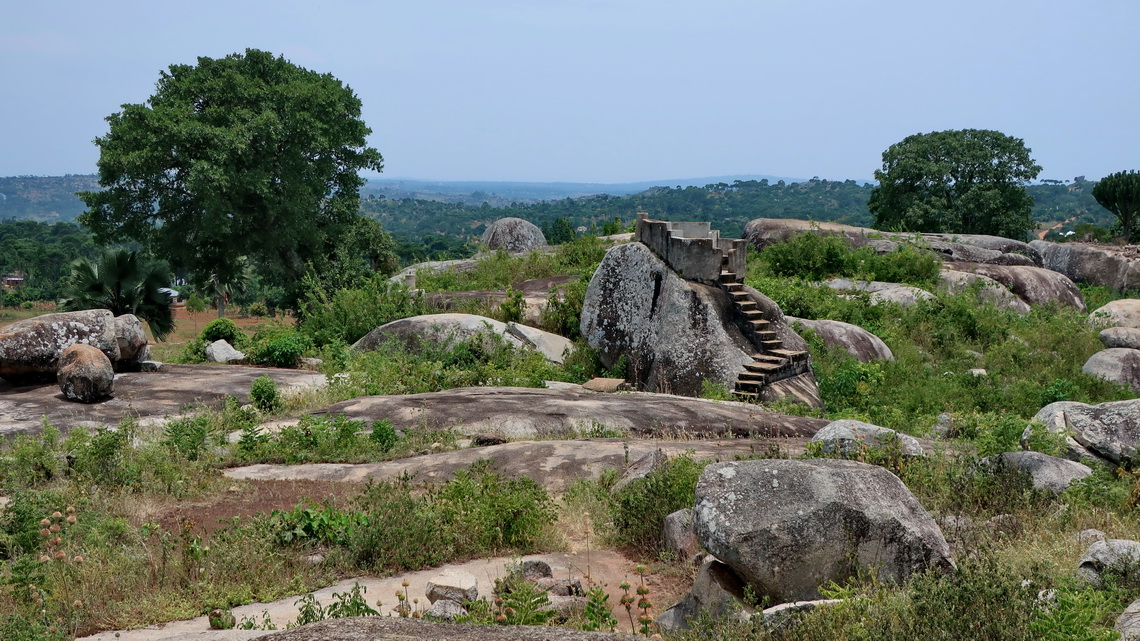 Al our trails and waypoints of Ukerewe island are included in the GPS coordinates file of Tanzania. For more pictures of Tanganyika and Victoria Lakes, click here.
Back in Mwanza, in the nice GG Hotel we heart some beautiful Gospel music in the morning. We asked on the reception and a man led us to younger group of people which were exercising some very nice music. We listened to the awesome music more than two hours. Finally they outplayed a lot of their music on a SD card and gave it us - Thank you so much we listen very often to your music.
From Mwanza we took a little plane to Arusha which is much cheaper than the bus through Serengeti because you must pay the entrance fee of U$ 150.-. Beginning of April we returned to Germany.
For more pictures of our trip to Tanzania, please click here                      For a map of our itineraries, click here
To download our GPS coordinates file of Tanzania, click here