Stunning Prague, the capital of Czech Republic, is definitely a must to see in Europe. It is an UNESCO world heritage site; a cultural, political and economical hub of Europe with a rich history. It was the capital of the Kingdom of Bohemia, residence of several Holy Roman Emperors including Charles IV (1316 - 1378) and an important city of the Austro-Hungarian Empire.
We started our trip to Prague in marvelous Dresden, Germany and bicycled 5 days along the rivers Elbe and Moldavia - a  distance of approximately 260 kilometers mainly on paved cycle tracks without significant slopes and disturbing traffic. The first step of this itinerary was really challenging because we took local trains from Munich to Dresden.
On the first train from Munich to Nuremberg the engine broke - we had to stay one hour in a local station. We were lucky to catch the train in Nuremberg to Leipzig with our two bicycles because it was totally overcrowded. We were packed like sardines in a can during the 5 hours journey. The last section from Leipzig to Prague was very comfortable with decent space for our bicycles. In total we needed approximately 10 hours from Munich to Dresden where we arrived early evening on August 15th 2023.
We found a weird hostel 4 kilometers northwest of the old town of Dresden for an incredible price: The hostel FoxBox contains 12 boxes made by pallets and wooden boards exactly the size of a double bed with a height of approximately 1 meter. Shared showers, kitchen, towels, covers and WiFi were included in our costs of € 28.39 for both per night.
On our first day on our bicycles we cruised more that 40 kilometers along river Elbe to the nice village Rathen in the Elbe Sandstone Mountains with longer stops in the beautiful town Pirna and wonderful lake Badesee Birkwitz where we could swim in clean and pleasant warm water. In the evening we met Alfred's brother Bernhard and his wife Uta for a delicious dinner with excellent local beer of Saxony.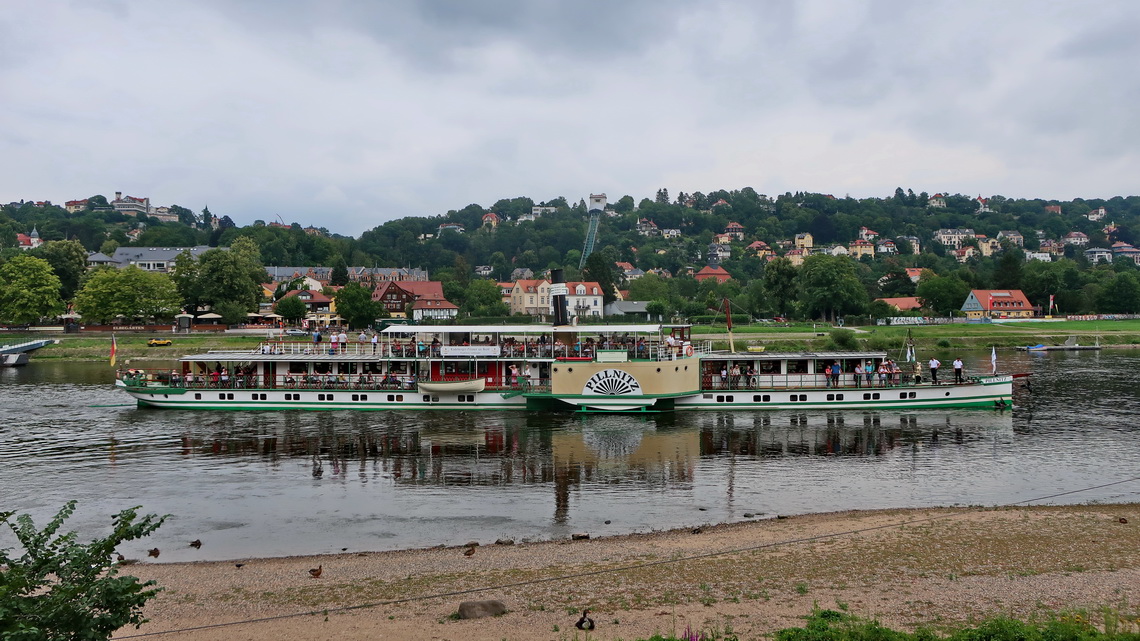 We had a thunderstorm with heavy rain in the morning so we skipped our planned hike to the rocks Bastei. Instead we continued to the Czech / German border. It became very hot with temperatures up to 34°C and sticky in the next days. When we stopped we immediately sweated because the wind of driving our bicycles disappeared and the thermal radiation of the paved cycle track became hot.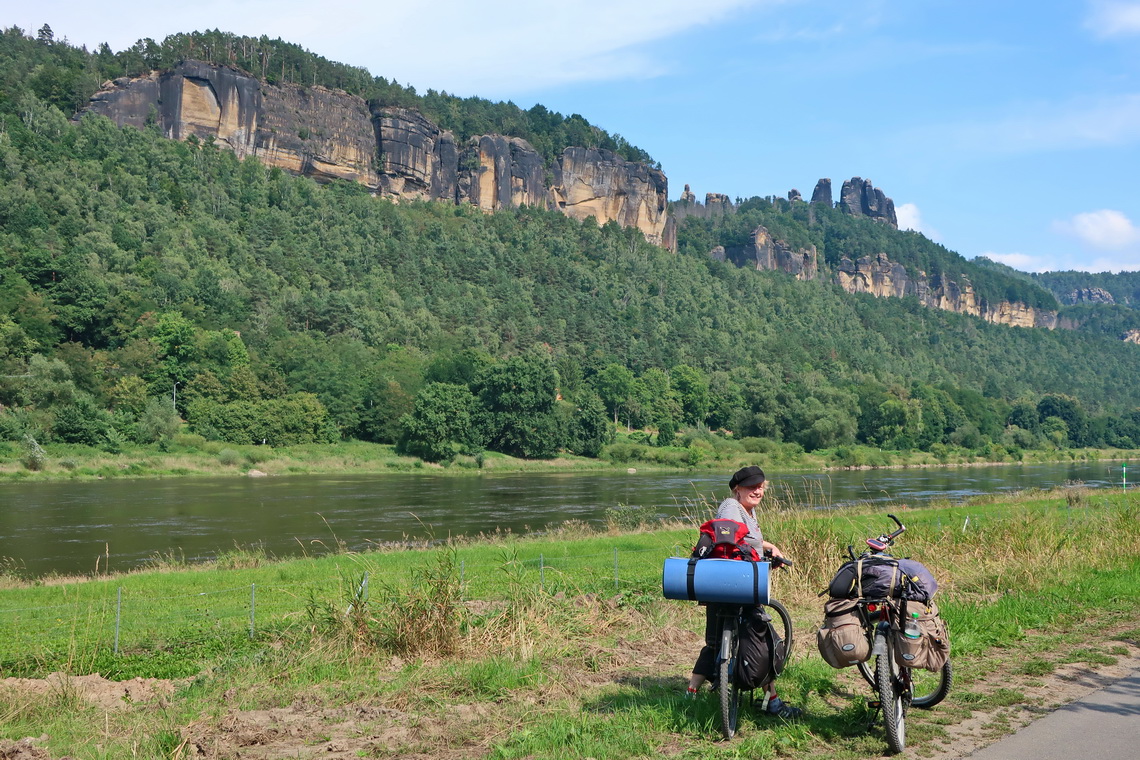 We were surprised from the first town in Czech Republic: Děčín has a 50 meters high rock wall with 16 Via Ferratas of different grades on the western shore of the river Elbe. Unfortunately we had left our harness at home. Besides climbing opportunities Děčín has an impressive castle (16th century) and a lot of other historic buildings.
After pedaling more than 52 kilometers we found a nice free campsite on shore of Elbe with a pavilion close to the little village Male Brezno. The pavilion was a real reassurance for us because there were dark and heavy clouds in the sky - but it was dry the whole night with some lightening and thunder relatively close.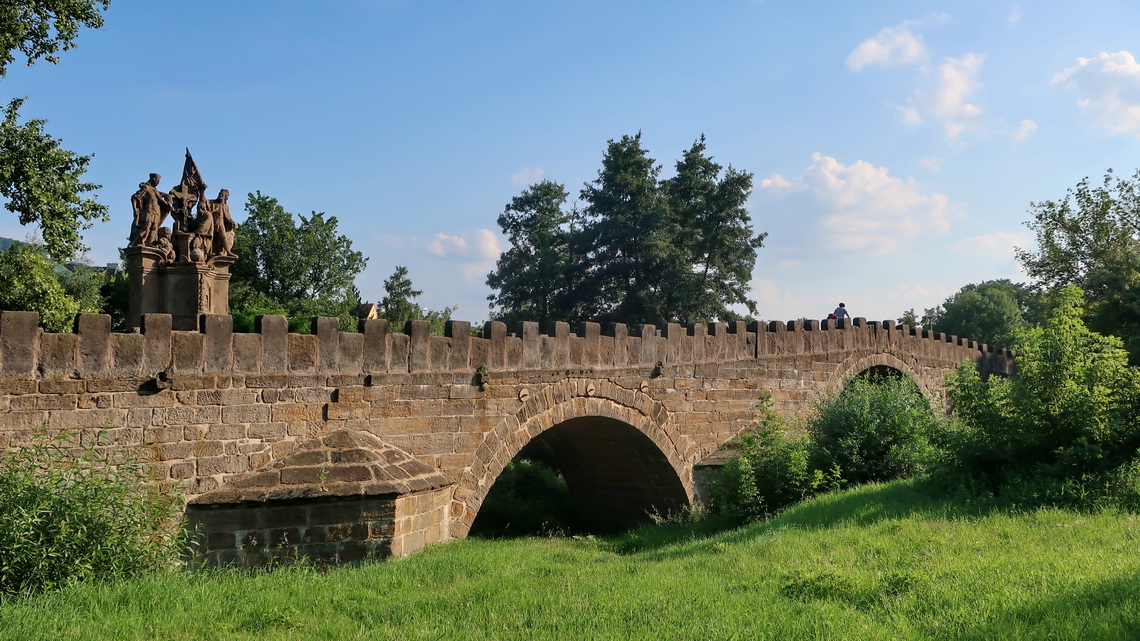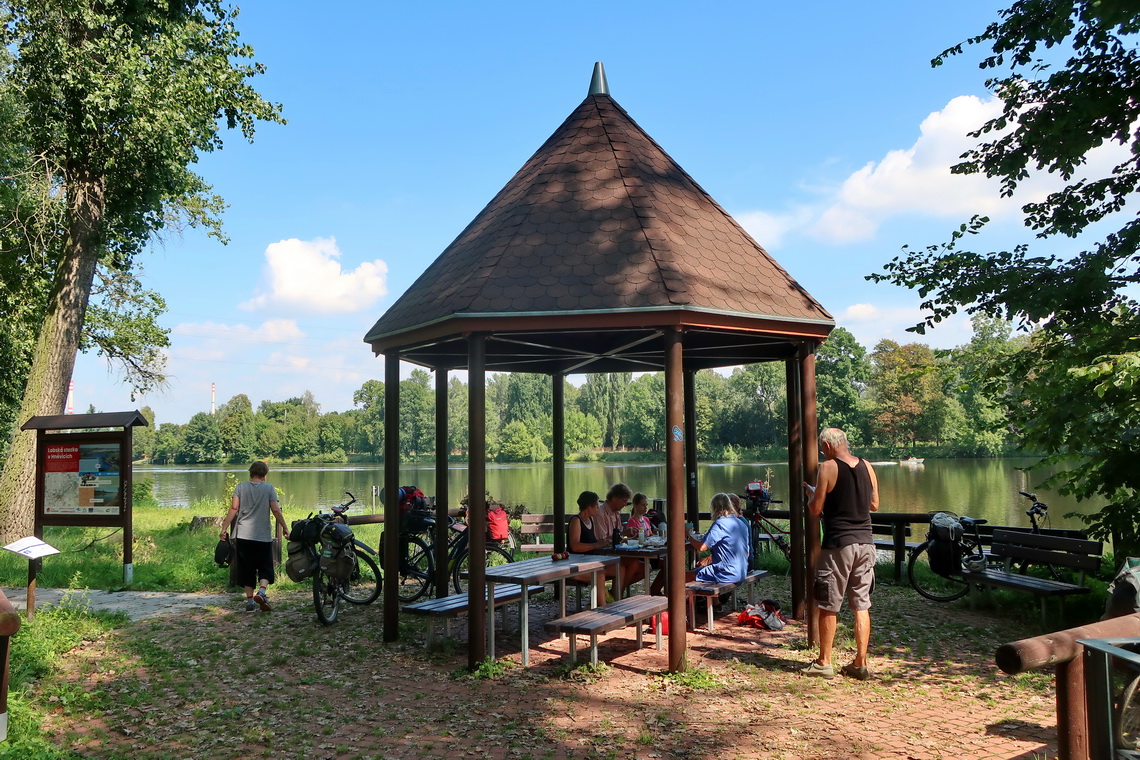 On our third day we bicycled with two major stops more than 65 kilometers before we stayed the night on the cozy Campsite Nabíjecí Stanice for little money. The first stop was the marvelous castle Zámek Velké Brezno with its nice garden (built between 1842 and 1854). The second one was extremely touching due to its sad history: The little town Terezín (German: Theresienstadt) where the Germans had established a ghetto in the second world war.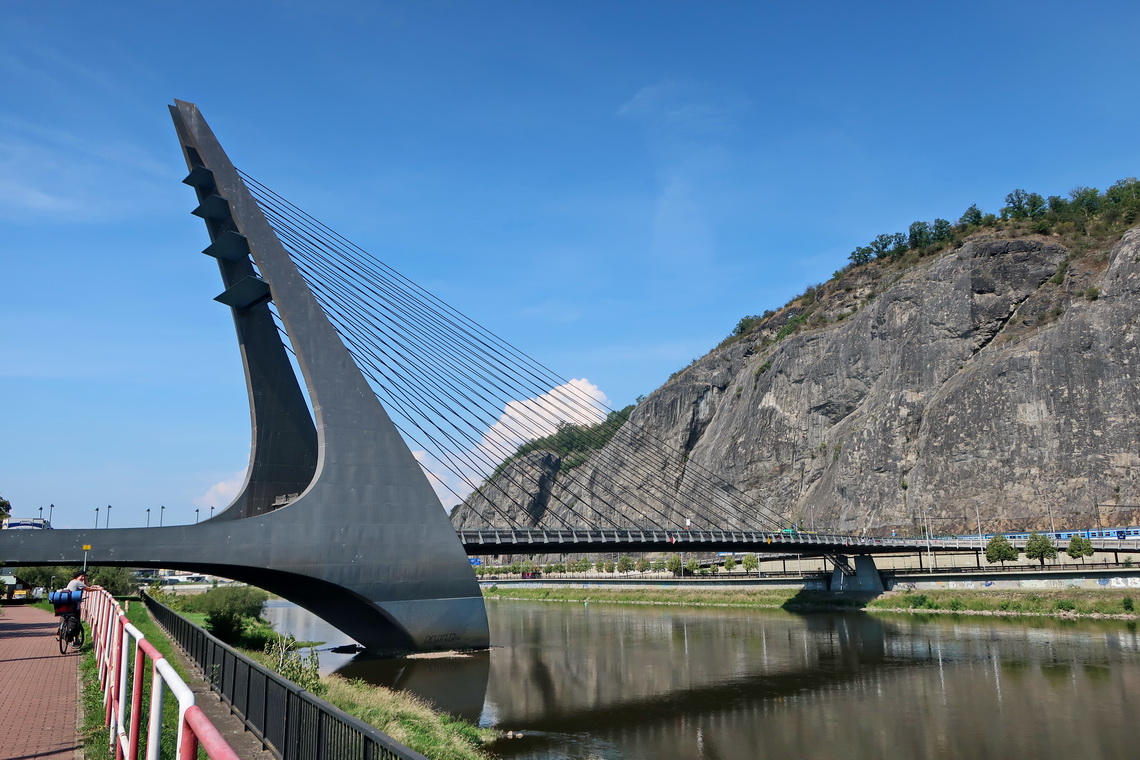 The distance on our fourth day was nearly the same like on the third. We left the river Elbe near the marvelous city Melnik and continued along the river Moldavia. 12 kilometers southwest of Melnik we found a nice historic pavilion close to mystic ruins in Egypt style.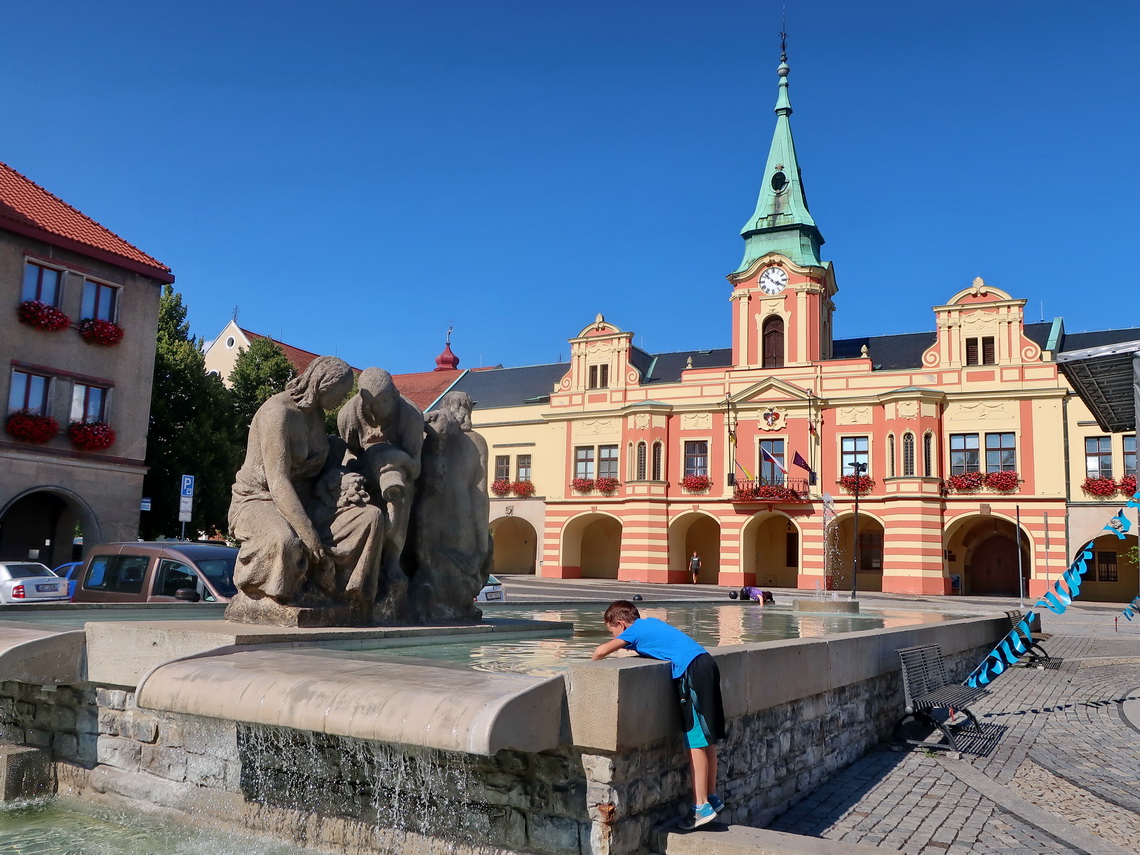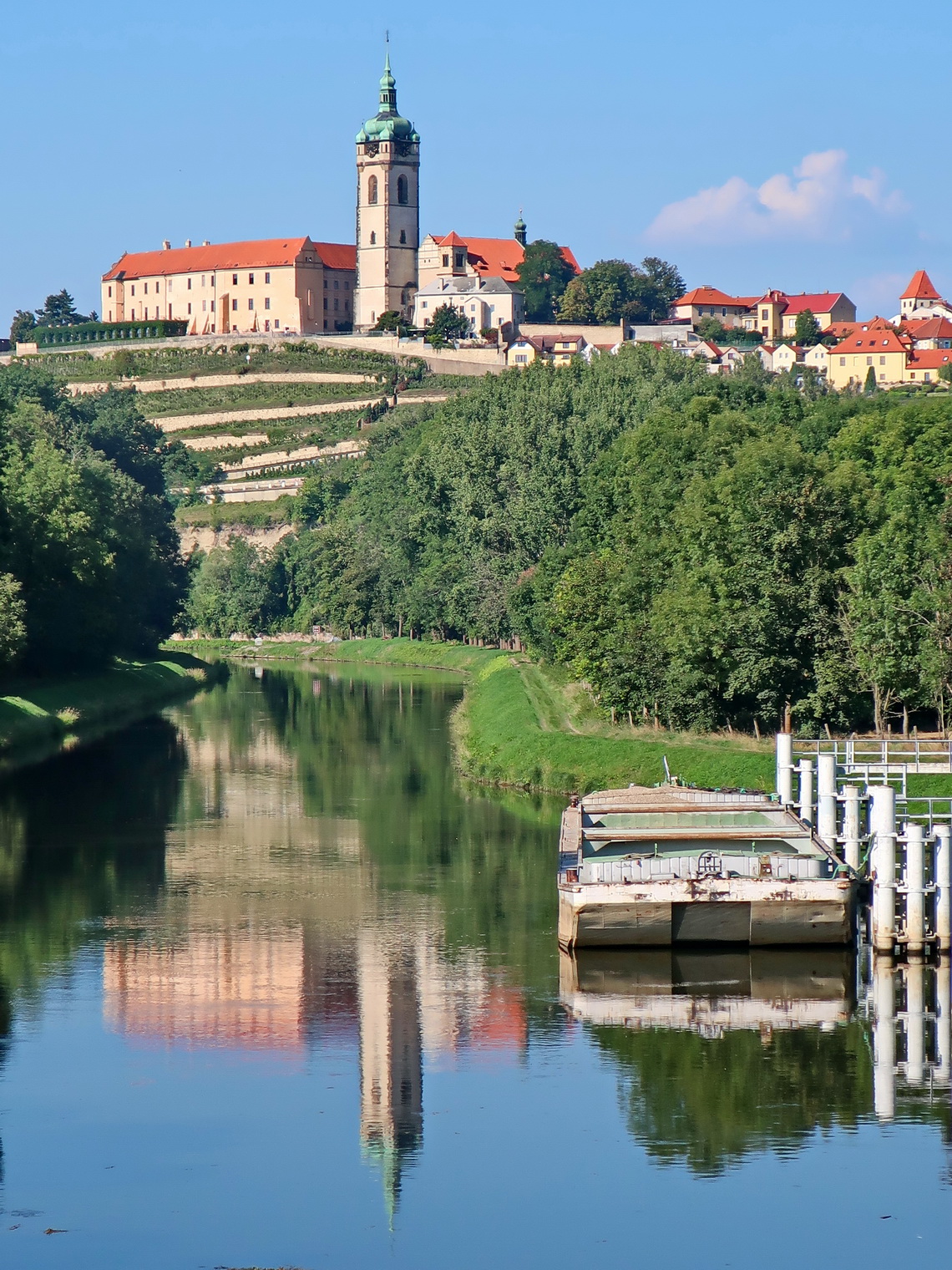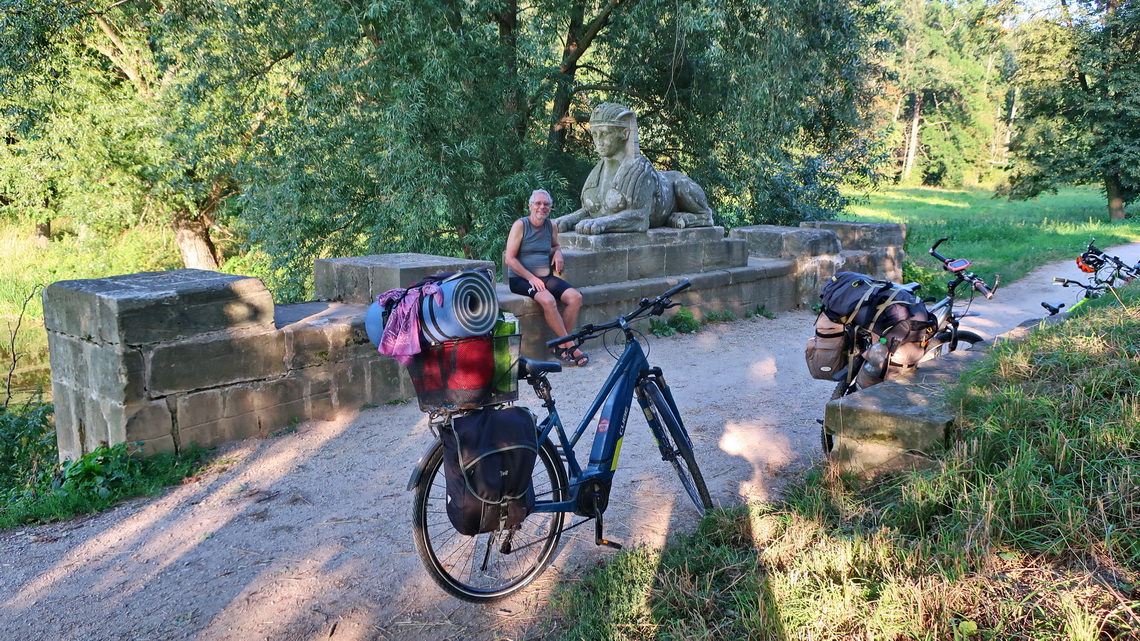 We slept the night on shore of river Moldavia free of charge near the Cap 21 hostel which was closed during the night. Fortunately we got some delicious beer in the evening. The trip on our fifth and last cycling day was comfortable - just 35 kilometers before we came to overwhelming Prague where we found the pleasant Capsule Hostel Erbenova - similar like the hostel FoxBox in Dresden for just € 29.- per night for both.
Monday, August 21st was our day in Prague. Early noon we strolled with our bicycles through its lovely city center which is located east of the river Moldavia.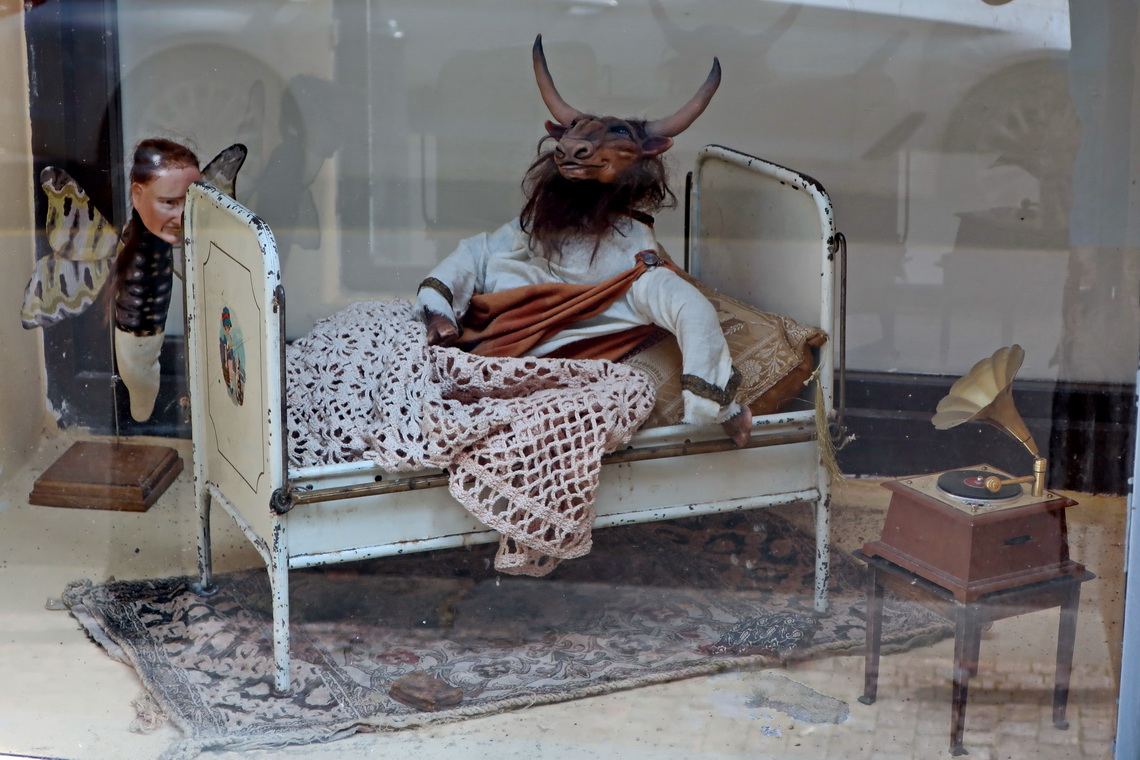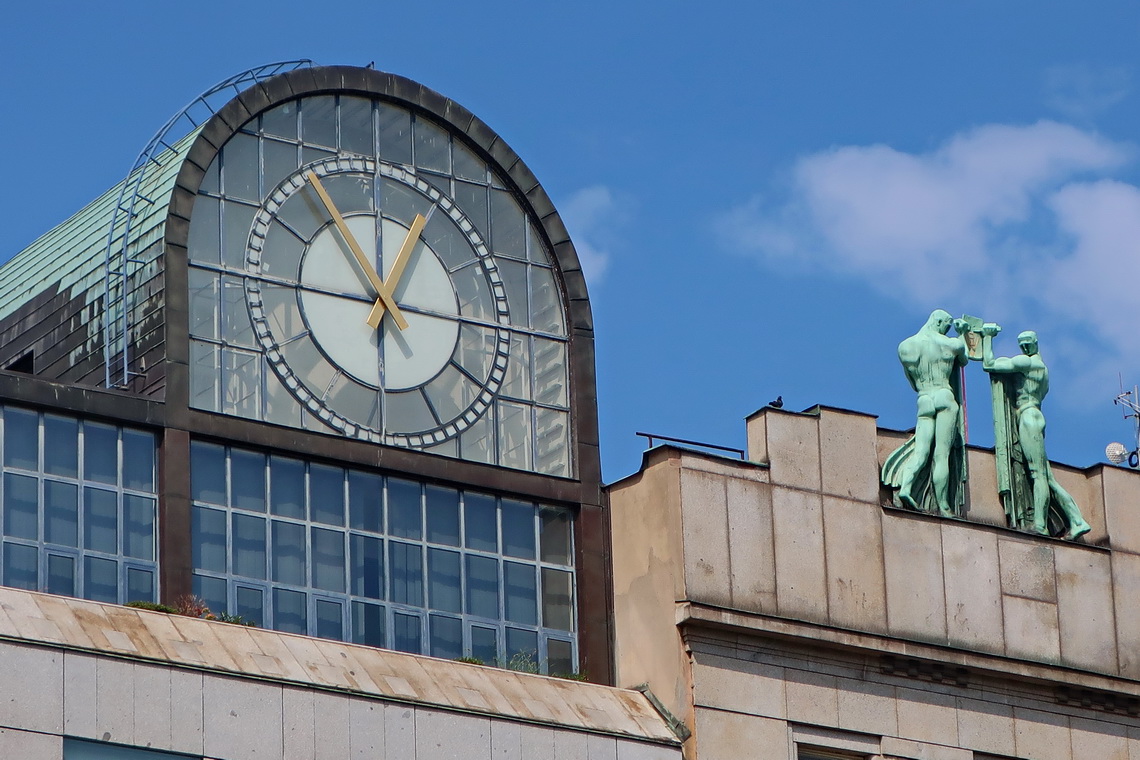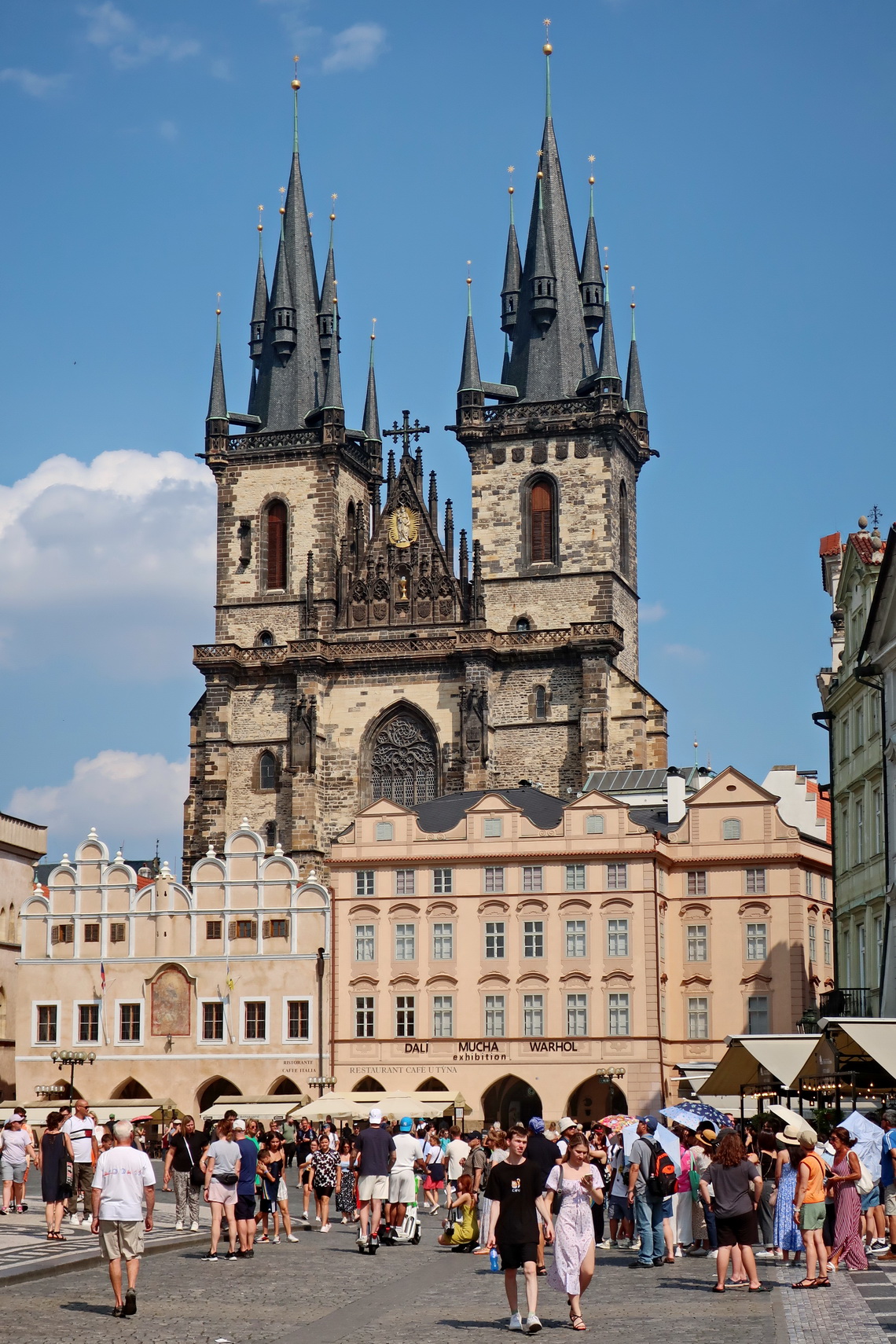 Crossing Charles Bridge with our bicycles was a real challenge. Our feeling was that there were always thousands of people on the bridge. In the late afternoon we visited the interesting quarter Hradčany of Prague with its castle and cathedral.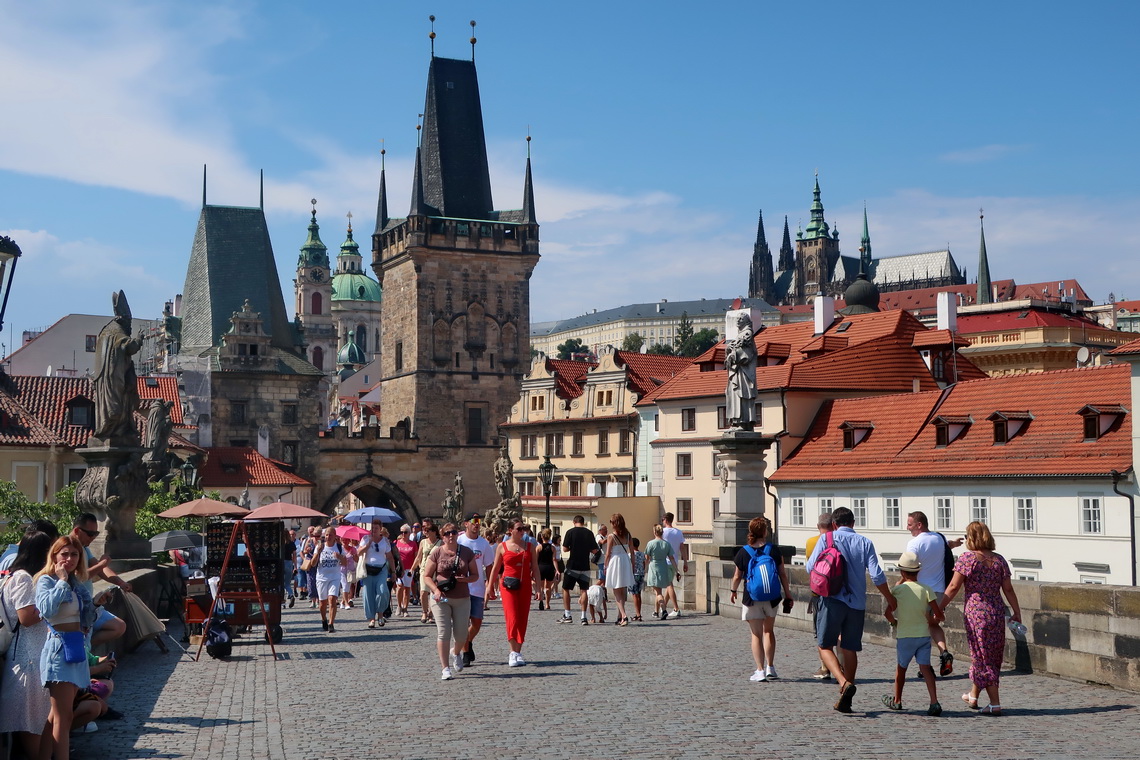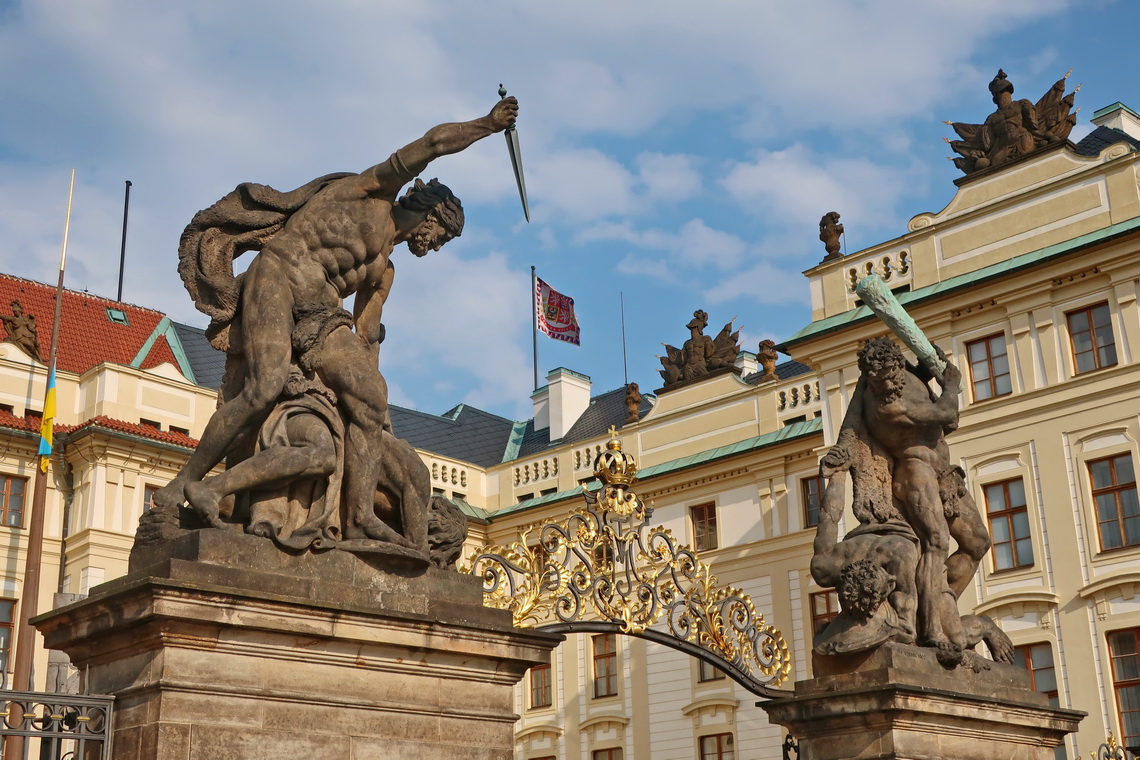 In the evening we visited an extraordinary nice concert of the Royal Czech Orchestra in the marvelous St. Salvator Church of the Clementinum directly on the eastern side of Charles Bridge. We listened to wonderful music from classic composers like Ludwig van Beethoven, Antonín Dvořák or Wolfgang Amadeus Mozart. Of course they played also "The Moldau" (the Moldavia) from Bedřich Smetana.
The Jugendstil main hall of the central railway station of Prague (Praha Hlavní Nádraží Cz:Sždc) is beautiful. We caught a direct train from Prague to Munich in the morning of August 22bd 2023. After six comfortable hours we arrived in Munich with no issues but with interesting talks to other passengers like an elderly man who came directly from the Ukraine.
For more pictures, please click here
For a map of our itineraries, click here
To download our GPS coordinates files of Czech Republic and Germany, click here